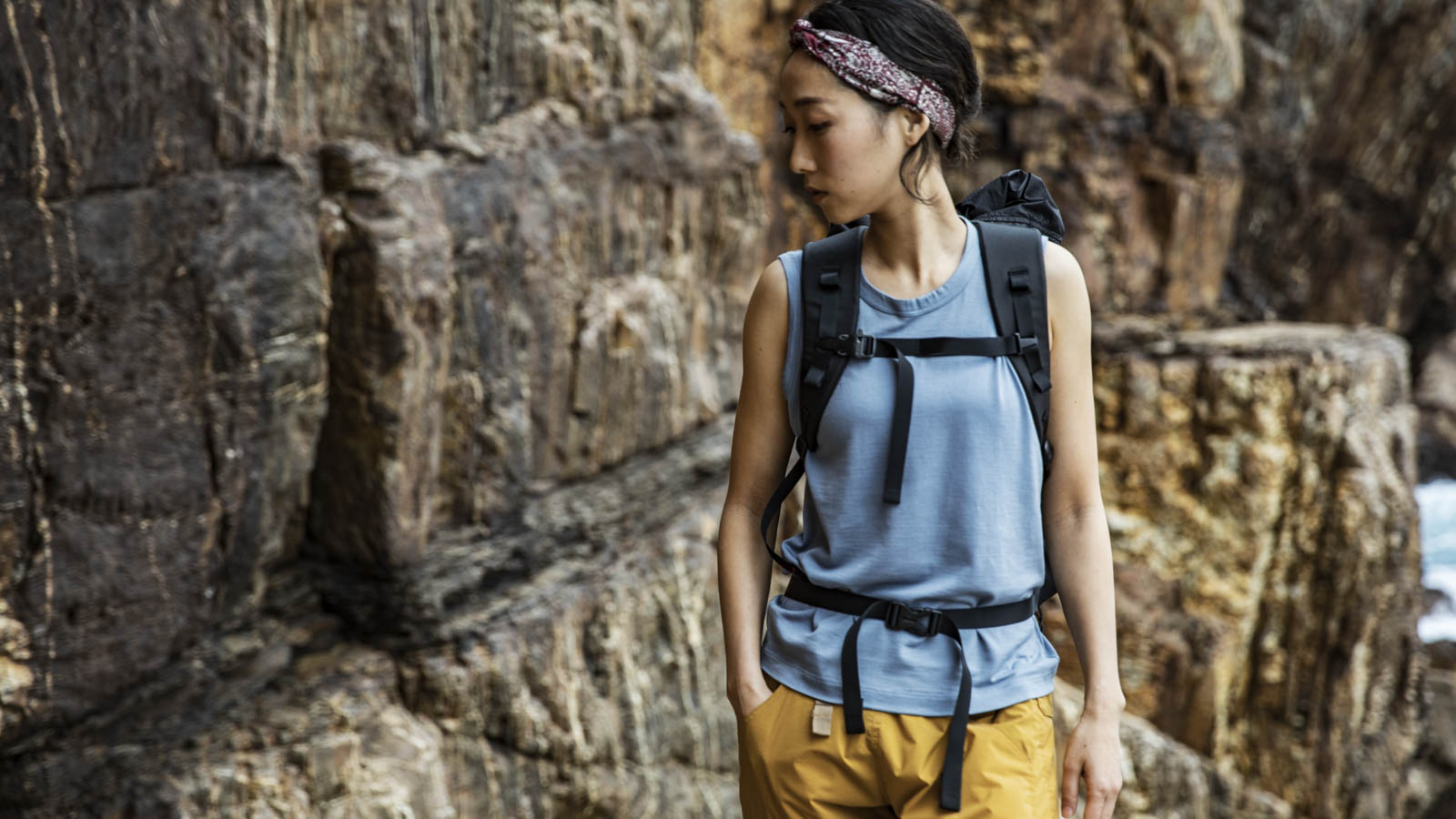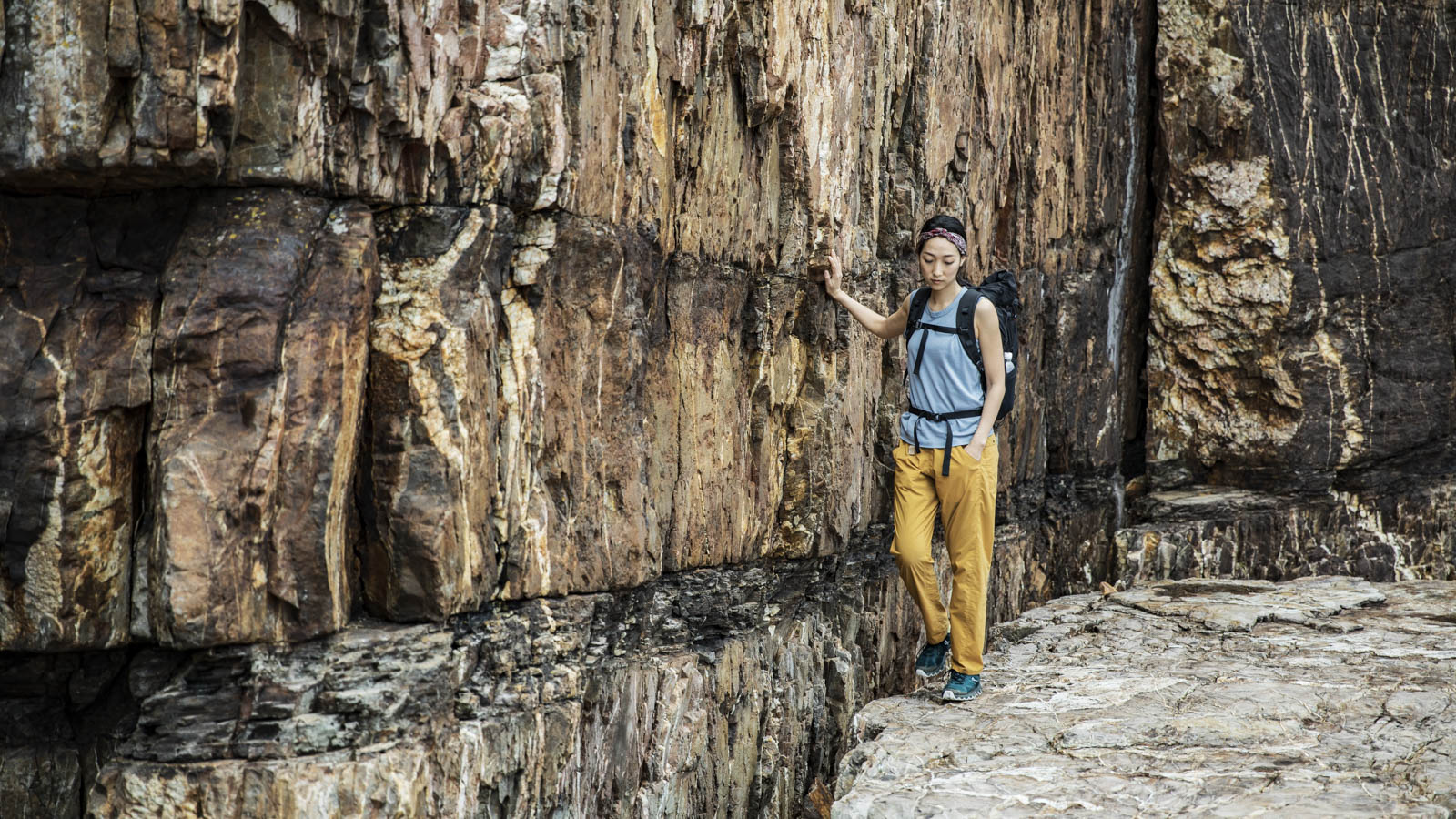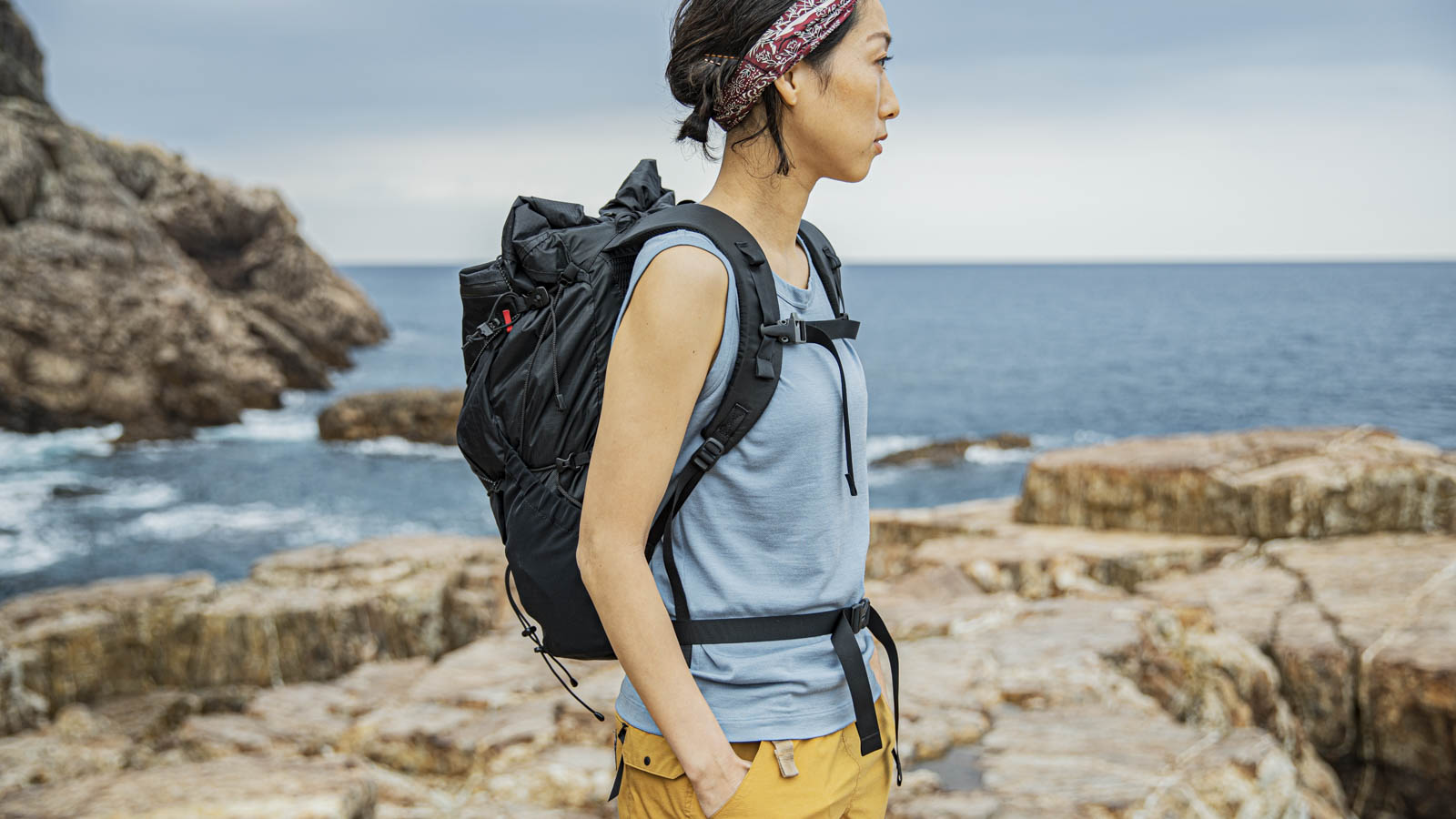 100% Merino Light Sleeveless
100% Merino Light Sleeveless
Heavy Duty Pure Merino Wool
Merino wool's exceptional heat and humidity regulation, and naturally powerful deodorizing properties make it the ultimate material for active hiker wear.
Our fabric maintains the naturally soft touch and deodorizing features of wool while wicking away sweat quickly, making it suitable for even high-intensity sports.
Being sleeveless makes for an even more comfortable, stress-free experience. Combines well with our UL Short Sleeve Shirt or Bamboo Short Sleeve Shirt.
Improved Fabric
In 2021, we renewed our light Merino fabric to be machine-washable and more durable for longer hikes and trips. It can be *tumble-dried at low temperature settings.
*Low temperature only. Please read Care Instructions for details.
The new fabric is 165-170g/m² in average weight. It is slightly thicker than the previous Light Merino series (140-145g/m²) but more thermally insulative. It is an evolutionary new piece of fabric with Merino's soft texture, keeping the hikers comfortable even when the weather changes suddenly.
Pale Yellow

Blue Gray

Navy

Blue

Gray Marl

Charcoal Marl
Made in Akita, Japan
Material:
100% Merino Wool 165-170g/㎡
Weight:
91g (Size S)
99g (Size M)
107g (Size L)
Size:
WOMEN | S / M / L
What's Good and Bad about the New Merino
Akira Natsume, Yamatomichi Founder
We have renamed our new Merino wool to "100% Merino" or "100% Merino Light" because the change in the fabric resulted in a different product from our previous shirts. I'd like to share with you the story behind the development of the new fabric as well as my thoughts on the advantages and disadvantages.
The previous Light Merino had its disadvantages, such as difficulty in maintaining quality during mass-production, the tendency to shrink after washing, and small holes forming in weak spots after continuous use. Although we were satisfied with the comfort, we felt it was a little too delicate for longer hikes and so I wanted to develop a fabric that could be worn with less care, Merino wool that was more enduring.
Why dryer compatibility? Once, during a town day after a rather long hike in New Zealand, the hostel I was staying at only had washing machines with an integrated dryer, and it shrunk my Merino wool clothes. Perhaps some of you may have had a similar experience. At that moment, I thought that I never want to experience the sadness of holding a shrunken Merino wool shirt in my hands while traveling again.
After many prototypes and a lot of trial and error, we were finally able to produce a fabric with little change in dimension even when subjected to a low-temperature dryer. The shirt made of thicker fabric is more durable, and reliable when traveling. I'm sure it will keep you comfortable in the mountains, where the temperature changes dramatically.
However, I have to admit that it no longer has the lightness of the previous light Merino. When I sweat a lot and my clothes get soaked, they are more stiff and harder to dry than before. Also, it feels a little hot to go around low mountains in the warm season. Another problem is that when I wash them with a lot of other clothes and dry them in the dryer, the fabrics tend to get tangled and wrinkled.
These are the problems that exist with Merino wool in general, and to some extent, these problems can be solved by adding synthetic fibers. Considering the excellent advantages of Merino wool, should we just ignore these problems, or should we continue our research and development to somehow solve them? I haven't come up with the perfect answer, but that's what the journey of making things is.
In the course of our research into base layers, we have realized the advantages of Merino wool and, more recently, synthetic fibers. Both have their advantages and disadvantages, and they differ greatly depending on the situation, application, and season. To create more products that meet different specific functions, Yamatomichi is also developing base layers that use some synthetic fibers. The reason I added "100%" to the name this time is that I wanted to differentiate it from the synthetic fiber blends that we will be producing in the future, and I also wanted to express my commitment to pure Merino even though it is not perfect with some drawbacks. In other words, I love 100% Merino wool so much, but it also has its disadvantages because it's made of pure Merino.
In the beginning of the previous Product Story, I expressed my love for 100% pure Merino;
I really love Merino fabrics.
They are almost odor-free even when I sweat, comfortable, and keep the humidity and temperature constant even if I get soaked. Merino wool has so many natural and excellent properties that make it perfect for hiking.
When thru-hiking over a longer period, I really start to feel that I myself is part of nature. It is like my body somehow resonates and links with the greatness of my surroundings.
Deep in the mountains, as I walk, run, sweat, sleep, wake up and walk again, Merino wool is always my choice. For me, it connects my body with nature, and that is why I continue to focus on items made of pure Merino wool without any added synthetic fibers.
My love for 100% Merino Wool has not changed.
To conclude, I would like to introduce Rin Matsumoto, our textile researcher at Yamatomichi Lab and her contributions for the development of the fabric. Our journey to create is yet to end. (July 2021)
Development of 100% Merino Light
Rin Matsumoto (Yamatomichi Lab)
Here in Yamatomichi Lab, numerous tests and verifications have been conducted to develop the new 100% Merino Light fabric.
Our conventional fabric, Yamatomichi Light Merino, featured lightness, softness, and natural comfort. In addition, "ply yarn", the method of twisting two yarns together, achieved the equivalent strength (tensile strength) to that of synthetic fiber fabric, as shown on the product webpage. On the other hand, as it gained much popularity, we realized the several challenges to deal with; relatively weak washing resistance, tendency to shrink, and occasional thread breakage. So the next goal was to develop a Merino wool fabric that endures repeated washing and a little rough handling.
To update the fabric we had a series of discussions with the development and production team of Bishu, the production area of wool garments in Japan, where our Merino fabric is being produced. Bishu is one of the world's leading wool textile production areas, in which professionals from spinning companies, fabric factories, dyeing and processing factories, and inspection organizations are all located. Each of them brought their specialized knowledge and ideas to the development process.
As we analyzed and compared the many prototypes we had made as well as the Merino products released by other companies, we paid fresh attention to the New Zealand Merino fabric that Yamatomichi had once used in the past. The quality of the past fabric was stable, with no degradation of the fabric even after several years of wear by our staff and customers, no holes due to thread breakage, and no stretching out of the ribbing around the neck, cuffs, and hem, and we highly evaluated its perfection, balance, and toughness. We, therefore, conducted another analysis of yarn count and knitting density to understand why it was so good in quality.
Our analysis discovered that the NZ Merino wool fabric we once adopted was made of the "single yarns". Each "single yarn" and "ply yarn" has its characteristics, and the right choice differs depending on the priority.
The previous Light Merino used "ply yarn" because we focused on durability (tensile strength). For the development of this new material, on the other hand, we chose "single yarn" based on the New Zealand Merino wool fabric standard.
The "ply yarn" is a combination of two strands of wool twisted together. Natural fiber yarns have thick and thin sections that are unevenly distributed when viewed under magnification, and for this reason, there are sometimes weak spots in the yarns when the weak section of two strands are twisted and overlapped, consequently causing yarn breakage. Although the thickness of the single yarn is usually uneven in some places, we improved the twisting process to make the thickness of the yarn as even as possible, thereby stabilizing the quality.
Another major challenge was to minimize shrinkage due to washing and to make the product machine-dryable. Most Merino wool products on the market are labeled to avoid the use of the dryer. When we tumble dry other companies' Merino wool products, they shrunk so much that their size changed, and we realized once again that it is a difficult task to make them dryer-safe.
The texture of the initial prototype delivered from Bishu was stiff and not as soft and comfortable as the previous Light Merino fabric. In terms of shrinkage after washing, it was milder than the previous fabric, but there was still room for improvement. After the dryer, the previous fabric deformed and significantly shrunk, but the prototype did not show any change in appearance after the dryer, and the texture became softer and puffier. It was more comfortable to wear than the previous fabric, which seemed to be a big step forward to success. As for the shrinkage, when the fabric was machine-dried for the first time, it shrank to a certain extent, but once it shrank, it did not shrink further even after dried repeatedly.
I shared these results with the development team in Bishu, and we decided to add a tumble drying step in the production process. By incorporating this process, a process not normally done in wool knits, the fabric should become soft, and tighten, stabilizing the shrinking. To maximize the effects, The team conducted the process without focusing on production efficiency, and made specialized adjustments and innovations. Also, the garments were put into the tumble dryer wet instead of dry, and the timer was set longer than usual.
The results were as I predicted. The fabric became soft and the rate of shrinking stabilized. There was no change in shape even after putting the garment through a low temp tumble dryer.
Although pre-shrinking the garments stabilized variations in shape and size, It also made the knitting denser, increasing the weight more than expected. We thought about using finer yarns or reducing the knitting density to make the fabric lighter, but after some adjustments, we found a balance of where the fabric was dryer compatible and with mild shrinkage. Any changes would completely botch the balance and we would be forced to start all over.
We then compared the newly developed Merino wool with the previous version. The new Merino wool is heavier and the tensile strength is slightly lower due to the change from ply yarn to single yarn. The knit is tighter, which reduces air permeability but increases insulation. The old Merino is lighter and more breathable, so it may be more comfortable in the summer or during low altitude hikes in the warmer months. On the other hand, the newly developed Merino will retain heat better, and is better suited for the colder months and high altitude hikes in the summer, when temperatures can vary drastically between day and night. It is in this environment that you should experience the natural moisture conditioning capabilities of Merino wool. Furthermore, it shrinks less when washed and can be put in the dryer.
To guarantee dryer compatibility, we made a prototype with the newly developed Merino wool and repeated 30 times of machine-washing and low-temperature drying at an inspection facility. The shrinkage rate was stable, the texture remained soft, and in fact, the fuzz seemed to settle, making it smooth to the touch. We also sent the test results and the prototype to a laundry expert, who also washed them to confirm our results. However, they also advised us that using the dryer too often may shorten the life of the product. In addition, during the testing process, we found out that when multiple loads of laundry were put in the dryer at the same time, the wrinkles became stronger. Long sleeves in particular tend to dry with the sleeves tangled together, resulting in wrinkles. The laundry expert advised us to dry the garments separately as much as possible to avoid wrinkles.
When we solve one problem, another problem surfaces, I think this is what developing gear is all about. Sure, we aim to create the perfect material, but it is difficult to create a fabric that is well-balanced in all aspects. A material that is well-balanced in all aspects will make the cut, but will lack uniqueness and won't have any explicit perks.
Among fabrics, wool, a natural fiber, is not something that can be mass-produced in the same way as electrical appliances or plastic molding, and there are variations in the length and thickness of the fibers and the way they shrink. Even if a prototype is repeatedly tested and does well, we can't expect the same results in mass-produced products, and unanticipated problems are bound to occur. There are times when we think that by blending synthetic fibers, production would be more predictable but I think we continue to stick to 100% Merino because we feel that it carries great value.
In parallel with the development of the Merino wool jersey fabric, we also revised the knitting. With knits, elasticity is important to endure repeated stretching, and so we were simultaneously working on a synthetic fiber blend, but we decided to proceed with 100% pure Merino knit.
After many prototypes, tests, verifications, and meetings, we finally came up with 100% Merino Light that could be put in the dryer. This is not the end goal, and there are still many issues to be resolved. The next development, the search of making even higher quality garments is already in the works.
Where the 100% Merino Light Stands
Though this product dries slower than general synthetic base layer T-shirts, it is less likely to cause hypothermia caused by the evaporation of sweat or other moisture. In other words, the new 100% Merino Light series focuses on moisture absorption rather than quick-drying, and on thermal insulation rather than cooling properties.
Recommended Scenes
When the temperature changes drastically
Wool is good at maintaining a constant temperature inside the garment, keeping you dry and comfortable even in situations where temperatures can suddenly change.
When worn under an outer shell
Synthetic base layers with low moisture absorption can feel very humid and stuffy. On the other hand, our 100% Merino's superior moisture absorption properties, will help to keep you dry and comfortable when worn under an outer shell.
When worn for long hours
Synthetic clothes often become smelly relatively early on, even if they are deodorant finished. Wools, on the other hand, naturally eliminate odor when the fabric dries even after being soaked in sweat. This powerful anti-odor performance allows you to keep moving day after day, relatively comfortably without smelling too bad. Also, our proprietary 100% Merino can be tumble dried at a low temperature, making it easy to wash and dry on the go.
When packing capacity is limited
Our Merino wool products can be worn in various situations for long hours without getting too smelly, minimizing the need for extra clothes in your backpack.
Naturally Odor Resistant
Wool base layers are chosen by many hikers for the material's excellent odor neutralizing performance. Some say it's almost odor-free even after a week of heavy hiking, but we'll let you (and your friends) be the judge of that…
Wool's deodorant mechanism is still a mystery. One theory has it that wool absorbs a large amount of odor-causing elements, and consequently, the odor is minimized to the level that cannot be detected by the sense of smell. We will conduct our own experiments and tests in the future.
Great Moisture Control
Wool is great to help you keep warm and cool as it naturally controls the moisture level within the clothes, always keeping you comfortable throughout the year.
Wool's peculiar function is the benefit of the dead-air space between the crimped wool fibers, allowing for the excellent breathability and moisture permeability. Furthermore, the cortex's water absorption performance variably changes according to the humidity level of the outer air, that is, the higher the humidity outside, the more moisture it absorbs.
The air layer inside the fiber made by the "crimp" works as a loft to retain heat in the same way as down and synthetic fibers, and it performs better thermal insulation than cotton and synthetic fibers of the same weight.
Even Warm When
First, when wool absorbs moisture, the thermal phenomenon called "absorption heat" is generated. Secondly, its excellent insulation properties (low thermal conductivity) prevents the body heat from being lowered by evaporation. Also, the crimped fibers are bouncy and retain loft without crushing even when wet.
In addition, wool can absorb more moisture in between the fibers, always keeping the skin dry and comfortable.
Consequently, 100% Merino wool keeps you warm during the action, even in severe weather that makes you wet to the skin.
When fibers absorb moisture, the thermal phenomenon called "absorption heat" is generated. The wool's adsorption heat performance is twenty times of polyester, and 2.5 times of cotton.
Tumble Dryable Pure Merino
Normally, Merino wool products cannot be tumble dried as the heat causes shrinkage and deformation of the fabric, but our proprietary 100% Merino wool can be tumble dried* at low temperatures (Upper limit of 60 Celsius).
This makes it better suited for long hikes and travels, as you can easily use dryers at laundromats and hotels.
*Some shrinkage may be caused by tumble drying, but the shirt will return to its original shape as you wear it. Repeated use of the dryer may deteriorate the fabric, so we recommend using it only when necessary.

Details
The collar and arm holes feature stretch-resistant bound stitching.

The neckband seam is reinforced with a binding finish, attaching a strip of fabric from both shoulders to the back of the neck to cover the seam.
More Durable and Stable Quality
Our previous Light Merino series was produced by a combination of two strands of wool twisted together, known as "ply yarn", featuring light and soft texture. This method, however, could cause shrinkage after washing, possibly resulting in the partial bursting of the fabric.
So we analyzed the New Zealand Merino wool that we used in our old products to examine the optimal spinning and knitting methods; Our conclusion was to work with single yarn.
The fabric is pre-shrunk by tumble drying, which is a rare process for Merino clothes, making the fabric tight and compressed but bouncy. The process makes the fabric softer and more stable, allowing it to be tumble-dried at a low temperature.
Our proprietary fabric is produced in Bishu, the production area of wool garments in Japan, in cooperation with the spinning company, fabric factory, dyeing, and processing factory, and inspection organization. We continue our effort to innovate with new products and markets.
Material:
100% Merino Wool 165-170g/m²
1/52
Spec:
Bursting strength measured by JIS L 1096 A (In-house test)
307kPa
Insulation performance measured by JIS L 1096 A (In-house test)
21.0%
Why 100% Merino?
Wool is a natural material with various unique features such as temperature/moisture control, thermal insulation, and is naturally odor-resistant. All developed by sheep to survive the harsh environment over time.
Merino wool comes from merino sheep and compared to other kinds of wool, merino's fiber is finer, softer, and less scratchy, and hence even suitable for making underwear and baselayers.
All wool, including merino wool, is cool in summer and warm in winter. It is warm even when it's wet, and practically odor-free even after many hours of wear.
While many other manufacturers add synthetic fibers to strengthen their Merino fabrics, we wanted to stick with 100% Merino to maximize the natural benefits of pure merino wool. Our merino will keep you dry even when it's hot and humid and comfortable no matter the climate.
The above chart shows the comparison of moisture content ratio of three types of fabrics in a humid and hot environment (up, 30˚C with 90% humidity) and a more comfortable environment (down, 20˚C with 65% humidity).

In a humid and hot environment, the fiber with superior moisture absorption keeps you dry and comfortable. On the other hand, in dry conditions, it is more comfortable when the fiber provides a certain level of moisture without excessively absorbing available humidity. The difference of the moisture content ratio in the above chart indicates the moisture control performance: the greater the value is, the better the fabric's moisture control performance is, therefore the larger percentage means better comfort.

The 100% merino fabric, as shown above, has a 6.8% moisture ratio difference. This means that our merino material can effectively control the moisture compared to the other fabrics, keeping you dry when it's hot and humid while supplying a moderate amount of moisture when the humidity is low.
This is the reason why the merino wool is known as "a natural air conditioner".
Merino Wool
Wool is a natural material with various unique features such as temperature/moisture control, thermal insulation, and anti-odor performance; all of them developed by sheep to survive the harsh environment over time.
Merino wool comes from merino sheep and compared to other kinds of wool, merino's fiber is finer, softer, and less scratchy, and hence even suitable for making underwear.
All wools, including merino wool, are cool in summer and warm in winter. It is warm even when it's wet, and practically odor-free even after many hours of wear.
Wool's Structure
The wool's fiber is composed of amino acid-based protein, just like human hair and skin. The surface is called the "scale", which is similar to a fish scale, and the inner part is the "cortex".
The cortex is composed of ortho-cortex and para-cortex, each with different moisture absorption performance. Because each of them differs in property, the combination of ortho and para cortexes makes the fiber "crimped".
This crimped structure produces the wool's unique features such as moisture/temperature control property and thermal insulation performance, avoiding the coldness caused by the sweat.
Disadvantages of Wool
As explained above, wool or merino wool has various features and functions, but it is not flawless.
Easily absorbs moisture and becomes heavy
Wool can get quite heavy as it is great at absorbing moisture. This also means that wool takes longer to dry than synthetic fibers, but compared to cotton, it actually dries faster.
Liked by insects
Soft, natural fibers such as wool, cashmere, and silk are prone to damage by insects.
Easily damaged
The relatively short fibers of wool mean that wool fabrics are easier damaged than synthetic and cotton fibers. However, small holes can easily be fixed with a bit of pure wool and a needle.
Shrinks easily
Wool generally shrinks easily, even when shrink-proofed. To reduce shrinkage, after the wash, please spread the shirt well to return to the original shape and gently iron it.
Distortion
When knitted wool fabrics are washed, the material is likely to distort diagonally because the yarned fibers absorb water, swell, and tend to untwist. Consequently, the shape of the shirt may distort slightly with washing.
Distinctive smell
The wool comes from sheep and you may experience a distinctive animal-like smell coming from your t-shirt when damp. This smell usually disappears after the fabric dries.
The above information was compiled and edited based on the interview with the textile company and the research institute, and the reference book below:
Bibliography:
Structure and Physical Properties of Wool, Japan Wool Industry Association, Seni Co., Ltd.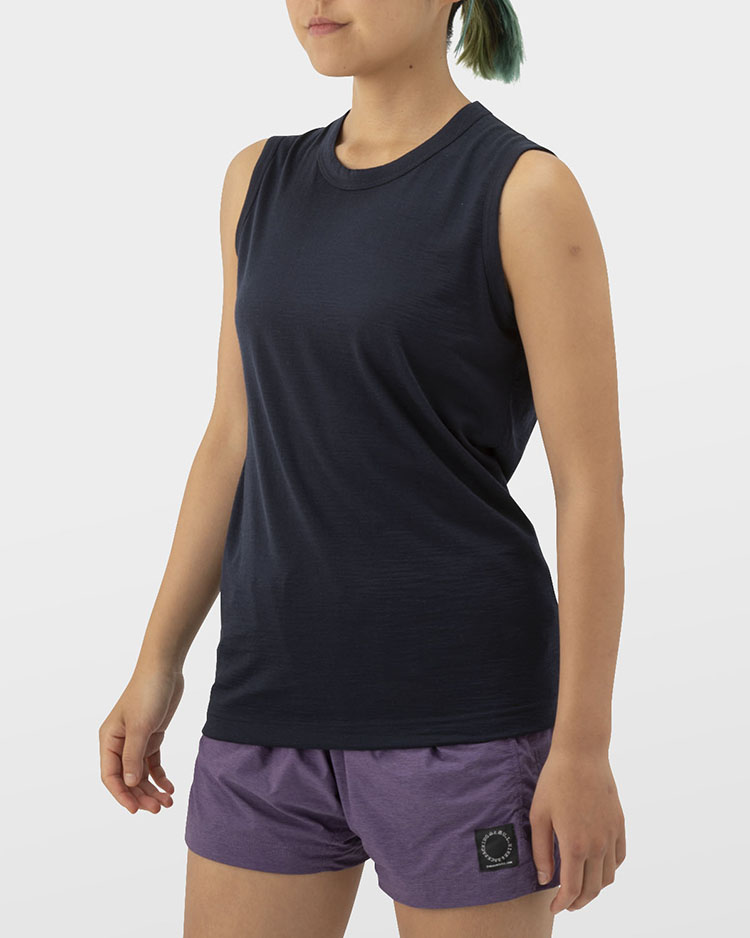 Kanade 161cm-51kg
Size M (Navy)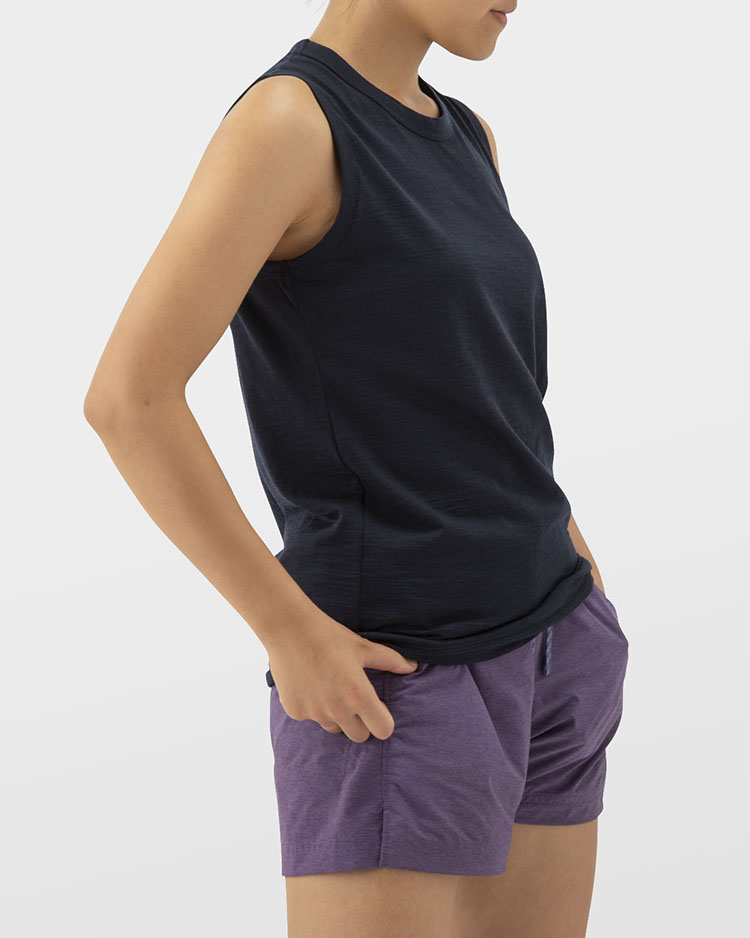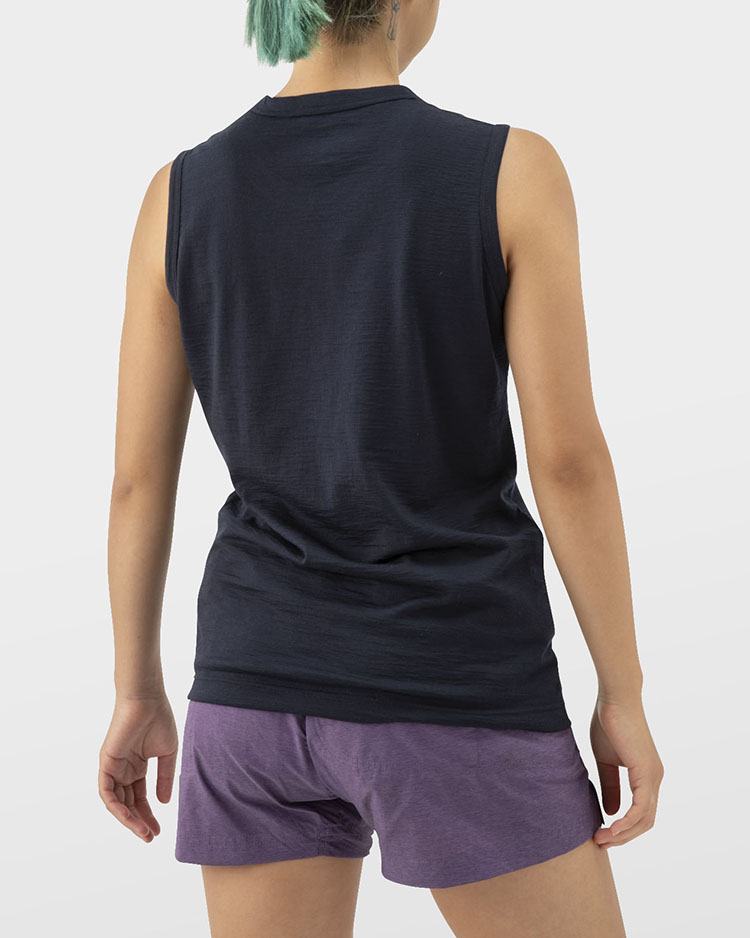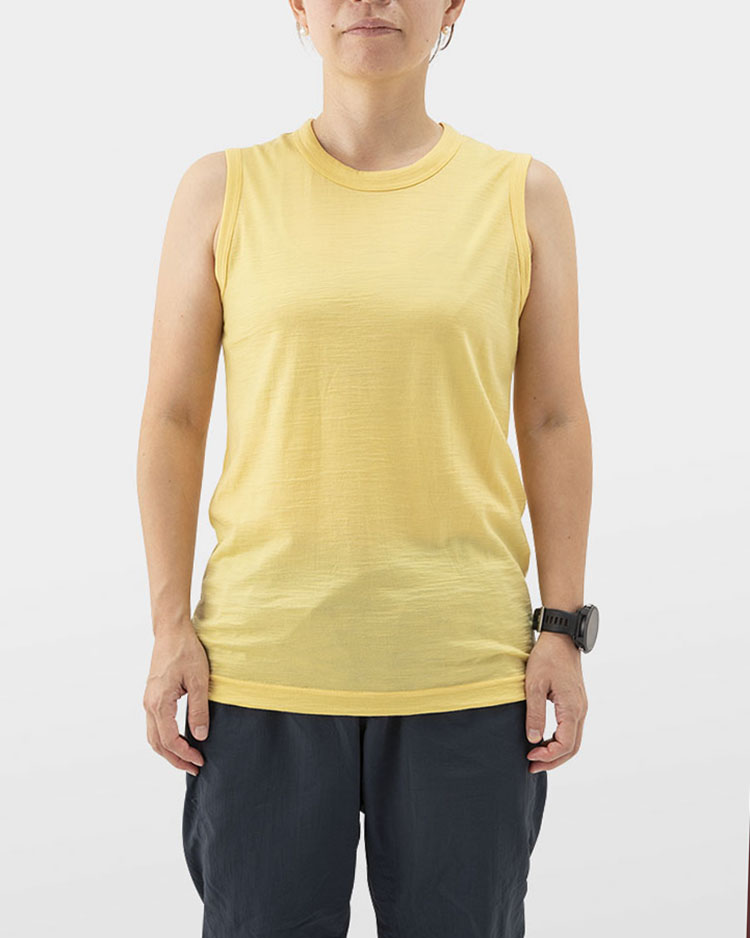 Yukari 153cm-47kg
Size S (Pale Yellow)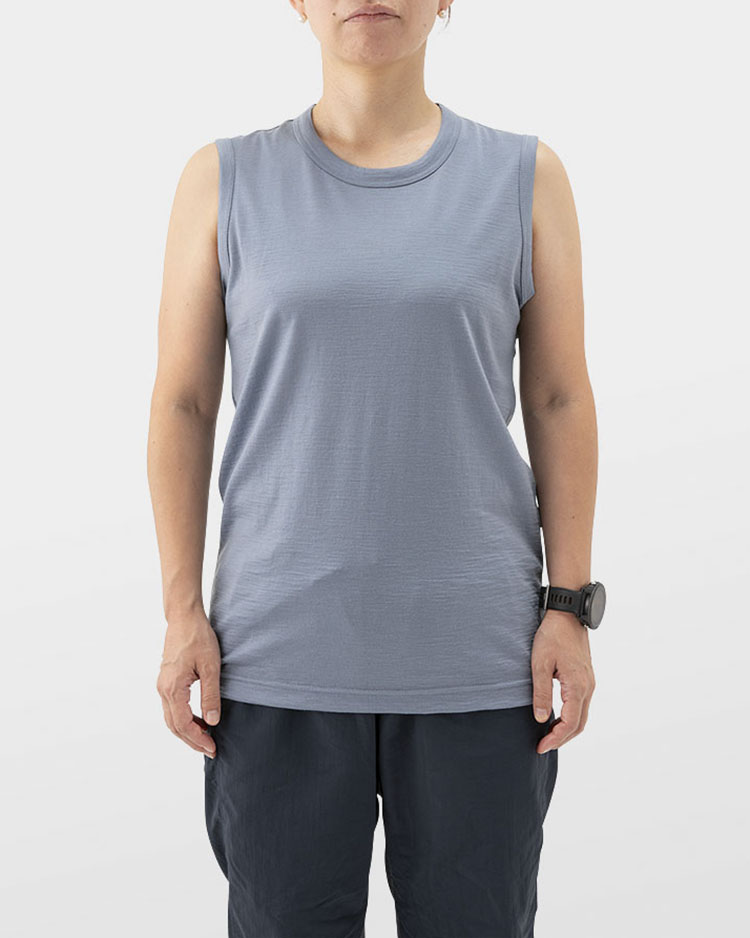 Yukari 153cm-47kg
Size M (Blue Gray)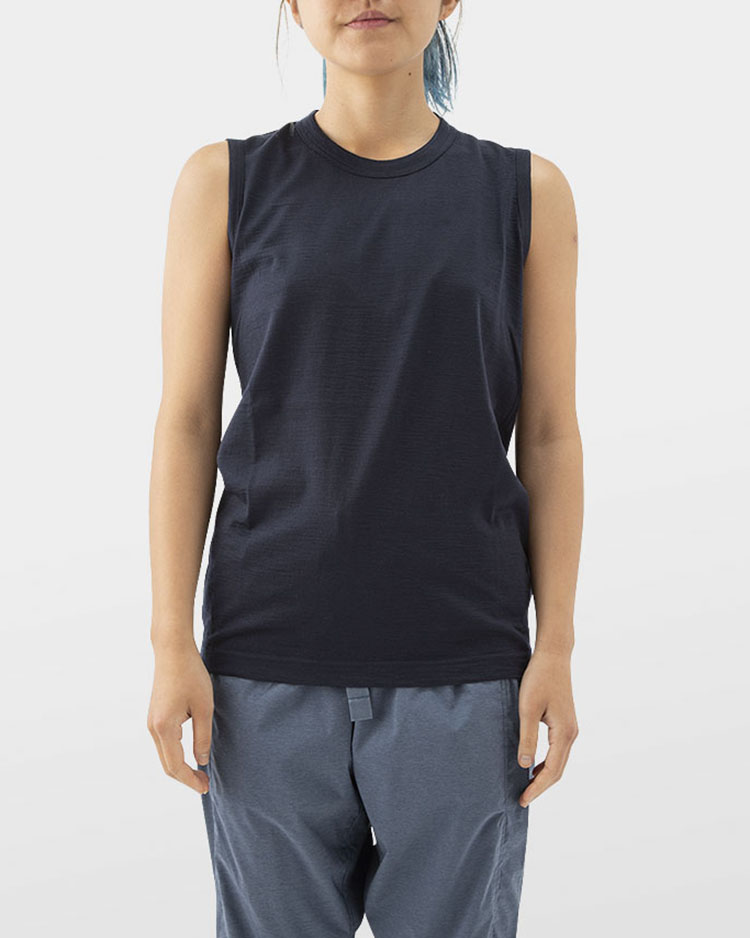 Kanade 161cm-51kg
Size M (Navy)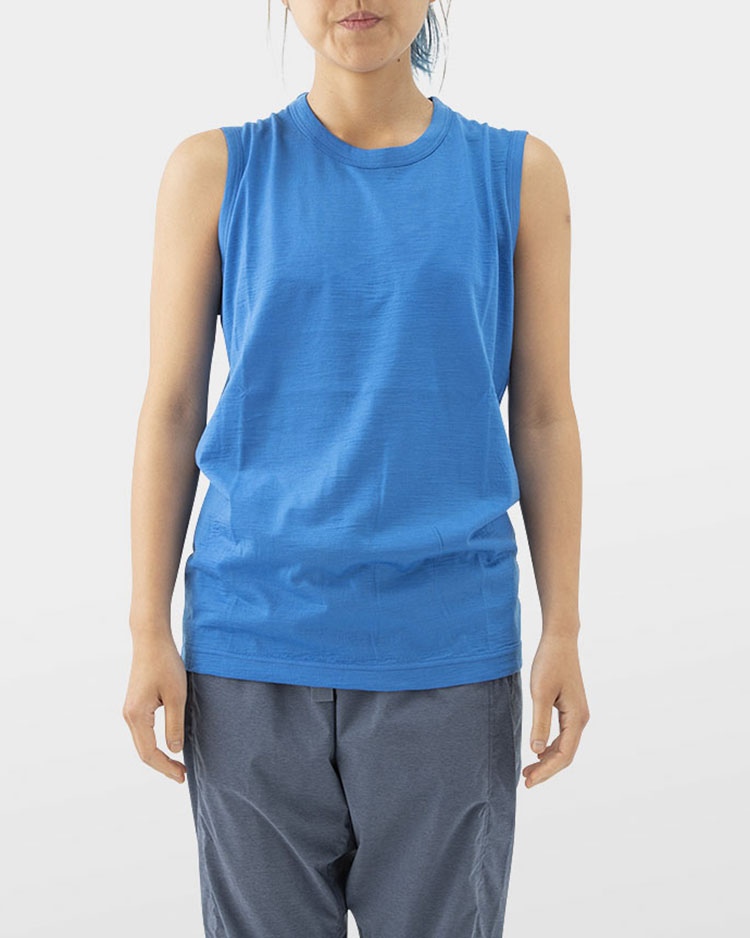 Kanade 161cm-51kg
Size L (Blue)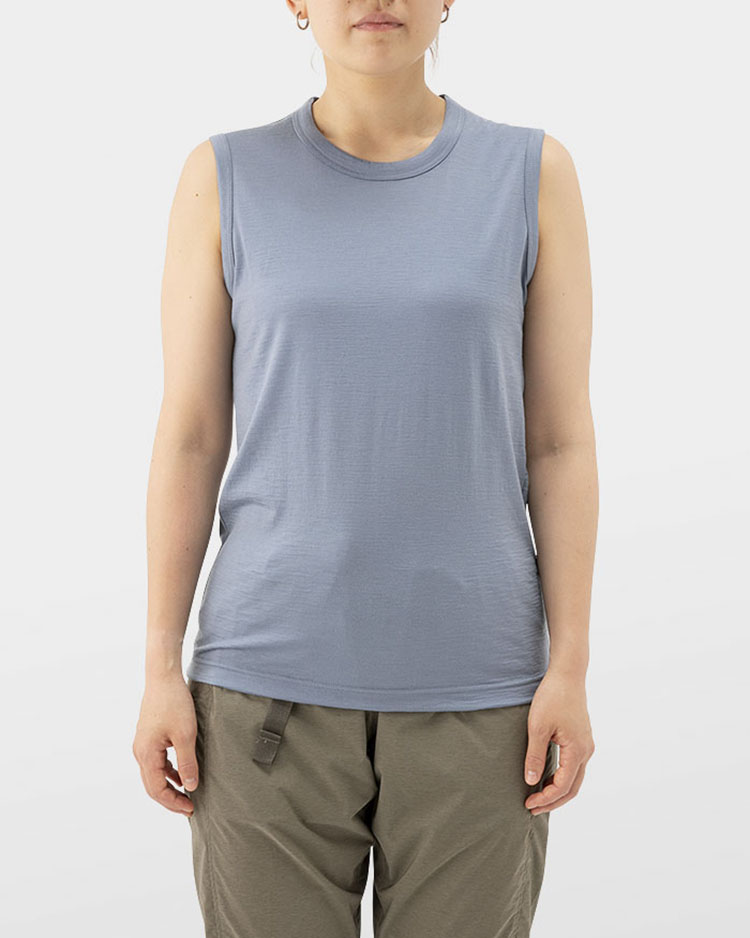 Hikaru 165cm-59kg
Size M (Blue Gray)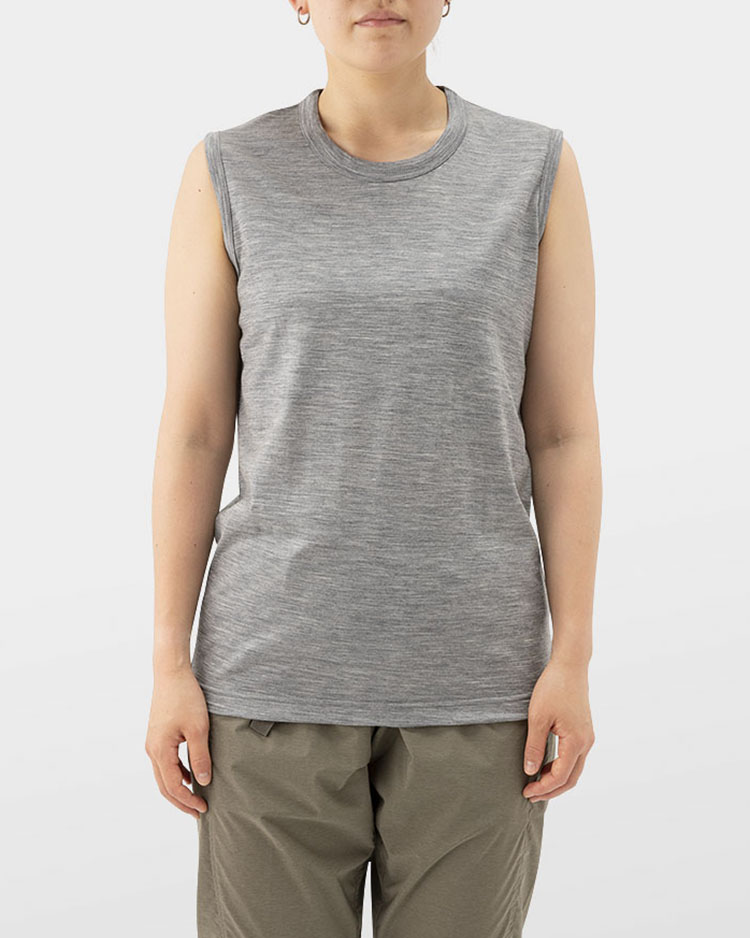 Hikaru 165cm-59kg
Size L (Gray Marl)
推奨サイズ/Recommended Size
Size
S
M
L
体重/Weight
kg
42~49
47~56
54~62
胸囲/Chest
cm
78~84
82~90
86~94
製品サイズ/Product Size
| Size | S | M | L |
| --- | --- | --- | --- |
| 着丈/Length | 61 | 63 | 65 |
| 肩巾/Shoulder Width | 32.5 | 34.5 | 36.5 |
| 身巾/Body Width | 42.5 | 44.5 | 46.5 |
| 裾巾/Hem Width | 41.5 | 43.5 | 45.5 |
Due to the nature of the material, the fabric may shrink about 1.5cm vertically and 1cm horizontally after a few washes, so the size of the product is determined considering the shrinkage of the fabric after washing.
*The above sizes are the measurements of the garments at an unwashed state. They are these sizes when brand new.
*Due to the elasticity of the knit material, there may be some individual differences in the size of the product.
*Due to the nature of the material, there may be some individual differences in the shrinkage. How the fabric shrinks may vary depending on the type of washing machine or course settings.
*Using a dryer with a low temperature setting may cause the garment to shrink more than when dried naturally, but it will return to its original shape as it is worn.

Our Merino T-shirt series have wide-fit, standard-fit, and slim-fit: 100% Merino Light Sleeveless is slim-fit.
Hydrophilic-finished Fabric
While most Merino wool fabrics have a water-repellent finish when they are manufactured, our 100% Merino Light has a hydrophilic finish to quickly absorb sweat.
For our latest 100% Merino Light fabric, the yarn is waxed for better knitting efficiency in the manufacturing process. This wax was supposed to be washed away before the finalization, but it partially remains in some product colors, which may hinder the water absorption performance of hydrophilic processing. As a result, the fabric may repel water if the product is new and unwashed.
Please wash the product a few times at home to remove residual wax so that the product's hydrophilic performance is restored and the fabric absorbs water properly.
Wicking Performance by Product Color
Gray Marl: Wicks quickly before the first wash.
Charcoal Marl: Takes 30 to 60 seconds for the fabric to absorb water if unwashed. After washing it a few times, it will become fast-wicking.
Blue, Pale Yellow, Blue Gray, and Navy: Repels water if unwashed. After washing them two or three times, they will become fast-wicking.
*Depending on the type of washing machine and the amount of detergent used, the number of washes required to restore the water absorbency may vary.
*Wash separately.
*Use neutral detergent only and observe the specified usage amount.
Please Note
When rubbed against a white or light-colored shirt during rain or when wet from sweating, the colors may transfer and stain the shirt.
Care Instructions
Merino wool has excellent deodorizing properties, but it does have some disadvantages, such as being prone to moth holes and shrinkage. Therefore, it should be washed and stored properly, though not frequently. Yamatomichi 100% Merino and 100% Merino Light products can be tumble-dried at a low-temperature setting (60℃ or lower).
For more instructions on washing, drying and storage at home, please read on the "Read More" section below.
Washing
It is machine-washable, but please be careful with water temperature and machine settings as high temperatures may cause shrinkage. Because natural merino wool has short fibers, fuzz and pilling may appear, but after several washes, they will become less noticeable.
Use a neutral detergent. Wool fibers are chiefly composed of animal proteins that are vulnerable to alkalinity, so avoid washing with alkaline detergent as it may damage the texture.
Close the zippers, if any, to avoid the damage caused by the contact with metal parts.
To avoid damage caused by contact with other laundry, or deformation caused by tangling, please wash it separately or use a laundry net.
Please wash it separately from white or light-colored clothing to avoid a color transfer.
Set your washing machine to "Gentle Course" or "Hand Wash Course" with gentle water flow. This will shorten the stressful process of wringing and dewatering, and minimize the risk of shrinkage and deformation.
Washing with lukewarm water (about 30℃) will help remove dirt even with gentle water flow. Do not wash in hot water as high temperatures may cause shrinkage.
Do not use fabric softener as it may coat the fibers and hinder the natural properties of wool.
Do not bleach as it may cause color fading.
Smooth out the wrinkles, adjust the shape, and dry flat in the shade. Line dry is not recommended as the wet fabric may be stretched by its own weight.
Washing may cause slight deformation or distortion due to the nature of the fabric.
Precautions when using the dryer
The dryer can be used at a low-temperature setting (60℃ or lower). Please note, however, that repeated use of the dryer can damage the product. it is recommended to use the dryer only when necessary to prolong the product life.
When using a dryer, use a low-temperature setting (60°C or lower).
The clothes may get tangled together and wrinkled when multiple items are washed at once.
For a clean finish, it is recommended to use a small number of clothes, about three for drum-type washers and dryers, and only one for vertical washers and dryers.
After drying, iron out the wrinkles if necessary.
How to Remove Wrinkles
Knitted fabrics are less likely to wrinkle than woven ones, but if the wrinkles are noticeable, please iron the product. There is, however, a risk of fabric shrinkage if the fabric is continuously exposed to iron steam at an excessively high temperature. Please follow the precautions below when ironing.
Use a steam iron.
Always use the iron at a medium temperature (around 140°C to 160°C) setting or lower.
Avoid applying pressure. Let the steam blow over the fabric while slightly lifting the iron. Gently stretch the fabric while ironing for the best results.
After applying steam for a few seconds, gently smooth out the wrinkles with your hands.
If the wrinkles are still noticeable, apply a thin cloth and softly iron the fabric.
After ironing, dry completely.
Keep in Shape
Shrunk or deformed clothes can be restored by ironing them. However, there is a risk of fabric damage and shrinkage if the fabric is continuously exposed to high temperatures.
Do not strongly press the iron. Lightly iron with steam.
Always use the iron at a medium temperature (around 140°C to 160°C) setting or lower.
Avoid applying pressure, and let the steam blow over the fabric while slightly lifting the iron. If there is still any shrinkage, apply steam while stretching out the fabric.
After blowing steam for a few seconds, stretch the fabric little by little while it is still moist by the steam to touch up the shape.
After the shape adjustments, leave it for a while without moving it and dry well.
How to Avoid Insect Damage
Merino wool, an animal-derived fiber, has the disadvantage of being easily eaten by insects because of the protein contained in the fiber. However, the risk of insect damage can be reduced by proper care.
If there is any dirt left, it can attract insects, so be sure to wash thoroughly before storing.
Steam from an iron can effectively kill insects by heat. Use a medium temperature setting when ironing, and after steam, dry well before storing it.
Keep well-ventilated. Avoid humid environments.
Vacuum storage bags are also effective in preventing insect damage. Air left in the bag will allow insects to survive. Make sure to completely vacuum it and make it air-tight before storing. Please note that vacuum sealing may cause wrinkles.
If you use mothballs, please follow the labelled instructions.
Payment
We only accept payment by credit card. We currently do not accept payment via bank transfer from overseas accounts.
We accept the following Credit Cards: Visa, Master, American Express, and JCB.
To download your receipt, please click the link included in the Dispatch Notice, which we will send by email as soon as the items are dispatched.
Delivery
We will ship by DHL for overseas customers (excluding China, Hong Kong, Taiwan, Korea and Russia). For customers in China, Hong Kong, Taiwan, Korea and Russia, we will ship by EMS only. Shipping costs vary depending on your country and region.
Size Exchange
Overseas customers who need to change the size of their order, should note that the time needed for shipping will vary greatly depending on your country of residence.
We only accept exchanges when the item is unused (except for fitting).
If you wish to exchange the size of the item, please contact us within seven days of receiving your order.
Exchanges can only be made for the same color in a different size.
If the size you wish is out of stock, we will suggest a different color.
If the product is out of stock, we may simply have to ship the item back to you.
All shipping costs to be carried by the customer.
We will only send the exchanged item to you, upon receipt of return shipping cost via PayPal.
Please be aware that some countries charge customs duties depending on the price of the item.
We are unable to answer any questions on local customs. Please contact your local customs bureau.
Repair
A natural fiber, merino wool has wonderful properties such as excellent temperature and humidity control and deodorant performances, but it also has a weakness; yarns are likely to break and develop holes due to abusive use and moth eating.
For inquiries on repairing holes or products damaged over time, please feel free to contact us from the "Repair" section of the SUPPORT page.
Needle Felting
Holes in merino wool cut-and-sewn products caused by thread breakage or moth bites can be repaired by felting, a technique to patch the hole with the raw wool using a special needle. You can repair by yourself, and Yamatomichi also offers felting repair services using raw wool of the same color as the product.
For more details of felting and how we repair the merino items, visit Yamatomichi JOURNALS 『山と道修理部通信#1 メリノウールの穴を補修する』(Japanese only).
SOLD OUT