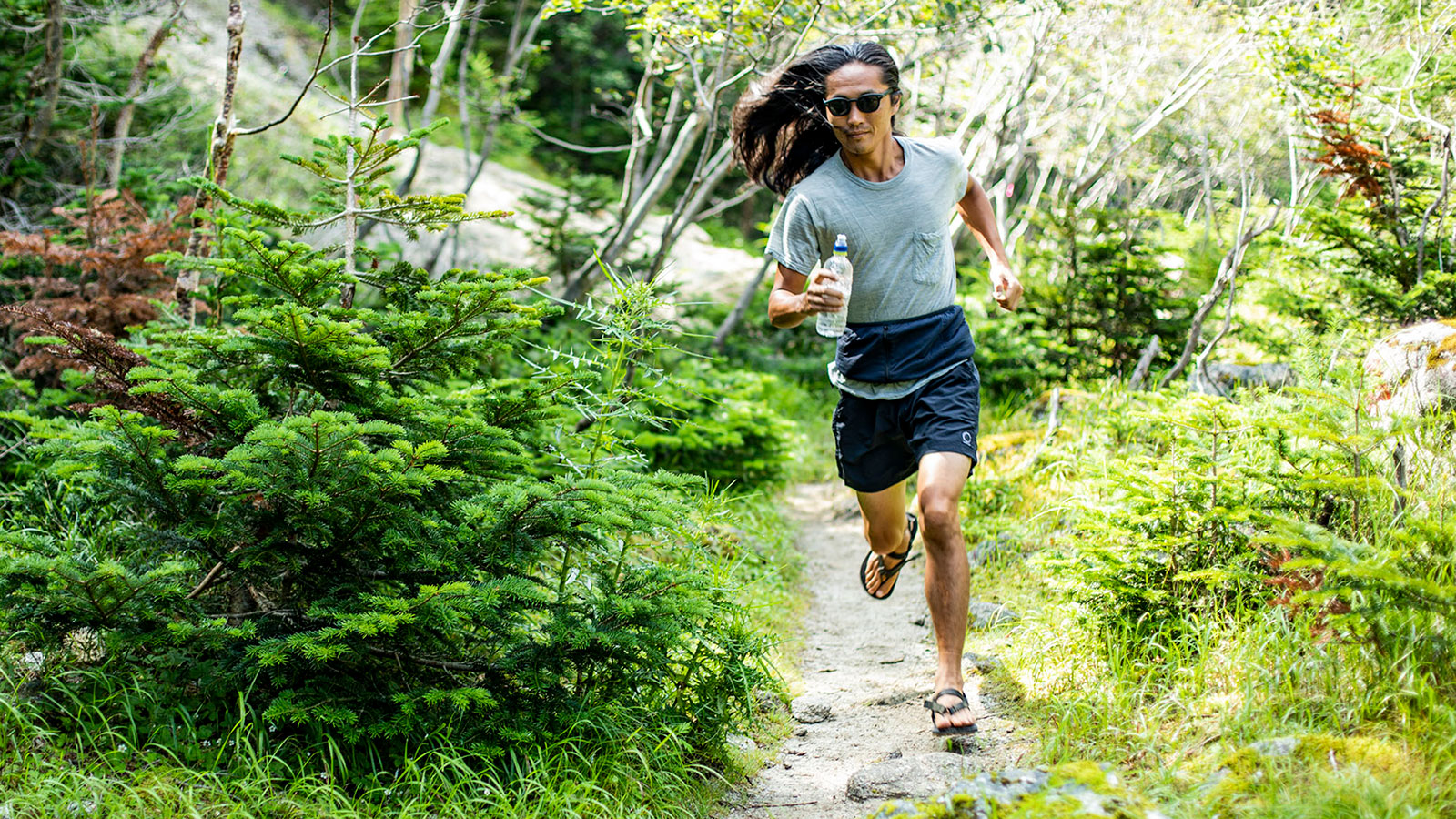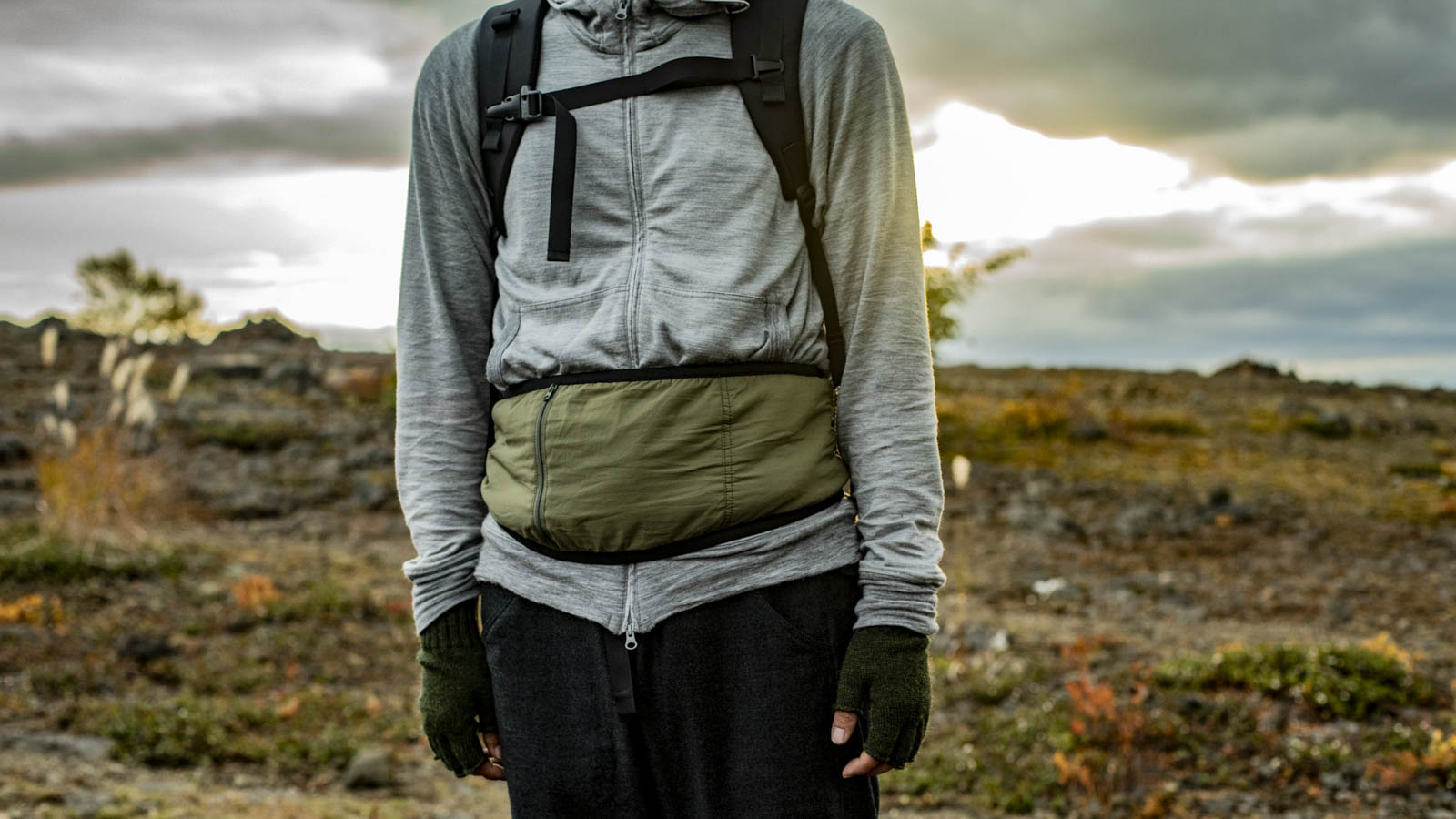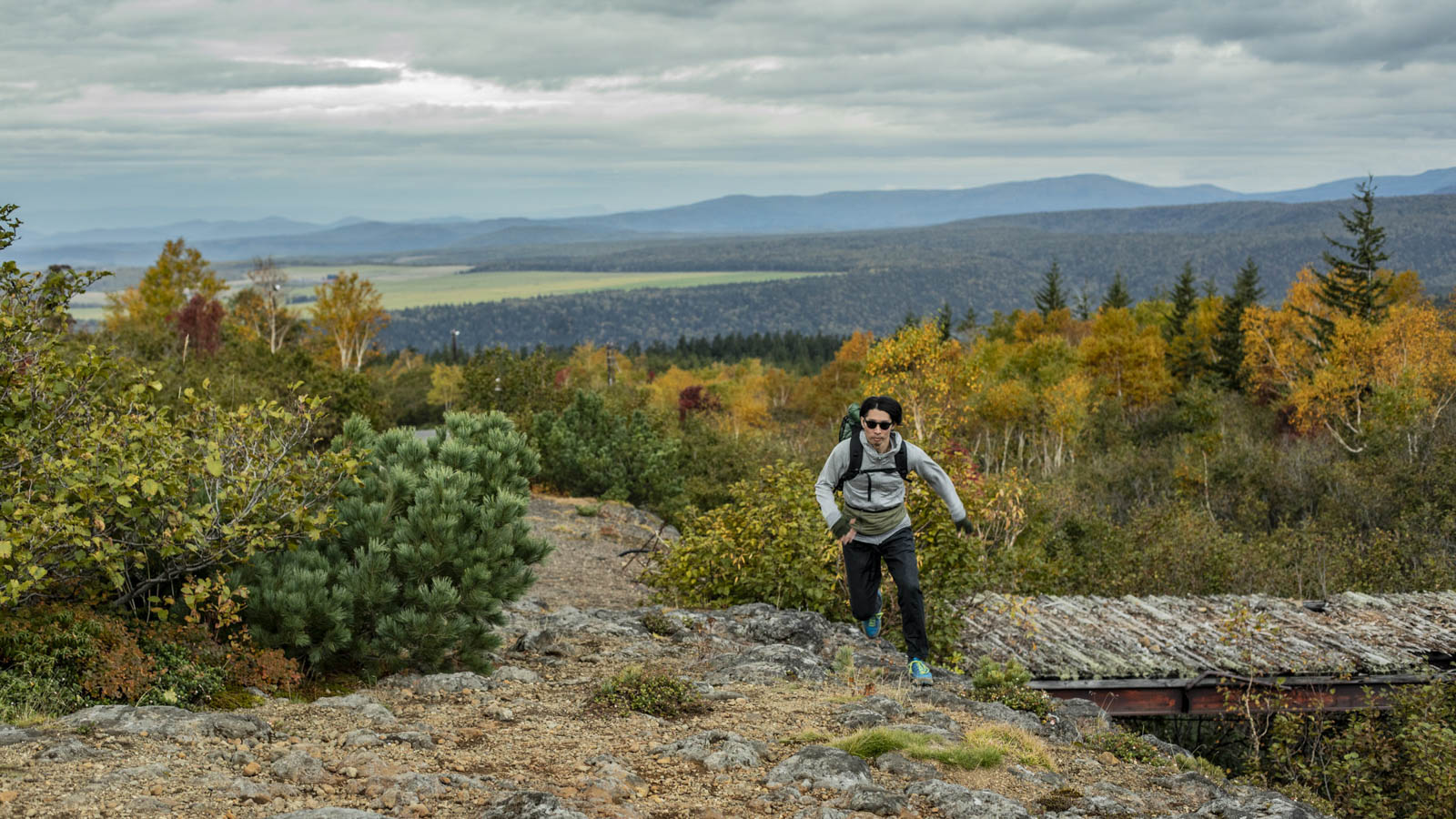 Alpha Haramaki
Keeping Your Belly Warm
Our Alpha Haramaki is made for late-night and early-morning hikers and runners to help them keep warm when temperatures are low.
The advanced Polartec Alpha Direct offers excellent insulation as well as breathability keeping your belly warm.
The surface uses the same ultralight and breathable Shadow Rip fabric as the UL Shirt to maximize the Polartec Alpha Direct's functionality, letting the heat escape while protecting the cold air.
*The material has been revised from Pertex Quantum Air to Teijin Shadow Rip since 2022.
COLOR MAY TRANSFER. WASH BEFORE USE.
Please note that when the Alpha Haramaki in a dark color, such as Black, Duck Green, Terracotta, or Indigo is in contact with white or light-colored clothes for a long period of time in wet conditions, color transfer may occur. It occurs when the item is brand-new and unwashed, so please wash* it before first use to remove the extra dye in the fiber.

*Please wash separately or with like colors.
Indigo

Duck Green

Terracotta

Black
Made in Akita, Japan
Material:
Facing: Shadow Rip (100% Polyester) 56g/m²
Lining: Polartec Alpha Direct (100% Polyester) 136g/m²
Zipper:
YKK #3 Coil Zipper
Weight:
47g (Size S)
52g (Size M)
59g (Size L)
Size:
UNISEX | S / M / L
Akira Natsume, Yamatomichi Founder
In the autumn of 2015, when light snow started to fall before daybreak, I was trying to pass through the peak of Mt. Goryutake in the Japanese Northern Alps on a fast-packing hike, with only the bare essentials of gear.
The strong wind penetrated my clothes and almost blew me off the cliff. I was wearing everything I had, but I was still freezing and near hypothermia! I thought it was too dangerous to keep going, and decided to rest until the next morning. As I opened my backpack to get my sleeping bag, I remembered the Minimalist Pad in my pack. I wrapped the pad around my waist and put on my rain jacket. I was still shivering but gradually felt my belly getting warmer and started to walk again.
This experience made me want to create tools and clothing that protect the abdomen, resulting in the Merino Hoody (the old version, Updated 2021) and the Alpha Anorak, but another idea that I came up with at the same time was the Alpha Haramaki.

Among many belly bands in the world, our Alpha Haramaki is probably the only item to protect the bellies of active hikers. It is easy to wear and warm, but not too warm.
The best balance of warmth and air-permeability is achieved by the combination of Polartec Alpha Direct, the same insulation used in our Alpha Anoraks, and Shadow Rip, the breathable and windproof fabric newly adopted in 2022.
The Haramaki is great for long-distance overnight races when the weather is bad or when you feel cold, tired, and weak.
What I realized through my experience is the importance of keeping your belly warm: when your belly is cold, you feel slow and dull, but as long as it's kept warm, you can keep going. In other words, if your belly is kept warm you are warm even if the temperature is cold. With a belly warmer, you can minimize the trouble of putting the jacket on and off during activities.
Hopefully, our Alpha Haramaki will receive more popularity among the runners and hikers who traverse through the mountains in Japan!
For high-intensity activity in the cold
The Alpha Haramaki is a belly band that has been developed for use during intense activity in cold circumstances, such as ridges with strong winds, snowy mountains, early mornings, and late nights.
Polartec Alpha Direct (136g/m2), which combines excellent heat insulation with good breathability, effectively repels moisture, even during high-intensity activity. The large velcro strips make it easy to put on and take off and keep the Haramaki snug while worn.
Large velcro straps make it possible to rapidly put on or take off the belly band while on the move.

If it is difficult to wear, at first, fasten the Velcro at the front and then switch the front and back.

Convenient front pocket for snacks and heat packs.
When worn like in the photo, it warms the lower abdomen.

When worn upside down, the upper belly will be kept warm.
Thermal Comparison
Although it is not as warm as 1000 fill power down, the slightly thick Polartec Alpha Direct (136g/m2) used in the Alpha Vest is one of the best insulators available. The Alpha Vest can be used not only in action but also when resting, always keeping you warm.
Comparison:
The below chart compares the 1000 fill power down and other insulators used in thermal clothes on the market.
Heat retention is measured by JIS L1096A method, in Yamatomichi in-house test. The heat insulation property is measured from the amount of energy consumed by the heat-generating element to maintain its temperature. The maximum value is 100%.

The values of Polartec and Primaloft fabrics are the manufacturers' catalog specs. Other fabrics' values are measured by Yamatomichi. 1000 fill power down includes its 7 denier nylon outer and lining.
Polartec Alpha Direct
It is like a fleece with longer puffy hairs.
Excellent air-permeability and thermal performance
Outstanding lightness and packability
Polygiene treatment for semi-permanent antibacterial and odor-control
Machine-washable, easy-care
Conventional natural down and synthetic insulators tend to contain body moisture within the clothes and as a result, can be quite stuffy. Polartec Alpha Direct, on the other hand, is so air-permeable that it can be worn even during a high level of physical activity.
Alpha Direct is also treated by Polygiene odor control which safely reduces the microorganisms and bacteria by small amounts of silver ions, achieving antibacterial and deodorizing function that well exceeds the lifespan of ordinary garments.
Material:
Polartec Alpha Direct (100% Polyester)
Spec:
Bursting strength measured by JIS L1096A (In-house test):
465kPa
Heat retention measured by JIS L1096A (In-house test):
57.6%
Heat retention measured by ASTM F1868:
Min: 0.80CLO, Max: 1.60CLO
Shadow Rip: Lightweight, Strong, Durable
The mountain environment can be harsh; the weather is often unstable, temperature changes drastically, the wind is strong and the sunlight is intense. In these situations, it is necessary for the outdoor shirt to achieve both a high level of breathability and windproof performance at the same time. Our newly-adopted Teijin's Shadow Rip fabric is breathable yet windproof while being light and strong.
Usually, thin and light fabrics have a ripstop structure, in which thick yarns are interwoven in a grid pattern in order to enhance tear resistance. This structure, however, often creates an unsmooth surface, causing the pilling due to weak wear resistance.
Shadow Rip is woven with fine, highly strong yarn to achieve a smooth appearance, and offers excellent resistance to snagging and abrasion while being light and strong. It is also wrinkle-proof and pilling-proof, featuring a soft texture.
Material:
Shadow Rip (100% Polyester) 56g/m²
30d
C0 DWR
Spec:
Tear strength measured by JIS L1096D (In-house test)
Vertical: 1.4kg, Horizontal: 1.5kg
Tensile strength measured by JIS L1096A (In-house test)
Vertical:47.1kg, Horizontal: 42.8kg
Air permeability measured by JIS1096A (In-house test)
33.5cc/(cm²·s)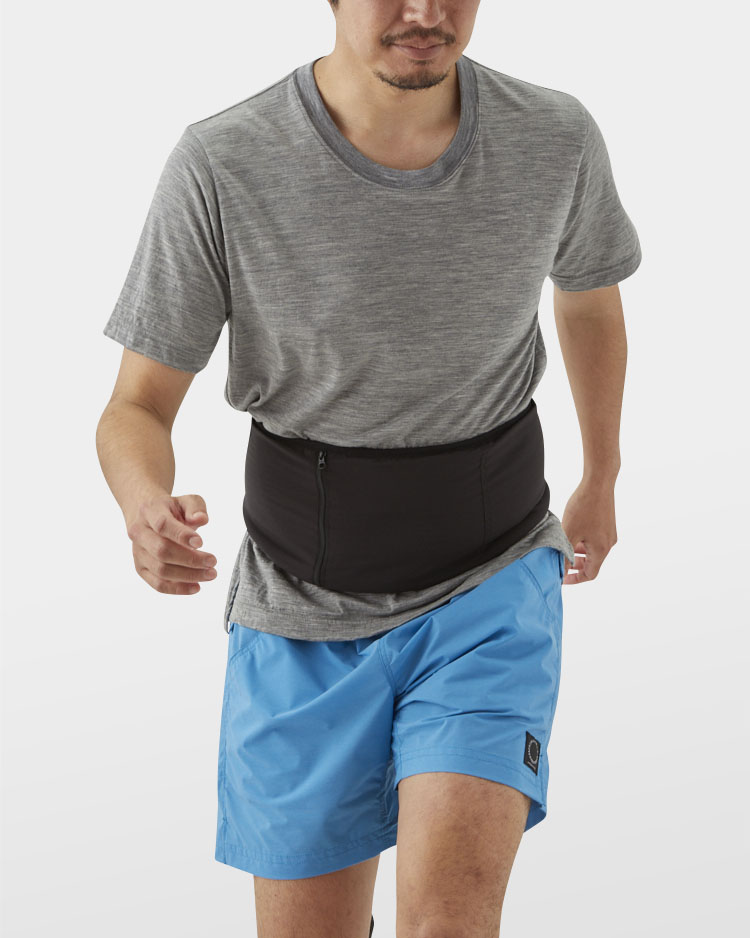 Hide 178cm-68kg
Size M (Black)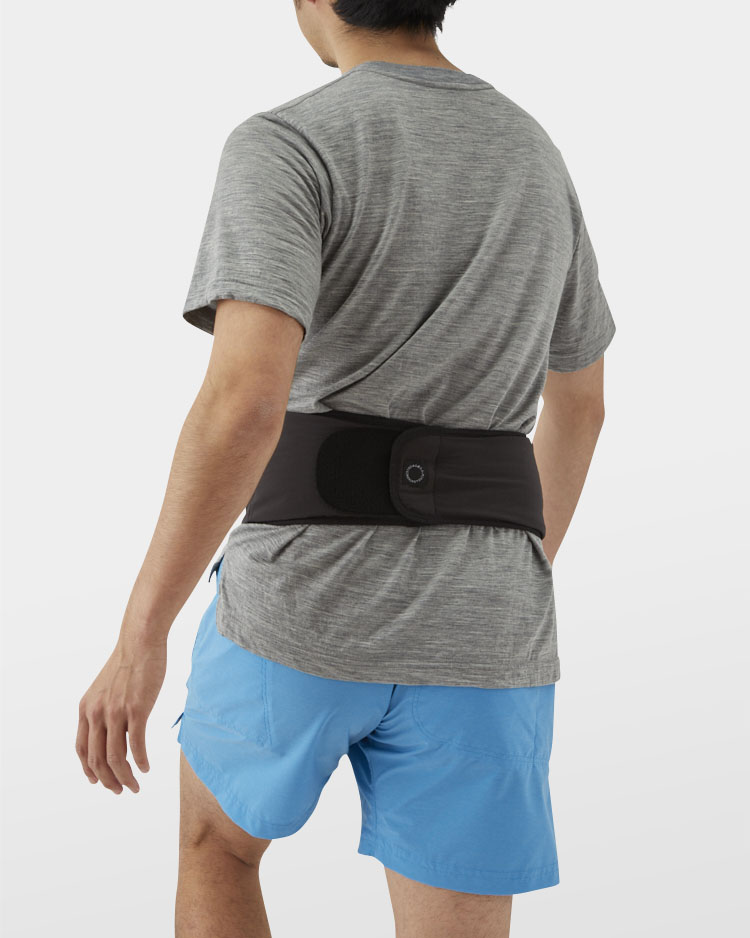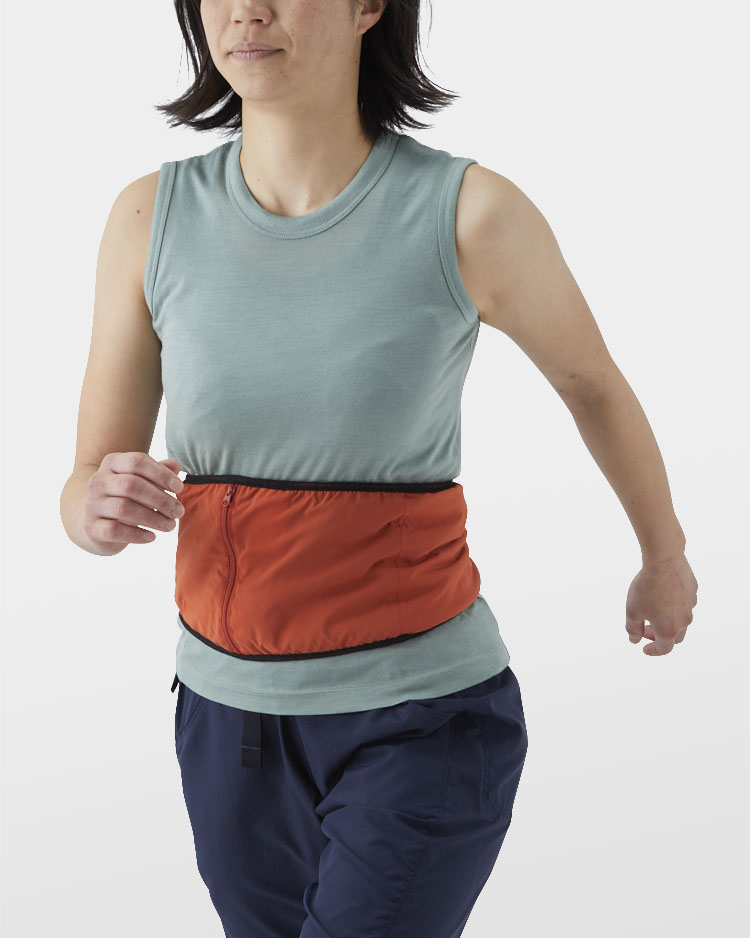 Shiori 167cm-55kg
Size M (Terracotta)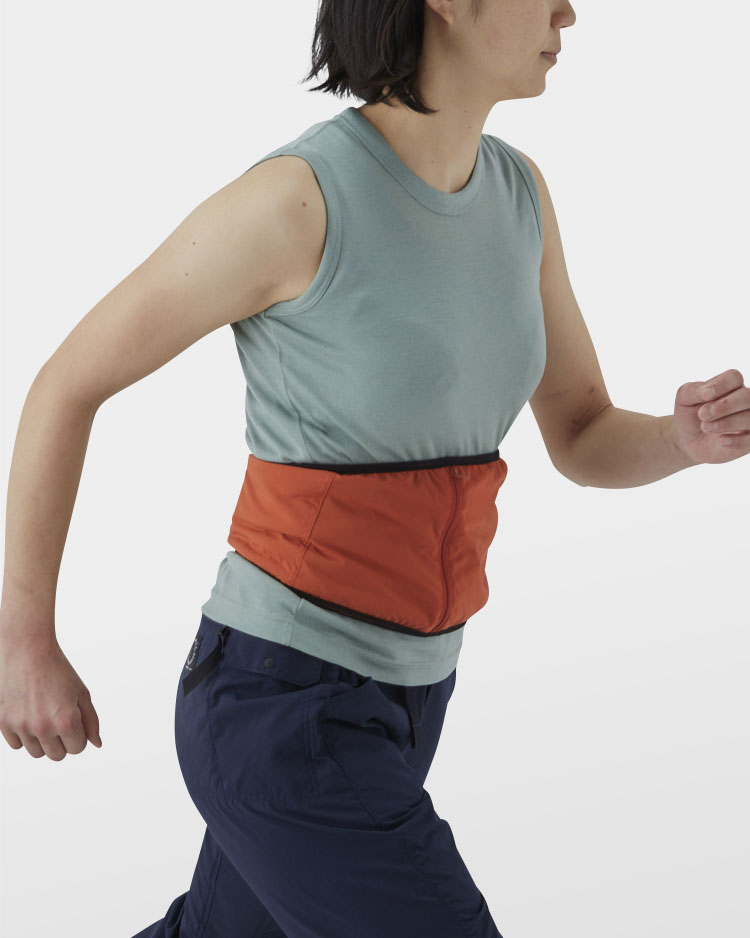 製品サイズ / Product Size
| Size | S | M | L |
| --- | --- | --- | --- |
| 全長/Full Length | 68~81 | 79~92 | 90~103 |
| 幅/Width | 19 | 20 | 21 |
Wash Before Use
Please note that the Alpha Haramaki in dark colors, such as Black, Duck Green, or Terracotta, is in contact with white or light-colored clothes for a long period of time in wet conditions, color transfer may occur. It occurs when the item is brand-new and unwashed, so please wash* it before first use to remove the extra dye in the fiber.
*Please wash separately or with like colors.
Care Instructions
Use neutral detergent. Machine wash below 30°C.
Fasten zipper and velcros, and wash separately or use a laundry net bag.
Do not bleach and do not use fabric softener.
Wring gently. Line dry in the shade.
Do not tumble dry.
Do not iron. Do not dry-clean.
If necessary, wash to remove fuzz from the fabric before first use.
Payment
We only accept payment by credit card. We currently do not accept payment via bank transfer from overseas accounts.
We accept the following Credit Cards: Visa, Master, American Express, and JCB.
To download your receipt, please click the link included in the Dispatch Notice, which we will send by email as soon as the items are dispatched.
Delivery
We will ship by DHL for overseas customers (excluding China, Hong Kong, Taiwan, Korea and Russia). For customers in China, Hong Kong, Taiwan, Korea and Russia, we will ship by EMS only. Shipping costs vary depending on your country and region.
Size Exchange
Overseas customers who need to change the size of their order, should note that the time needed for shipping will vary greatly depending on your country of residence.
We only accept exchanges when the item is unused (except for fitting).
If you wish to exchange the size of the item, please contact us within seven days of receiving your order.
Exchanges can only be made for the same color in a different size.
If the size you wish is out of stock, we will suggest a different color.
If the product is out of stock, we may simply have to ship the item back to you.
All shipping costs to be carried by the customer.
We will only send the exchanged item to you, upon receipt of return shipping cost via PayPal.
Please be aware that some countries charge customs duties depending on the price of the item.
We are unable to answer any questions on local customs. Please contact your local customs bureau.
Repair
We accept repairs for all of our Yamatomichi products. For inquiries on repair services including patching the holes, repairing with extra components, or fixing the items damaged over time, please feel free to contact us from the "Repair" section of the SUPPORT page.
Restock Alert