235g
¥ 17,050 Tax included
Introduction
Hiker's Pants
Our 5-Pocket Pants are a pair of extremely comfortable pants with our unique 5-Pocket system that help you keep your map, snacks, and smartphone close by. They are durable, comfortable, and perhaps our most versatile pair of hiking pants.
Color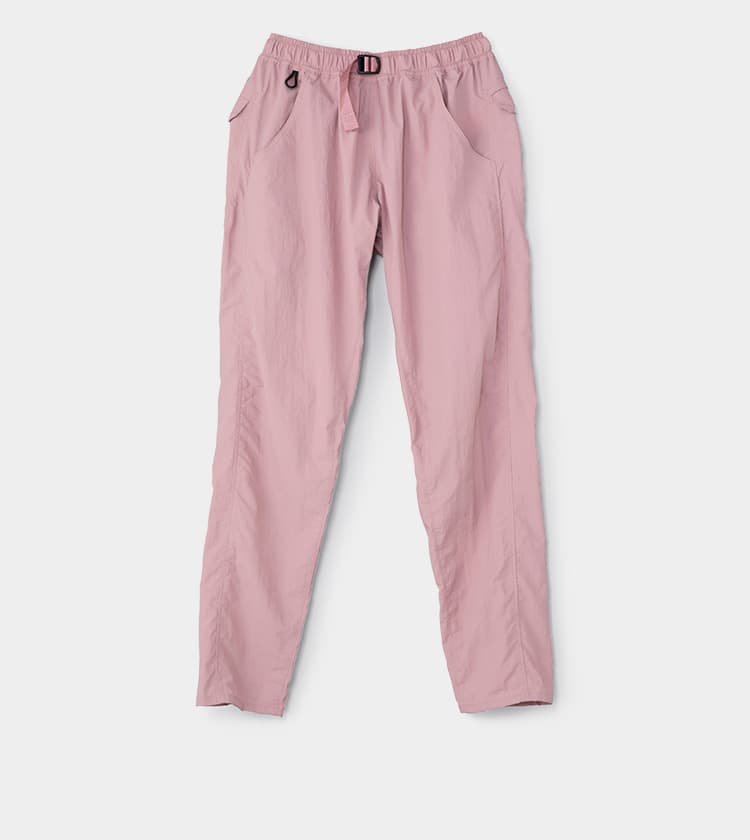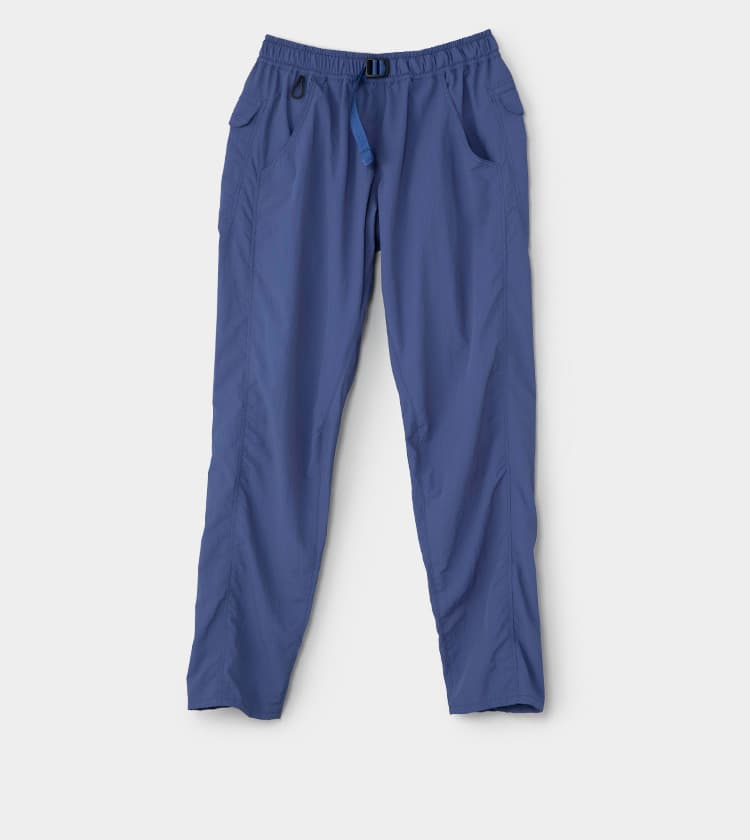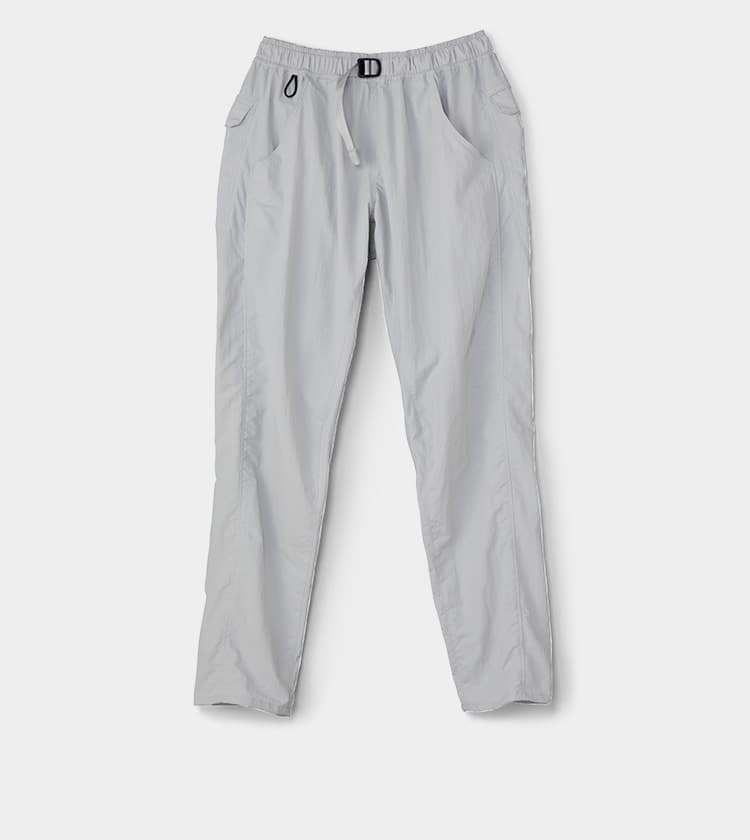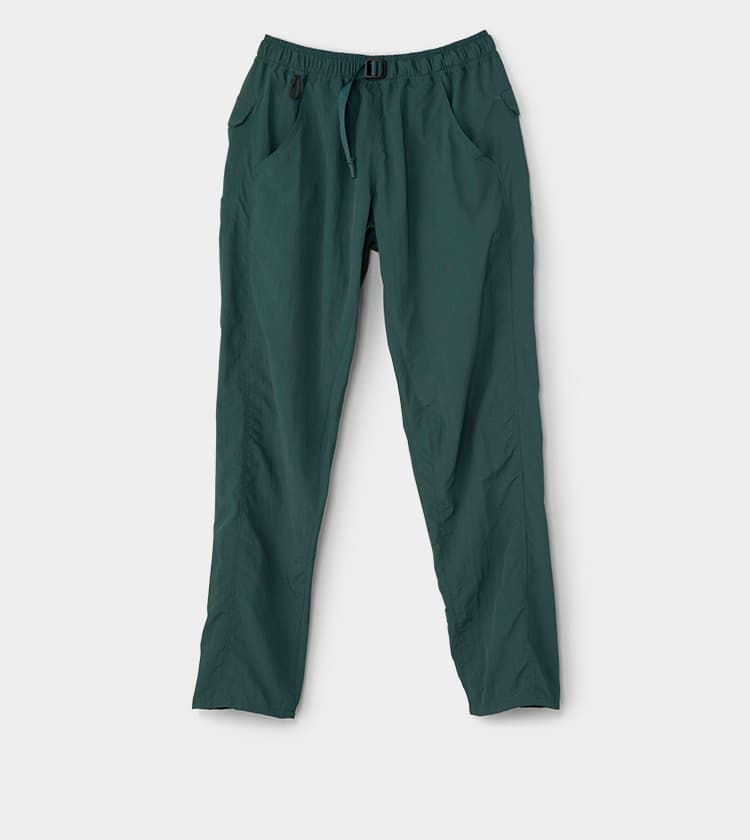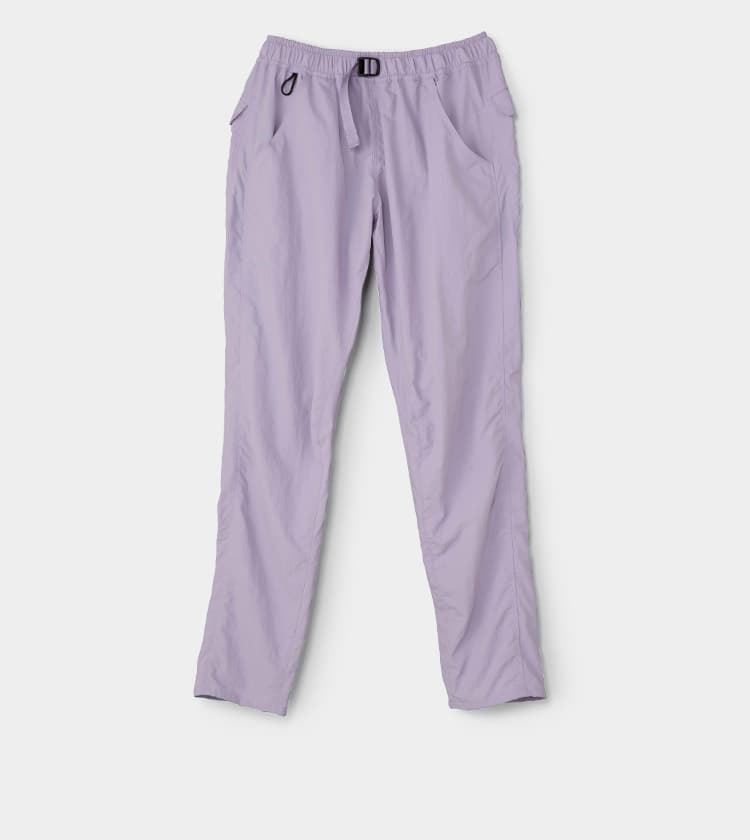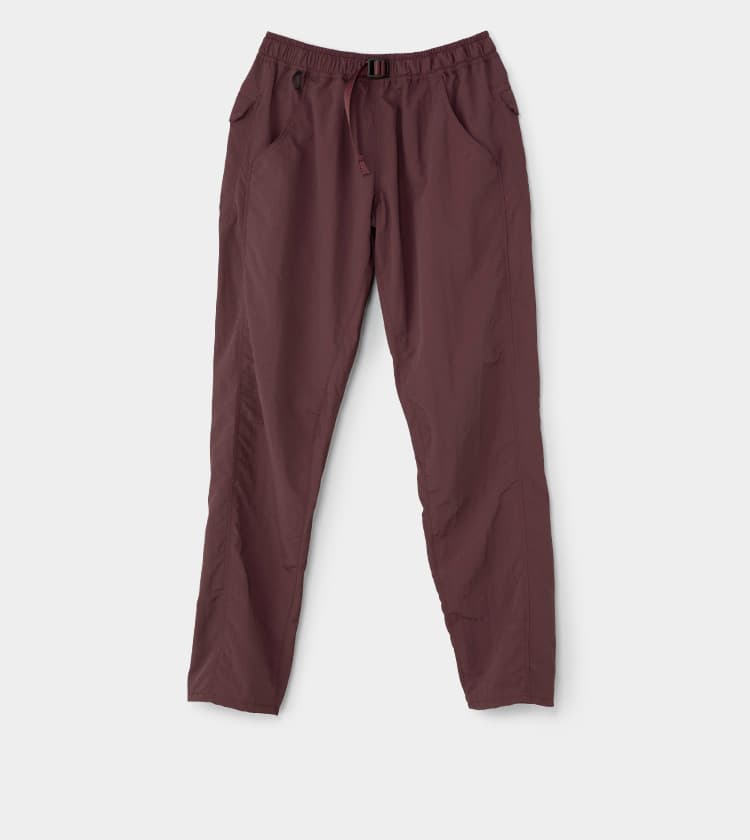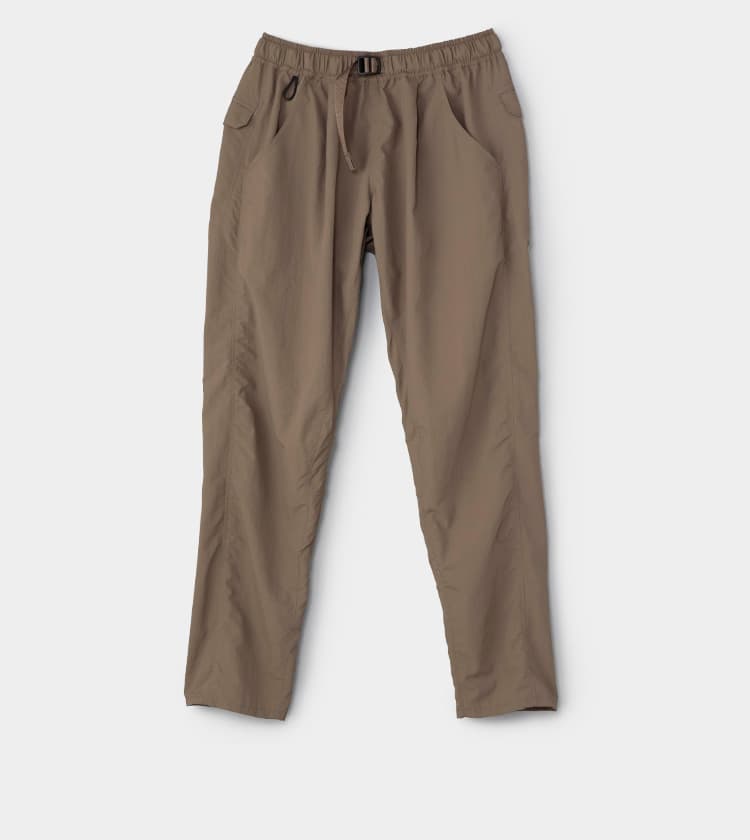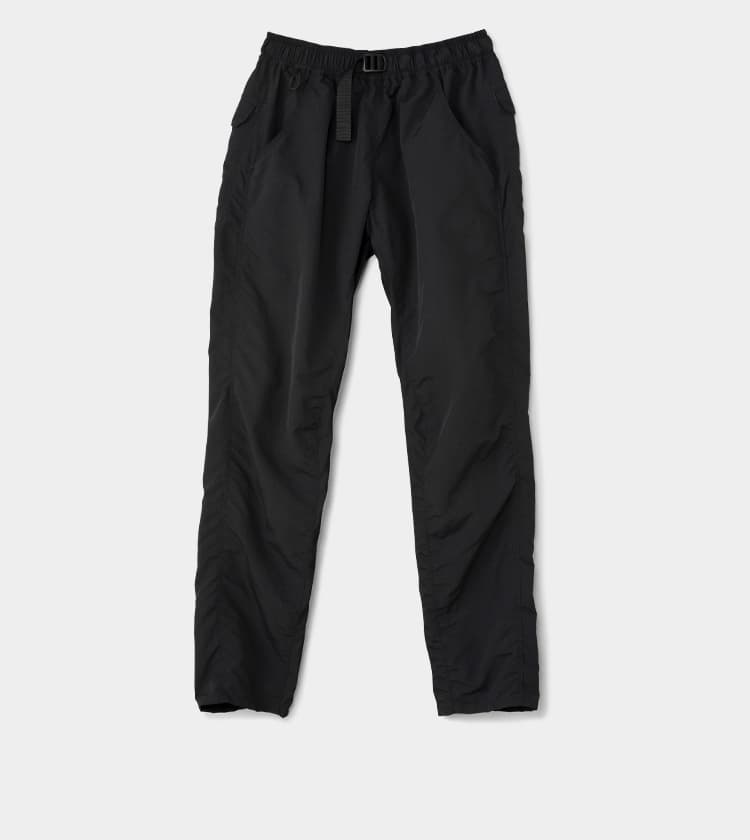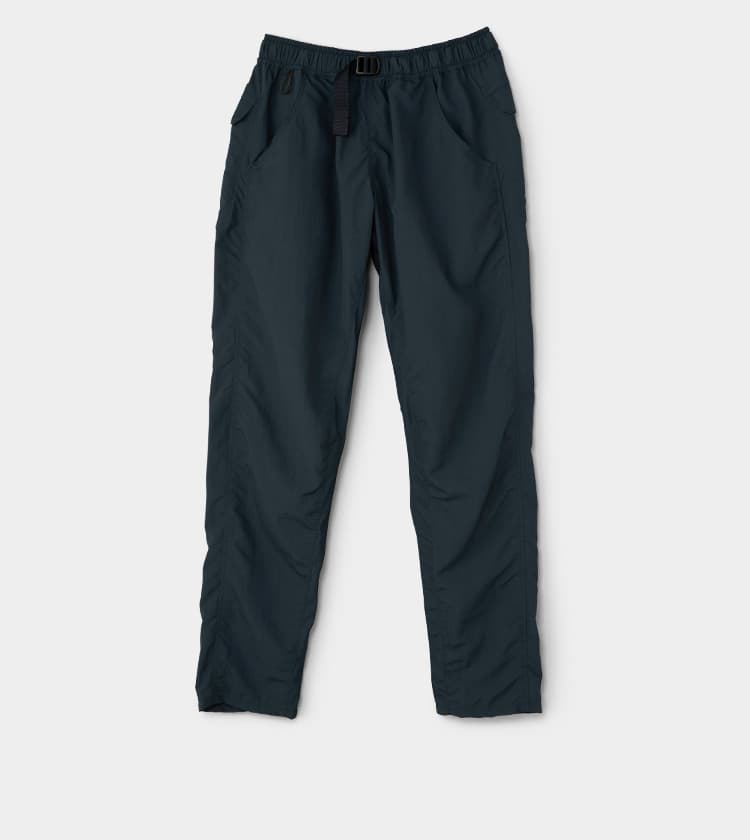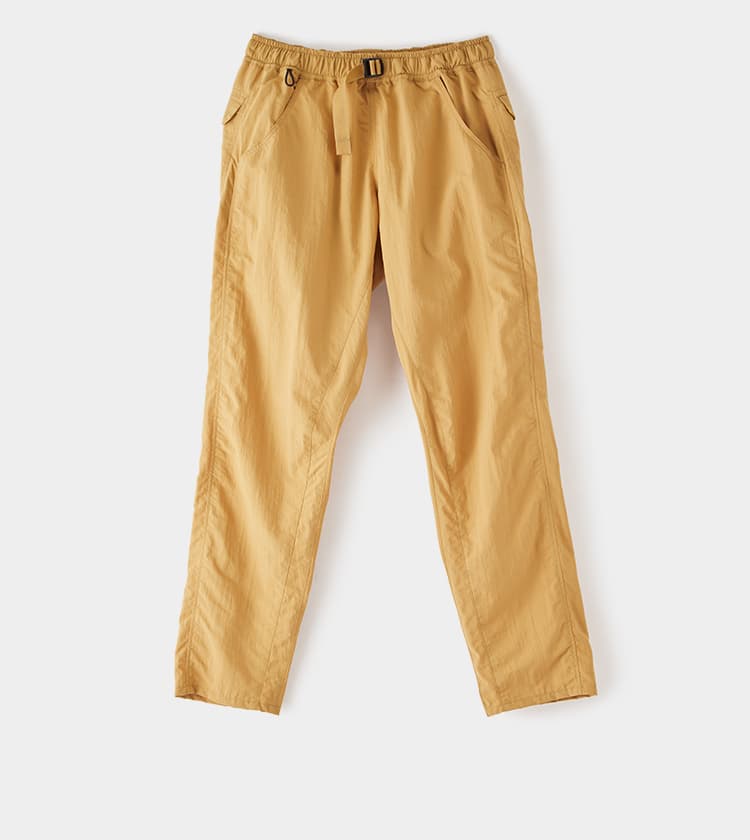 Spec
Made in Akita, Japan
Material:
Taslan Nylon (100% Nylon) 120g/㎡
Water repellent:
C6 DWR
Zipper:
YKK #3 Coil Zipper
Weight:
235g (Size S)
238g (Size S-Tall)
246g (Size M)
249g (Size M-Tall)
258g (Size L)
261g (Size L-Tall)
Size:
WOMEN | S / S-Tall / M / M-Tall / L / L-Tall
Product Story
Not Just the Long Version
Akira Natsume, Yamatomichi
Secure storage for a smartphone, convenient hand pockets, overall performance, and so on… Everything about our 5-Pocket Shorts (that we made before the 5-Pocket Pants) was so perfect and comfortable, that regular long pants simply didn't seem good enough anymore. Only, when it was too cold to wear shorts, I had no choice but to wear long pants by other companies. That is until I decided to make a long version of our 5-Pocket Shorts.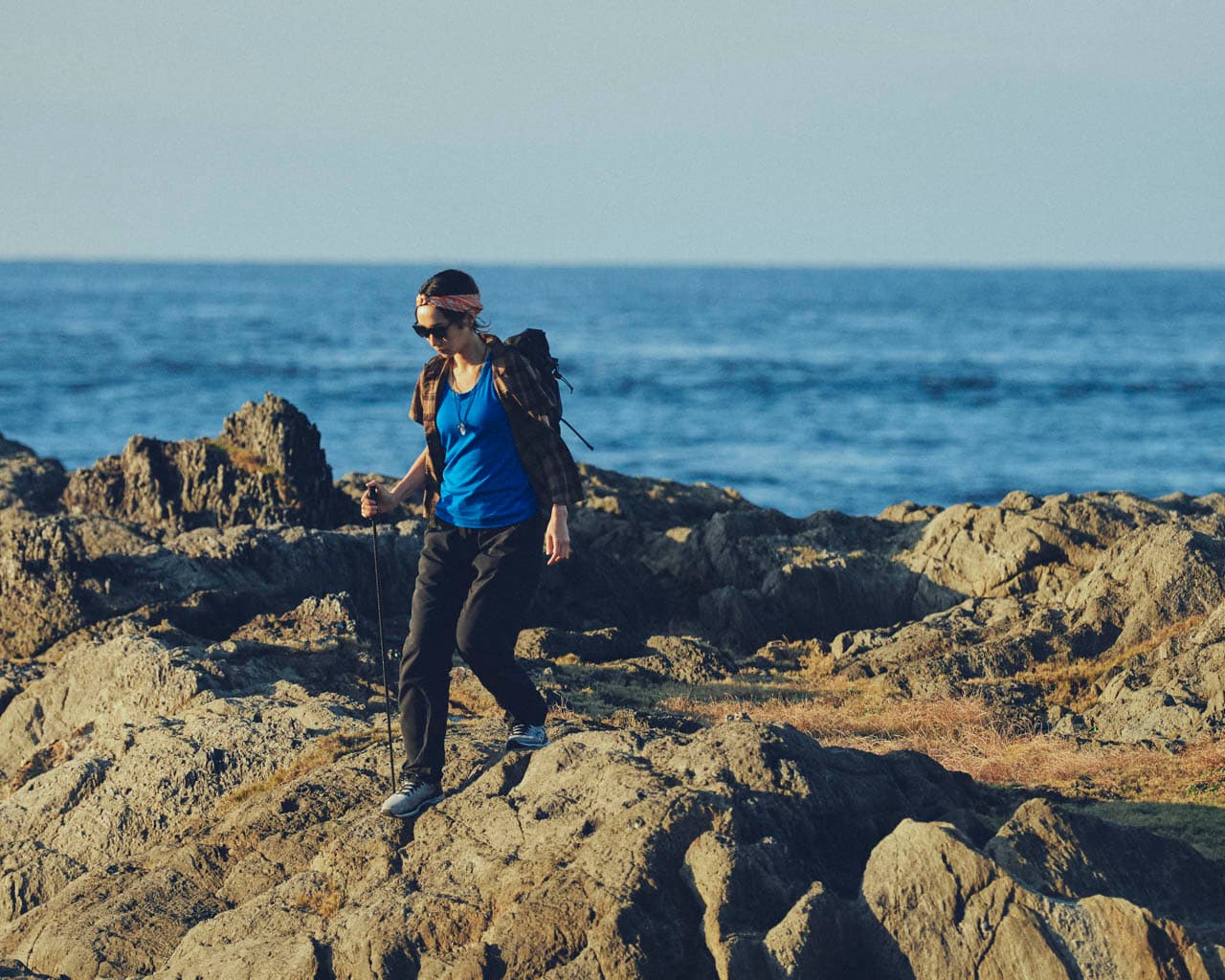 Ai Watanabe, wearing the Black color.
Initially, I was simply trying to lengthen the shorts to make a pair of pants, but the development turned out to be a lot more difficult than I expected. Because the Taslan nylon of the 5-Pocket Shorts has no stretch properties, the movement of the knee got too restricted when I tried making a pair of long pants from the same material.
Instead, I thought of using an elastic material containing polyurethane, but this caused another problem: the materials with polyurethane tended to be slow-drying and less windproof in exchange for its elasticity. I, therefore, decided against using any stretch material.
The 5-Pocket Shorts patterner and I tried one pattern after another and tested it over and over again. The goal was to create the ideal pair of long hiking pants made with the same Taslan nylon, assuring flexible knee movement.
After a great deal of testing and consideration, we concluded that gussets were the solution: bias-cut multiple gussets are sewn to make the pants more three-dimensional. Finally, we came up with the ideal pair of comfortable long pants.
Since then, I wear our 5-Pocket Shorts in the summer, and our 5-Pocket Pants when colder. The material is thin and lightweight but shuts out the wind properly, so I can still keep warm even in slightly cold weather. And I just love the convenience of our 5-Pocket system.
Form and Function
Pockets for Smartphone and Maps
Yamatomichi 5-Pocket design can neatly store your map, snack, wallet, and other items you need during hiking, without interfering with your leg movement.
Especially, our smartphone pocket at the side is so well-positioned that it fits your phone while keeping it securely in place without bouncing around when running. The map pocket is large enough to store the water bottle.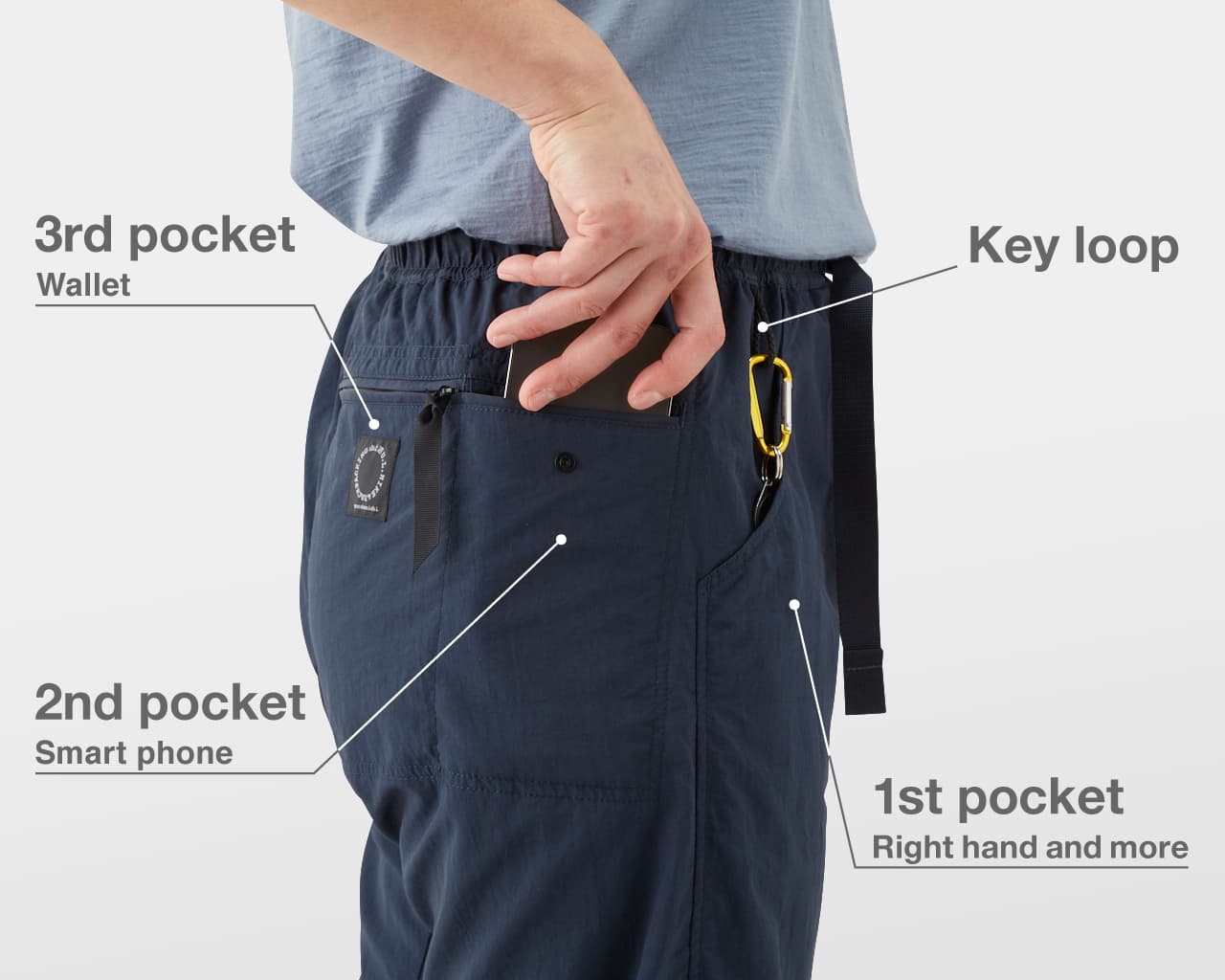 1st pocket
Large enough for comfortable keeping your hands in your pockets while hiking.
2nd pocket
The 2nd pocket is perfect for your smartphone. The perfectly-allocated pocket just behind the hipbone secures a smooth leg lift, preventing your phone from bouncing around, and keeps your phone safe and intact when sitting.
3rd pocket
The 3rd pocket is positioned high for wallets, etc. The long zipper tab allows for easy opening/closure of the pocket.
Key Loop
You can attach keys or a small carabiner to the long key loop. It's also handy when you hang the pants to dry.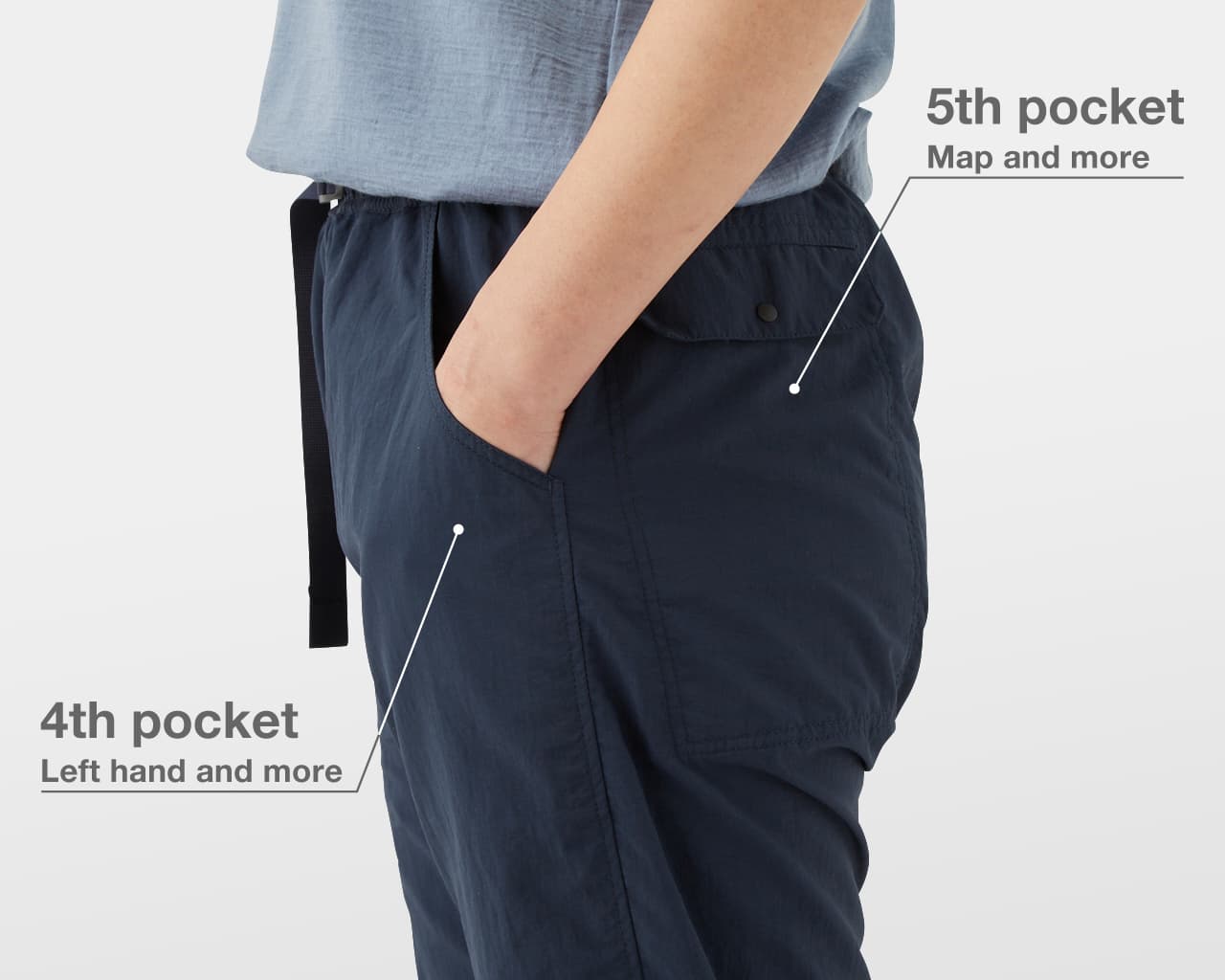 4th pocket
The lower part of the pocket liner is made of polyester mesh for drainage should the pants get wet.
5th pocket
The 5th pocket is made to fit the size of the normal hiking map. It is also perfect for a large-screen smartphone, compact digital camera, and even a water bottle.
Outstanding Ease of Movement
Though the material is non-stretchable, the outstanding ease of movement is achieved by our proprietary pattern and the three-dimensional sewing. The pants are stress-free and comfortable even when you have to raise your leg high on a steep trail.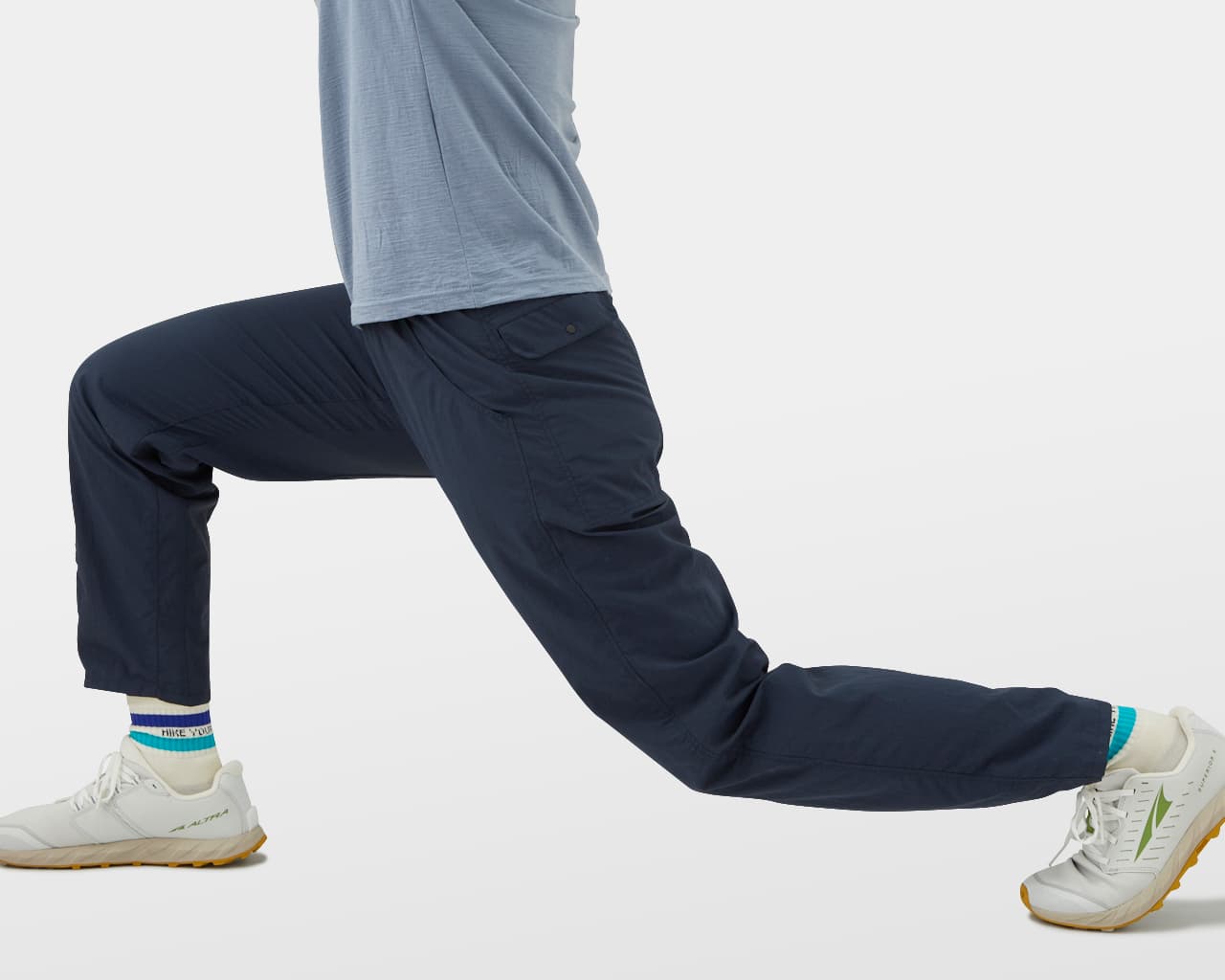 After many trials and errors, we successfully created the stress-free design; the gusset at the crotch allows for comfortable leg movement. The seam puckering (wrinkles at the seam) adds uniqueness to our 5-Pocket Pants.
Fast-drying and Durable
In the pouring rain, even water-repellent finished clothes will unavoidably get wet. Also, even the highest-spec rainwear gets soaked from the moisture caused by sweat during intense exercise. Hence, what we prioritize is how fast the fabric can dry after getting wet, rather than making a lot of effort to keep them completely dry.
Generally, the thinner the fabric, the faster it dries. It is true that fast-drying property matters for hiking, but at the same time, a certain level of durability and strength are required.
The cotton-like Taslan with 120g/㎡, the material used for the One-Tuck, is lightweight, fast-dry, and durable.
Moisture Content after 15 mins of Spin Dry
As the fabric is very light it dries in no time! See below for details of just how fast these pants dry compared to other fabrics.
The below chart compares the moisture content in the fabric of the One Tuck 5-Pocket Pants with synthetic base layers and normal cotton after a 15 minutes spin cycle.
The lower the moisture content, the faster the fabric will dry. As can be seen on the above chart the 5-Pocket Pants are almost completely dry with a moisture content of only 1% after a 15 minutes spin.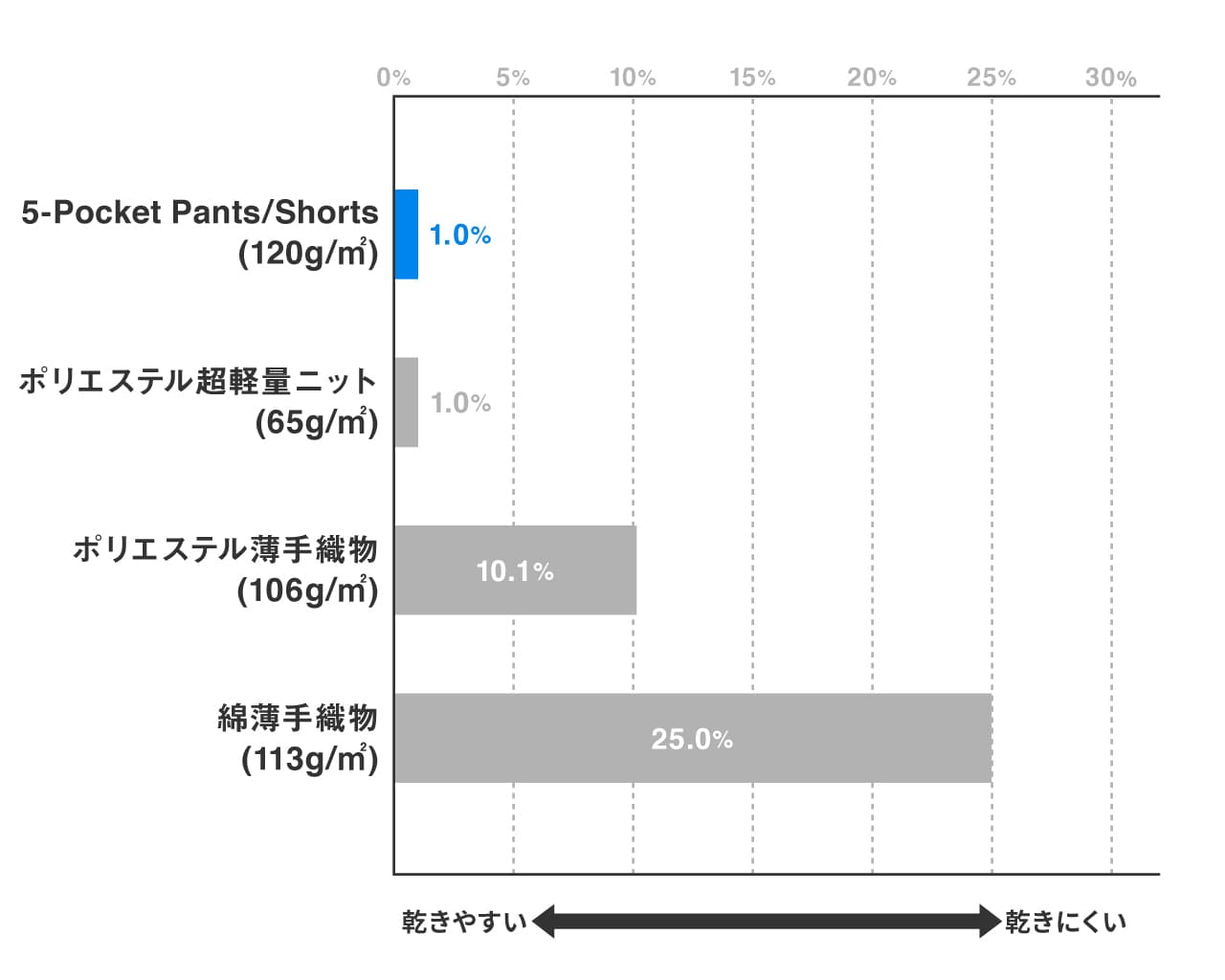 5-Pocket Lineup
Yamatomichi offers three types of bottoms for the three seasons of spring, summer, and autumn: the standard 5-Pocket Pants/Shorts, the origin of the series; the Light 5-Pocket Pants/Shorts, which are super light and offer exceptional breathability; and the DW 5-Pocket Pants/Shorts, which are somewhat in the middle between the two.
Each has its own advantages and disadvantages depending on the situation, season, and application, but all of the designs are similar. Please visit the following link for details.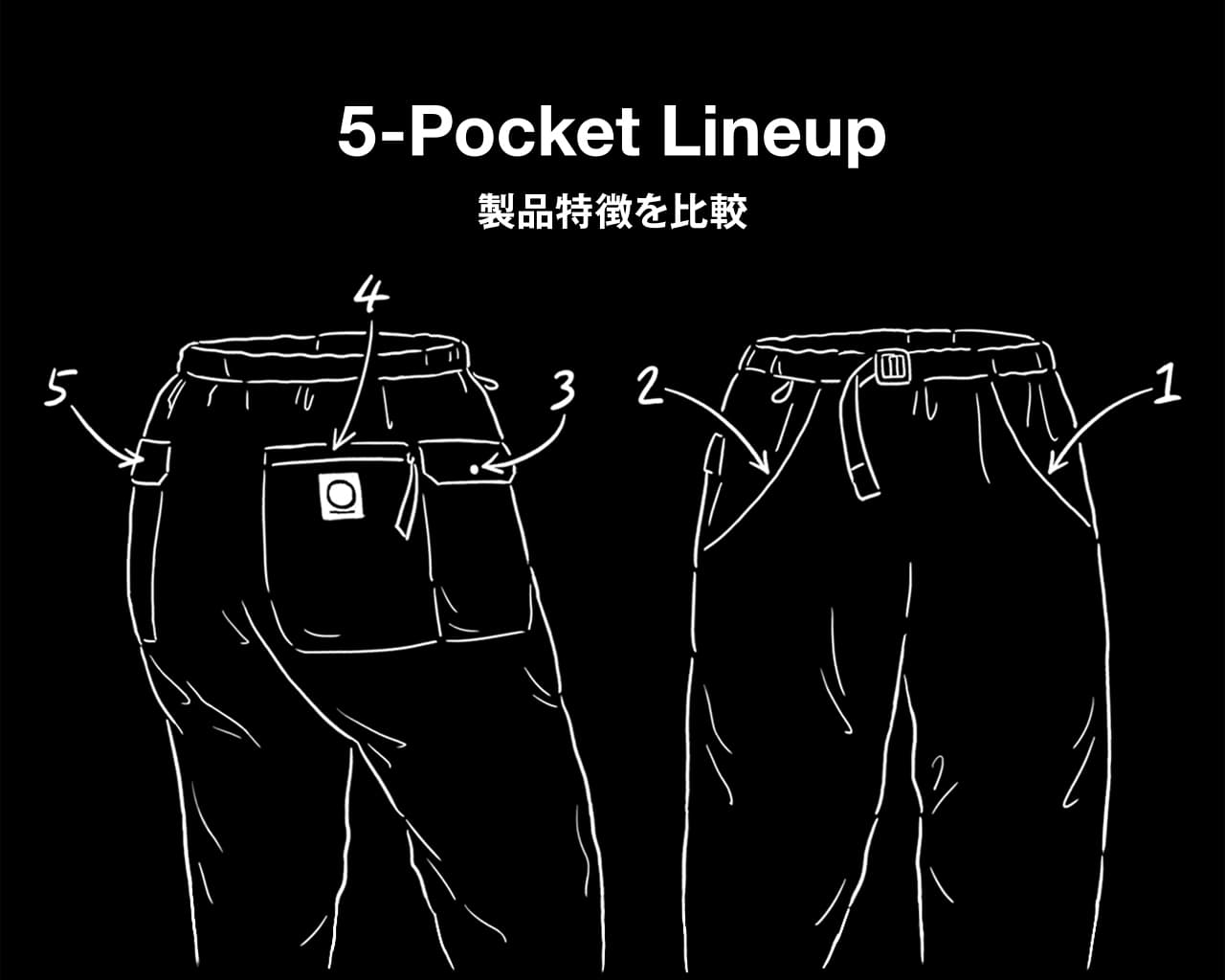 Material
Cotton-like Taslan Nylon
The Taslan nylon fabric is made of "air-textured yarns", the filament yarns using compressed air.
Unlike the general nylon fabrics, which are often shiny, the Taslan nylon has a matte and soft texture. It is a high-density material made of "air-textured yarns", achieving both durability and lightweight.
The nylon material is fast-dry and its unique uneven texture keeps you comfortable in various conditions without sticking to your wet skin.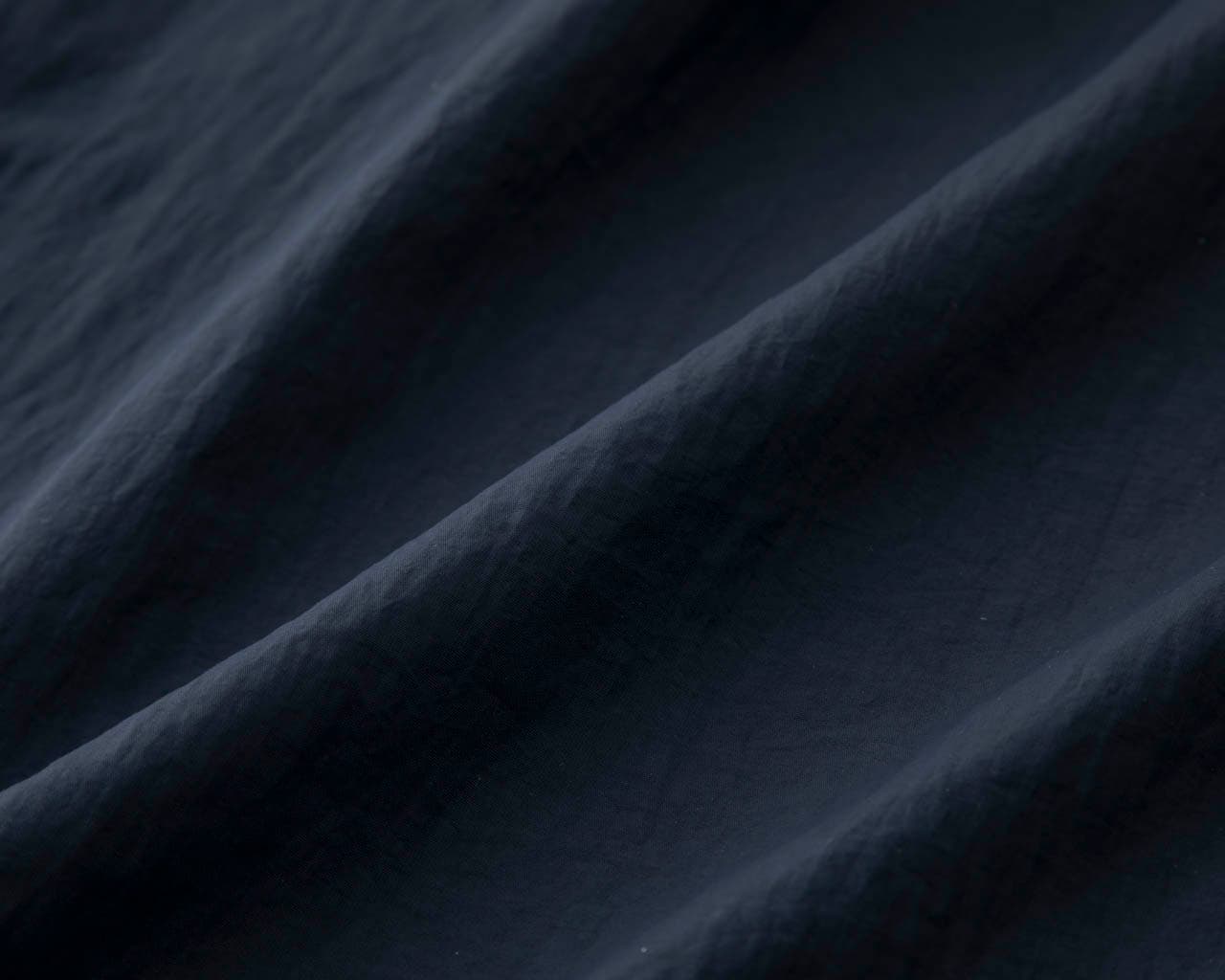 Material:
Taslan Nylon (100% Nylon) 120g/㎡
70d/48f x 160d/144f
C6 DWR
Spec:
Tear strength measured by JIS L 1096 D (In-house test)
Vertical: 7.6kg, Horizontal: 4.4kg
Tensile strength measured by JIS L 1096 A (In-house test)
Vertical: 102kg (or more), Vertical: 79kg
Breathability measured by JIS 1096 A (In-house test)
8.4cc/(㎠・s)
Size
Kanade 161cm-56kg
Size S (Navy)
Kanade 161cm-56kg
Size S (Navy)
Nana 151cm-47kg
Size S (Woodrose)

Eriko 158cm-47kg
Size M (Tawny Port)

Kanade 161cm-56kg
Size ST (Navy)

Kanade 161cm-56kg
Size M (Deep Cobalt)

Hikaru 165cm-59kg
Size M (Pale Lilac)

Hikaru 165cm-59kg
Size L (Deep Forest)

Yumiko 170cm-59kg
Size LT (Navy)
Nana 151cm-47kg
Size S (Woodrose)

Eriko 158cm-47kg
Size M (Tawny Port)

Kanade 161cm-56kg
Size ST (Navy)

Kanade 161cm-56kg
Size M (Deep Cobalt)

Hikaru 165cm-59kg
Size M (Pale Lilac)

Hikaru 165cm-59kg
Size L (Deep Forest)

Yumiko 170cm-59kg
Size LT (Navy)
推奨サイズ / Recommended Size
Size
S
ST
M
MT
L
LT
身長 / Height
cm
150~158
159~164
156~164
165~169
162~169
170~176
体重 / Weight
kg
42~49
42~49
47~56
47~56
54~62
54~62
ウエスト / Waist
cm
60~66
60~66
64~72
64~72
68~76
68~76
製品サイズ / Product Size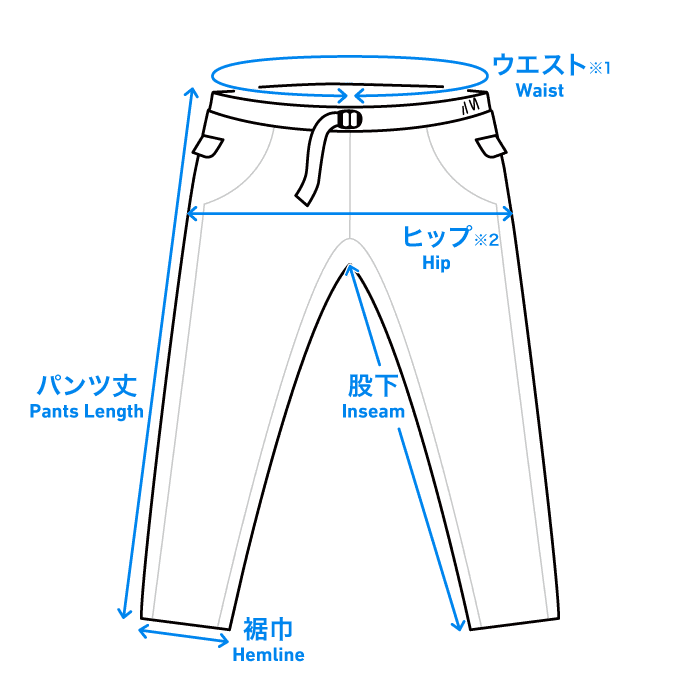 *Waist is measured when the rubber is not stretched.
**The hip is the width measured at the largest part of the waist when placed flat.
| Size | S | ST | M | MT | L | LT |
| --- | --- | --- | --- | --- | --- | --- |
| パンツ丈 / Pants Length
 | 92.5 | 95.5 | 96.5 | 99.5 | 100 | 103 |
| 股下 / Inseam | 70 | 73 | 73 | 76 | 76 | 79 |
| ウエスト / Waist | 64 | 64 | 68 | 68 | 72 | 72 |
| ヒップ / Hip | 52 | 52 | 55.5 | 55.5 | 58 | 58 |
| 裾巾 / Hemline | 16.5 | 16.5 | 17.5 | 17.5 | 18.5 | 18.5 |

*Slight size differences may occur due to fabric shrinkage and sewing variations.
Instructions
Care Instructions
Machine wash below 40°C.
Use laundry net or wash separately.
Line dry in the shade.
Tumble dry below 60°C.
Do not bleach and do not use fabric softener.
Iron on low without steam.
Do not dry-clean.
High temperatures may cause shrinkage.
Payment
We only accept payment by credit card. We currently do not accept payment via bank transfer from overseas accounts.
We accept the following Credit Cards: Visa, Master, American Express, and JCB.
To download your receipt, please click the link included in the Dispatch Notice, which we will send by email as soon as the items are dispatched.
Delivery
Order Confirmation will be sent after the order.
The items will be dispatched within 3 days after the payment is confirmed.
The dispatch notice will be sent by email as soon as the items are dispatched.
The delivery may be delayed by unforeseeable reasons such as natural disasters and other logistics issues. We appreciate your patience and understanding.
We cannot ship multiple orders in one package due to how our delivery system is currently set up.
We will ship by DHL for overseas customers (excluding China, Hong Kong, Taiwan, Korea and Russia). For customers in China, Hong Kong, Taiwan, Korea and Russia, we will ship by EMS only.
Shipping costs vary depending on your country and region.
Size Exchange
Overseas customers who need to change the size of their order, should note that the time needed for shipping will vary greatly depending on your country of residence.
We only accept exchanges when the item is unused (except for fitting).
If you wish to exchange the size of the item, please contact us within seven days of receiving your order.
Exchanges can only be made for the same color in a different size.
If the size you wish is out of stock, we will suggest a different color.
If the product is out of stock, we may simply have to ship the item back to you.
All shipping costs to be carried by the customer.
We will only send the exchanged item to you, upon receipt of return shipping cost via PayPal.
Please be aware that some countries charge customs duties depending on the price of the item.
We are unable to answer any questions on local customs. Please contact your local customs bureau.
Repair
We accept repairs for all of our Yamatomichi products. For inquiries on repair services including patching the holes, repairing with extra components, or fixing the items damaged over time, please feel free to contact us from the "Repair" section of the SUPPORT page.