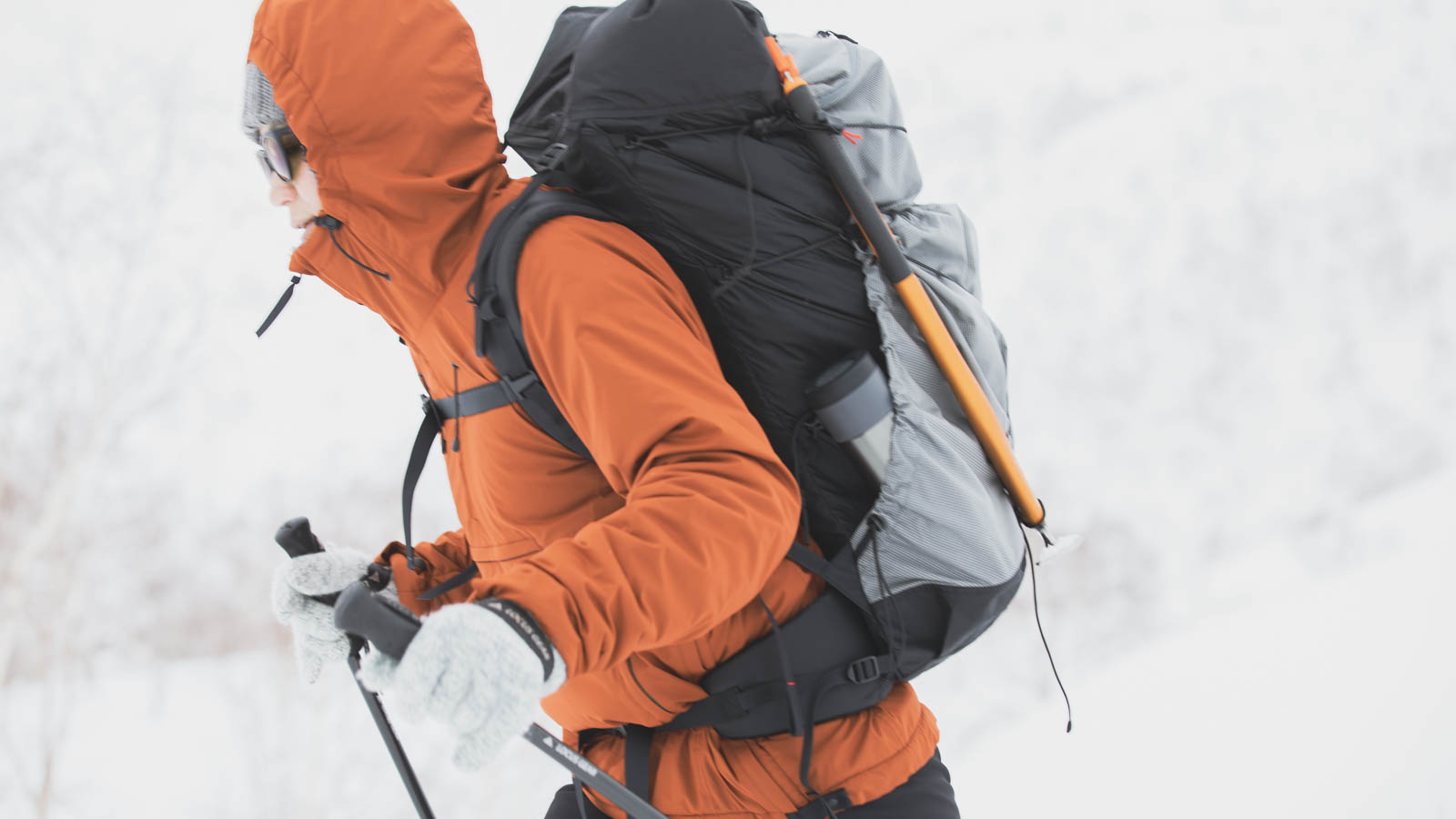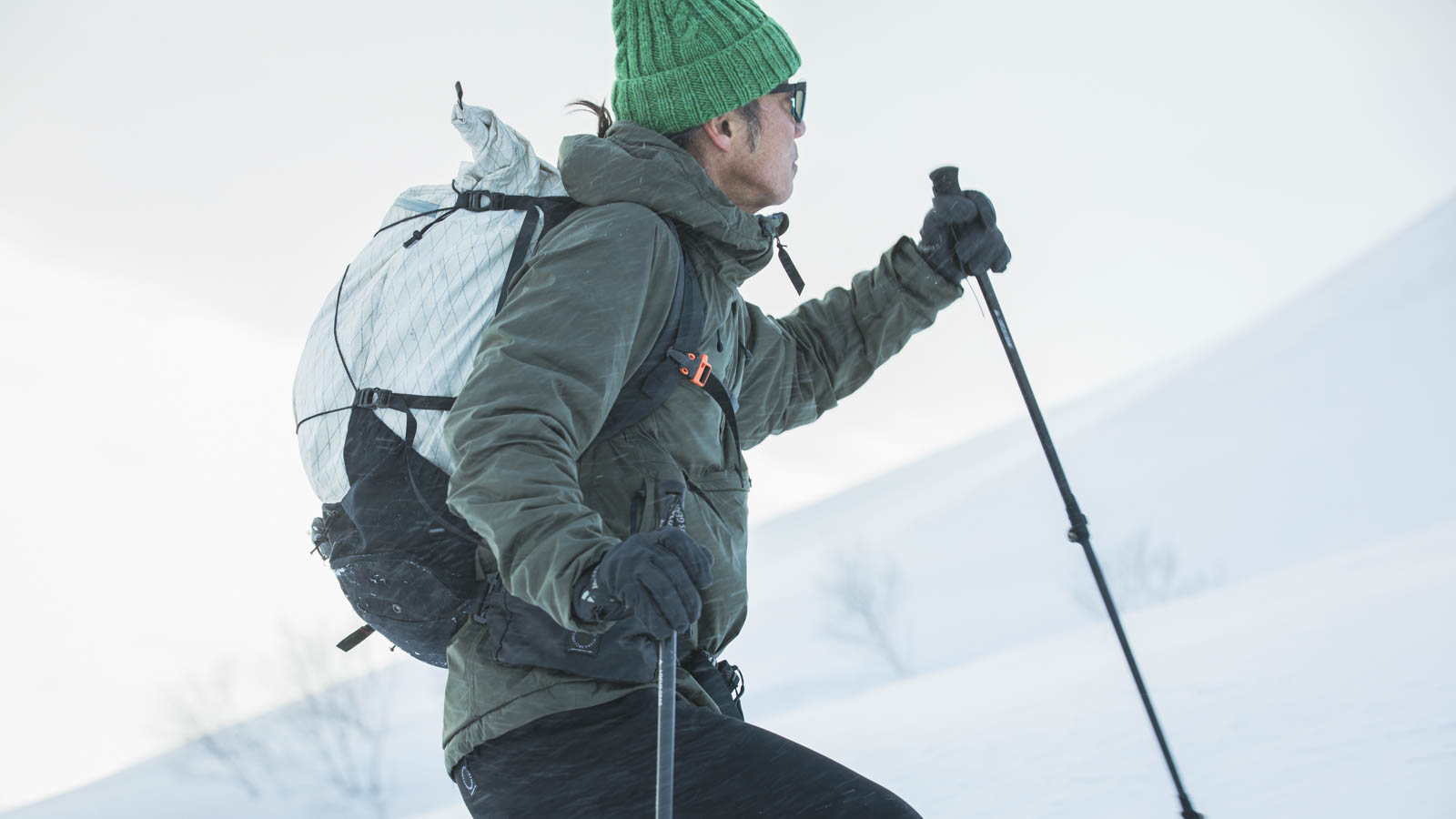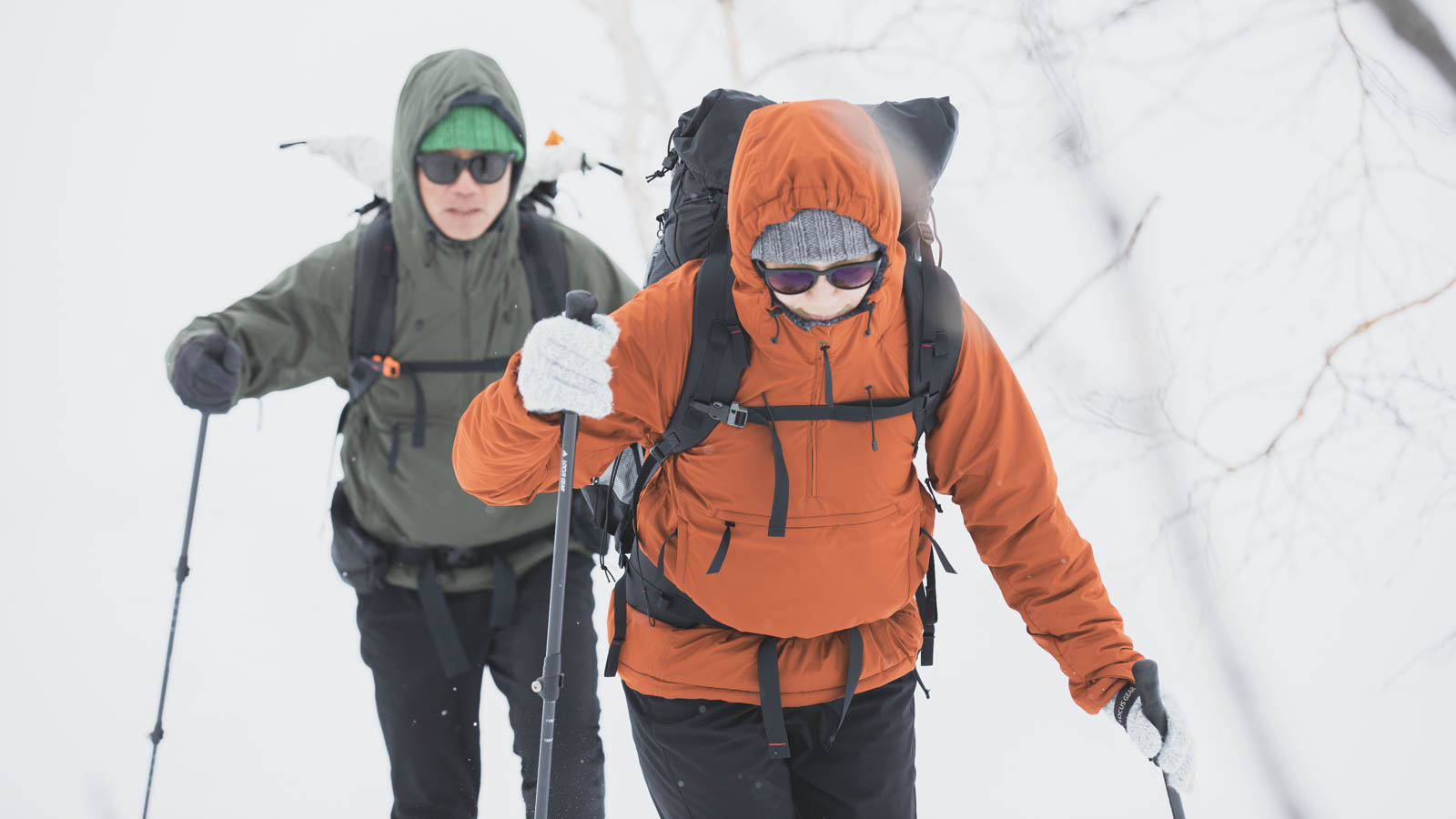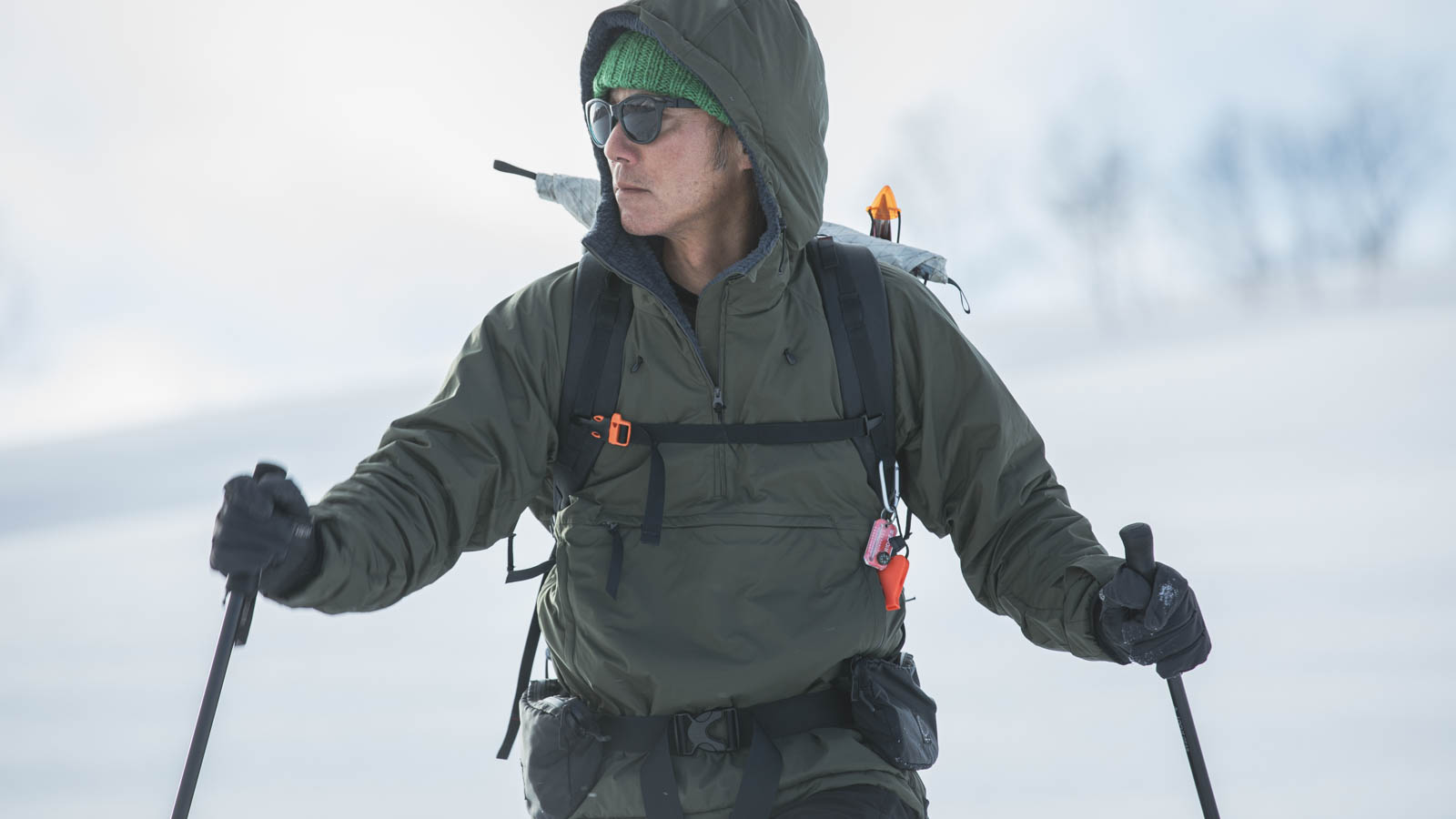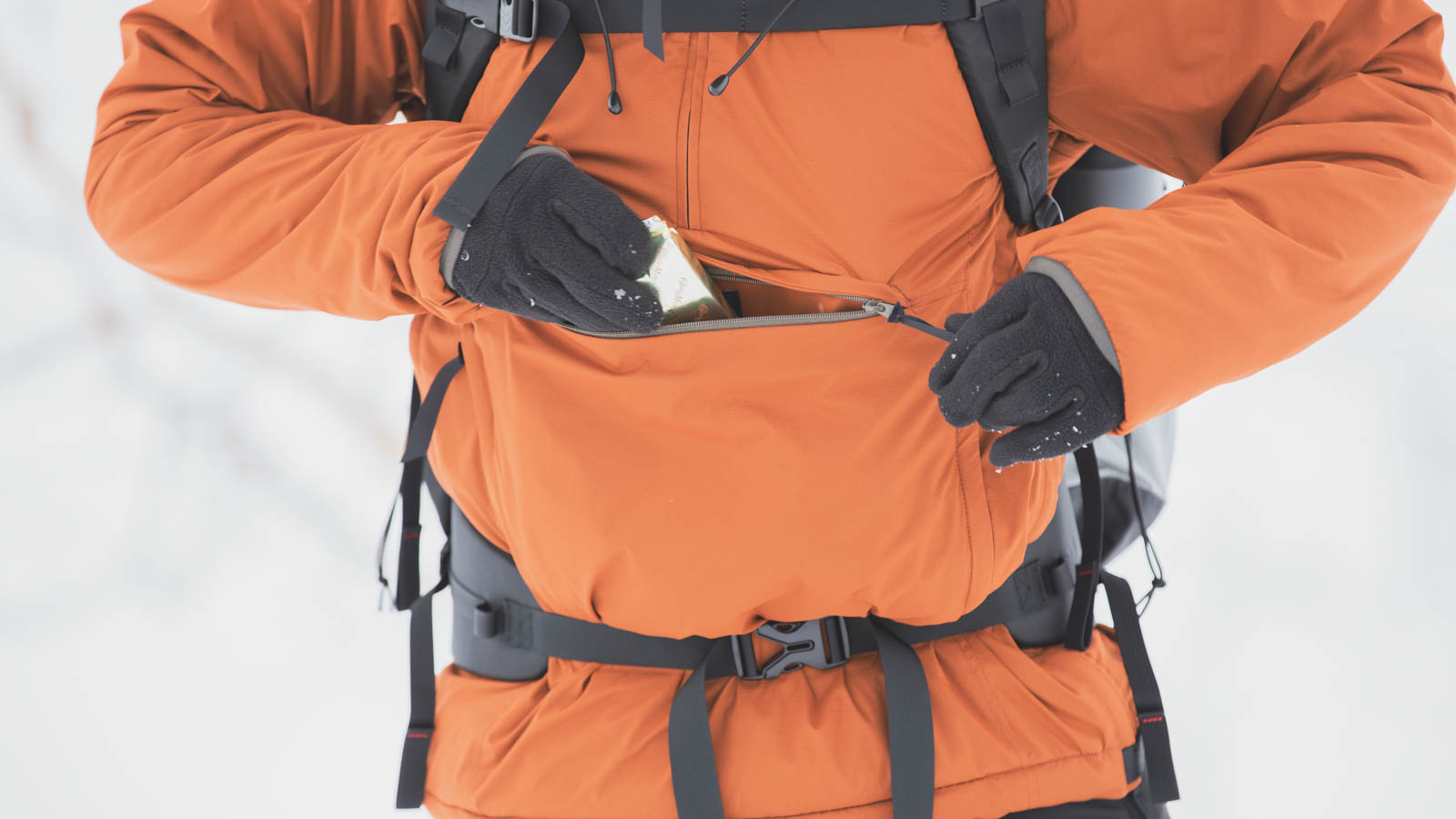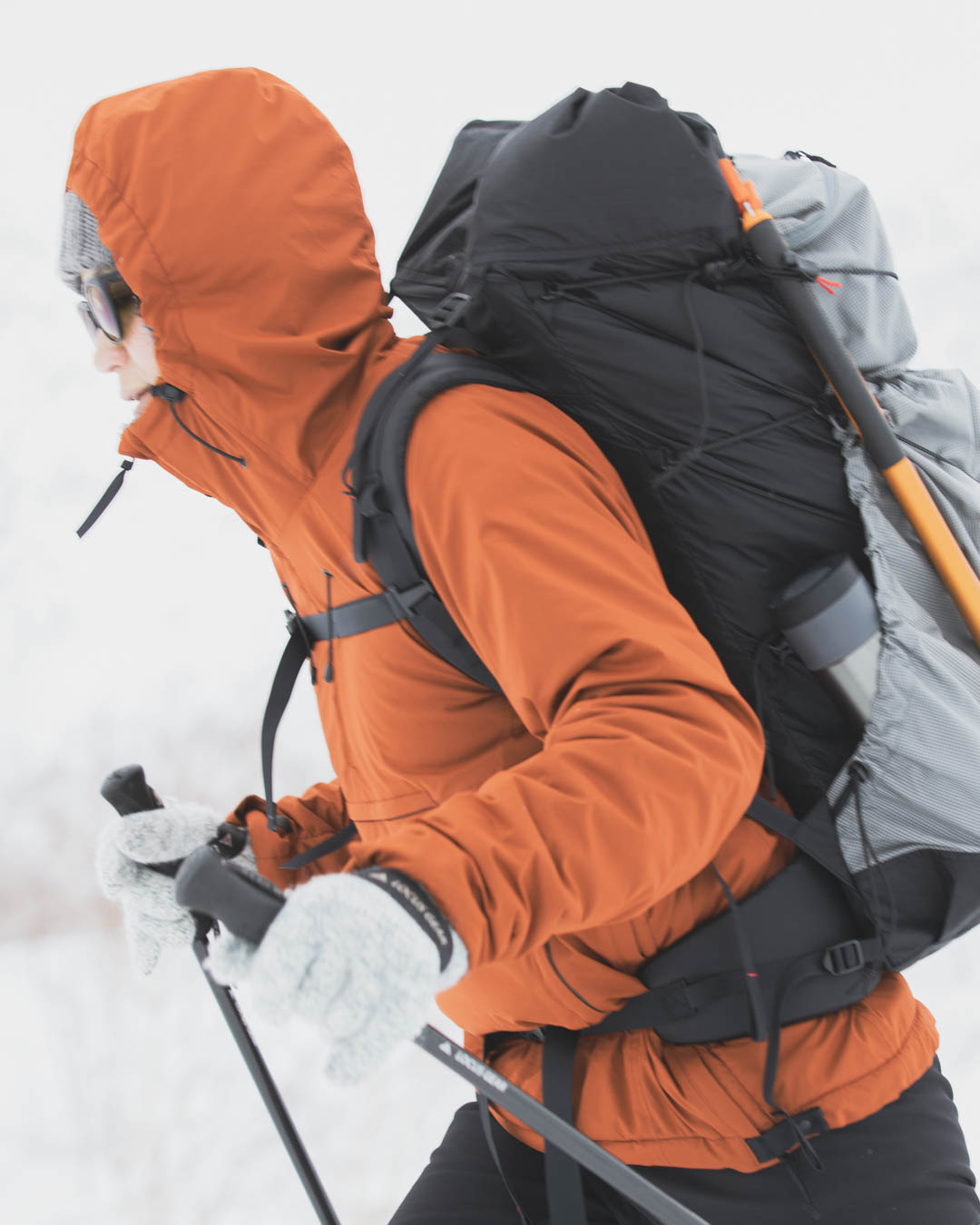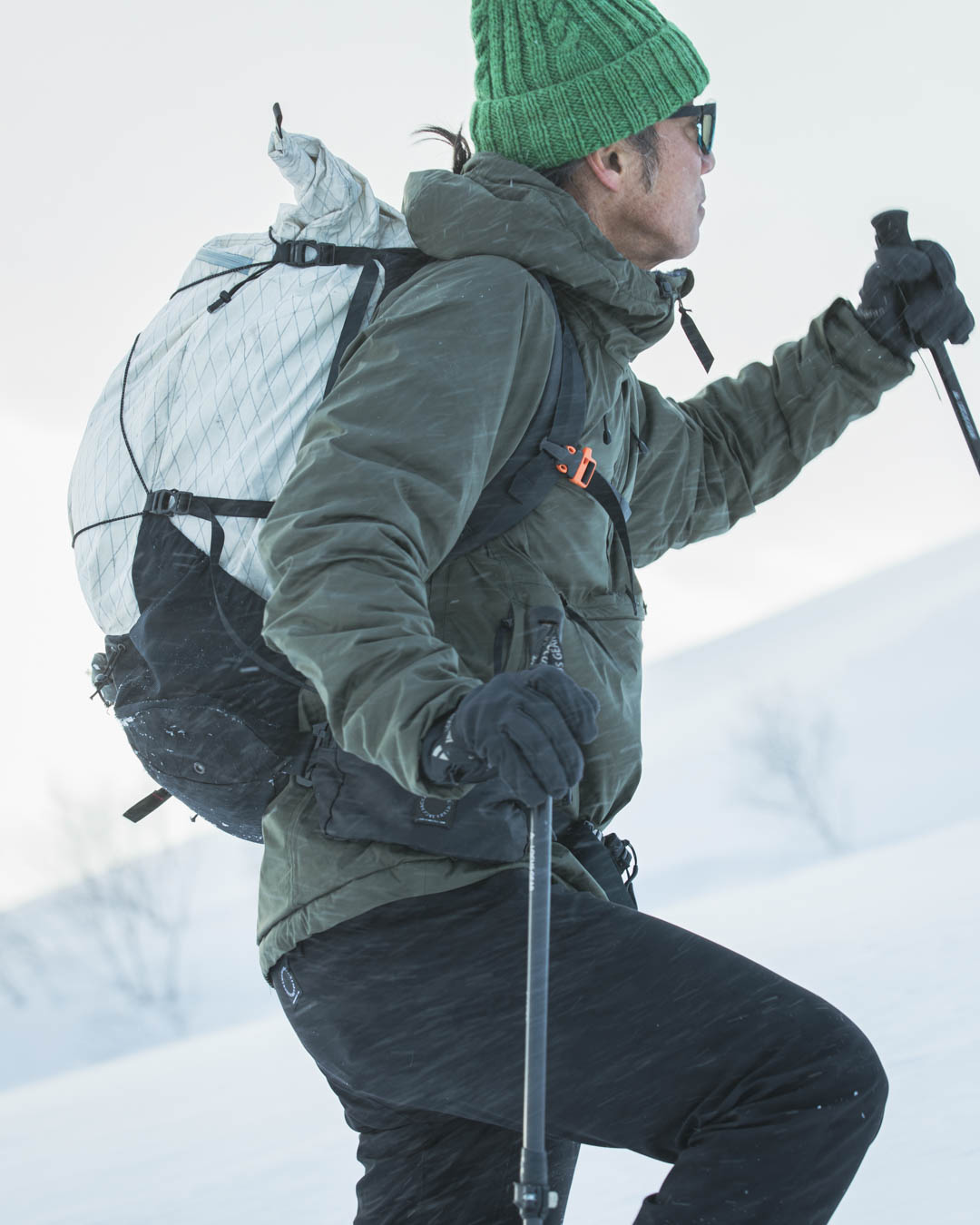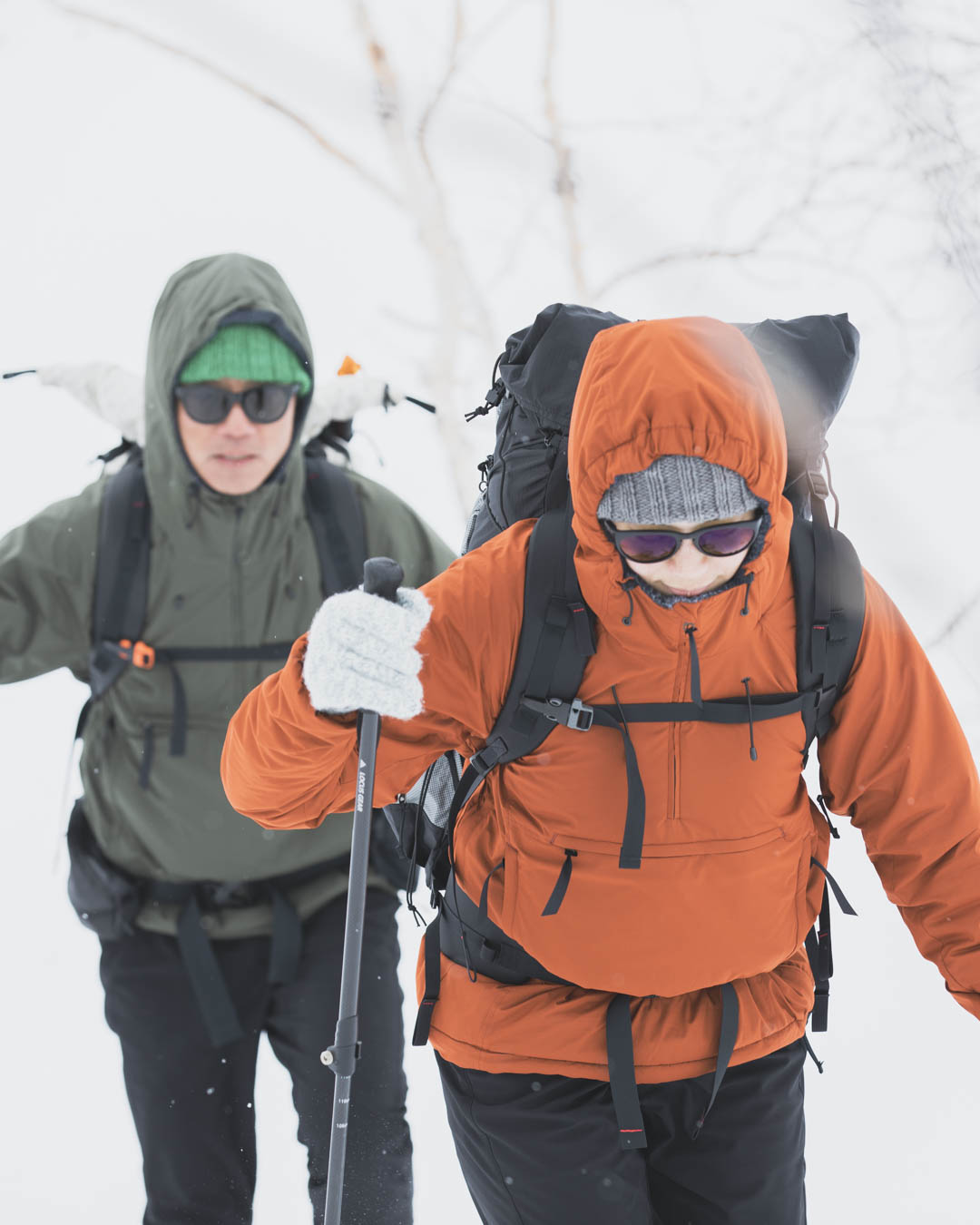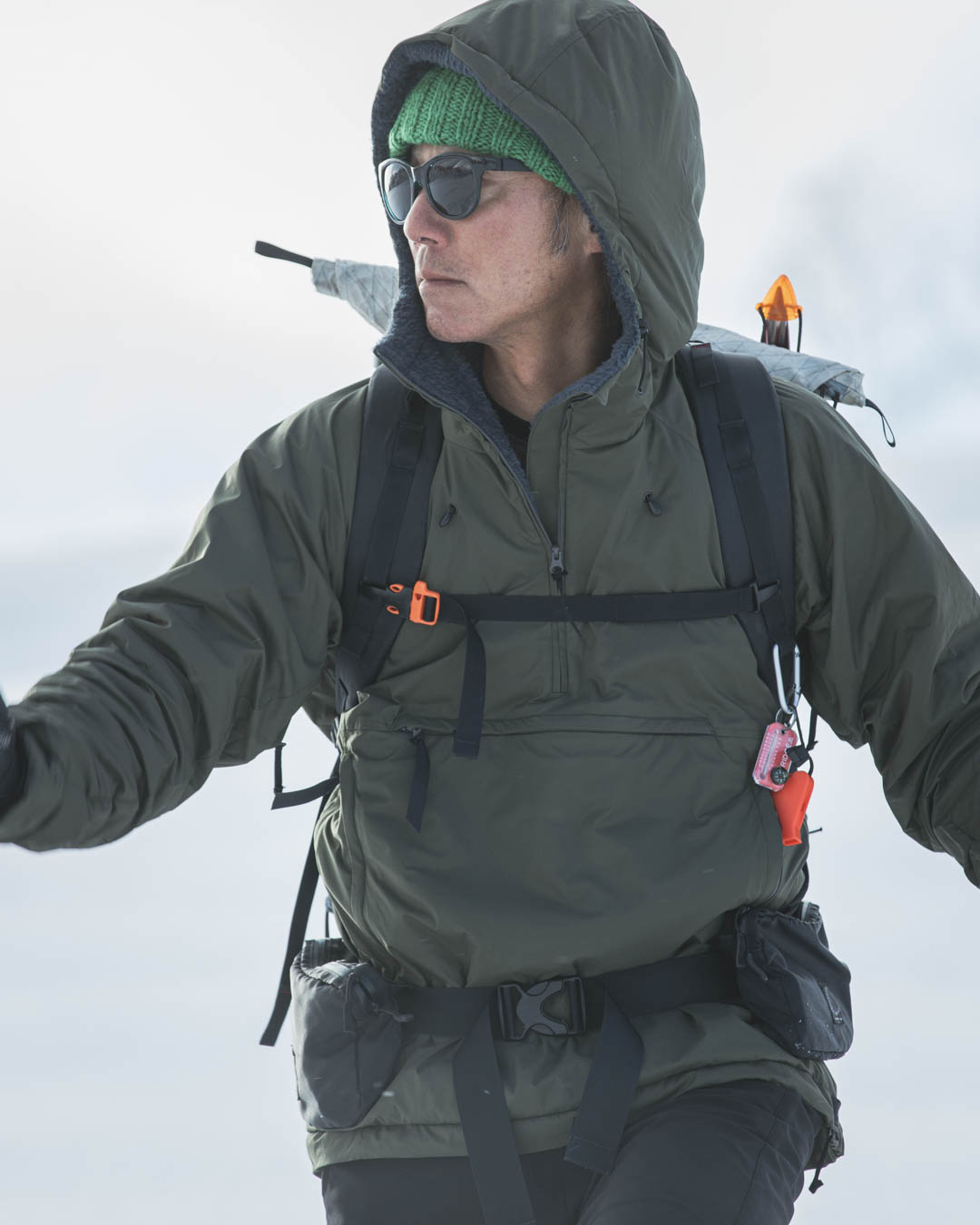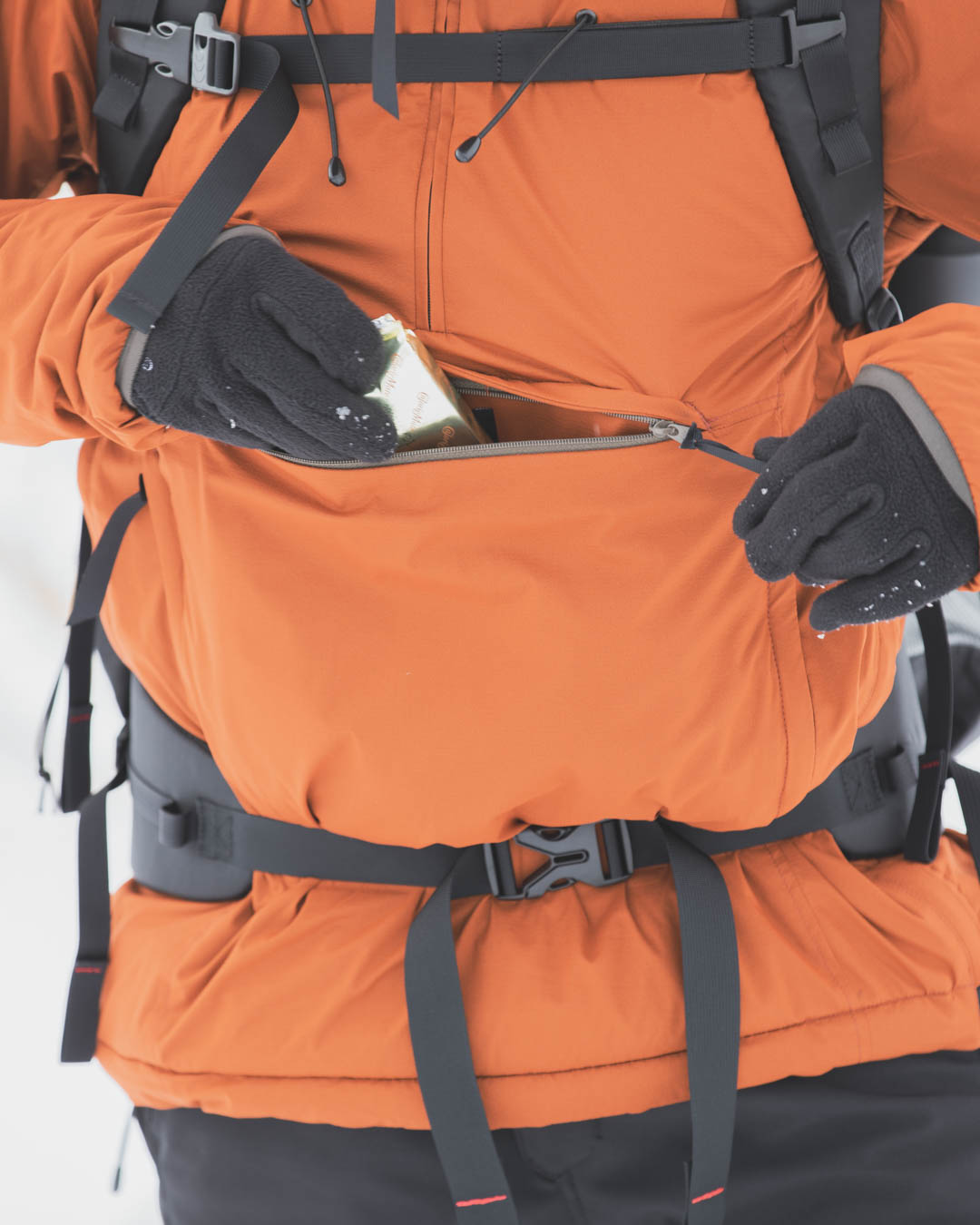 Alpha Anorak
351g
¥38,500 Tax included
Active Insulation for Winter Hikes
Our Alpha Anorak works as active insulation, designed to keep you comfortable when you are on the move as well as when standing still on snowy mountains where the temperature drastically changes.
Made of Polartec Alpha Direct, it is as comfortable and warm as fleece but at the same time is highly breathable, keeping you warm while hiking in the snow. This product should be worn as a middle layer. As it is highly breathable please wear a shell jacket on top in strong winds.
*Please wear a hard shell jacket over it during high winds as the fabric is highly air-permeable.
From 2021, we have upgraded the Pertex Quantum Air with a titanium coating for added durability and breathability.
Orange

Olive

Black

Nomad

Brown

Purple

Navy
Made in Akita, Japan
Material:
Facing: Pertex Quantum Air (100% Nylon), Titanium Coated 40g/㎡
C6 DWR (Durable Water Repellent)
Lining: Polartec Alpha Direct (100% Polyester) 136g/㎡
Pocket Liner Mesh: Micro Mesh (100% Polyester)
Zipper:
YKK #3 Coil Zipper
Weight:
351g (Size XS)
390g (Size S)
409g (Size M)
437g (Size L)
467g (Size XL)
Size:
UNISEX | XS / S / M / L / XL
In Search of the Perfect Winter Jacket
Akira Natsume, Yamatomichi Founder
Temperatures change more dramatically in winter than in summer. When hiking during winter, it might be below minus 20˚C at night or dawn, while during the day, abundant sunshine may make you sweat. But once you are at the ridge of the mountain, you may shiver in a cold, strong wind. It's always difficult to decide what to wear. You often end up taking off and putting on a heavy jacket to adjust.

It was therefore a real mind-opener to me (and I believe to many others) when the Polartec Alpha fabric came out.
In harsh, snowy mountains, it's really annoying to put on and take off various layers to adjust for rapid temperature changes. Ideally, I prefer not to change my outfit at all until the end of the day, and Polartec Alpha made this possible.
Polartec Alpha is ideal because even though it is a synthetic insulation material, it has superior breathability that makes it perfect for strenuous winter hiking.
It is a dream material not just for hiking, but also when sleeping in a tent on a snowy day and even on the way back home it keeps you warm. But I couldn't find a product matching my standards in terms of function and design using this superior fabric, so I decided to make my own.
As mentioned in the product story for our Winter Hike Pants, pockets are the key feature for good winter hiking wear. You don't want to take down your backpack to get snacks or maps. Especially when it's windy and cold. So handy and large pockets are a must. The warm pockets are also beneficial for digital devices such as smartphones and cameras to extend battery life.
In addition to the material's superiority, winter clothes must be properly designed to deal with the radical temperature difference in winter. Polartec Alpha always offers comfort during activity and you can keep wearing it even when sleeping. But if the jacket is designed only for wearing while on the move, it might be too thin and cold when the temperature drops. On the other hand, if it's too thick and warm, it can easily get too hot when the sun is shining.
My ideal was a jacket that could provide maximum versatility for all the various situations during a winter hike.
We started the product design focusing on this versatility. We adopted the updated version of Alpha, the Polartec Alpha Direct with even better breathability and fast-drying performance. Regular Alpha requires a back liner just like conventional synthetic insulation, whereas Alpha Direct is much like a fleece material and does not need any lining, and consequently has even better breathability than the regular Alpha fabric.
For the surface material, we used the lightweight, durable, and highly breathable Pertex Quantum Air to maximize the advantages of the Alpha Direct fabric.
The large kangaroo pocket is divided into two compartments, and it has even more capacity than our Sacoche. You can easily stow items such as maps, snacks, and gloves in the pocket, and the insulation also helps to keep your digital gadgets warm. At the pocket, we decided to add two layers of Alpha Direct for additional warmth around your waist. (See product story of the Merino Hoody (the old version Updated 2021)
for why it's important to keep your belly warm when hiking in winter.)
To manage the radical temperature difference during winter hiking, we added wide ventilation openings on both sides. Though Alpha Direct is highly breathable, you may get overheated during strenuous exercise. Even in a situation like this, you don't need to take the Anorak off. Instead, you can control the temperature by enlarging the ventilation openings. When the weather is rough, the high collar protects around your mouth and nose and the thumb holes help to keep your palms warm.
After numerous field tests, we decided on the current Anorak design and I really believe it's the ideal jacket for winter hiking. As with our Winter Hike Pants, you don't have to change your clothes during the hike because of the Anorak's highly adjustable ventilation openings.
2017
Titanium-coated "Two-Face" Prototype
Akira Natsume, Yamatomichi Founder
There are two reasons for adopting a new fabric:
To enhance wear resistance and minimize snags.
To increase the and keep hikers dry while on the move.
It took me a long while to find this new Quantum Air. The discovery of the ideal fabric, however, was the beginning of the next challenge.
When I was looking for a new fabric, I thought that thermal clothes should be as breathable as possible, because good ventilation was supposed to create better comfort when on the move. Some companies released new ultra-breathable products using new materials such as Primaloft Next or Octa with no outer fabrics, and in fact, we also had been developing a similar product. We discovered, however, that superior breathability did not always mean better comfort when hiking. Breathable often meant being cold. What's important is the level and extent of ventilation, the optimum breathability largely depends on each hiker, the duration and intensity of the activity, what he/she does and how much he/she sweats.
Is this newer Pertex Quantum Air a better product just because it is more breathable? I welcome the higher ventilation, but it was so breathable it could get cold. In this respect, it could almost be said that the previous version was better for the fall/winter season. I wondered if there was a way to compensate for this drawback.
As I am hiking, handling hiking gear daily, I sometimes feel that the goal of all outdoor clothing and gear is how to protect and control the body heat.
Heat transfer mechanisms are mainly classified in "conduction", "convection", and "radiation". When you touch something, and if you feel if it's hot or cold, that's because of thermal conduction. Thermal convection is the transfer of heat by air or water. The heat from the Sun or a stove is transferred by radiation. The clothes made of Pertex Alpha Direct trap air to keep you warm, so usually conduction and convection are the major factors. Additionally, I decided to improve the product by the remaining radiation; The answer was titanium coating.
When I was wearing the titanium-coated prototype, it seemed warmer than the conventional product. But to be honest, when I tried it out in the field, I was not fully sure if it was warmer or it was simply more comfortable because of the superior breathability. I was not convinced that this was the answer.
Myself wearing "Two-Face" prototype in Mt. Tanigawa
So we created another prototype that we named the "Two-Face" prototype. If you like Batman, I'm sure you will understand what I mean. The right half of the Anorak is made of different material from the left half. Through a series of actual field tests, we were able to check the differences between the conventional fabric and the new titanium-coated one.
The "Two-Face" Anorak actually taught us that the new fabric was more breathable, yet a little warmer when not moving. We also tested it on a snowy mountain ridge with wind speeds of about 10-15 meters/h and found that the wind resistance did not significantly decline compared to the previous version, even though it was more breathable. But please note that over 15 meters/h of wind can penetrate the fabric.
We like experimenting and are extremely happy to be able to deliver a better product because of it. We had fun with the "Two-Face" prototype and will probably do many more in the future.
April 2021
Large Front and Side Pockets
During winter hiking, quick and easy access to over mitts, snacks, maps, etc, without taking your gloves off is a must. That's why we designed the Alpha Anorak with a large kangaroo pocket at the front.
The Alpha Direct material is doubled at the front pocket to keep your belly warm. The pocket can be opened on both sides, allowing for effective ventilation. If insulation is your priority, close the zippers.

The front pocket is separated from the side pockets. The total capacity of the pockets is even more than the Yamatomichi Sacoche. It is roomy enough to store extra gloves, snacks, a map, and your smartphone.
Large Side Zippers for Ventilation
In order to manage the wide temperature range during winter hikes, the Alpha Anorak is equipped with zippered ventilation at both sides under the armpits. The right zipper is for the wide-open ventilation, and the left can be fully opened and detached to let in air and to make the anorak easier to put on or take off.
Equipped with zippered ventilation at both sides under the armpits.

The left zipper can be fully opened and detached to let in air and to make the anorak easier to put on or take off.
Details
The Alpha Anorak is equipped with various functions for winter hiking.
The hood is large enough to cover up to your chin. Wear it under your helmet (if using) for warmth.

The hood can be rolled and fastened behind your neck and keeps it warm if it's too warm to wear a hood.

The thumb holes prevent the sleeves from rolling up and keep your palms warm in snowy and cold mountains.

To prevent the zipper from unintentionally opening during use, a snap button has been added at the left side zipper hem.

There is an adjuster located on the right side that tightens the hem.
Polartec Alpha Direct
It is like a fleece with longer puffy hairs.
Superior breathability and insulation
Lightweight and compact
Polygiene permanent odor-resistant finish
Conventional natural down and synthetic insulators tend to contain body moisture within the clothes and as a result, can be quite stuffy. Polartec Alpha Direct, on the other hand, is so air-permeable that it can be worn even during a high level of physical activity.
Alpha Direct is also treated by Polygiene odor control which safely reduces the microorganisms and bacteria by small amounts of silver ions, achieving antibacterial and deodorizing function that well exceeds the lifespan of ordinary garments.
Material:
Polartec Alpha Direct (100% Polyester) 136g/㎡
Spec:
Bursting strength measured by JIS L 1096 A (In-house test)
465kPa
Heat retention measured by JIS L 1096 A (In-house test)
57.6%
Heat retention measured by ASTM F1868 (Catalog spec)
Min : 0.80CLO Max:1.60CLO
Yamatomichi Proprietary Titanium-coated Pertex Quantum Air
The back of the extremely breathable Pertex Quantum Air is treated with our unique "titanium sputtering" to enhance heat retention.
To achieve superior breathability of approximately 70cc/(cm²・s), Pertex Quantum Air is woven as loose as possible, and polyurethane-coated to enhance the strength without interfering with breathability. The fabric is made of less frictional low-count yarns, and is impregnated through a polyurethane coating, accelerating the smoothness of the surface to achieve excellent durability against abrasion with coarse materials such as Velcro. Also, the yarn is "temporarily twisted", twisted and heat-treated to provide stretch for better flexibility.
The titanium sputtering is a technology that coats the fabric with an extremely thin titanium layer. The titanium coating adheres to the surface of the fabric at the molecular level without compromising the texture or breathability, and it traps the heat emitted from the body inside the garment, consequently preventing body heat from radiating out.
Material:
Facing: Pertex Quantum Air (100% Nylon), Titanium Coated 40g/㎡
C6 DWR (Durable Water Repellent)
Spec:
Fracture Strength measured by JIS L 1096 D (In-house test)
Vertical: 0.5kg, Horizontal: 0.6kg
Tensile Strength measured by JIS L 1096 A (In-house test)
Vertical: 29kg, Horizontal: 25.6kg
Ventilation Performance measured by JIS 1096 A (In-house test)
71.9cc/(cm²·s)
Comparison between the latest Pertex Quantum Air and the previous version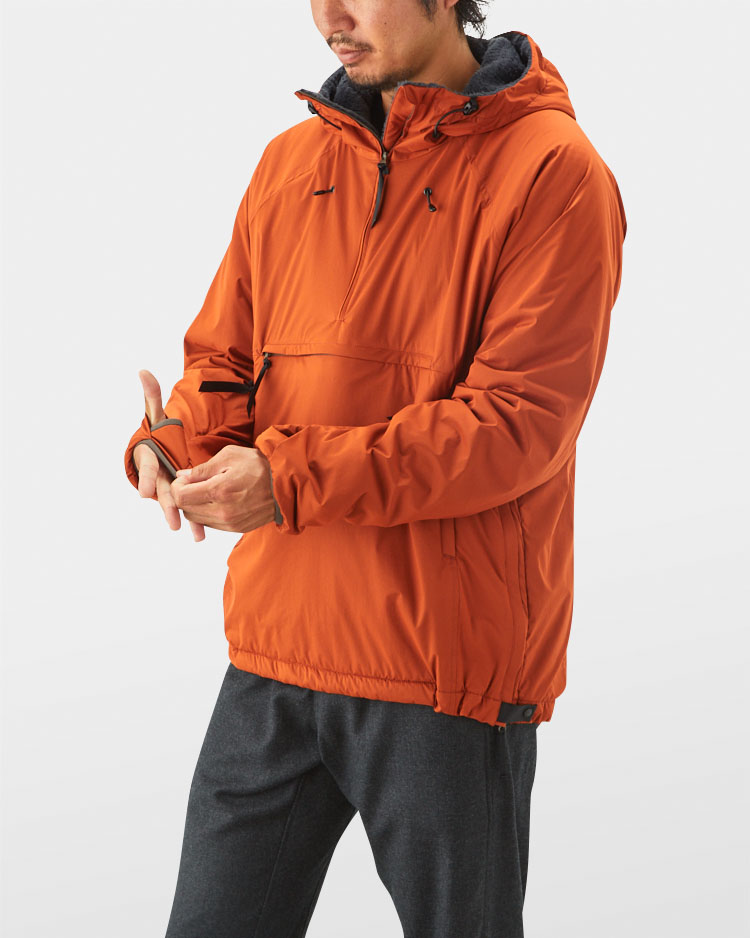 Hide 178cm- 68kg
Size L (Orange)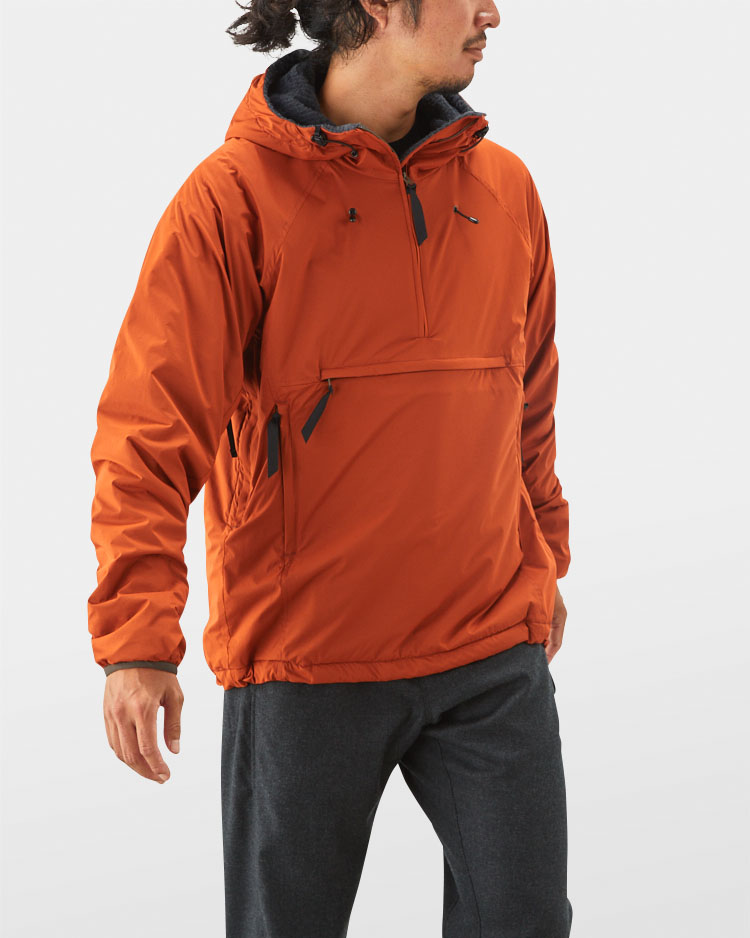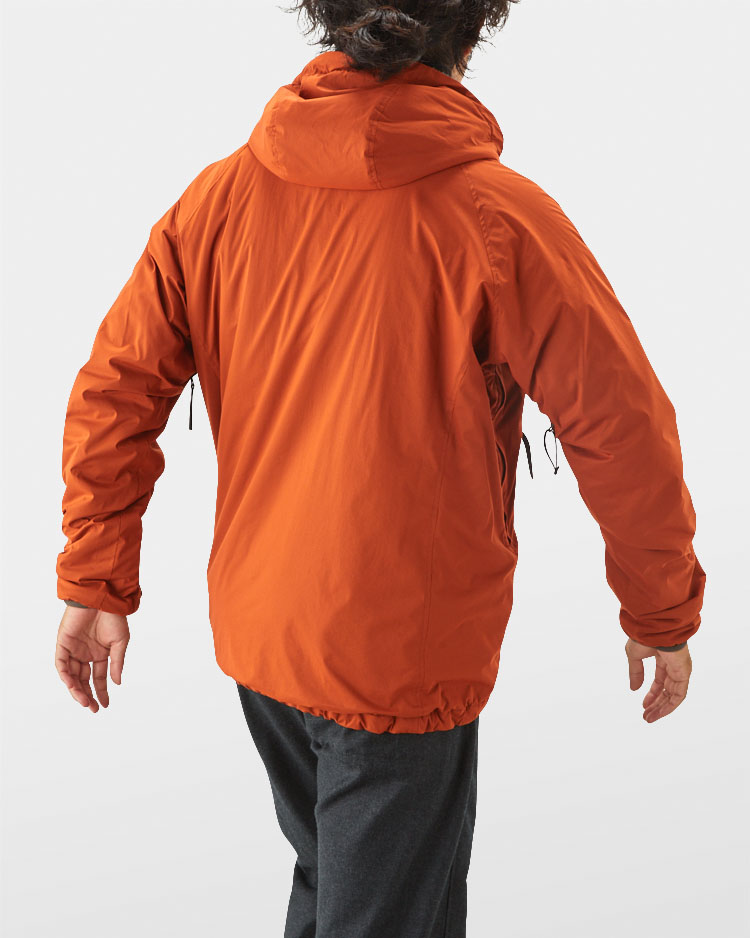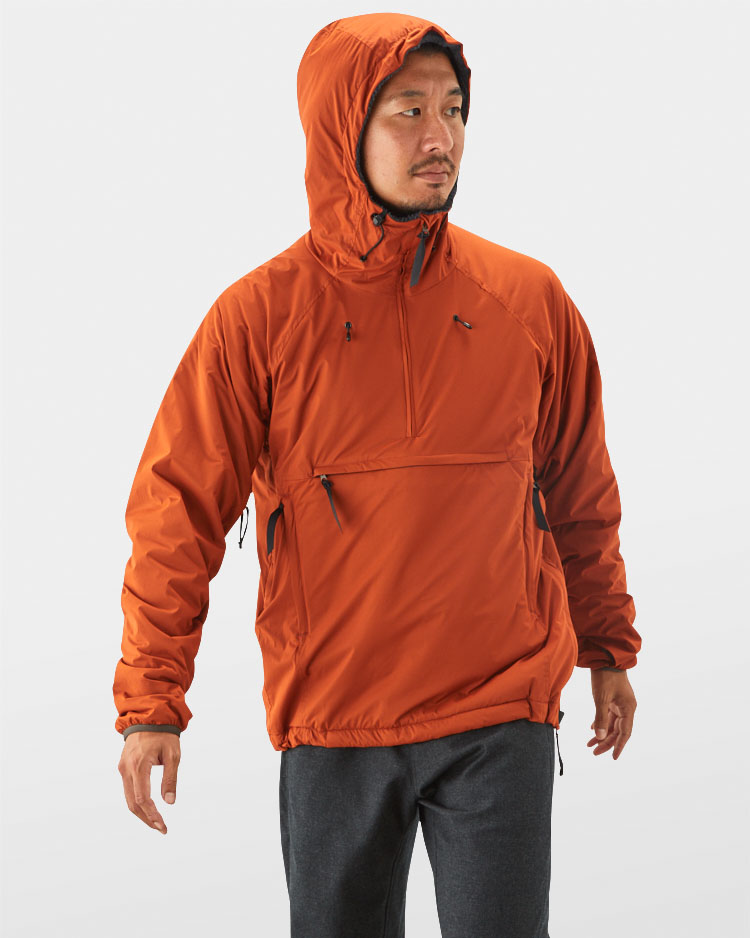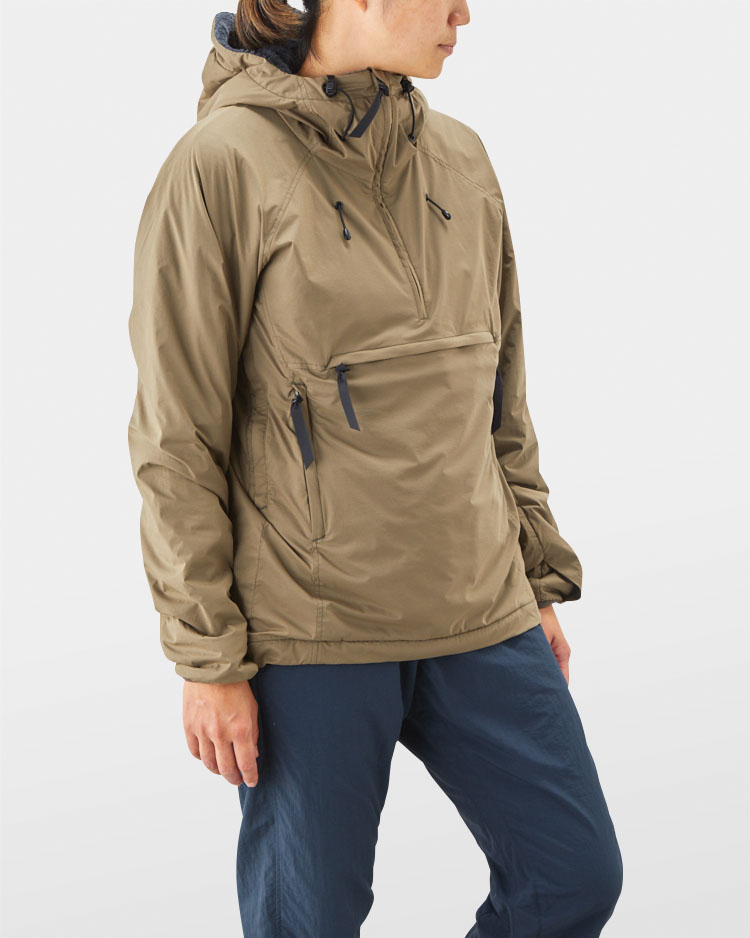 Shiori 167cm- 55kg
Size S (Nomad)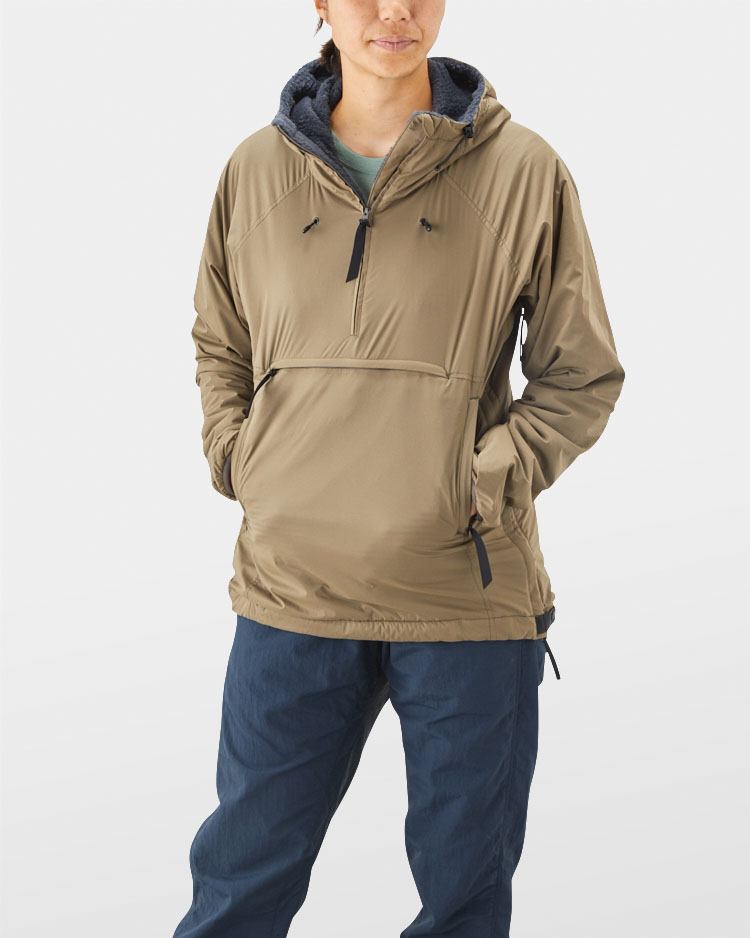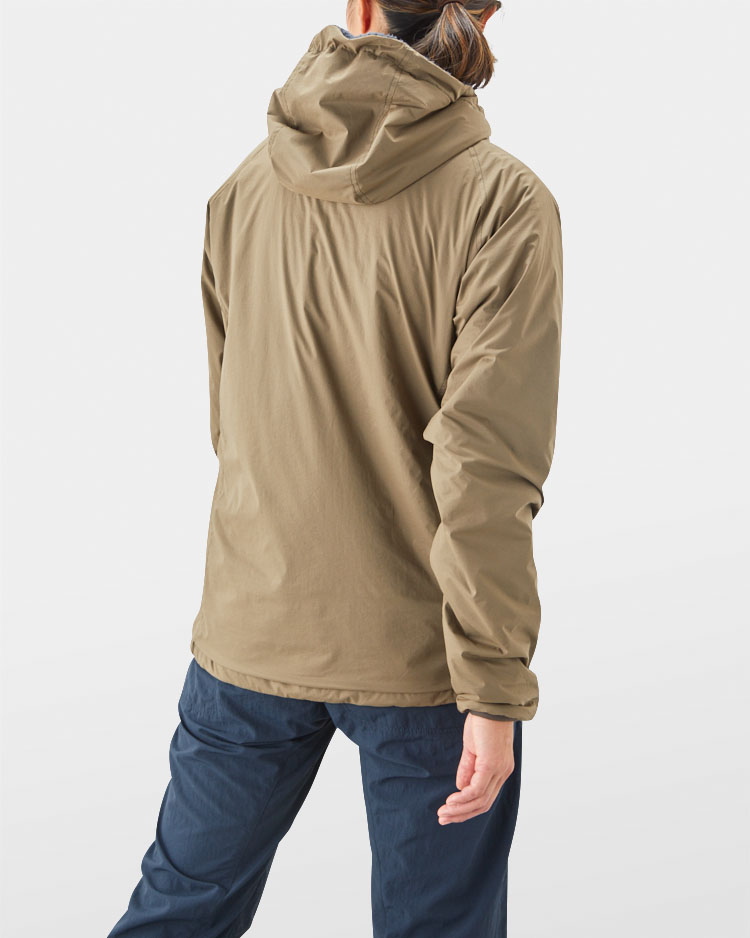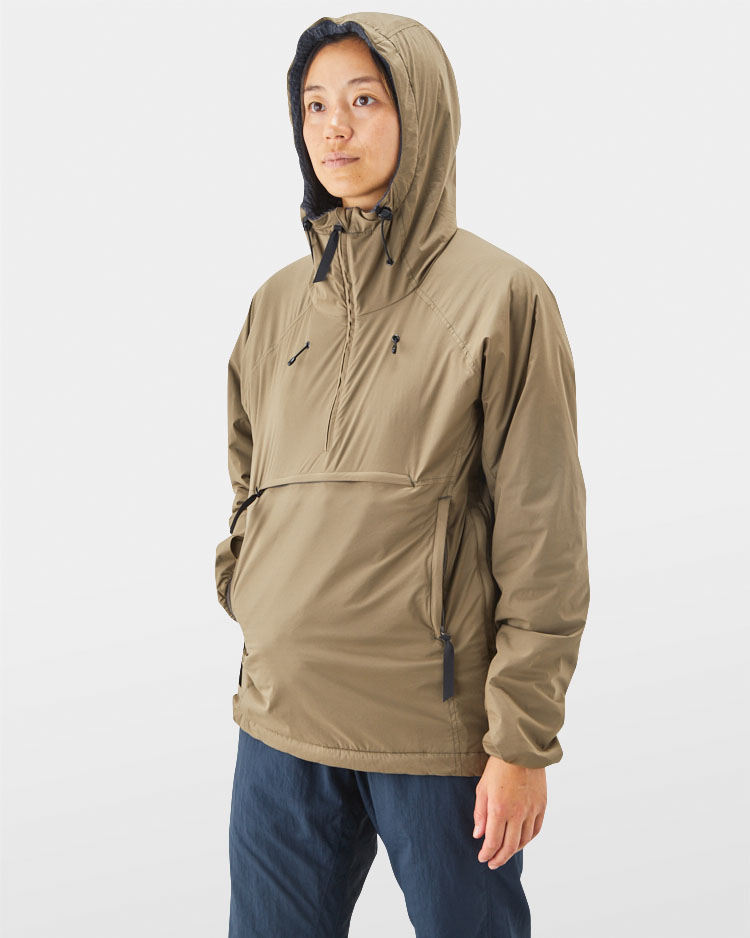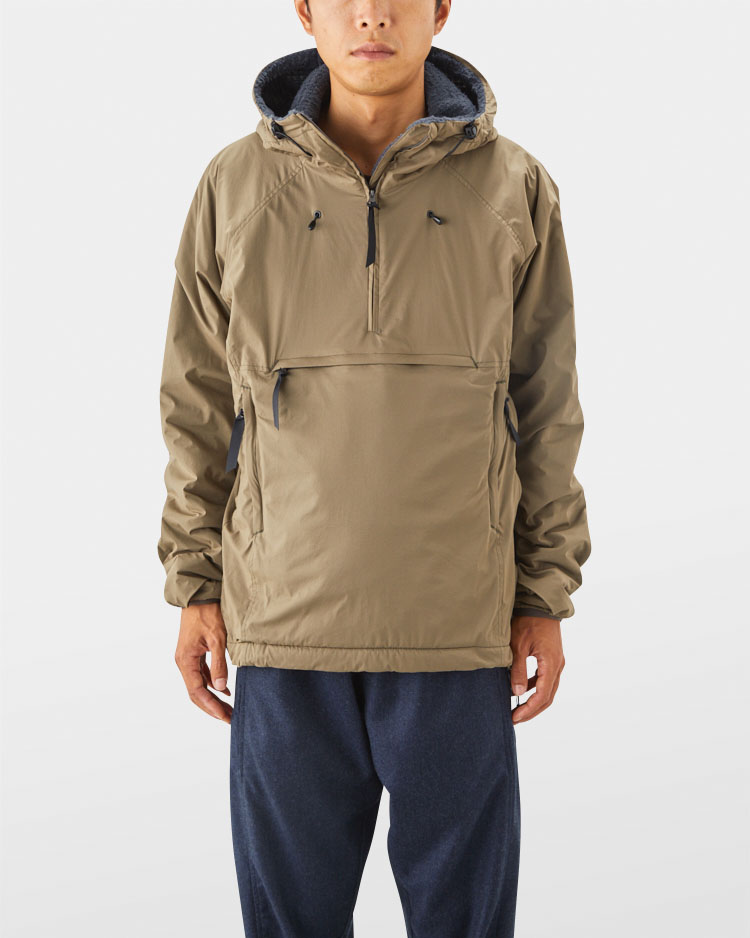 Ken 168cm-52kg
Size S (Nomad)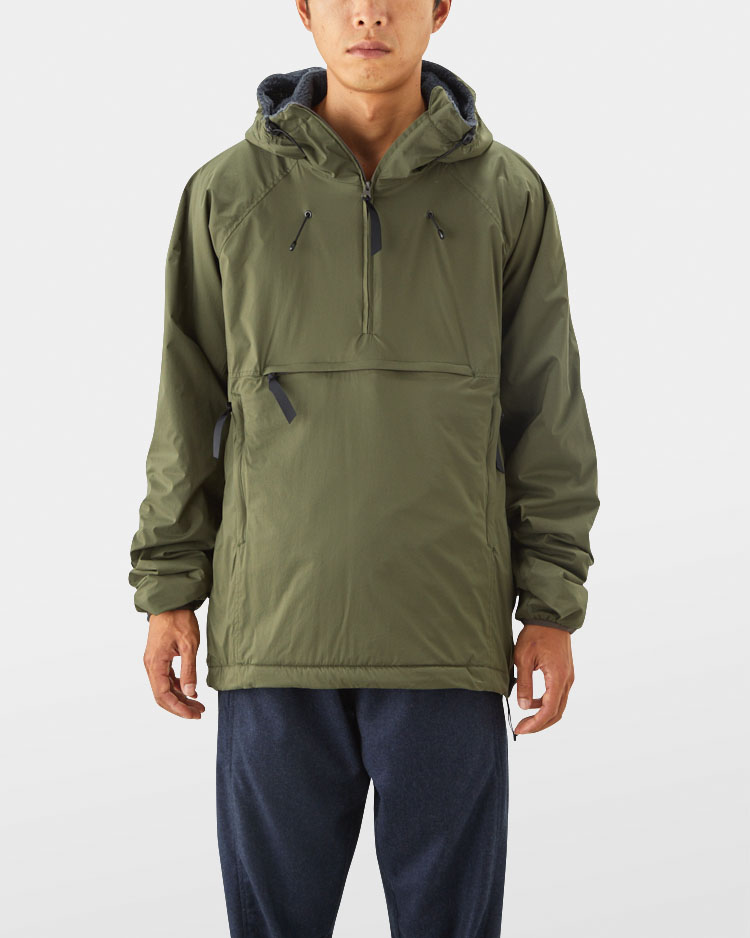 Ken 168cm-52kg
Size M (Olive)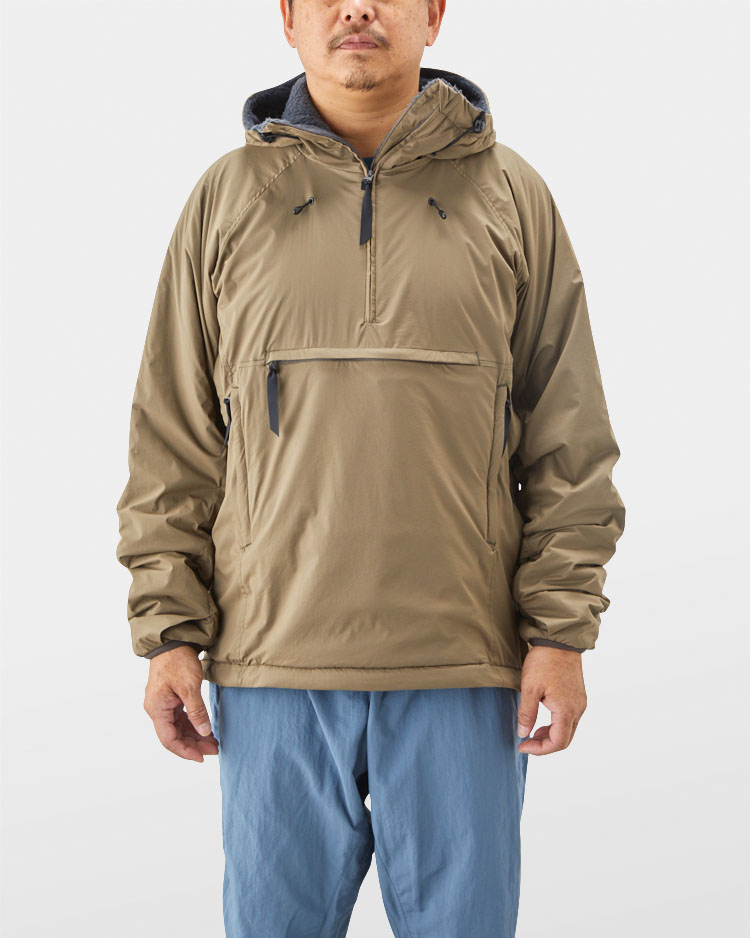 Matsu 169cm-69kg
Size M (Nomad)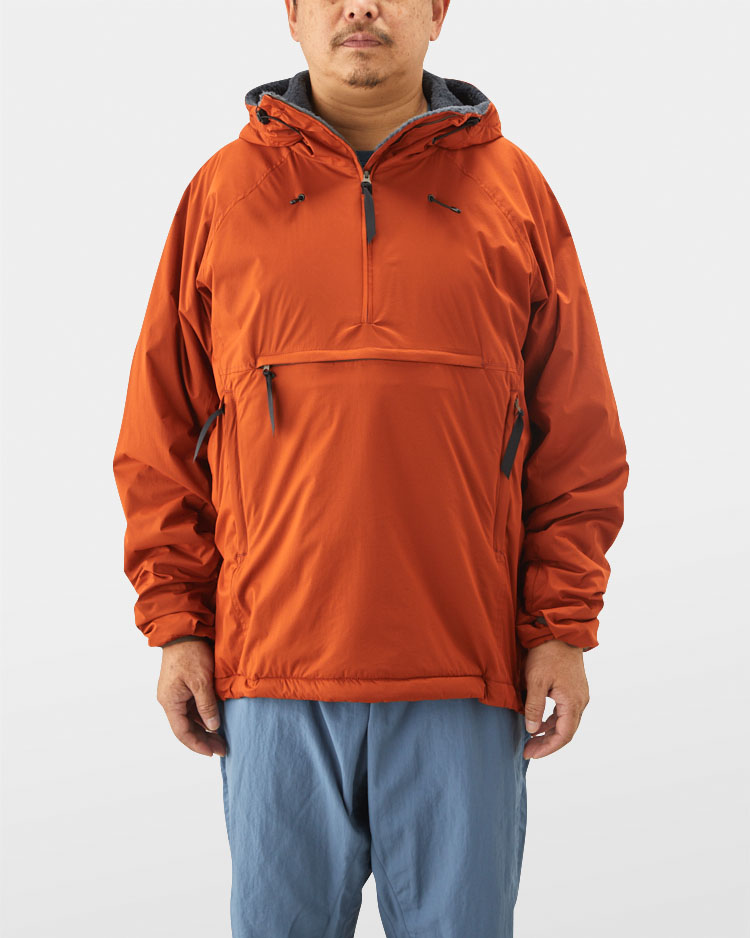 Matsu 169cm-69kg
Size L (Orange)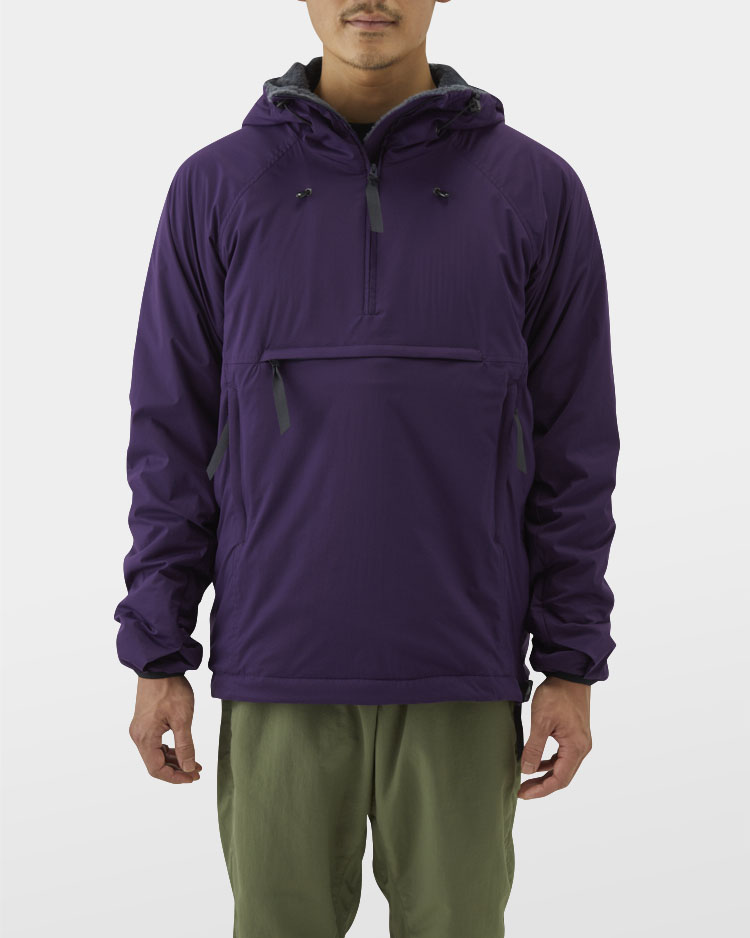 Ichiro 170cm-56kg
Size S (Purple)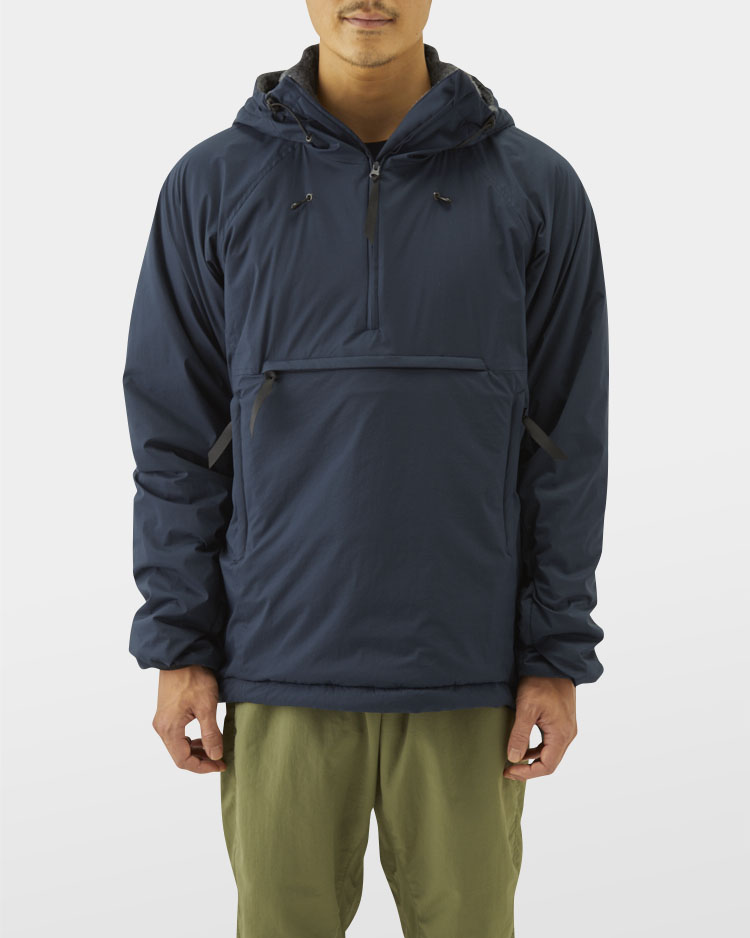 Ichiro 170cm-56kg
Size M (Navy)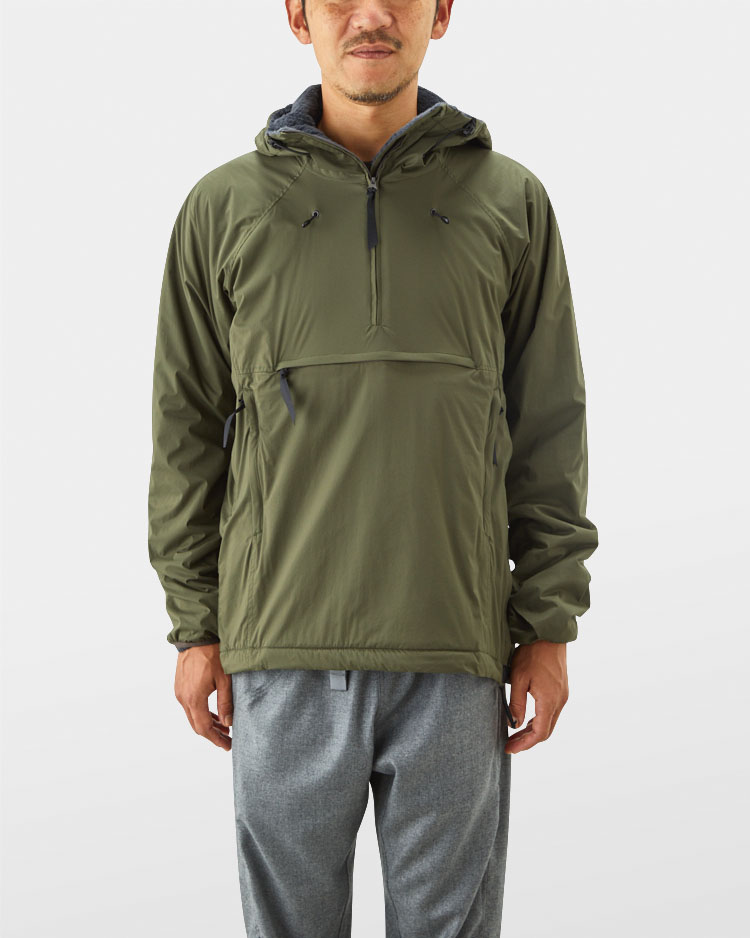 Ippei 172cm-62kg
Size M (Olive)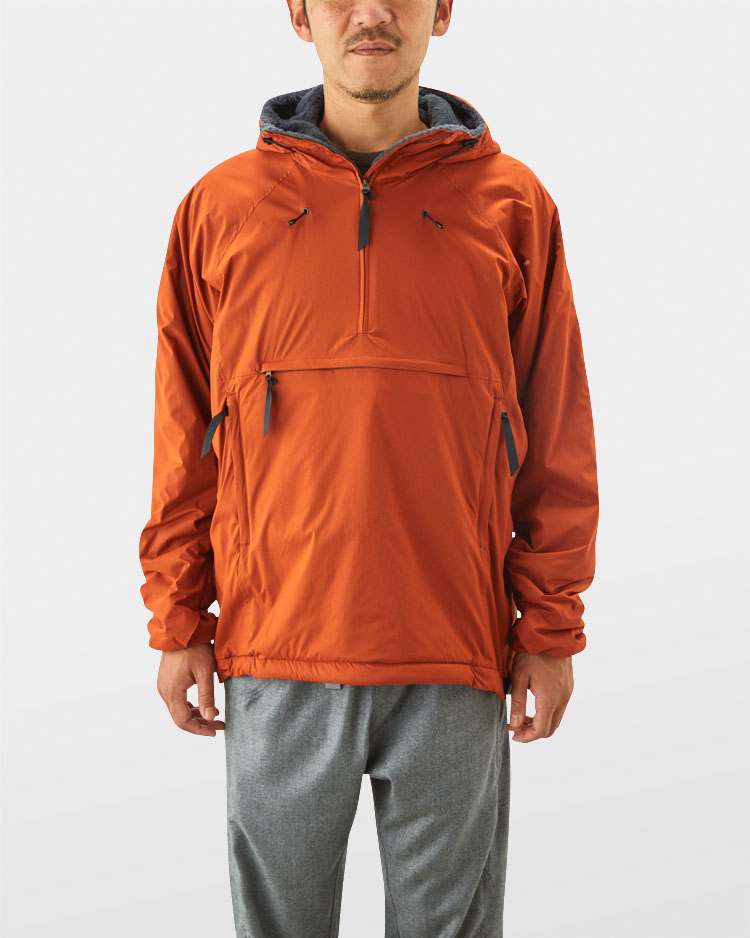 Ippei 172cm-62kg
Size L (Orange)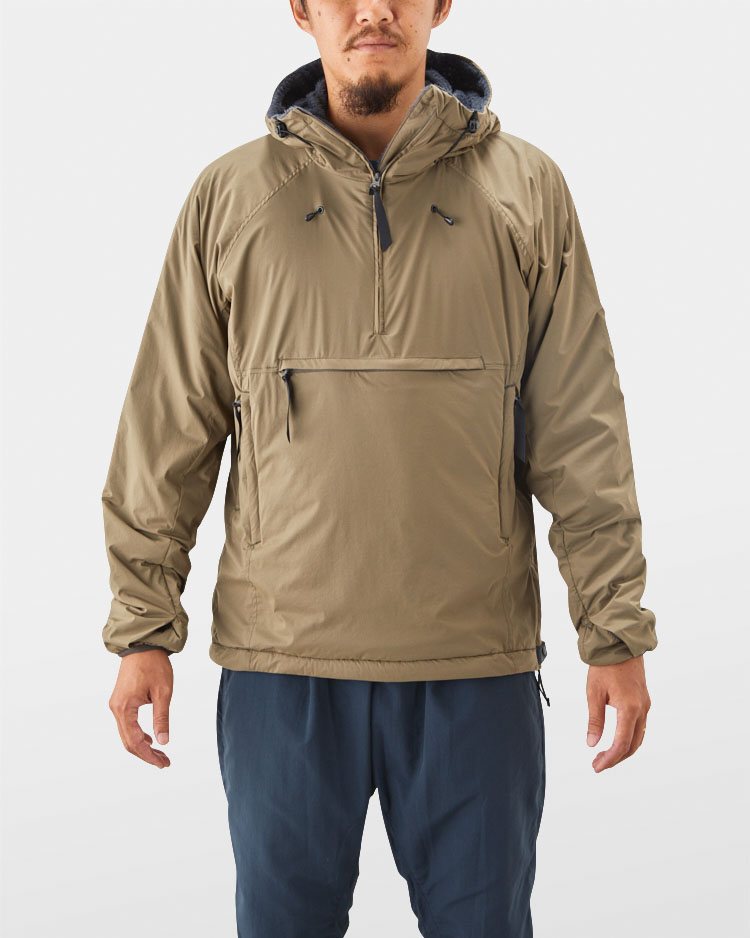 Kim 175cm-70kg
Size M (Nomad)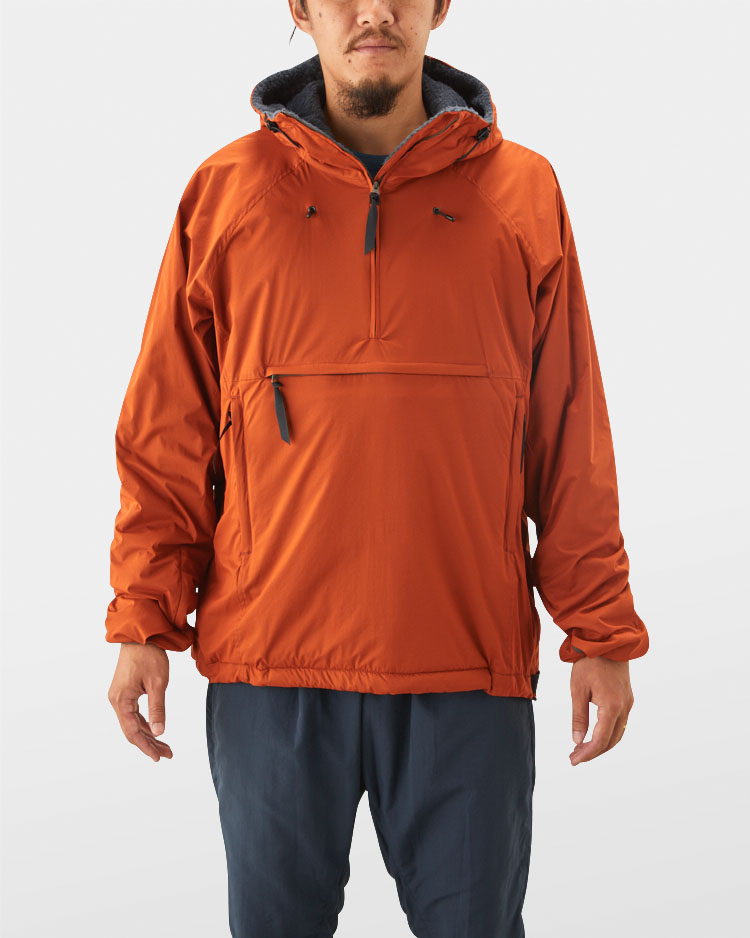 Kim 175cm-70kg
Size L (Orange)
Pony 173cm-76kg
Size L (Orange)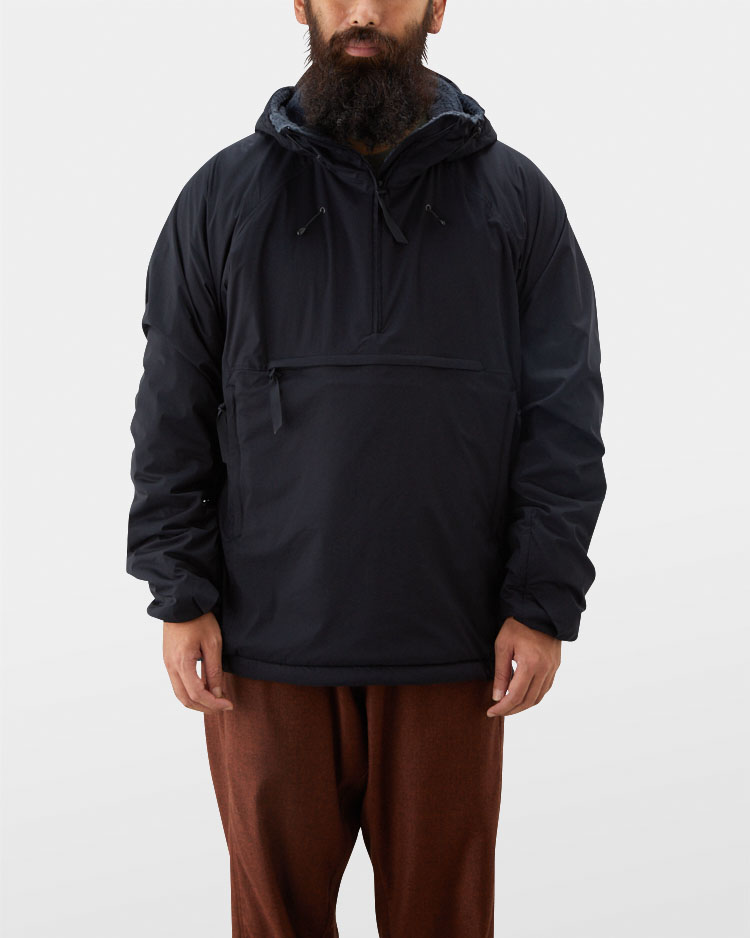 Pony 173cm-76kg
Size XL (Black)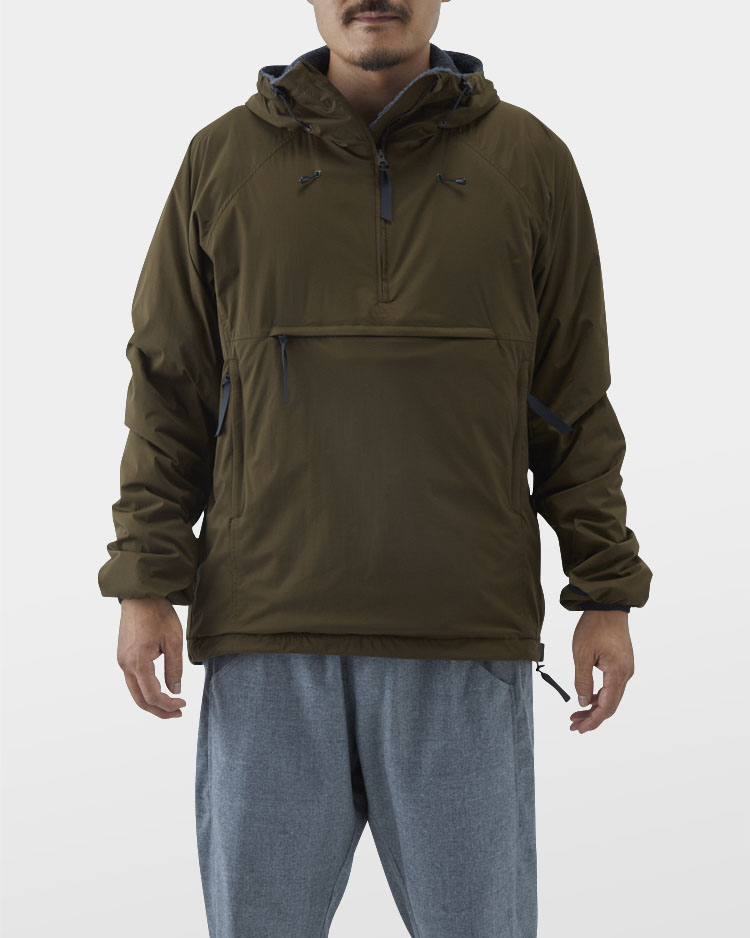 Nacho 180cm-68kg
Size L (Brown)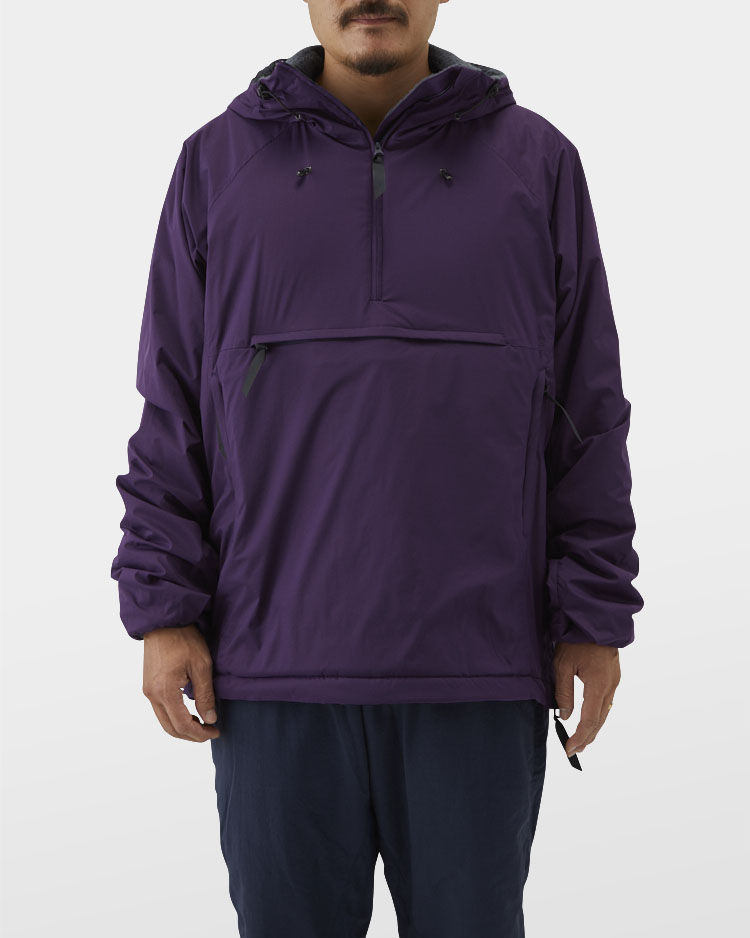 Nacho 180cm-68kg
Size XL (Purple)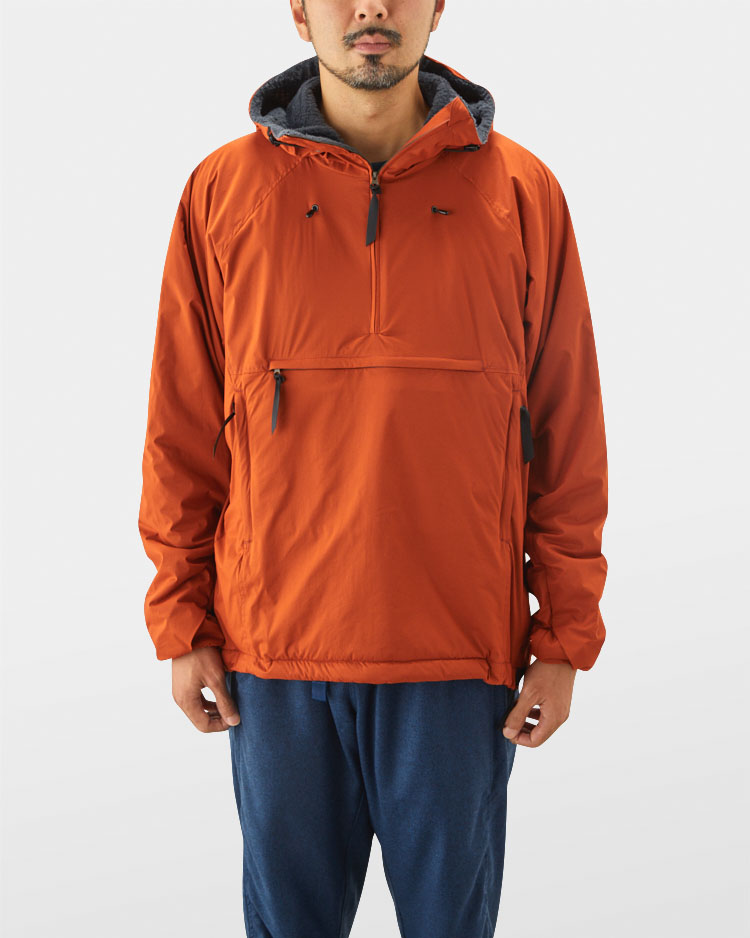 Tsuka 183cm-65kg
Size L (Orange)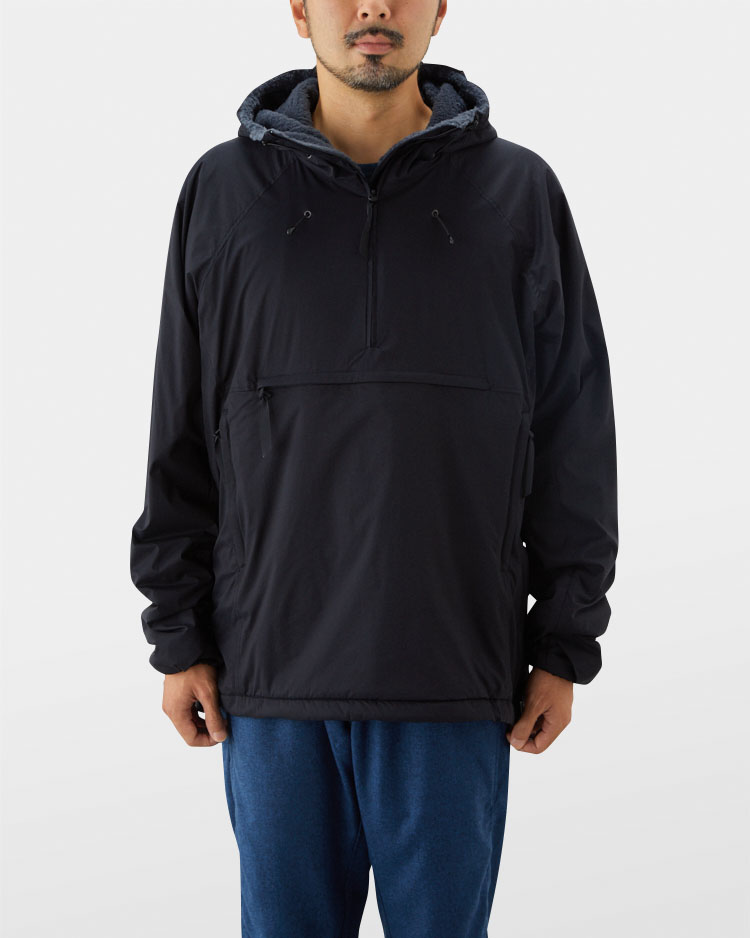 Tsuka 183cm-65kg
Size XL (Black)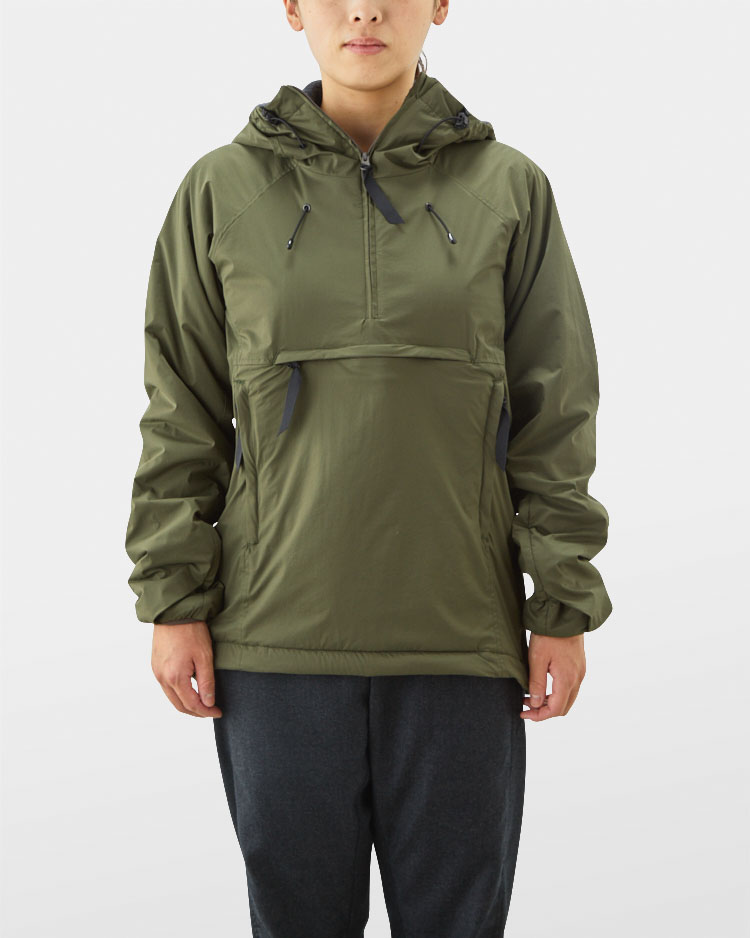 Natsumi 152cm-43kg
Size XS (Olive)
Rin 156cm-49kg
Size XS (Olive)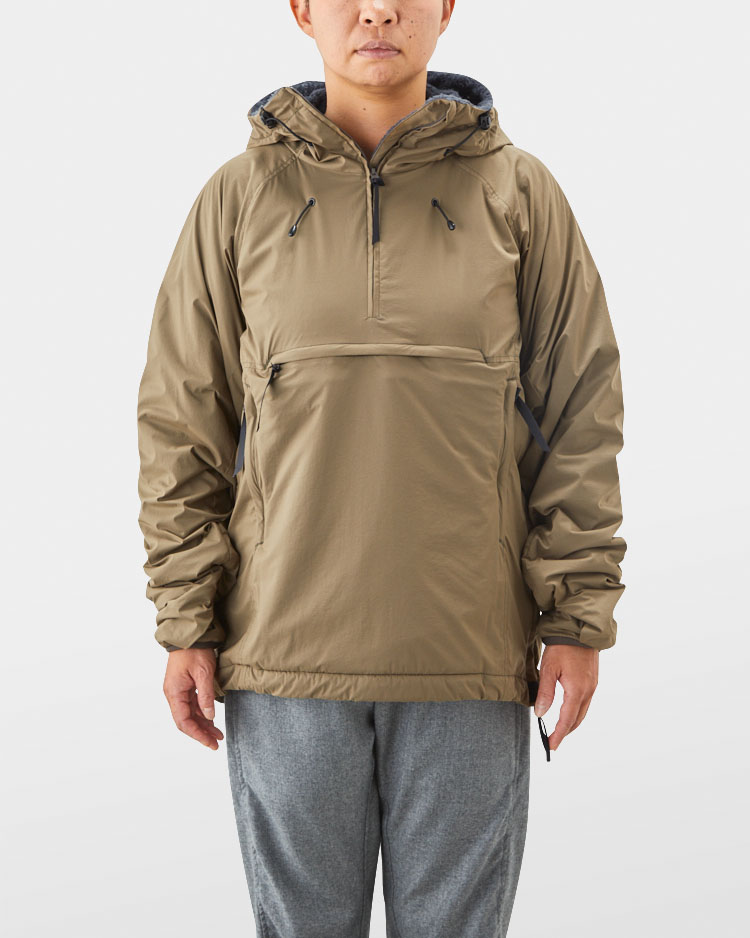 Rin 156cm-49kg
Size S (Nomad)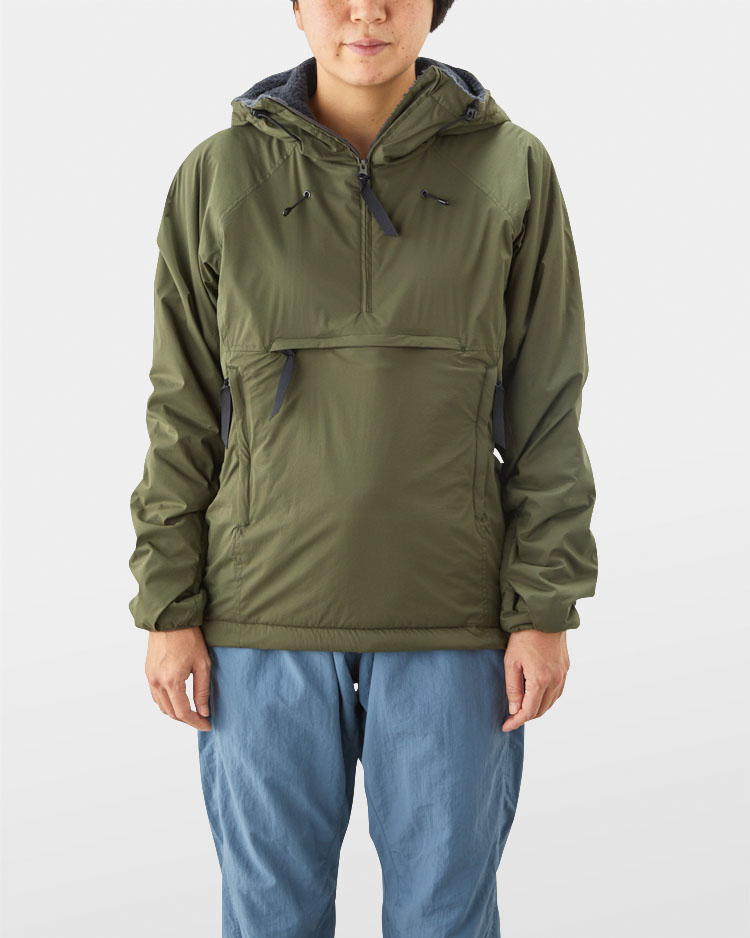 Eriko 158cm-47kg
Size XS (Olive)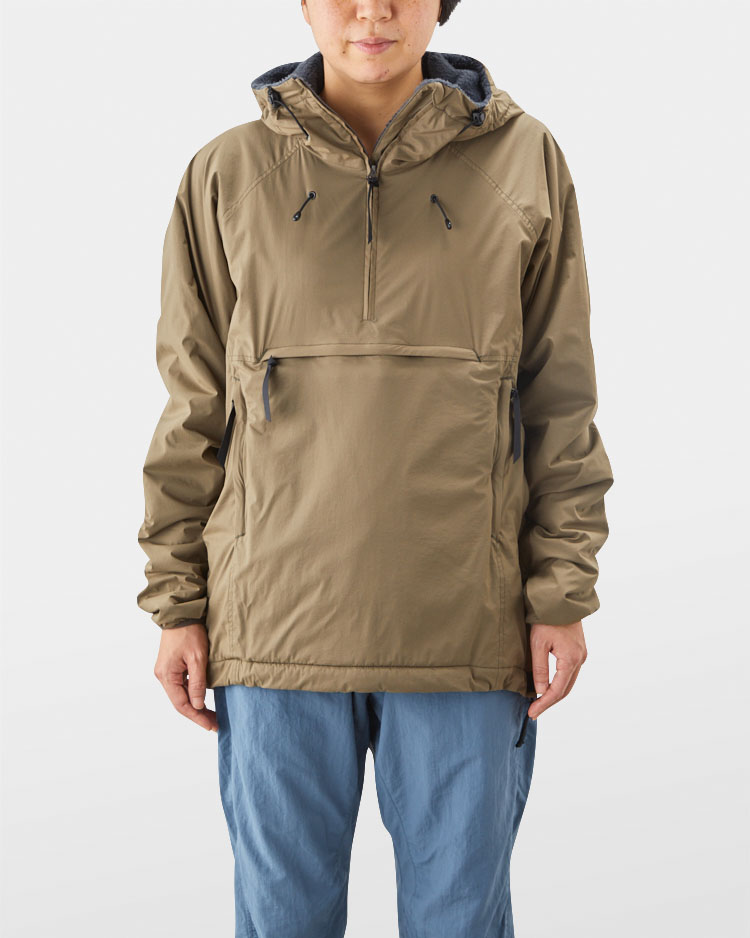 Eriko 158cm-47kg
Size S (Nomad)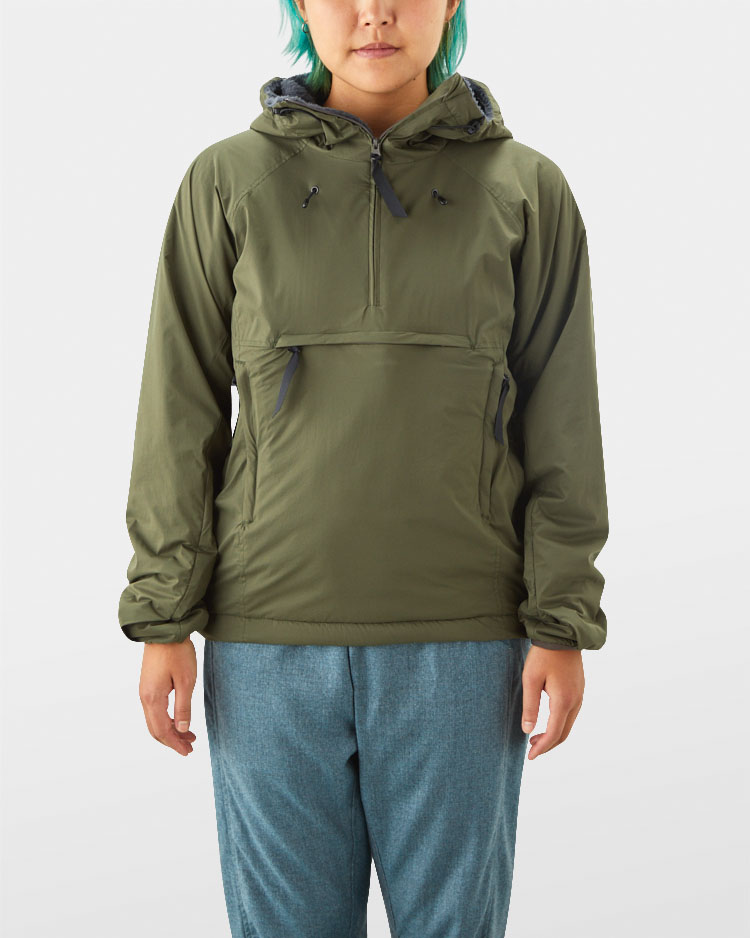 Kanade 161cm-56kg
Size XS (Olive)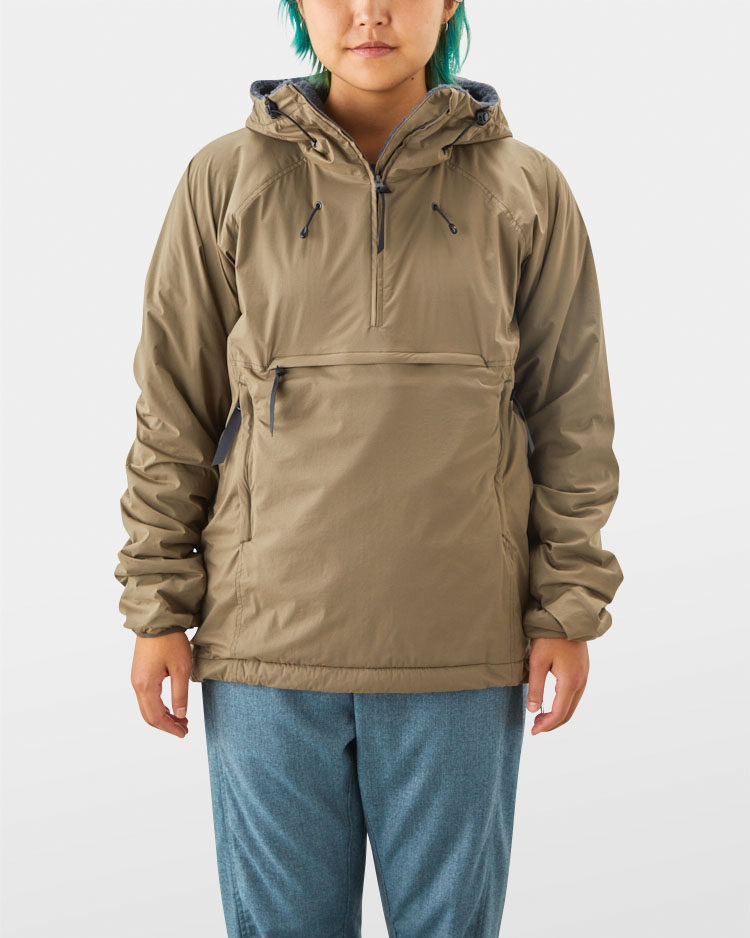 Kanade 161cm-56kg
Size S (Nomad)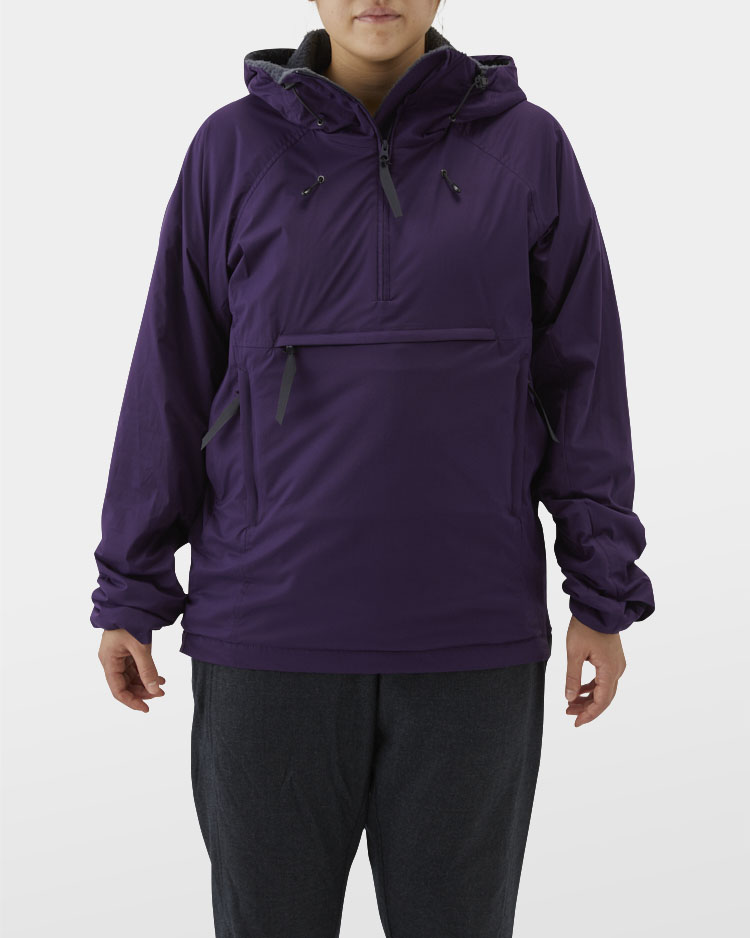 Hikaru 165cm-59kg
Size S (Purple)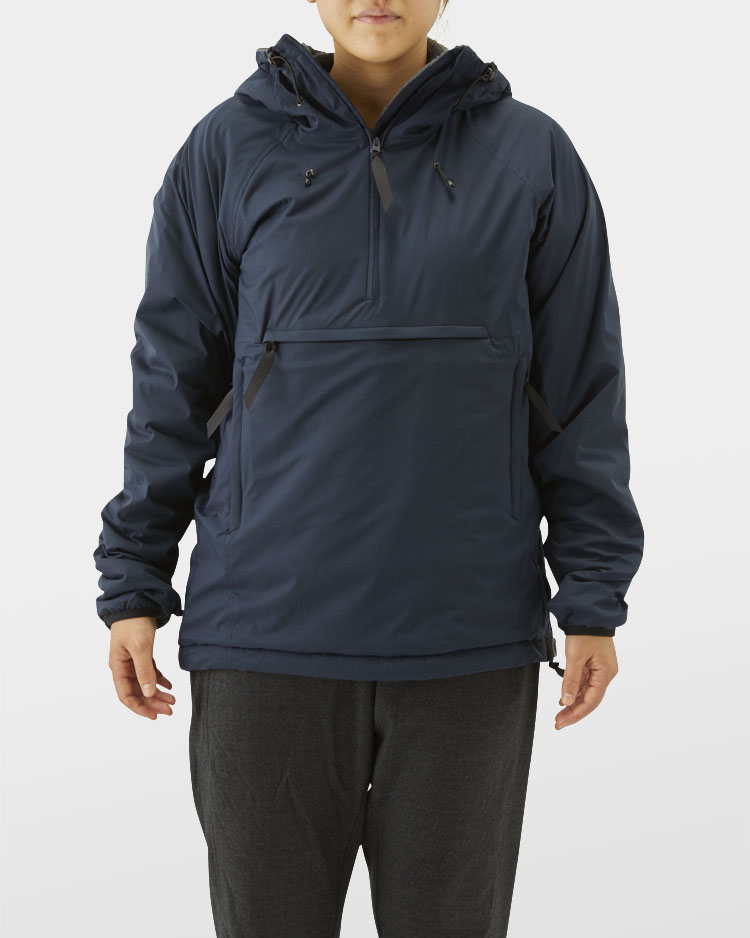 Hikaru 165cm-59kg
Size M (Navy)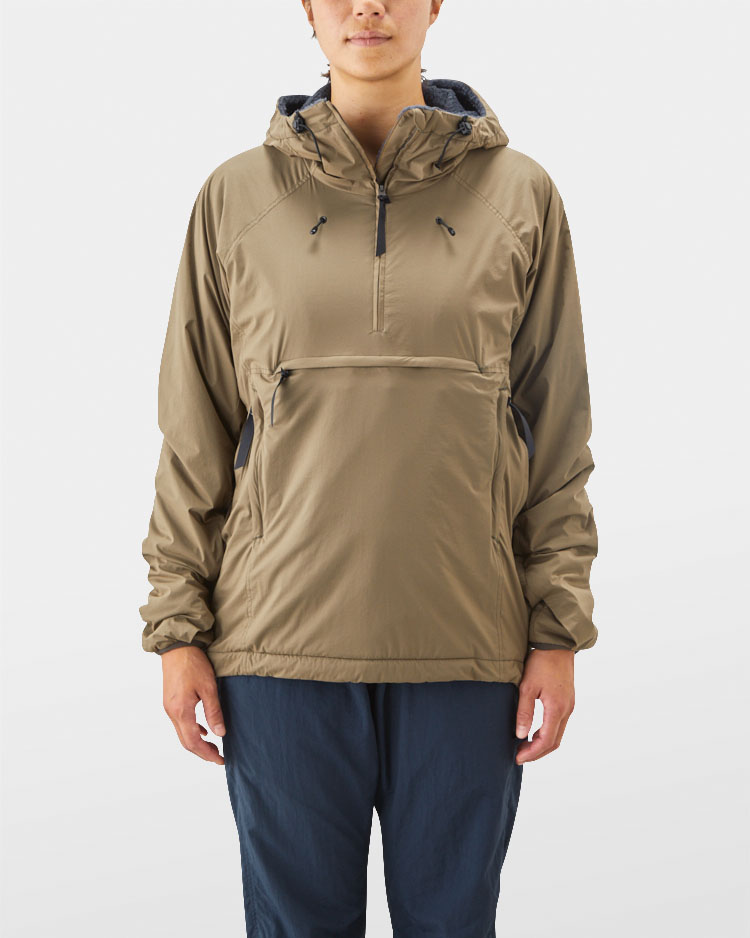 Shiori 17cm-55kg
Size S (Nomad)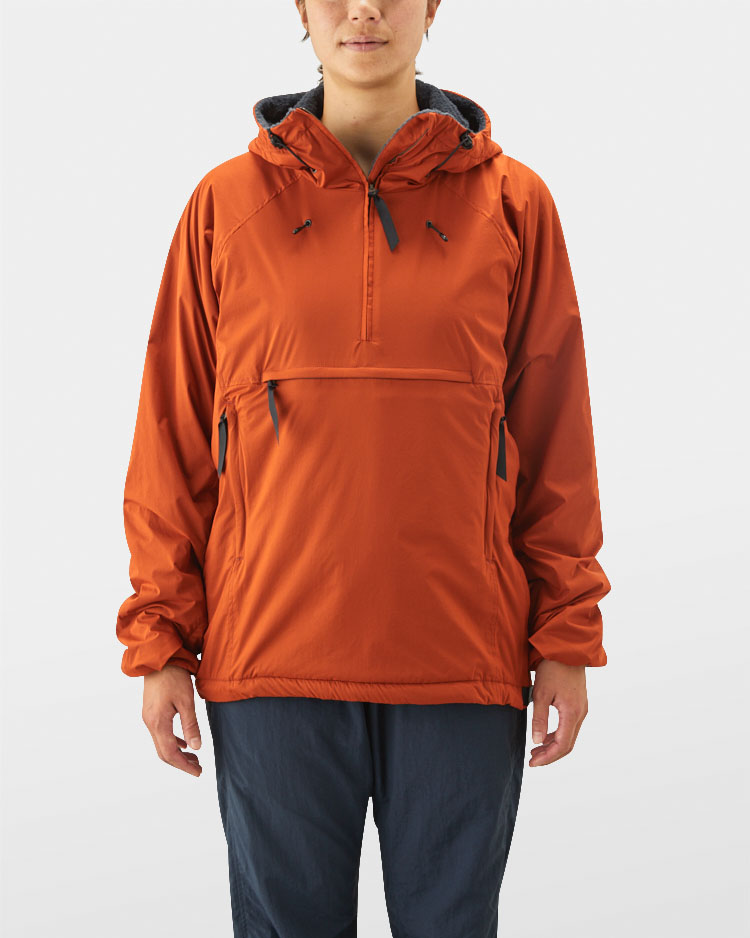 Shiori 17cm-55kg
Size M (Orange)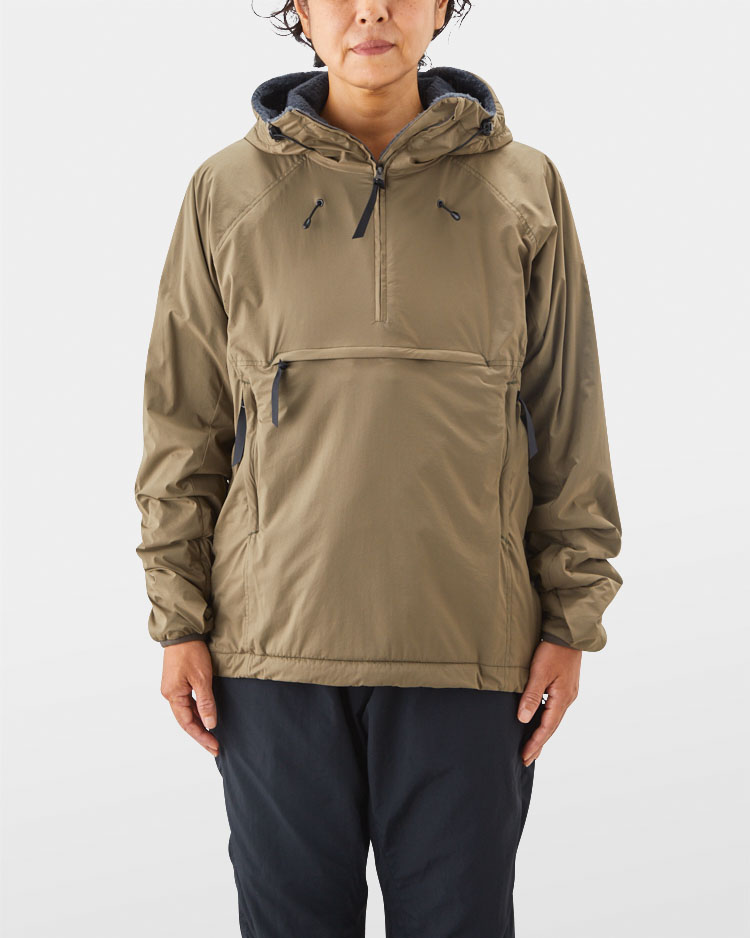 Yumiko 170cm-60kg
Size S (Nomad)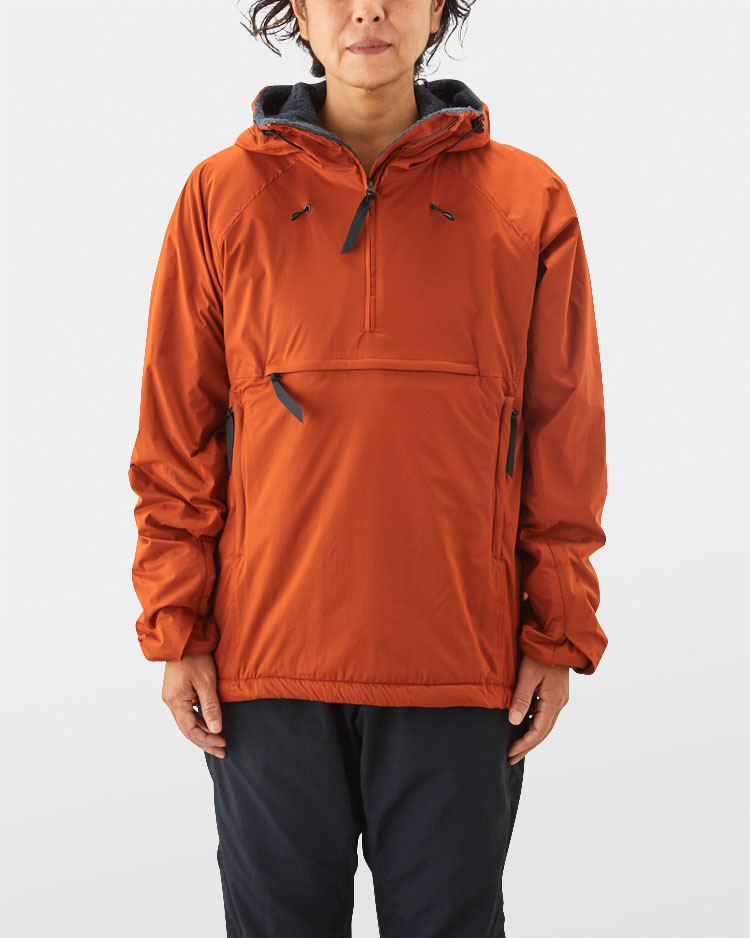 Yumiko 170cm-60kg
Size M (Orange)
推奨サイズ / Recommended Size
Size
XS
S
M
L
XL
体重 / Weight
kg
42~53
51~61
59~69
67~78
76~85
胸囲 / Chest
cm
78~84
80~88
84~95
92~102
100~110
製品サイズ / Product Size
縫製の誤差等で実寸と記載の寸法に若干の違いがある場合があります。
着用や洗濯により生地には収縮が発生するため、寸法は経年で変化します。
| Size | XS | S | M | L | XL |
| --- | --- | --- | --- | --- | --- |
| 着丈 / Length | 69 | 73 | 75 | 77 | 80 |
| 身巾 / Body Width | 54.5 | 59.5 | 62 | 66 | 71 |
| 裾巾 / Hem Width | 50.5 | 55.5 | 58 | 62 | 67 |
| 裄丈 / Neck to Sleeve | 83 | 87 | 90.5 | 94 | 97 |
| 袖口巾 / Sleeve Opening | 9.5 | 10 | 10.5 | 11 | 11.5 |
Please note that the Alpha Anorak should be worn as a middle layer. It is not an outer shell.
As it is highly breathable, please wear a hardshell jacket over it in strong wind.
Non water-resistant.
Care Instructions
The titanium coating on the back of the fabric can gradually wear off due to friction caused by daily washing. Proper care with the right washing method can help maintain the titanium coating.*
*The amount of titanium particles washed away is minimal and considered to be harmless for the environment.
Machine wash, gentle or delicate. Use a laundry net.
Avoid bleach or detergent that contains enzymes as they might discolor the fabric due to the chemical reaction with the metal. Use neutral detergent.
Do not soak in detergent for a long period of time as it can accelerate the delamination of the titanium coating.
Wring gently after washing and line dry in the shade.
Do not iron. Do not dry-clean.
If necessary, wash to remove fuzz from the fabric before first use.
Payment
We only accept payment by credit card. We currently do not accept payment via bank transfer from overseas accounts.
We accept the following Credit Cards: Visa, Master, American Express, and JCB.
To download your receipt, please click the link included in the Dispatch Notice, which we will send by email as soon as the items are dispatched.
Delivery
We will ship by DHL for overseas customers (excluding China, Hong Kong, Taiwan, Korea and Russia). For customers in China, Hong Kong, Taiwan, Korea and Russia, we will ship by EMS only. Shipping costs vary depending on your country and region.
Size Exchange
Overseas customers who need to change the size of their order, should note that the time needed for shipping will vary greatly depending on your country of residence.
We only accept exchanges when the item is unused (except for fitting).
If you wish to exchange the size of the item, please contact us within seven days of receiving your order.
Exchanges can only be made for the same color in a different size.
If the size you wish is out of stock, we will suggest a different color.
If the product is out of stock, we may simply have to ship the item back to you.
All shipping costs to be carried by the customer.
We will only send the exchanged item to you, upon receipt of return shipping cost via PayPal.
Please be aware that some countries charge customs duties depending on the price of the item.
We are unable to answer any questions on local customs. Please contact your local customs bureau.
Repair
We accept repairs for all of our Yamatomichi products. For inquiries on repair services including patching the holes, repairing with extra components, or fixing the items damaged over time, please feel free to contact us from the "Repair" section of the SUPPORT page.
BUY