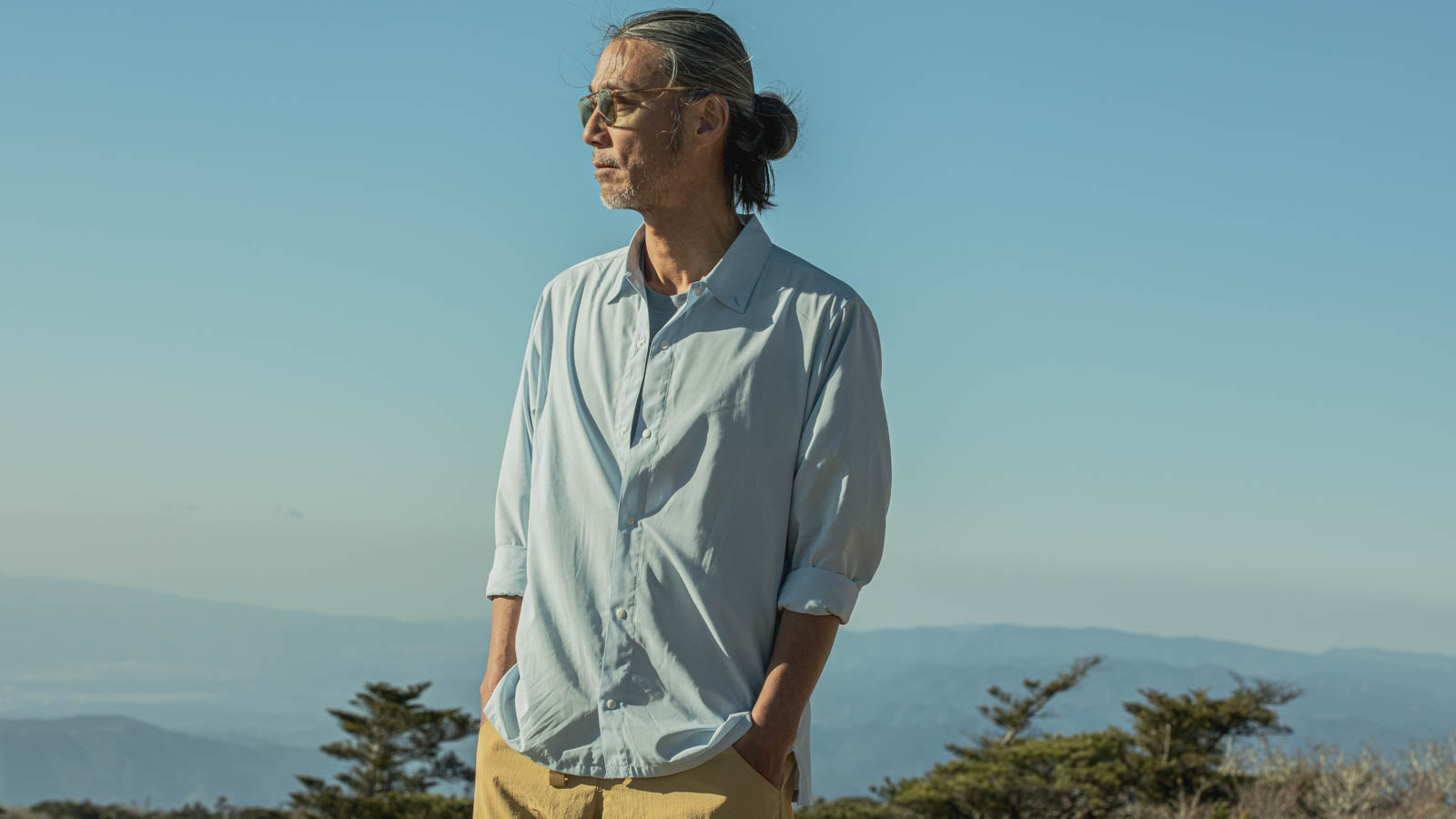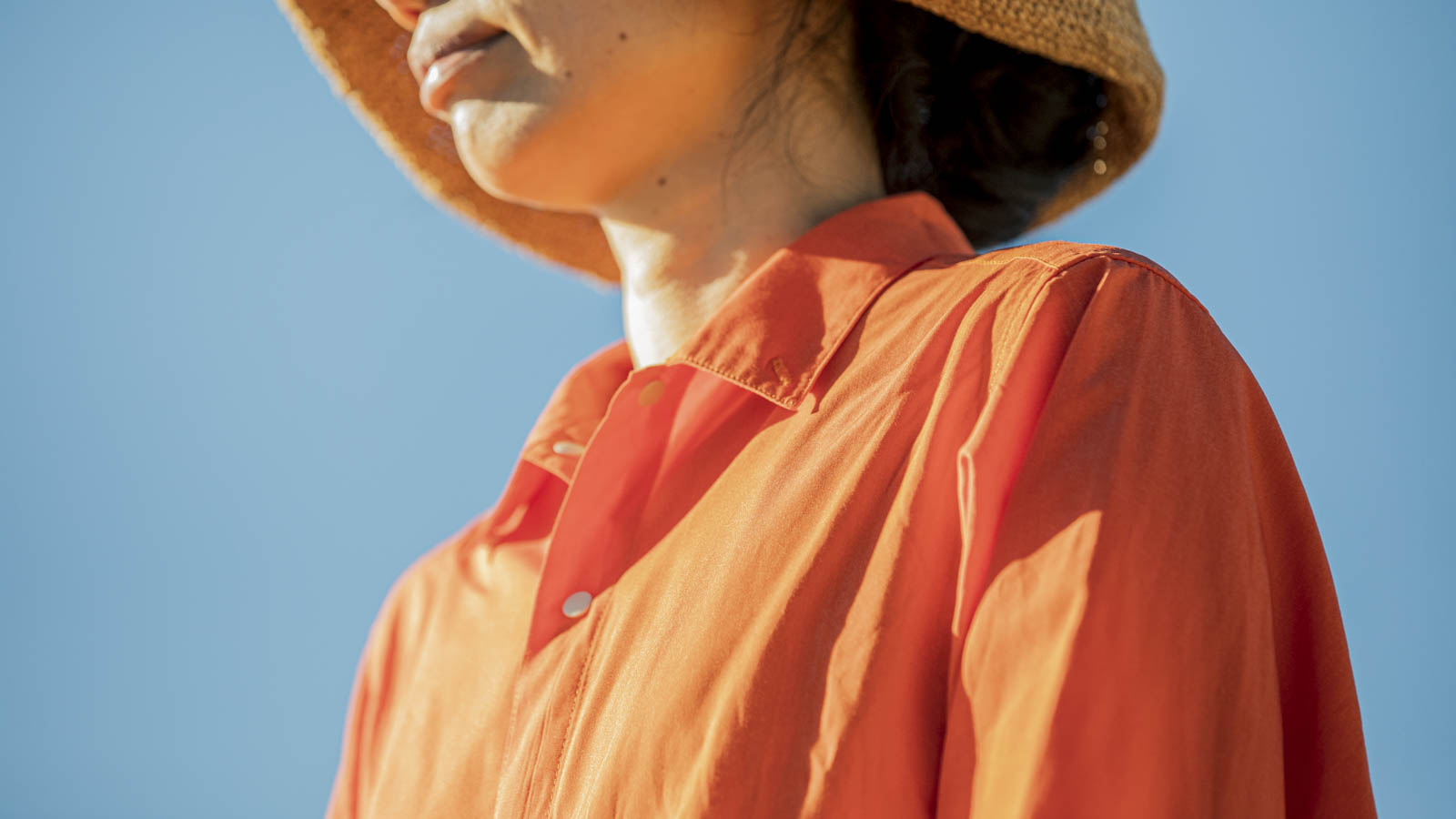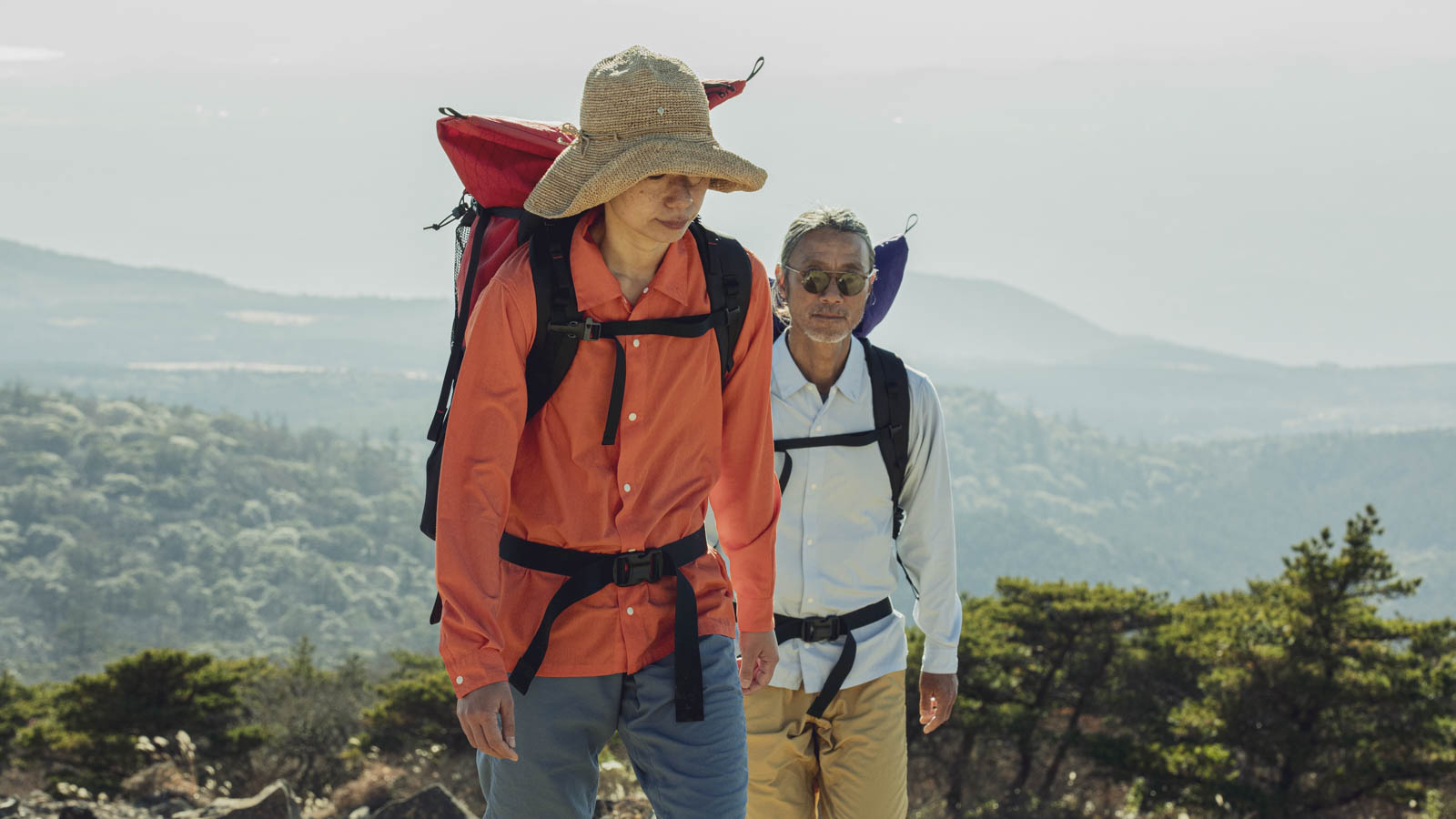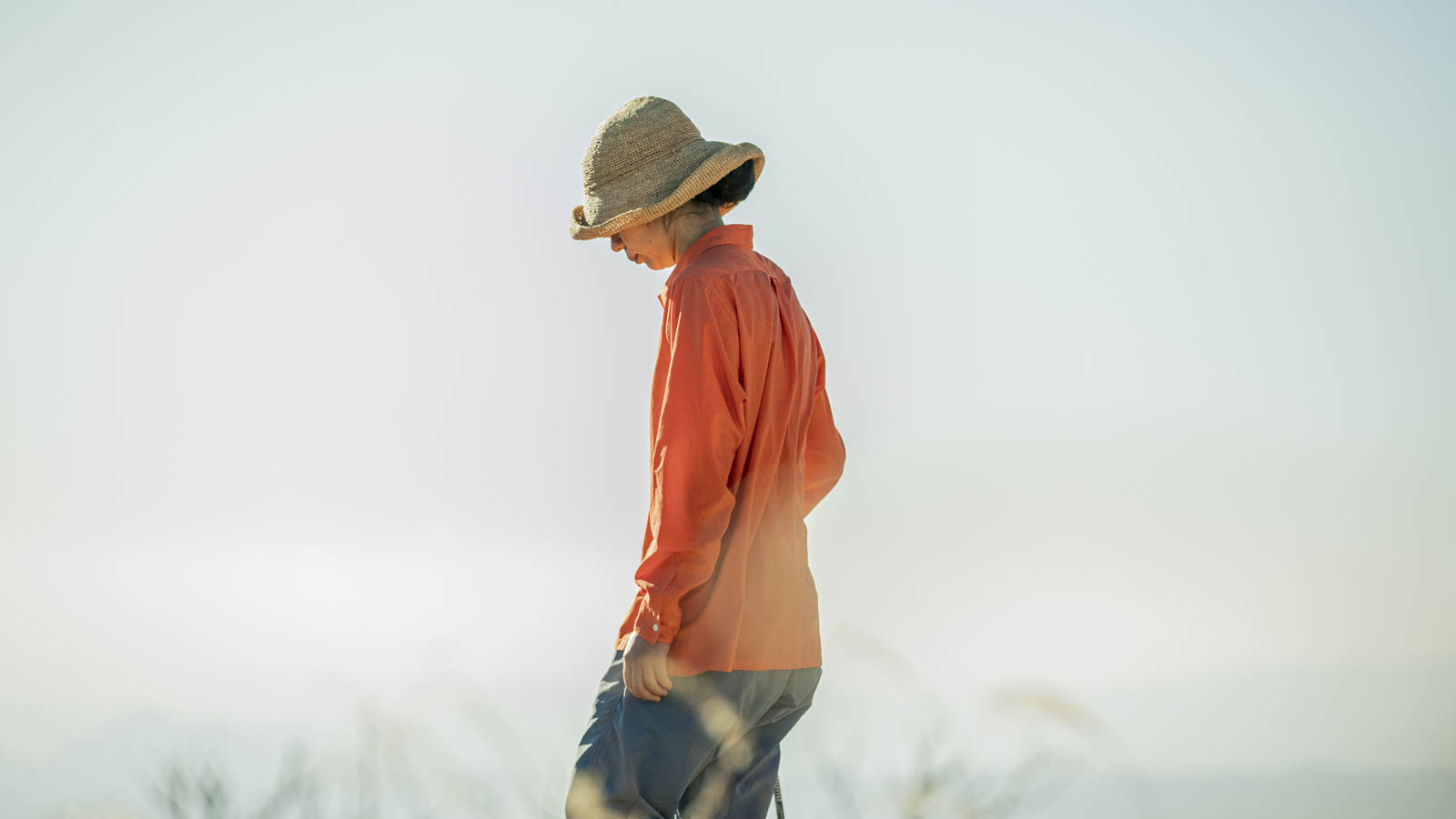 Bamboo Shirt
180g
¥12,100 Tax included
Works well
on and off the trails
The Bamboo Shirt is a simple and tough trail shirt, perfect when you feel a little chilly on the trail.
Using bamboo fibers blended with polyester, the fabric is light and smooth. The shirt's wind protection and natural moisture control performance will always keep you comfortable on the trails.
The ventilative wide fitting and open neck collar let the heat around the neck escape, offering comfort when it's hot. Our proprietary design allows you to quickly roll up the sleeves, use the snap buttons for ventilation, or turn up the collar and button it up when it is cold. It effectively controls and flexibly adjusts the breathability and sensible temperature.
On and off the trails, you'll probably be wearing it every day and never find a reason to hang it up.
Dark Olive

Indigo

Morning Blue

Nomad

Tangerine
Made in Fukushima, Japan
Material:
Bamboo Polyester (50% Rayon, 50% Polyester) 118g/m²
Weight:
180g (Size XS)
198g (Size S)
215g (Size M)
227g (Size L)
243g (Size XL)
Size:
Unisex | XS / S / M / L / XL
What's so good about bamboo?
Akira Natsume, Yamatomichi Founder
We launched the development of our trail shirt series with the goal of creating something comfortable to wear both on and off the trail. We tested a number of materials during the development and were unable to narrow it down to just one, resulting in three products: the UL Shirt, Bamboo Shirt, and Merino Shirt.
Each has its own characteristics, good and bad. The UL Shirt and the Merino Shirt stand out among them, with the former being ultralight and having the strength of synthetic fibers, and the latter having the natural fiber's powerful deodorizing and moisture control properties of 100% merino wool. Then, what is so good about the Bamboo Shirt?
Naomi Kazama, wearing the 2019 version Sand color.
The Bamboo Shirt is somewhere in between the UL Shirt and the Merino Shirt. The fabric, a blend of 50% bamboo and 50% polyester, features the toughness of synthetic fibers and the functionality of natural bamboo fibers which is similar to wool. But when written like this, it seems a bit half-baked compared to the other two products.
In fact, as we believe in creating the best products with cutting-edge functionality, we were not sure if we should commercialize this Bamboo Shirt, and even considered discontinuing its production.
Nevertheless, we continue to produce the Bamboo Shirt because we find it attractive. As mentioned above, the Bamboo Shirt has the toughness of synthetic fiber and the comfort of natural fiber, but its appeal is not limited to those functionalities; it is largely based on the atmosphere and feel of the garment.
It has a moist and comfortable texture, a subtle but elegant glossy smoothness, and a heather look of the bamboo/polyester blend.
It is wrinkle-proof and does not require sensitive handling. As you wear it, it develops a nice worn-in look.
Although not as cutting-edge as the UL Shirt or Merino Shirt, the Bamboo Shirt has a familiar and comfortable feel, which makes me always return to it. I even use the Bamboo Shirt as pajamas!
The Bamboo Shirt absorbs sweat better than the other two products. It can be worn like your favorite cotton T-shirt that endures everyday use; Wear it, wash it, repeatedly with no problem. (March 2022)
Excellent Humidity-control
Bamboo fibers absorb the discomforting heat and the accumulating humidity, while polyester has excellent fast-drying properties and durability. This 50/50 blend brings the best of both worlds for a tough and comfortable piece of fabric.
In a hot, humid environment, it is better to have fibers that absorb a lot of moisture to maintain a smooth texture. If the temperature is cold, it is better to use fibers that do not absorb a lot of moisture to keep comfortable and not feel too dry.
The chart below compares the moisture content inside the fibers in a hot, humid environment (a temperature of 30 degrees and 90% humidity) and an environment with optimal humidity (a temperature of 20 degrees and 65% humidity). We found that bamboo polyester maintains an optimal moisture content in both environments, and it has excellent humidity absorbency compared to a 100% polyester material.
High Deodorizing Properties
Bamboo polyester has been confirmed to have more than double the deodorizing properties that deodorized synthetic fibers have.
It neutralizes alkaline smells like ammonia and also helps to neutralize other odors because of its high ability to absorb humidity.
Natural UV Protection (UPF50+)
This bamboo polyester material has a natural UV protection of UPF50+, keeping you well protected against ultraviolet rays when on the move.
Trail Shirt
Woven fabric, which is often used as a material for shirts, is densely woven by warp and weft yarns. As a result, for the same weight and material, it is usually more windproof, dries faster, and is more durable than knitted fabrics, which are commonly used for base layers.
Furthermore, the UL Shirt adopts the basic "shirt" design, allowing for good ventilation by opening the front buttons. The essence of the shirt, the wind-protective fabric, and the good ventilation is namely the key feature of our hiking trail shirt, the UL Shirt.
The open-necked collar prevents trapping heat around your neck when it's hot.

Snap fasteners allow you to button and unbutton the shirt quickly while on the move.

We added tucks on the back of the shirt for ease of movement and a loop to hang up the shirt.

Slits on both sides for ease of movement. A slightly longer back keeps it from crawling up when carrying a backpack.

We use pivot sleeves that widen towards the armpits so as not to interfere with arm movement.

The sleeve plackets do not contain buttons, making the sleeves easier to roll up.
Raised Collar
On a chilly morning or late evening, turn up your collar and secure it with the added button to keep out the chill. A turned-up collar also helps to prevent your neck from getting sunburned when the sun is up.
Trail Shirt Series Comparison
UL Shirt
Material: Shadow Rip(100% Polyester)56g/m² C0 DWR
Ultralight, wrinkle-proof, and extremely portable. Highly versatile and easy to use, both as activewear and as a change of clothes. Soft to the touch.
Merino Shirt
100% Merino Wool 130g/m²
Keeps you comfortable with its high breathability and excellent temperature/humidity control. On the other hand, in midsummer, you may find wool a little too hot in the city or low mountains. Has a slightly firm texture similar to linen.
Bamboo Shirt
Bamboo Polyester (50% Rayon, 50% Polyester) 118g/m²
Bamboo polyester material has deodorant and moisture control functions similar to wool and the functionality of synthetic fiber such as polyester. It has a moist texture and superior sweat absorbency compared to the other two products. It develops a unique texture over time.
| | Lightness | Deodorant performance | Moisture control | Fast-dry performance | Wrinkle-proof | Strength | Breathability | Water-repellency | Insulation performance | UV protection |
| --- | --- | --- | --- | --- | --- | --- | --- | --- | --- | --- |
| UL Shirt | Excellent | Poor | Poor | Excellent | Excellent | Good | Good | Good | Average | Poor |
| Merino Shirt | Average | Excellent | Excellent | Average | Average | Average | Excellent | Poor | Average | Poor |
| Bamboo Shirt | Average | Good | Good | Average | Good | Excellent | Average | Poor | Average | Good |
Moisture control: The property of keeping the humidity inside the garment at a constant level, dry when it's damp, while moist when it's too dry.

Breathability: Higher means better ventilation, while lower means it is more wind-protective.

UV protection: Ability to block the sunlight's ultraviolet rays.
Bamboo Polyester
Bamboo, a natural fiber, has excellent humidity absorbency, deodorizing properties, and block-out ultraviolet rays on par with wool. The weakness is that it is not that strong. Blending it with polyester, which has excellent durability and fast-drying properties, helped us achieve a material that can withstand rough handling when hiking and is comfortable to wear.
The bamboo fibers have a light, durable, and flexible feel. Traditionally bamboo has been widely used in Asia in a variety of products from food packaging to woven goods. Bamboo also grows extremely fast and can be harvested after only 2-3 years so is a very environmentally sound material.
The 50/50 bamboo/polyester blend has a unique cool, silky texture that doesn't wrinkle easily even if stuffed somewhere in your backpack. The polyester also adds a nice glossy shine to the fabric making you stand out on the trail.
Material:
Bamboo Polyester (50% Rayon, 50% Polyester) 118g/m²
Spec:
Tear strength measured by JIS L 1096 D (In-house test)
Vertical: 1.9kg, Horizontal: 1.5kg
Tensile strength measured by JIS L 1096 A (In-house test)
Vertical: 58.4kg, Horizontal: 35.7kg
Breathability measured by JIS 1096 A (In-house test)
19.5cc/ (㎠・s)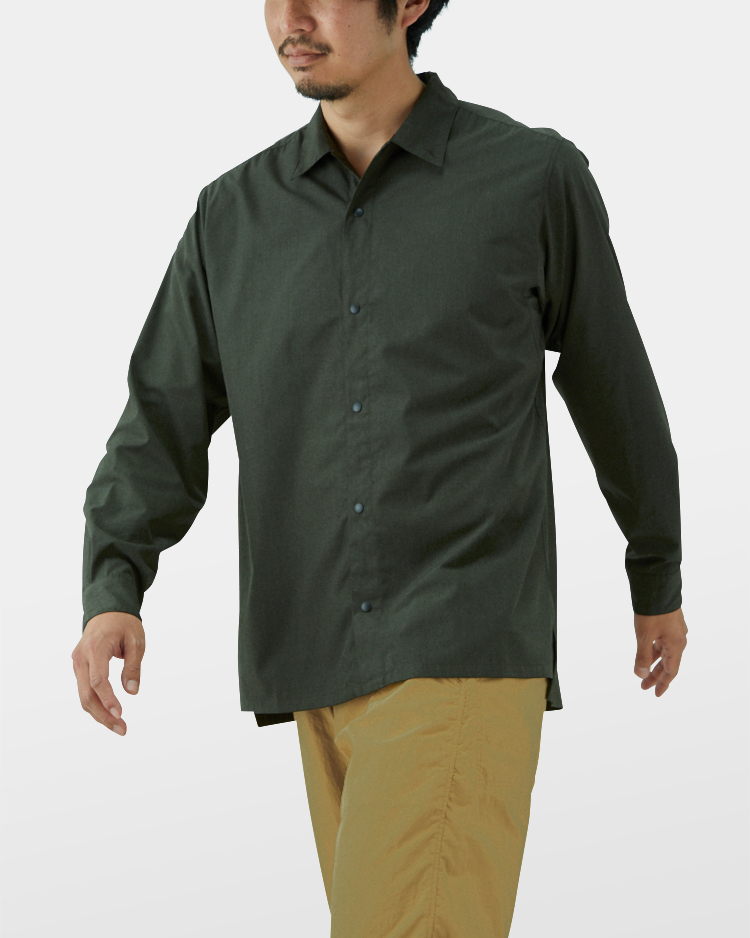 Hide 178cm-68kg
Size L (Dark Olive)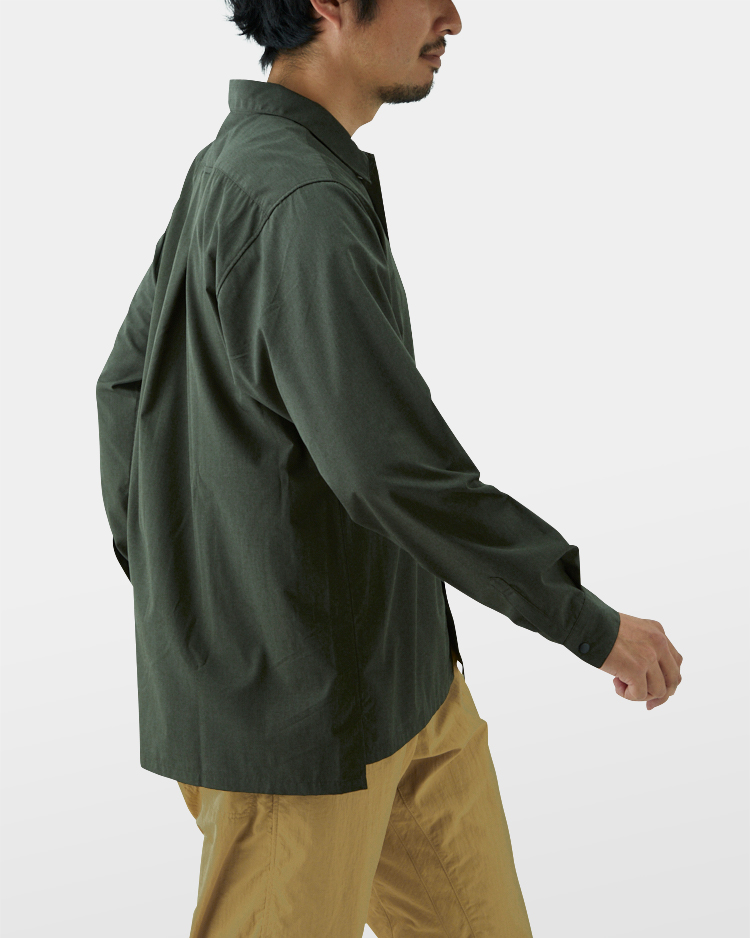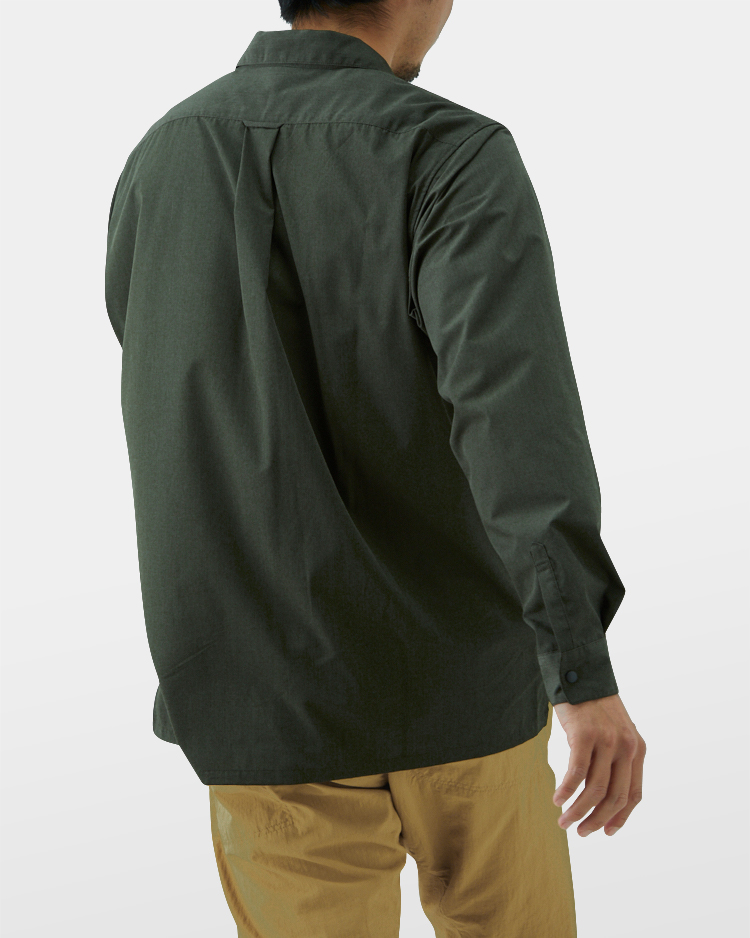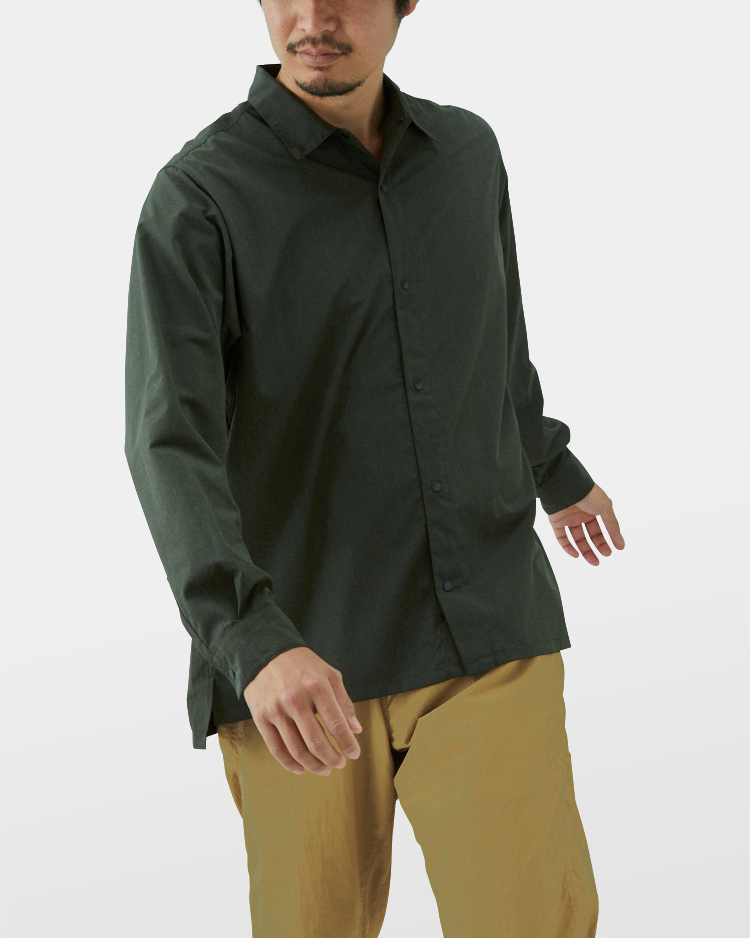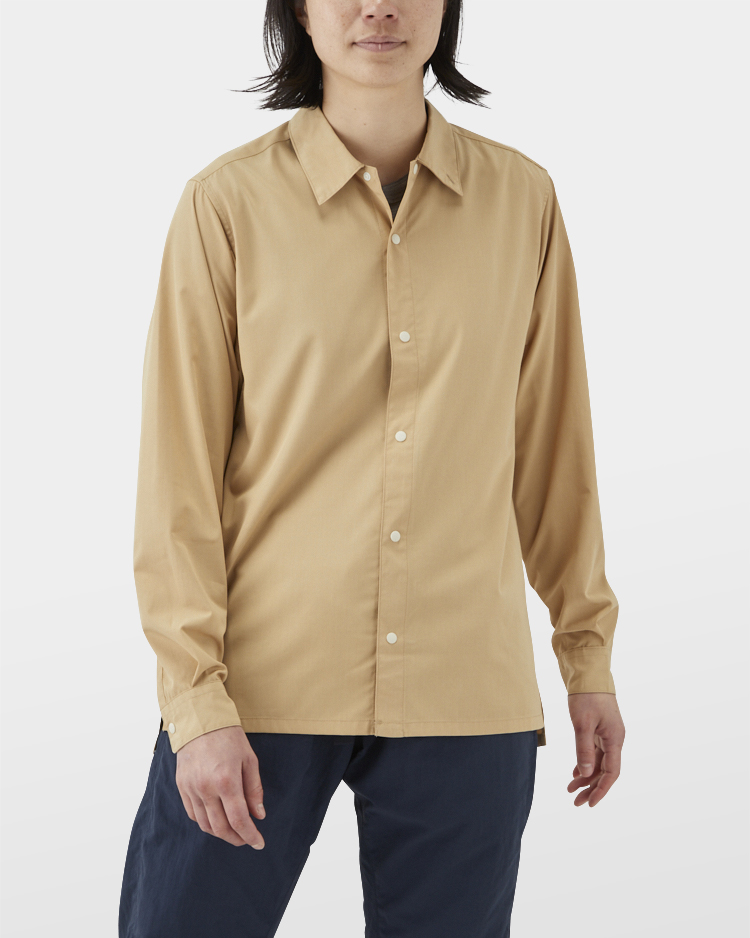 Shiori 167cm-55kg
Size S (Nomad)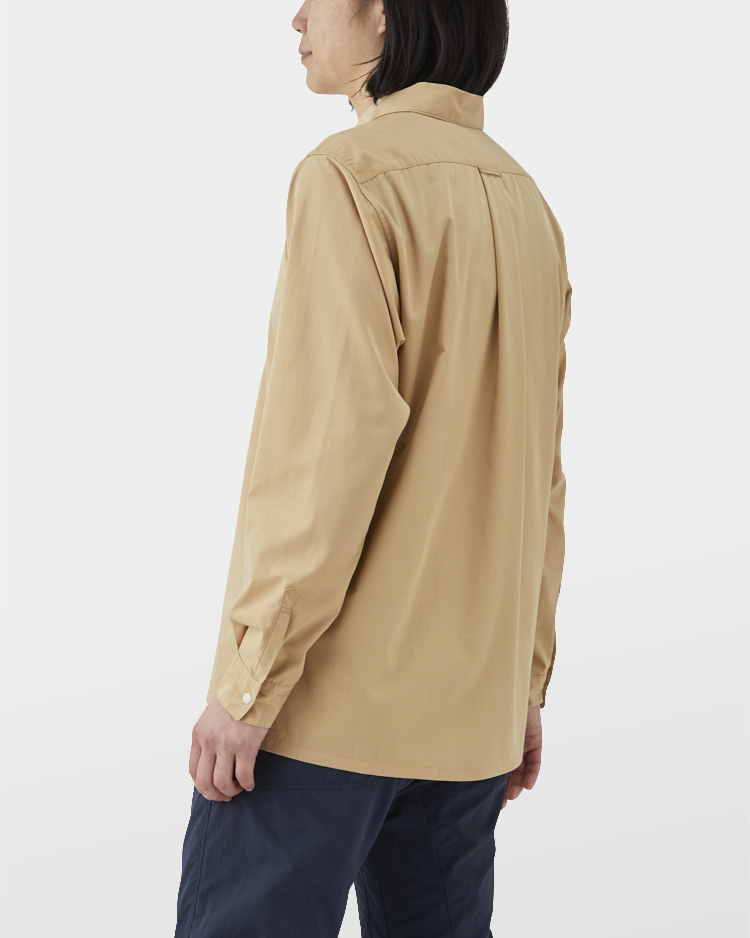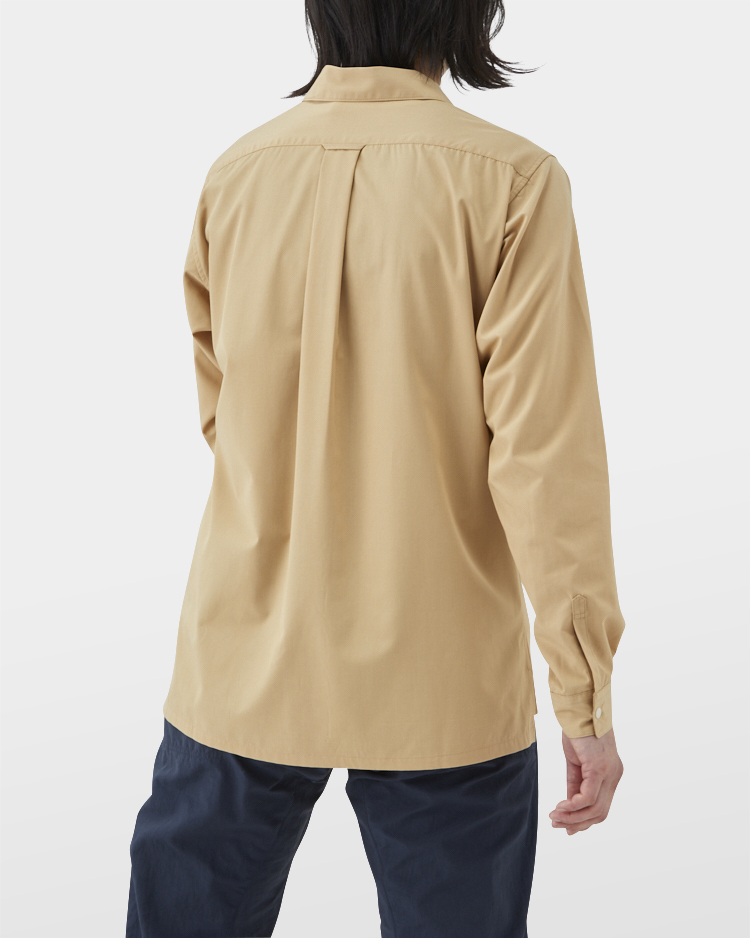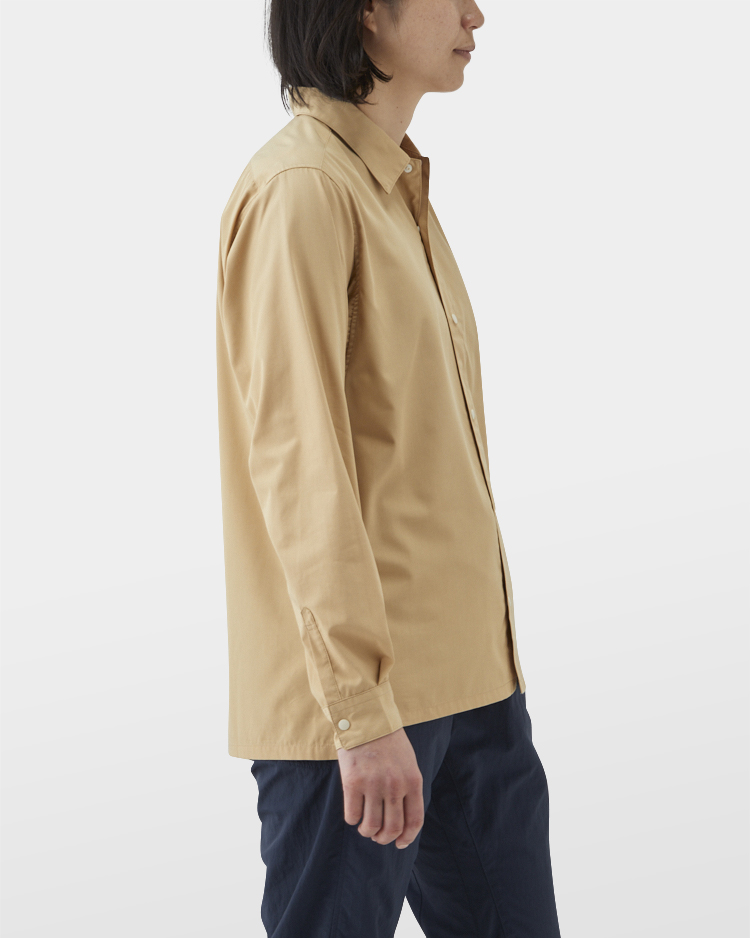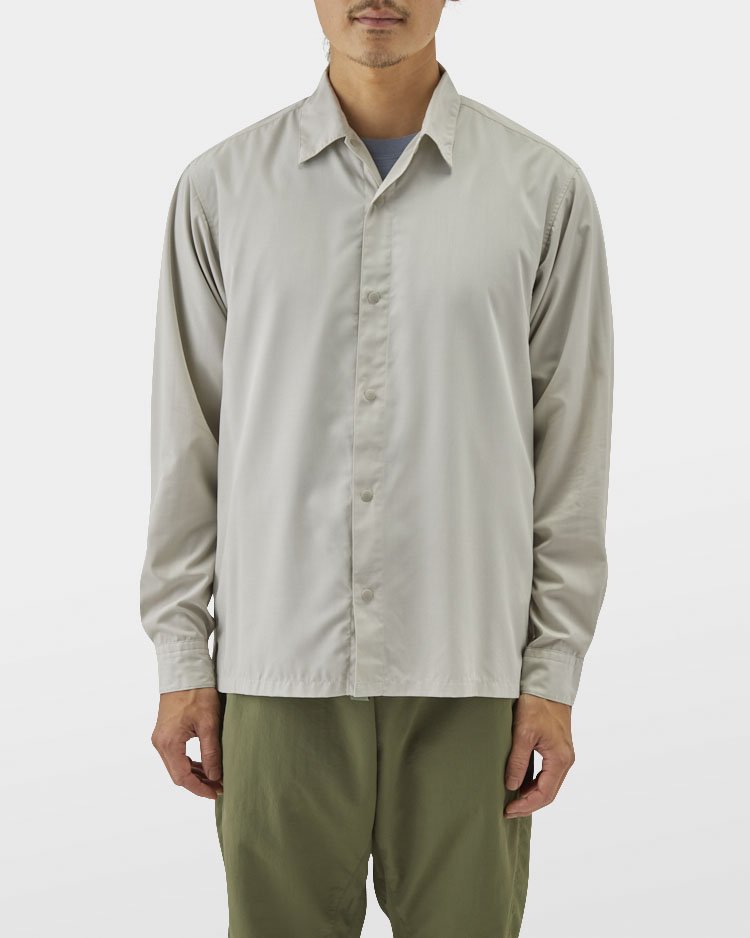 Ichiro 170cm-56kg
Size S (White Sand 2021)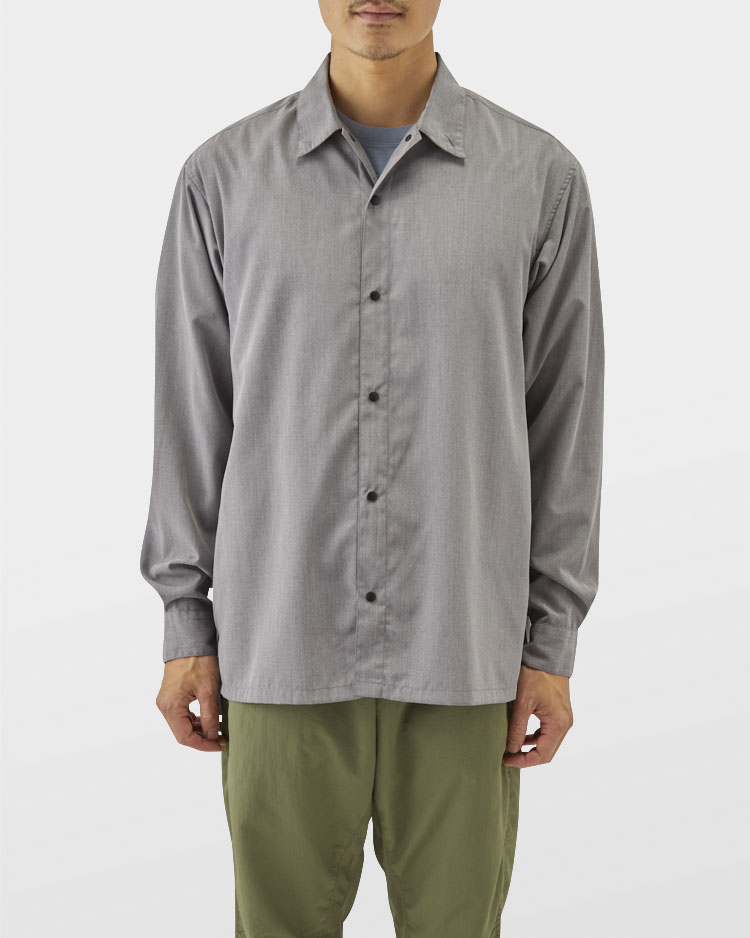 Ichiro 170cm-56kg
Size M (Gray 2021)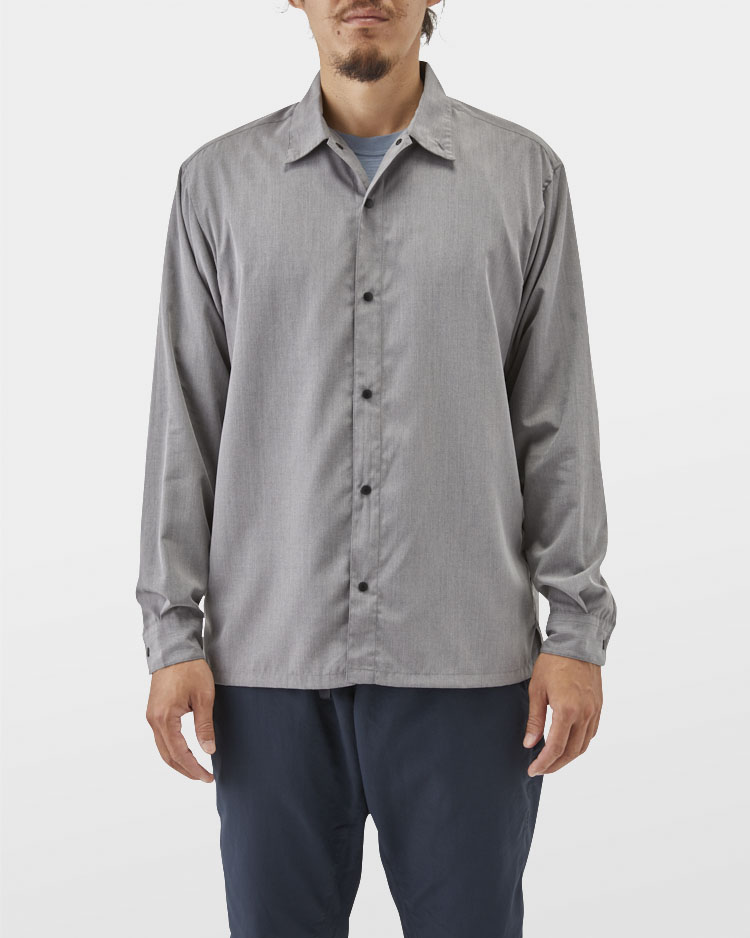 Kim 175cm-68kg
Size M (Gray 2021)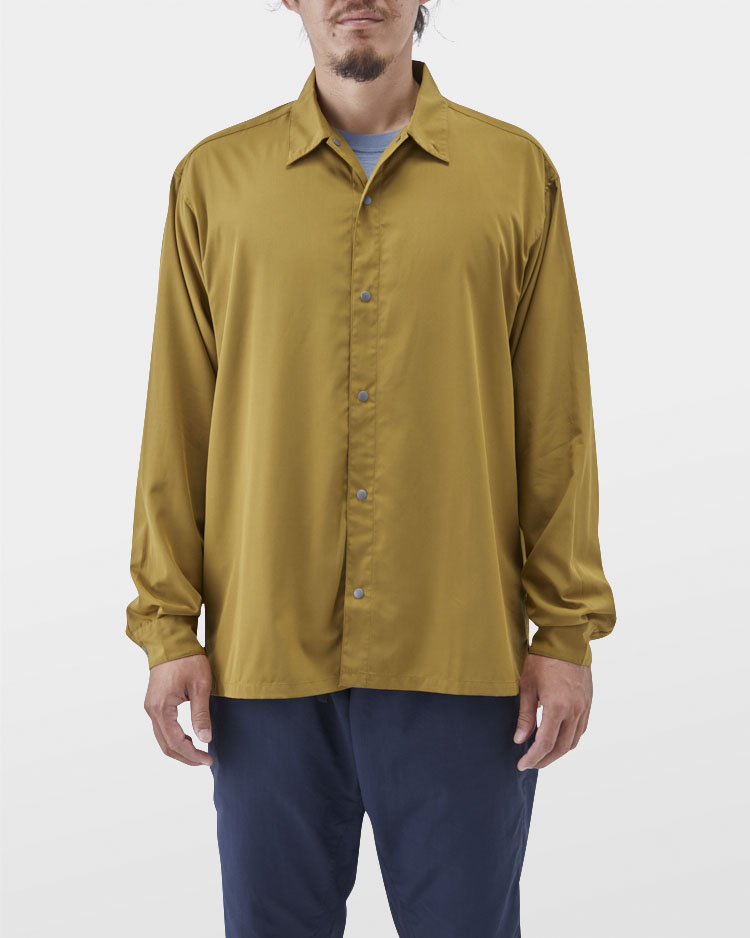 Kim 175cm-68kg
Size L (Dull Gold 2021)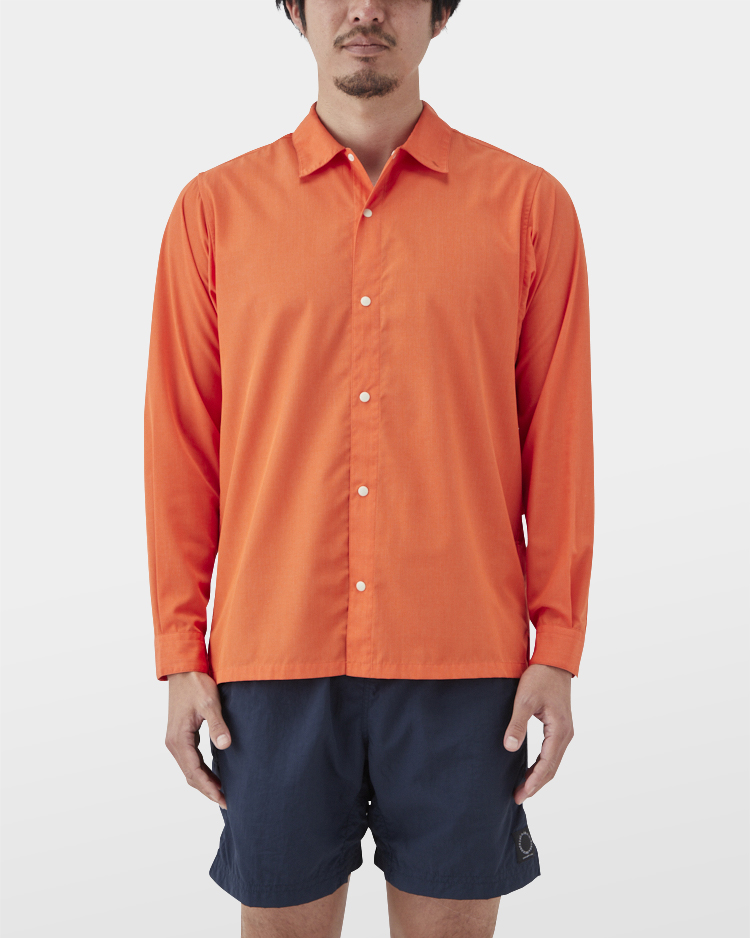 Hide 178cm-68kg
Size M (Tangerine)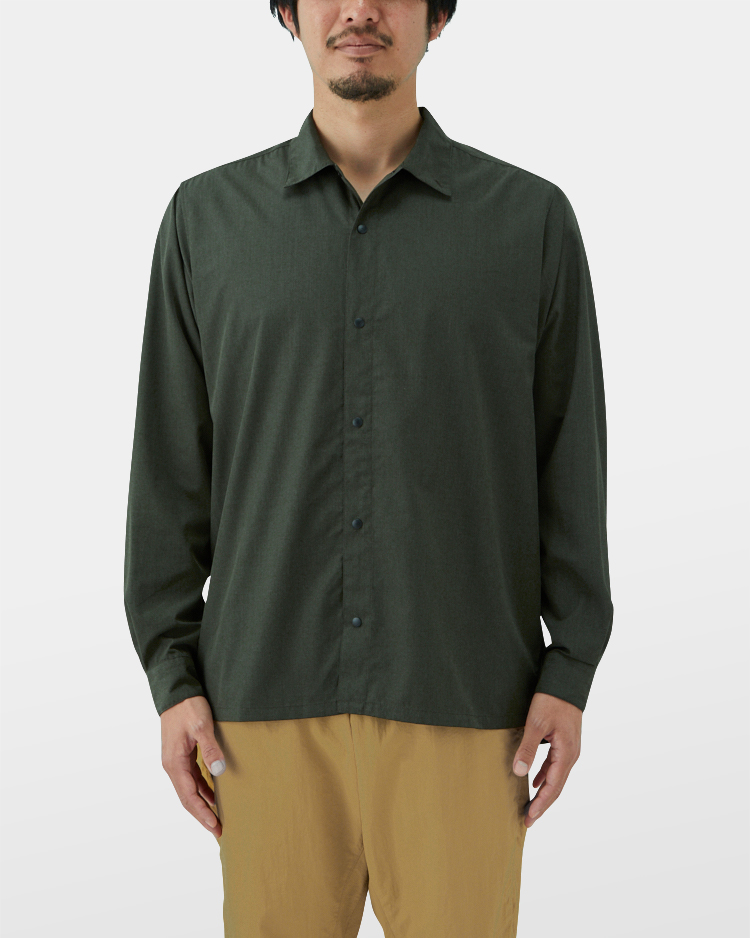 Hide 178cm-68kg
Size L (Dark Olive)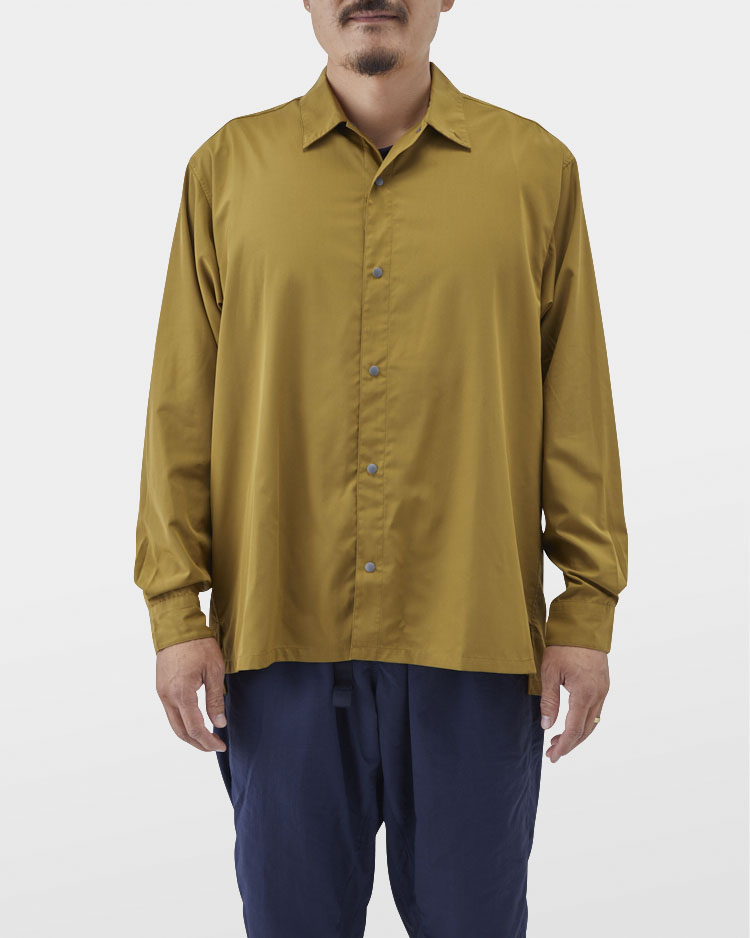 Nacho 180cm-68kg
Size L (Dull Gold 2021)
Nacho 180cm-68kg
Size XL (White Sand 2021)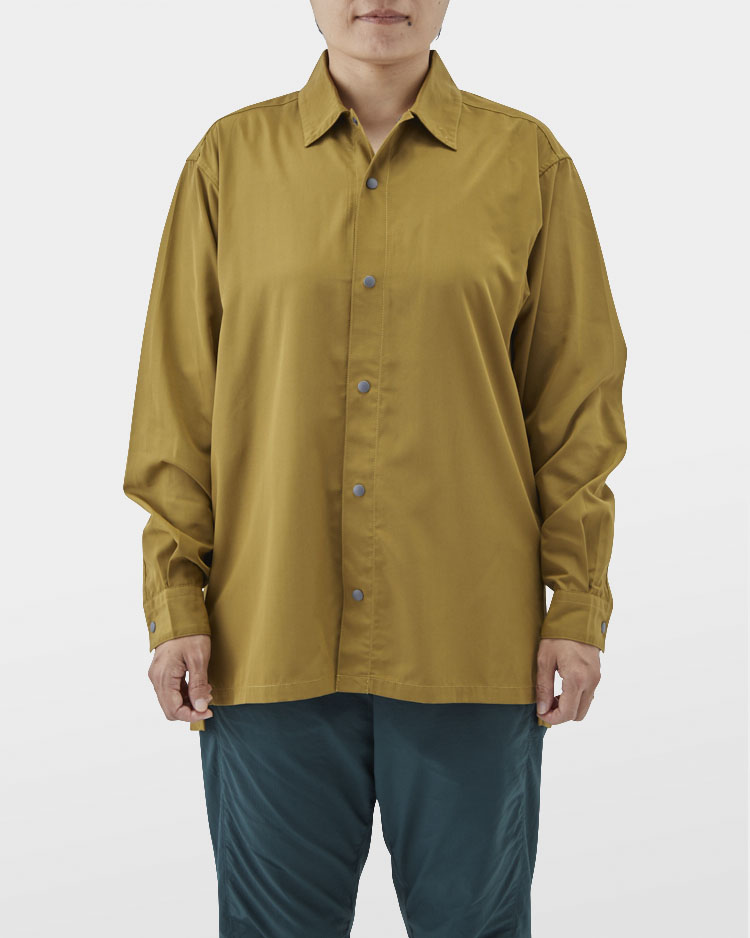 Misuzu 150cm-47kg
Size XS (Dull Gold 2021)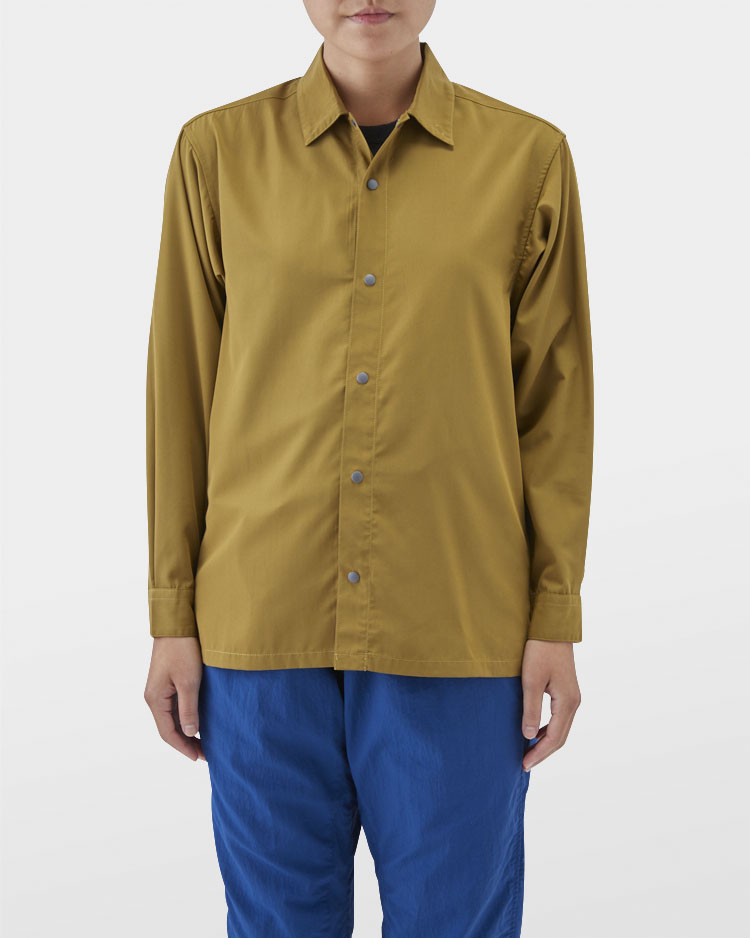 Kanade 161cm-51kg
Size XS (Dull Gold 2021)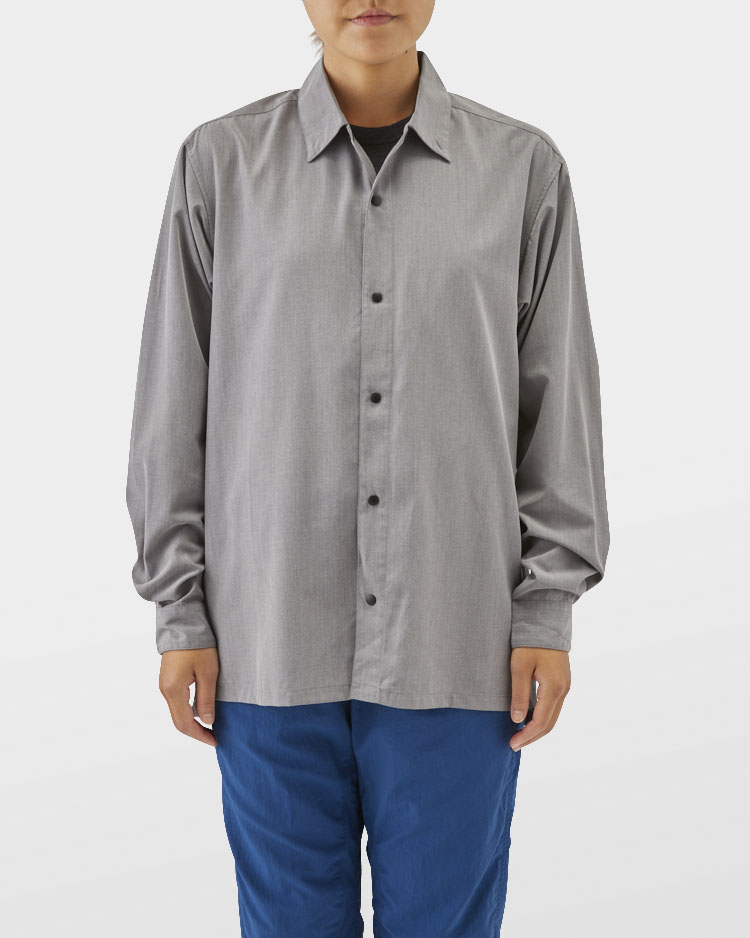 Kanade 161cm-51kg
Size S (Gray 2021)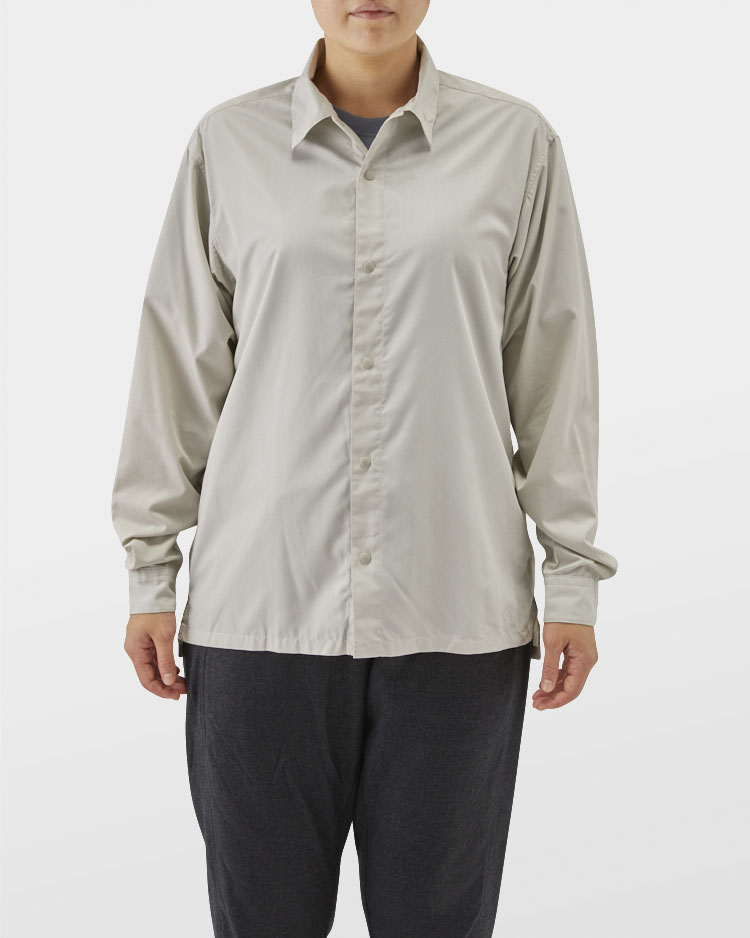 Hikaru 165cm-59kg
Size S (White Sand 2021)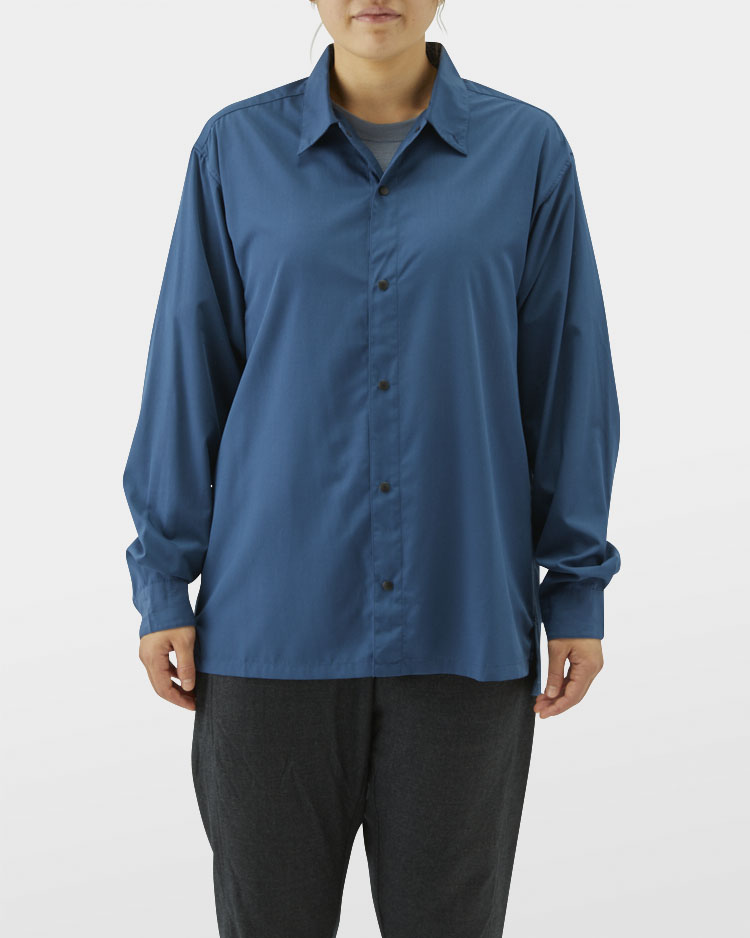 Hikaru 165cm-59kg
Size M (Indigo)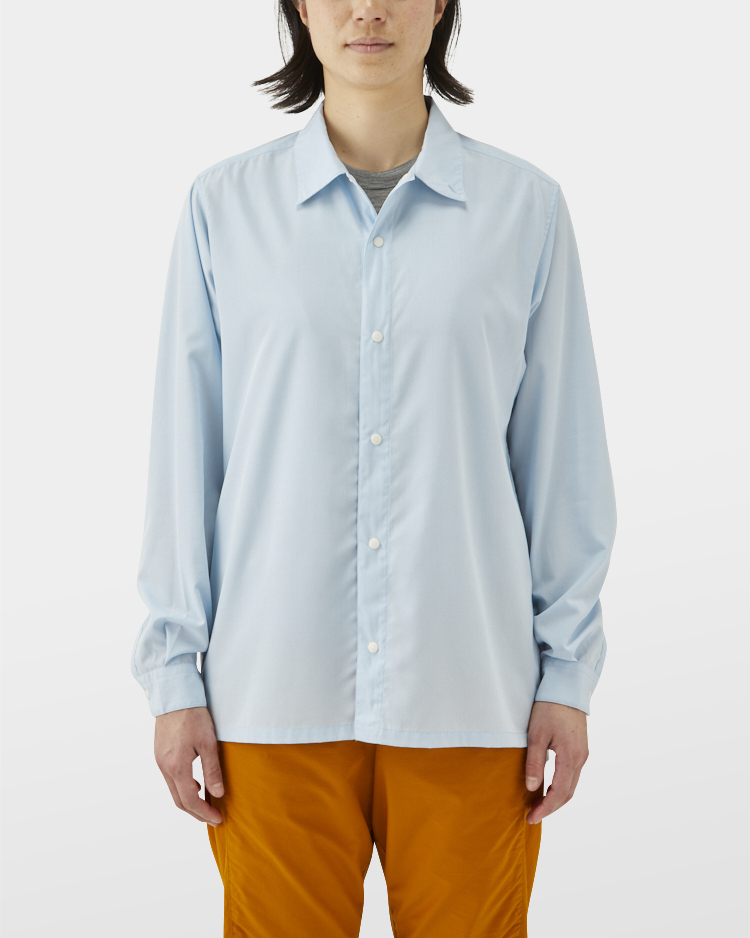 Shiori 167cm-55kg
Size M (Morning Blue)
推奨サイズ / Recommended Size
Size
XS
S
M
L
XL
体重 / Weight
kg
42~53
51~61
59~69
67~78
76~85
胸囲 / Chest
cm
78~84
80~88
84~95
92~102
100~110
製品サイズ / Product Size
| Size | XS | S | M | L | XL |
| --- | --- | --- | --- | --- | --- |
| 着丈 / Length | 67 | 70.5 | 72.5 | 74.5 | 76.5 |
| 肩巾 / Shoulder Width | 39.5 | 42.5 | 44.5 | 47.5 | 51.5 |
| 身巾 / Body Width | 53 | 58 | 60.5 | 64.5 | 69.5 |
| 裾巾 / Hem Width | 49.5 | 54.5 | 57 | 61 | 66 |
| 袖口巾 / Sleeve Opening | 9.5 | 10 | 10.5 | 11 | 11.5 |
The design has been revised since 2022 as follows:

The center, instead of the sides, of the back is pleated.

The shoulder width has become slightly smaller.

Instead, the sleeve length has become slightly longer and as a result, the overall measurement from the center of the back of the neck to the sleeve end remains the same.
Care Instructions
Machine wash below 40°C.
Wash separately or use laundry net bag.
Tumble dry below 60°C.
Line dry in the shade.
Do not bleach and do not use fabric softener.
Iron on low, cover the pants with a cloth. Do not steam.
The material, made from natural bamboo fibers, may get fuzzy and white marks due to friction with your backpack.
Payment
We only accept payment by credit card. We currently do not accept payment via bank transfer from overseas accounts.
We accept the following Credit Cards: Visa, Master, American Express, and JCB.
To download your receipt, please click the link included in the Dispatch Notice, which we will send by email as soon as the items are dispatched.
Delivery
We will ship by DHL for overseas customers (excluding China, Hong Kong, Taiwan, Korea and Russia). For customers in China, Hong Kong, Taiwan, Korea and Russia, we will ship by EMS only. Shipping costs vary depending on your country and region.
Size Exchange
Overseas customers who need to change the size of their order, should note that the time needed for shipping will vary greatly depending on your country of residence.
We only accept exchanges when the item is unused (except for fitting).
If you wish to exchange the size of the item, please contact us within seven days of receiving your order.
Exchanges can only be made for the same color in a different size.
If the size you wish is out of stock, we will suggest a different color.
If the product is out of stock, we may simply have to ship the item back to you.
All shipping costs to be carried by the customer.
We will only send the exchanged item to you, upon receipt of return shipping cost via PayPal.
Please be aware that some countries charge customs duties depending on the price of the item.
We are unable to answer any questions on local customs. Please contact your local customs bureau.
Repair
We accept repairs for all of our Yamatomichi products. For inquiries on repair services including patching the holes, repairing with extra components, or fixing the items damaged over time, please feel free to contact us from the "Repair" section of the SUPPORT page.
BUY