Introduction
Breathable, Warm, and Convertible
Our Light Alpha Vest/Jacket is a piece of active gear great for early spring and low-mountain winter hikes. It incorporates the light, 85g/m² Polartec Alpha Direct that keeps you from overheating, even while exercising.
The sleeves can be removed to make a vest, for when a jacket is too hot.
Color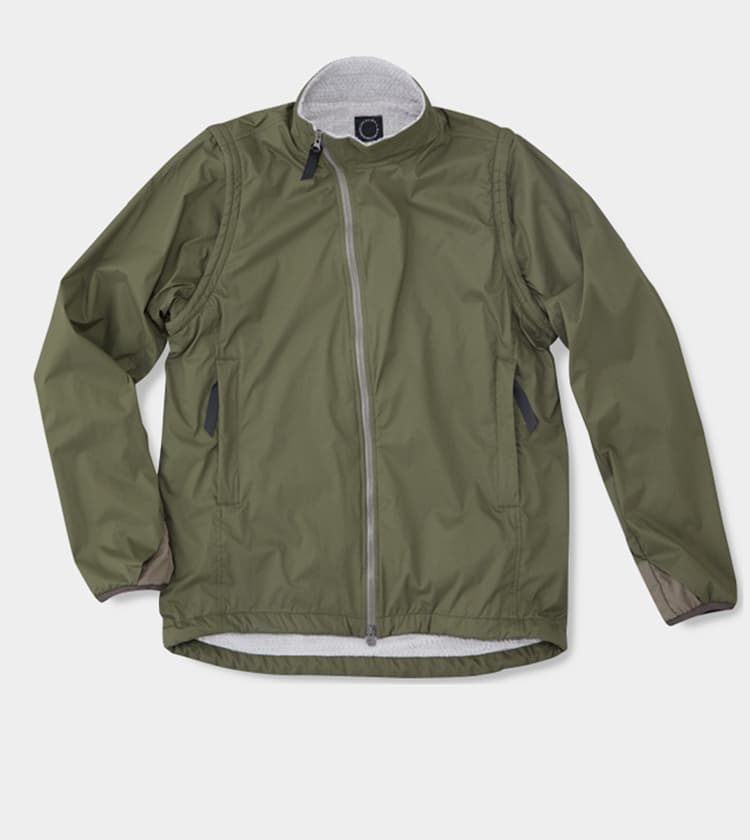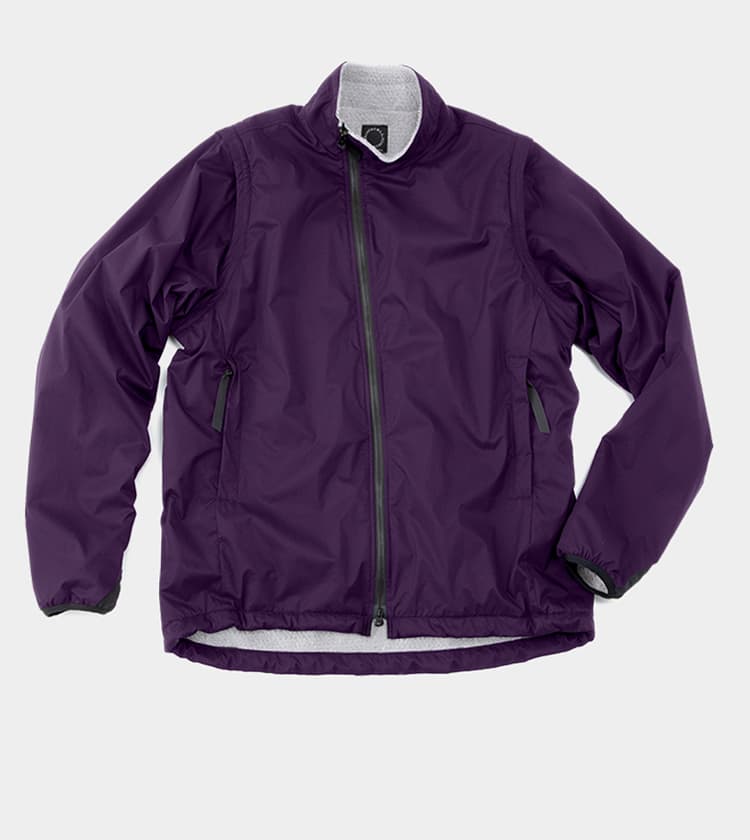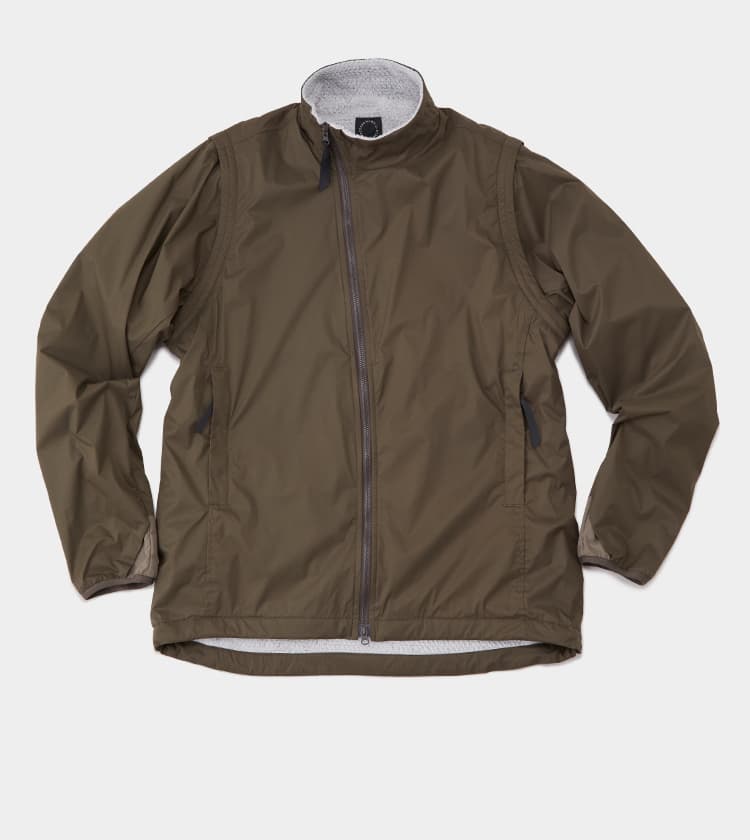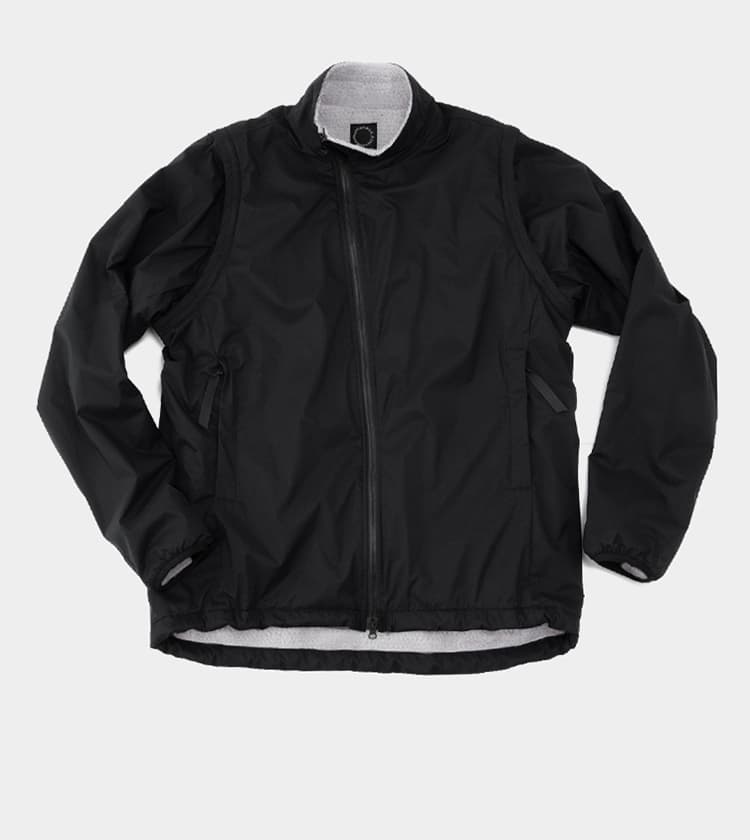 Specs
Made in Akita, Japan
Material:
Facing: Pertex Quantum Air (100% Nylon), Titanium Coated 40g/m²
C6 DWR
Lining: Polartec Alpha Direct (100% Polyester) 85g/m²
Contrast Fabric: Taslan Nylon (100% Nylon)
Pocket Liner Mesh: Micro Mesh (100% Polyester)
Zipper:
YKK #3 VISLON® / Two-Way Open
Coil Zipper
Weight:
269g (Size S)
281g (Size M)
292g (Size L)
307g (Size XL)
Size:
MEN | S / M / L / XL
Product Story
It gets hot even when it's cold
Akira Natsume, Yamatomichi Founder
I love the Yamatomichi Alpha Anorak, which was designed for snow hikes in the middle of winter, but it's a little hard to put on/take off and a little hot for early spring hikes. Therefore I wanted to make something a little thinner and easier to wear. That's how the Light Alpha Vest/Jacket was born.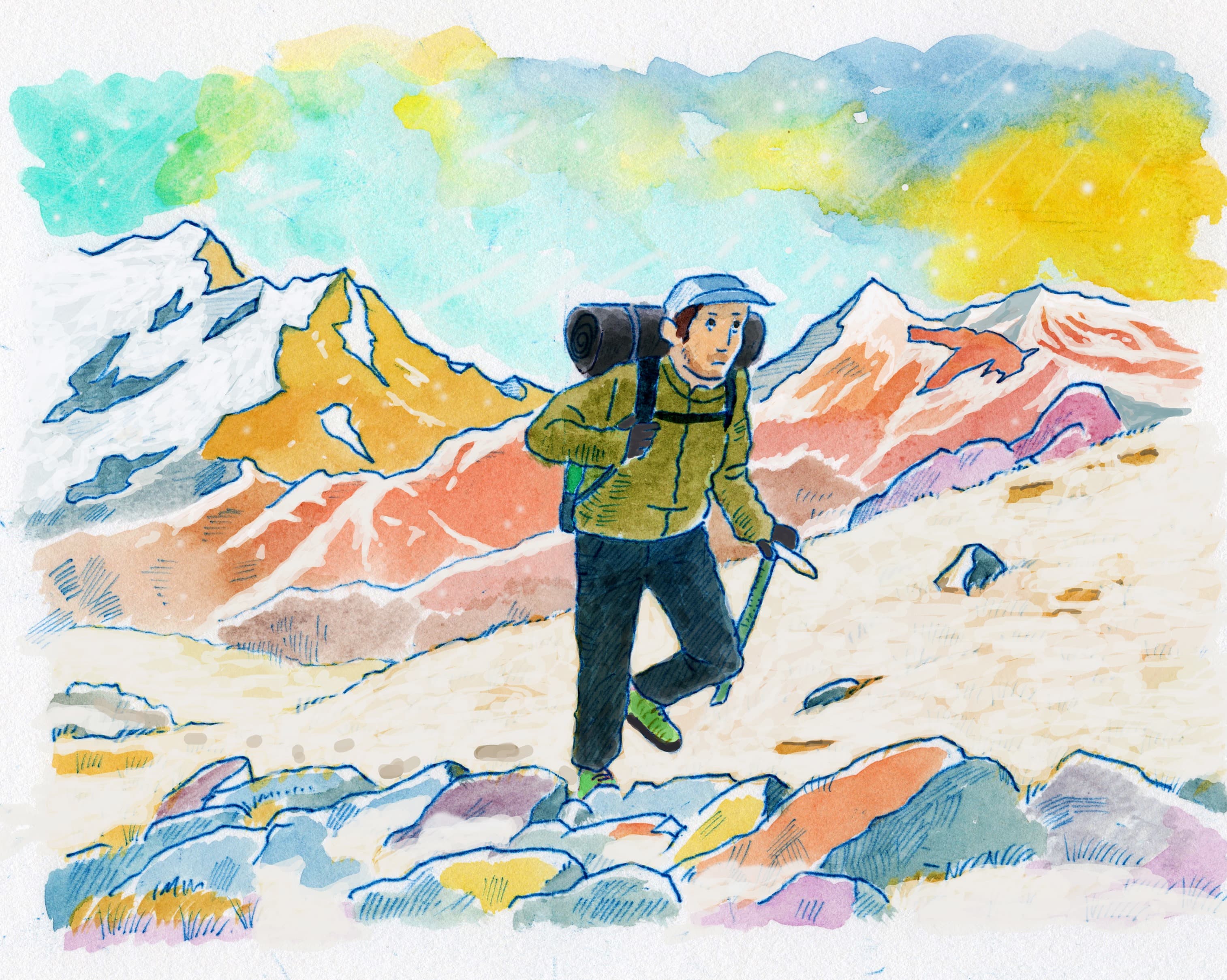 The removable sleeves are a bit of a nostalgic touch in the world of outdoor clothing, but by combining them with cutting-edge Alpha Direct materials, I think we've managed to create a new piece of winter wear that will keep you warm no matter where you are or what you are doing.
As the snow starts to melt, it's easy to feel hot with a regular fleece jacket when the sun comes out, even with the superior breathability of Alpha Direct. But once the sleeves come off, you immediately feel cooler while the vest keeps your core warm. Once the sun goes down, put the sleeves back on for added insulation.
I've been wearing a prototype of this jacket in the fall and winter for the past few years, and I'm excited to finally be able to give people the opportunity to wear and enjoy this jacket that I've been testing for so long.
November 5, 2019
Product Story 2
Titanium-coated "Two-Face" Prototype
Akira Natsume, Yamatomichi Founder
There are two reasons for adopting a new fabric:
To enhance wear resistance and minimize snags.
To increase the and keep hikers dry while on the move.
It took me a long while to find this new Quantum Air. The discovery of the ideal fabric, however, was the beginning of the next challenge.
When I was looking for a new fabric, I thought that thermal clothes should be as breathable as possible, because good ventilation was supposed to create better comfort when on the move. Some companies released new ultra-breathable products using new materials such as Primaloft Next or Octa with no outer fabrics, and in fact, we also had been developing a similar product. We discovered, however, that superior breathability did not always mean better comfort when hiking. Breathable often meant being cold. What's important is the level and extent of ventilation, the optimum breathability largely depends on each hiker, the duration and intensity of the activity, what he/she does and how much he/she sweats.
Is this newer Pertex Quantum Air a better product just because it is more breathable? I welcome the higher ventilation, but it was so breathable it could get cold. In this respect, it could almost be said that the previous version was better for the fall/winter season. I wondered if there was a way to compensate for this drawback.
As I am hiking, handling hiking gear daily, I sometimes feel that the goal of all outdoor clothing and gear is how to protect and control the body heat.
Heat transfer mechanisms are mainly classified in "conduction", "convection", and "radiation". When you touch something, and if you feel if it's hot or cold, that's because of thermal conduction. Thermal convection is the transfer of heat by air or water. The heat from the Sun or a stove is transferred by radiation. The clothes made of Pertex Alpha Direct trap air to keep you warm, so usually conduction and convection are the major factors. Additionally, I decided to improve the product by the remaining radiation; The answer was titanium coating.
When I was wearing the titanium-coated prototype, it seemed warmer than the conventional product. But to be honest, when I tried it out in the field, I was not fully sure if it was warmer or it was simply more comfortable because of the superior breathability. I was not convinced that this was the answer.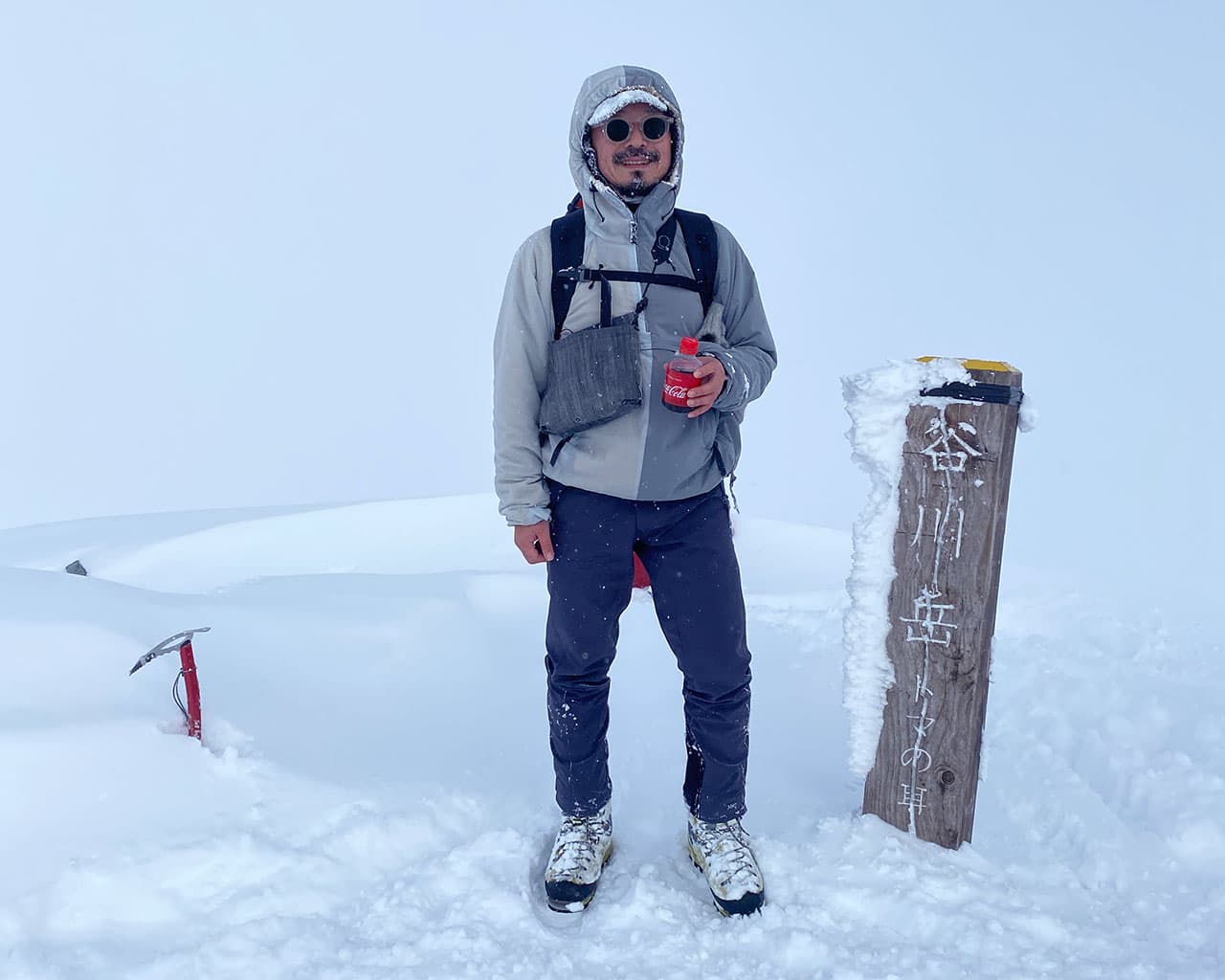 Myself wearing "Two-Face" prototype in Mt. Tanigawa
So we created another prototype that we named the "Two-Face" prototype. If you like Batman, I'm sure you will understand what I mean. The right half of the Anorak is made of different material from the left half. Through a series of actual field tests, we were able to check the differences between the conventional fabric and the new titanium-coated one.
The "Two-Face" Anorak actually taught us that the new fabric was more breathable, yet a little warmer when not moving. We also tested it on a snowy mountain ridge with wind speeds of about 36-54 km/h and found that the wind resistance did not significantly decline compared to the previous version, even though it was more breathable. But please note that over 54 km/h of wind can penetrate the fabric.
We like experimenting and are extremely happy to be able to deliver a better product because of it. We had fun with the "Two-Face" prototype and will probably do many more in the future.
April 2021
Form and Function
Zip-off Sleeves
Though Polartec Alpha Direct is highly breathable, your body may heat up during high-intensity activities, and you may want to take off your jacket when the sun is shining. But without a jacket, your body core may get too cold. Also, it's a hassle to take it out of your backpack every time you feel cold.
The Light Alpha Vest/Jacket can be worn in a wide range of situations, and even when it is too hot, you can remove the sleeves and use it as a vest to continue your activities while protecting your body core from being cold, which is important for maintaining body temperature.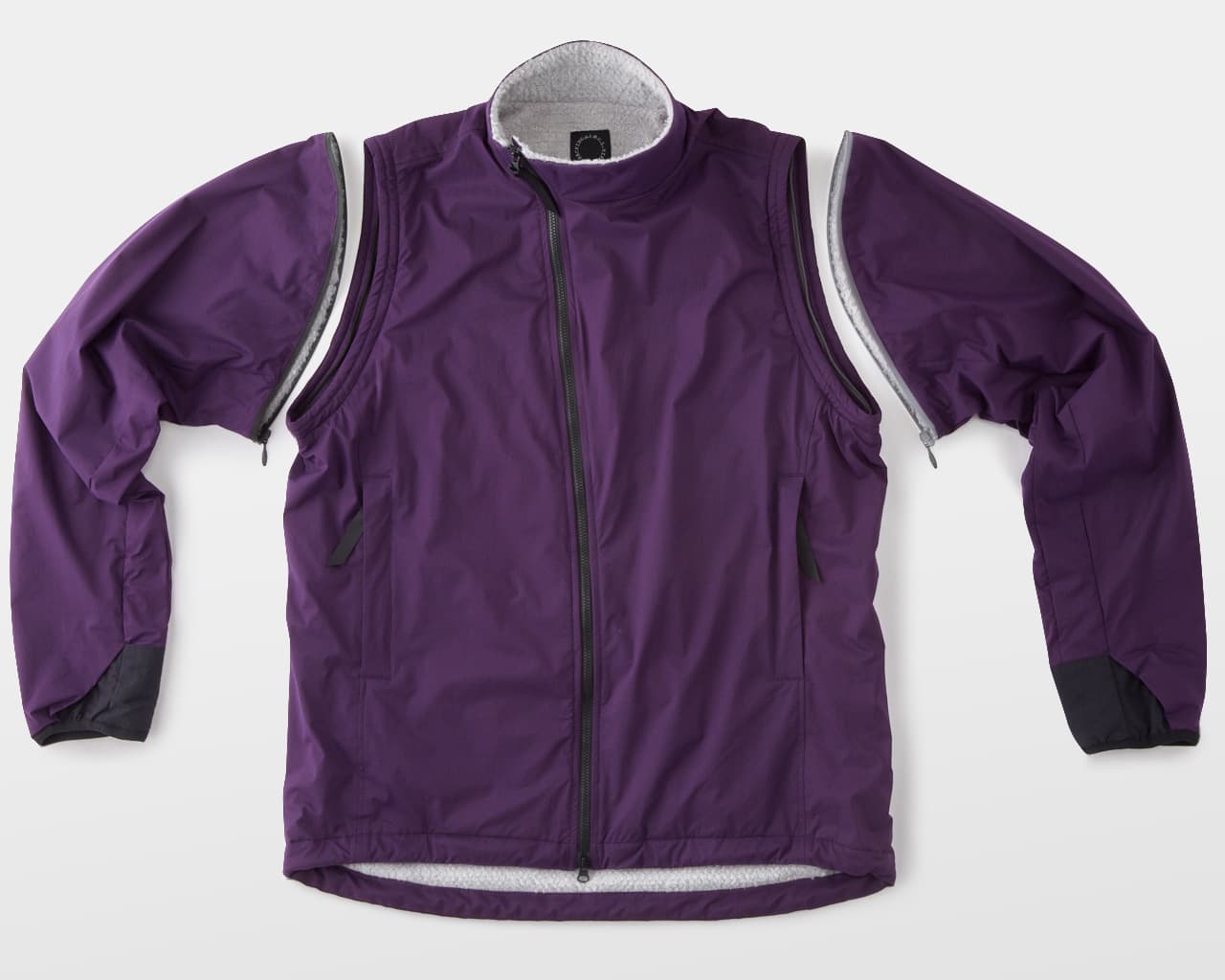 Details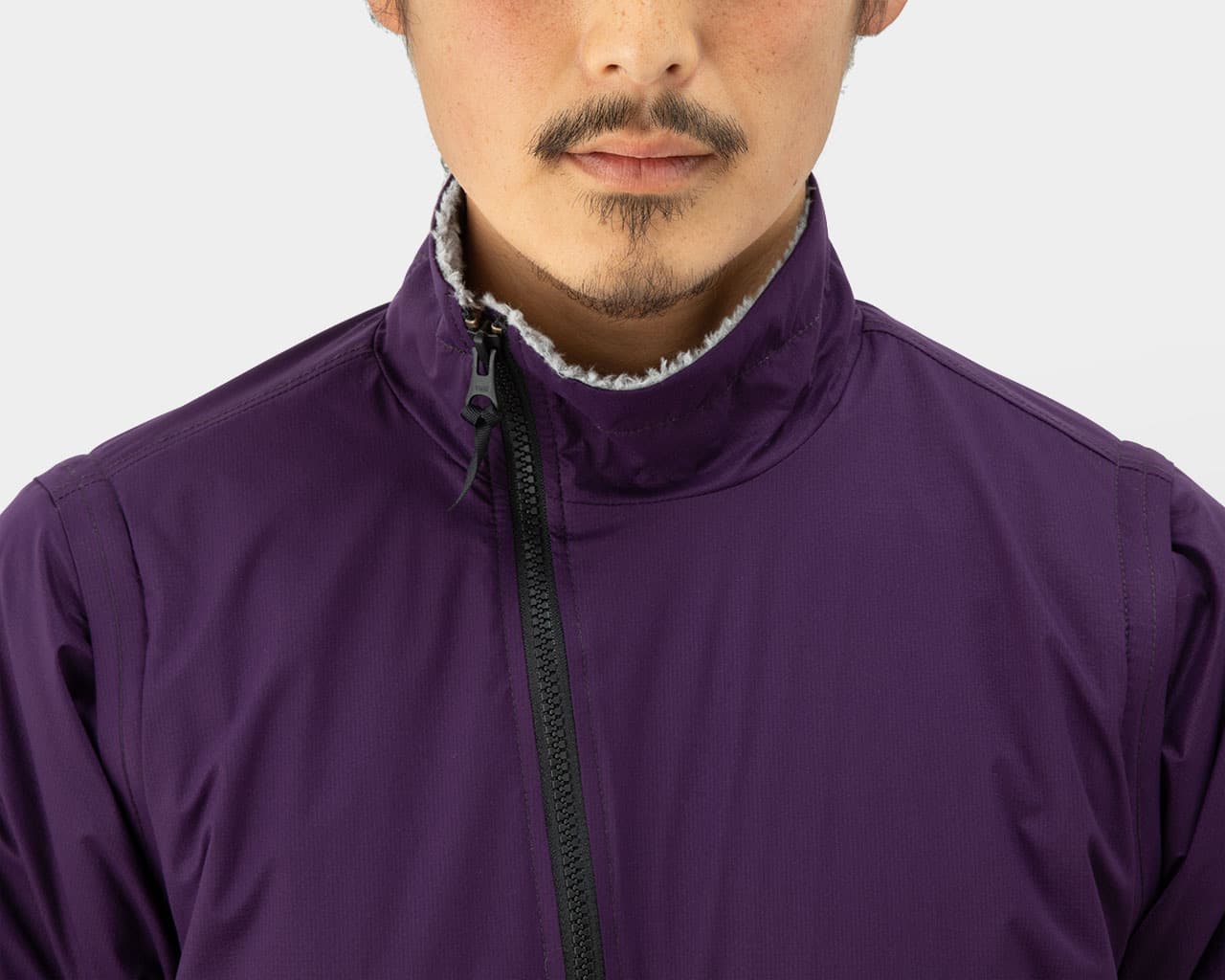 The front closure is set at an angle to avoid the zipper touching your mouth.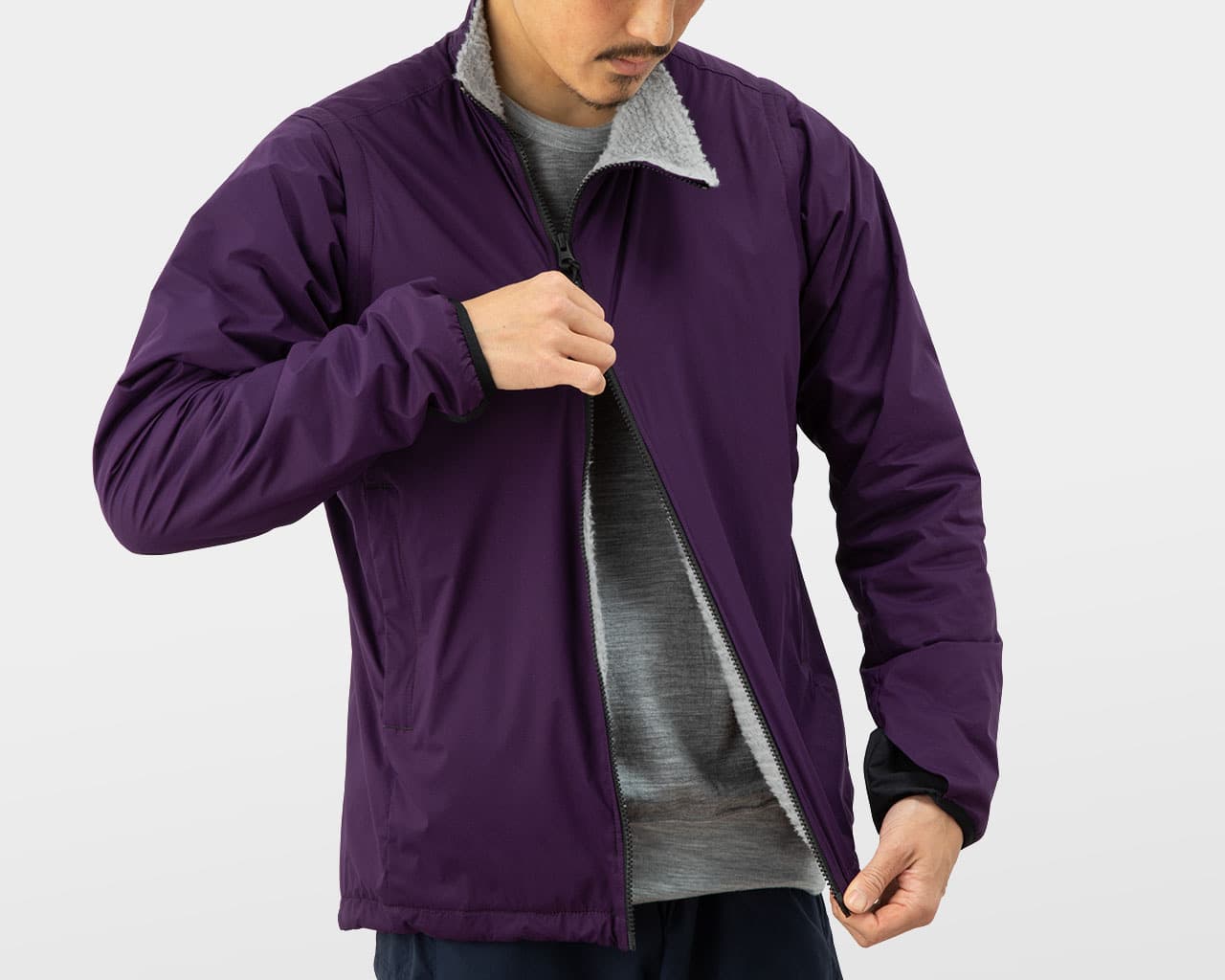 Two-way zipper design allows for quick ventilation.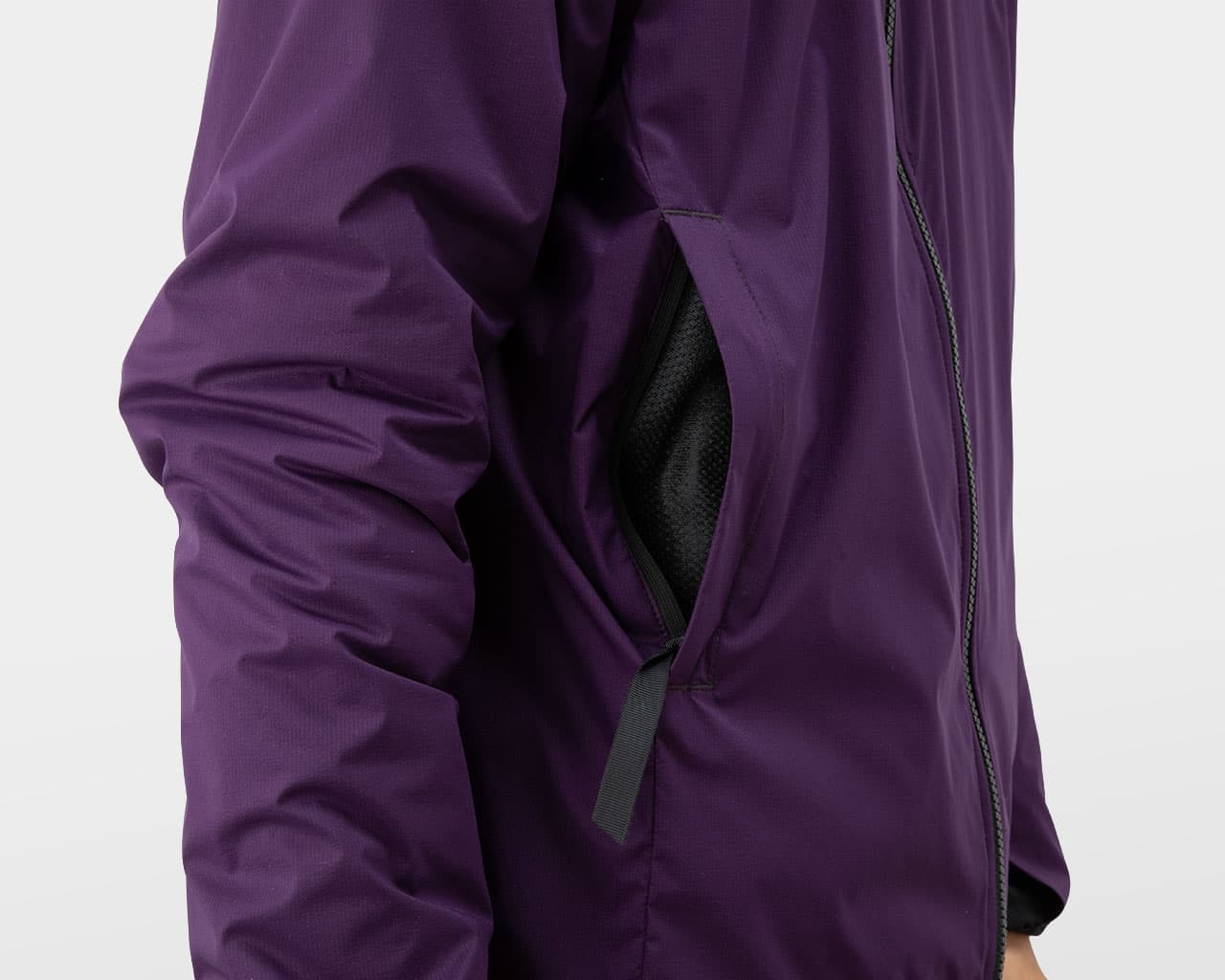 The pockets are lined with a mesh fabric to allow for good ventilation. Please close the zipper when it's cold.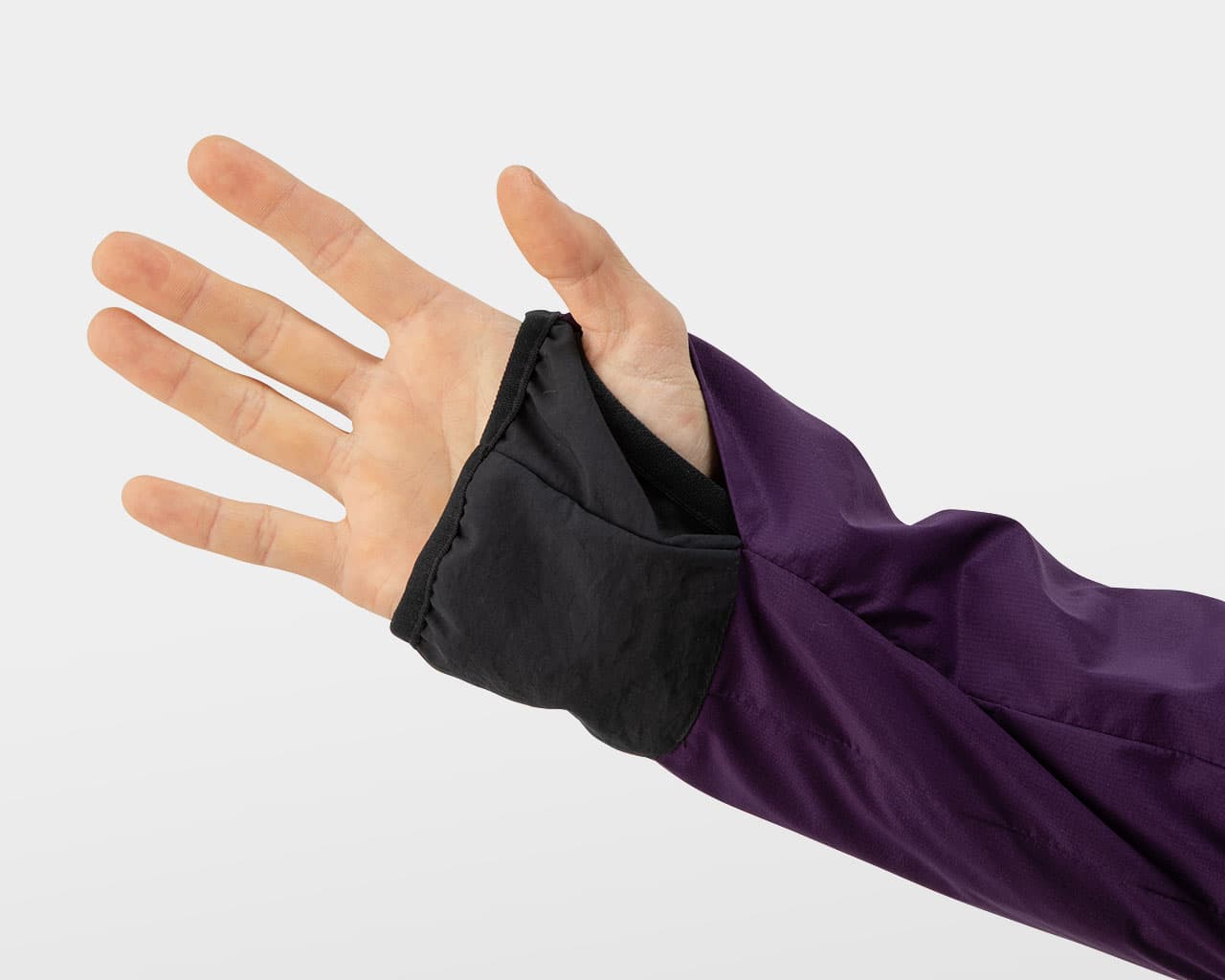 The thumb holes use taslan nylon, which prevents them from tearing on rocky terrain or when using pointed gear like ice axes, etc.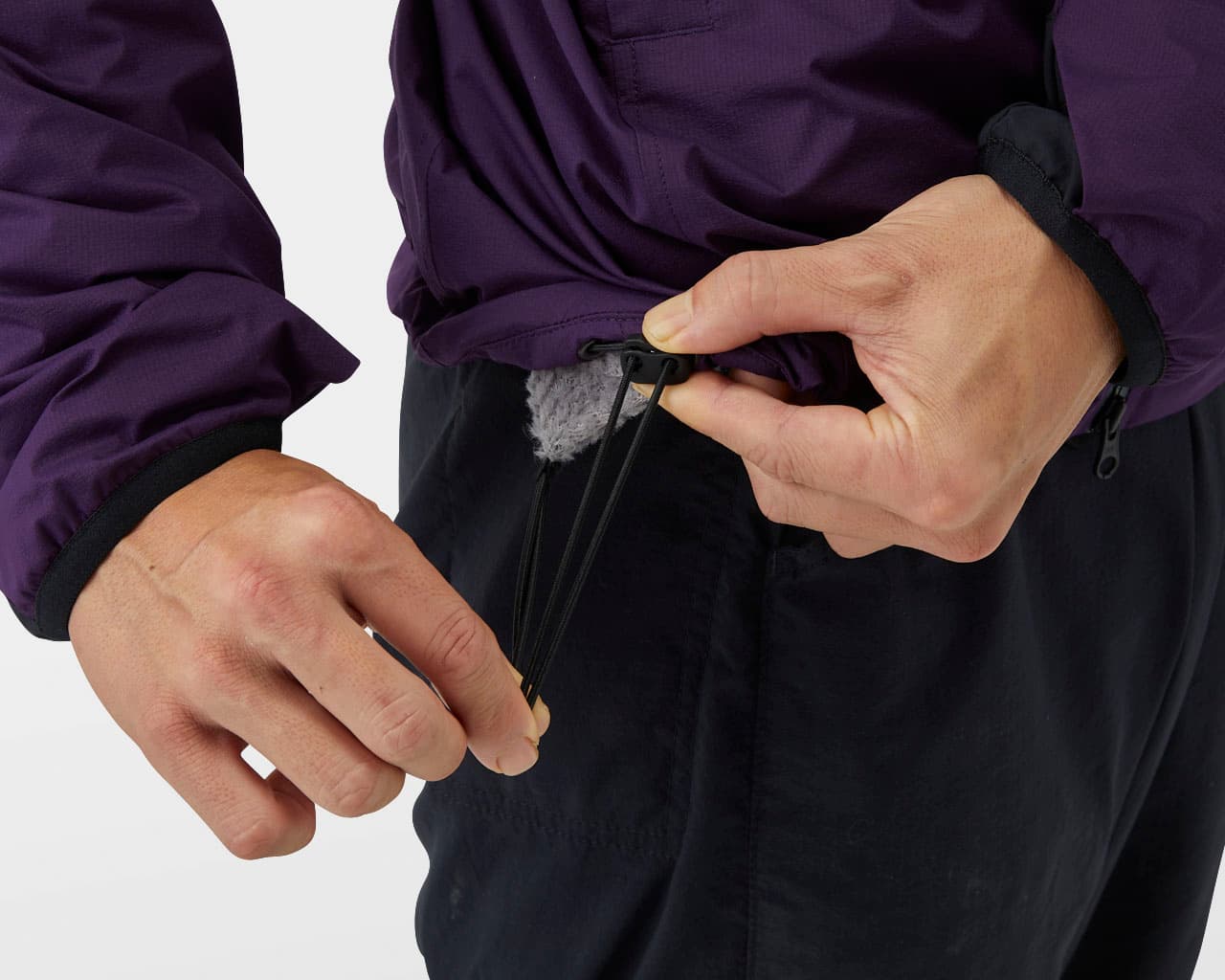 Cords on both sides allow you to secure a snug fit when needed.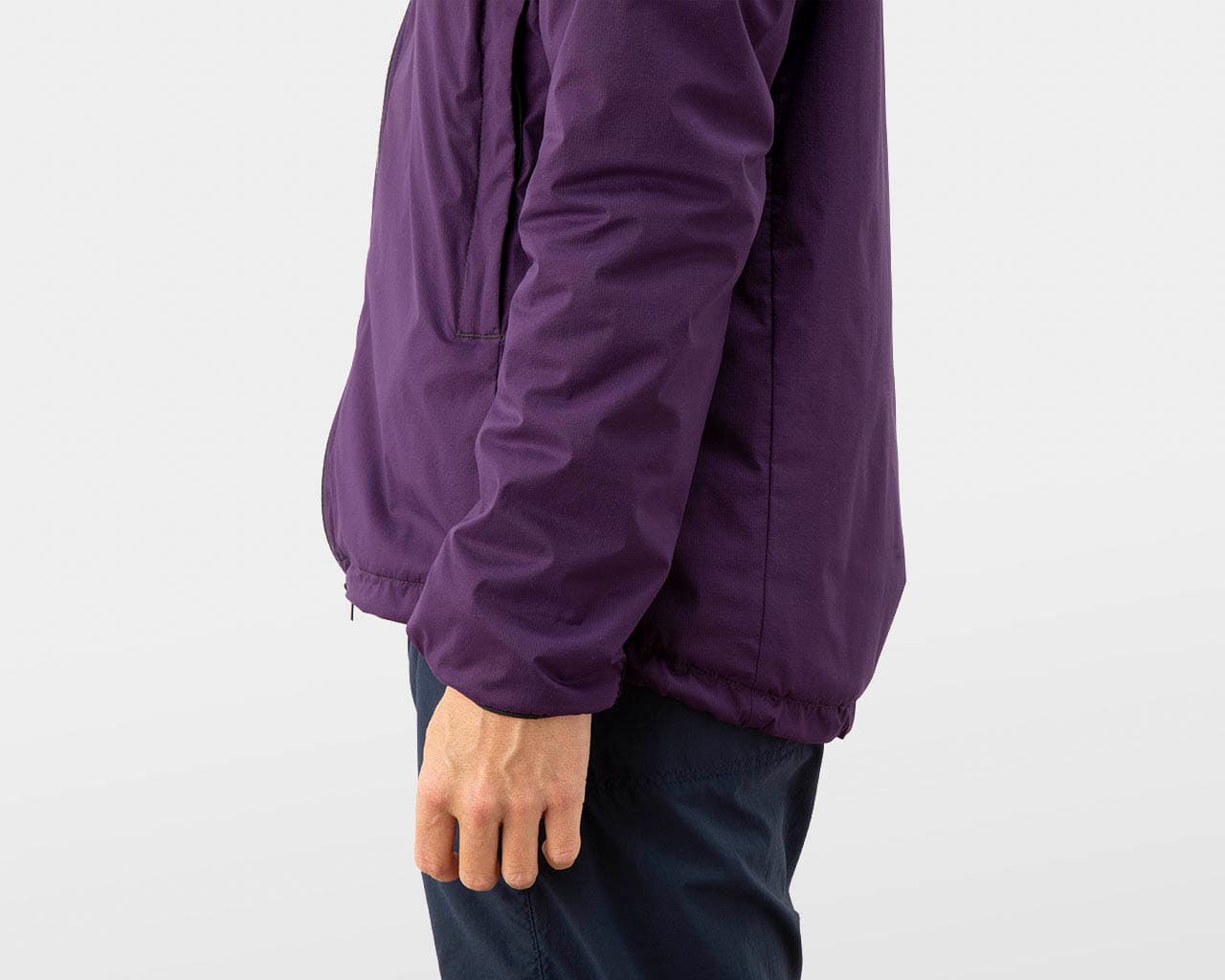 The back is slightly longer to keep it from riding up under backpacks.
Material
Polartec Alpha Direct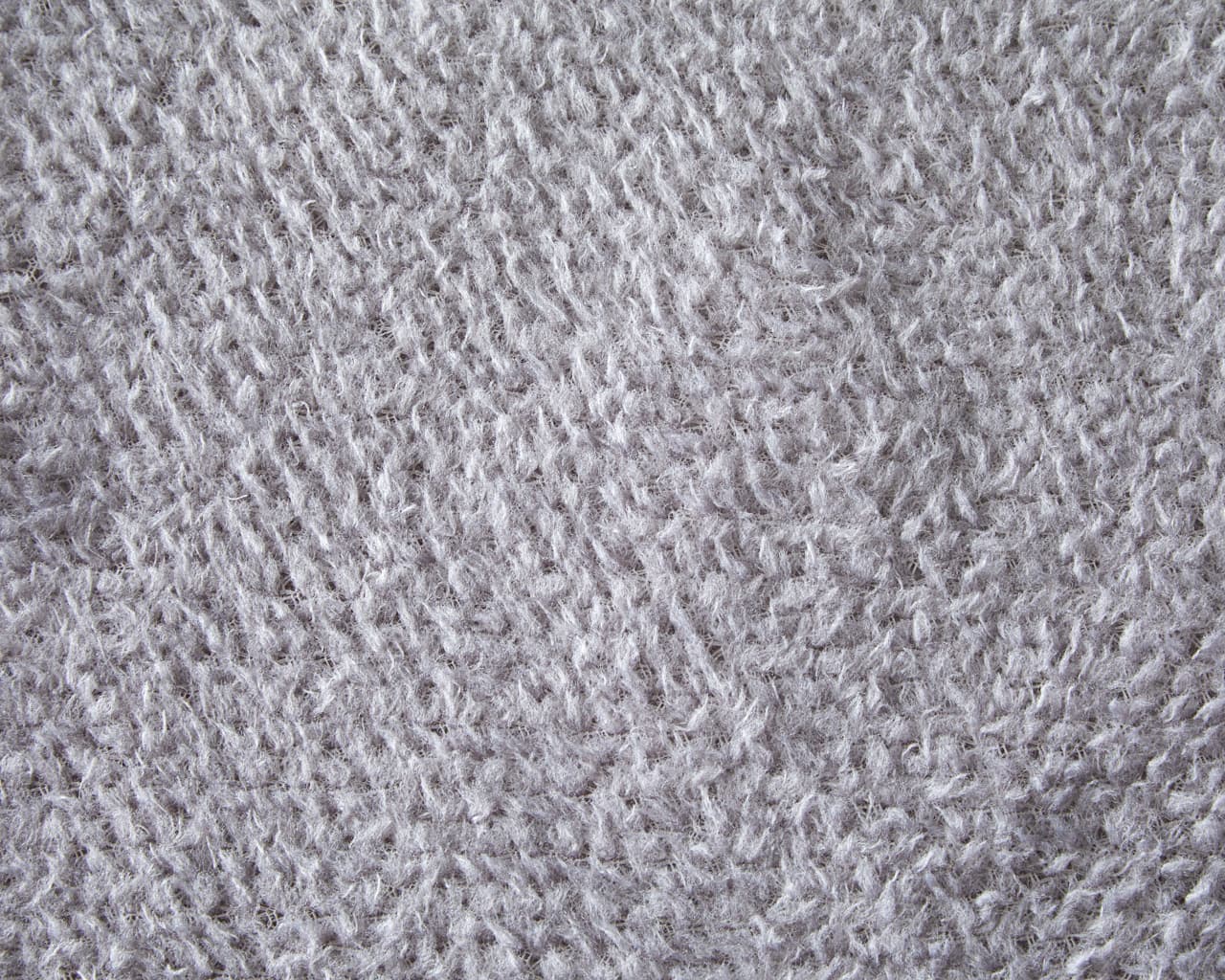 It is like a fleece with longer puffy hairs.
Superior breathability and insulation
Lightweight and compact
Polygiene permanent odor-resistant finish
Conventional natural down or synthetic insulation tends to contain body moisture and as a result, can be quite stuffy. Polartec Alpha, on the other hand, is so breathable that it can be worn even during a high level of physical activity.
Though the original Polartec Alpha required a back lining, Polartec Alpha Direct does not need one because the material is more durable and stable. Consequently, Alpaha Direct is superior in breathability, quick-drying property, and it is even more lightweight.
Alpha Direct is also treated by Polygiene, permanent odor control, and antimicrobial technology.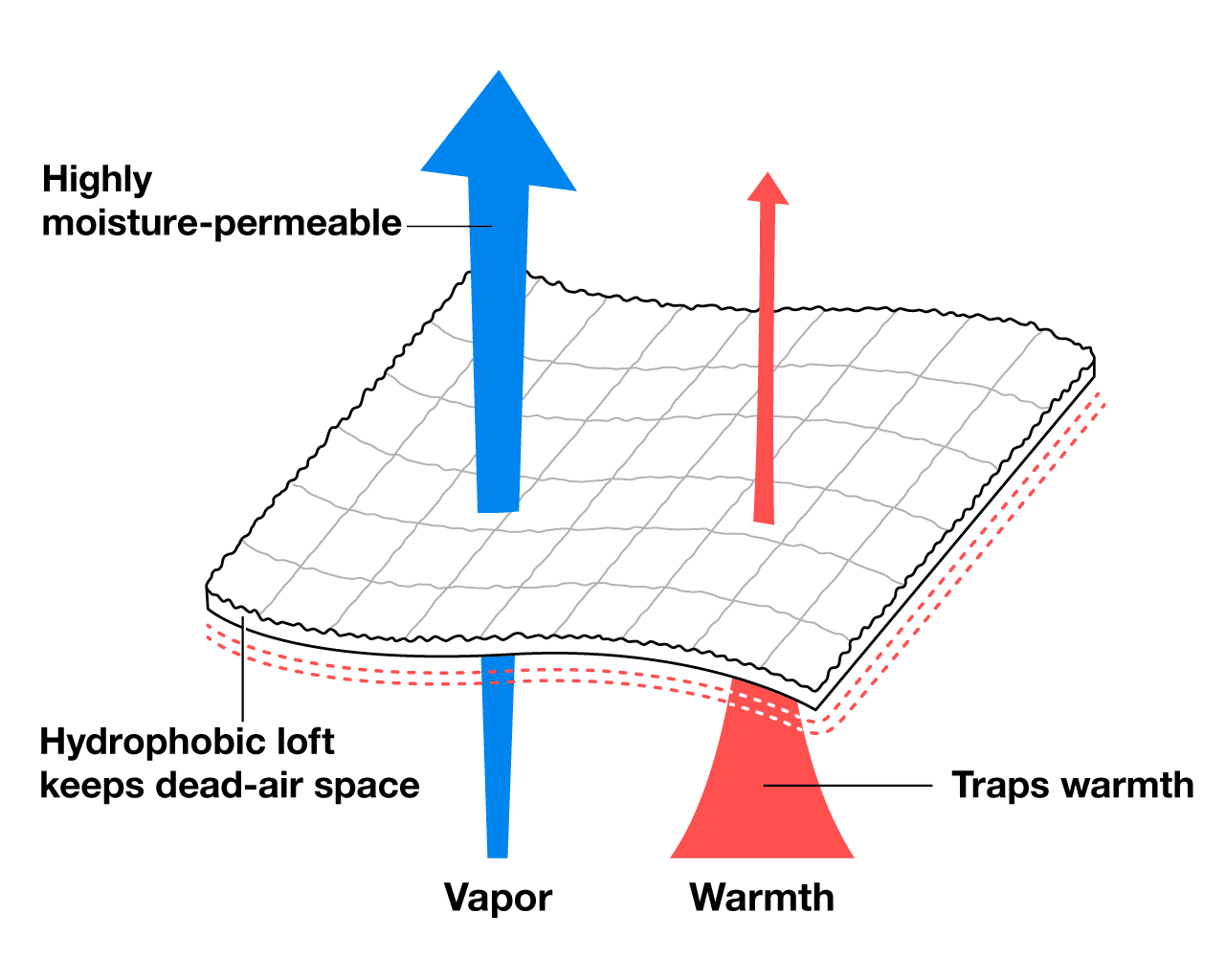 Material:
Polartec Alpha Direct (100% Polyester) 85g/m²
Spec:
Bursting strength measured by JIS L 1096 A (In-house test)
359kPa
Heat retention measured by JIS L 1096 A (In-house test)
49.3%
Heat retention measured by ASTM F1868 (Catalog spec)
Min:0.50CLO, Max:0.80CLO
Yamatomichi Proprietary Titanium-coated Pertex Quantum Air
The back of the extremely breathable Pertex Quantum Air is treated with our unique "titanium sputtering" to enhance heat retention.
To achieve superior breathability of approximately 70cc/(cm²・s), Pertex Quantum Air is woven as loose as possible, and polyurethane-coated to enhance the strength without interfering with breathability. The fabric is made of less frictional low-count yarns, and is impregnated through a polyurethane coating, accelerating the smoothness of the surface to achieve excellent durability against abrasion with coarse materials such as Velcro. Also, the yarn is "temporarily twisted", twisted and heat-treated to provide stretch for better flexibility.
The titanium sputtering is a technology that coats the fabric with an extremely thin titanium layer. The titanium coating adheres to the surface of the fabric at the molecular level without compromising the texture or breathability, and it traps the heat emitted from the body inside the garment, consequently preventing body heat from radiating out.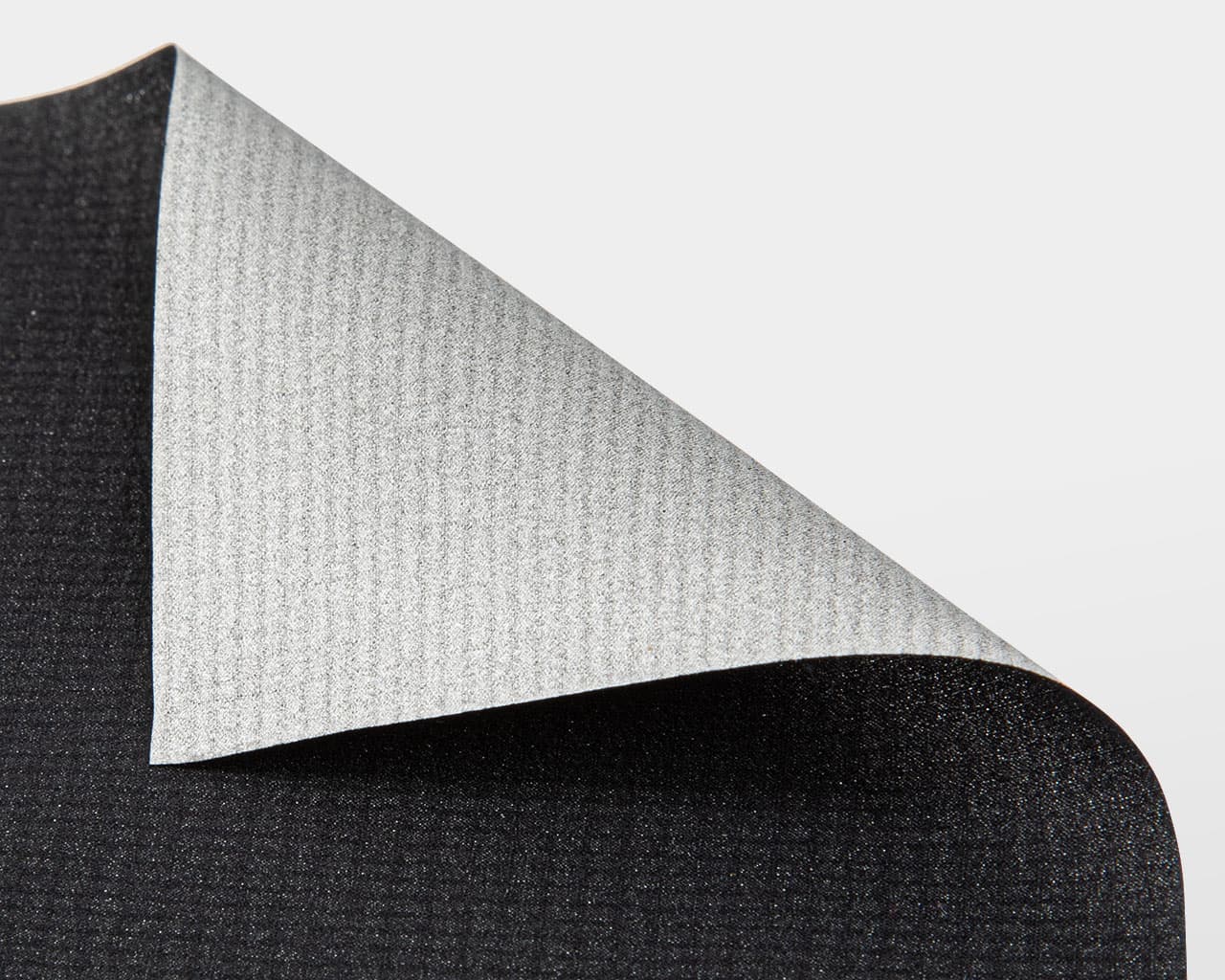 Material:
Facing: Pertex Quantum Air (100% Nylon), Titanium Coated 40g/㎡
C6 DWR (Durable Water Repellent)
Spec:
Fracture Strength measured by JIS L 1096 D (In-house test)
Vertical: 0.5kg, Horizontal: 0.6kg
Tensile Strength measured by JIS L 1096 A (In-house test)
Vertical: 29kg, Horizontal: 25.6kg
Ventilation Performance measured by JIS 1096 A (In-house test)
71.9cc/(cm²·s)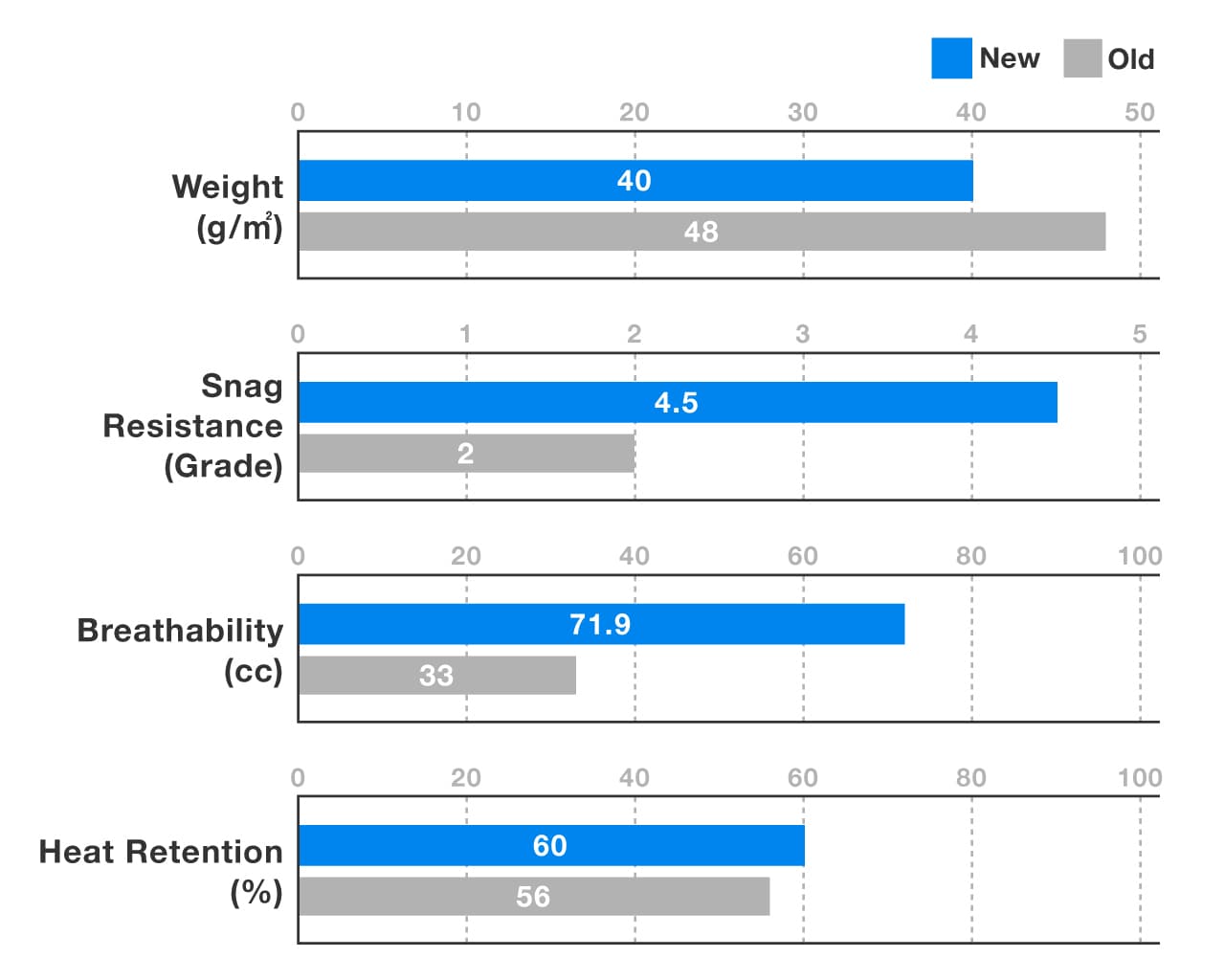 Comparison between the latest Pertex Quantum Air and the old one
Size
Hide 178cm-75kg
Size L (Purple)
Hide 178cm-75kg
Size L (Purple)
Ryo 170cm-60kg
Size S (Black)

Ryo 170cm-60kg
Size M (Olive)

Ippei 172cm-62kg
Size M (Purple)

Ippei 172cm-62kg
Size L (Taupe)

pony 173cm-76kg
Size L (Purple)

pony 173cm-76kg
Size XL (Taupe)

Tsuka 183cm-65kg
Size L (Black)

Tsuka 183cm-65kg
Size XL (Olive)
Ryo 170cm-60kg
Size S (Black)

Ryo 170cm-60kg
Size M (Olive)

Ippei 172cm-62kg
Size M (Purple)

Ippei 172cm-62kg
Size L (Taupe)

pony 173cm-76kg
Size L (Purple)

pony 173cm-76kg
Size XL (Taupe)

Tsuka 183cm-65kg
Size L (Black)

Tsuka 183cm-65kg
Size XL (Olive)
推奨サイズ / Recommended Size
Size
S
M
L
XL
体重 / Weight
kg
52~61
59~69
67~78
76~85
胸囲 / Chest
cm
80~90
85~95
92~102
100~110
製品サイズ / Product Size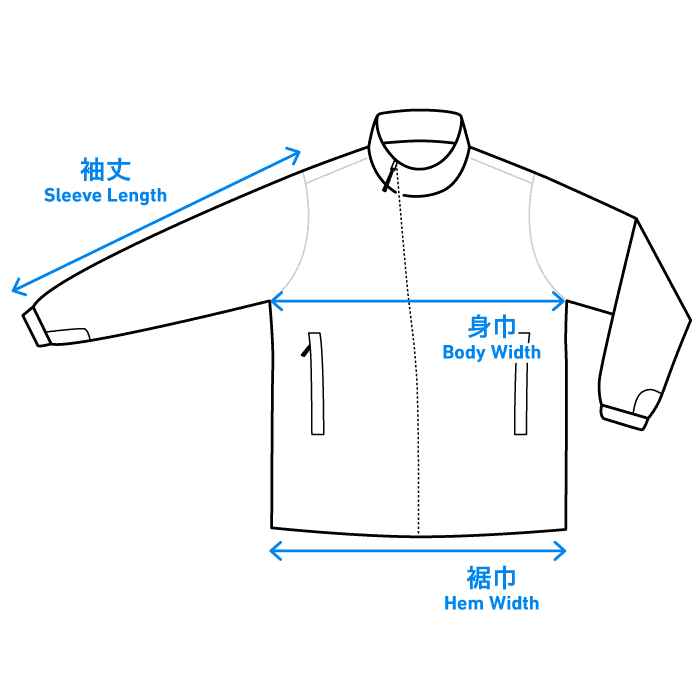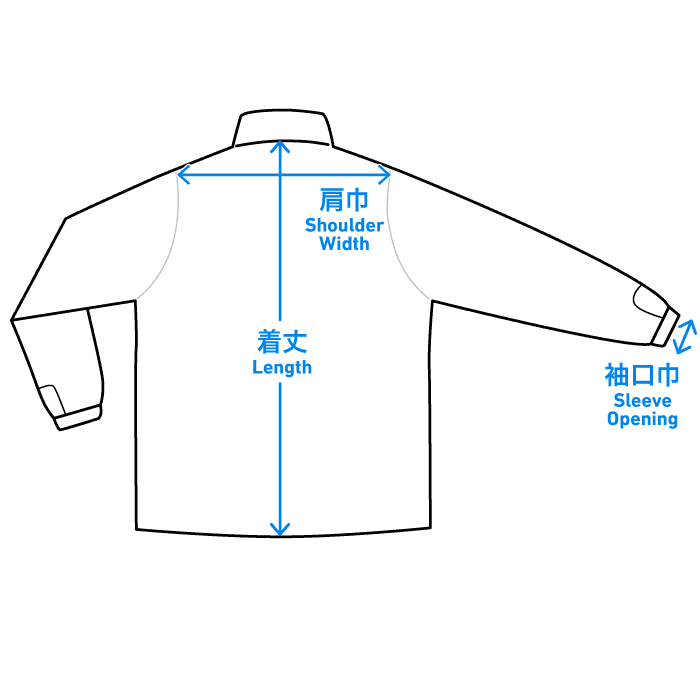 | Size | S | M | L | XL |
| --- | --- | --- | --- | --- |
| 着丈 / Length | 73 | 75 | 77 | 80 |
| 肩巾 / Shoulder Width | 40.5 | 42.5 | 45.5 | 49.5 |
| 身巾 / Body Width | 57 | 59.5 | 63.5 | 68.5 |
| 裾巾 / Hem Width | 54.5 | 57 | 61 | 66 |
| 袖丈 / Sleeve Length | 67 | 68.5 | 70 | 71.5 |
| 袖口巾 / Sleeve Opening | 10 | 10.5 | 11 | 11.5 |
There may be slight differences between the measurements and the dimensions stated with the final product.
Dimensions can change over time caused by wear and repeated washing.
Instructions
Care Instructions
The titanium coating on the back of the fabric can gradually wear off due to friction caused by daily washing. The proper care with the right washing method can help maintain the titanium coating.*
*The amount of titanium particles washed away is minimal and considered to be harmless for the environment.
Machine wash, gentle or delicate. Use the laundry net bag.
Avoid bleach or detergent that contains enzymes as they might discolor the fabric due to the chemical reaction with the metal. Use neutral detergent.
Do not soak in detergent for a long period of time as it can accelerate the delamination of the titanium coating.
Wring gently after washing and line dry in the shade.
Do not iron. Do not dry-clean.
If necessary, wash to remove fuzz from the fabric before first use.
Care Guide
Please visit our Care Guide on the Alpha series for more information.
Payment
We only accept payment by credit card. We currently do not accept payment via bank transfer from overseas accounts.
We accept the following Credit Cards: Visa, Master, American Express, and JCB.
To download your receipt, please click the link included in the Dispatch Notice, which we will send by email as soon as the items are dispatched.
Delivery
Order Confirmation will be sent after the order.
The items will be dispatched within 3 days after the payment is confirmed.
The dispatch notice will be sent by email as soon as the items are dispatched.
The delivery may be delayed by unforeseeable reasons such as natural disasters and other logistics issues. We appreciate your patience and understanding.
We cannot ship multiple orders in one package due to how our delivery system is currently set up.
We will ship by DHL for overseas customers (excluding China, Hong Kong, Taiwan, Korea and Russia). For customers in China, Hong Kong, Taiwan, Korea and Russia, we will ship by EMS only.
Shipping costs vary depending on your country and region.
Size Exchange
Overseas customers who need to change the size of their order, should note that the time needed for shipping will vary greatly depending on your country of residence.
We only accept exchanges when the item is unused (except for fitting).
If you wish to exchange the size of the item, please contact us within seven days of receiving your order.
Exchanges can only be made for the same color in a different size.
If the size you wish is out of stock, we will suggest a different color.
If the product is out of stock, we may simply have to ship the item back to you.
All shipping costs to be carried by the customer.
We will only send the exchanged item to you, upon receipt of return shipping cost via PayPal.
Please be aware that some countries charge customs duties depending on the price of the item.
We are unable to answer any questions on local customs. Please contact your local customs bureau.
Repair
We accept repairs for all of our Yamatomichi products. For inquiries on repair services including patching the holes, repairing with extra components, or fixing the items damaged over time, please feel free to contact us from the "Repair" section of the SUPPORT page.