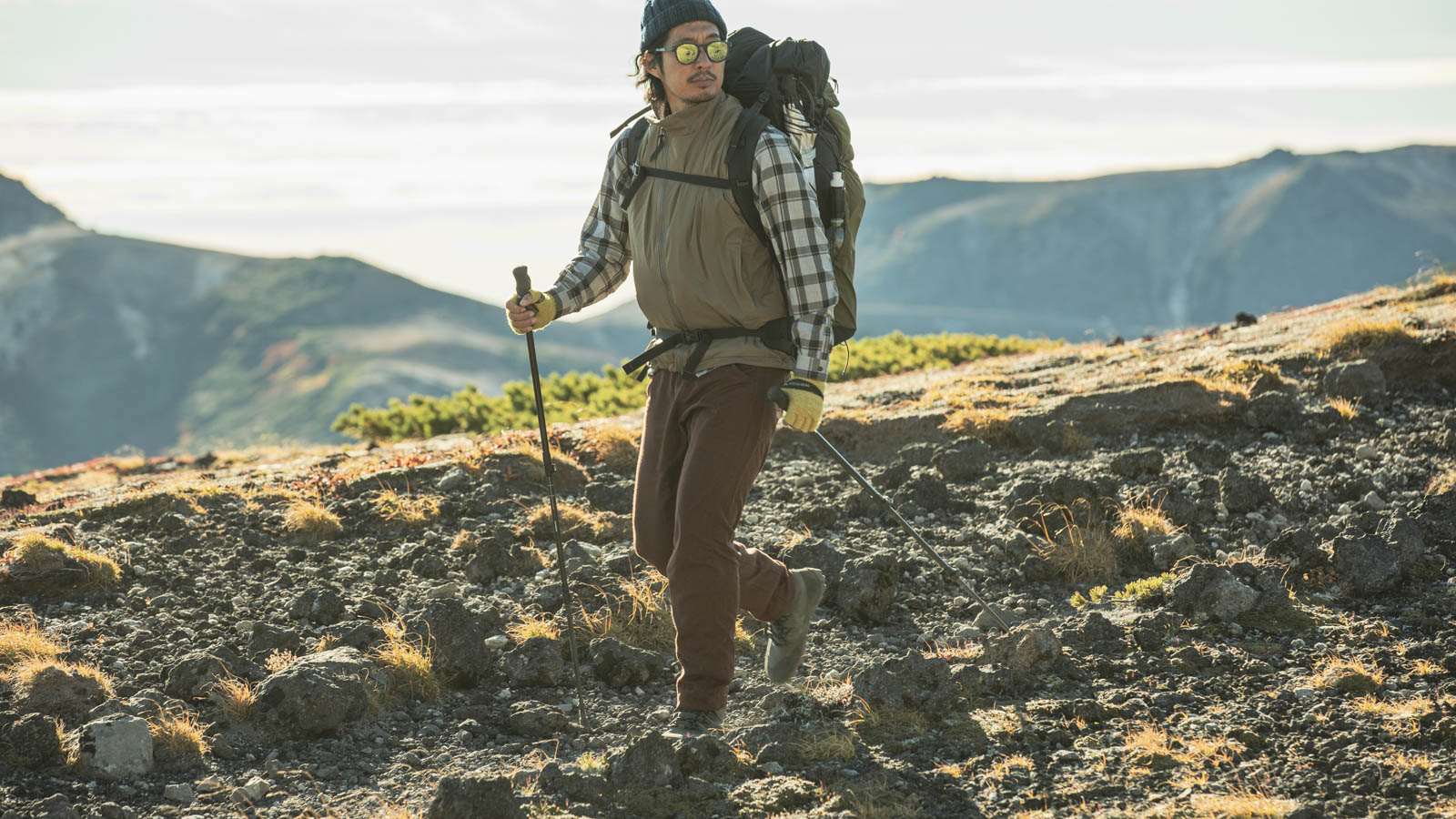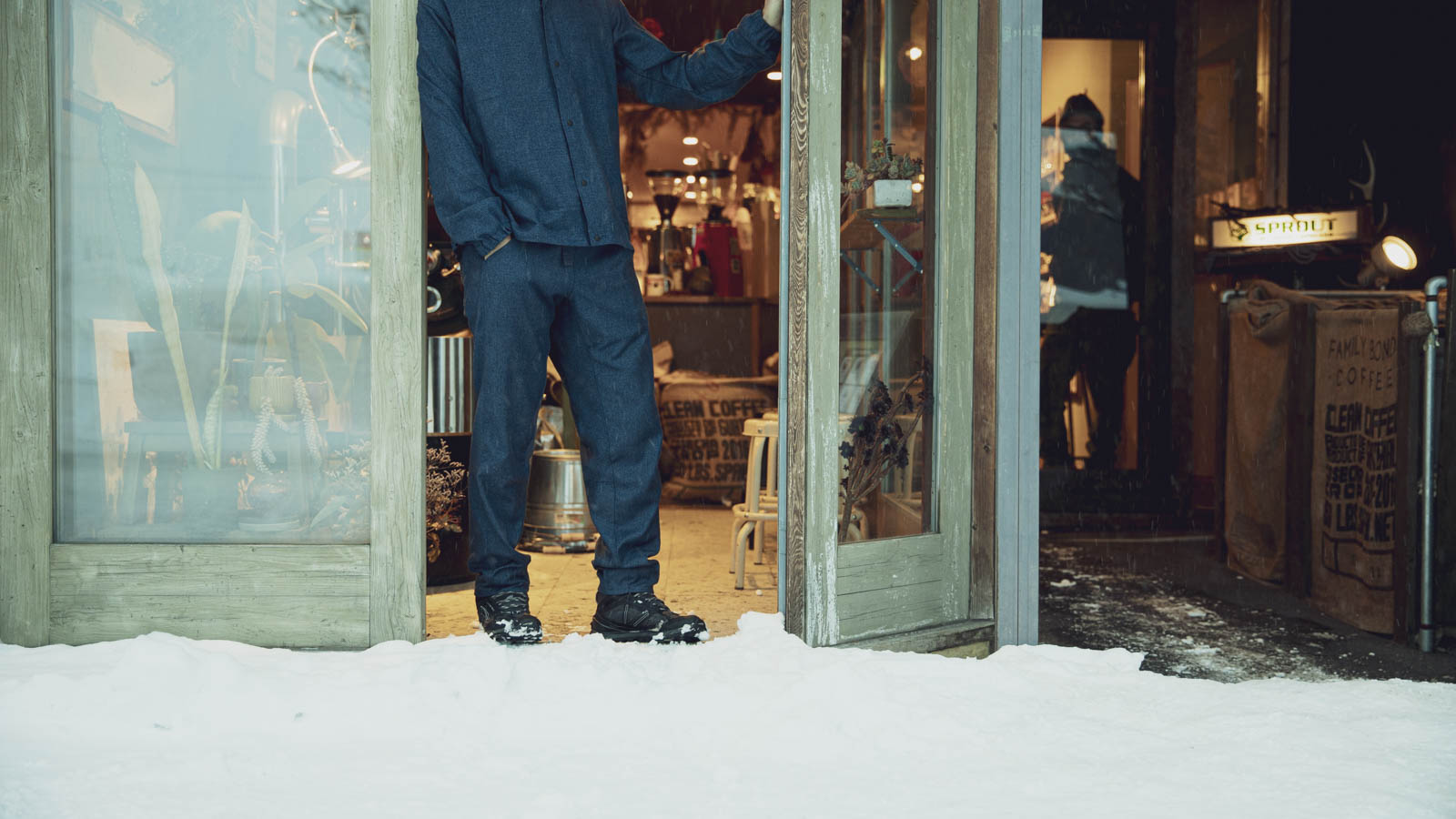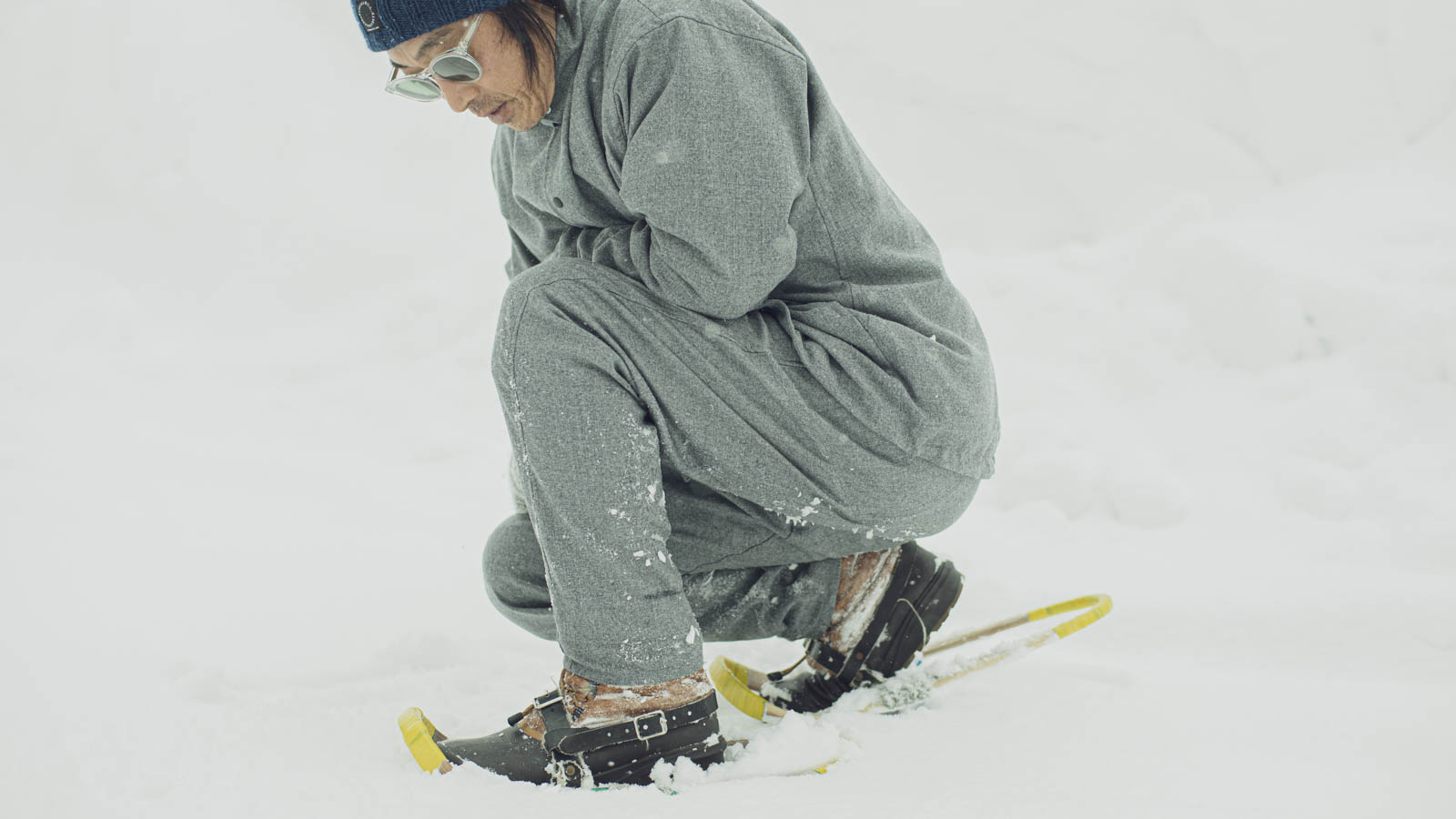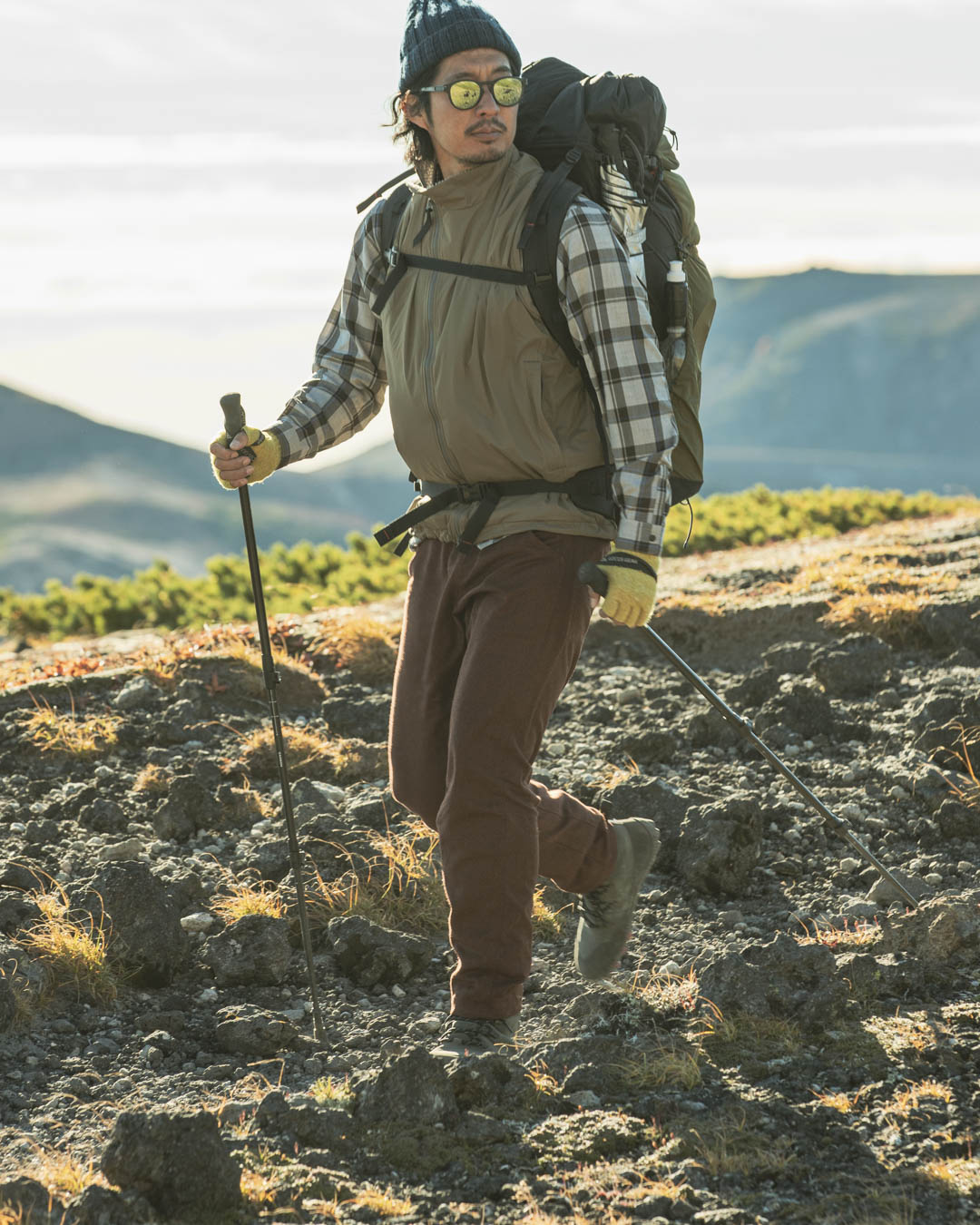 Merino 5-Pocket Pants
423g
¥27,500 Tax included
Wool Pants for a Pleasant Winter
Hiking or at home, this pair will make your winter comfortable.
We selected super soft and flexible Italian merino wool for optimal comfort and warmth. Ripstop nylon thread has been interwoven at the back of the fabric for enhanced durability. Our trusted 5-Pocket system offers maximum usability.
Merino 5-Pocket Pants are tough and flexible woolen pants for wherever you go during the cold months.
Navy

Sand Stone

Brick

Indigo

Light Gray

Charcoal
Made in Akita, Japan
Material:
97% Merino Wool 3% Cordura Nylon 236g/㎡
Zipper:
YKK #3 Coil Zipper
Weight:
423g (Size S)
430g (Size ST)
449g (Size M)
456g (Size MT)
475g (Size L)
483g (Size LT)
490g (Size XL)
499g (Size XLT)
Size:
MEN | S / S-Tall / M / M-Tall / L / L-Tall / XL / XL-Tall
Akira Natsume, Yamatomichi Founder
I usually wear our 5-Pocket Pants even during winter, but I have to admit that they are not warm enough when it's really cold and I sometimes wear an additional pair of insulation tights to keep warm. I wanted to make a pair of pants that could keep me warm even in the middle of winter without the need for tights. If they look good at home too, that would be even better.
Yoshitaka Touge, wearing the Indigo color.
In the first year of development, we made several prototypes using various types of wool fabrics. The pants were really comfortable during long hikes thanks to their natural moisture absorption properties, but I occasionally got itchy because of the wool. Another concern was that the surface of the textile got fuzzy and rough after just one season of use.
In the second year, we tested several blended materials made of wool and synthetic fiber. They were comfortable, relatively inexpensive, strong, and durable. Unfortunately, as the percentage of wool declined, the warmth and comfort of the wool unavoidably diminished.
I kept insisting on a pair of pants made of 100% wool with our unique 5-pocket system but was struggling to find the right material that would fulfill all our requirements.
Finally, I found the ideal merino fabric at a traditional textile maker in Italy. It is yarned and produced at the maker's own factory using merino sheep's wool carefully brought up on their own farm in New Zealand. It was super comfortable and had an excellent texture.
In the third year of development, I tested several prototypes made from their fabrics and wore them from autumn to spring. The merino textile was really comfortable, not super warm, but just right.
After one season of use, I did find minor pilling on the pants if I took a close look, but it appeared just fine with no noticeable fuzz on the surface, and the texture faded in a good way over time.
It's difficult to pinpoint exactly what's so good about our Merino 5-Pocket Pants. They are not as technologically advanced as the Winter Hike Pants or super stylish either.
For me, our Merino 5-Pocket pants are for daily use. They are not as light and smooth as synthetic fleece, but flexible and soft. When the fabric gently touches my skin, I just feel happy wearing them.
For technical purposes, high altitude winter hikes, the Winter Hike Pants are still my first choice. But when I travel and visit both towns and low mountains, the Merino 5-Pocket Pants are definitely my favorite. This pair of pants made from natural wool keeps me comfortable day and night, wherever I go.
2018
Pockets for Smartphone and Maps
Yamatomichi 5-Pocket design can neatly store your map, snack, wallet, and other items you need during hiking, without interfering with your leg movement.
Especially, our smartphone pocket at the side is so well-positioned that it fits your phone while keeping it securely in place without bouncing around when running. The map pocket is large enough to store the water bottle.
1st & 4th pocket
Large enough for keeping your hands comfortably in your pockets while hiking.

2nd pocket
The 2nd pocket is perfect for your smartphone. The perfectly-allocated pocket just behind the hipbone secures a smooth leg lift, preventing your phone from bouncing around and keeps your phone safe and intact when sitting.

3rd pocket
You can attach keys or a small carabiner to the long key loop. It's also handy when you hang the pants to dry.

Key loop
You can attach keys or a small carabiner to the long key loop. It's also handy when you hang the pants to dry.

5th pocket
The 5th pocket is made to fit the size for the normal hiking map. It is also convenient for putting trash during hiking or keeping snacks close at hand.

Gusseted crotch
The crotch is widely gusseted to allow for dynamic leg movement.
Naturally Odor Resistant
Wool base layers are chosen by many hikers for the material's excellent odor neutralizing performance. Some say it's almost odor-free even after a week of heavy hiking, but we'll let you (and your friends) be the judge of that…
Wool's deodorant mechanism is still a mystery. One theory has it that wool absorbs a large amount of odor-causing elements, and consequently, the odor is minimized to the level that cannot be detected by the sense of smell. We will conduct our own experiments and tests in the future.
Great Moisture Control
Wool is great to help you keep warm and cool as it naturally controls the moisture level within the clothes, always keeping you comfortable throughout the year.
Wool's deodorant mechanism is still a mystery. One theory has it that wool absorbs a large amount of odor-causing elements, and consequently, the odor is minimized to the level that cannot be detected by the sense of smell. We will conduct our own experiments and tests in the future.
Even Warm When Wet
First, when wool absorbs moisture, the thermal phenomenon called "absorption heat" is generated. Secondly, its excellent insulation properties (low thermal conductivity) prevents the body heat from being lowered by evaporation. Also, the crimped fibers are bouncy and retain loft without crushing even when wet. In addition, wool can absorb more moisture in between the fibers, always keeping the skin dry and comfortable.
Consequently, 100% Merino wool keeps you warm during the action, even in severe weather that makes you wet to the skin.
When fibers absorb moisture, the thermal phenomenon called "absorption heat" is generated. The wool's adsorption heat performance is twenty times of polyester, and 2.5 times of cotton.
Italian Made NZ Merino Fabric
The fabric is merino wool manufactured by a well-established Italian maker, which runs the thorough production process including sheep farming, yarn making, and fabric making in New Zealand.
The back of the fabric is reinforced by the rip-stop Cordura nylon, achieving both the softness of the merino wool and the toughness required for hiking pants.
A few pilling may occur after a long period of wear, but it can be easily taken care of. The aging of the texture is also a part of the pleasure of the pants.

Material:
Facing: 97% Merino Wool, 3% Cordura Nylon 236g/㎡
2/45.6 x 1/38.8
Spec:
Tear strength tested by JIS L 1096 D (In-house test)
Vertical: 4.4kg, Horizontal: 3.9kg
Tensile strength tested by JIS L 1096 A (In-house test)
Vertical: 56.7kg, Horizontal: 41.2kg
Breathability tested by JIS 1096 A (In-house test)
12.2cc/(㎠・s)
Why Merino?
Wool is a natural material with various unique features such as temperature/moisture control, thermal insulation, and is naturally odor-resistant.
Though it has some disadvantages that should not be underestimated, such as its tendency to distort, shrink, and rather low durability, we believe that the advantages and benefits outweigh these shortcomings.
Many outdoor merino fabrics are blended with synthetic fibers to compensate for these shortcomings , but our tests have shown that the unique functionalities of merino wool, such as its ability to control temperature/moisture, are reduced as the percentage of synthetic fibers increases.
Our Merino 5-Pocket Pants are made of 97% merino wool fabric with a minimal amount of Cordura nylon yarn on the lining to enhance the strength of the fabric.
The above chart shows the comparison of moisture content ratio of three types of fabrics in a humid and hot environment (up, 30˚C with 90% humidity) and a more comfortable environment (down, 20˚C with 65% humidity).

In a humid and hot environment, the fiber with superior moisture absorption keeps you dry and comfortable. On the other hand, in dry conditions, it is more comfortable when the fiber provides a certain level of moisture without excessively absorbing available humidity. The difference of the moisture content ratio in the above chart indicates the moisture control performance: the greater the value is, the better the fabric's moisture control performance is, therefore the larger percentage means better comfort.

The 100% merino fabric, as shown above, has a 6.8% moisture ratio difference. This means that our merino material can effectively control the moisture compared to the other fabrics, keeping you dry when it's hot and humid while supplying a moderate amount of moisture when the humidity is low. This is the reason why the merino wool is known as "a natural air conditioner".
Merino Wool
Wool is a natural material with various unique features such as temperature/moisture control, thermal insulation, and anti-odor performance; all of them developed by sheep to survive the harsh environment over time.
Merino wool comes from merino sheep and compared to other kinds of wool, merino's fiber is finer, softer, and less scratchy, and hence even suitable for making underwear.
All wools, including merino wool, are cool in summer and warm in winter. It is warm even when it's wet, and practically odor-free even after many hours of wear.
Wool's Structure
The wool's fiber is composed of amino acid-based protein, just like human hair and skin. The surface is called the "scale", which is similar to a fish scale, and the inner part is the "cortex".
The cortex is composed of ortho-cortex and para-cortex, each with different moisture absorption performance. Because each of them differs in property, the combination of ortho and para cortexes makes the fiber "crimped".
This crimped structure produces the wool's unique features such as moisture/temperature control property and thermal insulation performance, avoiding the coldness caused by the sweat.
Disadvantages of Wool
Wool or merino wool has various features and functions, but it is not flawless.
Easily absorbs moisture and becomes heavy
Wool can get quite heavy as it is great at absorbing moisture. This also means that wool takes longer to dry and synthetic fibers, but compared to cotton, it actually dries faster.
Liked by insects
Soft, natural fibers such as wool, cashmere, and silk are prone to damage by insects./li>
Easily damaged
The relatively short fibers of wool mean that wool fabrics are easier damaged than synthetic and cotton fibers. However, small holes can easily be fixed with a bit of pure wool and a needle.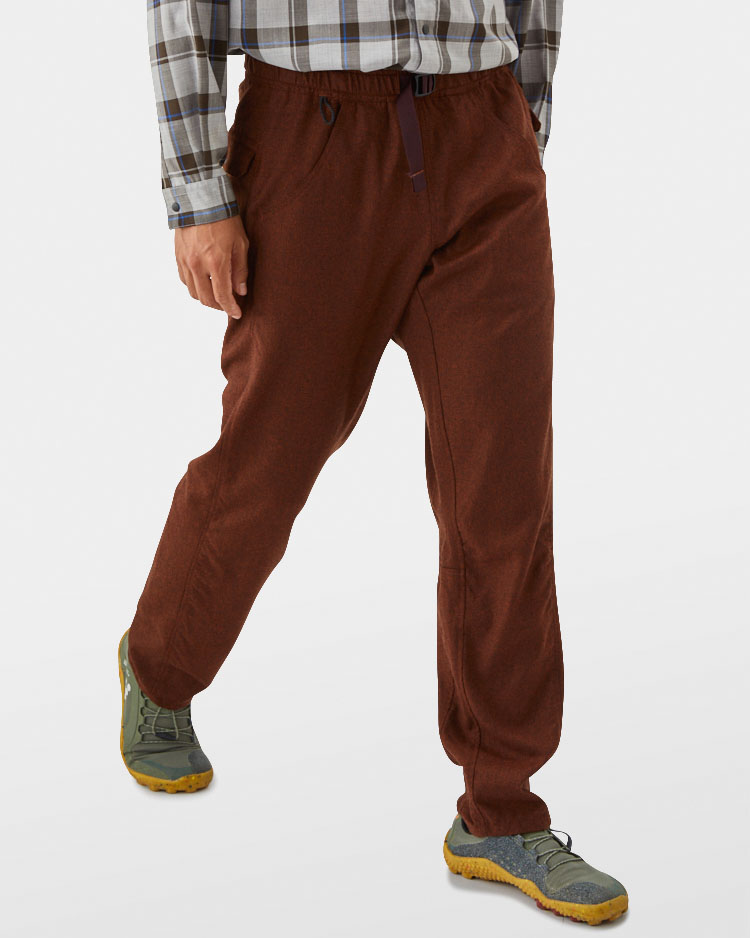 Hide 178cm-68kg
Size MT (Brick)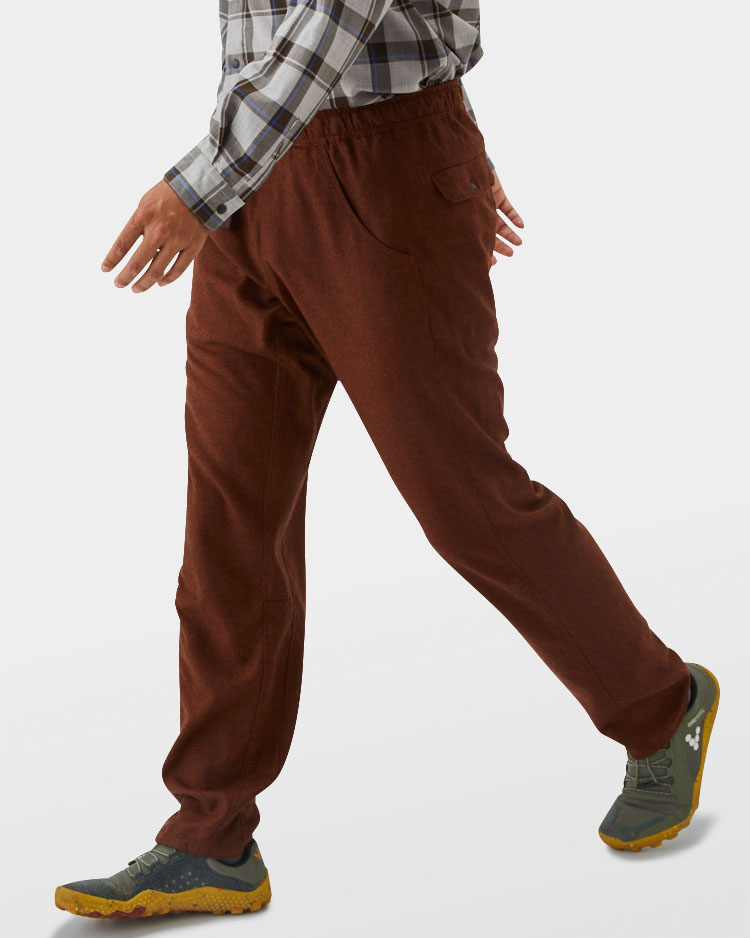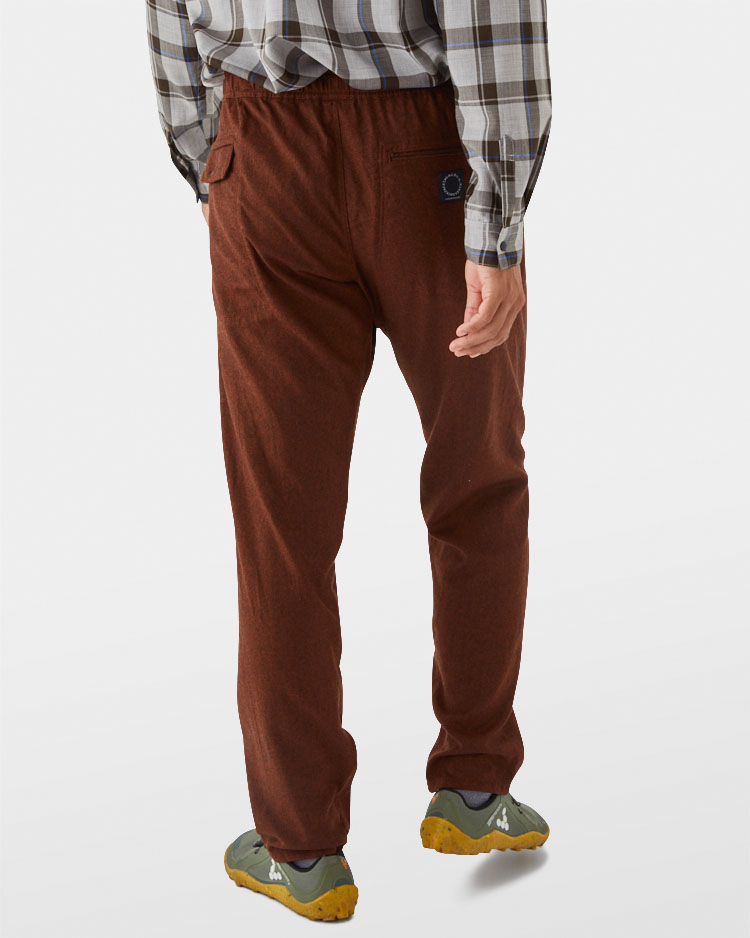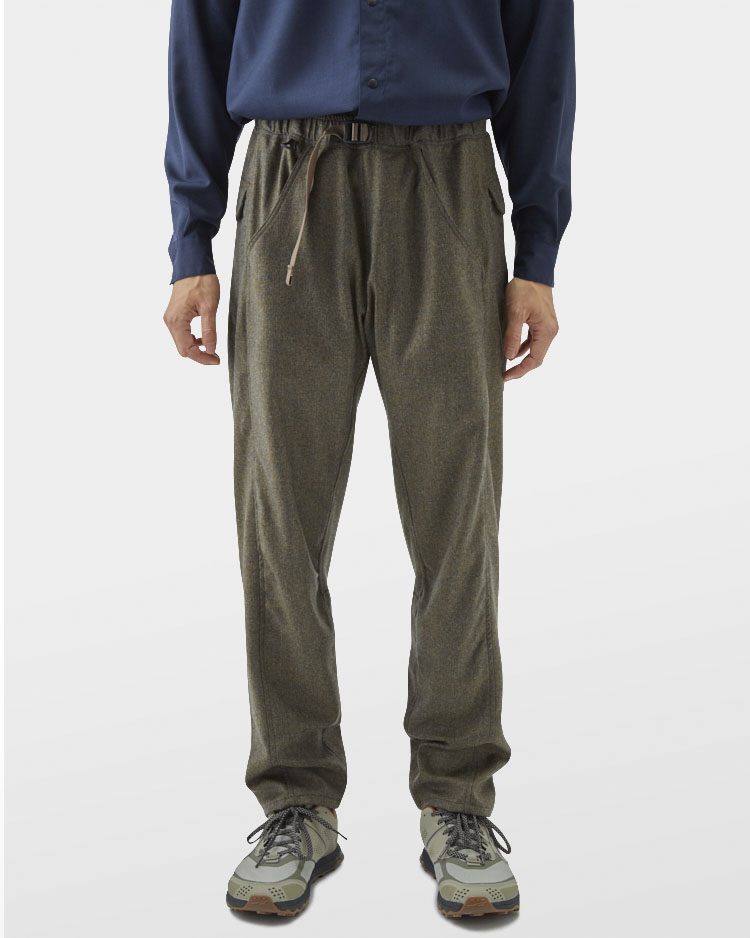 Ichiro 170cm-56kg
Size S (Sand Stone)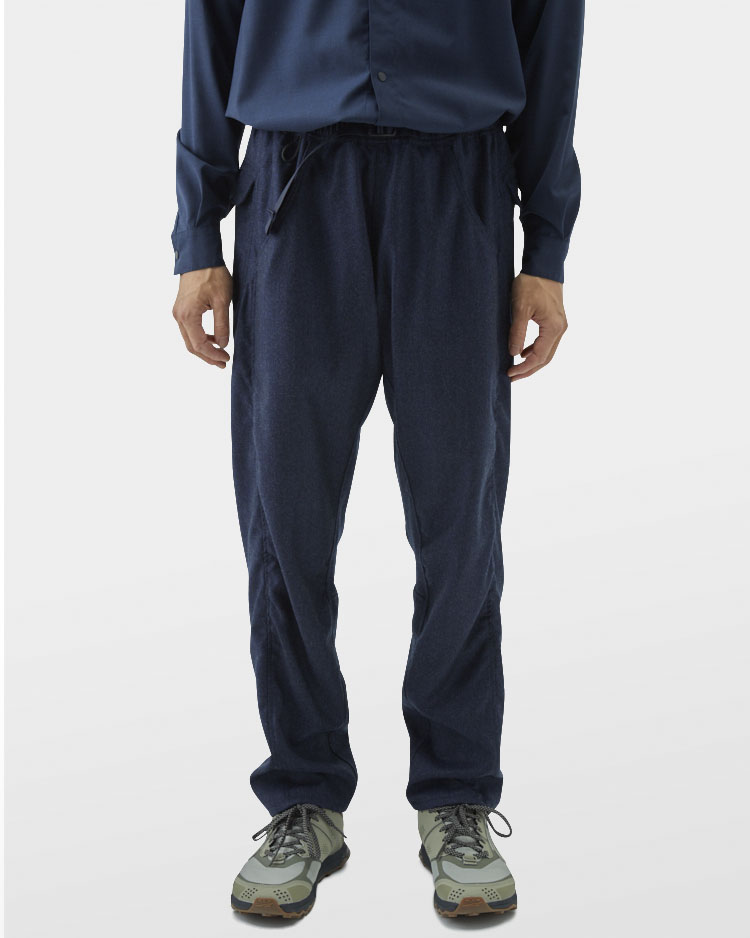 Ichiro 170cm-56kg
Size M (Navy)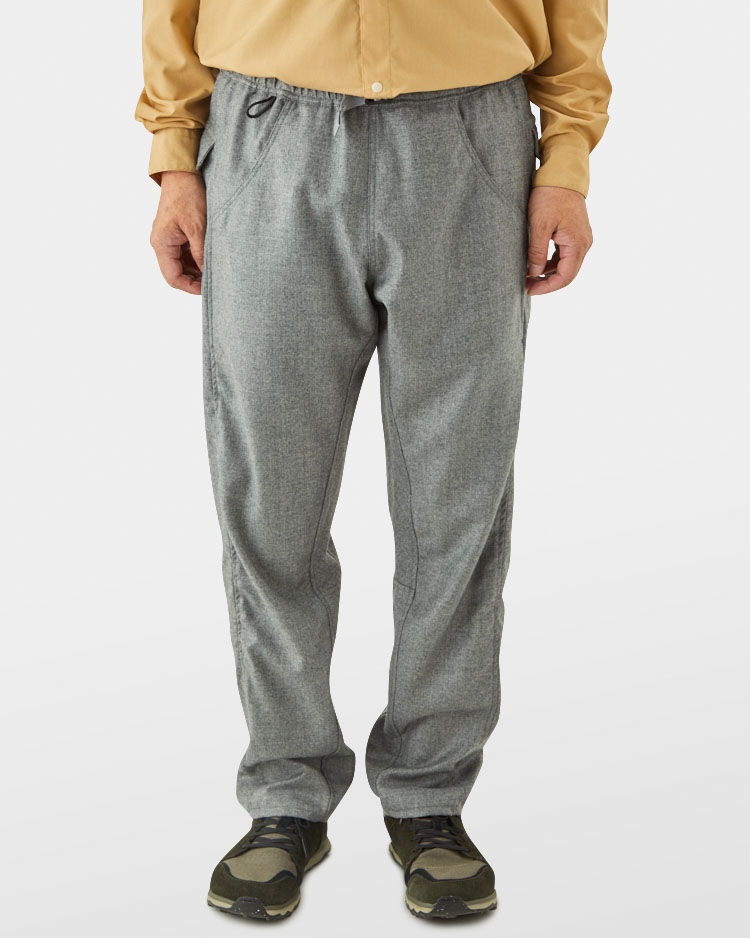 Matsu 169cm-68kg
Size M (Light Gray)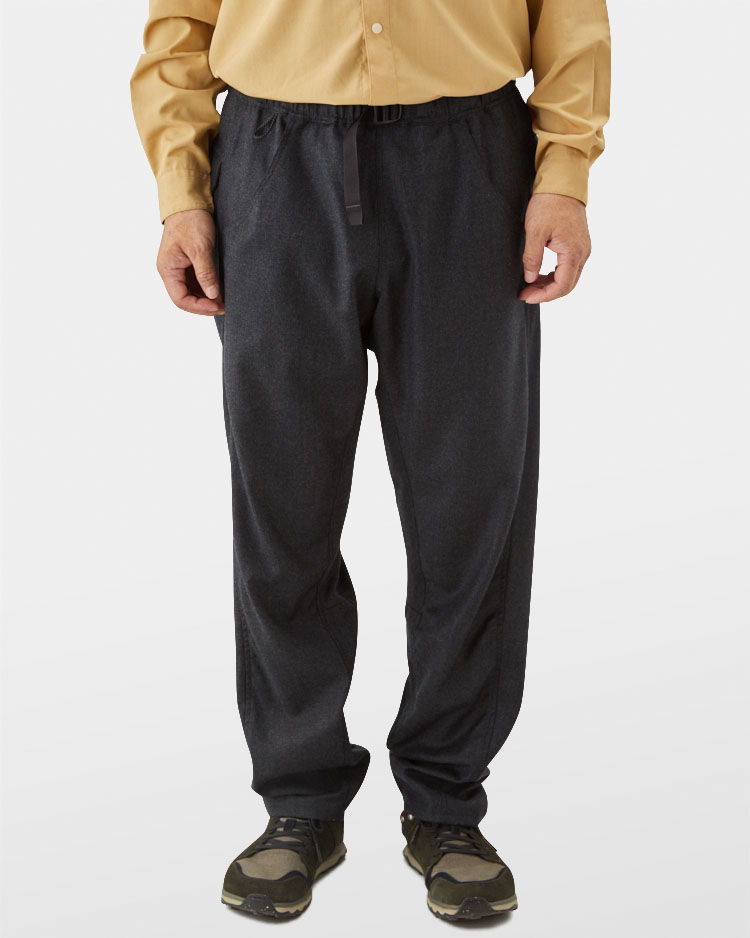 Matsu 169cm-68kg
Size L (Charcoal)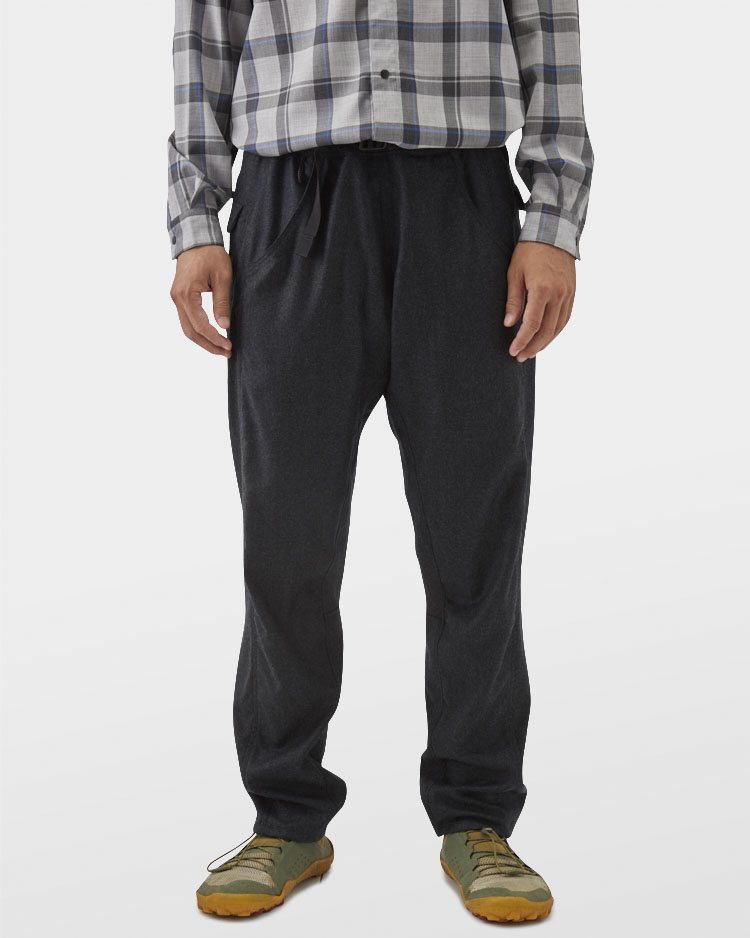 Kim 175cm-68kg
Size M-Tall (Charcoal)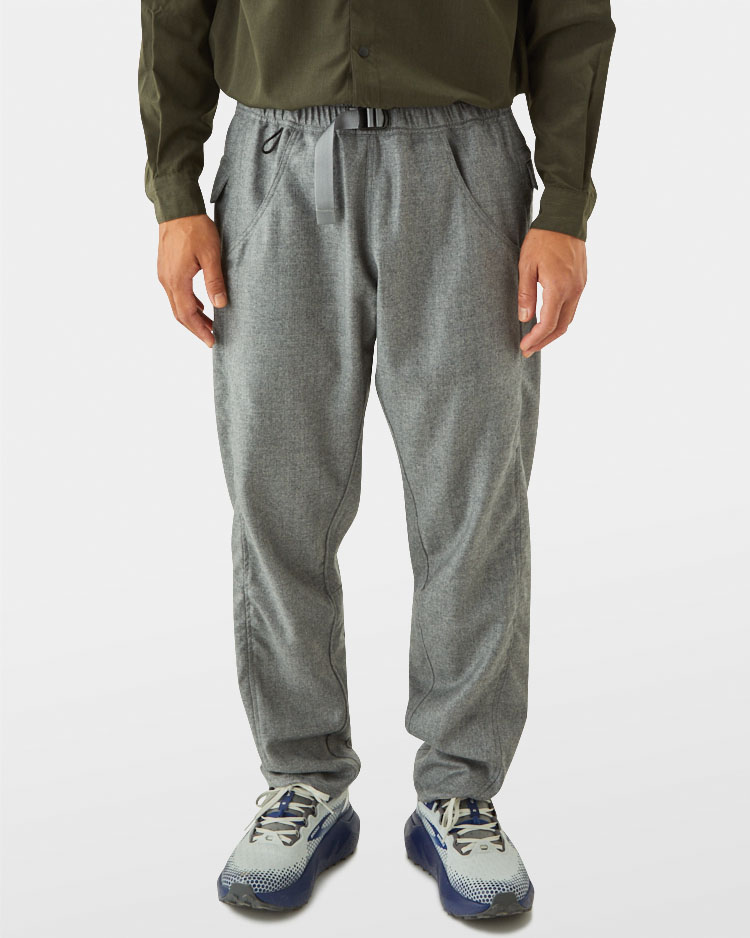 Ippei 172cm-62kg
Size M (Light Gray)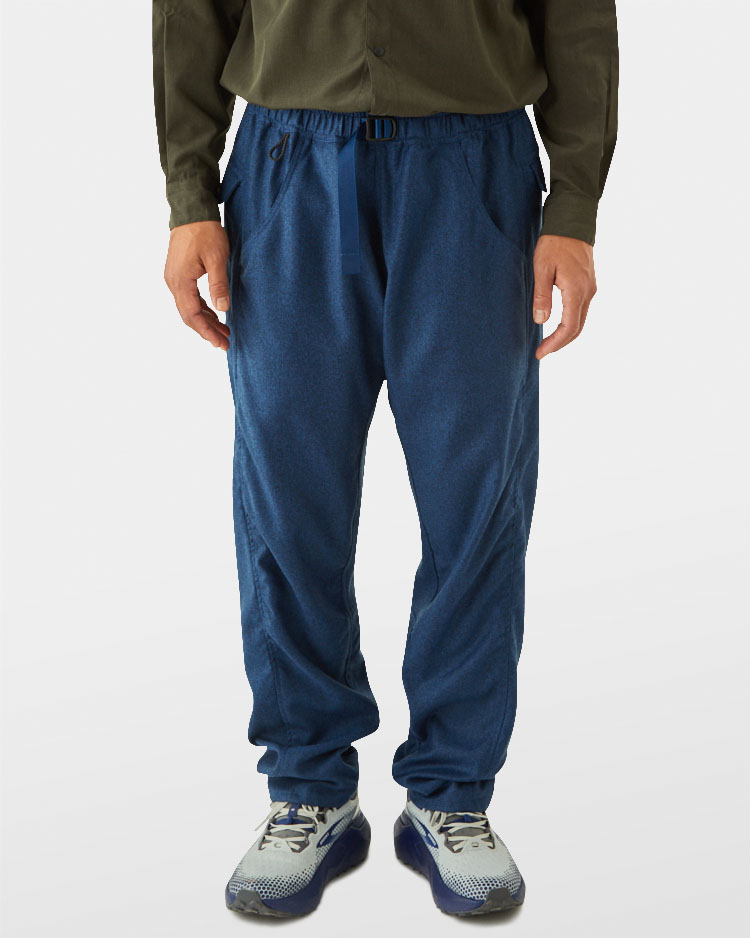 Ippei 172cm-62kg
Size L (Indigo)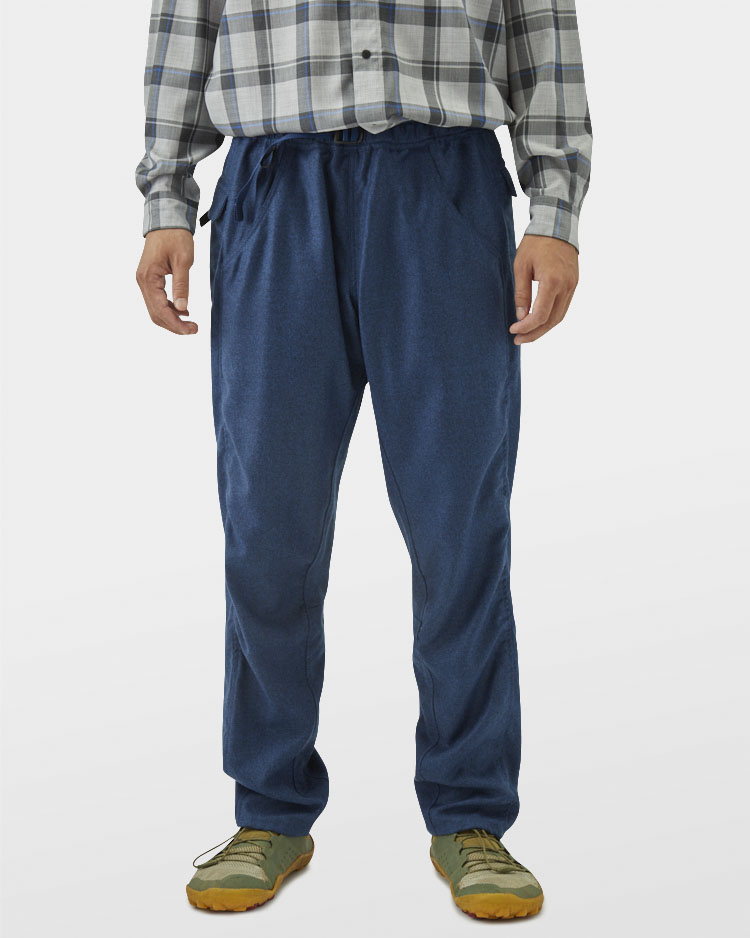 Kim 175cm-68kg
Size L (Indigo)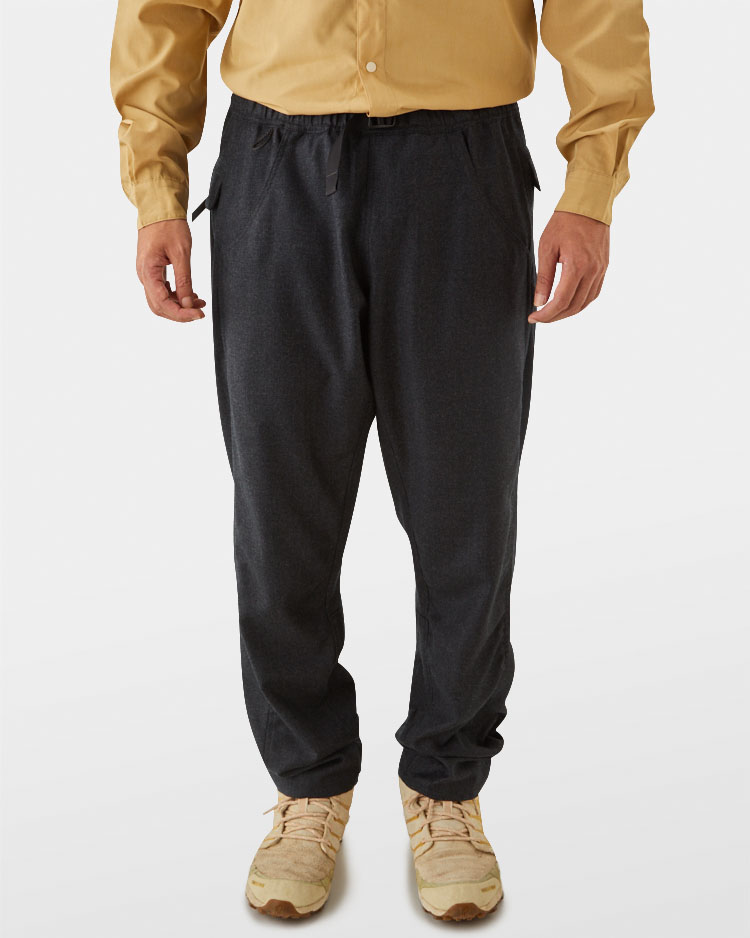 Pony 173cm-76kg
Size L (Charcoal)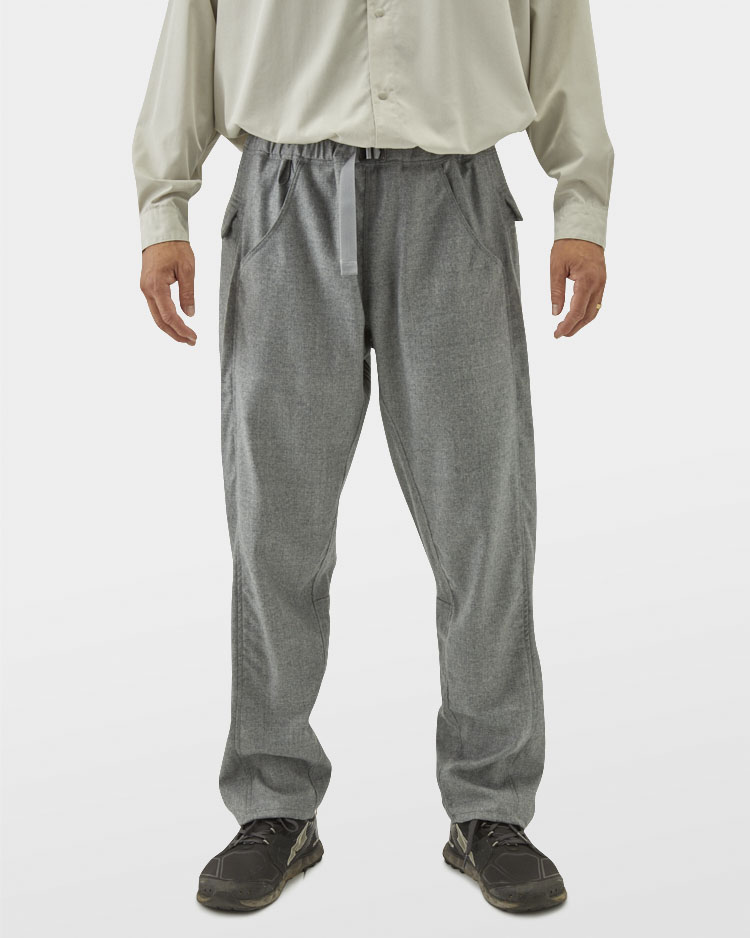 Nacho 180cm-68kg
Size L (Light Gray)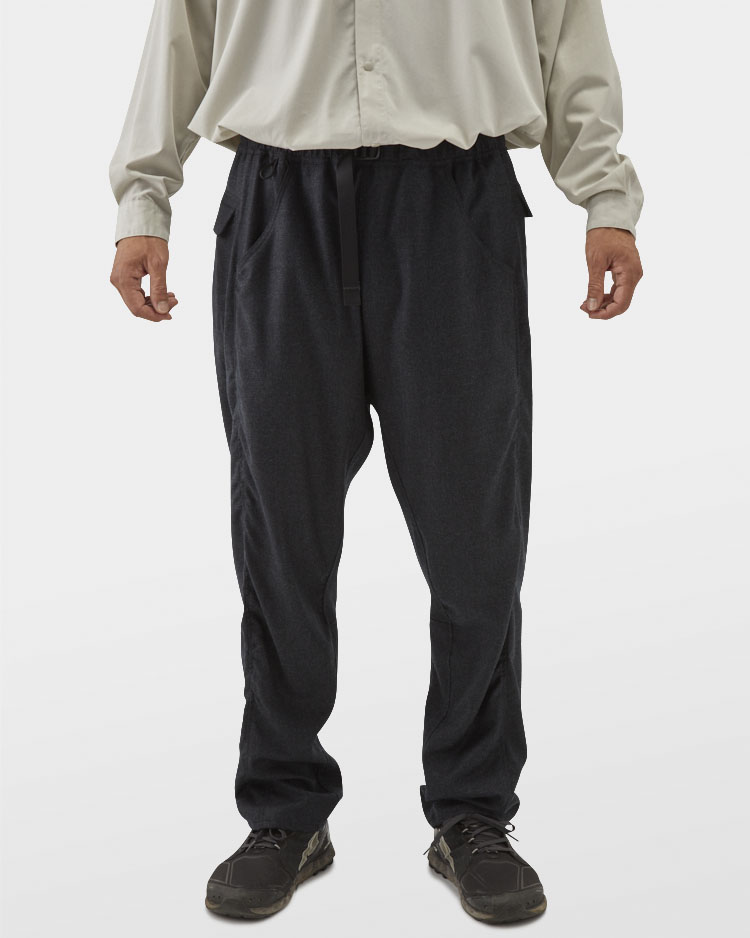 Nacho 180cm-68kg
Size XL (Charcoal)
推奨サイズ / Recommended Size
Size
S
ST
M
MT
L
LT
XL
XLT
身長 / Height
cm
160~167
168~172
165~172
173~178
170~178
179~184
176~184
185~190
体重 / Weight
kg
52~61
52~61
59~69
59~69
67~78
67~78
76~85
76~85
ウエスト / Waist
cm
70~80
70~80
74~84
74~84
82~92
82~92
90~94
90~94
製品サイズ / Product Size
The actual measurement may be slightly different from the values indicated below due to the sewing variations.
The measurement may be changed as the fabric shrinks with use and washing.
*Waist is measured when the rubber is not stretched.
**The hip is the width measured at the largest part of the waist when placed flat.
| Size | S | ST | M | MT | L | LT | XL | XLT |
| --- | --- | --- | --- | --- | --- | --- | --- | --- |
| パンツ丈 / Pants Length | 94.5 | 97.5 | 98 | 101 | 101.5 | 104.5 | 104 | 107 |
| 股下 / Inseam | 70.5 | 73.5 | 73.5 | 76.5 | 77 | 80 | 79.5 | 82.5 |
| ウエスト / Waist | 64.5 | 64.5 | 69 | 69 | 73 | 73 | 78 | 78 |
| ヒップ/Hip | 53 | 53 | 55.5 | 55.5 | 58 | 58 | 60.5 | 60.5 |
| 裾巾 / Hemline | 17.5 | 17.5 | 18 | 18 | 18.5 | 18.5 | 19 | 19 |
Care Instructions
Merino wool has excellent deodorizing properties, but it does have some disadvantages, such as being prone to moth holes and shrinkage. Therefore, It should be washed and stored properly, though not frequently.
For more instructions on washing, drying and storage at home, please read on the "Read More" section below.
Washing
It is machine-washable on the regular course. Please refrain from using the tumble dryer, as the texture of the fabric may be hardened. To reduce wrinkles after drying, smooth out wrinkles as much as possible before drying.
Wool fibers are slightly acidic, so avoid washing with alkaline detergent as it may damage the texture. Use a neutral detergent.
To avoid damage caused by contact with other laundry, or deformation caused by tangling, please wash it separately or use a laundry net.
Wrinkles tend to develop during spin-dry. To reduce wrinkles, shorten the spin-dry time.
Washing with lukewarm water (about 30℃) will help remove dirt.
Smooth out the wrinkles, adjust the shape, and line dry in the shade.
Do not tumble-dry, as the texture of the fabric may be hardened.
Make sure to smooth out the wrinkles and hang dry in the shade.
Do not use fabric softener as it may coat the fibers and hinder the natural properties of wool.
Do not bleach as it may cause color fading.
How to Remove Wrinkles
Compared to knitted fabrics, woven ones tend to wrinkle more easily, so please shorten the spin-dry time and smooth out the wrinkles as much as possible before drying. If wrinkles still remain, please iron them out.
Use a steam iron.
Always use the iron at a medium temperature (around 140°C to 160°C) setting or lower.
When ironing, apply a thin cloth while blowing the steam. If the iron is pressed excessively, the fabric may get unnaturally glossy. Iron gently.
After ironing, dry completely so that no moisture remains.
How to Avoid Insect Damage
Merino wool, an animal-derived fiber, has the disadvantage of being easily eaten by insects because of the protein contained in the fiber. However, the risk of insect damage can be reduced by proper care.
Dry well before storing. If there is any moisture left, it will be prone to insect damage.
Steam from an iron can effectively kill insects by heat. Use a medium temperature setting when ironing, and after steam, dry it completely before storing it.
Keep well-ventilated. Avoid humid environments.
Vacuum storage bags are also effective in preventing insect damage. Air left in the bag will allow insects to survive. Make sure to completely vacuum it and make it air-tight before storing. Please note that vacuum sealing may cause wrinkles.
if you use mothballs, please follow the labelled instructions.
Payment
We only accept payment by credit card. We currently do not accept payment via bank transfer from overseas accounts.
We accept the following Credit Cards: Visa, Master, American Express, and JCB.
To download your receipt, please click the link included in the Dispatch Notice, which we will send by email as soon as the items are dispatched.
Delivery
We will ship by DHL for overseas customers (excluding China, Hong Kong, Taiwan, Korea and Russia). For customers in China, Hong Kong, Taiwan, Korea and Russia, we will ship by EMS only. Shipping costs vary depending on your country and region.
Size Exchange
Overseas customers who need to change the size of their order, should note that the time needed for shipping will vary greatly depending on your country of residence.
We only accept exchanges when the item is unused (except for fitting).
If you wish to exchange the size of the item, please contact us within seven days of receiving your order.
Exchanges can only be made for the same color in a different size.
If the size you wish is out of stock, we will suggest a different color.
If the product is out of stock, we may simply have to ship the item back to you.
All shipping costs to be carried by the customer.
We will only send the exchanged item to you, upon receipt of return shipping cost via PayPal.
Please be aware that some countries charge customs duties depending on the price of the item.
We are unable to answer any questions on local customs. Please contact your local customs bureau.
Repair
We accept repairs for all of our Yamatomichi products. For inquiries on repair services including patching the holes, repairing with extra components, or fixing the items damaged over time, please feel free to contact us from the "Repair" section of the SUPPORT page.
BUY