Introduction
Versatile and Ultralight
Our UL Shirt is the perfect shirt for hiking and works well as a simple windbreaker too.
The wide fit and open neck collar let the heat around the neck easily escape, offering comfort when it's hot. Our proprietary design allows you to quickly roll up the sleeves, use the snap buttons for ventilation, or turn up the collar and button it up when it is cold.
Color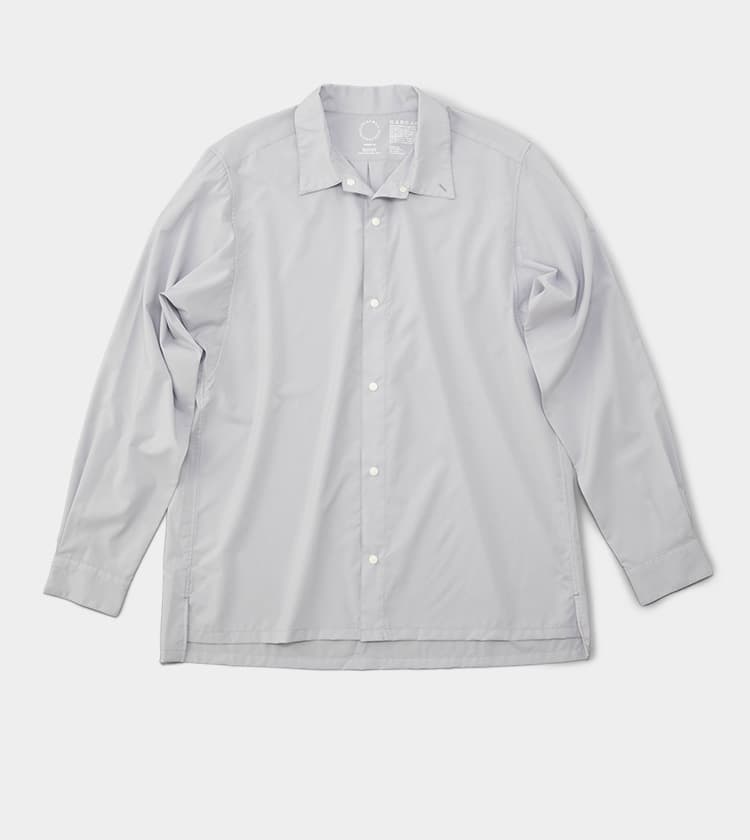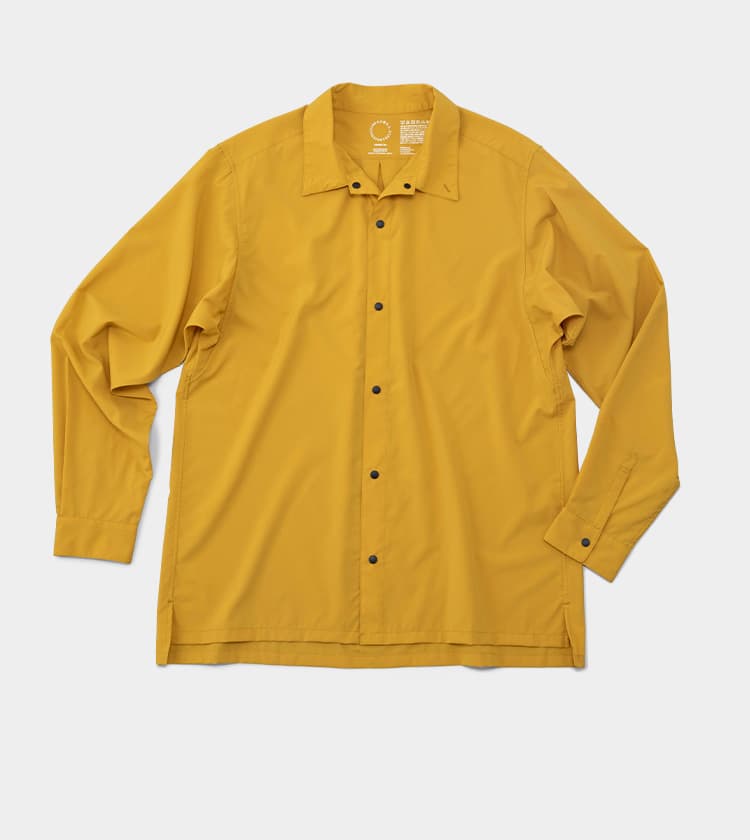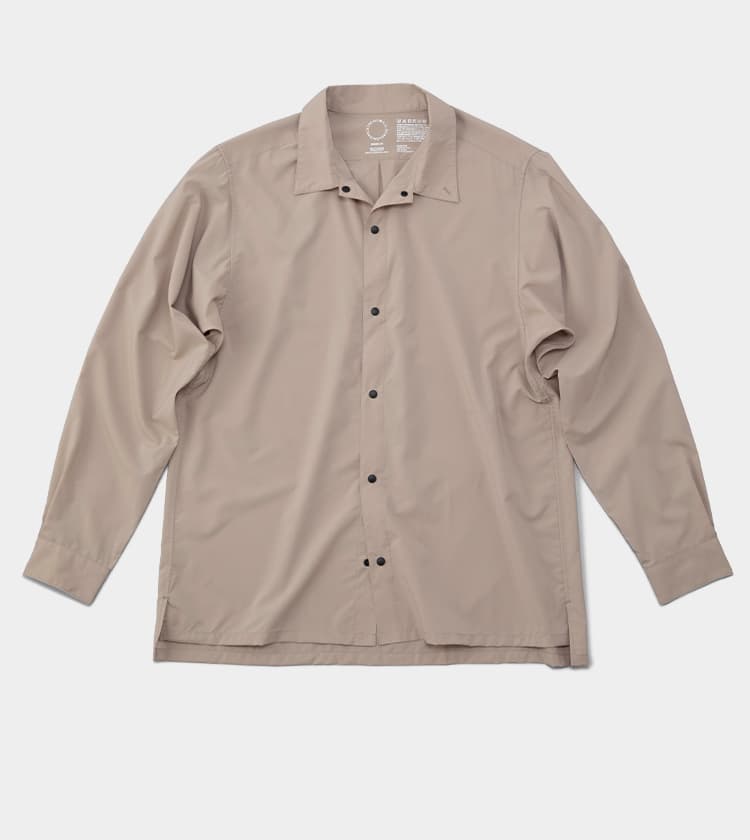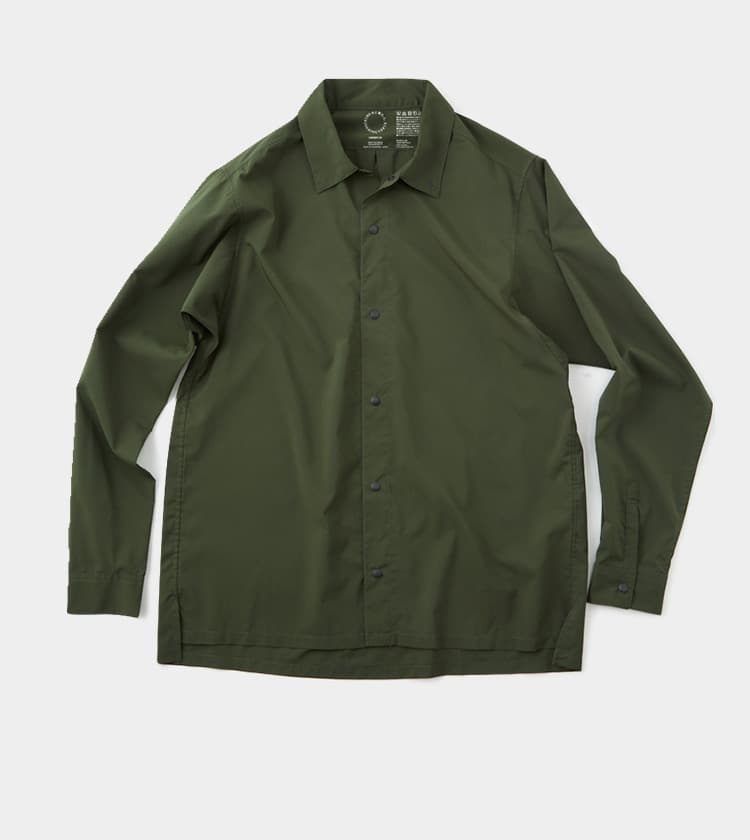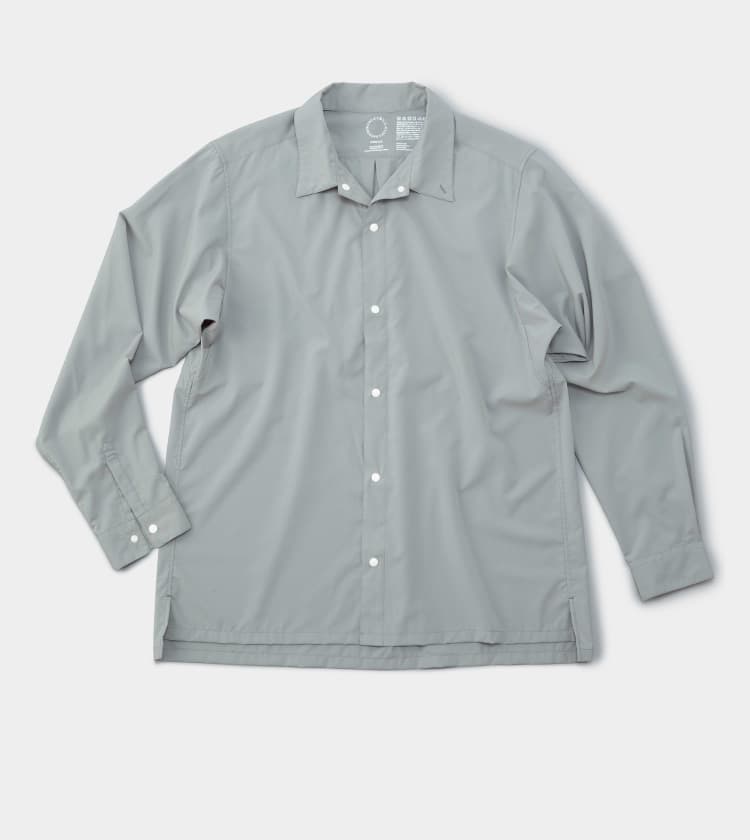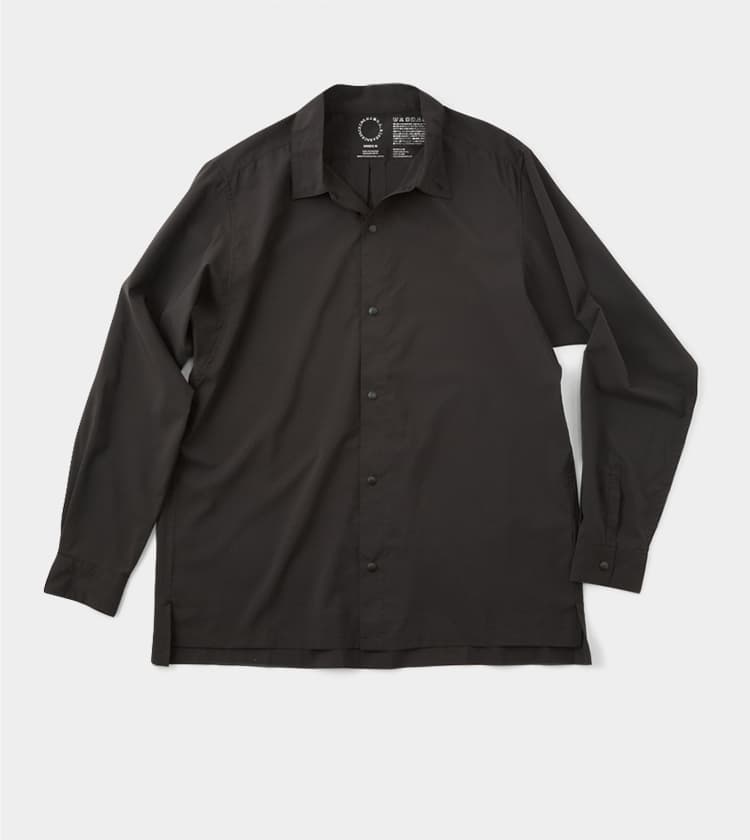 Spec
Made in Fukushima, Japan
Material:
Shadow Rip (100% Polyester) 56g/㎡
C0 DWR
Weight:
84g (Size XS)
91g (Size S)
99g (Size M)
107g (Size L)
113g (Size XL)
Size:
UNISEX | XS / S / M / L / XL
Product Story 1
Why New Shadow Rip?
Akira Natsume, Yamatomichi Founder
In 2022, we changed the fabric of our UL Shirts from Pertex Quantum Air to Teijin's Shadow Rip. Let me explain why we have chosen to make the change.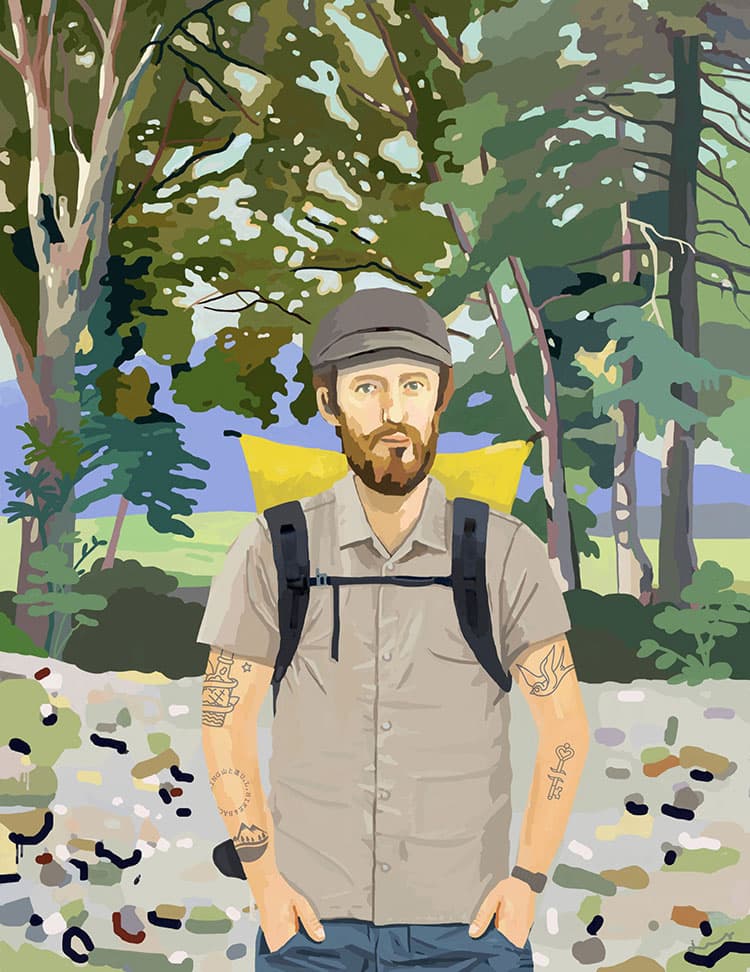 We were looking for a new fabric because of issues with the pilling of the Pertex Quantum Air. This had not been a problem during my field tests, but many customers complained that the fabric was prone to pilling in various situations. We wanted to solve this issue so that our customers can wear UL Shirts comfortably on their hikes without worrying about pilling.
So I collected a variety of lightweight, highly breathable fabrics from various companies. It was, however, difficult to define the reason why pilling occurred. The problem was not always reproduced, and in fact, my own UL Shirt never had any pilling issues. Pilling was obviously triggered by the repeated friction with something hard and coarse over a long period of time but it was very difficult to confirm from actual field testing. Hence, I realized that a reproducible testing method was necessary to validate and compare fabric issues, using inspection machines and tabletop testing. I also needed to know and understand why and how the pilling occurred in the first place because Pertex Quantum Air, the original UL Shirt fabric, performed pretty well in the normal abrasion testing. Then, what other trial method might be appropriate? We discussed this with the professional inspection company.
Consequently, after repeated tests, we concluded that the structure of the ripstop was the cause of the pilling.
Because the ripstop yarn is stronger and thicker than other yarns, it is higher than other yarns, thus creating unevenness in the fabric. When ripstop yarns are rubbed against hard objects, the yarns are partially pulled out and pilling occurs. We recognized that this is a problem that can occur not only with Pertex Quantum Air but with all ripstop fabrics.
Therefore, we decided to collect plain weave fabrics that are flatter and less prone to pilling, and also made a prototype of a proprietary plain-woven fabric. However, the plain-woven and thin fabrics were not strong enough and did not have the texture that I was looking for.
Then I thought of Teijin's Shadow Rip. To prevent the surface from becoming uneven, the ripstop yarns of the fabric are made of a high-strength fiber that has the same thickness as the other yarns. This structure prevents the ripstop part from snagging and causing pilling of the fabric. Moreover, the fabric is strong and durable.
This is the perfect one I was looking for, I thought at first. Only, the fabric was heavier than the Pertex Quantum Air we had been using, and it was slightly thicker and made of polyester instead of nylon. Since we are an Ultra Light gear manufacturer, I was not happy about the heavier weight of the fabric. We decided to make a prototype and test it to see how it would perform.
Various tests have already shown that the breathability is equivalent to Pertex Quantum Air, and also in field tests in the mountains, the prototype turned out to be equally comfortable to our existing UL Shirts made of Quantum Air. It offers high ventilation performance when the buttons are wide open, and it can be windproof at the core of the body when the buttons are closed. The sleeves can be easily rolled up, or the neck collar can be raised and buttoned up when cold. It was as useful as ever and performed well as hiking activewear. Furthermore, I was also able to discover new features, such as superior wrinkle-proof performance even after it is tightly tucked into a backpack.
Consequently, we decided to update the fabric to Shadow Rip based on the following new advantages: it feels as comfortable as the previous fabric, it is less likely to create pilling due to repeated rubbing which had been a problem in the past, and it does not wrinkle easily even when squeezed into a backpack.
Yet another problem, however, was discovered.
Compared with nylon, the polyester fabric turned out to be more prone to color transfers to something. Shadow Rip is not our proprietary fabric but is developed by Teijin, and has been used by other major outdoor manufacturers for some time.
According to Teijin, color transfer has never been an issue so far. So, it was only in our individual tests conducted at a testing agency that the color transfer occurred. We confirmed staining on white wool and silk fabrics when they were layered and adhered to dark-colored Shadow Rip fabrics. Each of us has a unique composition of perspiration, and the color transfer does not occur in everyone, but now that we know this might occur, we want to be open and share this information with all of you.
To be honest, I was reluctant to write something negative about an updated product in this Product Story. But after many trials and tests, we discovered the solution as described in the "Product Story 2" in the next section.
I feel that it is better than our previous product and ready to go out to the world. I look forward to hearing everyone's thoughts on this newly updated UL Shirt. (March 2022)
Product Story 2
Color Transfer: How and Why It Occurs
By Rin Matsumoto with Takahiro Watanabe
We recently changed the fabric of the UL Shirt from Pertex Quantum Air to Teijin's Shadow Rip. The major difference is the material: The former is 100% nylon, whereas the latter uses 100% polyester. Many of our products use nylon, but this was the first time for us to use polyester. Both nylon and polyester are synthetic fabrics, but each has its own characteristics. The new Shadow Rip clearly taught us the difference between the two.
Merino wool T-shirt was stained by dark-colored Shadow Rip fabric in the pre-release field test.
Shadow Rip's Color Fastness
What is color fastness? It is a term used in the dyeing of textiles, meaning a dyed fabric's level of resistance to color fading or color running. Major color fastness indexes include a change in color and staining to the adjacent fabric.
For quality assurance, we conducted an in-house test of the mass-produced Shadow Rip's color fastness, and we were a bit concerned by some of the results. Dark colors, such as Black, Duck Green, or Terracotta fabrics performed poorly in the color fastness to perspiration test, which shows how the dyed fabrics are resistant to fading and running when they are wet from perspiration.
For a more detailed inspection of the color fastness, we selected four types of sample fabrics, cotton, wool, polyester, and nylon, to see how the color transfer occurs when each fabric is in contact with the Shadow Rip. As a result, we confirmed that the Shadow Rip's color significantly transfers to wool, and a bit to nylon, but almost none to cotton and polyester.
The result of this color fastness test suggested that when a dark-colored Shadow Rip fabric is wet from perspiration, and is rubbed against white or light-colored wool fabrics for about eight hours, Shadow Rip's color is transferred to the wool.
In your daily life, you rarely keep going for eight hours with a wet shirt. But we are talking about mountain gear, not casual clothes. You may walk on endlessly with a sweaty back. We had to make sure if the color transfer occurred in the actual field: mountains and trails.
Field Test by Yamatomichi Friends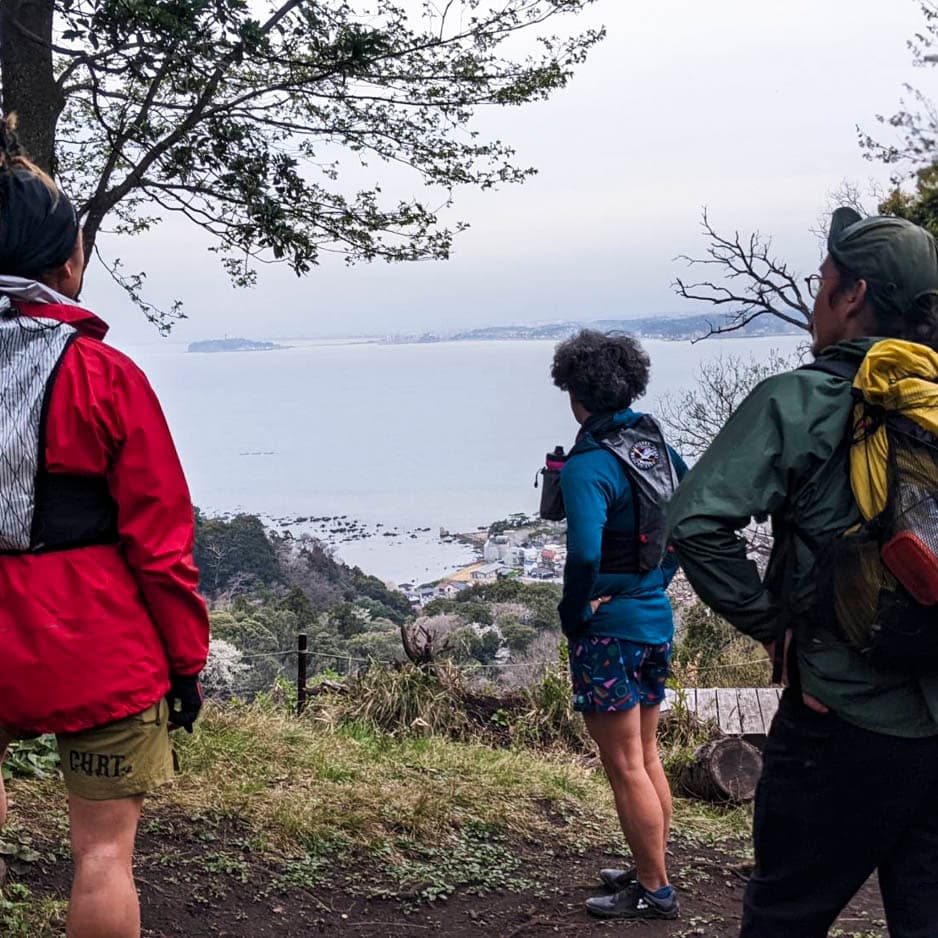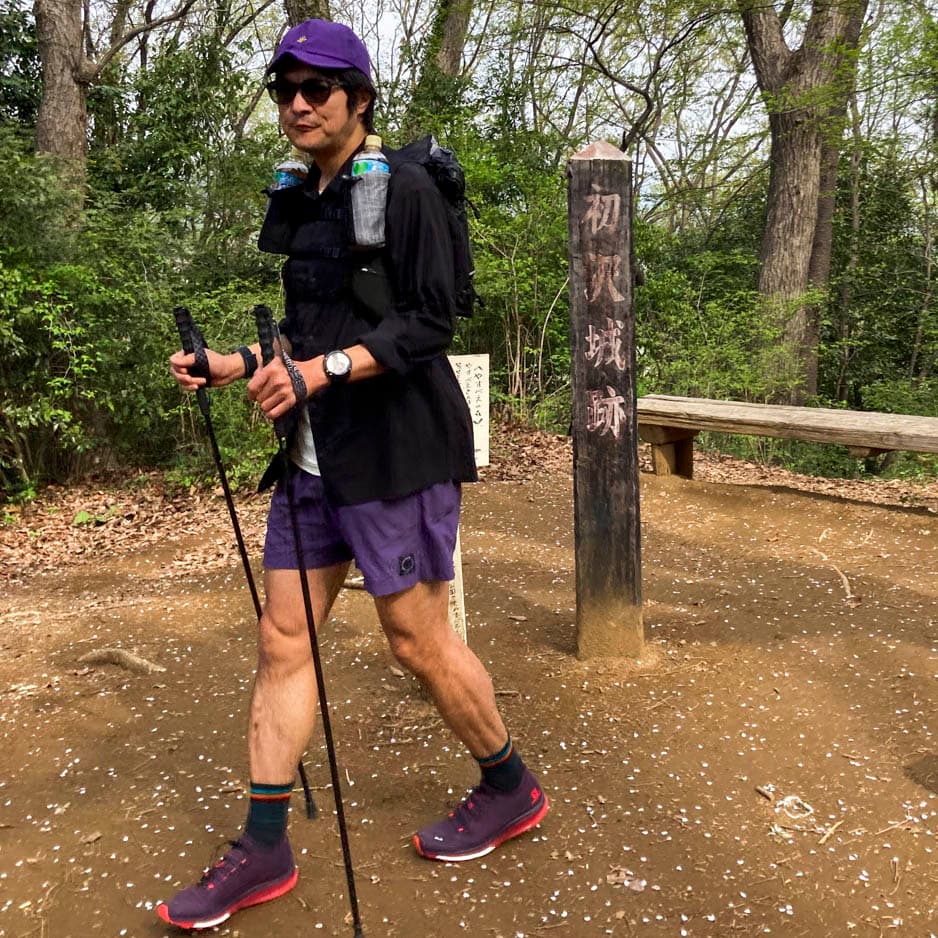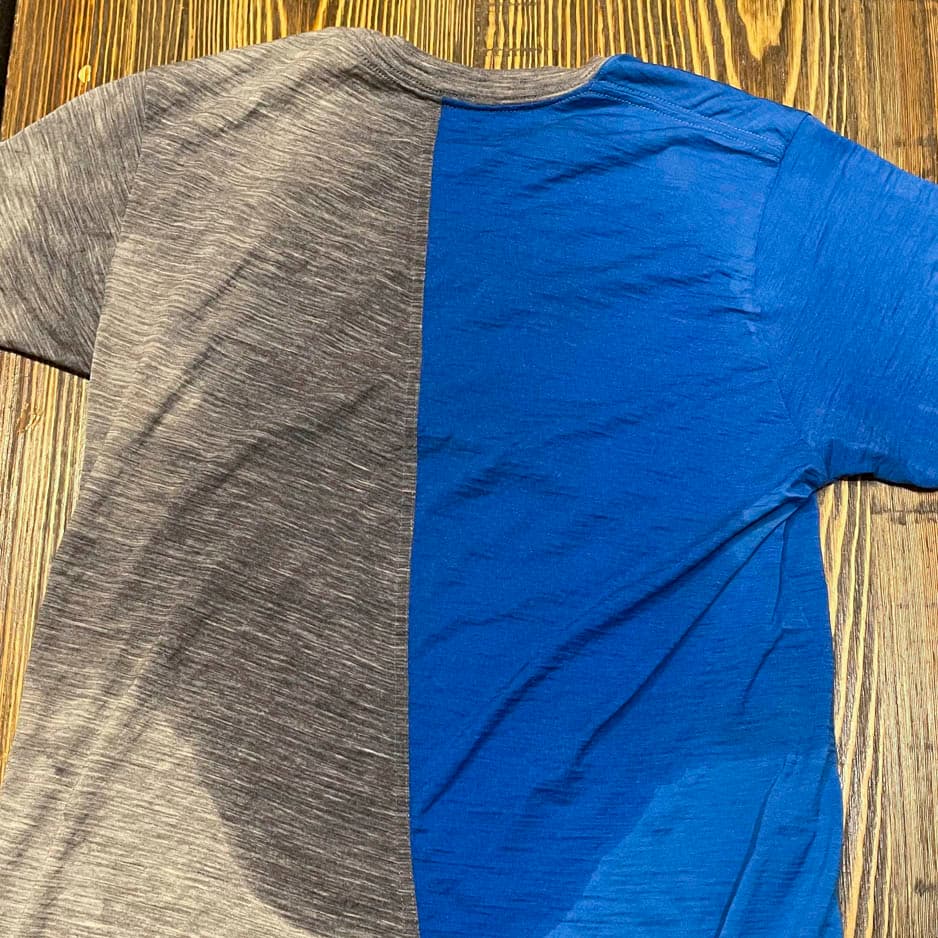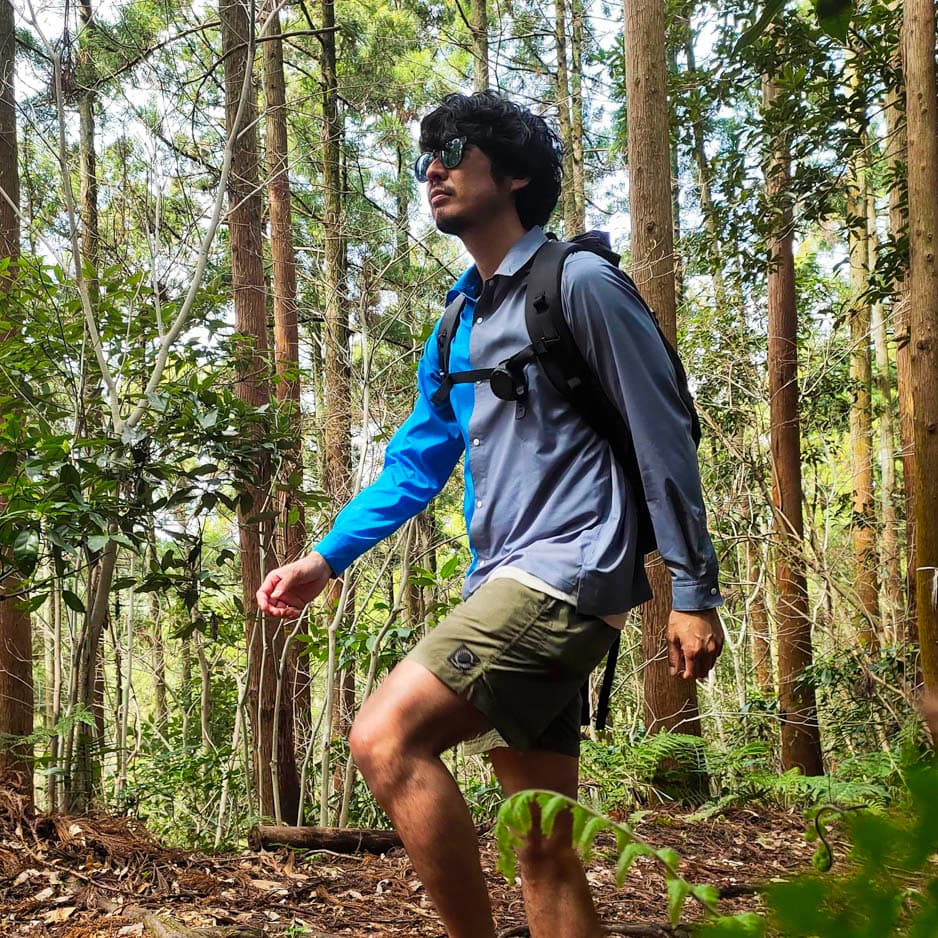 10 testers spent 80 hours on the trails. We made a prototype called the "Two-Face," a single garment with a different color on the left and right sides to maximize efficiency.
In our in-house tests, Yamatomichi staff hiked for many hours and got soaked in sweat. The test samples were all our Shadow Rip products that were to be released and Yamatomichi Merino T-shirts including the colors that had no problem in the testing machine environment to analyze every combination of Merino T-shirts and Shadow Rip colors.
To verify all possible color combinations, the testers walked and ran on and off the trails for several hours to half a day, so that they sweat heavily while wearing the 100% Merino shirts and Shadow Rip UL Shirts in different colors, carrying backpacks on their backs. For efficiency, we also made a prototype called the "Two-Face", a single garment with a different color on the left and right sides. A total of 10 testers tested 7 colors of Shadow Rip shirts, and 9 colors of merino shirts for 80 hours of testing duration in total.
As a result, we confirmed that the color transfer occurred in the combination of dark-colored Shadow Rip fabrics and light-colored merino fabrics, which also proved the experiments performed in the testing machines. The light-colored Shadow Rip, which had excellent results in the color fastness test did not cause color transfer, and the dark-colored merino fabrics were not influenced by color transfer, or the color transfer was not recognizable at all.
A New Question Emerges
Our understanding was that the perspiration triggered the color transfer, so the likeliness of color transfer or color bleeding depends on each person because we all eat and drink differently, and each of us has different components of sweat. In the field test, however, the color transfer occurred in all testers. We thought, what if the sweat was not the major reason? We carefully checked the results of the color fastness test and some scores showed that the color fastness of water, not limited to perspiration, performed poorly. The results suggested that if the Shadow Rip got wet, not only by sweat, and in contact with white or light-colored fabric, the color transfer occurred.
Thus, we initiated a thorough investigation. The indexes include the color fastness to washing, perspiration, water, friction/rubbing, etc., and clothing companies control the quality of their products by setting the acceptability criterion individually. The common grading of color fastness ranges from 5 (outstanding) to 1 (very poor) with an intermediate grade between two grades. For example, the Grade 4-5 is set between the Grade 4 and Grade 5, so there are nine grades in total. Some casual clothes pass the quality control test if they are graded 3-4, and if graded 4, they are satisfactory for most manufacturers.
We tested 100% polyester clothes by other outdoor gear makers marked Grade 4 in fastness to both perspiration and water. It seemed that Grade 4 was the acceptability criteria for many outdoor brands, but we experienced stains caused by color transfer on white sample fabrics even though they were graded 4.
We adopted the Shadow Rip for shirts, which meant that hikers were likely to wear them over the base layer T-shirts. The Shadow Rip shirts may be in contact with all kinds of base layer T-shirts, soaked in sweat for many hours, so we need to be ready for the possible color transfer, and how to deal with them if they occur.
Likeliness of Color Transfer
What are the characteristics of polyester fabrics? We manufactured many nylon clothes but were not fully knowledgeable about polyester, the material of the Shadow Rip. Compared to natural fibers such as cotton and wool, synthetic fibers including nylon and polyester are considered less prone to color fading or transfer. According to our field test, however, the color transfer did occur in many situations, sometimes quite easily.
Upon further research, we learned that polyester is resistant to color fading and color transfer, except for prolonged submersion in water. To summarize, the cause of color transfer of polyester fabrics, which are said to be resistant to color transfer, is as follows: In the finishing process of fabrics, the excess dye remaining in the fibers is usually removed by washing, and then the color is firmly stabilized. But if the process of dye removal is inadequate, the unfixed dye may remain on the fibers and the color may bleed out when moisture gets on the fibers or when they are washed.
Is the color transfer of the Shadow Rip also caused by the remaining dye in the manufacturing process? We compared the unwashed Shadow Rip fabrics and the ones that were washed several times to see the difference of color fastness of both fabrics. As a result, the latter performed much better in the Color Fastness Test, meaning that the color transfer was less likely. Namely, the washing process removed the remaining dye in the fibers.
We shared this information with the fabric manufacturer, and they shared their detailed finishing process of the fabric. According to them, normally the dye is stabilized at a high temperature, but for this fabric, it was set a little lower to enhance the soft texture. It was possible that the low temperature of the dye stabilization process was the cause of the relatively poor color fastness performance. In exchange for the soft and comfortable texture, the color fastness test may have scored lower than usual. The person in charge also told us that polyester is generally more prone to color transfer than nylon.
Solution
This information was proven by the experiment performed by the testing agency. According to their explanation, polyester fibers are more weakly combined with the dye than nylon, depending on how they are dyed. They also taught us that if there is even a slight mismatch in dyeing conditions, the dye is less stabilized, thus causing the possible color fading and color transfer.
We confirmed that after the excess dye was washed out, the color fastness of dark-colored Shadow Rip fabrics improved and was graded as 4-5 or even 5, and there was almost no concern about color transfer. Therefore, we decided to sell the items after pre-washing them at the factory to remove the excess dye in the fibers.
This is how our new Shadow Rip items were launched. The tests and investigations gave us an opportunity to deepen our understanding of color fastness. The grading of color fastness is a theoretical criterion and it functions as a rough standard, and is not always perfect. It is necessary to make judgments by setting our acceptability criteria based on each product's concept, usage situations, and other factors. Our research on color fastness will be summarized on our webpage shortly.
If color fastness is a priority, only limited colors will be available. For us, however, both function-oriented design that maximizes the usability, and freedom of color choice are equally important. While we continue to improve the resistance to color fading as much as possible, we will keep disclosing information and enhancing transparency so that customers can check if there is any possibility of color transfer in advance.
Form and Function
Lighter than a T-shirt
At only 84g in size XS, we've created a shirt that is lighter than a T-shirt.
The fabric uses the strong but ultralight Teijin Shadow Rip, only weighing about 56g/㎡, achieving both breathability and durability.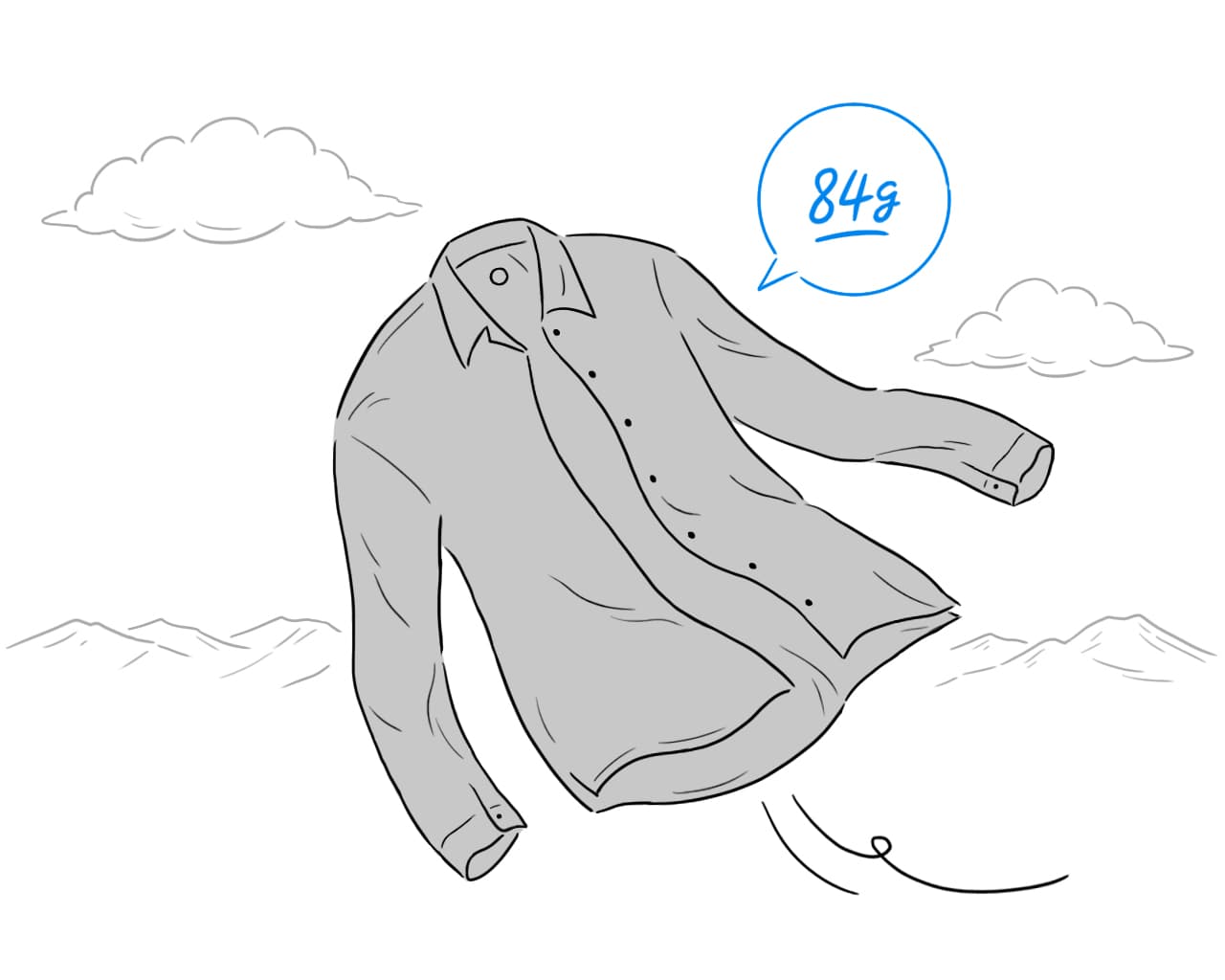 Trail Shirt
Woven fabric, which is often used as a material for shirts, is densely woven by warp and weft yarns. As a result, for the same weight and material, it is usually more windproof, dries faster, and is more durable than knitted fabrics, which are commonly used for base layers.
Furthermore, the UL Shirt adopts the basic "shirt" design, allowing for good ventilation by opening the front buttons. The essence of the shirt, the wind-protective fabric, and the good ventilation is namely the key feature of our hiking trail shirts.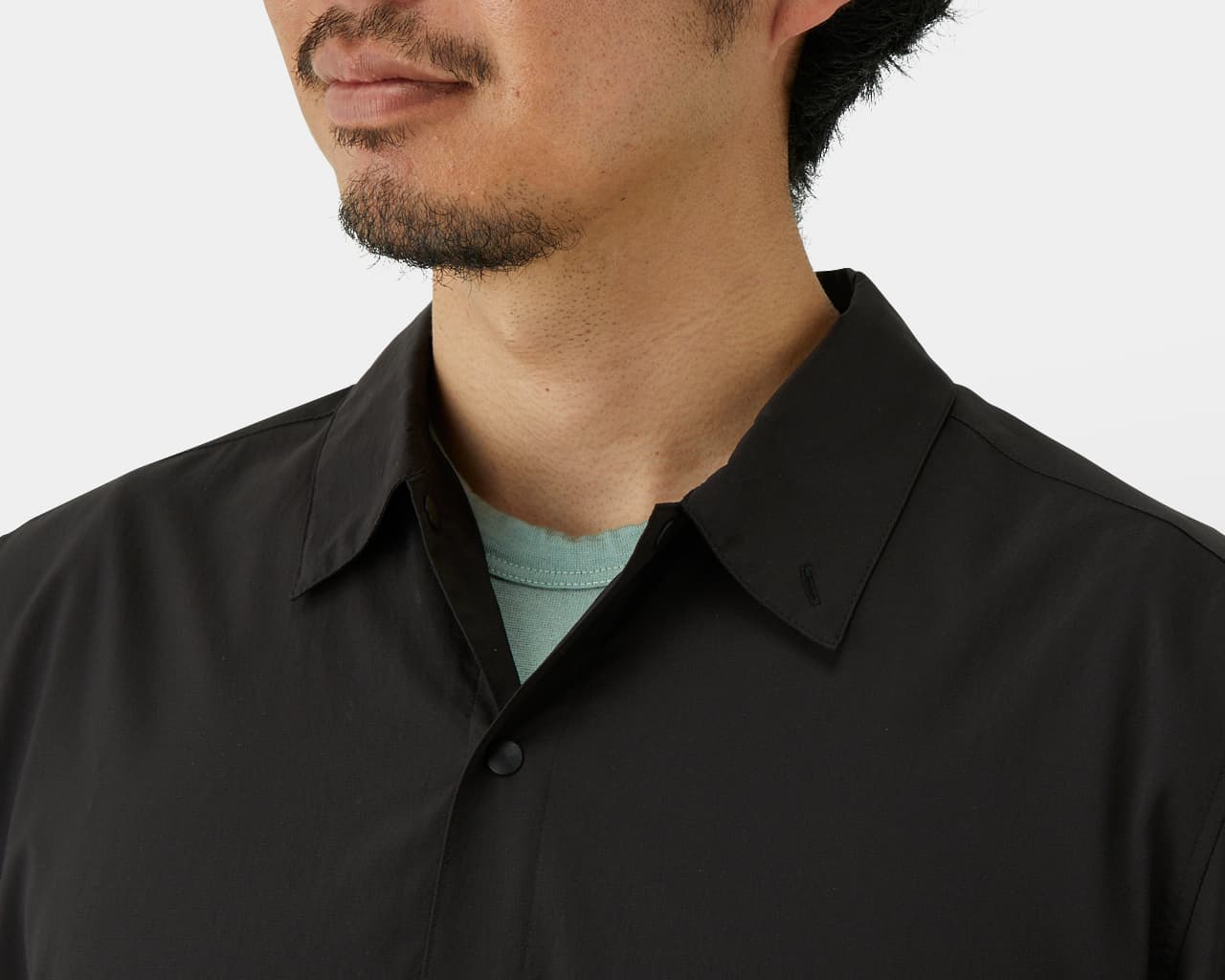 An open-collared shirt offers good ventilation.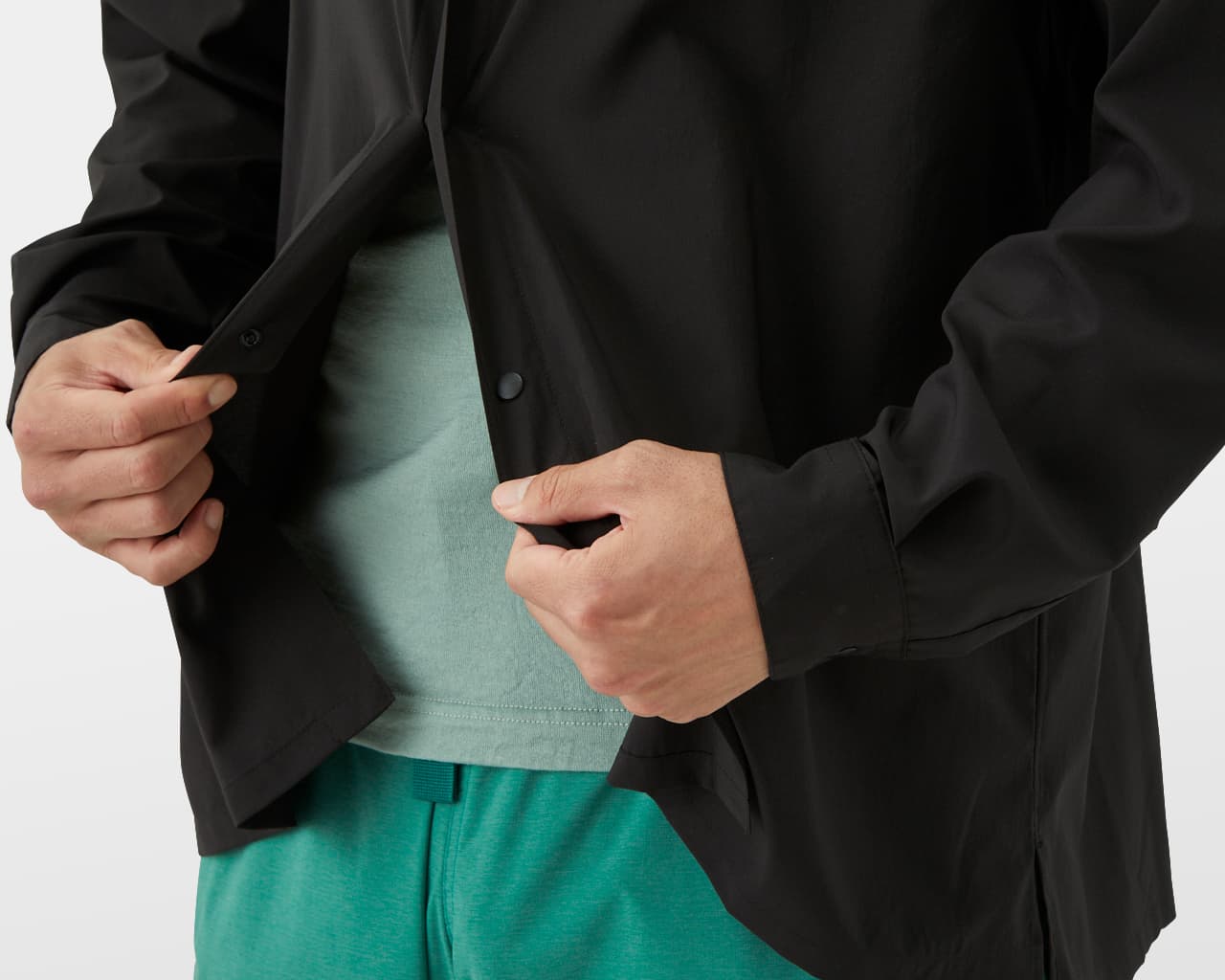 Snap buttons allow for speedy opening and closing while on the move.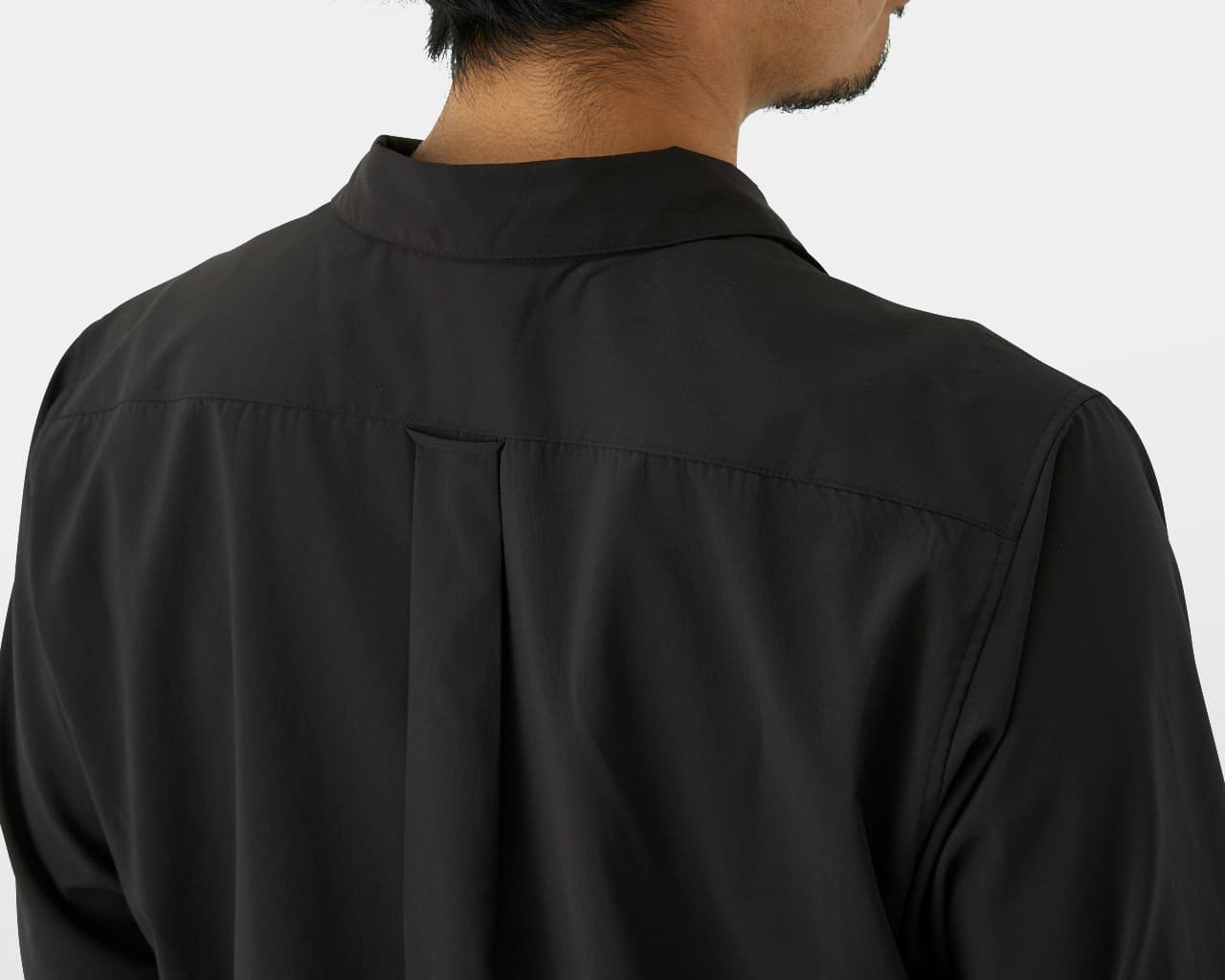 The back is pleated for easier arm movement, while a loop on the inside allows it to be hung for drying.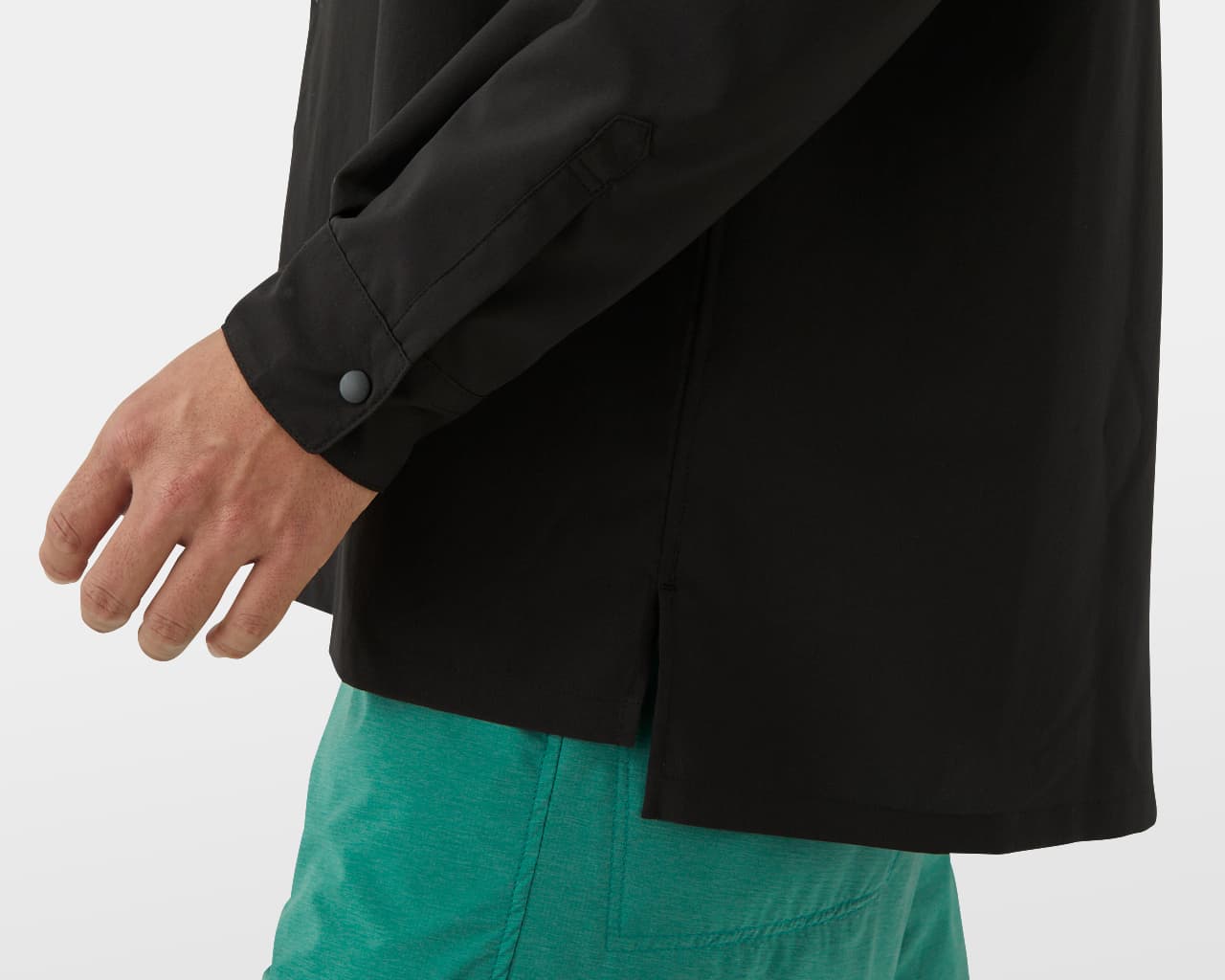 The hem has slits on both sides, while the tail is slightly longer in the back than the front. The sleeve plackets do not have buttons, making the sleeves easier to roll up.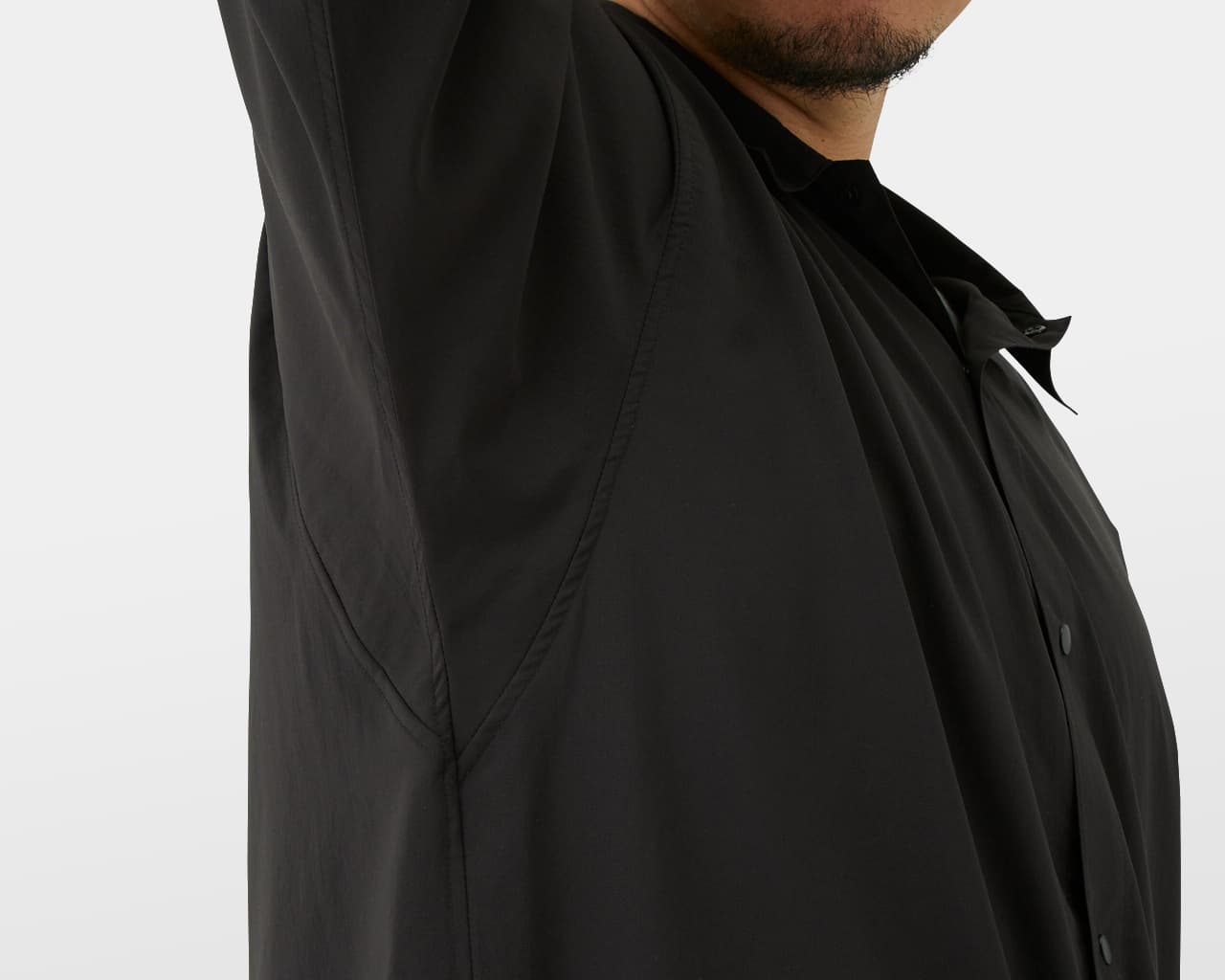 The design incorporates pivot sleeves, where the arm holes are extended under the armpits so as not to impede arm movement.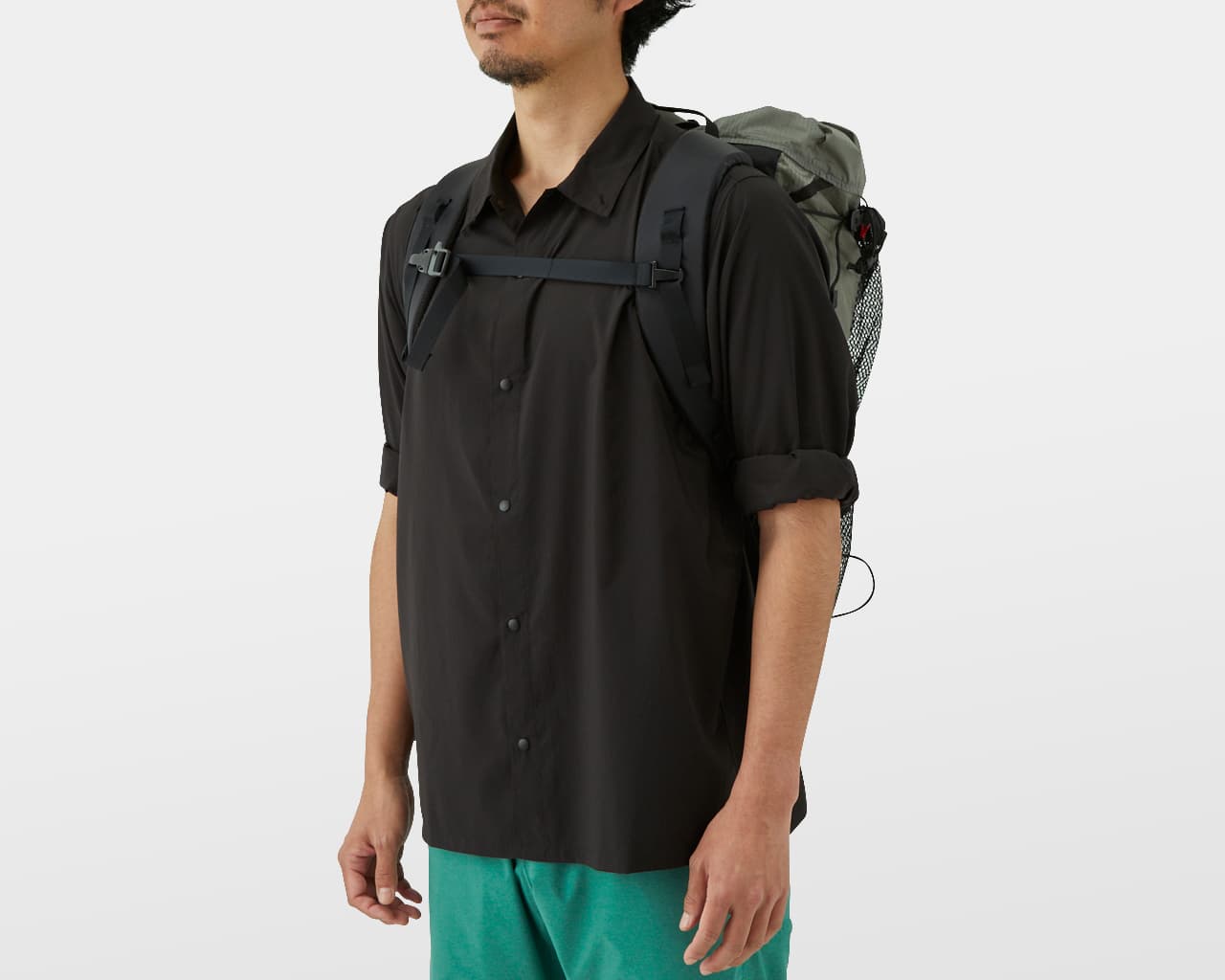 The sleeves with wide openings can be rolled way up to your upper arms with ease.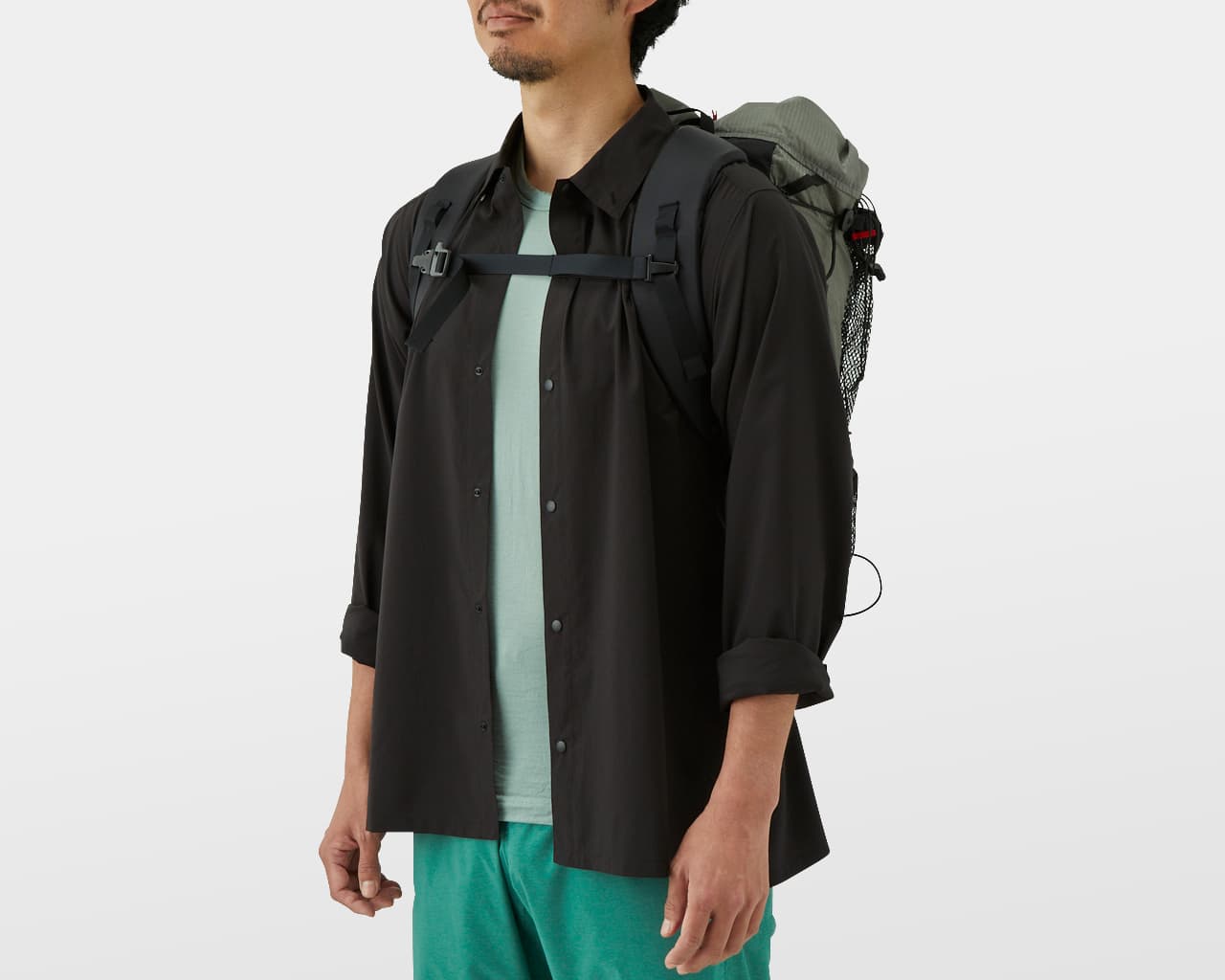 Keep the shirt open and roll up the sleeves for good ventilation if it gets a bit too hot.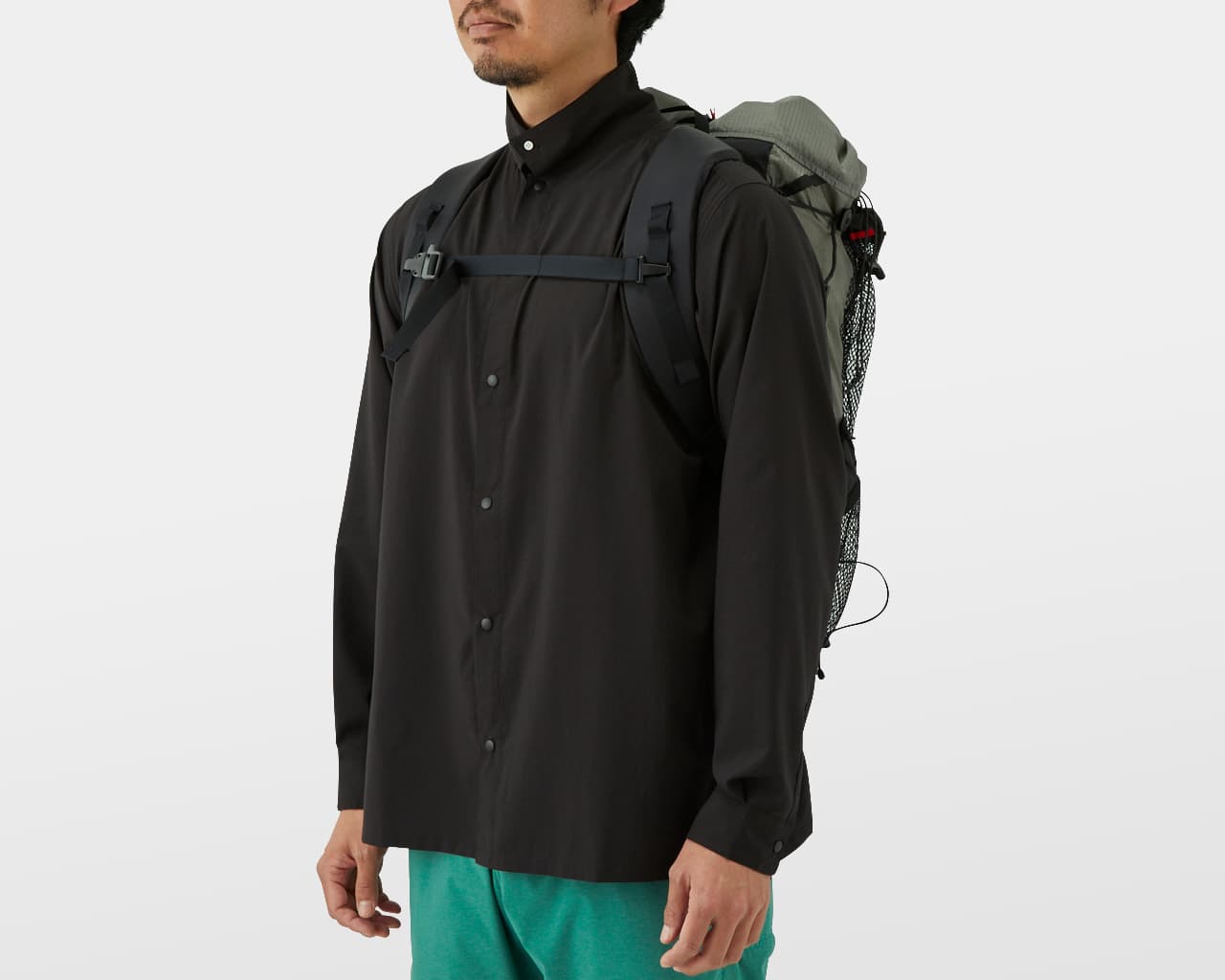 It can be used like a windshell jacket by fastening up the button to the neck.
Wrinkle-proof
Even after tightly shoved into a backpack or squished into a pocket, the UL Shirt made of Shadow Rip rarely wrinkles and is always ready to be worn.
Super Compact
The shirt is so compact it fits in the palm of your hand when folded, making it perfect as a change of clothes when hiking or traveling.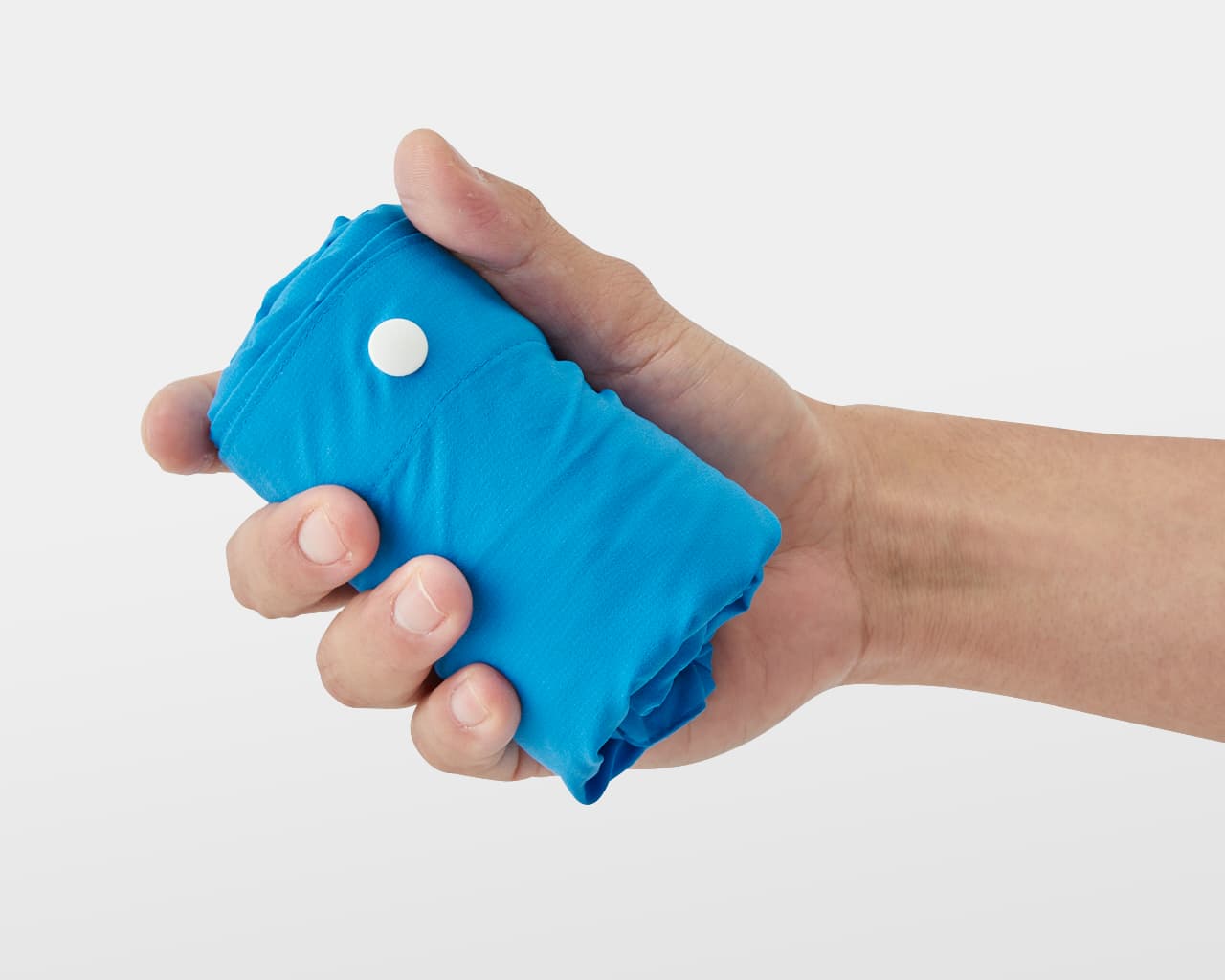 Raised Collar
On a chilly morning or late evening, turn up your collar and secure it with the added button to keep out the chill. A turned-up collar also helps to prevent your neck from getting sunburned when the sun is up.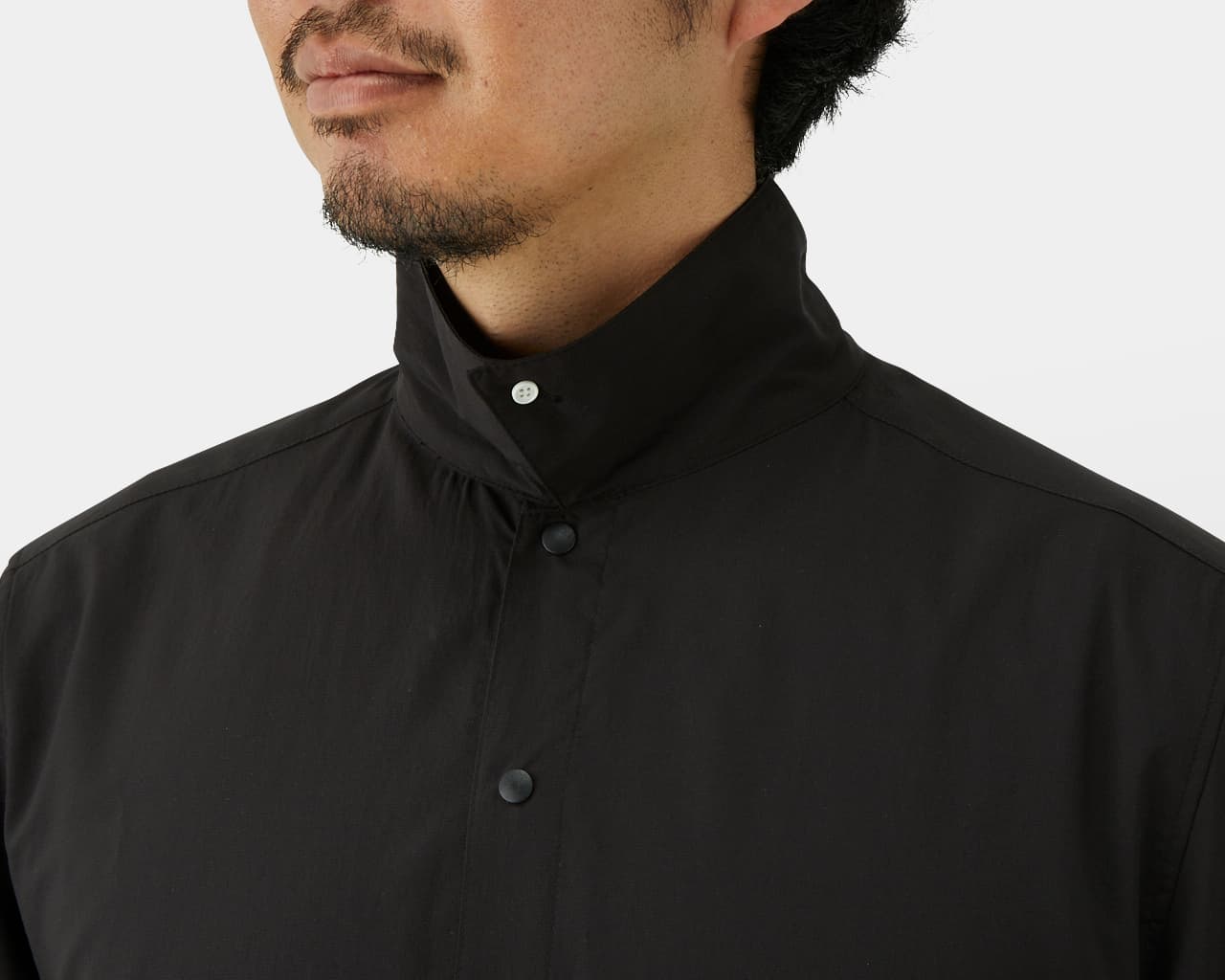 Fast-drying
The UL Shirt is as fast-drying as the highly wicking base layers.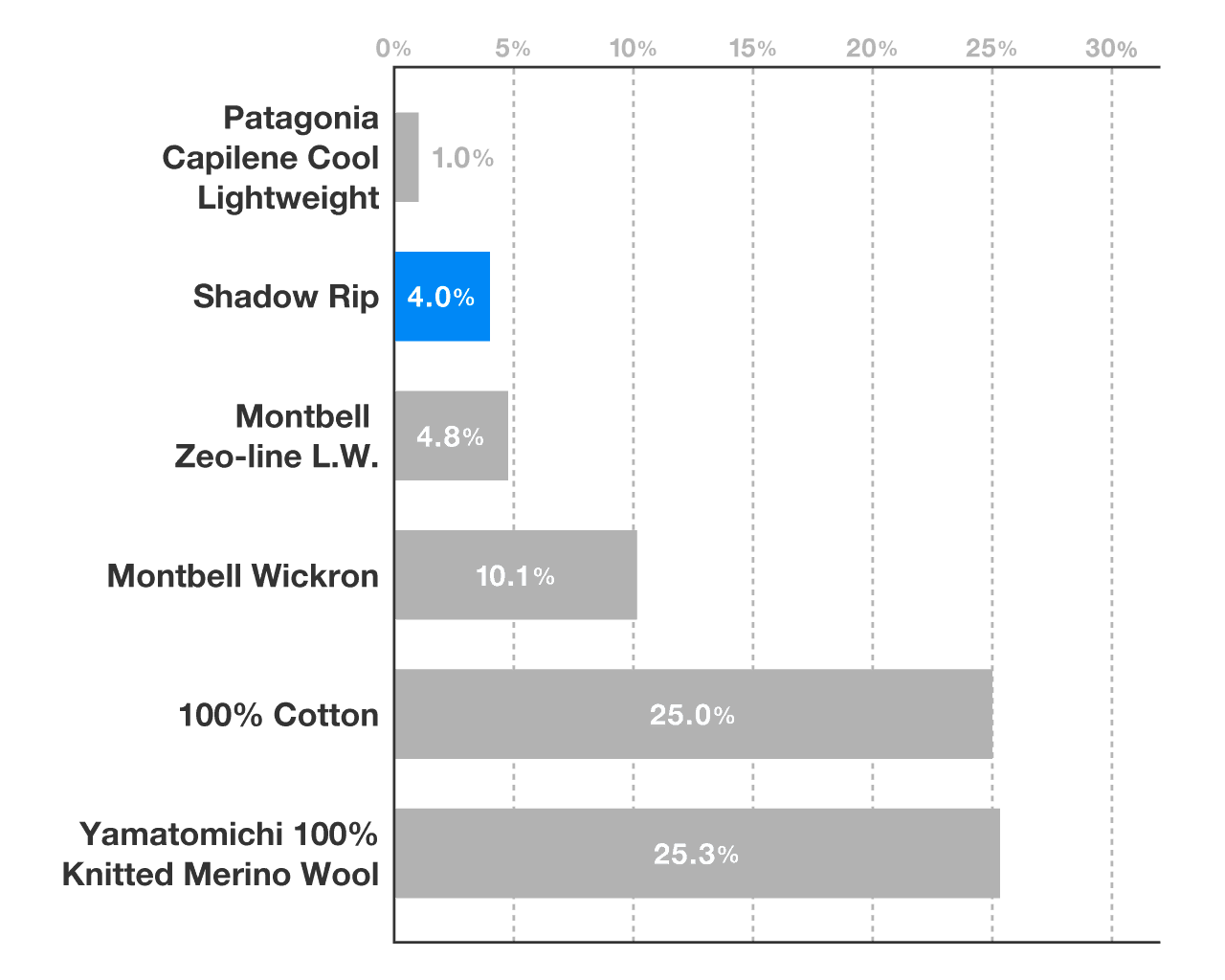 Moisture Content after 15 min of Spin-dry
The chart shows the moisture content in the Shadow Rip fabric after 15 minutes of drying. It compares our shirt with the base layers of a major manufacturer, as well as our merino wool products and a standard cotton shirt.
On and Off the Trail
Wear the shirt as a thin windbreaker on top of your base layer or bring it as a change of clothes for when you get off the trail and head for the nearest bar.
The UL Shirt's smooth Shadow Rip fabric, fast-drying and ventilation performance will always keep you comfortable.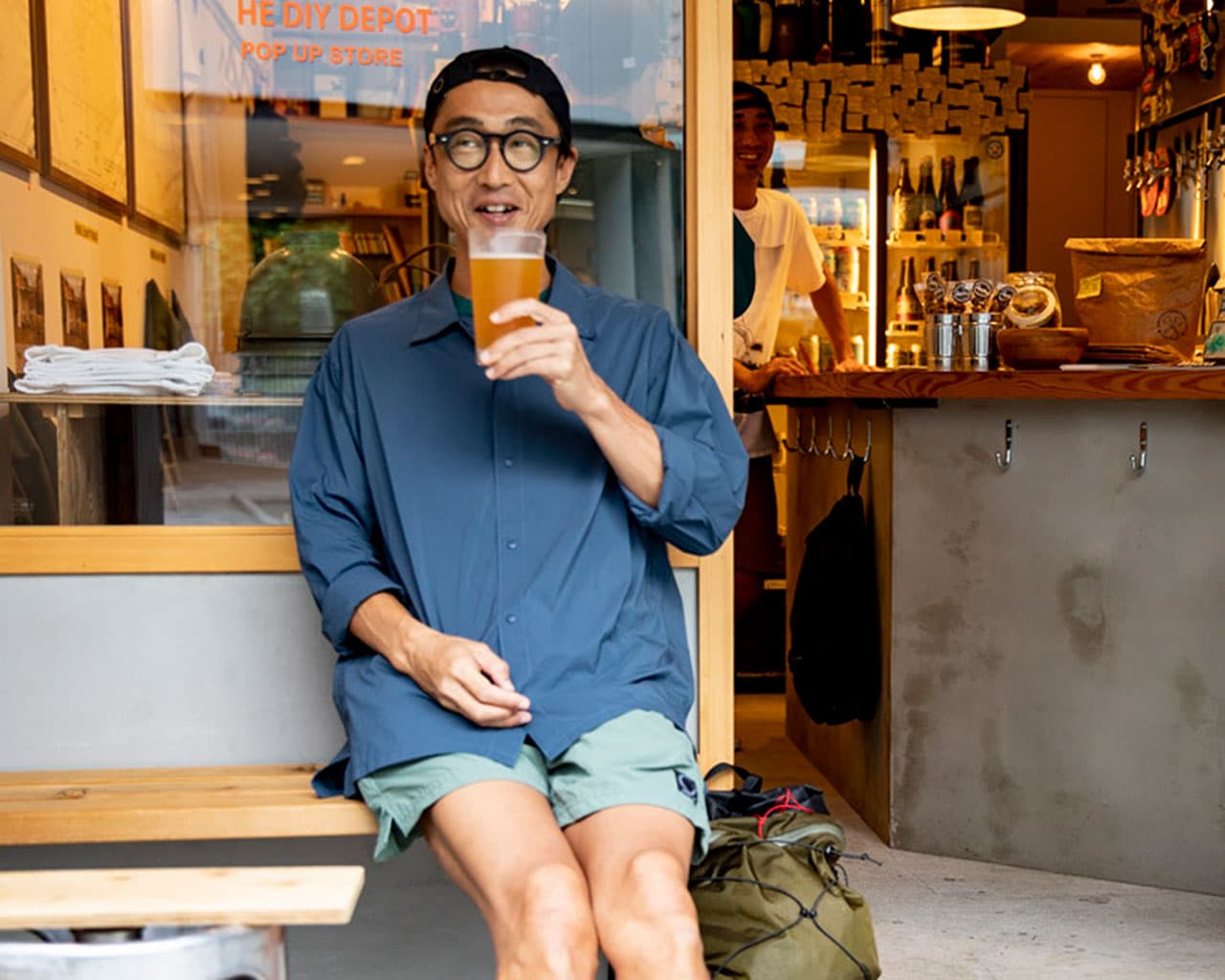 Good beer after hiking in Kamakura
Trail Shirt Series Comparison
UL Shirt
Material: Shadow Rip (100% Polyester) 56g/m² C0 DWR
Ultralight, wrinkle-proof, and extremely portable. Highly versatile and easy to use, both as activewear and as a change of clothes. Soft to the touch.
Merino Shirt
100% Merino Wool 130g/m²
Keeps you comfortable with its high breathability and excellent temperature/humidity control. On the other hand, in midsummer, you may find wool a little too hot in the city or low mountains. Has a slightly firm texture similar to linen.
Bamboo Shirt
Bamboo Polyester (50% Rayon, 50% Polyester) 118g/m²
Bamboo polyester material has deodorant and moisture control functions similar to wool and the functionality of synthetic fiber such as polyester. It has a moist texture and superior sweat absorbency compared to the other two products. It develops a unique texture over time.
| | Lightness | Deodorant performance | Moisture control | Fast-dry performance | Wrinkle-proof | Strength | Breathability | Water-repellency | Insulation performance | UV protection |
| --- | --- | --- | --- | --- | --- | --- | --- | --- | --- | --- |
| UL Shirt | Excellent | Poor | Poor | Excellent | Excellent | Good | Good | Good | Average | Good |
| Merino Shirt | Average | Excellent | Excellent | Average | Average | Average | Excellent | Poor | Average | Poor |
| Bamboo Shirt | Average | Good | Good | Average | Good | Excellent | Average | Poor | Average | Excellent |
Moisture control: The property of keeping the humidity inside the garment at a constant level, dry when it's damp, while moist when it's too dry.

Breathability: Higher means better ventilation, while lower means it is more wind-protective.

UV protection: Ability to block the sunlight's ultraviolet rays.
Material
Shadow Rip: Lightweight, Strong, Durable
The mountain environment can be harsh; the weather is often unstable, temperature changes drastically, the wind is strong and the sunlight is intense. In these situations, it is necessary for the outdoor shirt to achieve both a high level of breathability and windproof performance at the same time. Our newly-adopted Teijin's Shadow Rip fabric is breathable yet windproof while being light and strong.
Usually, thin and light fabrics have a ripstop structure, in which thick yarns are interwoven in a grid pattern in order to enhance tear resistance. This structure, however, often creates an unsmooth surface, causing the pilling due to weak wear resistance.
Shadow Rip is woven with fine, highly strong yarn to achieve a smooth appearance, and offers excellent resistance to snagging and abrasion while being light and strong. It is also wrinkle-proof and pilling-proof, featuring a soft texture.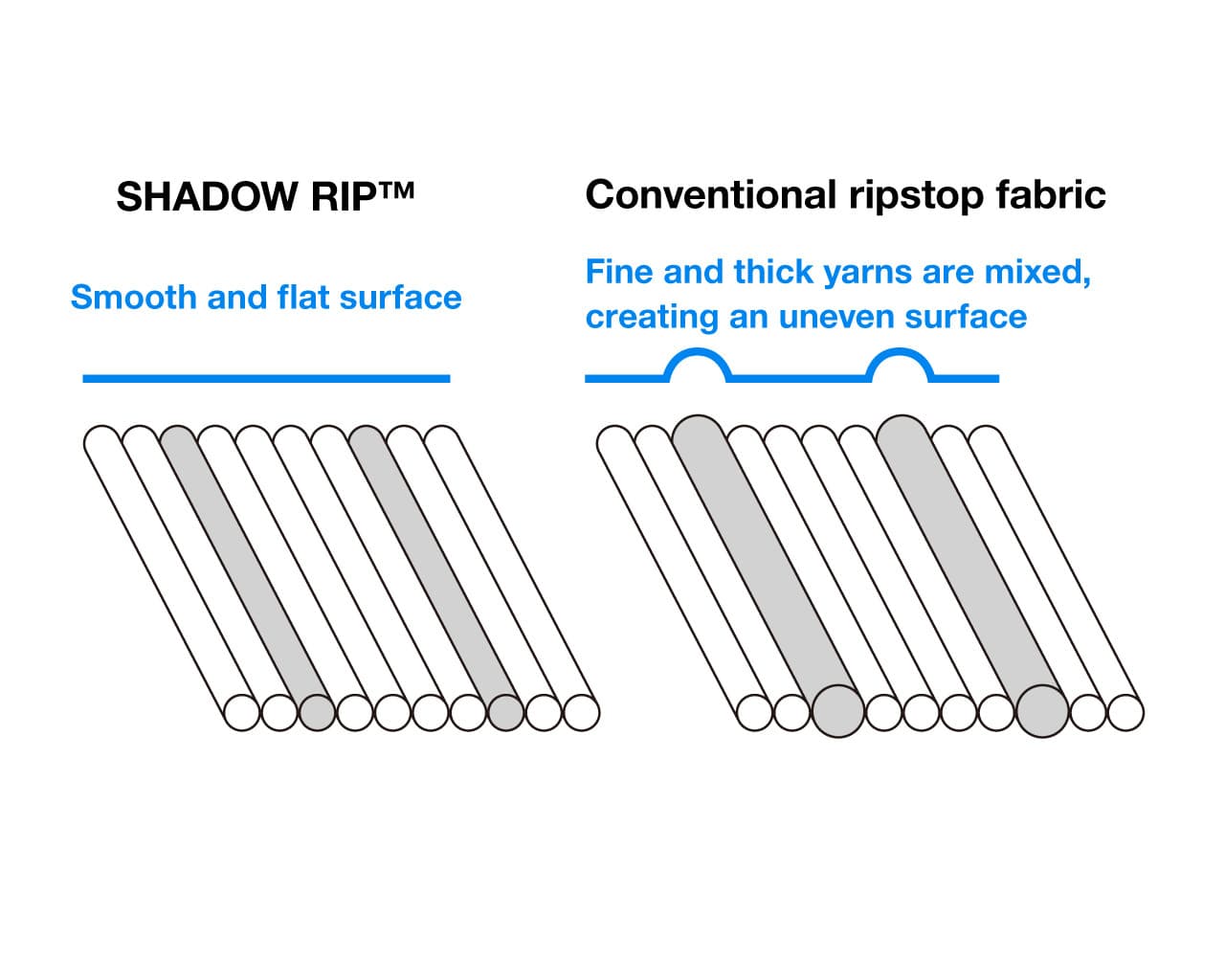 Material:
Shadow Rip (100% Polyester) 56g/m²
30d
C0 DWR
Spec:
Tear strength measured by JIS L1096D (In-house test)
Vertical: 2kg, Horizontal: 2kg
Tensile strength measured by JIS L1096A (In-house test)
Vertical:48kg, Horizontal: 43kg
Breathability measured by JIS 1096A (In-house test)
34cmᶟ/cm²/sec
UPF sun protection
30
Size
Hide 178cm-68kg
Size L (Indigo)
Hide 178cm-68kg
Size L (Indigo)
Shiori 167cm-55kg
Size S (Duck Green)
Shiori 167cm-55kg
Size S (Duck Green)
Ichiro 170cm-56kg
Size S (Navy)

Ichiro 170cm-56kg
Size M (Sand)

Ippei 172cm-62kg
Size M (Mustard)

Ippei 172cm-62kg
Size L (Duck Green)

Hide 178cm-75kg
Size L (Storm Gray)

Pony 173cm-76kg
Size L (Mustard)

Pony 173cm-76kg
Size XL (Black)

Tsuka 183cm-65kg
Size L (Glacier White)

Tsuka 183cm-65kg
Size XL (Navy)
Ichiro 170cm-56kg
Size S (Navy)

Ichiro 170cm-56kg
Size M (Sand)

Ippei 172cm-62kg
Size M (Mustard)

Ippei 172cm-62kg
Size L (Duck Green)

Hide 178cm-75kg
Size L (Storm Gray)

Pony 173cm-76kg
Size L (Mustard)

Pony 173cm-76kg
Size XL (Black)

Tsuka 183cm-65kg
Size L (Glacier White)

Tsuka 183cm-65kg
Size XL (Navy)
Nana 151cm-47kg
Size XS (Burgundy)

Eriko 158cm-47kg
Size S (Mustard)

Kanade 161cm-56kg
Size XS (Glacier White)

Shiori 167cm-55kg
Size S (Duck Green)

Shiori 167cm-55kg
Size M (Black)

Yumiko 170cm-59kg
Size M ( Storm Gray)
Nana 151cm-47kg
Size XS (Burgundy)

Eriko 158cm-47kg
Size S (Mustard)

Kanade 161cm-56kg
Size XS (Glacier White)

Shiori 167cm-55kg
Size S (Duck Green)

Shiori 167cm-55kg
Size M (Black)

Yumiko 170cm-59kg
Size M ( Storm Gray)
推奨サイズ / Recommended Size
Size
XS
S
M
L
XL
体重 / Weight
kg
42~53
51~61
59~69
67~78
76~85
胸囲 / Chest
cm
78~84
80~88
84~95
92~102
100~110
製品サイズ / Product Size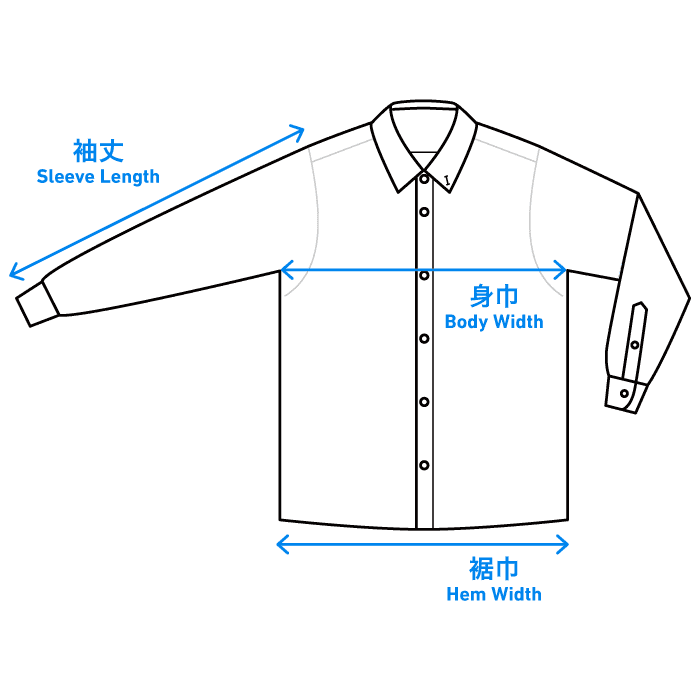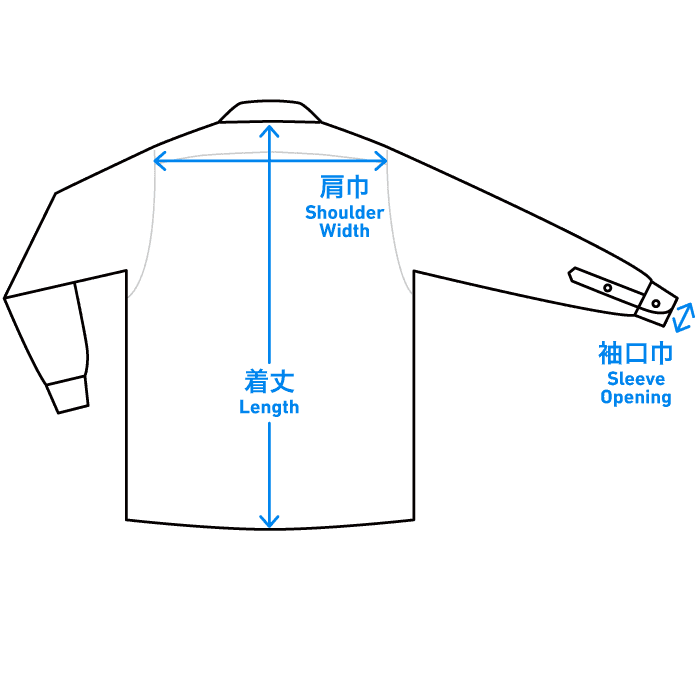 | Size | XS | S | M | L | XL |
| --- | --- | --- | --- | --- | --- |
| 着丈 / Length | 67 | 70.5 | 72.5 | 74.5 | 76.5 |
| 肩巾 / Shoulder Width | 39.5 | 42.5 | 44.5 | 47.5 | 51.5 |
| 身巾 / Body Width | 53 | 58 | 60.5 | 64.5 | 69.5 |
| 裾巾 / Hem Width | 49.5 | 54.5 | 57 | 61 | 66 |
| 袖丈 / Sleeve Length | 55 | 60.5 | 61.5 | 63 | 64.5 |
| 袖口巾 / Sleeve Opening | 9.5 | 10 | 10.5 | 11 | 11.5 |
The design has been revised since 2022 as follows:
The center, instead of the sides, of the back is pleated.

The shoulder width has become slightly smaller.

Instead, the sleeve length has become slightly longer and as a result, the overall measurement from the center of the back of the neck to the sleeve end remains the same.
Instructions
Care Instructions
Use a neutral detergent and wash at 40°C or lower.
Wash separately or use a laundry net bag.
Line dry in the shade.
Tumble dry below 60°C.
Do not bleach and do not use fabric softener.
Iron on low. Do not steam.
Do not dry-clean.
Payment
We only accept payment by credit card. We currently do not accept payment via bank transfer from overseas accounts.
We accept the following Credit Cards: Visa, Master, American Express, and JCB.
To download your receipt, please click the link included in the Dispatch Notice, which we will send by email as soon as the items are dispatched.
Delivery
Order Confirmation will be sent after the order.
The items will be dispatched within 3 days after the payment is confirmed.
The dispatch notice will be sent by email as soon as the items are dispatched.
The delivery may be delayed by unforeseeable reasons such as natural disasters and other logistics issues. We appreciate your patience and understanding.
We cannot ship multiple orders in one package due to how our delivery system is currently set up.
We will ship by DHL for overseas customers (excluding China, Hong Kong, Taiwan, Korea and Russia). For customers in China, Hong Kong, Taiwan, Korea and Russia, we will ship by EMS only.
Shipping costs vary depending on your country and region.
Size Exchange
Overseas customers who need to change the size of their order, should note that the time needed for shipping will vary greatly depending on your country of residence.
We only accept exchanges when the item is unused (except for fitting).
If you wish to exchange the size of the item, please contact us within seven days of receiving your order.
Exchanges can only be made for the same color in a different size.
If the size you wish is out of stock, we will suggest a different color.
If the product is out of stock, we may simply have to ship the item back to you.
All shipping costs to be carried by the customer.
We will only send the exchanged item to you, upon receipt of return shipping cost via PayPal.
Please be aware that some countries charge customs duties depending on the price of the item.
We are unable to answer any questions on local customs. Please contact your local customs bureau.
Repair
We accept repairs for all of our Yamatomichi products. For inquiries on repair services including patching the holes, repairing with extra components, or fixing the items damaged over time, please feel free to contact us from the "Repair" section of the SUPPORT page.