Introduction
Quick Access to Snacks and Gear on the Move
Our Sacoche's rectangular design allows for easy access to your essentials on the move.
The wide gusset lets it stand on its own when loaded. The line lock strap can easily be tightened to keep it close to your body while walking, or loosened when grabbing a handful of trail mix, a map, or your headlight.
With a choice of three different materials and new color variations released every season, picking your favorite Yamatomichi Sacoche is part of the fun.
Color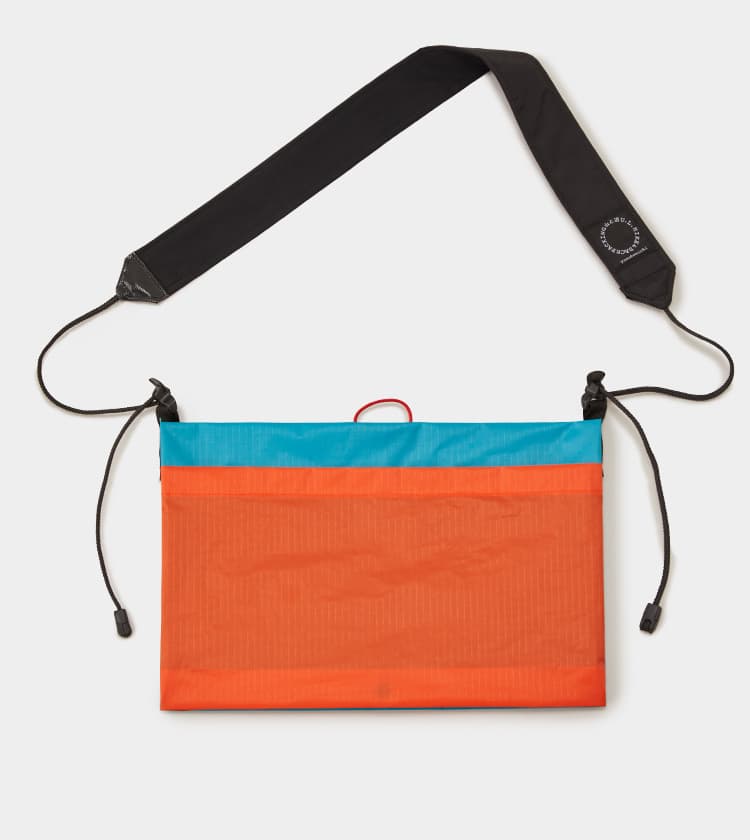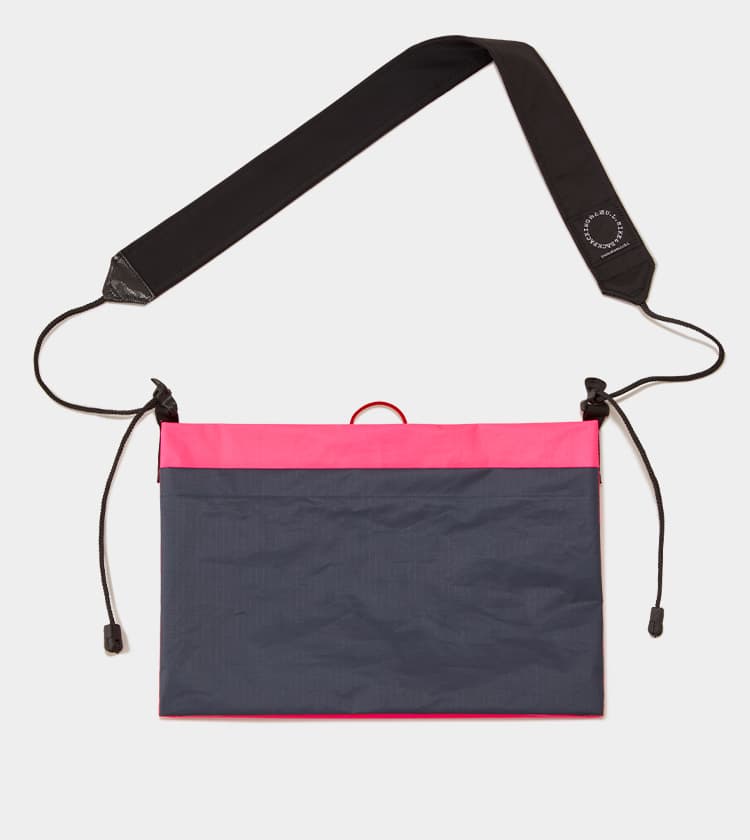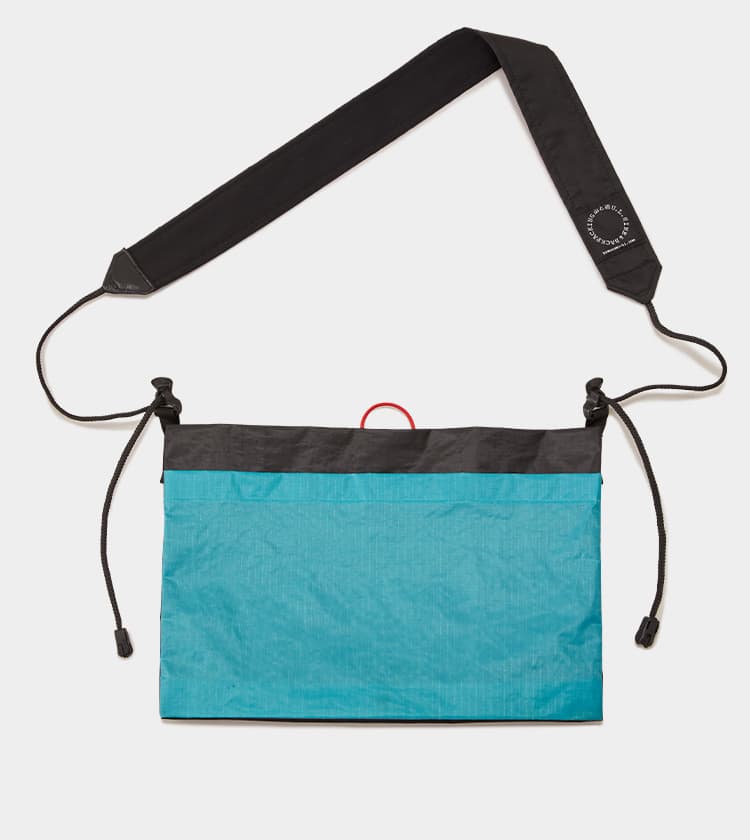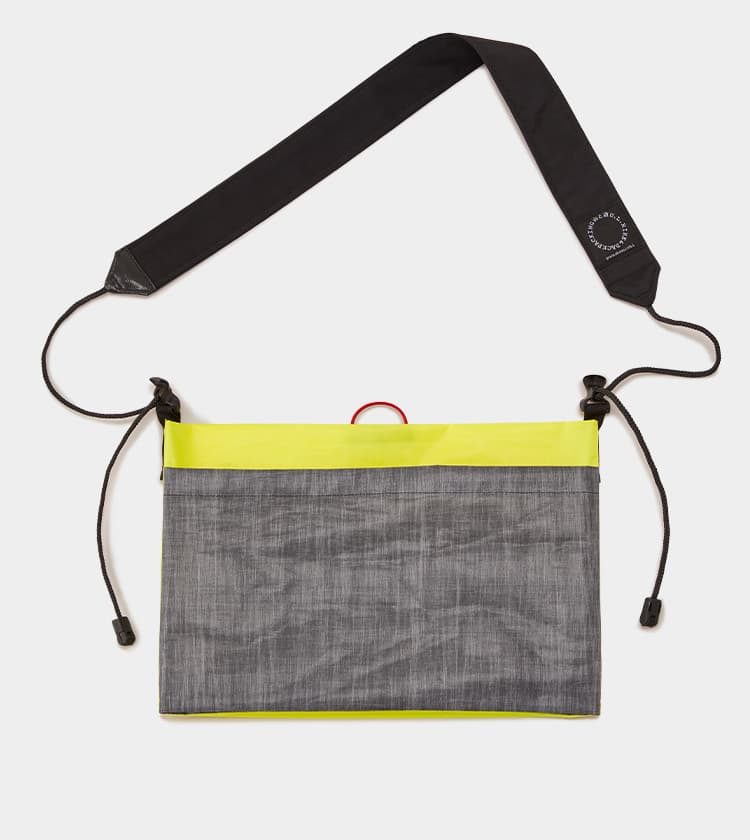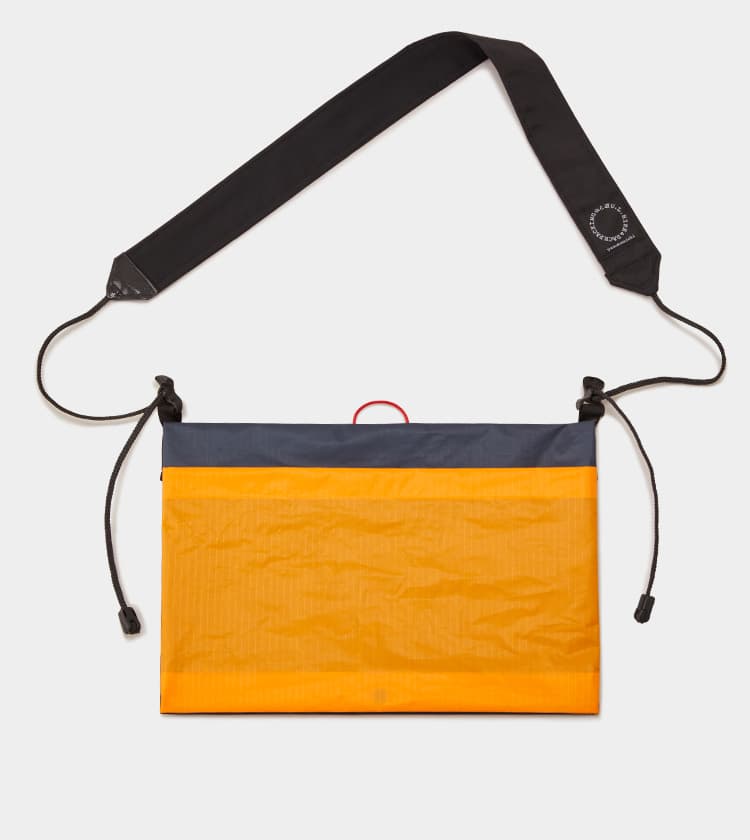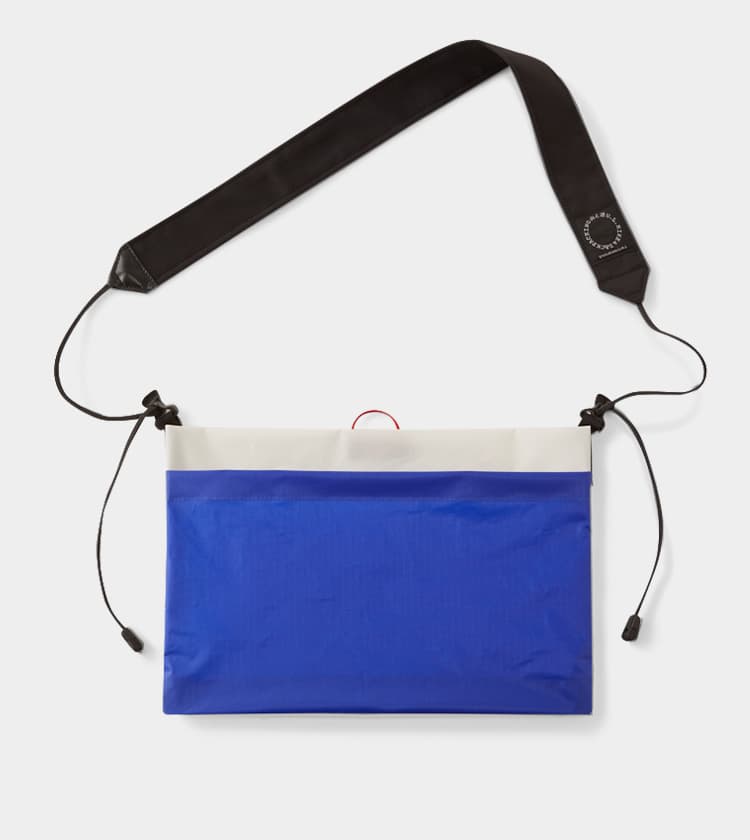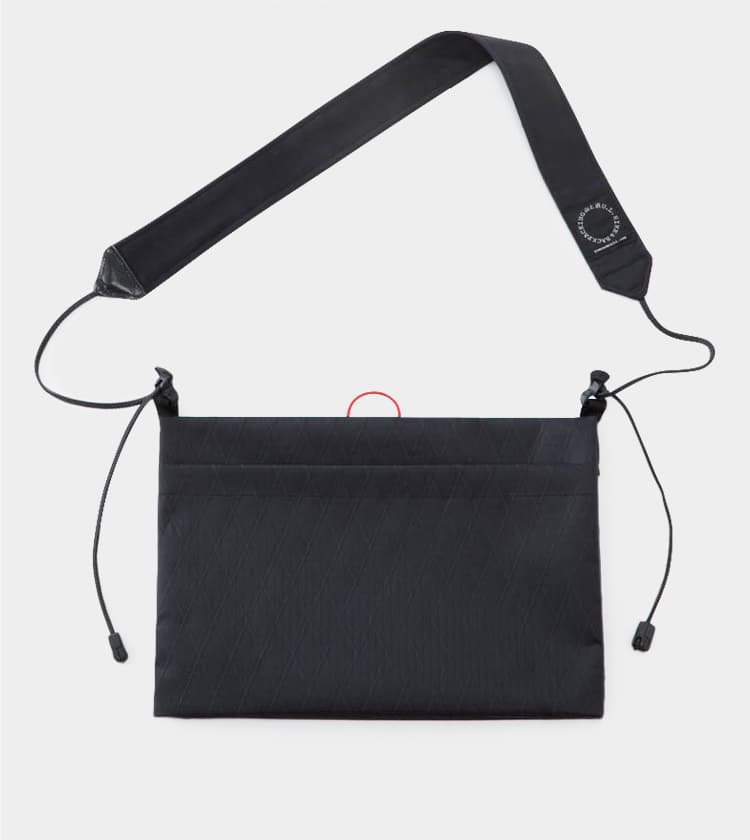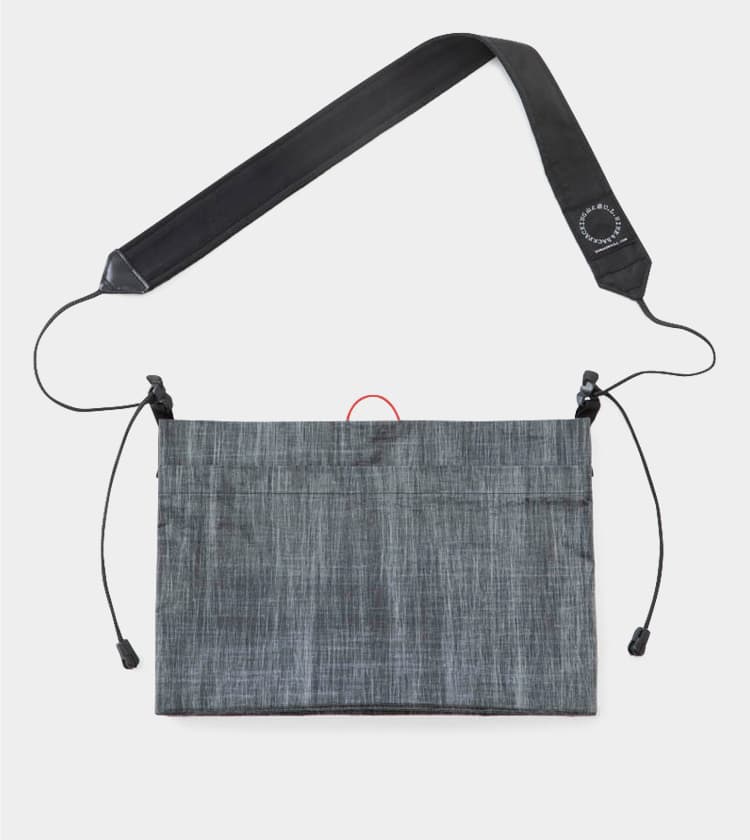 Spec
Made in Osaka, Japan
Size of Main Compartment:
W27cm x H18cm
Size of Front Pocket:
W27cm x H15cm
Width of Gusset:
9cm (Main Compartment 4.5cm x Front Pocket 4.5cm)
Main Material:
Fibermax 64(Spinnakers)
X-Pac VX07 Soft
X-Pac LS07
Shoulder Strap Material:
200D Oxford Nylon Fabric/ 89% Polyester, 11% Cupra
Weight:
46g/1.62oz – Fibermax 64 (Spinnakers)
65g/2.3oz – X-Pac VX07 Soft/Spectra Cross Diamond
58g/2oz – X-Pac LS07
*Weight may vary depending on the material and processing characteristics.
Product Story
UL Hiker's Must-have
Akira Natsume, Yamatomichi Founder
The first time I saw someone using a hiking sacoche —french for a small bag— was in an article back in 2009 in the Japanese mountain magazine BE-Pal about Tomoya Tsuchiya (Owner of the Hiker's Depot store in Mitaka, Tokyo) and his thru-hike of the John Muir Trail.
The pouch that he was using was made by Takashi Katsumata (a.k.a. Pei-san), a San Francisco resident, and frequent walker on the U.S. West Coast trails. This pouch, which was later released in its original design by Hiker's Depot as the "Hiker Sacoche BB Style," brought about light and a new approach to ultralight hiking.
Makoto Fujiyama, wearing the 2021 version X-Pac Gray color.
In 2010, my wife and I set out for the same trail with the BB Style Sacoche. We were very moved by the beauty and scale of the American West Coast and this trip had a profound impact on our way of thinking. We realized that the conditions of the American trails are very different from here in Japan and we decided to reflect our own experiences from living and hiking in Japan much more directly into our products. (For more on our John Muir Trail hike in 2010, see the Product Story of our ONE backpack.)
Upon returning to Japan, I designed our Sacoche to fit the conditions of the Japanese trails equipped with all the functions I yearned for: Neither too big nor too small, a wide opening allowing for easy access, and equipped with a quick height adjustment strap.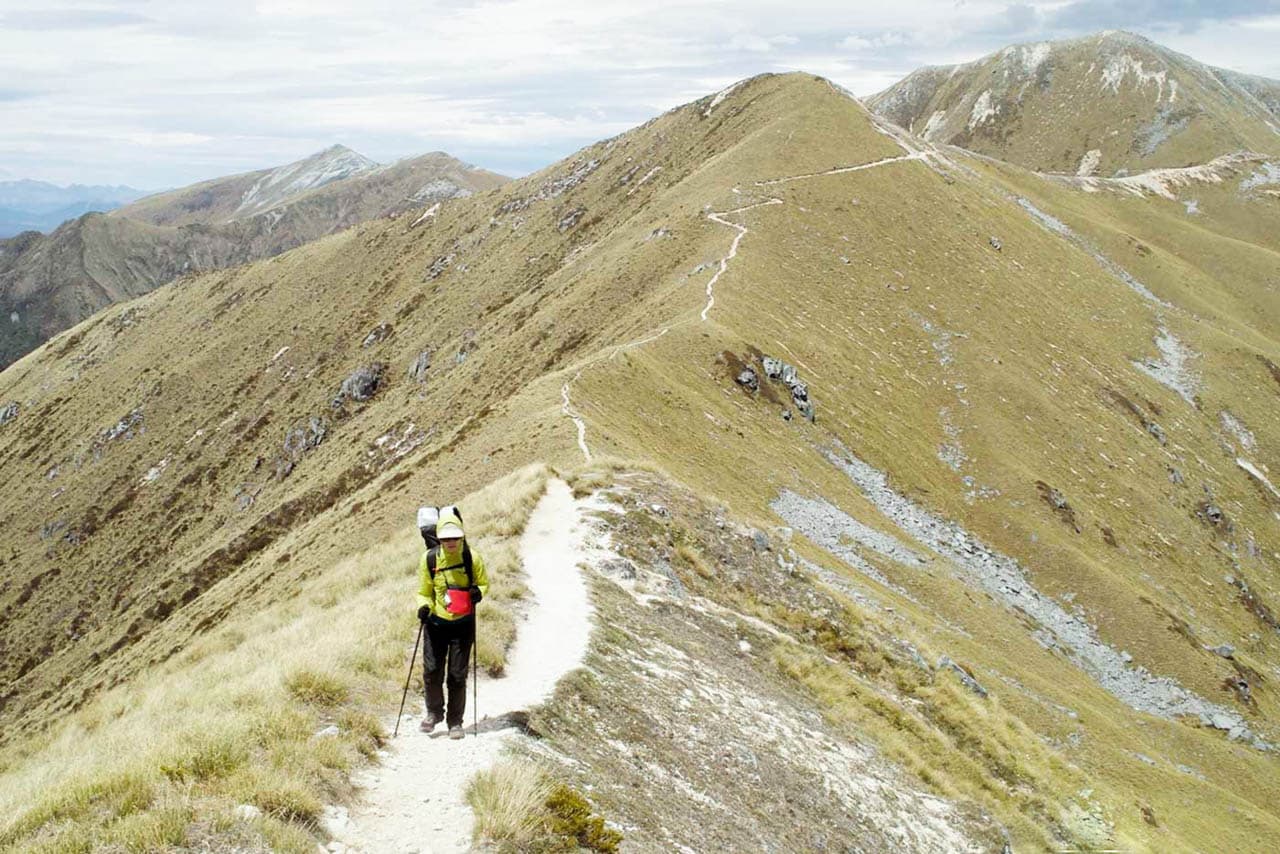 Kepler Track, New Zealand, 2012
I seriously thought about whether to include a zipper or not, but ultimately decided not to. I thought the sacoche would be easier to use if the top was kept open and you could take out what you wanted on the spot much like a tote bag, and its design would become simple and carefree without a zipper. By carrying the sacoche close to your chest, you don't have to worry about items falling out even on a steep trail. I have never had anything drop out while hiking.
Moreover, the line lock of the Yamatomichi Sacoche enables speedy strap length adjustment. I believe our sacoche is the very first product on the market to use a line lock often seen on a tent guyline for easy length adjustment.
Try our Sacoche once, and you will realize how handy and convenient it is for taking out your snacks, map, sunglasses, etc. while on the move. When sleeping inside a tent, you can store your valuables in your Sacoche beside you, and grab it if you need to go out for a short walk. You can also use it as a large wallet to keep your money and valuables close at hand when staying in a mountain hut or when shopping around town between hikes. (2017)
Form and Function
Easy-to-adjust Strap
When hiking in rugged terrain, as in many Japanese mountains, a low-hanging pouch might interfere with high leg movements. That's why we have made our Yamatomichi Sacoche easily height adjustable. Keep it high when on the move and lower for easy access when you need a snack.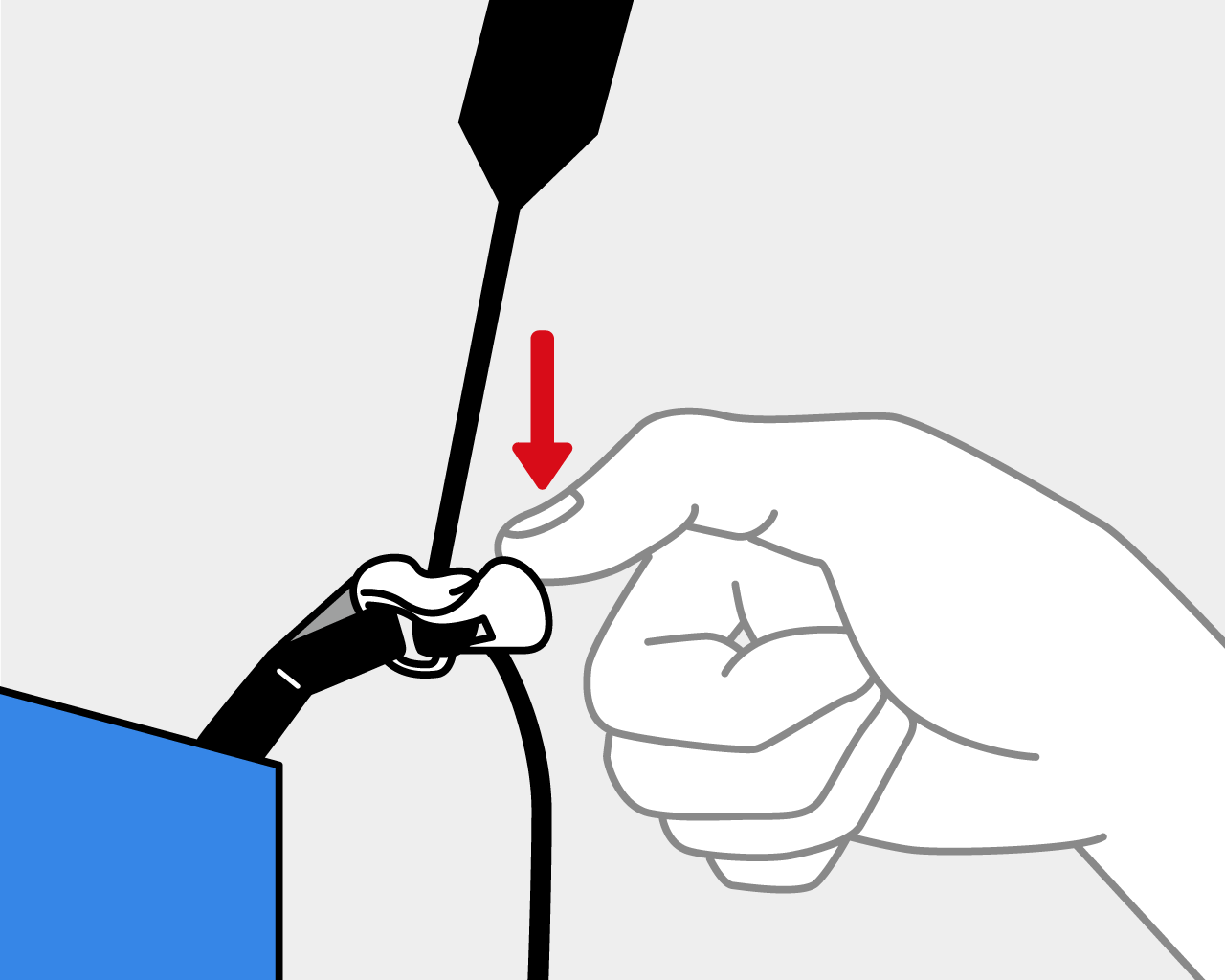 Loosen the line lock to lower the Sacoche.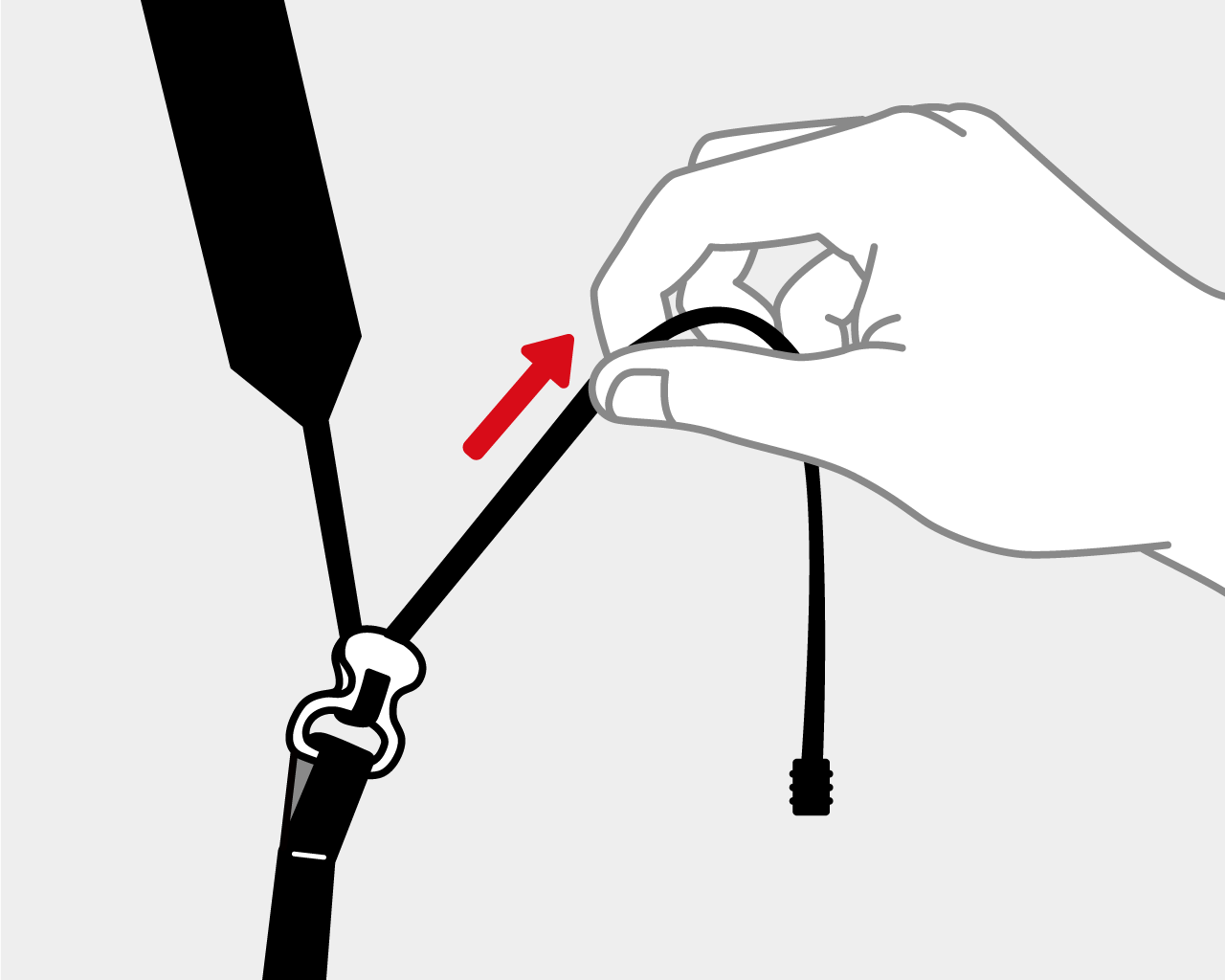 Draw the cord to bring the Sacoche up to your chest.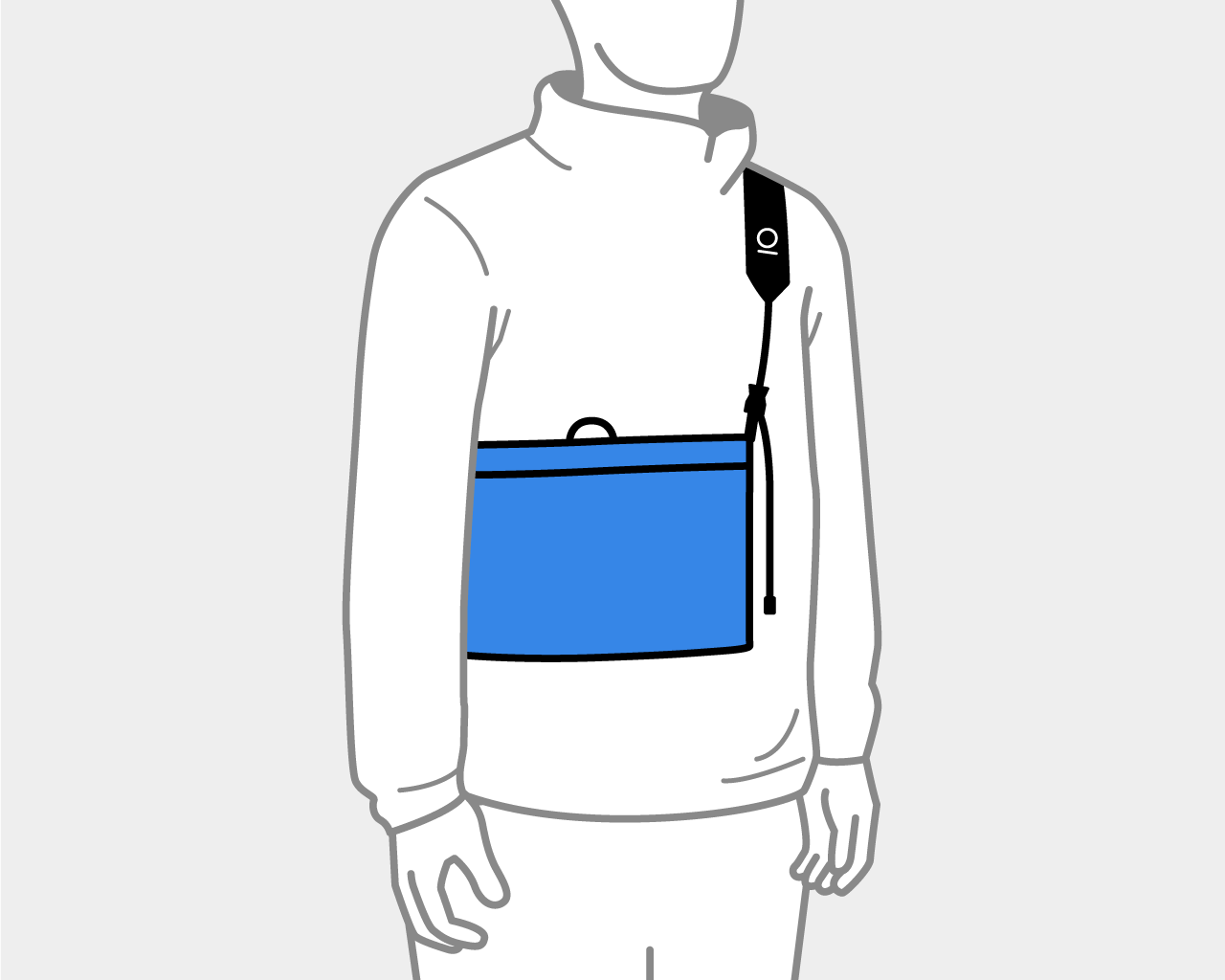 Keep your Sacoche at chest level while on the move. Lower it when you need to grab a snack.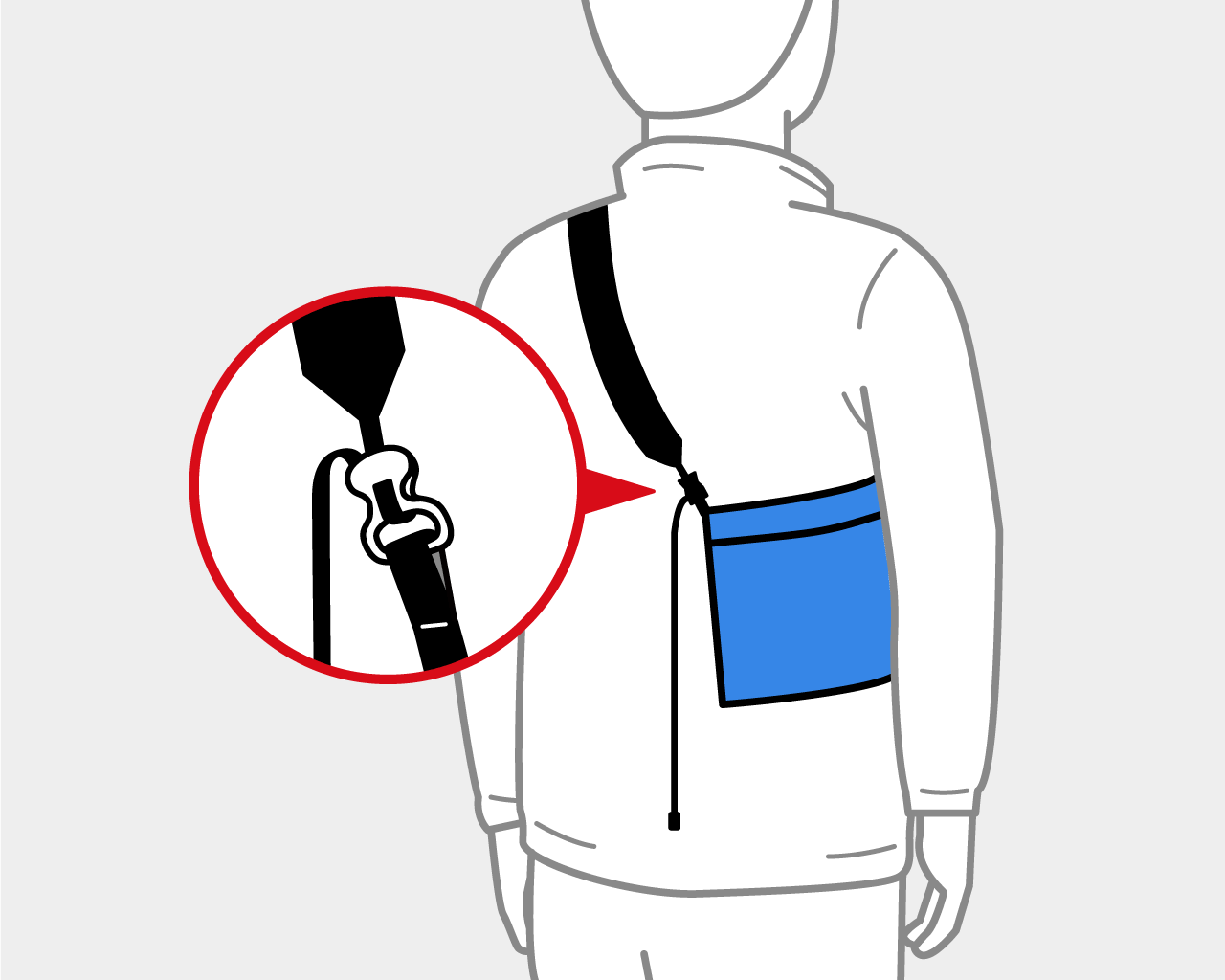 Keep the strap on the back short for smooth length adjustment.
Easy Access Horizontal Design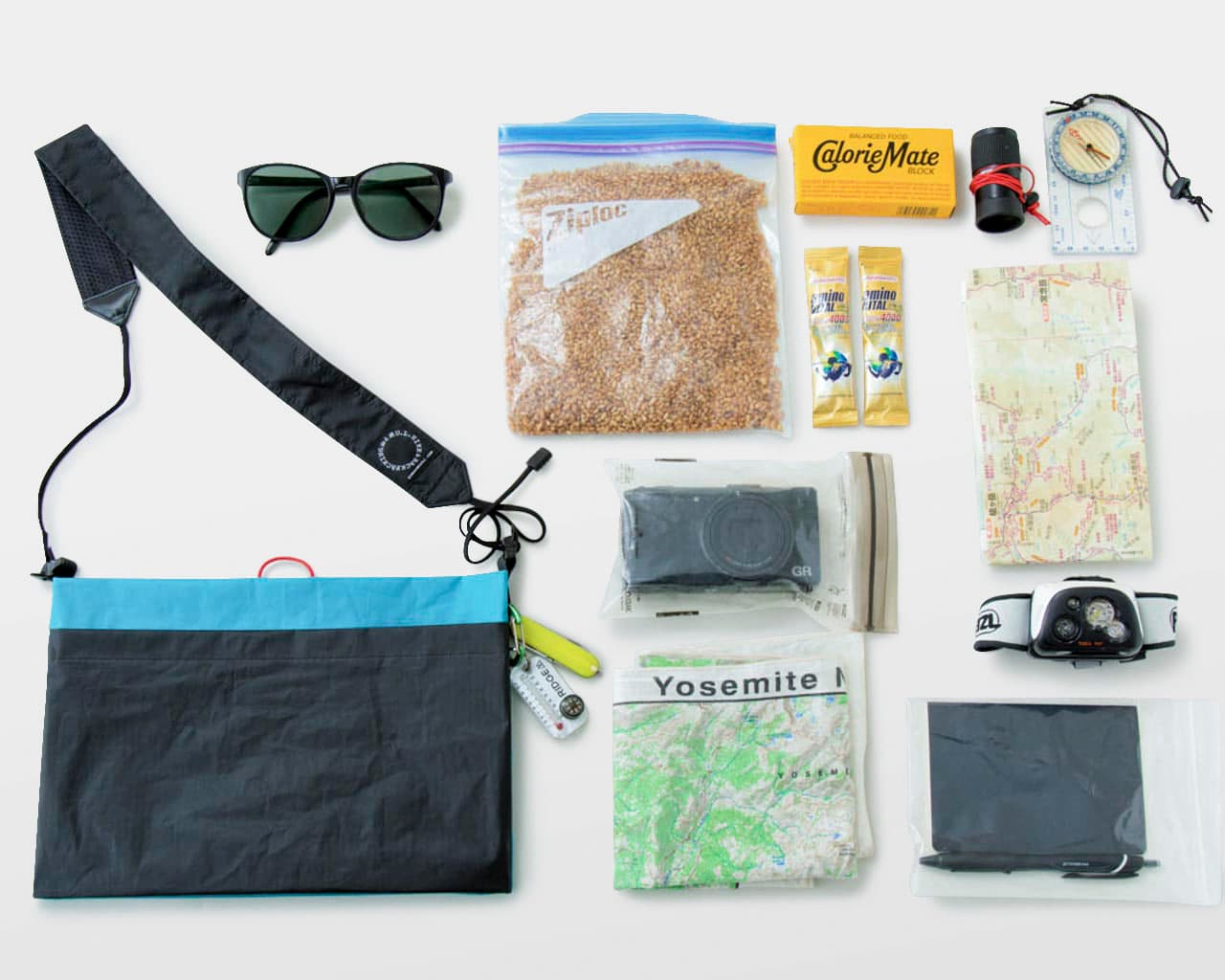 The horizontal design allows for easy access to all your essentials while on the move. Even with just a few items, the Saccoche is self-standing because of the 9cm wide gusset.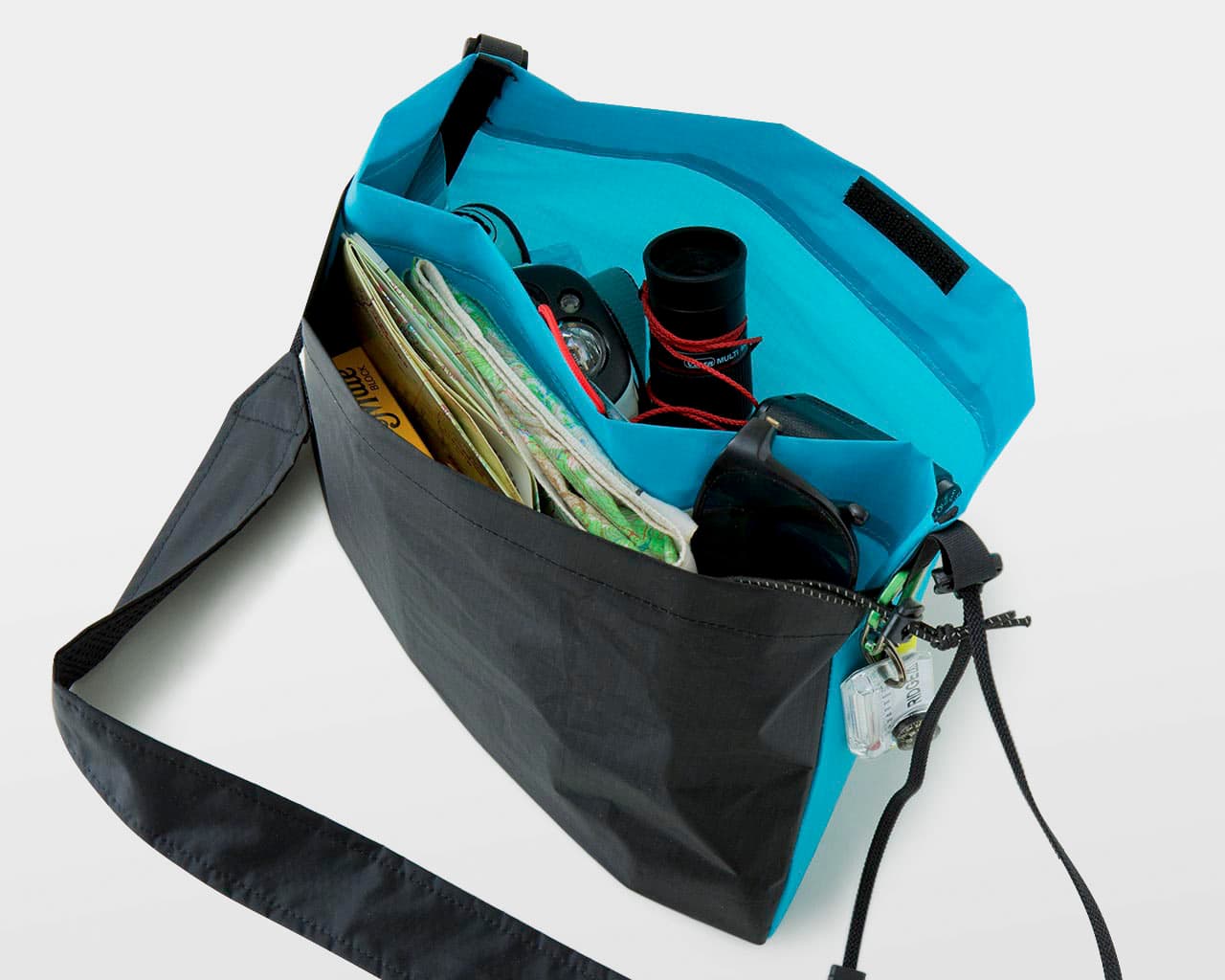 Because of the wide gusset, our Sacoche is freestanding when placed on a level surface.
Both compartments have a wide 4.5cm gusset and reinforced holes for drainage.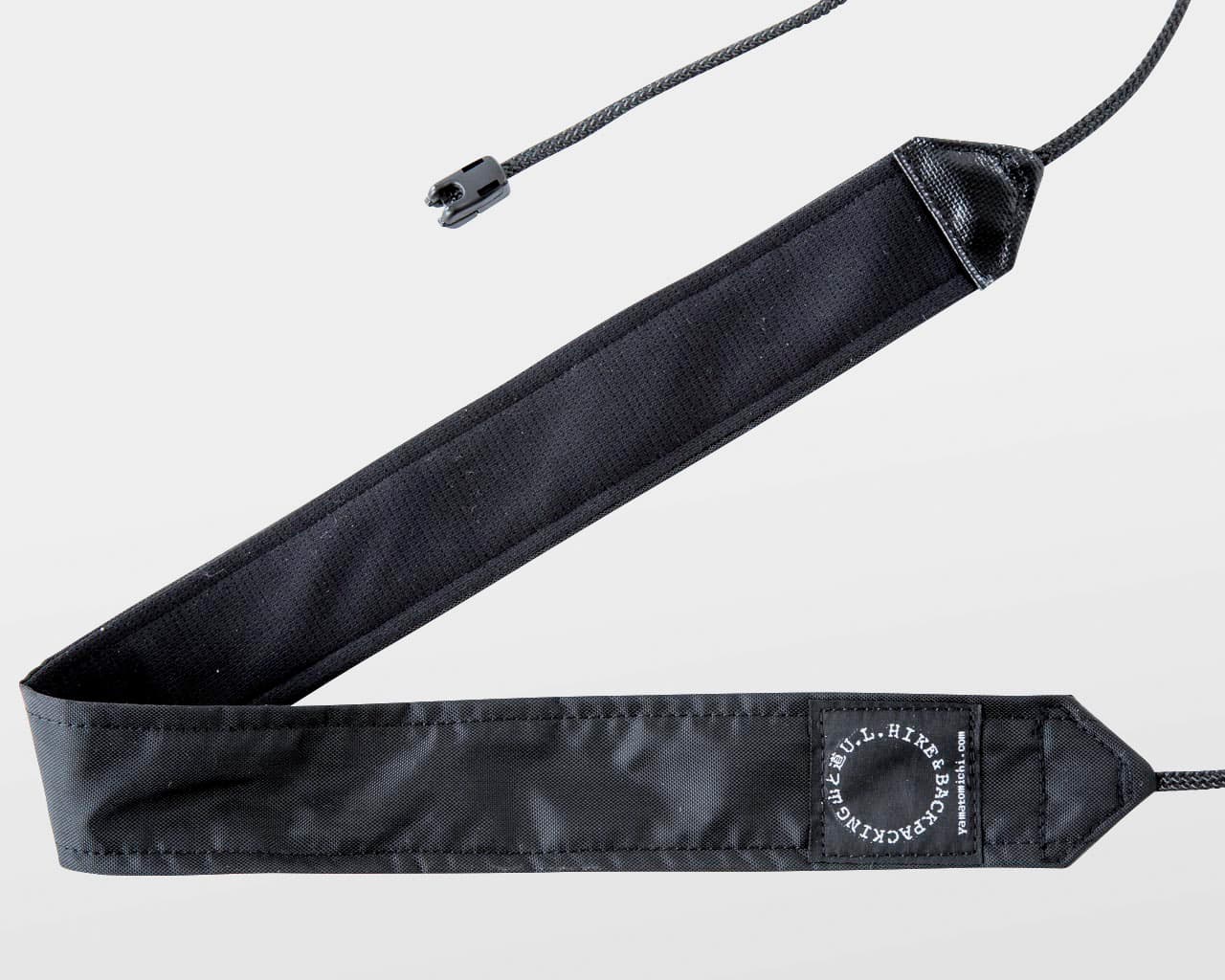 The broad strap reduces stress on your shoulders. The back of the strap is finished in soft-touch mesh.
Small carabiners can be attached to the side webbing loops.
Tips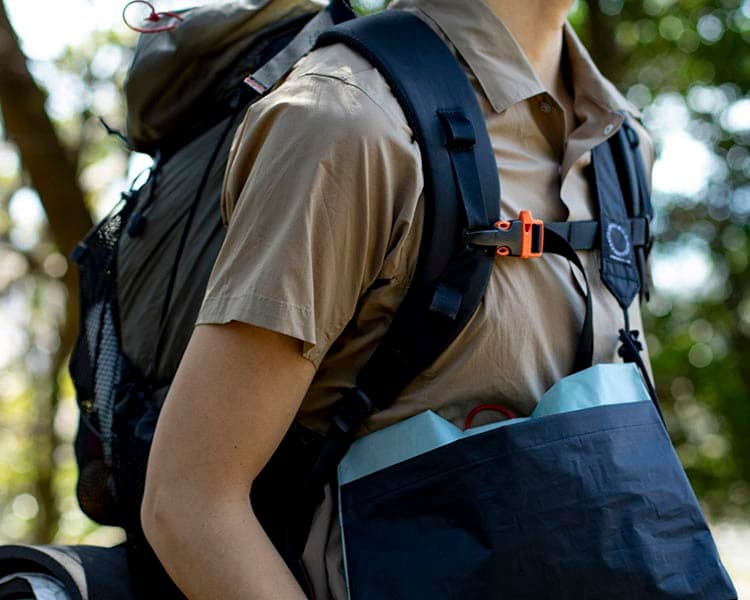 Wear the Sacoche first and then your backpack for optimal comfort.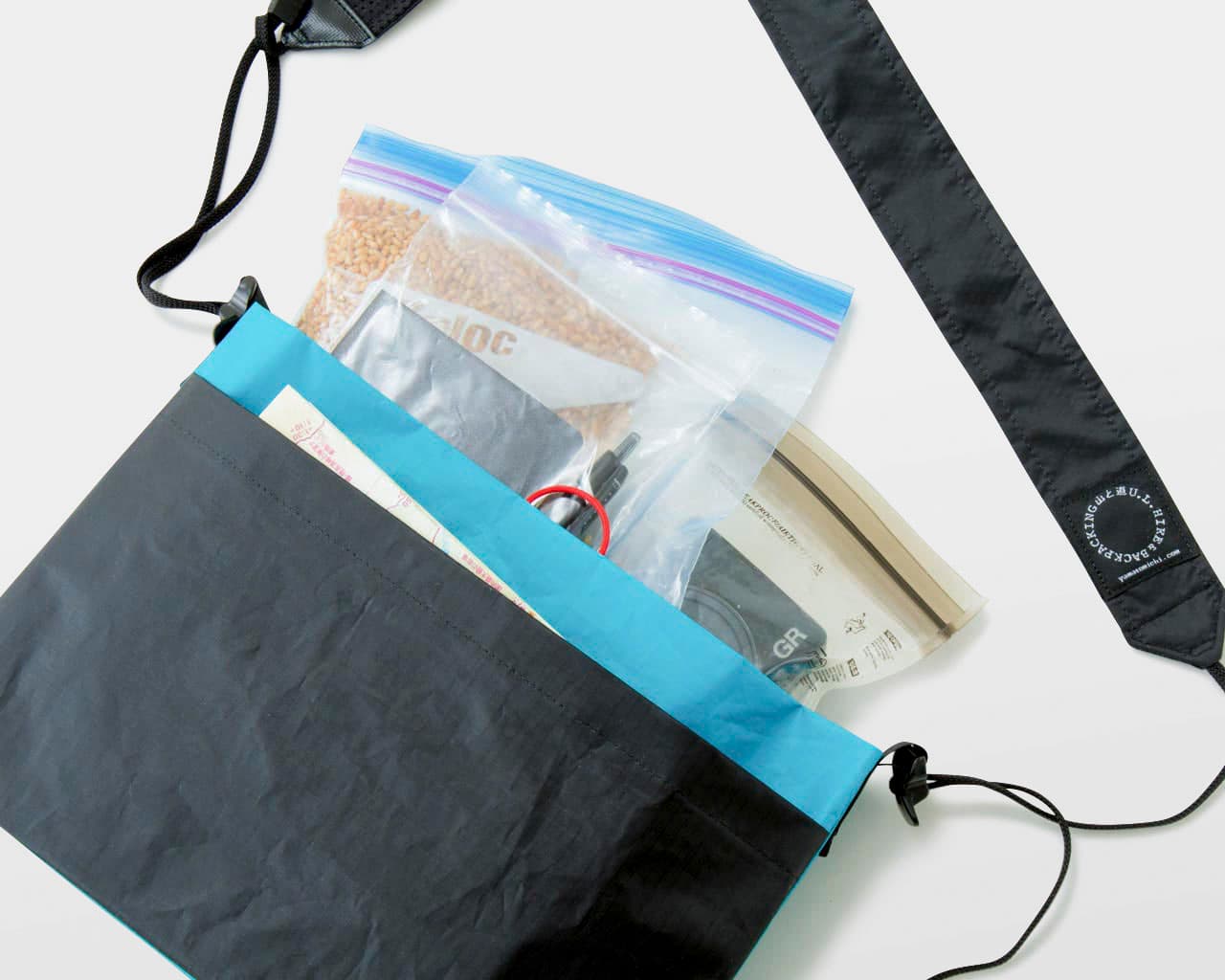 We recommend you put small items in a Ziploc bag to keep them safe and dry.
When raining, put on your rainwear over your Sacoche to avoid items from getting wet.
Material
Three Different Materials to Choose from
Pick the Fibermax 64 for lightness and color variations or the X-PacVX07 Soft, or X-PacLS07 for water resistance and durability.
Fibermax 64
Fibermax 64 is rip-stop nylon with a cured coating, originally used for yacht sails. It is highly durable but lighter than silnylon, with superior strength, firm texture, and bright color.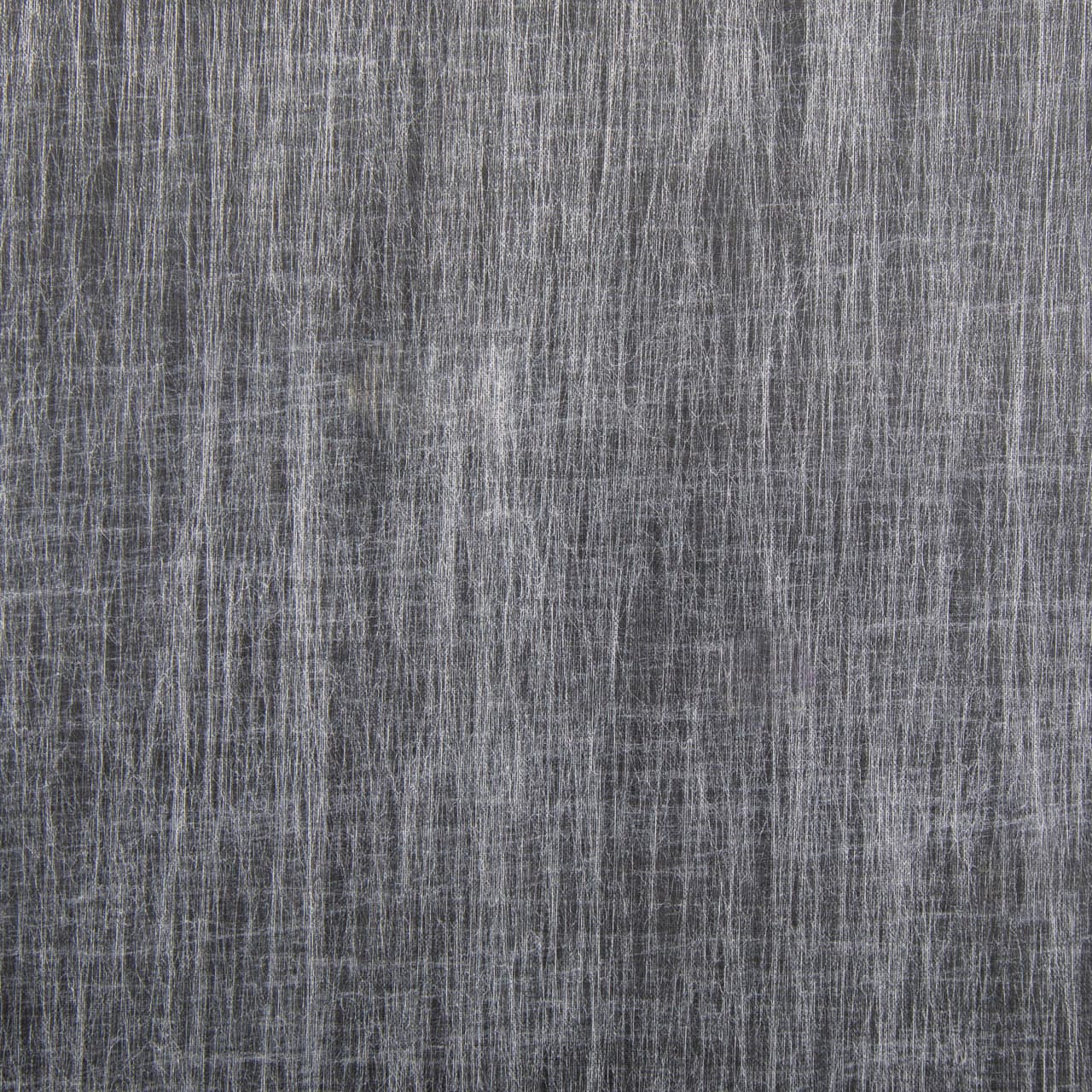 X-Pac LS07
X-Pac LS07 is the lightest among the X-Pac series we currently use. It is highly water resistant and abrasion-resistant with a firm texture, yet a certain softness. The resin coating creates a unique marbled pattern and makes the material less water-retentive, remaining lightweight even when wet. However, durability and strength are considered to be inferior to X-Pac VX07, and the water repellency of the surface coating can deteriorate with use.
X-Pac VX07 Soft
X-Pac VX07 is a multi-layer fabric composed of a 70 denier nylon on the surface, a water resistant polyester film in the middle, and a 50 denier polyester taffeta and diamond-patterned black polyester X-Ply material at the back. It is a material with hydrostatic water-resistant structural technology. We use a soft version of the VX07 for our Sacoche for added comfort.
Instructions
Please Note
Do not overload. In particular, do not store too many items in the front pocket. When stuffed too much, items may pop out of the pocket.
The product is not water-resistant. We recommend using Ziploc bags to keep your items safe from the rain.
Care Instructions
Hand-wash only. Do not machine wash.
Wash with a soft towel and neutral detergent diluted in lukewarm water. Dry well after cleaning.
Do not bleach. Do not use fabric softener.
Wet the soft sponge with the detergent and wipe off the dirt.
Rinse well so that no detergent remains.
Spin-dry 30 seconds after washing, or wipe off the moisture with a soft towel and dry it in the shade.
Do not iron.
Store in a dark, well-ventilated place.
Payment
We only accept payment by credit card. We currently do not accept payment via bank transfer from overseas accounts.
We accept the following Credit Cards: Visa, Master, American Express, and JCB.
To download your receipt, please click the link included in the Dispatch Notice, which we will send by email as soon as the items are dispatched.
Delivery
Order Confirmation will be sent after the order.
The items will be dispatched within 3 days after the payment is confirmed.
The dispatch notice will be sent by email as soon as the items are dispatched.
The delivery may be delayed by unforeseeable reasons such as natural disasters and other logistics issues. We appreciate your patience and understanding.
We cannot ship multiple orders in one package due to how our delivery system is currently set up.
We will ship by DHL for overseas customers (excluding China, Hong Kong, Taiwan, Korea and Russia). For customers in China, Hong Kong, Taiwan, Korea and Russia, we will ship by EMS only.
Shipping costs vary depending on your country and region.
Repair
We accept repairs for all of our Yamatomichi products. For inquiries on repair services including patching the holes, repairing with extra components, or fixing the items damaged over time, please feel free to contact us from the "Repair" section of the SUPPORT page.