DF Mesh Merino Sleeveless
DF Mesh Merino Sleeveless
Introduction
Beyond Merino
The DF Mesh Merino series is our proprietary base layer series that outperform our 100% Merino wool lineup, minimizing the drawbacks in many respects such as merino's slow drying, the tendency for stickiness, and heat-buildup.
DF stands for "double face"; the skin side is hydrophobic-finished to quickly dispense of any moisture (sweat), while the surface is hydrophilic-finished so that the fabric absorbs the released sweat, keeping your skin feeling dry. It offers maximum comfort even under changing weather or when performing intensive and sweaty exercise. The DF fabric also has superior deodorant properties and moisture-control performance naturally derived from merino wool.
While keeping the natural advantages of wool, such as comfortability, deodorizing, and moisture control properties, this new hybrid fabric is highly breathable, yet retains your body heat when layered with a shell jacket, and even if you sweat, the mesh-like material reduces skin irritation and dries quicker than conventional wool.
The elastic fabric and slim-fit design smoothly follow your dynamic movement and effectively absorb your sweat. To maximize the fabric's performance, we recommend you wear it directly on your skin.
Please note that the mesh wool fabric can be prone to snag and piling especially when rubbed against backpacks.
Color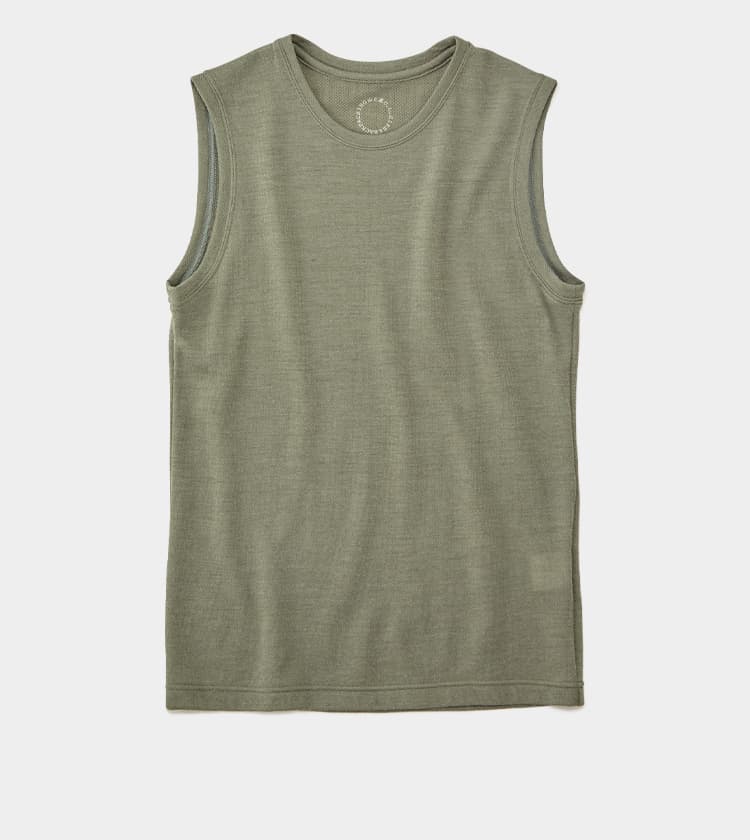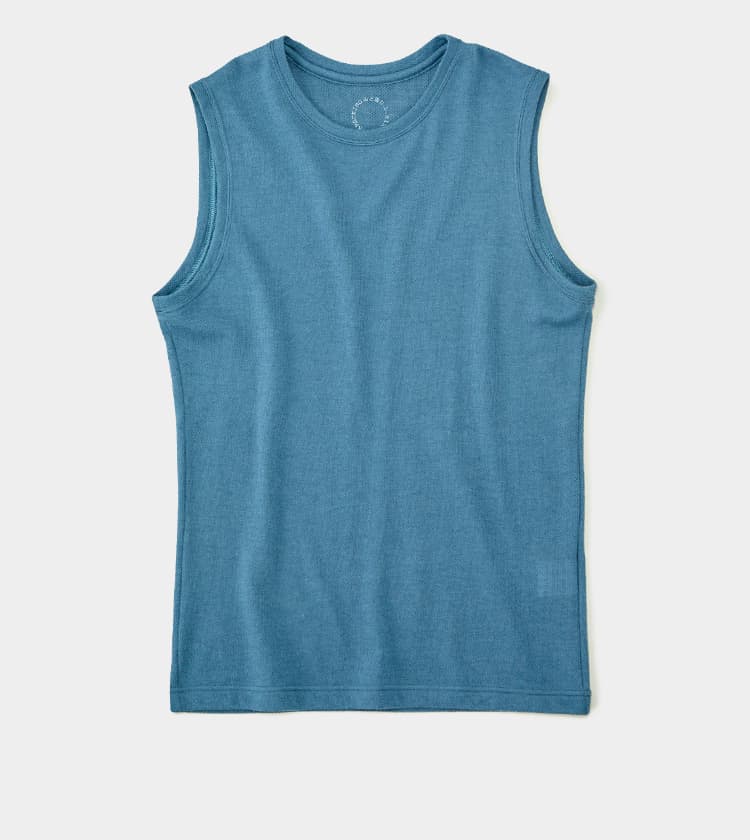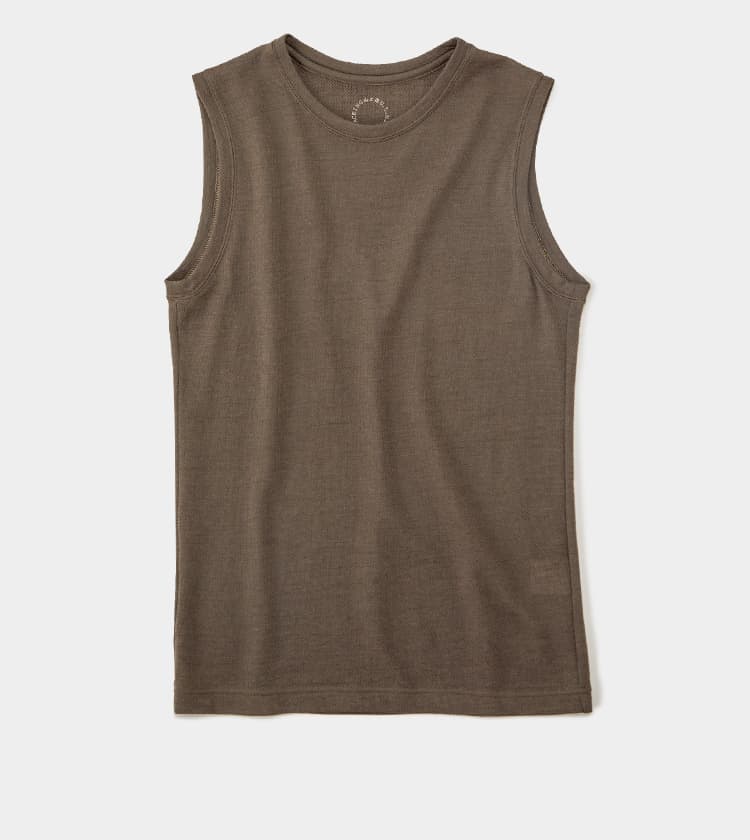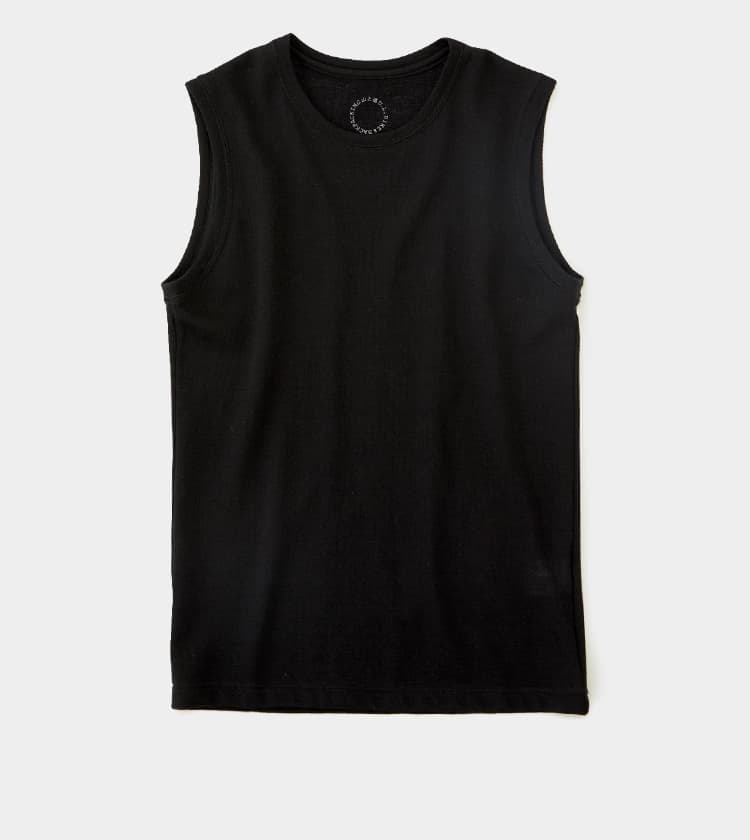 Spec
Made in Akita, Japan
Material:
DF Mesh Merino: 170-175g/m²
88% Wool, 12% Nylon
Weight:
98g (Size S)
108g (Size M)
119g (Size L)
130g (Size XL)
Size:
MEN | S / M / L / XL
Product Story
Overcoming Wool's Drawbacks
Akira Natsume, Yamatomichi Founder
We consider merino wool to be the best base layer fabric for hiking because it doesn't smell even after a week of wear. There are, however, those who disagree.
Some say that it gets too hot during highly intensive activities such as hiking or running, that it sticks to the skin when wet with sweat and makes it difficult to move, or that it dries slower than synthetic fabrics.
Yes, we have to admit that merino wool is not flawless.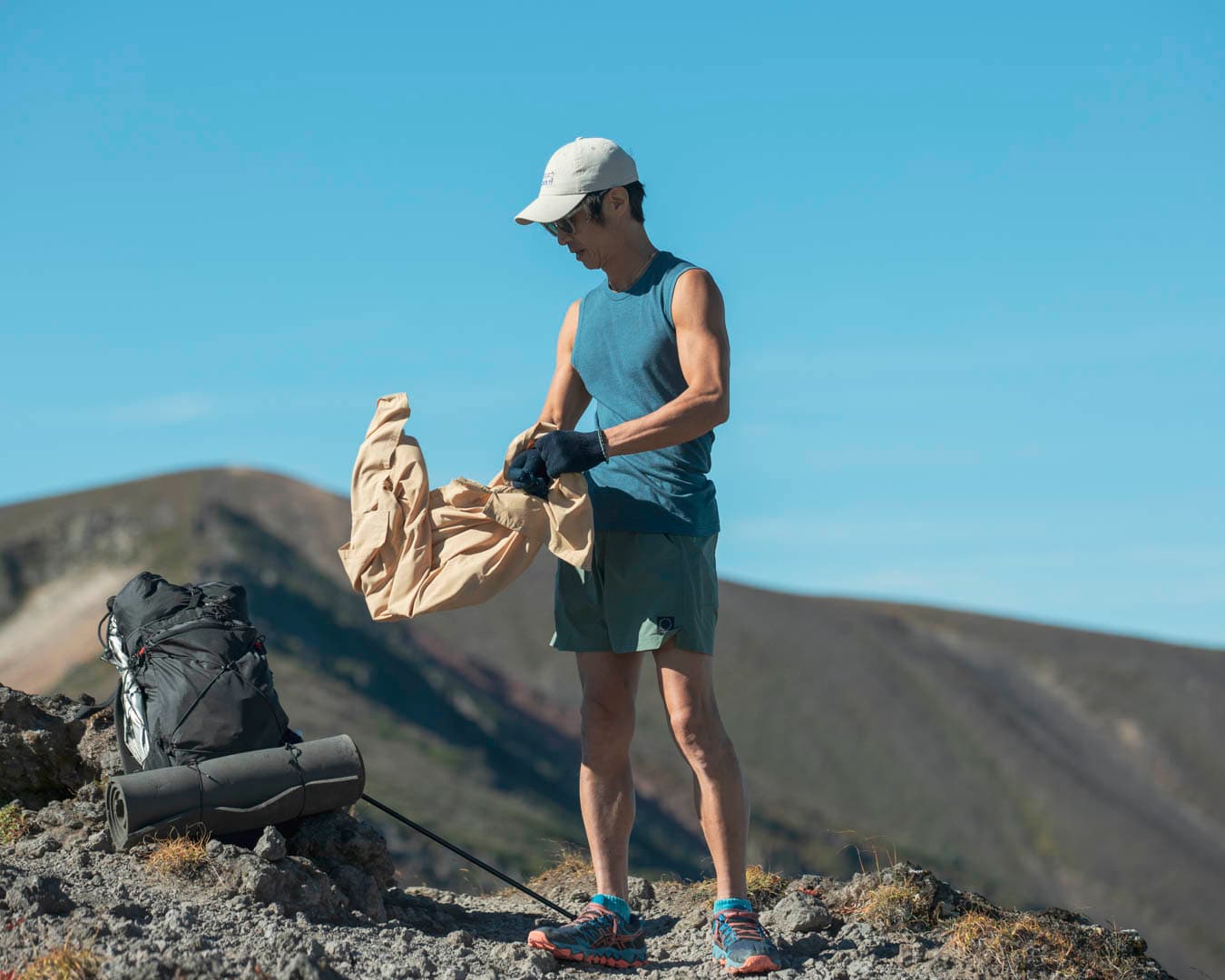 Naomi Kazama, wearing the Slate Blue color.
I myself have had the experience of wearing a sweat-soaked merino wool T-shirt that would not dry at the tent site. I was putting it on while sleeping to make it dry. I do love merino wool but sometimes wished it would dry a little faster.
So we decided to create a "super merino wool" for hiking by adding the advantages of synthetic fibers, such as air-permeability, quick-drying property, and comfortable texture even when wet.
From the beginning of the development, our aim was to create a "breathable mesh merino wool" product. However, we wanted something even better. That is, we wanted a hydrophobic mesh and merino wool fabric in a single piece, but it should not look like a mesh fabric at a glance so that it could be worn by itself. Of course, there were many challenges. Our first prototype had the mesh surface on the front, but we later reversed the front and back; This made the mesh fabric come into contact with your skin by multiple points rather than by one large surface. The front side was made flat to increase durability.
We also developed two types of proprietary merino wool yarns; hydrophobic yarn to repel water and hydrophilic yarn to absorb water, which allowed quick absorption and wicking.
As explained in the "Form and Function" section of this webpage, this combination of two types of yarns resulted in the DF Mesh Merino series, successfully overcoming the drawbacks of wool fabric.
To tell the truth, however, the development was not as easy-going as it seems. It took a long time and effort to test, mass-produce and verify the quality and stability.
We spent a long time field testing it as well as at the inspection agency, and the theoretical verification of the fabric. I, of course, tested the fabric myself too. Is the DF a solution for merino wool's drawbacks? To find the answer, more than 20 testers participated in our field test, and though the majority of feedback was favorable, we pinpointed two concerns.
The two concerns were the mesh fabric's low durability and the heating performance due to the thickness of the fabric. The good air permeability should make you comfortable at the mountain ridge where the wind is blowing, but you may feel a little too warm at low-altitude mountains in the mid-summer.
That said, the DF performed surprisingly well in the high-altitude mountains where the temperature drastically changes. As I kept hiking the steep uphill during the onsite test, the DF Mesh Merino got sweat-soaked but was instantly dried by the wind blowing at the mountain ridge.
We proudly recommend the DF for merino lovers as well as synthetic base layer users who dislike the wool's conventional drawbacks. After many trials and errors, we are finally ready to release this exciting new product to you. (Updated 2022)
Form and Function
Breathable
The DF Mesh Merino series has a mesh structure to accelerate the air-permeability. It is far more breathable than the conventional merino fabrics, keeping you dry and cool even when performing intensive and sweaty exercises.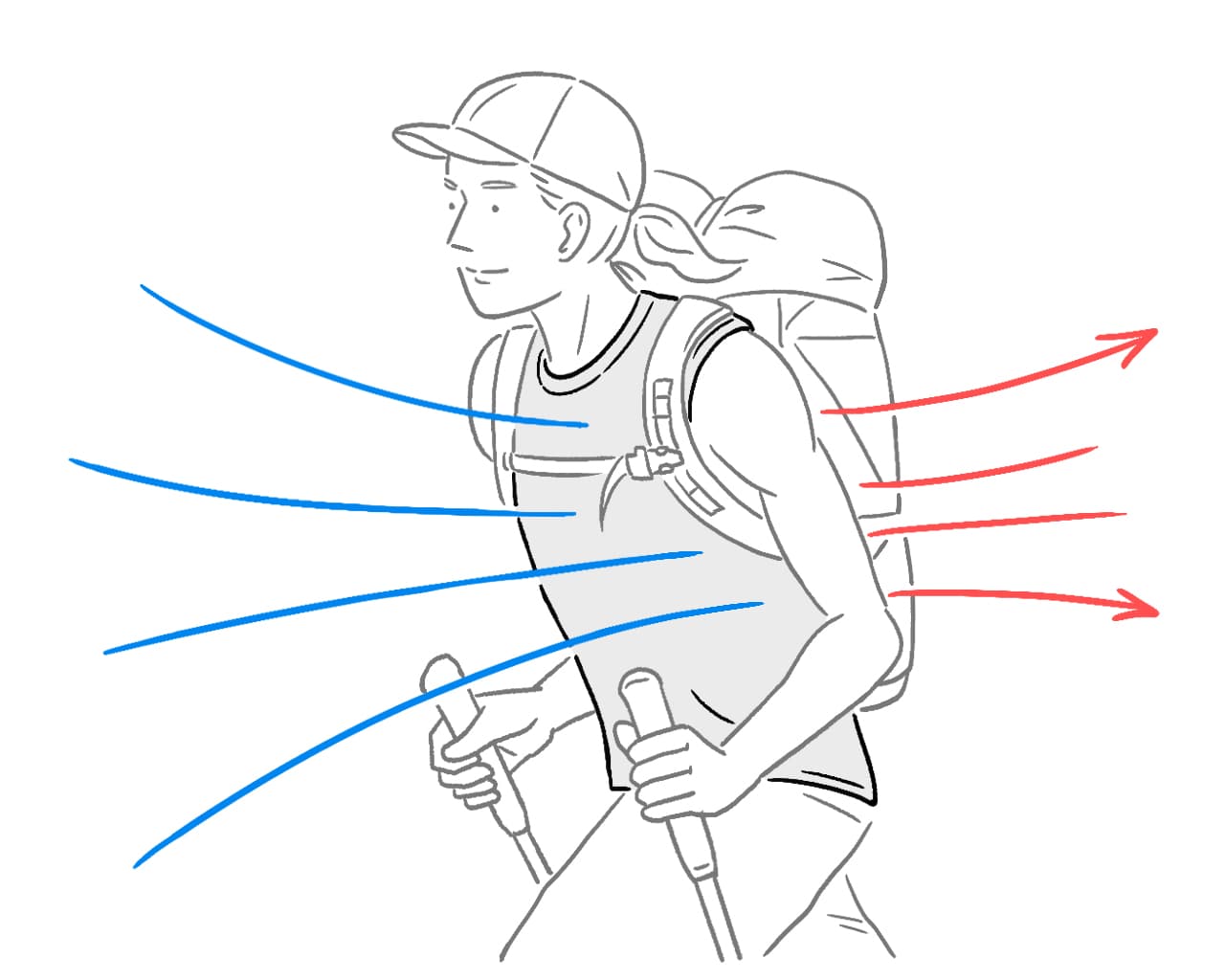 No Sticking to Your Skin
The skin surface in 100% merino wool offers comfortable touch so that the mesh fabric comes into contact with your skin by multiple points rather than by one large surface to minimize skin irritation when you sweat.
The skin side is hydrophobic-finished to quickly dispense of any moisture (sweat), while the surface is hydrophilic-finished so that the fabric absorbs the released sweat, keeping your skin feeling dry.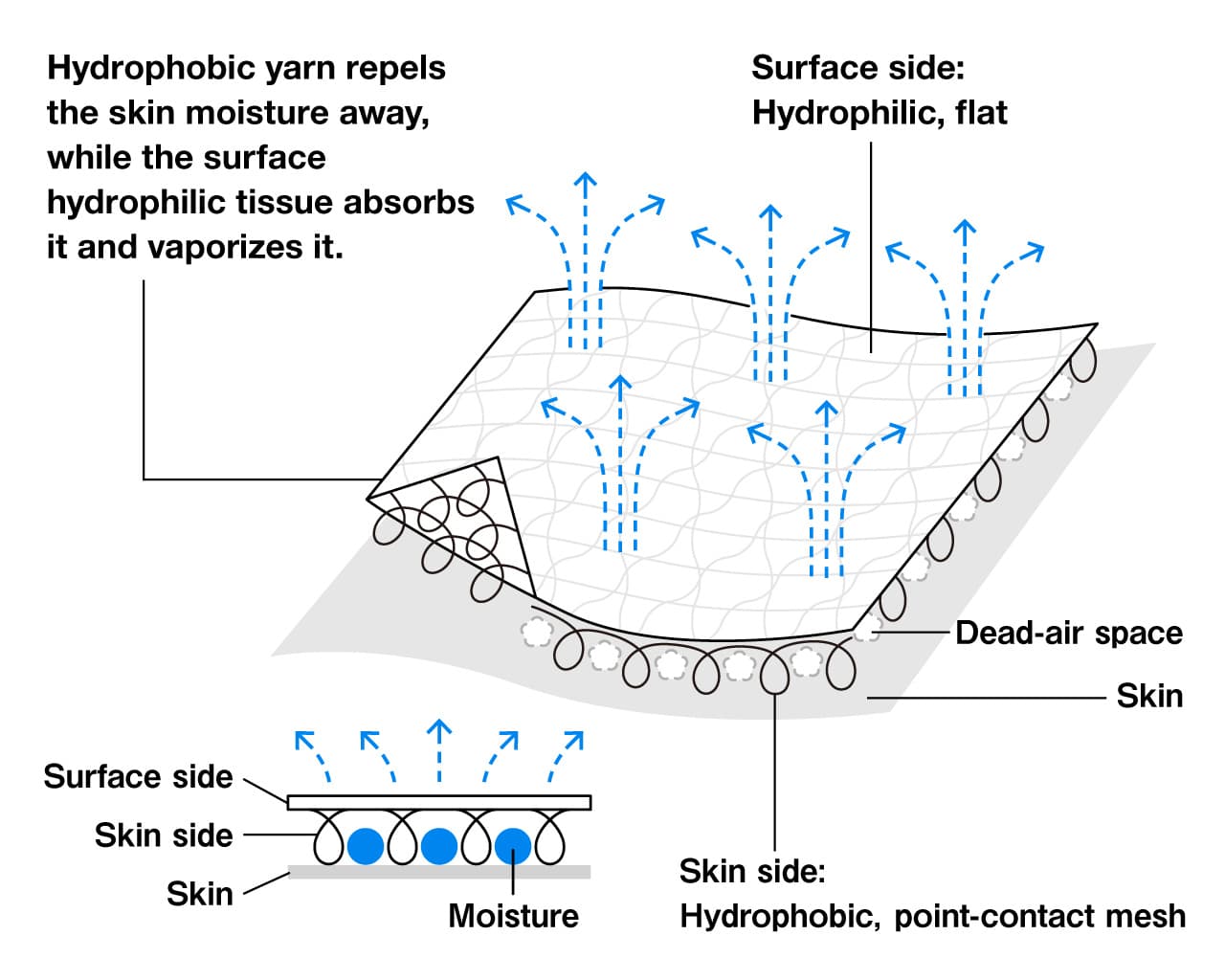 Fast-drying
The DF Mesh Merino's fast-drying properties outperform the conventional merino fabric, preventing you from being cold from your own sweat because of the slow-drying fabric.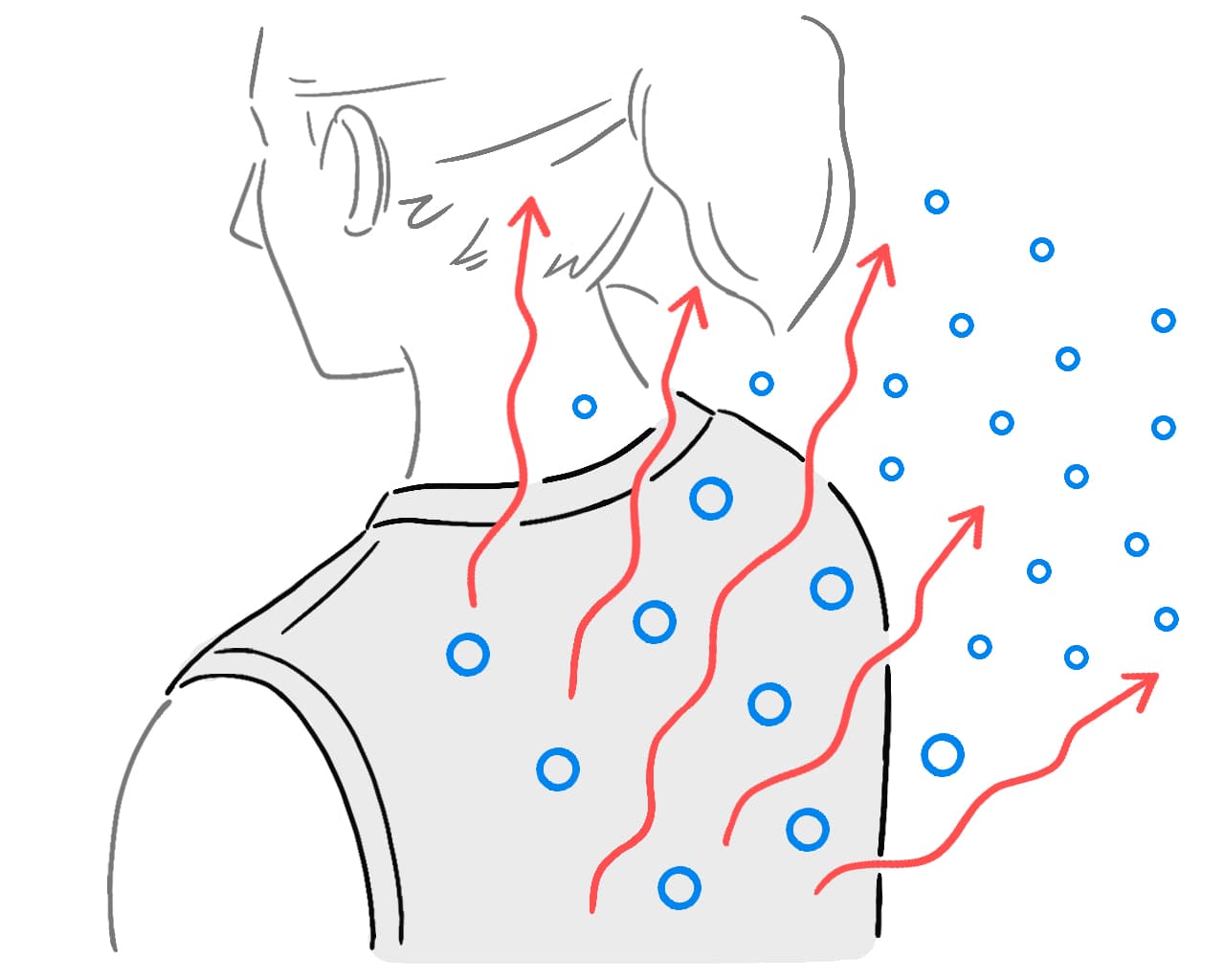 Recommended Scenes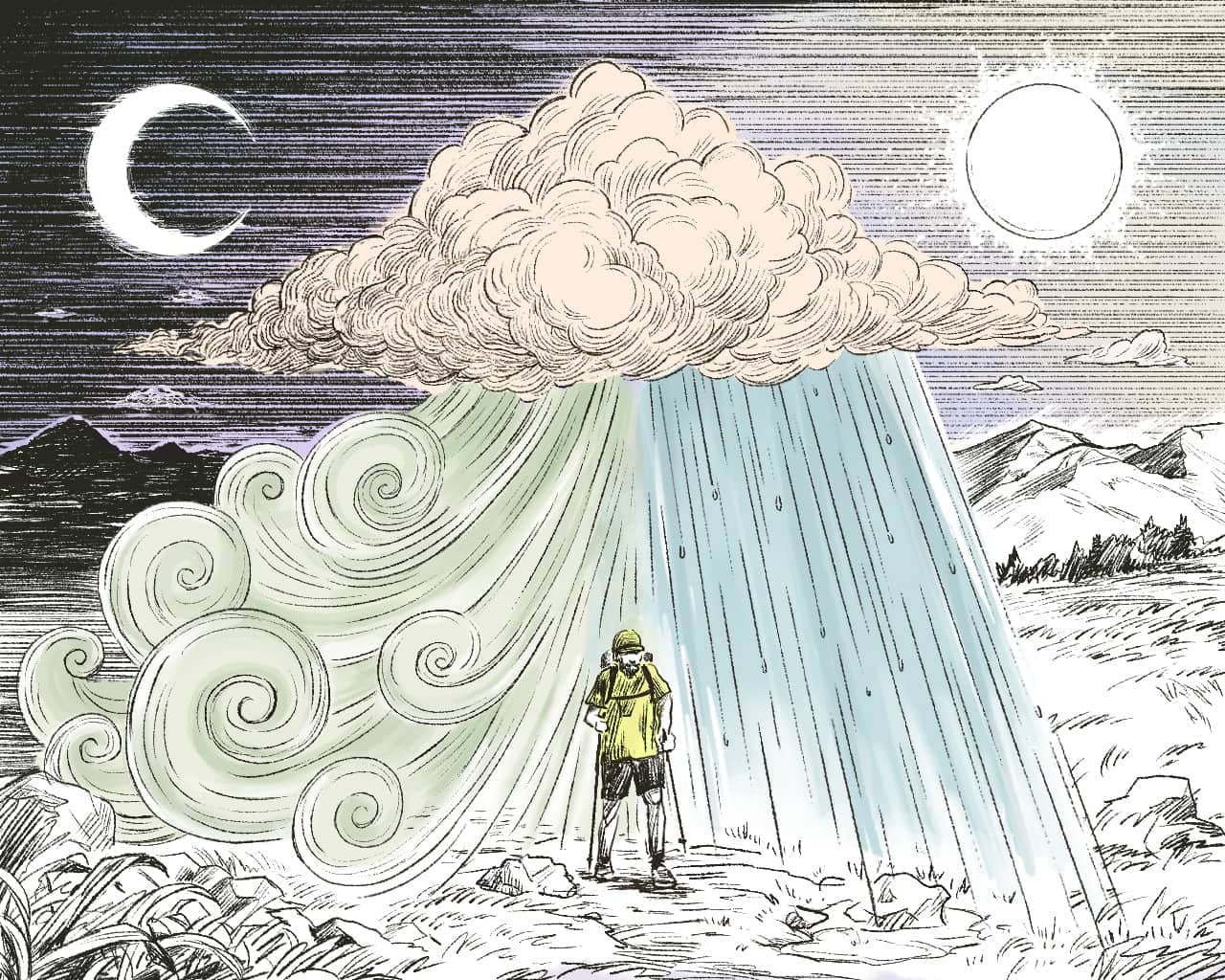 Hiking
The DF series is suitable for various temperature zones and perfect for long-term and multi-seasonal mountain hikes.
The synthetic fabrics can be smelly for several hours after you sweat, even when they are deodorant finished, and you don't want to wear them the next day. On the other hand, our DF Mesh Merino has a high percentage of the wool mixture and thus has a powerful and natural anti-odor performance.
It is also fast-drying and can be worn for many hours and even days without washing, reducing the need for extra changes in your backpack.
Trail Running, Fast Packing
The DF series' elastic fabric smoothly follows your dynamic movements and is perfect for intensive and sweaty exercises such as trail running and fast packing.
The highly absorptive dual-layer mesh fabric will keep you dry even when you sweat heavily. It is also lightweight and less likely to gain weight as it dries quicker than normal wool fabrics. The highly air-permeable fabric will let the wind pass and keep you cool when worn by itself, while it is warm if you wear it under a shell jacket. It is perfect when you need both thermal performance AND sweat/heat permeability.
Please note that it is warm, and you may feel it's too warm at low-altitude mountains in mid-summer.
In Bad Weather with Changing Temperature
The dual-layer DF Mesh Merino is highly air-permeable and will keep you cool when it's hot, while quickly warming you up if you wear it below a light shell jacket.
It is warm even when soaked with rain because it is made of wool with humidity-control performance and heat-generating properties. It is especially suitable under severe conditions with large temperature differences between day and night, mountaineering from low to high altitudes, and climbing where inclement weather is expected.
Comparison
The DF Mesh Merino performs better than our conventional 100% Merino fabrics in many respects; According to our in-house test result, the DF's air permeability is approximately three times as 100% Merino fabric, 2.5 times as fast-drying, and 1.4 times as heat-retentive. In addition, the fabric has a high level of humidity control and odor resistance, which are derived from natural wool.
However, the wear resistance is, on the other hand, only 40% of our conventional 100% Merino fabrics, with almost equal burst strength, meaning that the DF can easier develop snags, pillings, and holes.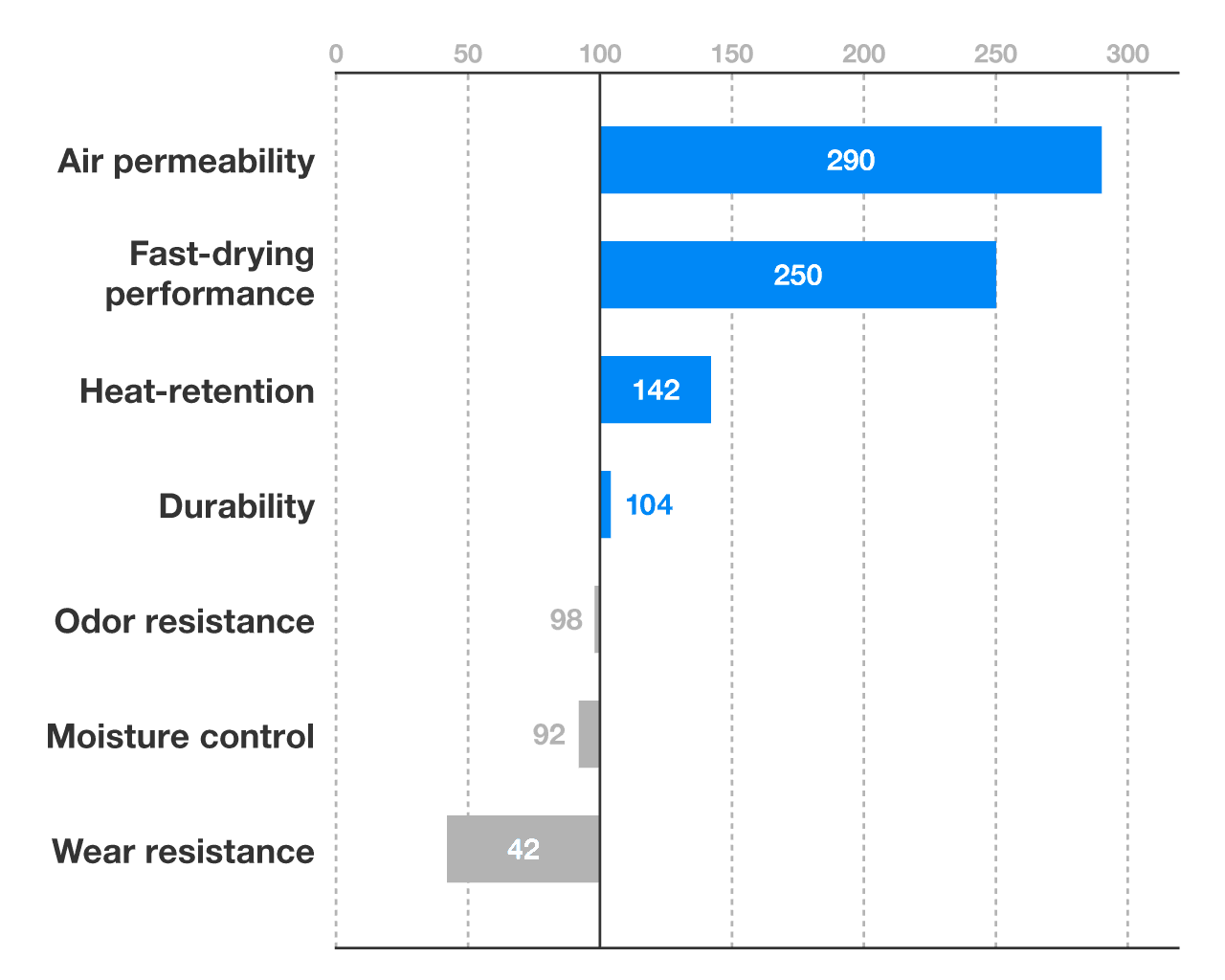 *The above values are calculated by the following formula: DF Mesh Merino's measured value ÷ 100% Merino's measured value × 100
Air permeability: Measured by JIS 1096 L (Frazier method), Fast-drying performance: Moisture content after 15 mins of spin dry, Heat-retention: Measured by JIS L 1096 A, Durability: Bursting strength measured by JIS L 1096 A (Mullen method), Odor resistance: Reduction rate of ammonia odor, Moisture control: Moisture absorption/disorption (Comparison of the ratio of moisture absorption at an air temperature of 20°C and humidity of 65% to that at an air temperature of 40°C and humidity of 90%), Wear resistance: Measured by JIS L 1096 E (The value is the average of DF Mesh Merino products in different colors).
Positioning among the Base Layers
In general, quick-drying performance and moisture absorption or cooling performance, and heat retention performance are inversely related, with one being higher and the other lower.
The DF Mesh Merino, however, achieves these contradicting properties at the same time; Quick-drying AND moisture absorptive, cool AND warm. The DF demonstrates high functionality in areas where synthetic base layers with superior quick-drying and cooling performance have excelled.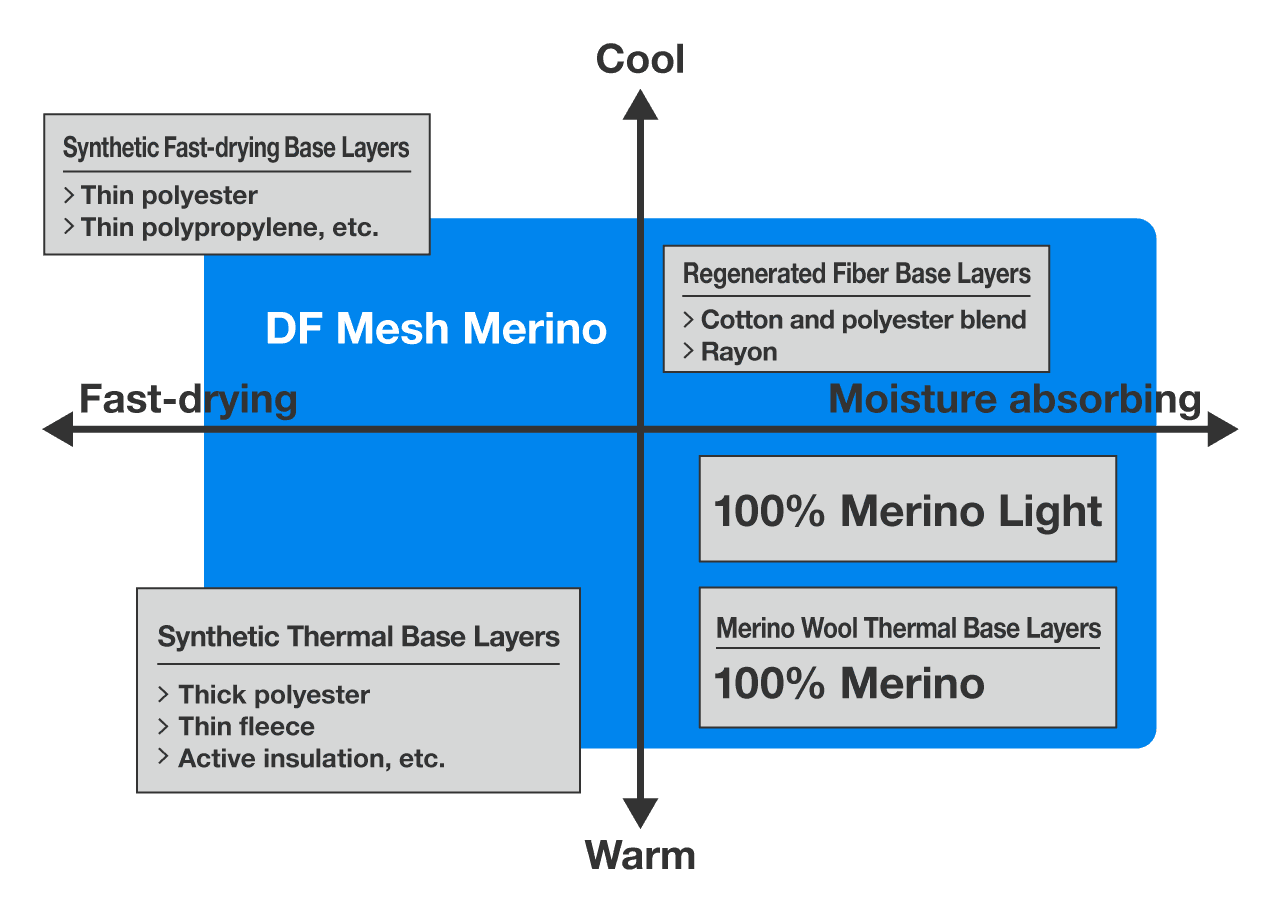 Merino Wool's Advantages
Naturally Odor Resistant
Wool base layers are chosen by many hikers for the material's excellent odor-neutralizing performance. Some say it's almost odor-free even after a week of heavy hiking, but we'll let you (and your friends) be the judge of that…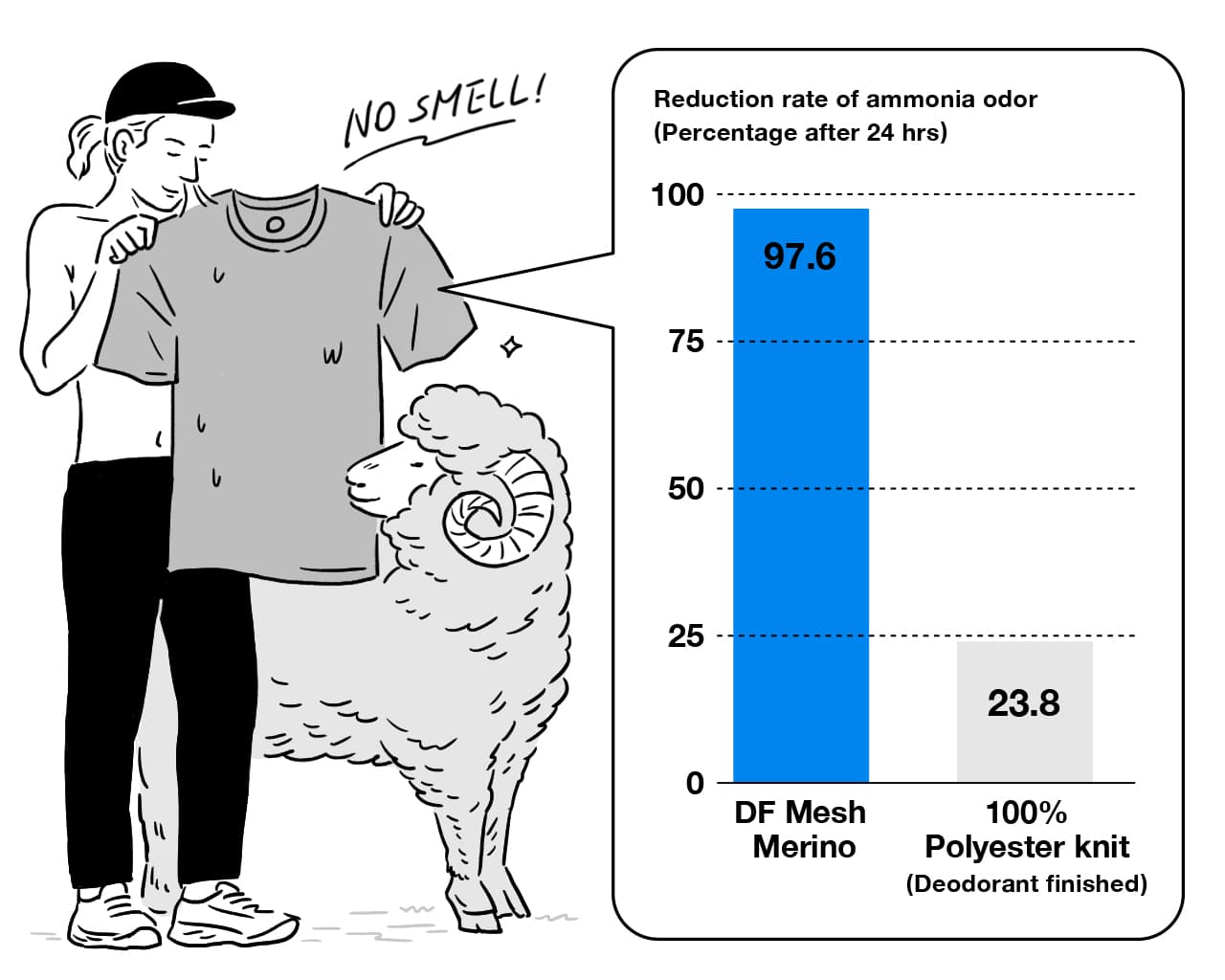 Wool's deodorant mechanism is still a mystery. One theory has it that wool absorbs a large amount of odor-causing elements, and consequently, the odor is minimized to the level that cannot be detected by the sense of smell. We will conduct our own experiments and tests in the future.
Great Moisture Control
Wool is great to help you keep warm and cool as it naturally controls the moisture level within the clothes, always keeping you comfortable throughout the year.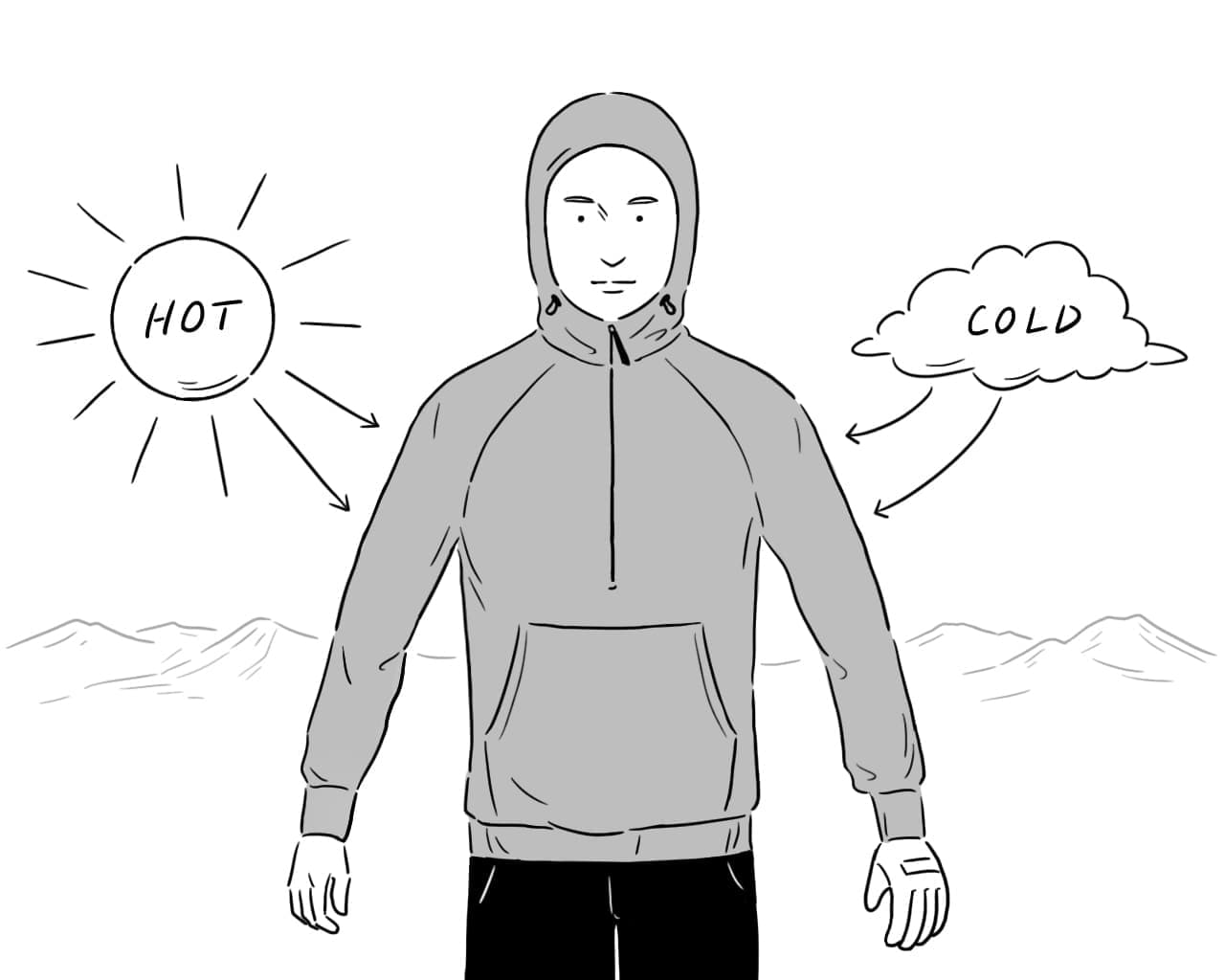 Wool's peculiar function is the benefit of the dead-air space between the crimped wool fibers, allowing for excellent breathability and moisture permeability. Furthermore, the cortex's water absorption performance variably changes according to the humidity level of the outer air, that is, the higher the humidity outside, the more moisture it absorbs.
Even Warm When Wet
First, when wool absorbs moisture, the thermal phenomenon called "absorption heat" is generated. Secondly, its excellent insulation properties (low thermal conductivity) prevent the body heat from being lowered by evaporation. Also, the crimped fibers are bouncy and retain loft without crushing even when wet.
In addition, wool can absorb more moisture in between the fibers, always keeping the skin dry and comfortable.
Consequently, 100% Merino wool keeps you warm during the action, even in severe weather that makes you wet to the skin.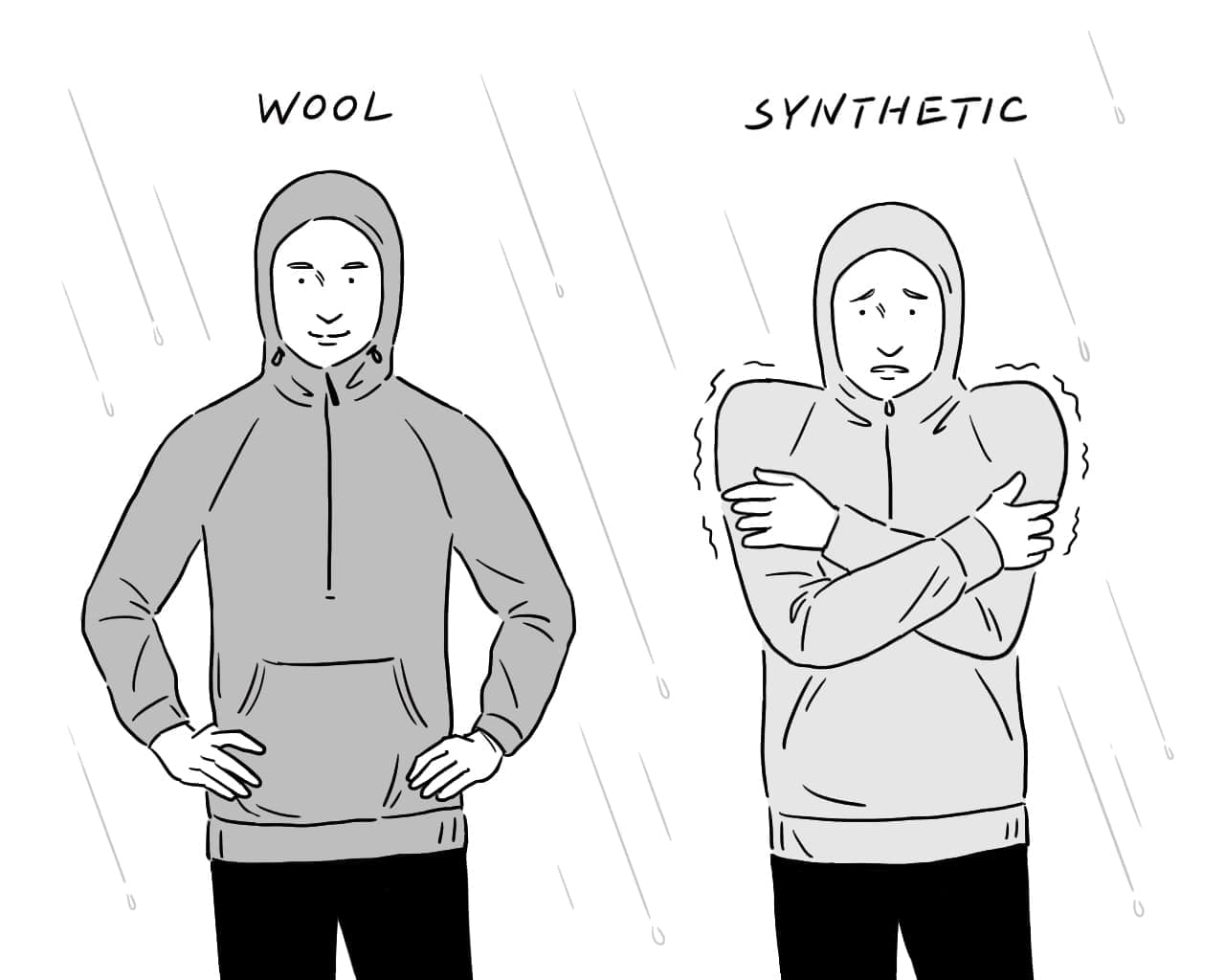 When fibers absorb moisture, the thermal phenomenon called "absorption heat" is generated. The wool's adsorption heat performance is twenty times of polyester, and 2.5 times of cotton.
Yamatomichi Lab Base Layer Special Issue
In our base layer special issue, we highlight the outdoor base layer clothes. We analyze the materials and review the items of outdoor makers. It is currently available in Japanese only. For details, please visit the following link:
Yamatomichi Lab Base Layer Special Issue
Wool's Disadvantages
As explained above, wool or merino wool has various features and functions, but it is not flawless.
Easily absorbs moisture and becomes heavy
Wool can get quite heavy as it is great at absorbing moisture. This also means that wool takes longer to dry than synthetic fibers, but compared to cotton, it actually dries faster.
Liked by insects
Soft, natural fibers such as wool, cashmere, and silk are prone to damage by insects.
Easily damaged
The relatively short fibers of wool mean that wool fabrics are easier damaged than synthetic and cotton fibers. However, small holes can easily be fixed with a bit of pure wool and a needle.
Shrinks easily
Wool generally shrinks easily, even when shrink-proofed. To reduce shrinkage, after the wash, please spread the shirt well to return to its original shape and gently iron it.
Distortion
When knitted wool fabrics are washed, the material is likely to distort diagonally because the yarned fibers absorb water, swell, and tend to untwist. Consequently, the shape of the shirt may distort slightly with washing.
Distinctive smell
The wool comes from sheep and you may experience a distinctive animal-like smell coming from your t-shirt when damp. This smell usually disappears after the fabric dries.
The above information was compiled and edited based on the interview with the textile company and the research institute, and the reference book below:
Bibliography:
Structure and Physical Properties of Wool, Japan Wool Industry Association, Seni Co., Ltd.

Details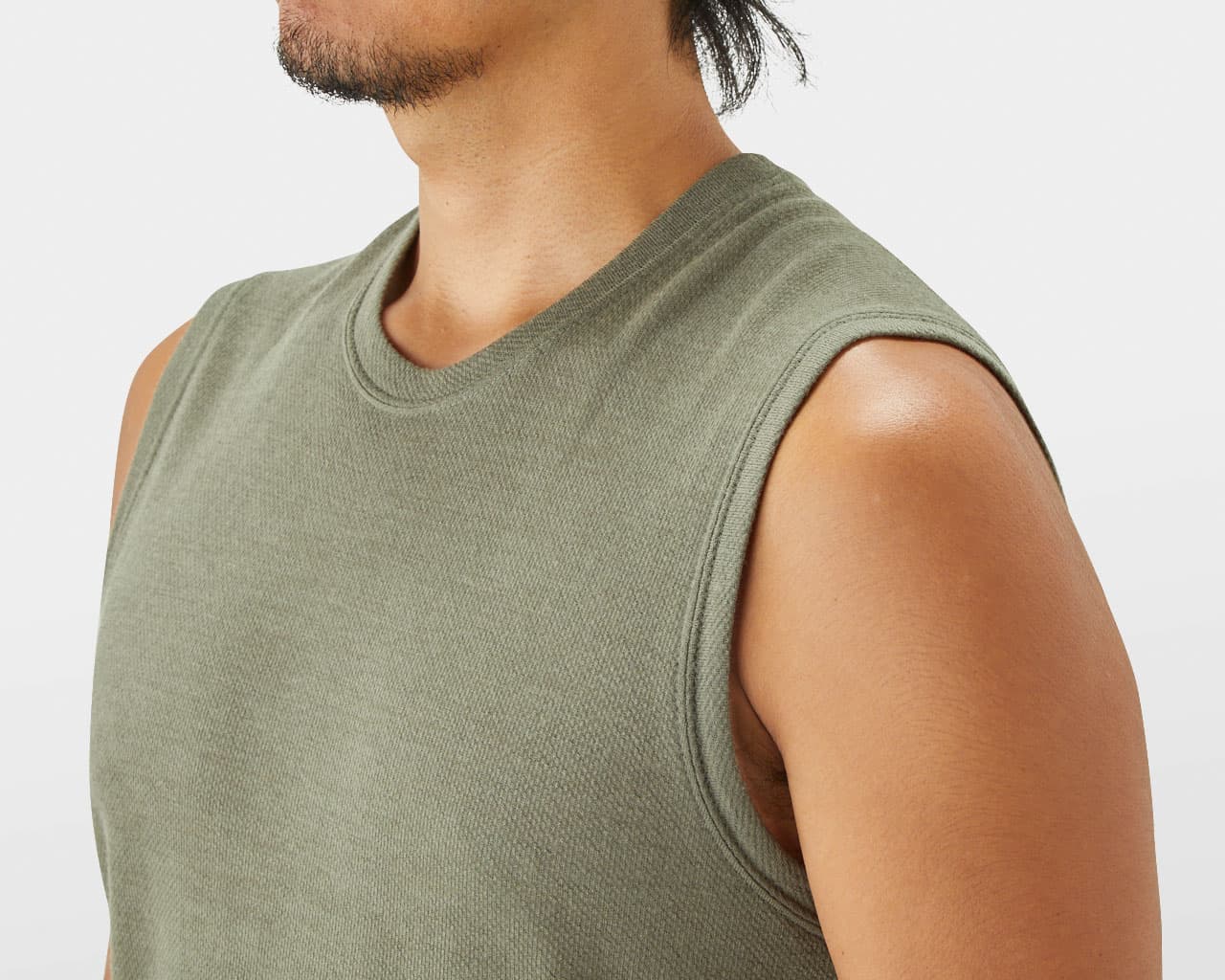 The neckline and armhole pipings use the same fabric.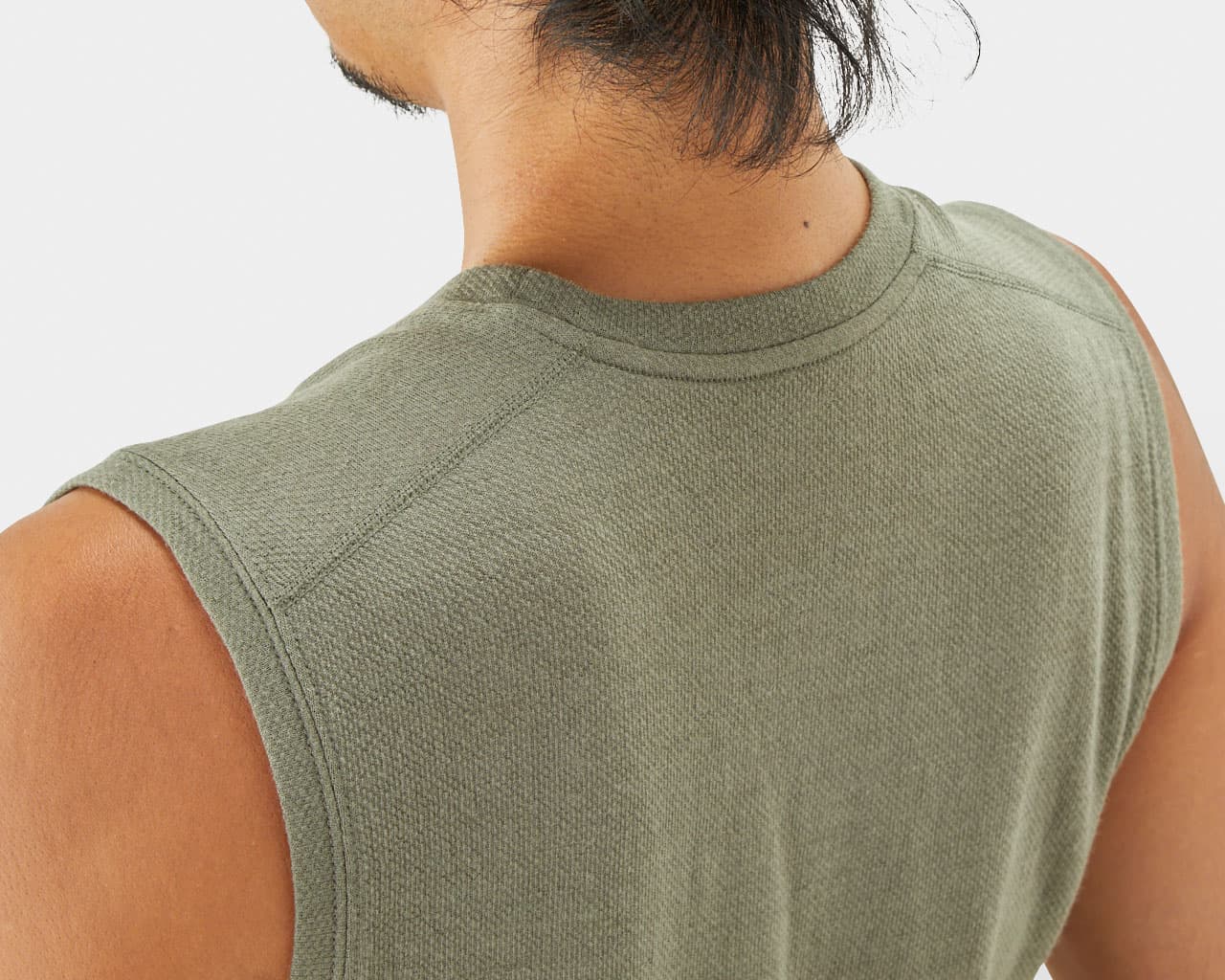 The shoulder is flat-sewn at the back of the shirt to prevent the irritation caused by the friction with the shoulder strap.
Review
The DF series were tested by a long-dintance hiker, a mountain racer, and our Yamatomichi HLC ambassador.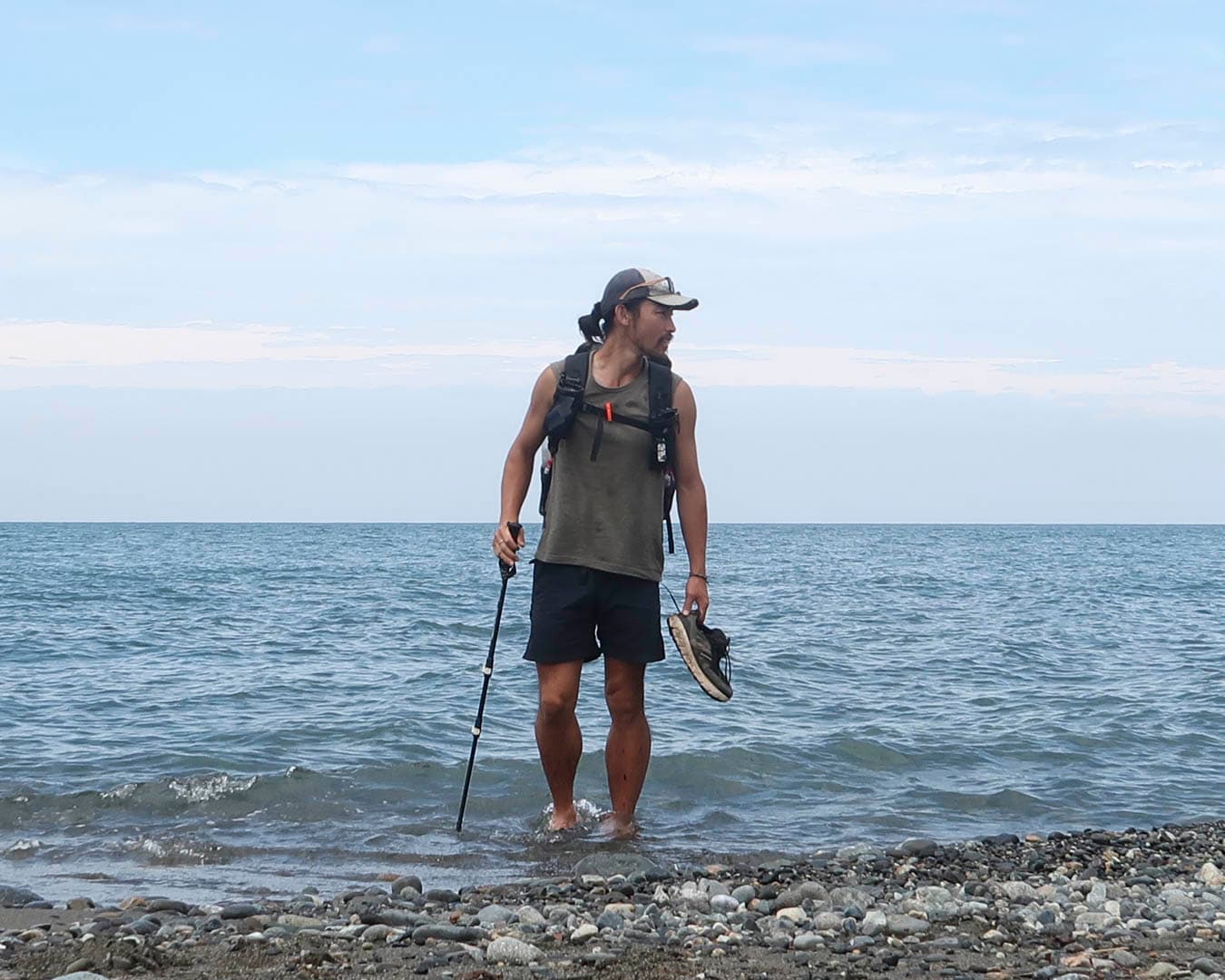 Masaru Kiyota, Long-distance Hiker
I wore the DF Mesh Merino almost every day on a 23-day midsummer trip across Honshu, Japan, and it worked well in a variety of situations;
On the paved road or on the trail of the Japan Alps Alps at altitudes over 2000m. Even when I was sweating a lot, the DF kept me comfortable, and I was impressed at how quickly it dried.
When the wind is strong at the ridge where I often have a cold sweat, I wore the fast-drying UL Shirt over it to keep warm. It dries on the move or even from my body heat when sleeping. I personally think this might just be the perfect base layer for the warmer seasons!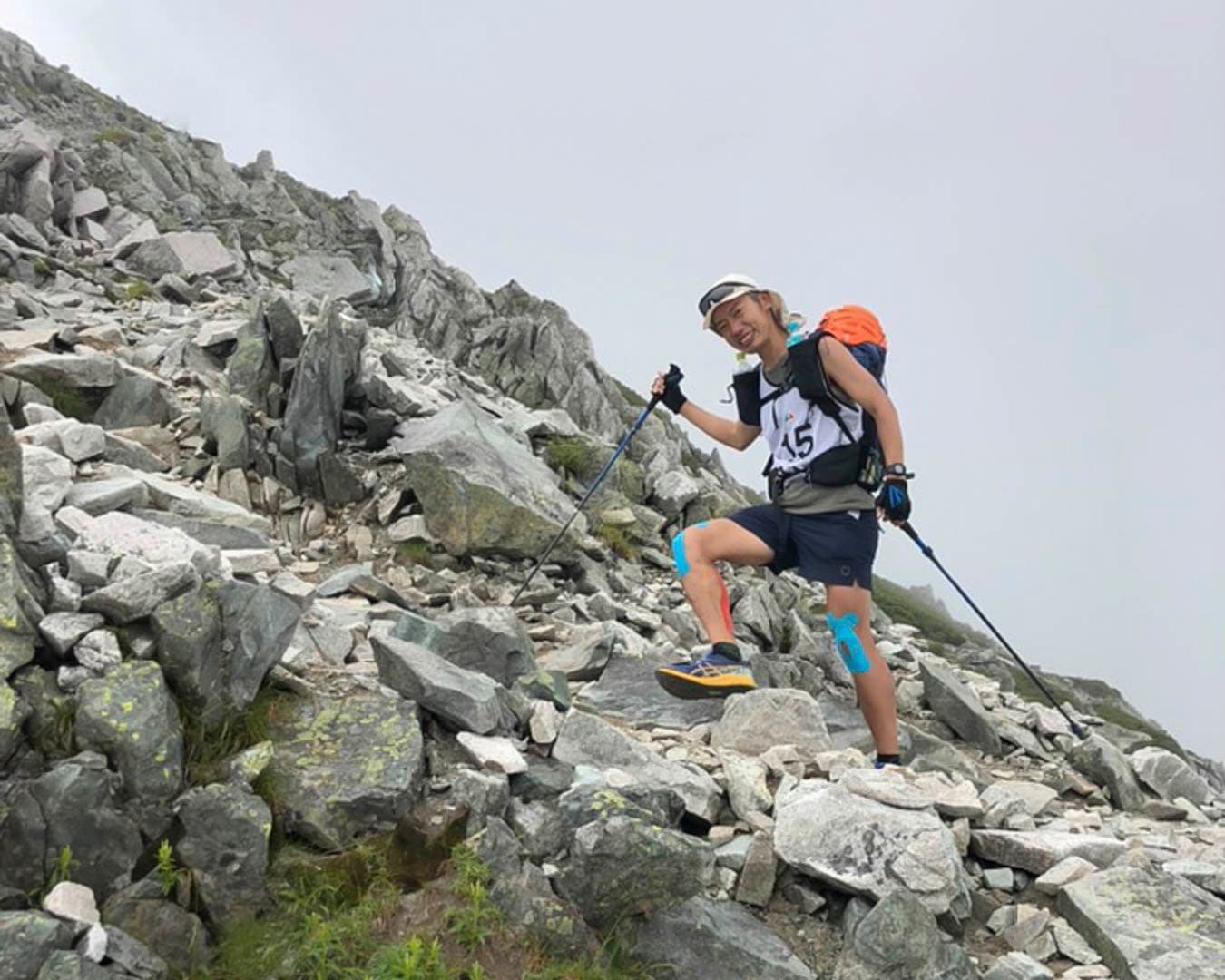 Yusuke Hayashida, TJAR Finisher in 2022
I successfully finished the Trans Japan Alps Race (TJAR) in August 2022 wearing DF Mesh Merino. Without trapping the heat inside, this product released the heat effectively from both armholes, and the fabric did not get sticky even when I was sweating. I felt comfortable during road running in the daytime.
At the ridgeline of the mountain, the fabric let the air pass and I was cool and comfortable. The texture was nice and pleasant, so I did not have to wear traditional mesh base layers. During the night, even when I got caught in the rain and got wet, I did not feel cold.
However, due to the friction with the backpack's shoulder straps and especially the hip belt, the fabric wore out rather quickly. The surface is not very durable, I thought. It is perfect for situations when you want to keep your luggage as little as possible, or in the early fall when it starts to get chilly.
It can be widely used for hiking, climbing, and fishing, of course, but also for winter running (a sleeved version is recommended) and as innerwear for everyday wear during fall and winter.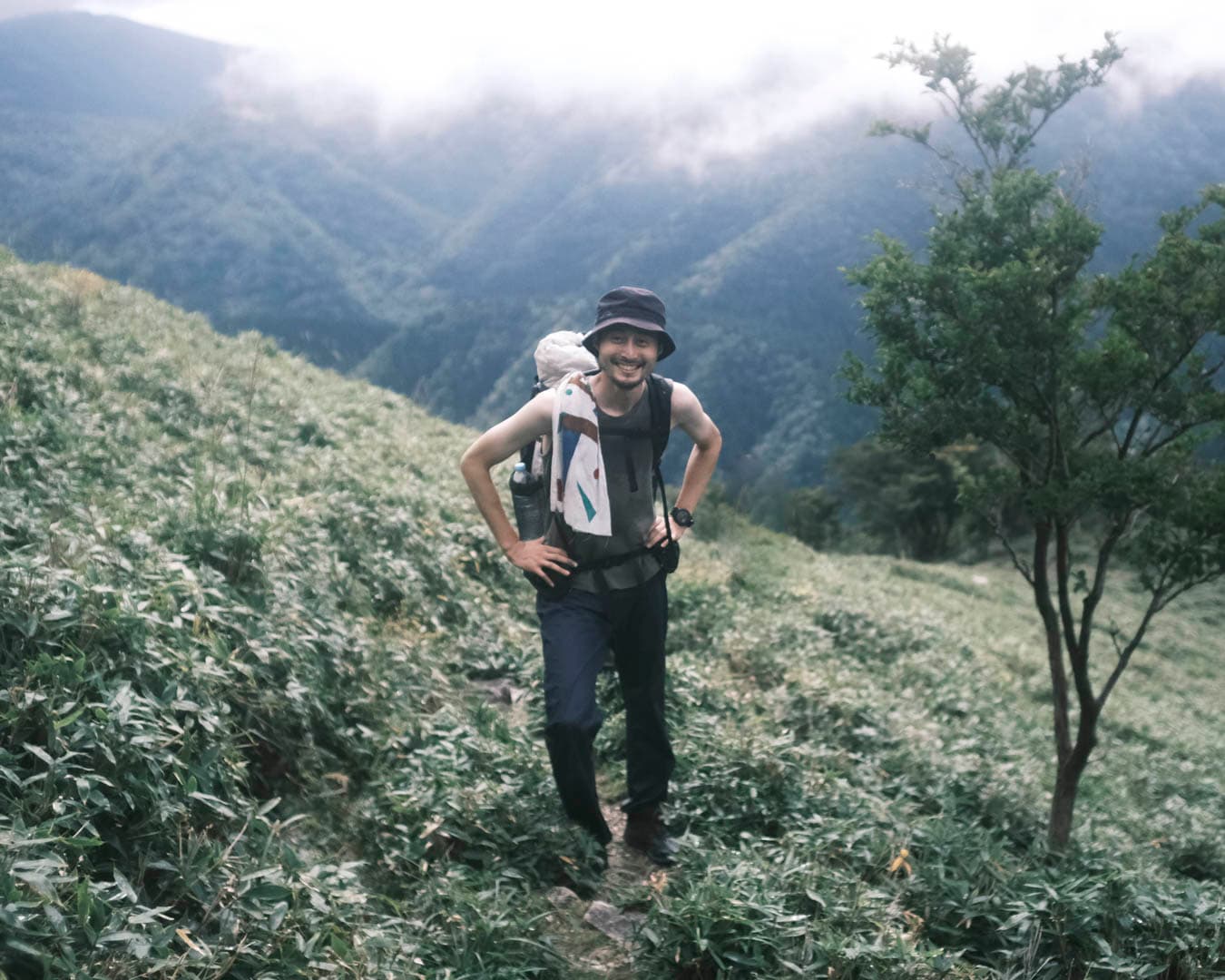 Tomoyuki Meguriya, Yamatomichi HLC Kitakantoh Ambassador
I wore the DF Mesh Merino Sleeveless and hiked in Shikoku for a week in mid-September. Even when soaked with sweat under the Sun, it did not stick to my skin and I felt dry. When I carried my backpack, I did not feel wet and sweaty on my back. After the break, my skin felt so dry that I almost thought the shirt was also completely dry.
During rainy or cooler weather, I wore the UL All-weather Jacket over this product and I felt comfortable, even in soaking wet conditions.
The shirt was so air-permeable and breathable that I felt too cold in the strong wind. In a situation like that, it is better to wear something to block the wind.
I tested and understood that the DF is less likely to stick to the skin in summer. I would also like to test how it performs when combined with other items in cooler temperatures.
Material
Proprietary Dual-layer Mesh Fabric
What to wear is an eternal challenge. In highly intensive activities in conditions with large differences in temperature, you feel too warm and stuffy if the clothes are too warm, while increased breathability could lead to the risk of being too cold.
We recommend 100% merino wool fabrics with excellent moisture control, heat retention, deodorant, and resistance to cooling when wet, etc. However, we have to admit that there have been cases where merino wool is not comfortable, especially when it's too warm and you sweat heavily. The DF Mesh Merino is the proprietary fabric that we have developed over the past two years to overcome these issues.
The DF (double face) is a dual-layer mesh structure; The skin side is a mesh made of 100% merino wool and is hydrophobic-finished to keep the water away, contacting your skin by points rather than by a single layer to keep you always comfortable. The surface side, on the other hand, is flat-knitted and hydrophilic-finished for better sweat absorption. The fabric is made of synthetic/merino yarn, that is, a nylon core wrapped by the merino yarn to increase durability and quick-drying properties. As such, the double-face fabric keeps you dry and offers you maximum comfort even under the changing weather.
The excellent air permeability will keep you cool when you are on the move while keeping you warm when you stand still. It is even warmer if you wear a windproof jacket. As a result of the wool blend ratio being approximately 90%, it also exhibits excellent natural-derived properties such as deodorant and moisture control.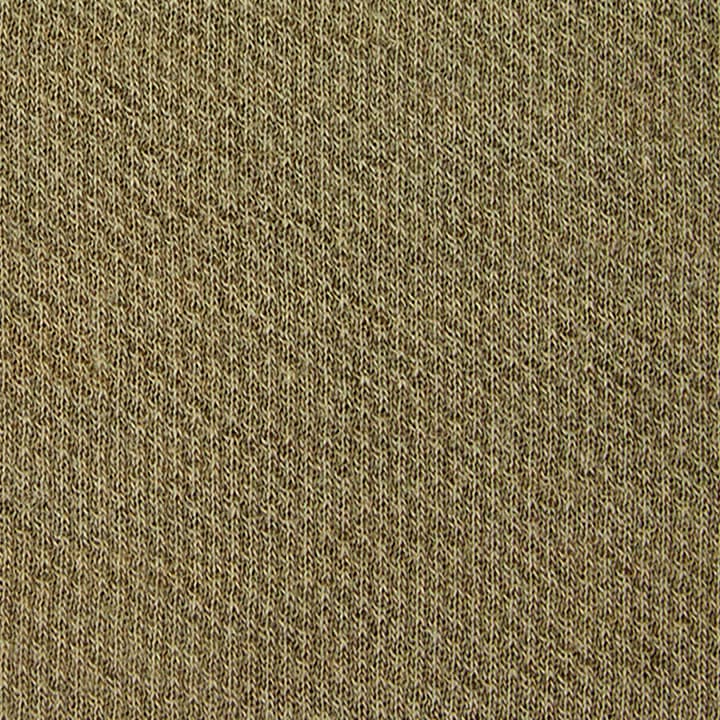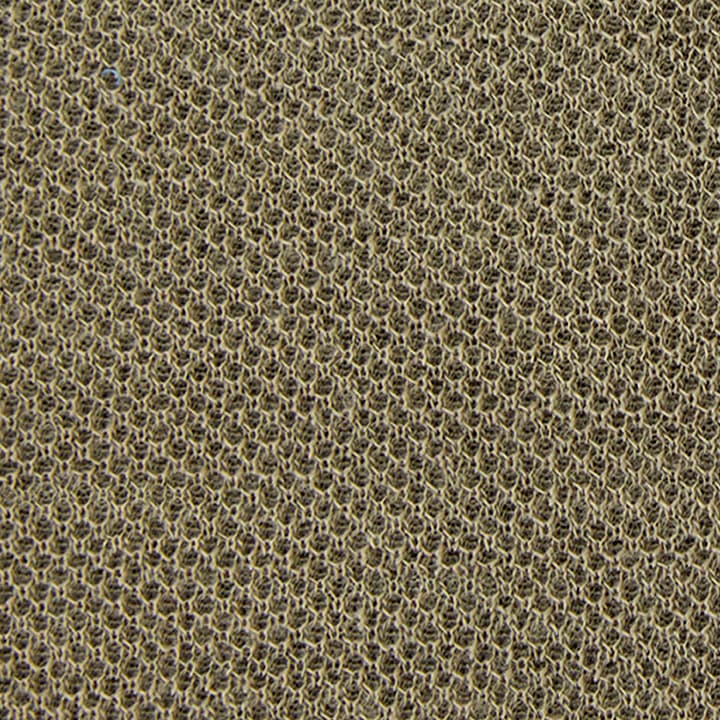 DF Mesh Merino
DF Mesh Merino:170-175g/m²
Material: 88% Wool, 12% Nylon
Surface side (Jersey): 79% Wool, 21% Nylon, Hydrophilic finished
Skin side: 100% Wool, Hydrophobic finished
Bursting strength (JIS L1096A): 416kPa (Average of multiple colors)*
*The value of the pressure when the rubber membrane tears the fabric as the membrane is continuously pressurized.
Heat retention (JIS L1096A): 34.4%*
*Energy loss when the fabric is placed on the heat source.
Size
Hide 178cm-68kg
Size L (Slate Blue)
Hide 178cm-68kg
Size L (Slate Blue)
Ken 168cm-52kg
Size S (Taupe)

Ken 168cm-52kg
Size M (Olive)

Matsu 169cm-69kg
Size M (Slate Blue)

Matsu 169cm-69kg
Size L (Olive)

Ippei 172cm-62kg
Size M (Taupe)

Ippei 172cm-62kg
Size L (Slate Blue)

Kim 175cm-70kg
Size M (Slate Blue)

Kim 175cm-70kg
Size L (Olive)

Pony 173cm-76kg
Size L (Olive)

Pony 173cm-76kg
Size XL (Black)

Tsuka 183cm-65kg
Size L (Slate Blue)

Tsuka 183cm-65kg
Size XL (Black)
Ken 168cm-52kg
Size S (Taupe)

Ken 168cm-52kg
Size M (Olive)

Matsu 169cm-69kg
Size M (Slate Blue)

Matsu 169cm-69kg
Size L (Olive)

Ippei 172cm-62kg
Size M (Taupe)

Ippei 172cm-62kg
Size L (Slate Blue)

Kim 175cm-70kg
Size M (Slate Blue)

Kim 175cm-70kg
Size L (Olive)

Pony 173cm-76kg
Size L (Olive)

Pony 173cm-76kg
Size XL (Black)

Tsuka 183cm-65kg
Size L (Slate Blue)

Tsuka 183cm-65kg
Size XL (Black)
推奨サイズ / Recommended Size
Men

Size
S
M
L
XL
体重 / Weight
kg
52~61
59~69
67~78
76~85
胸囲 / Chest
cm
80~90
85~95
92~102
100~110
製品サイズ / Product Size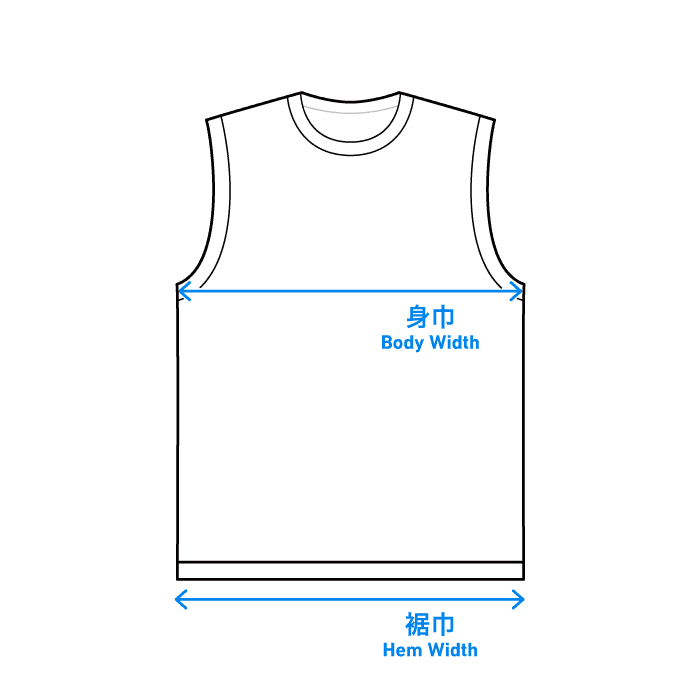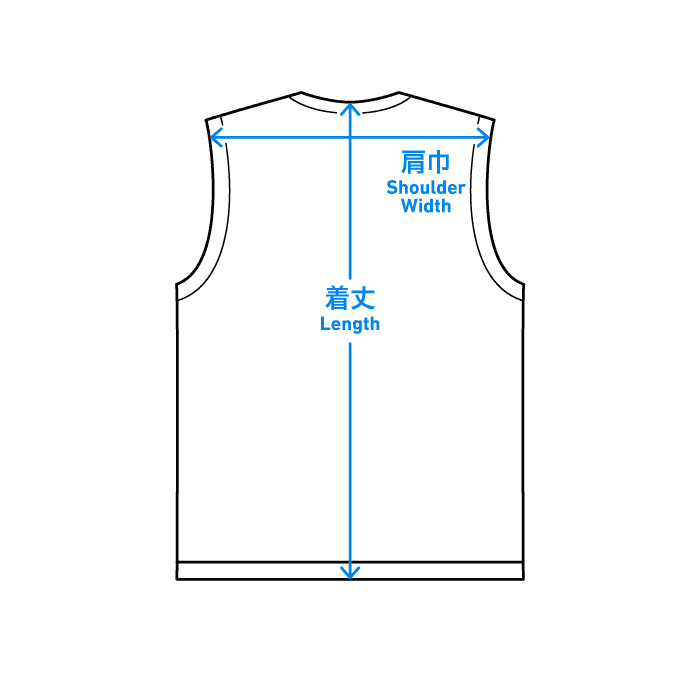 | Size | S | M | L | XL |
| --- | --- | --- | --- | --- |
| 着丈 / Length | 65 | 68 | 70 | 72 |
| 肩巾 / Shoulder Width | 34 | 36 | 39 | 42 |
| 身巾 / Body Width | 43 | 45 | 49 | 53 |
| 裾巾 / Hem Width | 40 | 42 | 46 | 50 |
The above values show the measurement when the item is brand-new and unwashed.
– Due to the elasticity and sewing variations, the actual measurement and the above values may not be identical.
– Due to the difference in the shrinkage tendency, there may be some individual differences in the measurements of the product.
– The type of washing machine and washing mode setting may influence the extent of the shrinkage.
– The shrinkage can be restored by gently ironing with steam.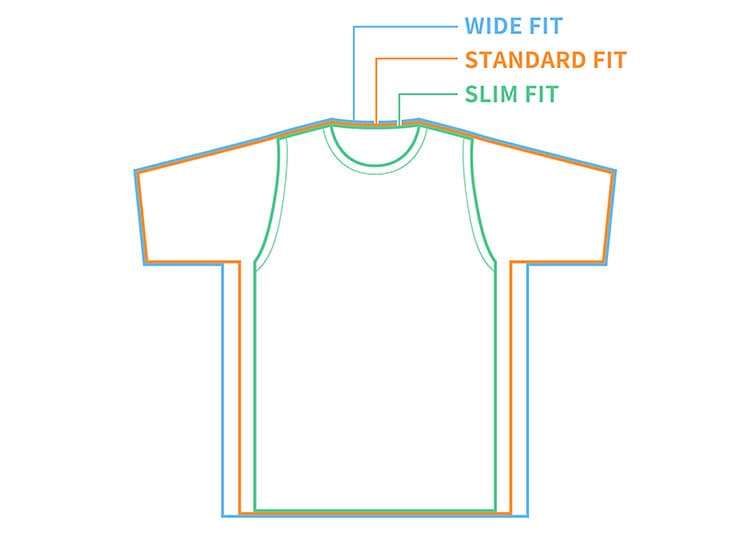 Our DF Mesh Merino Series have a wide-fit, standard-fit and slim-fit: DF Mesh Merino Sleeveless is slim-fit.
Please Note
Durability
The DF Mesh Merino has an uneven mesh-like surface structure, which can easily develop snags, pillings, and holes by the friction with the backpack straps if it is worn by itself.
Wool is a short fiber material that tends to lose fibers when rubbed against something coarse and hard. It is relatively thin and prone to holes compared to synthetic fibers or cotton. Therefore, the DF requires more care than normal woolen knit fabrics when you walk in the bushes or rocks, or when it is in contact with hard mesh.
Please wear a shell jacket or shirt over it instead of wearing it alone if you use it in a hard situation. The DF fabric is highly breathable and allows the wind to permeate easily, so wearing a shell jacket is a great idea to keep you warm.
Color Transfer
Please note that when this product in Black color is in contact with a white or light-colored shirt in wet condition, color may transfer.
Instructions
Care Instructions
Please wash separately or use the laundry net bag.
Mesh fabrics are prone to deform or distort. After washing, adjust the shape of the product and dry it flat.
Hydrophobic and hydrophilic properties are added in the later process and are not natural. They may be weakened with use.
When you store the item, use mothballs and/or vacuum storage bags to keep out insects.
Payment
We only accept payment by credit card. We currently do not accept payment via bank transfer from overseas accounts.
We accept the following Credit Cards: Visa, Master, American Express, and JCB.
To download your receipt, please click the link included in the Dispatch Notice, which we will send by email as soon as the items are dispatched.
Delivery
Order Confirmation will be sent after the order.
The items will be dispatched within 3 days after the payment is confirmed.
The dispatch notice will be sent by email as soon as the items are dispatched.
The delivery may be delayed by unforeseeable reasons such as natural disasters and other logistics issues. We appreciate your patience and understanding.
We cannot ship multiple orders in one package due to how our delivery system is currently set up.
We will ship by DHL for overseas customers (excluding China, Hong Kong, Taiwan, Korea and Russia). For customers in China, Hong Kong, Taiwan, Korea and Russia, we will ship by EMS only.
Shipping costs vary depending on your country and region.
Size Exchange
Overseas customers who need to change the size of their order, should note that the time needed for shipping will vary greatly depending on your country of residence.
We only accept exchanges when the item is unused (except for fitting).
If you wish to exchange the size of the item, please contact us within seven days of receiving your order.
Exchanges can only be made for the same color in a different size.
If the size you wish is out of stock, we will suggest a different color.
If the product is out of stock, we may simply have to ship the item back to you.
All shipping costs to be carried by the customer.
We will only send the exchanged item to you, upon receipt of return shipping cost via PayPal.
Please be aware that some countries charge customs duties depending on the price of the item.
We are unable to answer any questions on local customs. Please contact your local customs bureau.
Repair
We accept repairs for all of our Yamatomichi products. For inquiries on repair services including patching the holes, repairing with extra components, or fixing the items damaged over time, please feel free to contact us from the "Repair" section of the SUPPORT page.