141g
¥ 17,050 Tax included
Introduction
Light Hiking Pants
The lightest pants in the Yamatomichi 5-Pocket lineup.
The Light 5-Pocket Pants with an elastic Pertex Equilibrium fabric is comfortable even when hiking on hot summer days. As with all our 5-Pocket Pants, the five pockets are uniquely positioned to hold your smartphone and maps, while ensuring maximum flexible leg movement.
Stronger fabric
The 2023 model has been updated with approximately twice the tear strength making it more tear-safe in hard conditions such as rocky terrain. The increased tear strength created a more firm texture to the fabric that keeps off your skin even when sweating.
*For more detailed information, please refer to "Material".
Color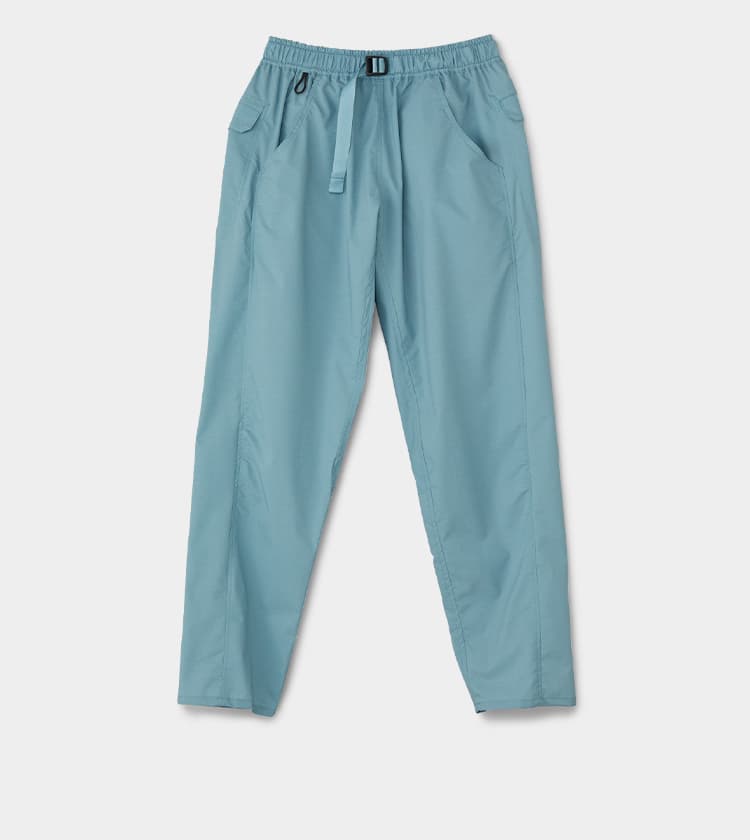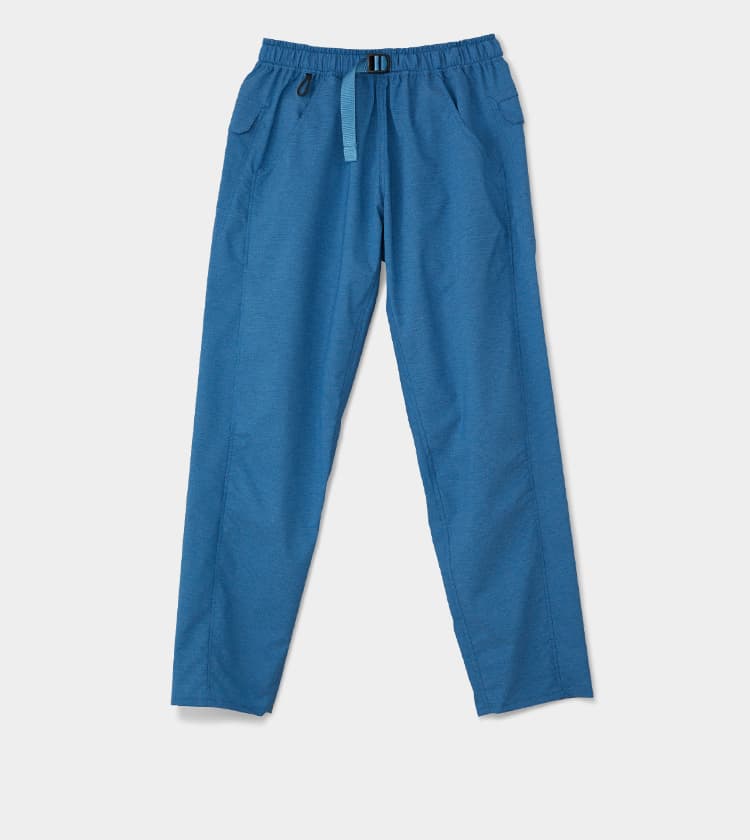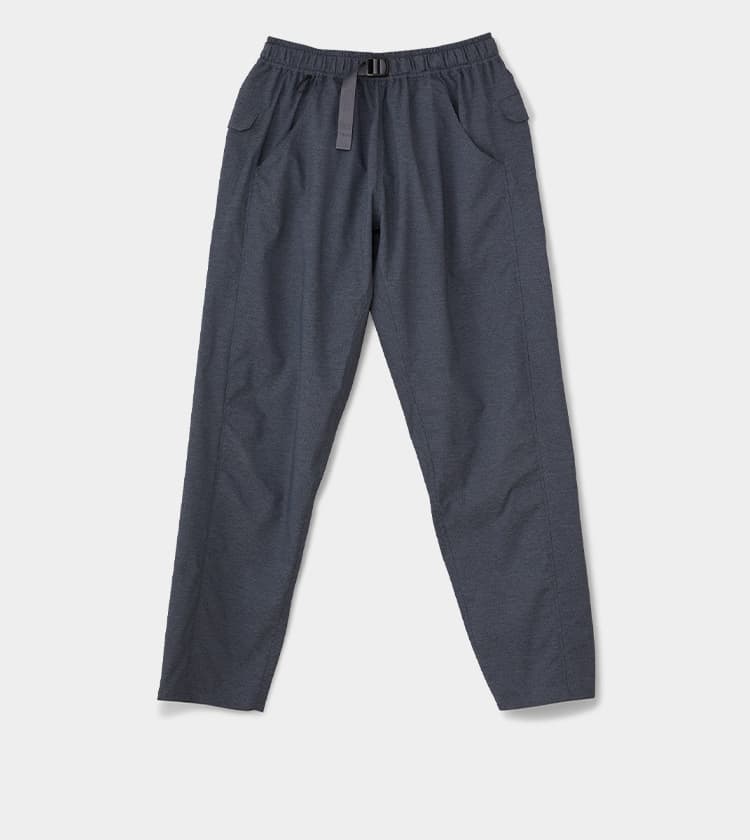 Spec
Made in Akita, Japan
Material:
Pertex Equilibrium (83% Nylon, 17% Polyester) 55g/m²
C6 DWR
Zipper:
YKK #3 Coil Zipper
Weight:
141g (Size S)
143g (Size S-Tall)
147g (Size M)
149g (Size M-Tall)
155g (Size L)
157g (Size L-Tall)
Size:
WOMEN | S / S-Tall / M / M-Tall / L / L-Tall
Product Story
Even More Comfortable
Akira Natsume, Yamatomichi Founder
I was using our 5-Pocket Shorts during the summer and our 5-Pocket Pants when it got colder. That is, unless there was a particular reason to wear long pants. I never really considered wearing the long 5-Pocket Pants during summer. Surely, shorts are best on a hot summer day, right?
That said, some of our customers preferred to wear their 5-Pocket Shorts even in the summer. I also noticed that some of them were wearing tights under our 5-Pocket Pants.
After all, shorts-only in the summer didn't seem like the mainstream style here in Japan. So I decided to create a sweat-free and ultralight pair of long pants that are as comfortable to wear as our shorts.
Ai Watanabe, wearing the Turmeric color.
The original 5-Pocket Pants are made of non-elastic and non-polyurethane Taslan nylon. Although polyurethane is frequently used in many materials for its stretch property, I didn't really like it because it tended to be slow-drying with inferior durability and weak wind protection. Non-polyurethane Taslan nylon, on the other hand, did not stretch but it was quick-drying, windproof, and durable. After many tests, I discovered the ideal, comfortable shape of the 5-Pocket Pants made of Taslan nylon. But when I discovered the Pertex Equilibrium, this turned out to be the ideal non-polyurethane fabric for its slight elastic performance.
It might not be as durable as 100% Taslan nylon, but the Pertex Equilibrium's smooth texture and lightness are its great advantages.
Considering the stretch of the material, the thighs of the pants are slightly slimmer compared to our regular 5-Pocket Pants. Of course, these light pants also use the 5-Pocket system, so you can comfortably keep your hands in the side pockets and stow your map or smartphone in other pockets as usual.
Our Light 5-Pocket Pants are only half the weight of the original 5-Pocket Pants. Because of the flexible fabric, you can even do yoga in these pants, without overheating even on a hot summer day.
Form and Function
Pockets for Smartphone and Maps
Yamatomichi 5-Pocket design can neatly store your map, snack, wallet, and other items you need during hiking, without interfering with your leg movement.
Especially, our smartphone pocket at the side is so well-positioned that it fits your phone while keeping it securely in place without bouncing around when running. The map pocket is large enough to store the water bottle.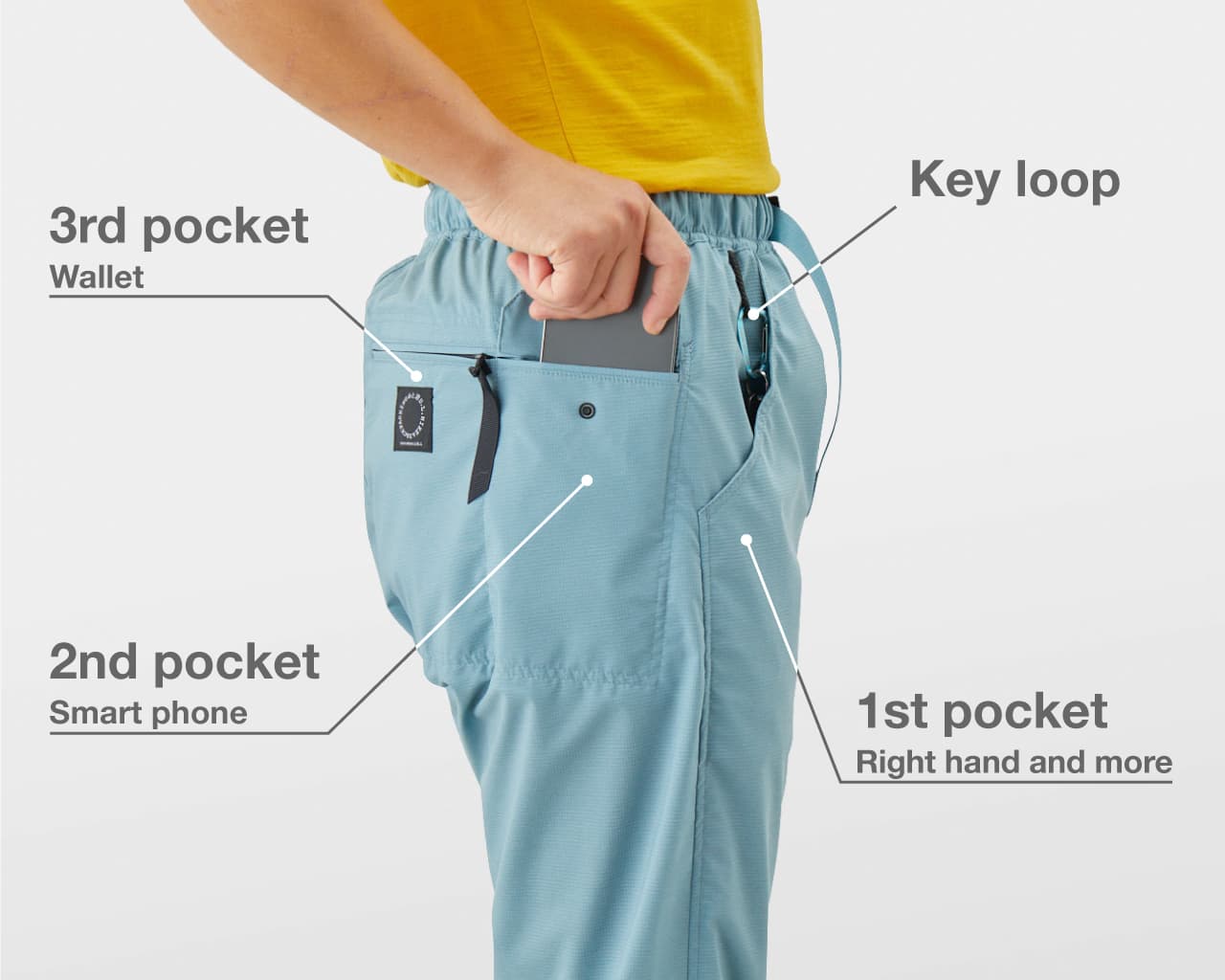 1st pocket
Large enough for comfortable keeping your hands in your pockets while hiking.
2nd pocket
The 2nd pocket is perfect for your smartphone. The perfectly-allocated pocket just behind the hipbone secures a smooth leg lift, preventing your phone from bouncing around, and keeps your phone safe and intact when sitting.
3rd pocket
The 3rd pocket is positioned high for wallets, etc. The long zipper tab allows for easy opening/closure of the pocket.
Key Loop
You can attach keys or a small carabiner to the long key loop. It's also handy when you hang the pants to dry.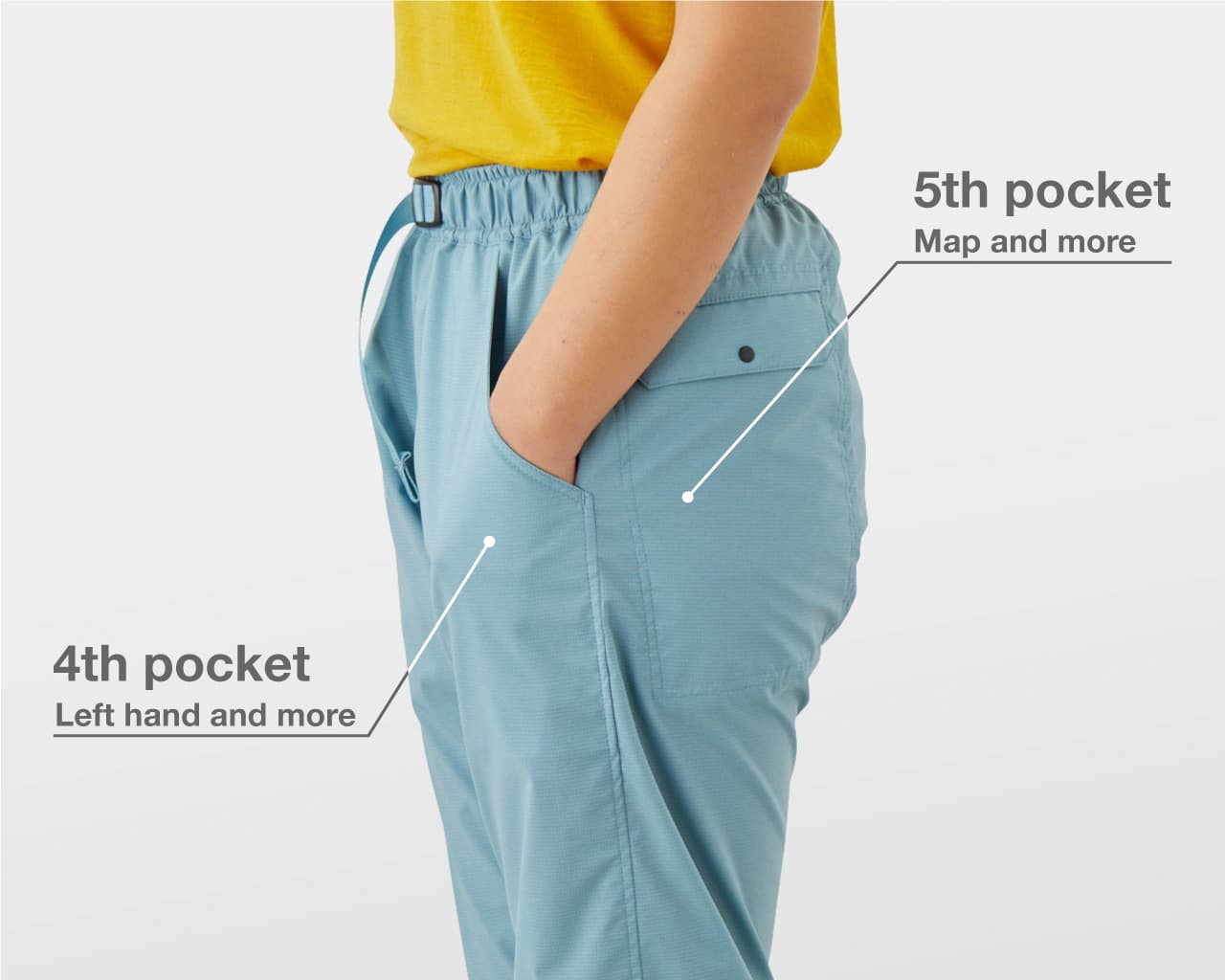 4th pocket
The lower part of the pocket liner is made of polyester mesh for drainage should the pants get wet.
5th pocket
The 5th pocket is made to fit the size of the normal hiking map. It is also perfect for a large-screen smartphone, compact digital camera, and even a water bottle.
Ultra Light. Ultra Flexible.
By using the Pertex Equilibrium fabric, we managed to create a pair of pants weighing only half of our regular 5-Pocket Pants. The Equilibrium is also slightly elastic allowing for great flexibility when hiking.
The twist-processing of the fibers and optimum weaving design create a slight two-way stretch even without the polyurethane material, which is elastic but easy to deteriorate with age.
The Pertex Equilibrium comprises 20 denier threads on the surface and 40 denier weft threads on the backside for more flexibility and lightness; a combination of the fibers with different deniers creates a unique irregular texture to keep your skin dry.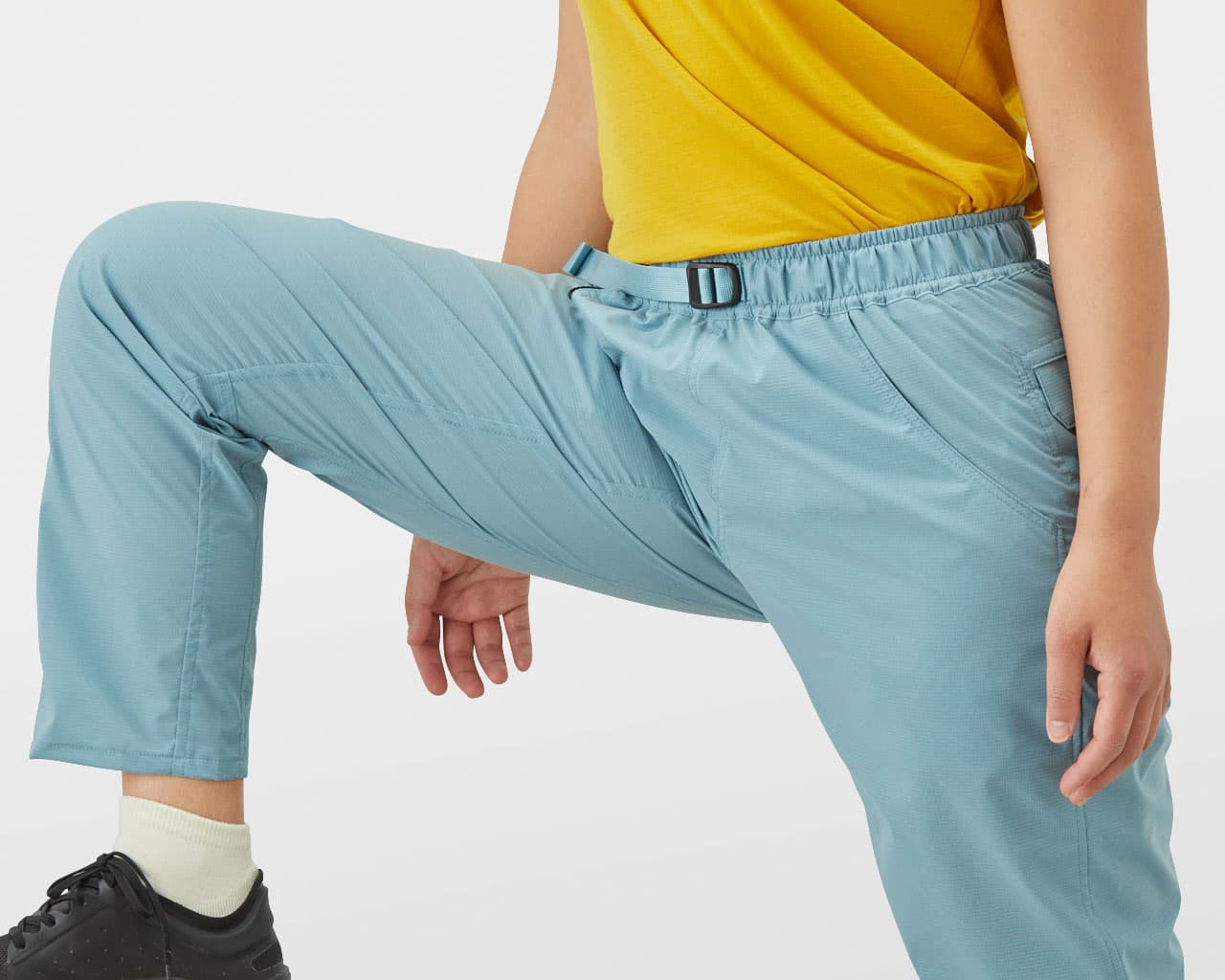 Flexible, stress-free, and comfortable.
Super Fast-drying
As the fabric is super thin it dries in no time! The elastic waistband uses mesh material for quicker drying and better comfort when it gets wet from sweat or rain.
The chart below shows the moisture content in the fabric after 15 minutes of spin-dry. It compares our Light 5-Pocket Pants/Shorts with the base layers of major manufacturers, as well as a standard cotton shirt.
The lower the moisture content, the faster it dries. The Light 5-Pocket Pants/Short show that it is only 0.3% of water content after 15 minutes of spin-dry, which means it is almost completely dry.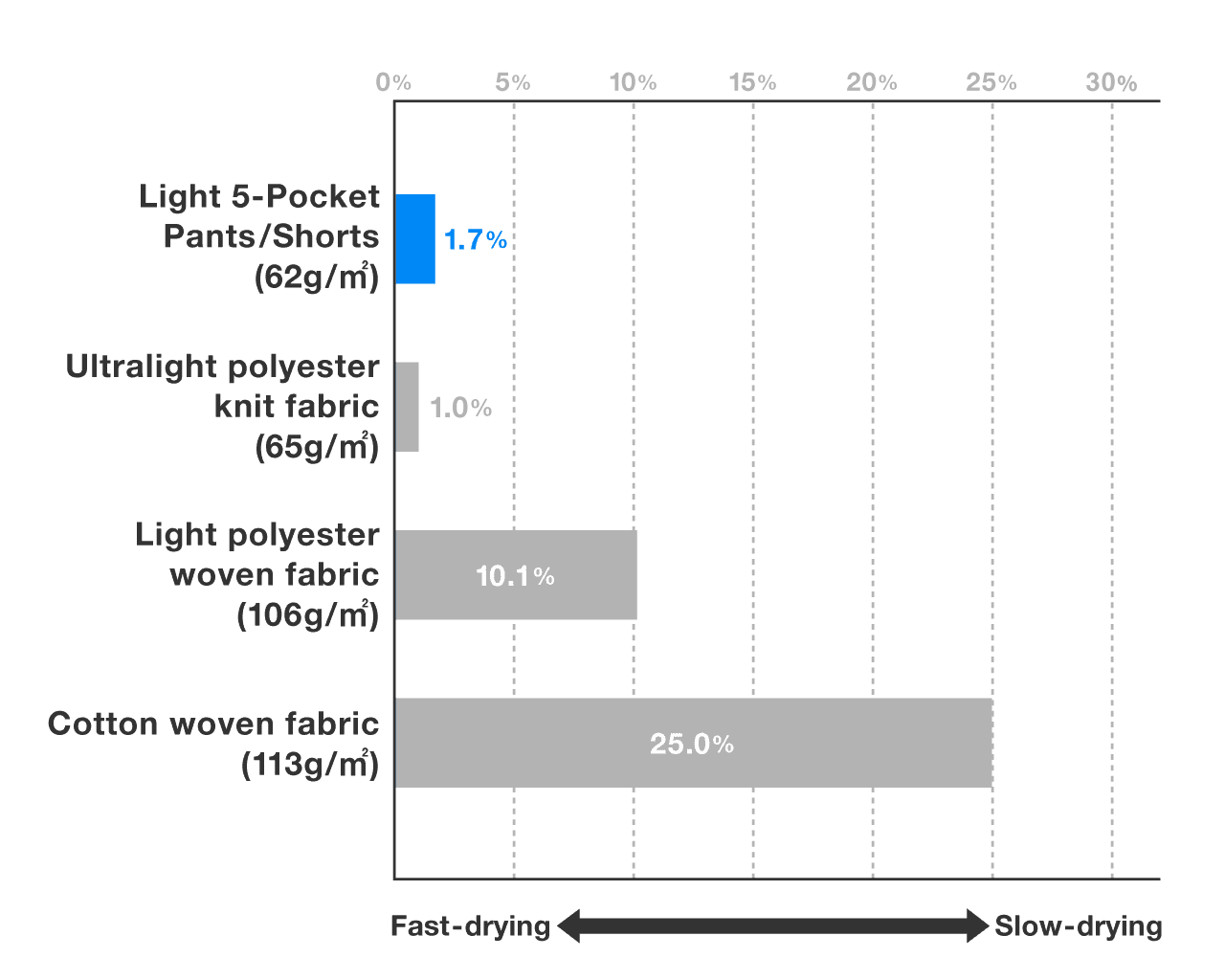 5-Pocket Lineup
Yamatomichi offers three types of bottoms for the three seasons of spring, summer, and autumn: the Light 5-Pocket Pants/Shorts, which are super light and offer exceptional breathability; the standard 5-Pocket Pants/Shorts, the origin of the series; and the DW 5-Pocket Pants/Shorts, which are somewhat in the middle between the two.
Please visit the below page for details and comparisons of all our 5-Pocket Pants and Shorts.
Each has its own advantages and disadvantages depending on the situation, season, and application, but all of the designs are similar. Please visit the following link for details.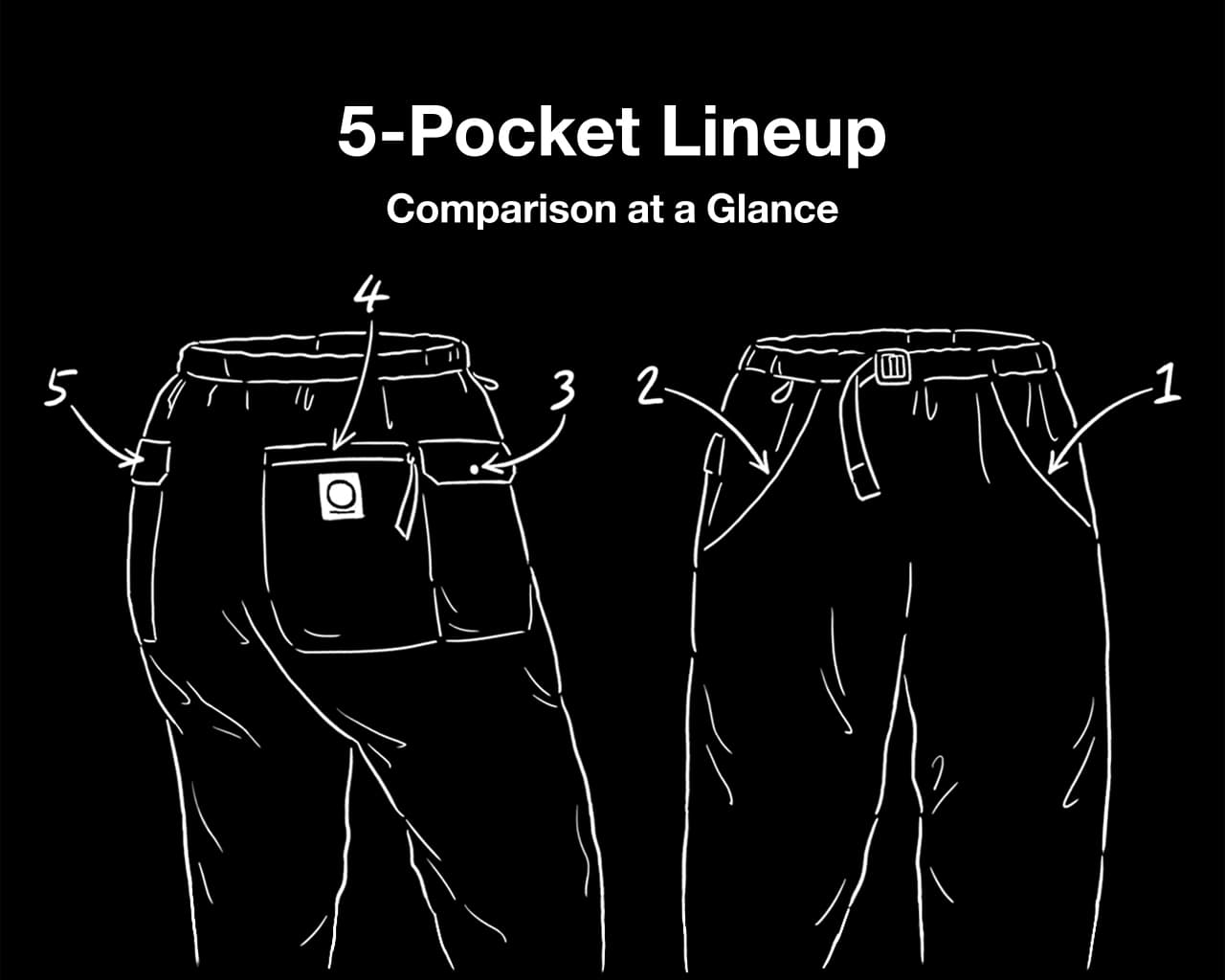 Material
More Durable Pertex Equilibrium
The special double-weave structure of Pertex Equilibrium has a slightly stretchy (two-directional) feel due to the combination of yarns of different thicknesses, and the unevenness on the reverse side of the fabric, which decreases skin contact and prevents the fabric from sticking to you.
until the 2022 model year was specialized to be extremely lightweight, the fabric was thin, and while it was cool and comfortable in warm weather, it was prone to tearing when rubbing against rocks and other surfaces.
In 2023, We doubled the tear strength by using a wider thread for the rip-stop which increased the weight by 10% but gave the fabric a more firm texture, making it stick less to the skin. This stiffer material to our surprise helped lower heat buildup within the garment even though the fabric was 40% less breathable by value.
In addition, the previous Pertex Equilibrium had a weakness in that it was prone to snags, but we have increase the strength on the backside making it less prone to snag and reduced the likelihood of tearing.
Material:
Pertex Equilibrium (78% Nylon, 22% Polyester) 62g/m²
20d/20f x 20d/20f, Double cloth
C6 DWR
Spec:
Tear strength measured by JIS L 1096 D (In-house test)
Vertical: 1.9kg, Horizontal: 2.4kg
Tensile strength measured by JIS L 1096 A (In-house test)
Vertical: 37kg Horizontal: 44kg
Breathability measured by JIS 1096 A (In-house test)
18cc/(㎠・s)
Size
Shiori 167cm-55kg
Size MT (Sky Blue)
Shiori 167cm-55kg
Size MT (Sky Blue)
Kanade 161cm-51kg
Size ST (Slate Blue)

Kanade 161cm-51kg
Size M (Dark Gray)

Shiori 167cm-55kg
Size L (Spruce)
Kanade 161cm-51kg
Size ST (Slate Blue)

Kanade 161cm-51kg
Size M (Dark Gray)

Shiori 167cm-55kg
Size L (Spruce)
推奨サイズ / Recommended Size
Size
S
ST
M
MT
L
LT
身長 / Height
cm
150~158
159~164
156~164
165~169
162~169
170~176
体重 / Weight
kg
42~49
42~49
47~56
47~56
54~62
54~62
ウエスト / Waist
cm
60~66
60~66
64~72
64~72
68~76
68~76
製品サイズ / Product Size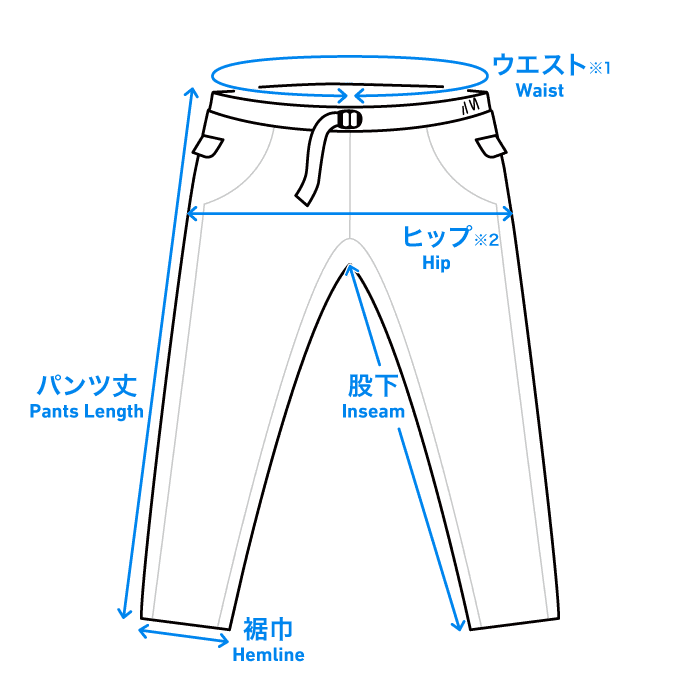 *Waist is measured when the rubber is not stretched.
**The hip is the width measured at the largest part of the waist when placed flat.
| Size | S | ST | M | MT | L | LT |
| --- | --- | --- | --- | --- | --- | --- |
| パンツ丈 / Pants Length | 92.5 | 95.5 | 96.5 | 99.5 | 100 | 103 |
| 股下 / Inseam | 70 | 73 | 73 | 76 | 76 | 79 |
| ウエスト / Waist | 62 | 62 | 67 | 67 | 71 | 71 |
| ヒップ / Hip | 53.5 | 53.5 | 56 | 56 | 58.5 | 58.5 |
| 裾巾 / Hemline | 17 | 17 | 17.5 | 17.5 | 18.5 | 18.5 |

*Slight size differences may occur due to fabric shrinkage and sewing variations.
Instructions
Relatively Weak
The Pertex Equilibrium, the fabric used in the Light 5-Pocket Shorts/Pants, is very thin and lightweight.
The rip-stop construction provides some strength, but sharp objects such as rocks and branches can scratch and possibly tear the fabric. Please be careful when you walk through rocky ridges or sit down to rest on a rock.
Snags
The Light 5-Pocket series uses a special double-weave fabric, with thick yarns on the backside. When the thick yarns, made up of bundles of very fine fibers, are rubbed and intertwined with your body hair when moving, the fabric may develop snags and a unique wavy texture. If you are concerned about snags, please try the following steps.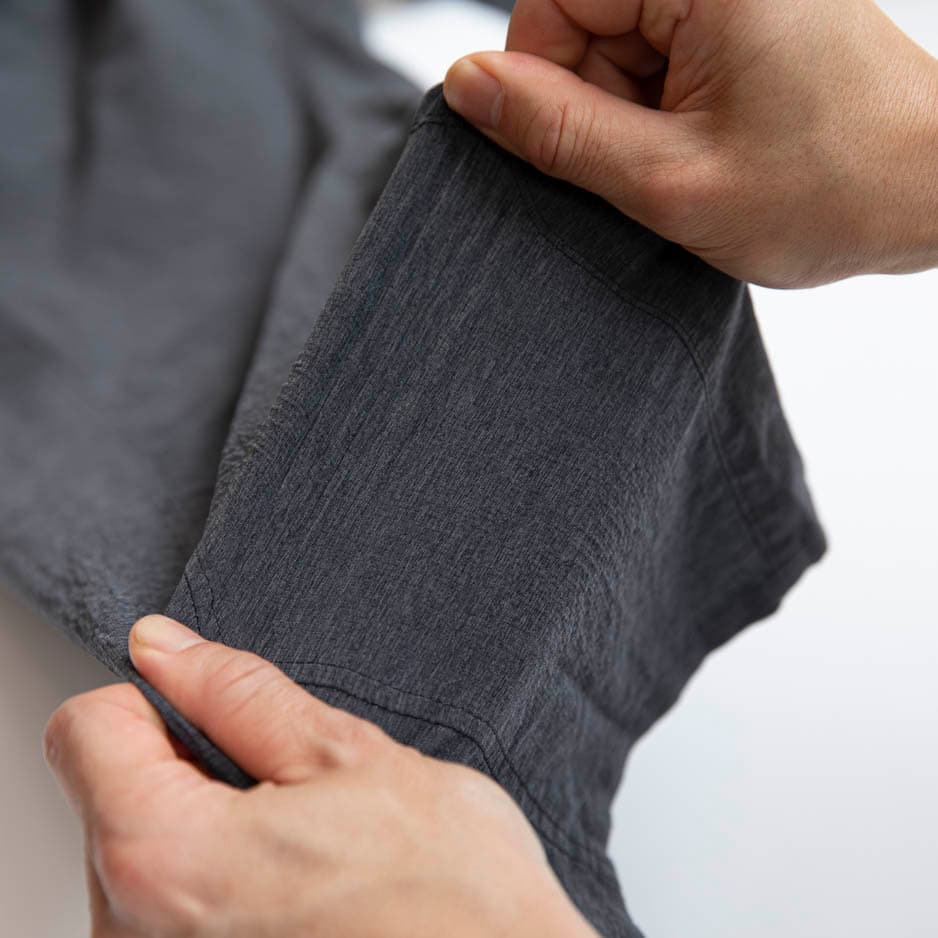 Stretch the fabric little by little until the wave disappears. Iron it at low temperature to stretch it out and flatten the surface.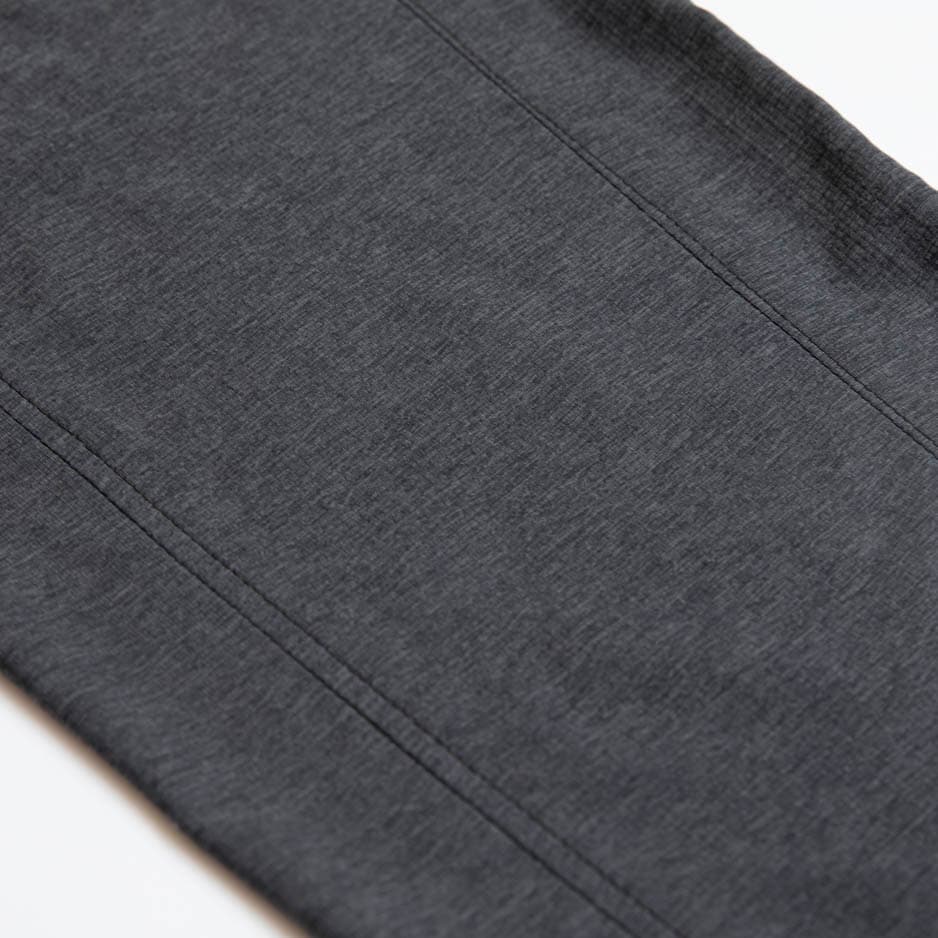 Snags and wavy texture become less noticeable only by stretching the fabric. Please be advised that this fabric is prone to a wavy pattern.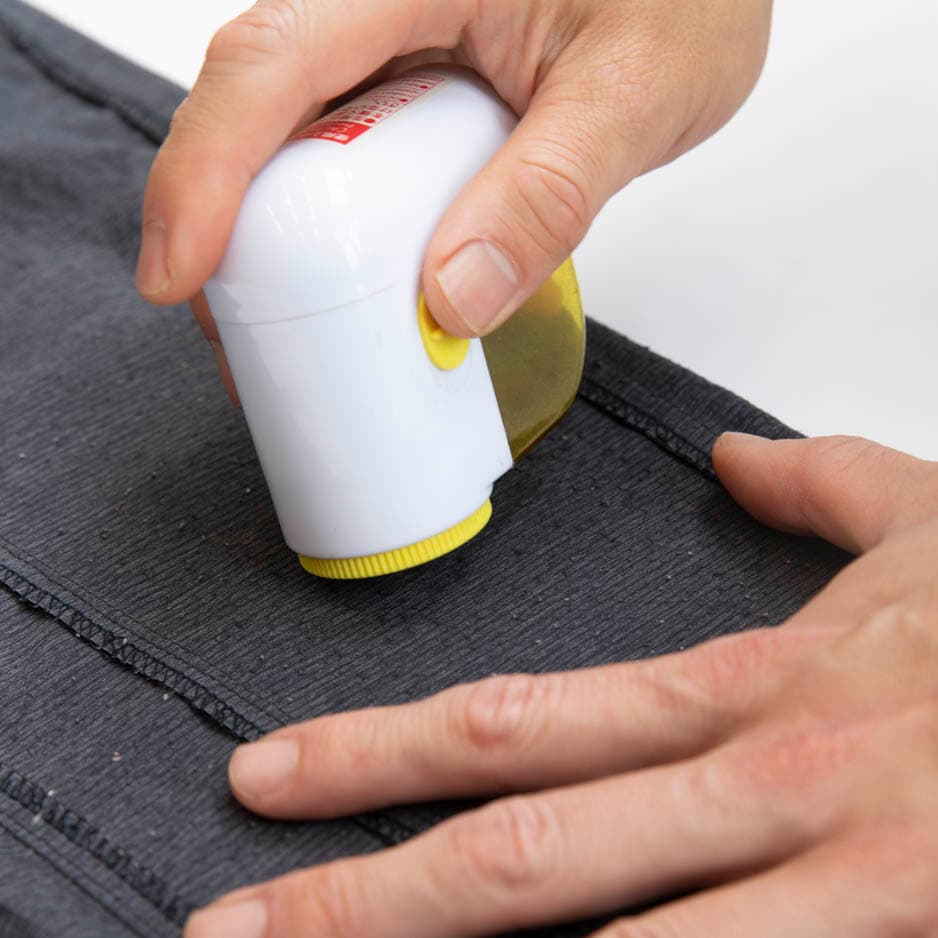 Snags are caused by frayed yarns or pilling in the double-weave structure. Use a pilling remover and cut out the loose yarns or furballs to prevent snags. This, however, may weaken the fabric.
Care Instructions
Machine wash below 40°C.
Use a laundry net or wash separately.
Line dry in the shade.
Tumble dry below 60°C.
Do not bleach and do not use fabric softener.
Iron on low without steam.
Do not dry-clean.
High temperatures may cause shrinkage.
The fabric may develop snags due to the friction with your body hair.
Payment
We only accept payment by credit card. We currently do not accept payment via bank transfer from overseas accounts.
We accept the following Credit Cards: Visa, Master, American Express, and JCB.
To download your receipt, please click the link included in the Dispatch Notice, which we will send by email as soon as the items are dispatched.
Delivery
Order Confirmation will be sent after the order.
The items will be dispatched within 3 days after the payment is confirmed.
The dispatch notice will be sent by email as soon as the items are dispatched.
The delivery may be delayed by unforeseeable reasons such as natural disasters and other logistics issues. We appreciate your patience and understanding.
We cannot ship multiple orders in one package due to how our delivery system is currently set up.
We will ship by DHL for overseas customers (excluding China, Hong Kong, Taiwan, Korea and Russia). For customers in China, Hong Kong, Taiwan, Korea and Russia, we will ship by EMS only.
Shipping costs vary depending on your country and region.
Size Exchange
Overseas customers who need to change the size of their order, should note that the time needed for shipping will vary greatly depending on your country of residence.
We only accept exchanges when the item is unused (except for fitting).
If you wish to exchange the size of the item, please contact us within seven days of receiving your order.
Exchanges can only be made for the same color in a different size.
If the size you wish is out of stock, we will suggest a different color.
If the product is out of stock, we may simply have to ship the item back to you.
All shipping costs to be carried by the customer.
We will only send the exchanged item to you, upon receipt of return shipping cost via PayPal.
Please be aware that some countries charge customs duties depending on the price of the item.
We are unable to answer any questions on local customs. Please contact your local customs bureau.
Repair
We accept repairs for all of our Yamatomichi products. For inquiries on repair services including patching the holes, repairing with extra components, or fixing the items damaged over time, please feel free to contact us from the "Repair" section of the SUPPORT page.