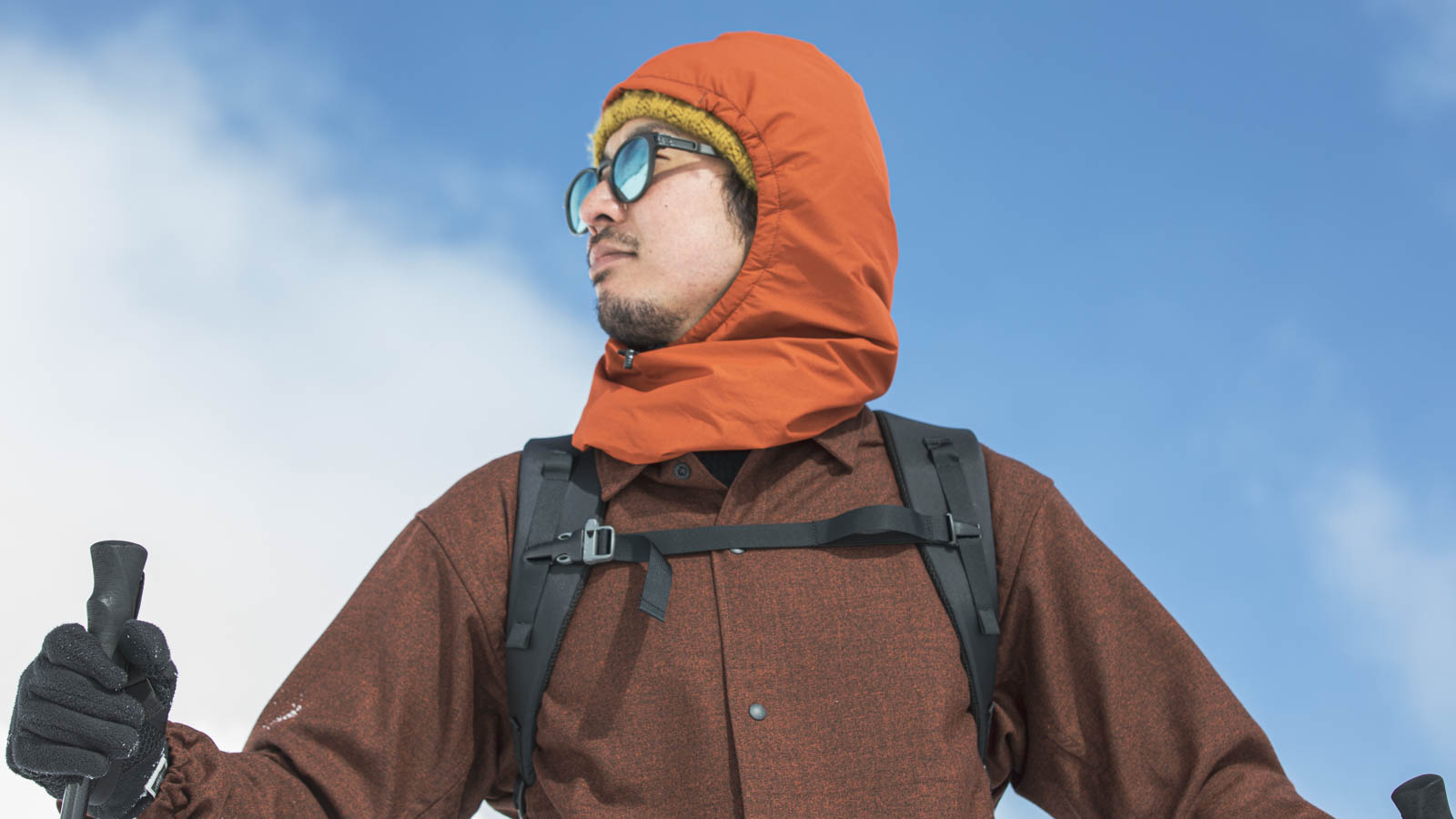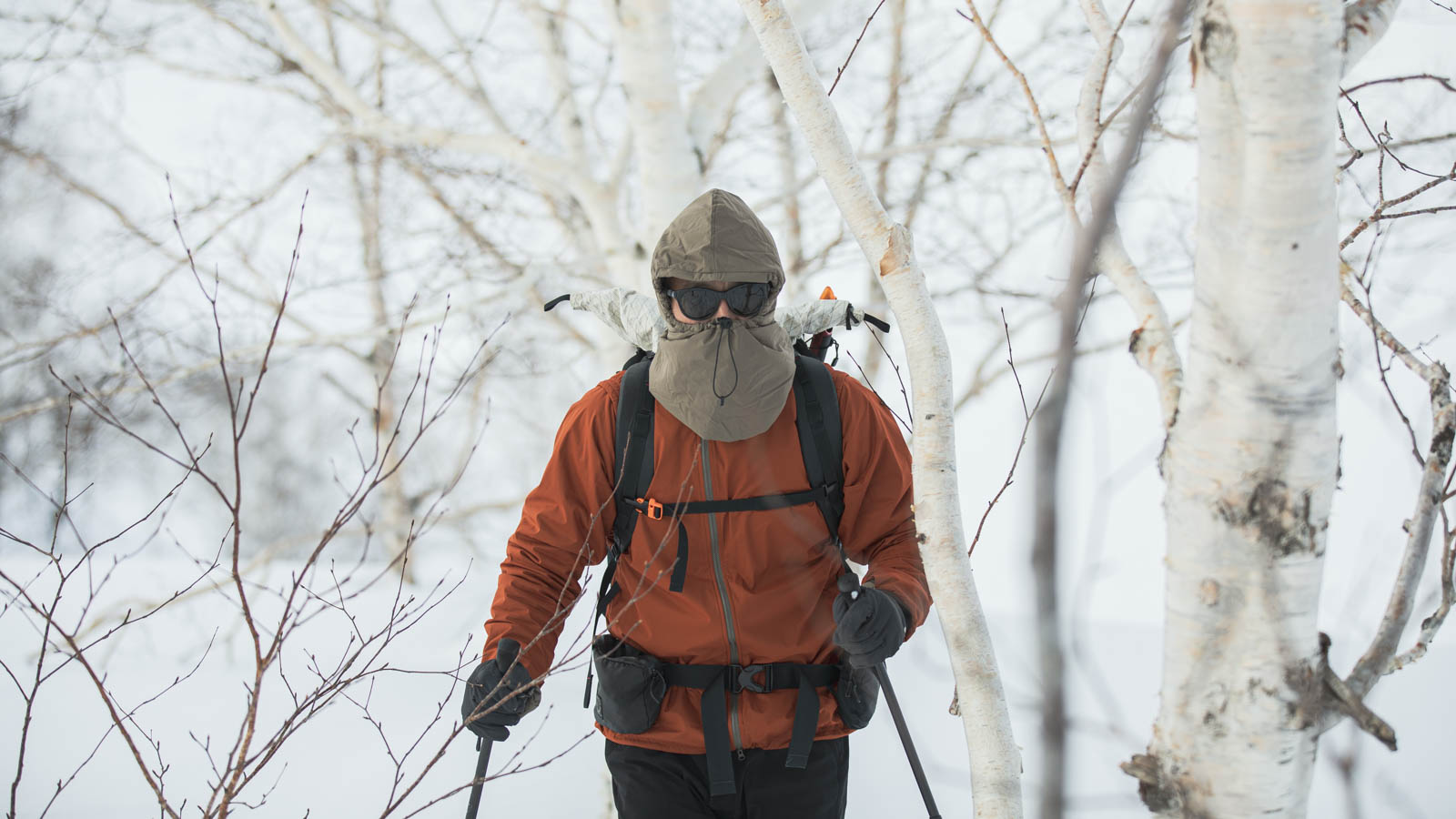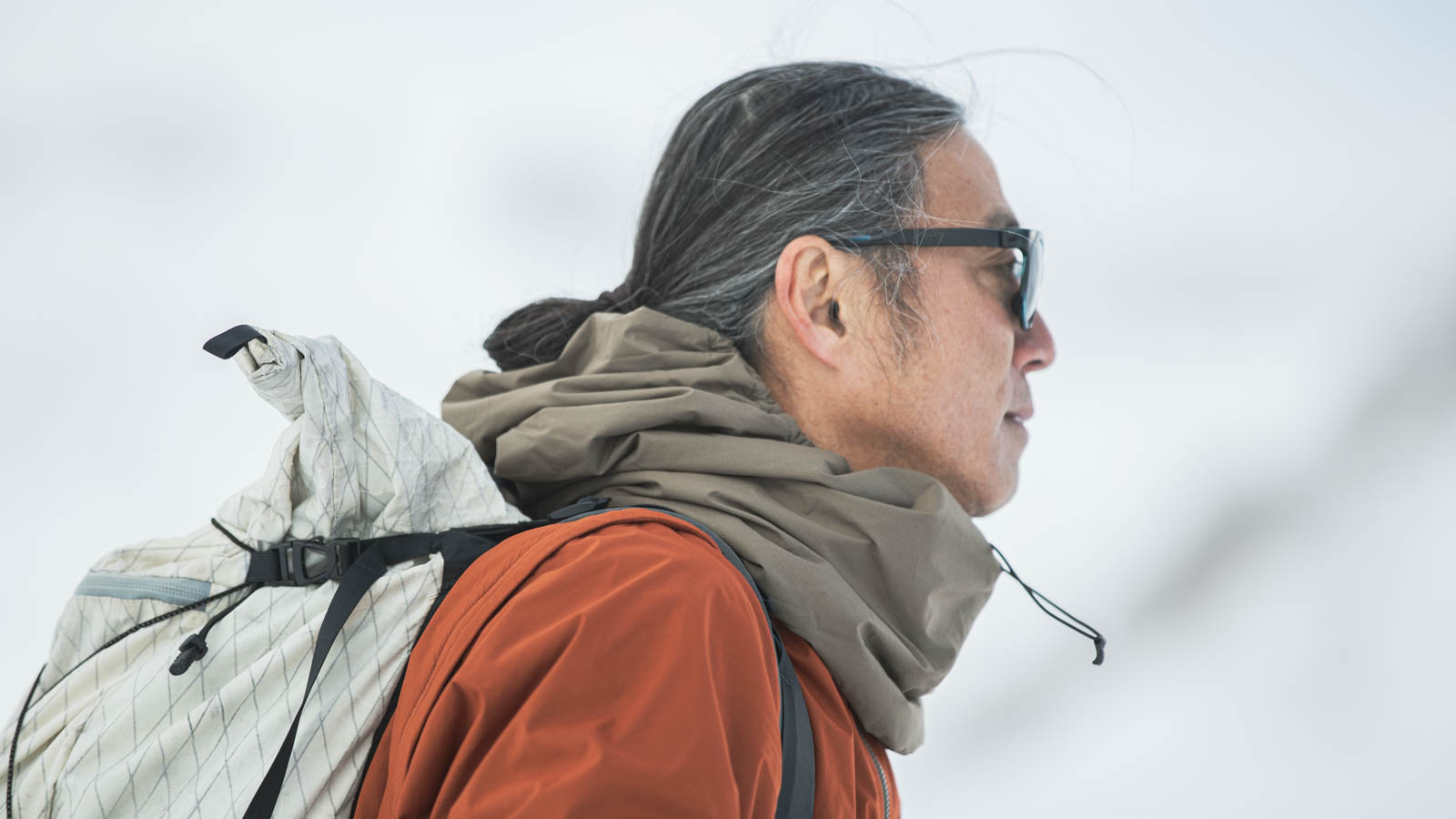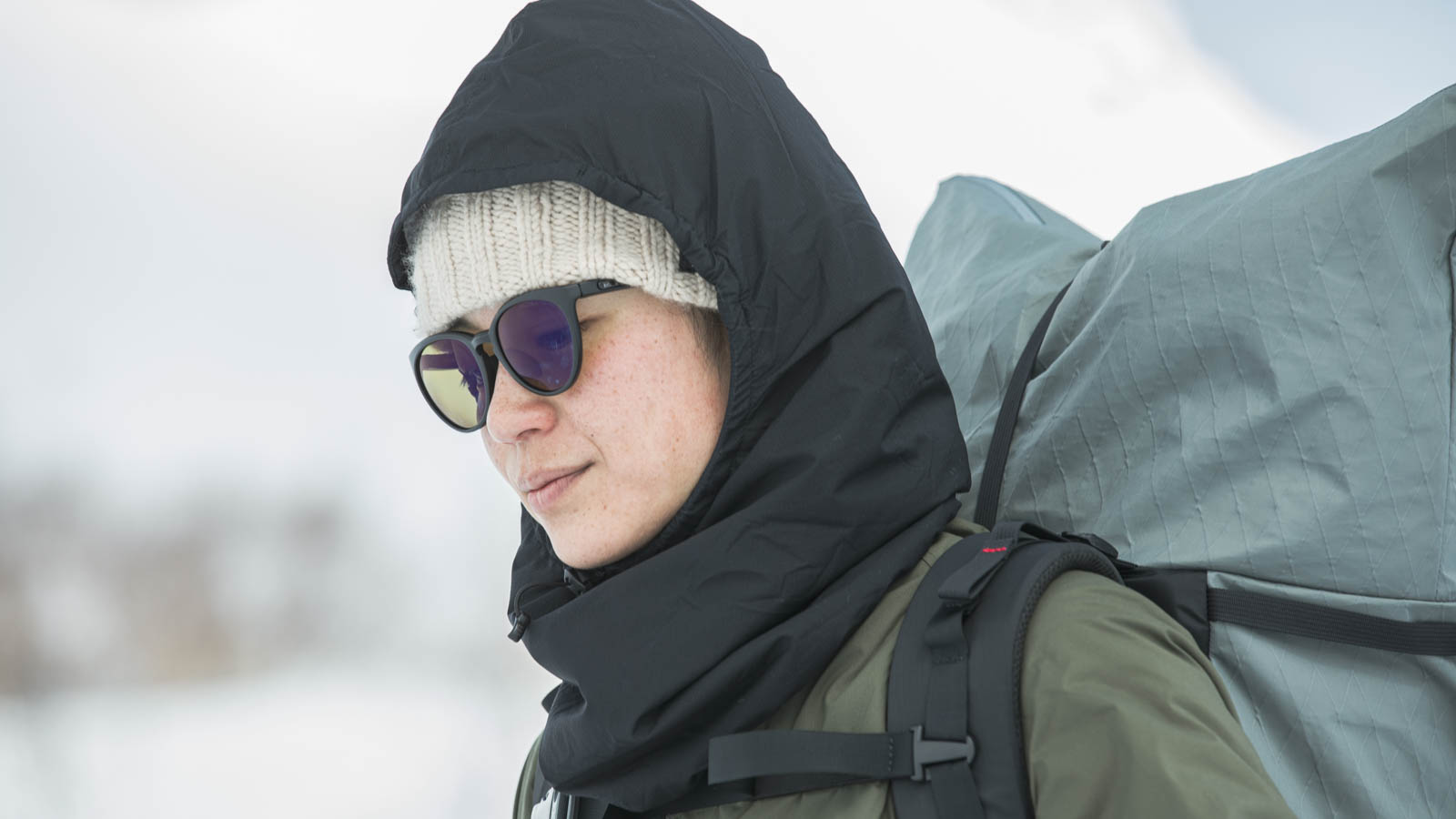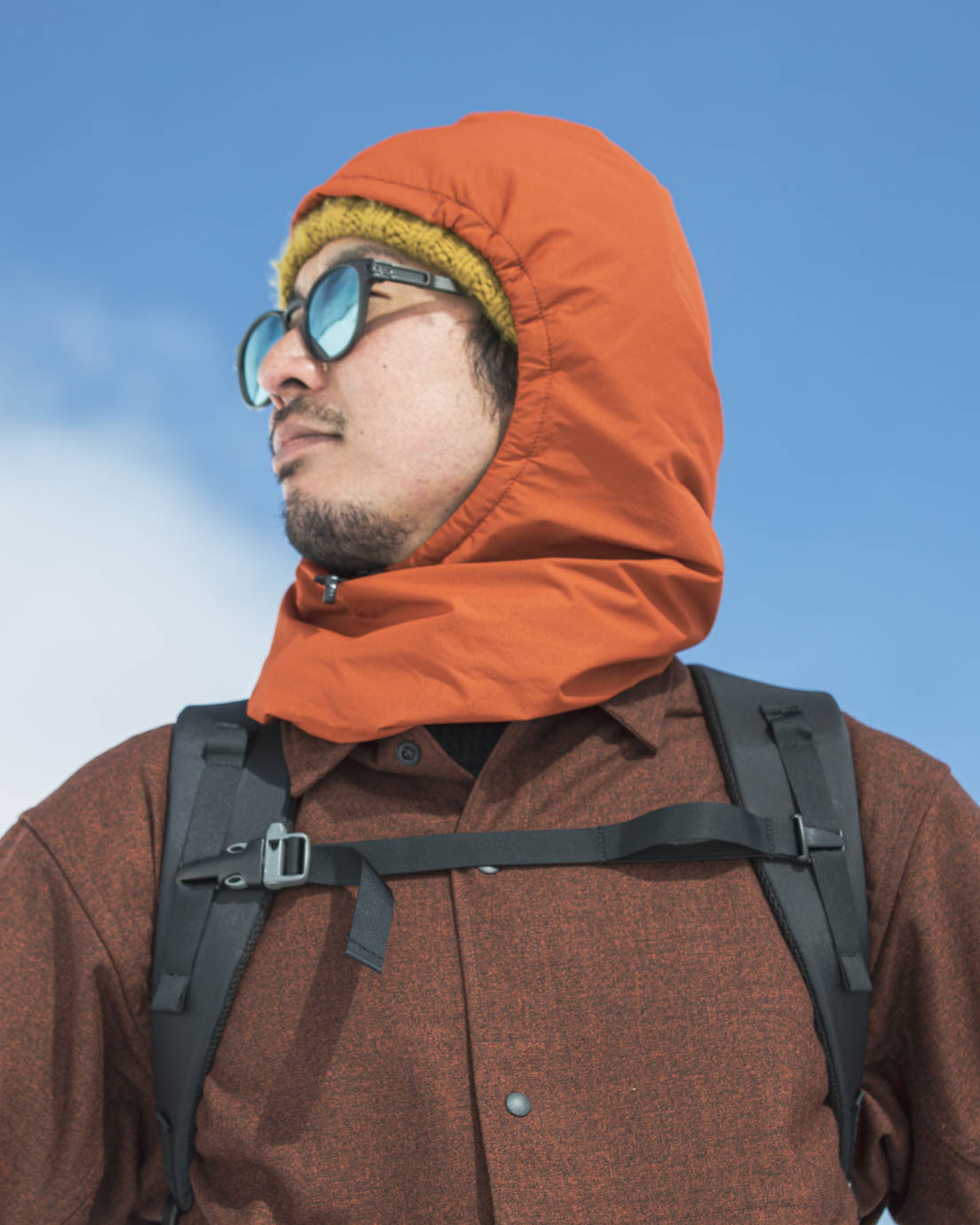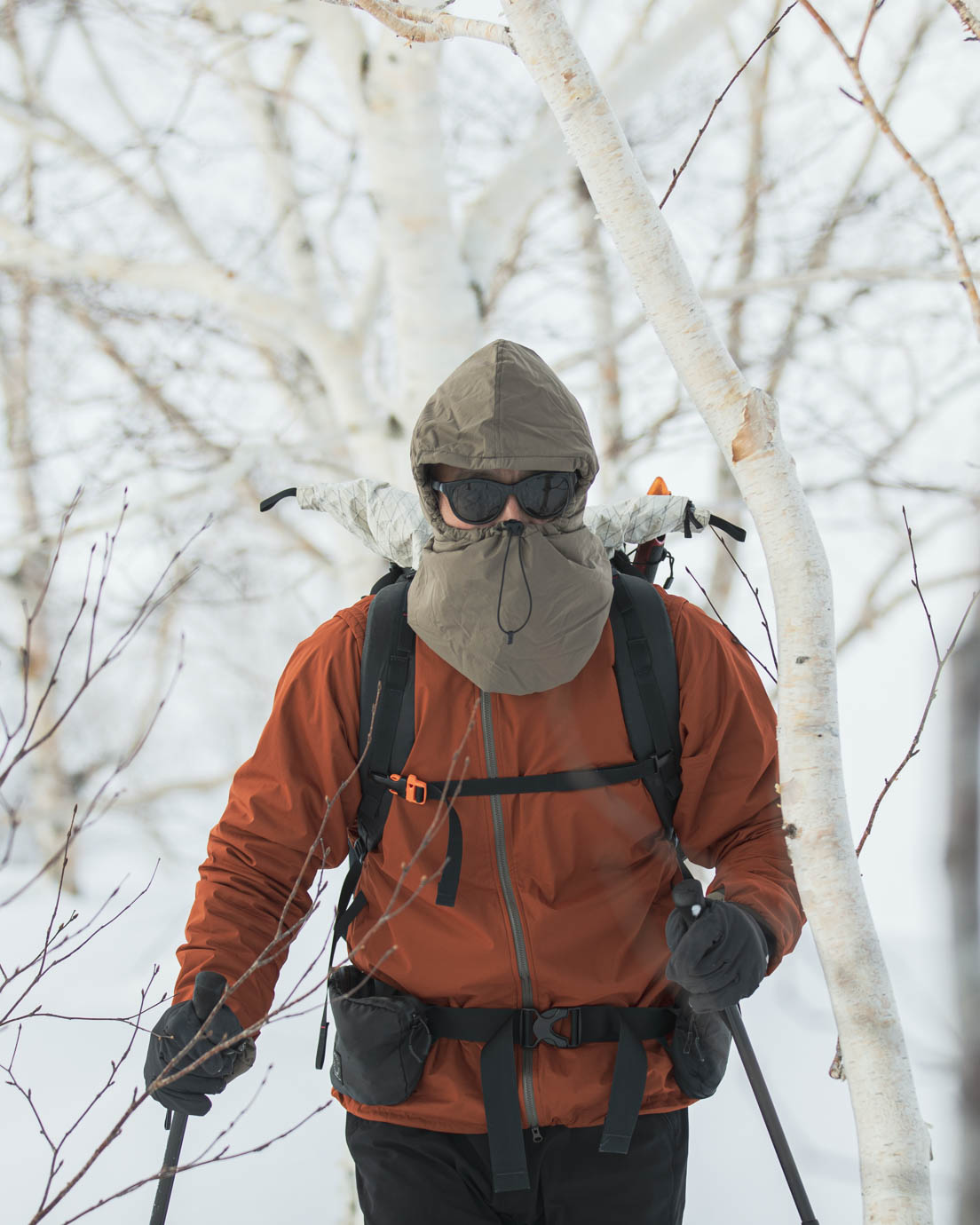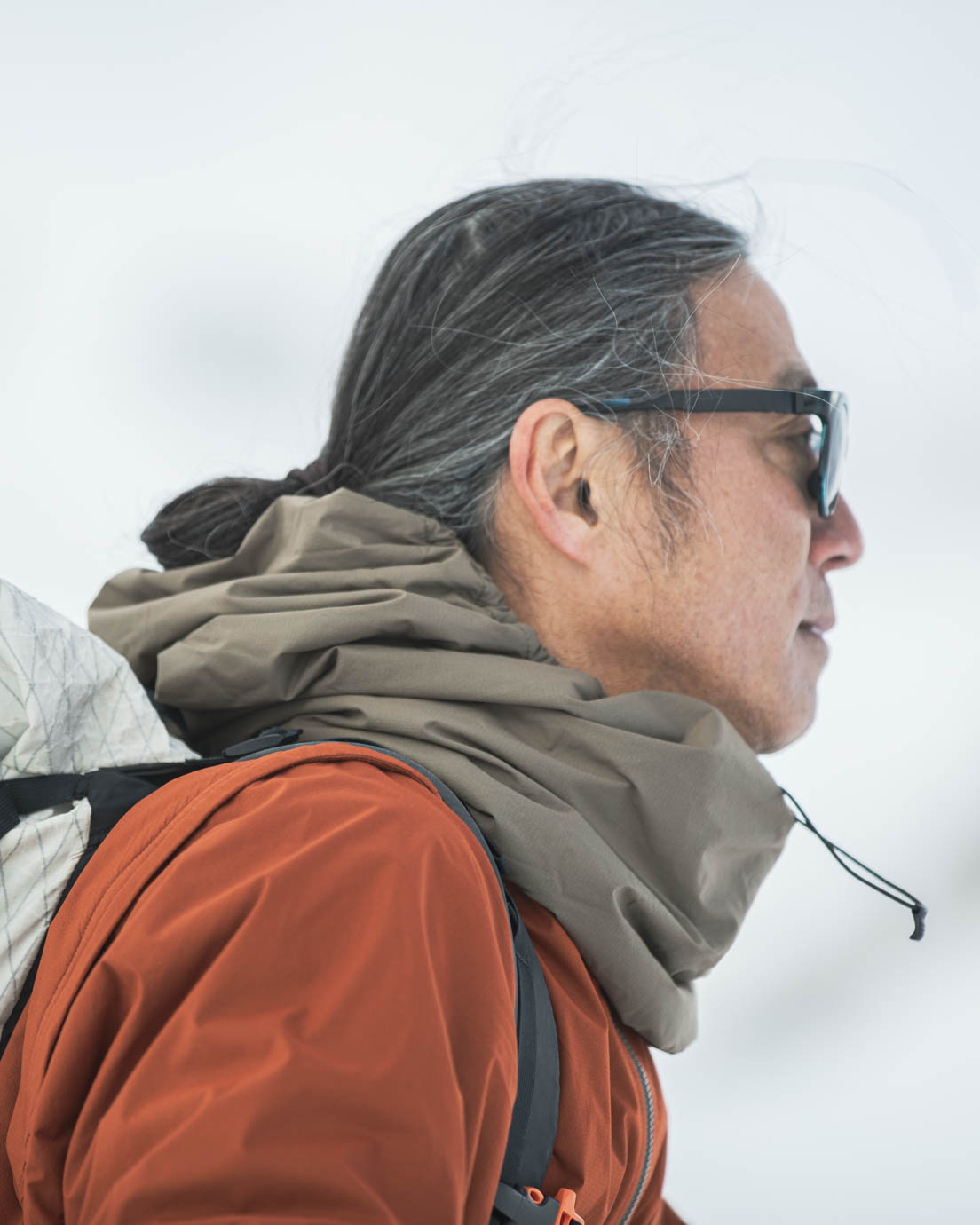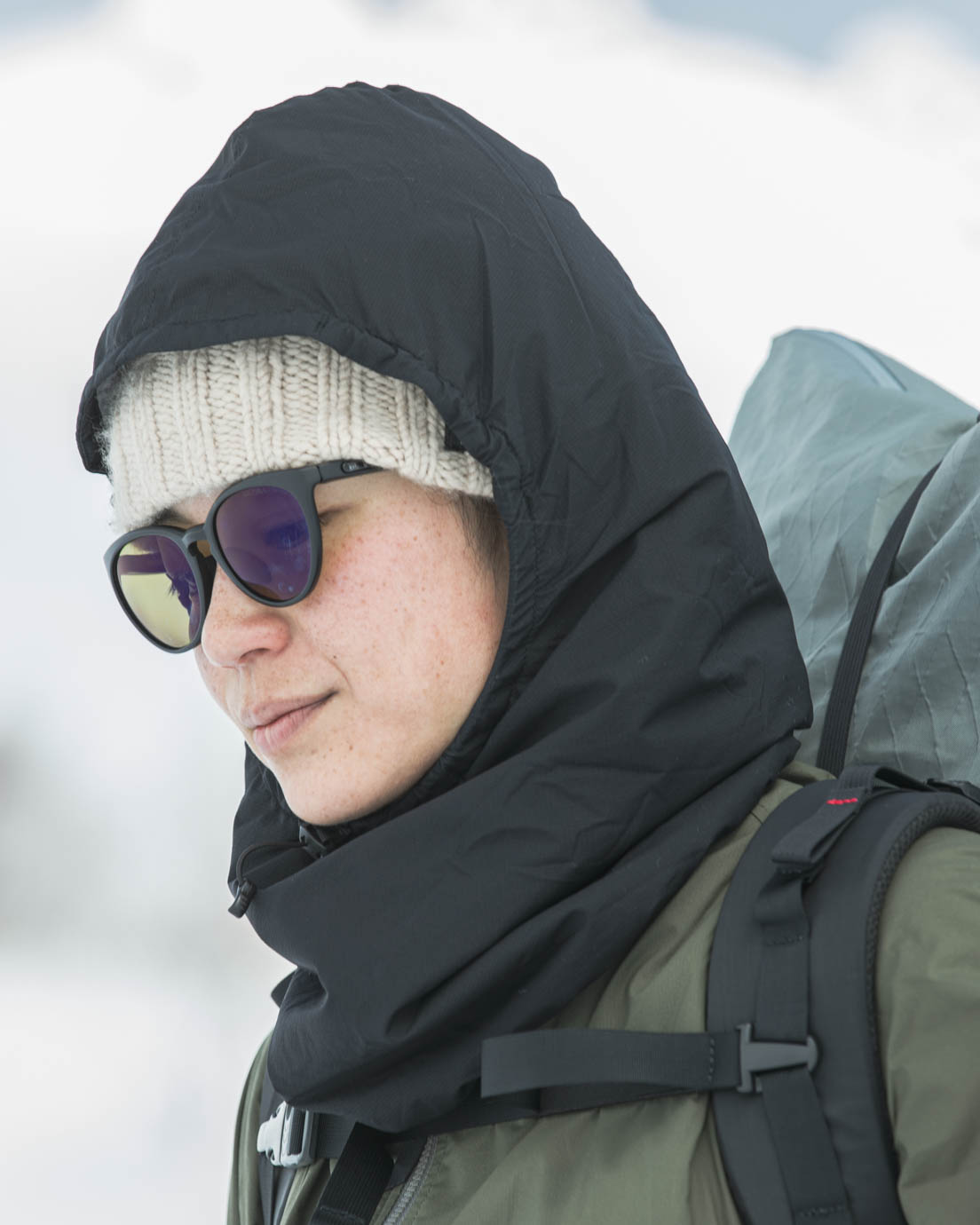 Light Alpha Only Hood
Winter Only Hood
We've added the lightweight, warm but breathable Polartec Alpha Direct to our simple Only Hood design. You can pull it out and put it on whenever you feel chilly, regardless of whether your base layer or jacket comes with its own hood.
Polartec Alpha Direct is superior at preventing water retention and maintaining its loft when wet. Making it great for light snow situations.
What's more, the "Only Hood" design is so comfortable that you almost forget you're wearing it.
At only 48 grams, it is lighter than most knit caps, but warmer, and doubles up as a neck gaiter. Also, we have extended the front height compared to the Only Hood, which allows it to be used as a balaclava as well.
Made in Akita, Japan
Material:
Facing:Pertex Quantum Air (100% Nylon), Titanium Coated 40g/㎡
C6 DWR (Durable Water Repellent)
Lining: Polartec Alpha Direct (100% Polyester) 85g/㎡
Weight:
51g
Size:
UNISEX | One Size
Works with any layer or hoodless jacket
Light Alpha Only Hood Purple 2021
Merino Coach Jacket Charcoal
Merino 5-Pocket Pants Charcoal
THREE Spruce 2021

Light Alpha Only Hood Navy 2021
Merino Shirt Brown 2021
Merino 5-Pocket Pants Sand Stone
THREE Tawny Port 2021

Light Alpha Only Hood Black
Light Alpha Vest/Jacket Purple
Winter Hike Pants Black
ONE Custom Edition Navy x White

Light Alpha Only Hood Brown 2021
100% Merino Pullover Pale Yellow 2021
Alpha Vest Ebony
5-Pocket Pants Azurite 2021
MINI2 Mustard
Use as a balaclava
Transforms to a simple balaclava that can completely cover the nose, a great feature for when in harsh cold conditions.
*Does not have the elastic fitting feel like most balaclava's do.
The front length of the hood is longer than that of the Only Hood so that the neck is completely covered when worn as a balaclava.
Thermal Comparison
Although it is not as warm as 1000 fill power down, the slightly thick Polartec Alpha Direct (136g/m2) used in the Light Alpha Only Hood is one of the best insulators available. The Light Alpha Only Hood can be used not only in action but also when resting, always keeping you warm.
Comparison:
The below chart compares the 1000 fill power down and other insulators used in thermal clothes on the market.
Heat retention is measured by JIS L 1096 A method, in Yamatomichi in-house test. The heat insulation property is measured from the amount of energy consumed by the heat-generating element to maintain its temperature. The maximum value is 100%.

The values of Polartec and Primaloft fabrics are the manufacturers' catalog specs. Other fabrics' values are measured by Yamatomichi. 1000 fill power down includes its 7 denier nylon outer and lining.
Fast-drying
Dries quickly even when wet with sweat.
Comparison:
The below chart compares the fast-drying performance of middle layer products.* It is shown that Alpha Direct is not as fast-dry as the extremely fast-drying Shadow Rip (UL Shirt), but the moisture content after spin-dry is much lower than that of wool and other fabrics, and even when wet, it dries quickly if lightly wrung out or worn for some time.
*Tested by Yamatomichi. Compared the difference of the water content after completely wet and 15 minutes of spin-dry. The larger the value, the higher the moisture content, meaning slower-drying.
Details
Use the stretch cord at the chin to get a snug fit.

If you tighten the stretch cord, the Only Hood can also be used as a simple neck warmer.

The hem is wide for easy wearing and the bottom edge is colored so you won't accidentally put it on the wrong way.
Polartec Alpha Direct
It is like a fleece with longer puffy hairs.
Excellent air-permeability and thermal performance
Outstanding lightness and packability
Polygiene treatment for semi-permanent antibacterial and odor-control
Conventional natural down and synthetic insulators tend to contain body moisture within the clothes and as a result, can be quite stuffy. Polartec Alpha Direct, on the other hand, is so air-permeable that it can be worn even during a high level of physical activity.
Alpha Direct is also treated by Polygiene odor control which safely reduces the microorganisms and bacteria by small amounts of silver ions, achieving antibacterial and deodorizing function that well exceeds the lifespan of ordinary garments.
Material:
Polartec Alpha Direct (100% Polyester) 85g/㎡
Spec:
Bursting strength measured by JIS L 1096 A (In-house test)
359kPa
Heat retention measured by JIS L 1096 A (In-house test)
49%
Heat retention measured by ASTM F1868 (Catalog spec)
Min : 0.50CLO Max:0.80CLO
Our Proprietary Titanium-coated Pertex Quantum Air
To maximize the superior air-permeability of Polartec Alpha Direct, the shell material of the Light Alpha Only Hood uses Pertex Quantum Air, an ultralight and breathable nylon fabric with a durable water repellent (DWR) finish.
The Pertex Quantum Air has many variations in terms of fabric thickness, finish, etc., and we chose one with a matte texture that is pleasant to the skin.
To achieve superior breathability of approximately 70cc/(cm²・s), Pertex Quantum Air is woven as loose as possible, made of less frictional low-count yarns, accelerating the excellent durability against abrasion with coarse materials such as Velcro. Also, the yarn is "temporarily twisted", twisted and heat-treated to provide moderate stretch for better flexibility.
The back of the fabric is treated with our unique titanium-coating, in which the titanium adheres to the surface of the fabric at the molecular level. The coating enhances heat retention, while preventing body heat from radiating out, without compromising the texture and air-permeability.
Material:
Facing: Pertex Quantum Air (100% Nylon), Titanium Coated 40g/㎡
DWR (Durable Water Repellent)
Spec:
Fracture Strength measured by JIS L 1096 D (In-house test)
Vertical: 0.5kg, Horizontal: 0.6kg
Tensile Strength measured by JIS L 1096 A (In-house test)
Vertical: 29kg, Horizontal: 25.6kg
Ventilation Performance measured by JIS 1096 A (In-house test)
71.9cc/(cm²・s)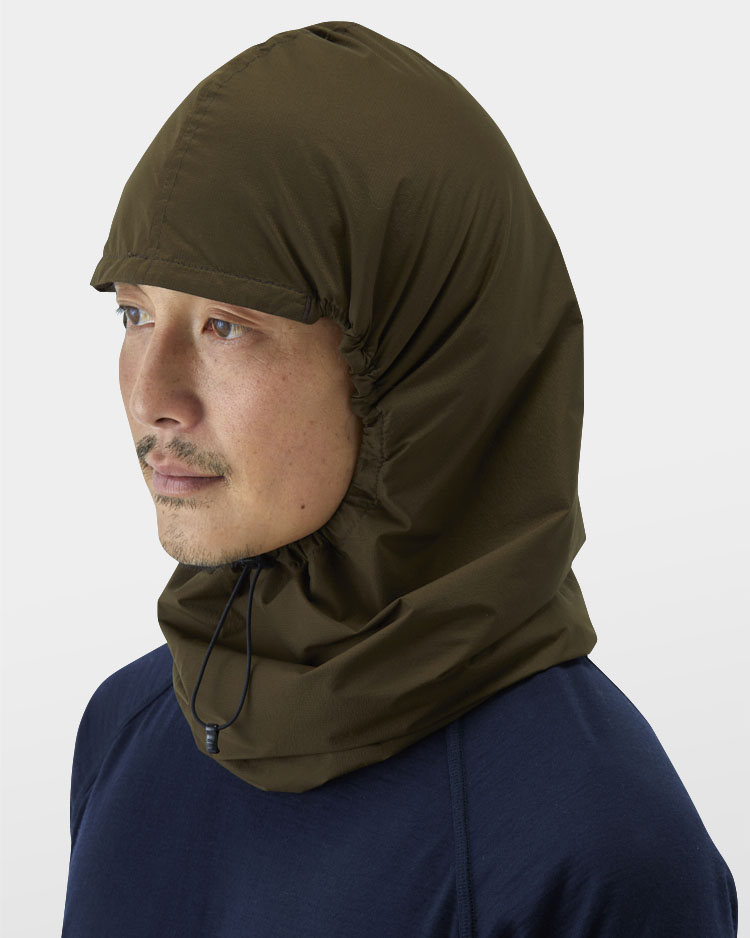 Ichiro Circumference-57cm (Brown)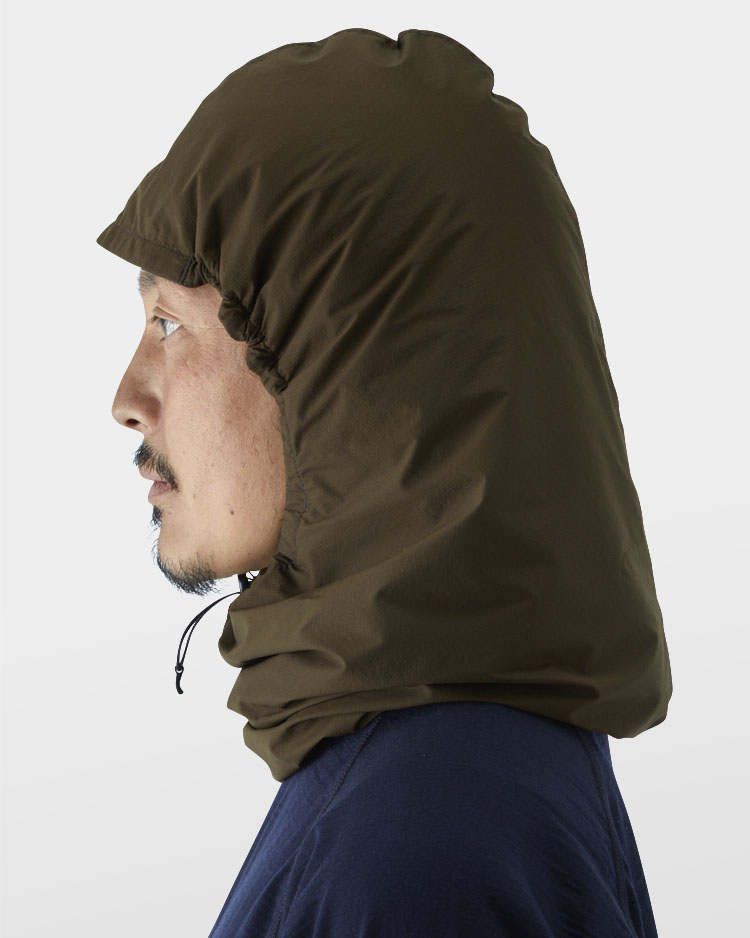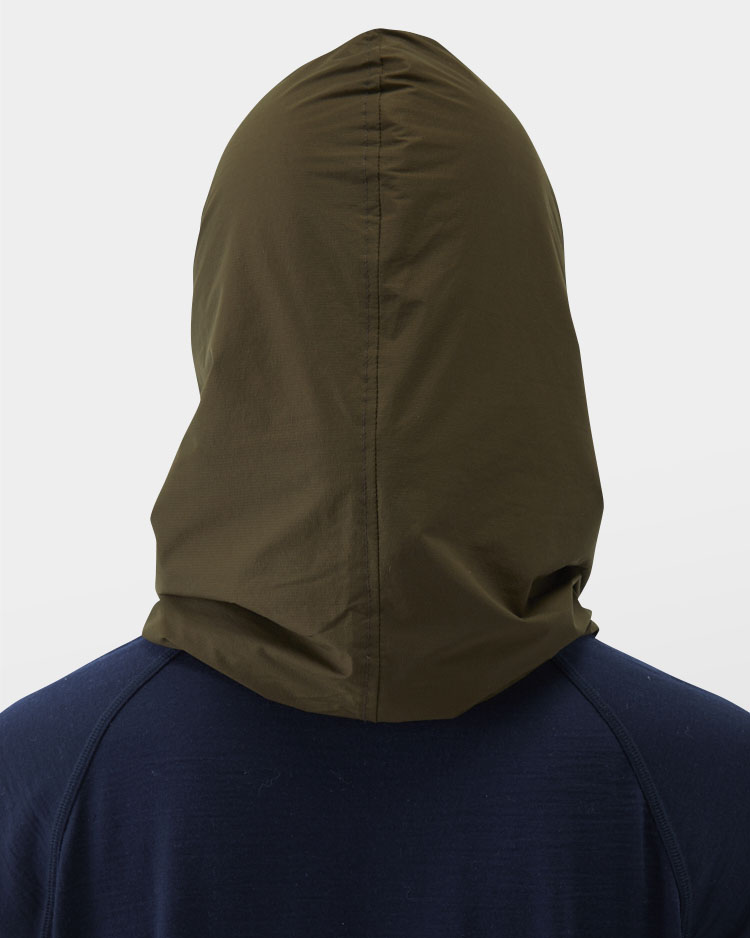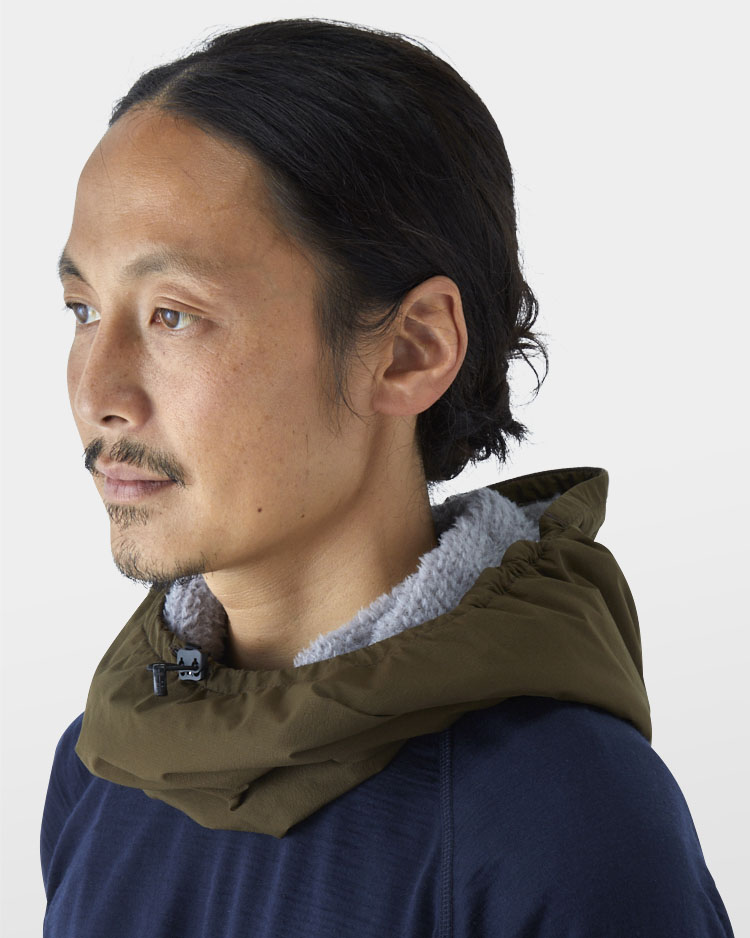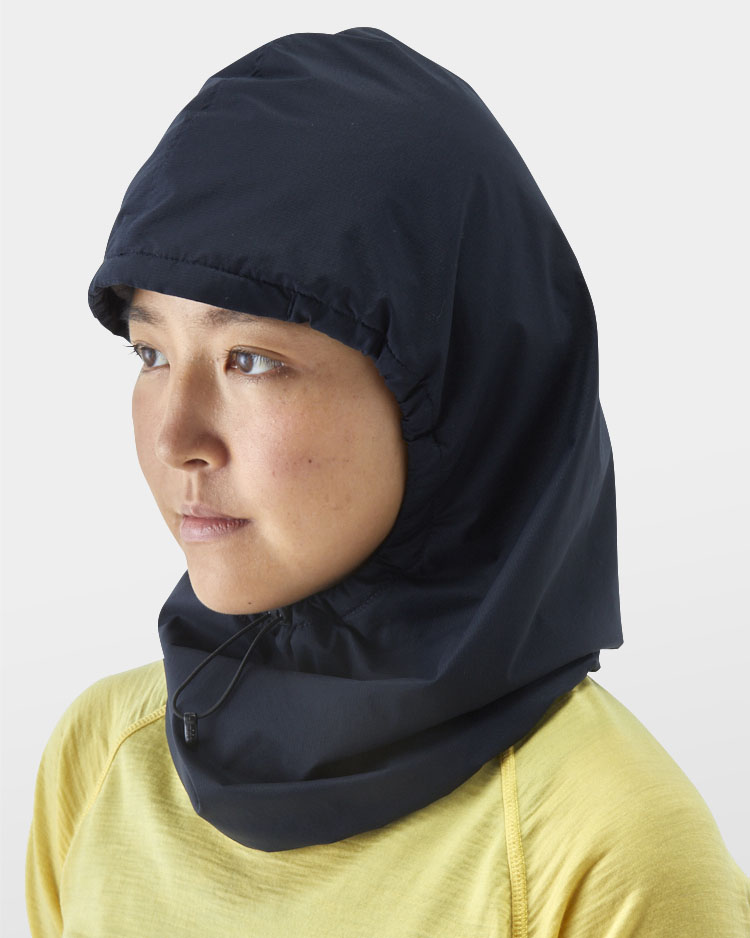 Kanade Circumference-56cm (Navy)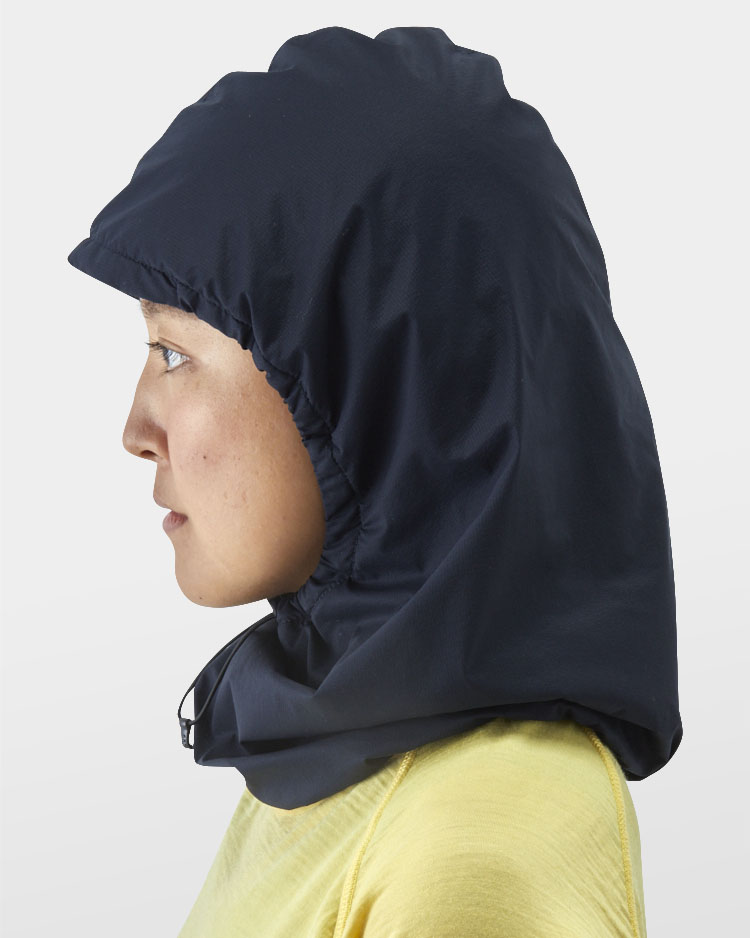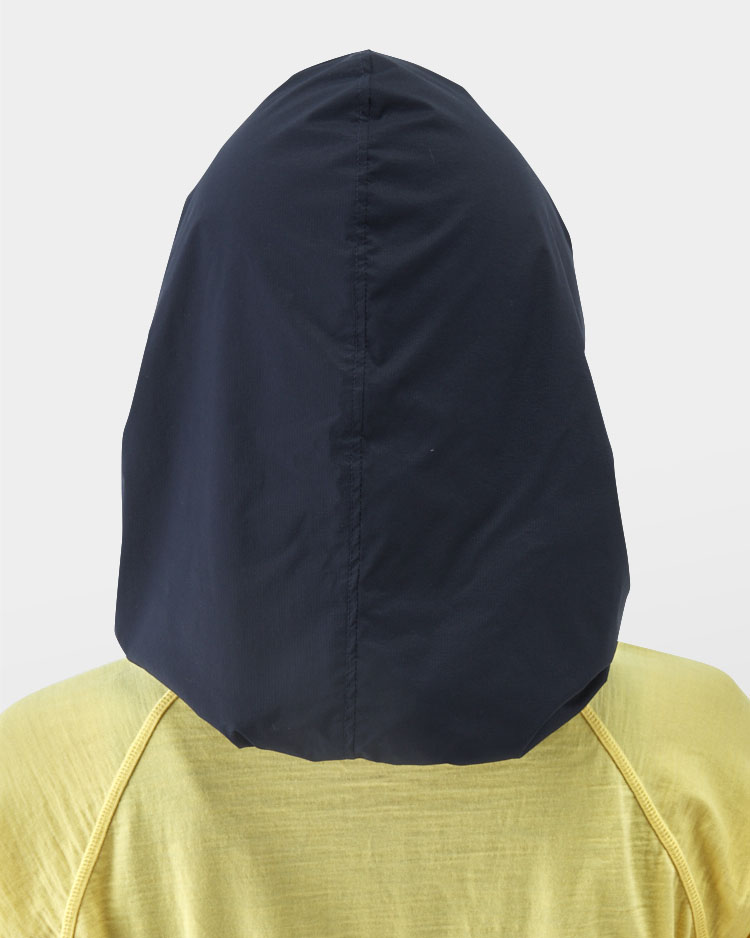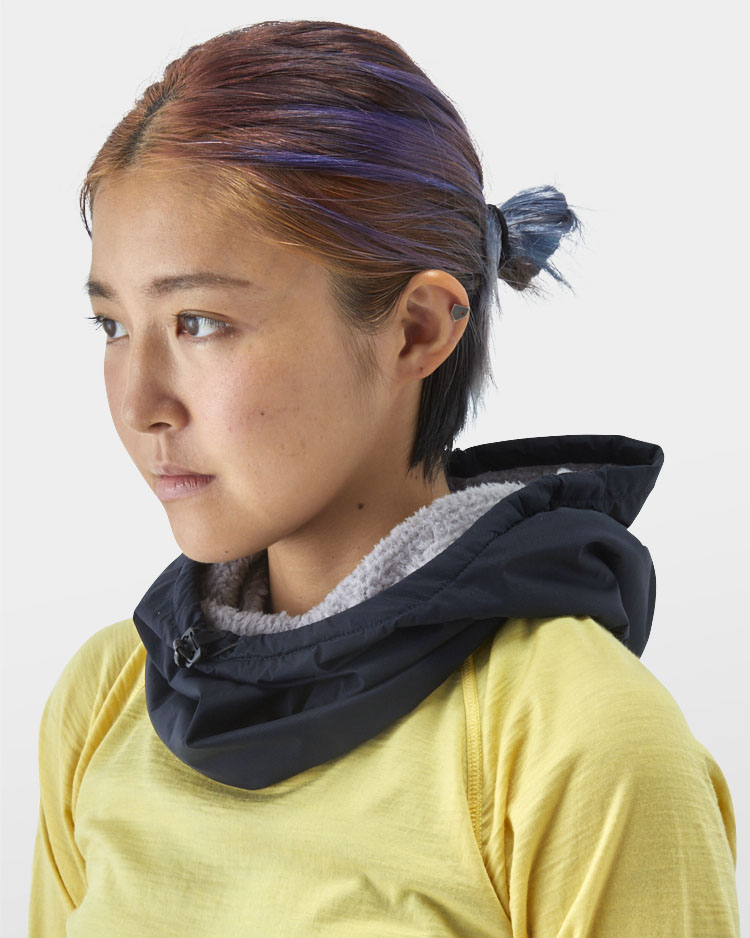 製品サイズ / Product Size
| Size | ONE |
| --- | --- |
| フード周り / Circumference | 47 |
| フード高さ / Full Height | 47.5 |
| フード前丈 / Front Height | 26 |
Instructions
The titanium coating on the back of the fabric can gradually wear off due to friction caused by daily washing. The proper care with the right washing method can help maintain the titanium coating.*
*The amount of titanium particles washed away is minimal and considered to be harmless for the environment.
When machine washing, set to gentle or delicate, avoid damage caused by contact with other laundry by washing separately or using a laundry net.
Avoid bleach or detergent that contains enzymes as they might discolor the fabric due to the chemical reaction with the metal. Use neutral detergent.
Do not soak in detergent for a long period of time as it can accelerate the delamination of the titanium coating.
Wring gently after washing and line dry in the shade.
Do not iron. Do not dry-clean.
If necessary, wash to remove fuzz from the fabric before first use.
For more detailed tips on how to wash, store and restore the shrunk item, please visit the following link (Currently Japanese Only): How to Care the Alpha Series
Payment
We only accept payment by credit card. We currently do not accept payment via bank transfer from overseas accounts.
We accept the following Credit Cards: Visa, Master, American Express, and JCB.
To download your receipt, please click the link included in the Dispatch Notice, which we will send by email as soon as the items are dispatched.
Delivery
We will ship by DHL for overseas customers (excluding China, Hong Kong, Taiwan, Korea and Russia). For customers in China, Hong Kong, Taiwan, Korea and Russia, we will ship by EMS only. Shipping costs vary depending on your country and region.
Repair
We accept repairs for all of our Yamatomichi products. For inquiries on repair services including patching the holes, repairing with extra components, or fixing the items damaged over time, please feel free to contact us from the "Repair" section of the SUPPORT page.
Restock Alert