Merino Short Sleeve Shirt
Merino Short Sleeve Shirt
Introduction
100% Merino Trail Shirt
The Merino Shirt is a trail shirt made of quality pure merino wool.
Woven by an established Italian manufacturer in New Zealand, the fabric is thin, and comfortable to wear without being too hot like most traditional wool shirts. It has all the natural deodorizing and moisture control features of wool, always keeping you comfortable.
The wide fit and open neck collar let the heat around the neck easily escape, offering comfort when it's hot. Our proprietary design allows you to quickly roll up the sleeves, use the snap buttons for ventilation, or turn up the collar and button it up when it is cold.
The women's version has the fitting and details specifically for ladies. This is a must-have wool shirt for any serious hiker.
Color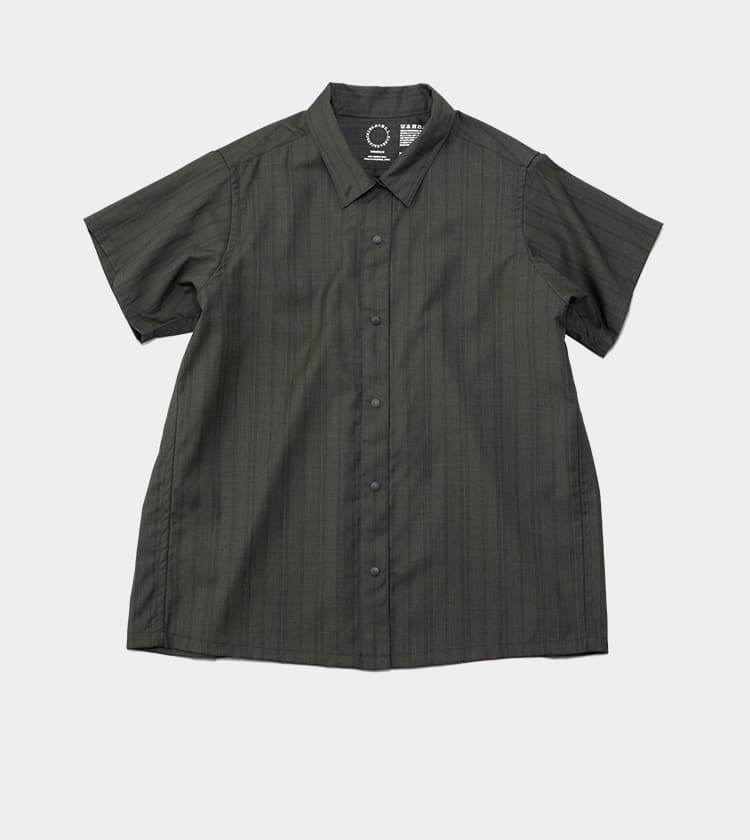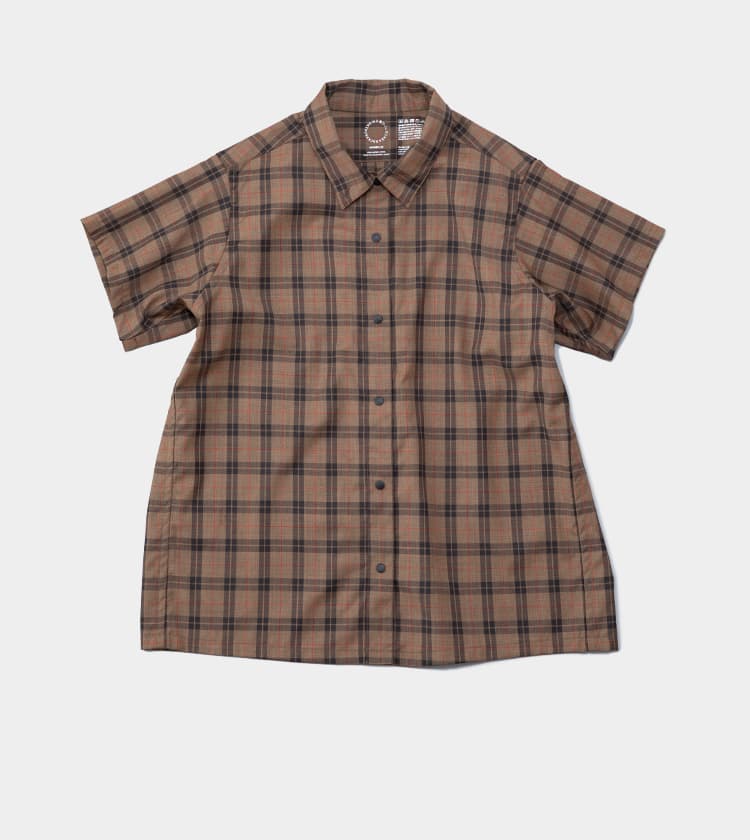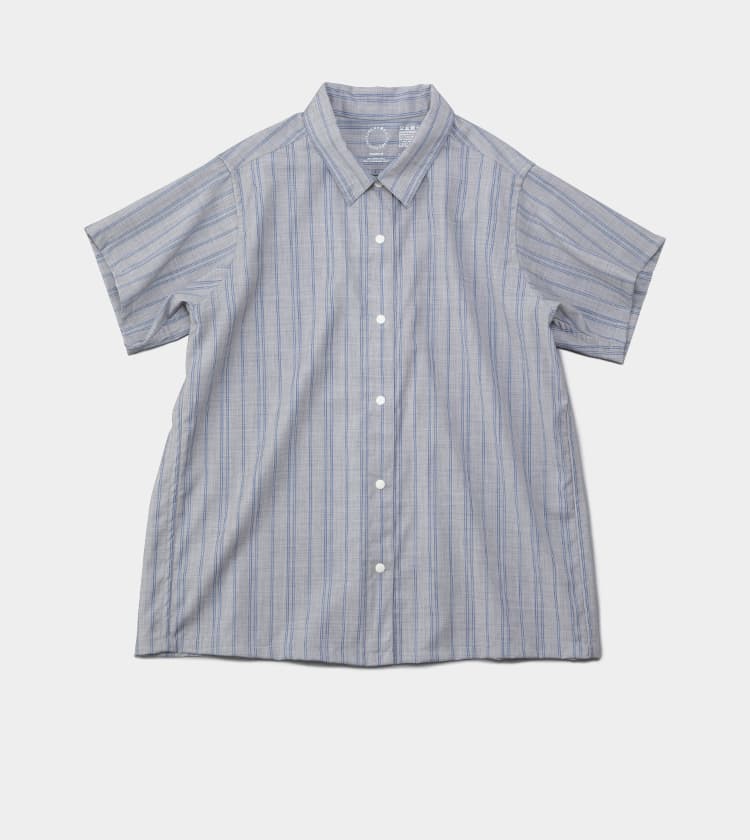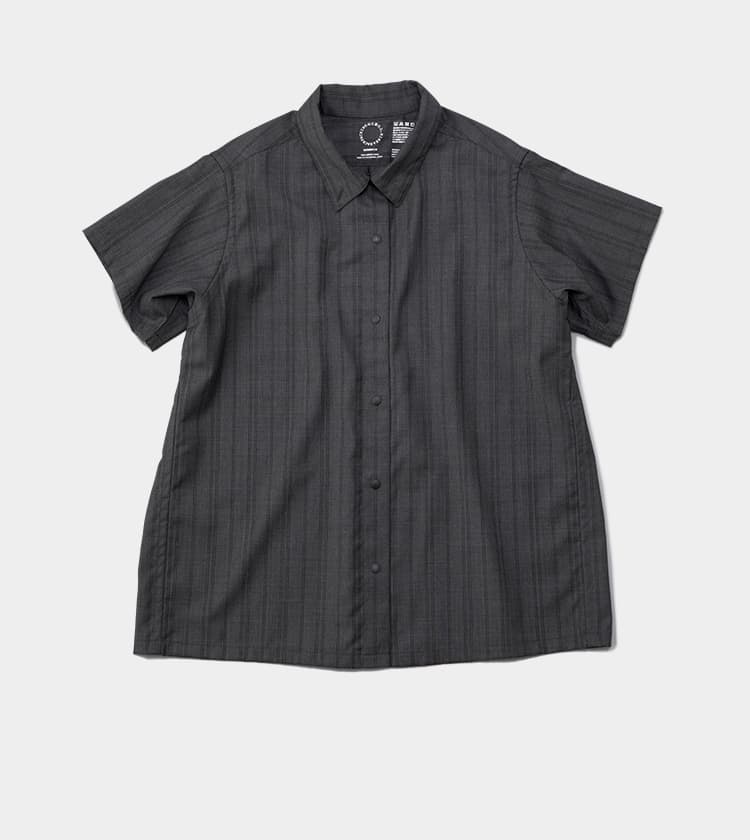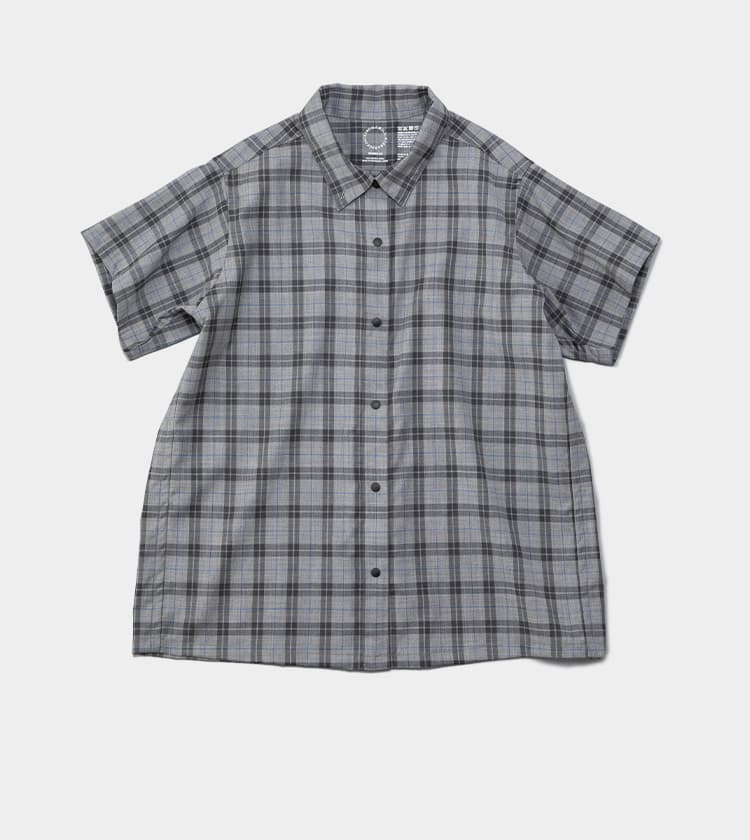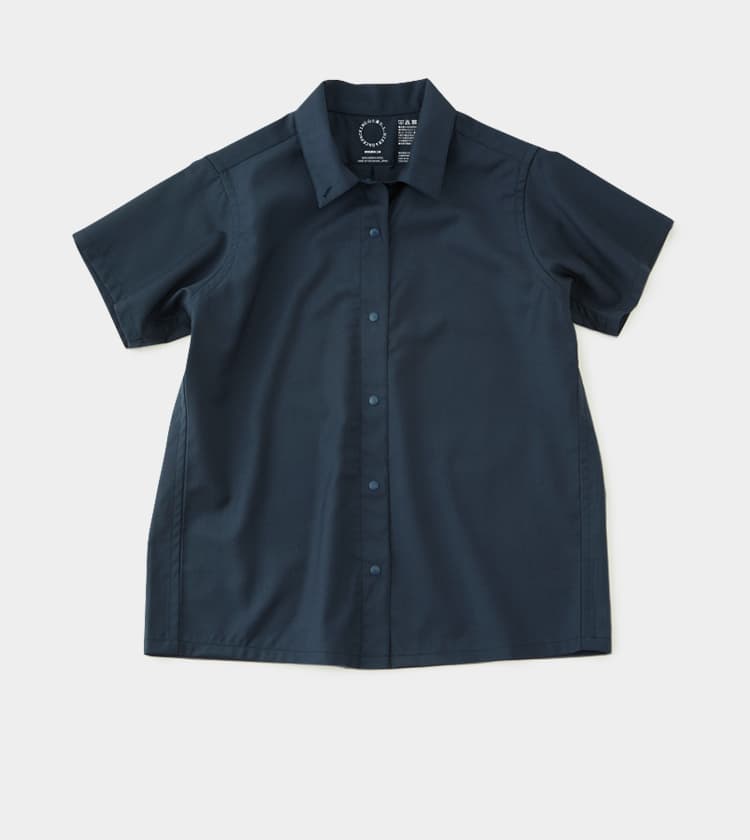 Spec
Made in Fukushima, Japan
Material:
100% Merino Wool 130g/m²
Weight:
143g (Size S)
151g (Size M)
158g (Size L)
Size:
WOMEN | S / M / L
Product Story
Merino Mania
Akira Natsume, Yamatomichi Founder
When it gets chilly, I wear merino from head to toe, both while hiking and at home, so it was only natural that I wanted to make a merino shirt.
However, I didn't want to make a traditional warm and cozy flannel wool shirt that fits well in front of the fire, but rather a light shirt with the unique features of wool that wouldn't be too warm when out hiking.
I searched for the right fabric and finally found one from a well-established Italian wool manufacturer, which also makes the fabric we use in the Yamatomichi 5-Pocket Merino Pants.
While the texture and feel of the elegant 100% merino wool fabric were great, it was still expensive and the weight of the fabric was quite heavy. I wasn't sure this would be what I was looking for.
Tests of the fabric's thermal insulating power showed that it was less effective than synthetic knits and bamboo polyester. It seems like even though it was wool, it didn't offer many of the qualities in wool I was looking for.
At first, I thought maybe I should keep looking for another kind of fabric, but remembering that I initially wanted to make a wool shirt that didn't get too hot, this actually might work really well despite the fabric's low heat retention.
I made a prototype and tested it on a hike and found that it was quite strong, had good wicking, and above all, the moisture-absorbing function of wool was outstanding and it just felt wonderful to wear.
So what about our other shirts? Each of them has different pros and cons.
The main con of our merino shirts is the relatively high price. Also, you have to stretch it out by hand after washing and drying, otherwise, it will become very wrinkled. However, I feel that the comfort of 100% merino wool on the trails more than makes up for this high price. (December 2021)
Form and Function
Naturally Odor Resistant
Wool items are chosen by many hikers for the material's excellent odor neutralizing performance. Some say it's almost odor-free even after a week of heavy hiking, but we'll let you (and your friends) be the judge of that…
Wool's deodorant mechanism is still a mystery. One theory has it that wool absorbs a large amount of odor-causing elements, and consequently, the odor is minimized to the level that cannot be detected by the sense of smell. We will conduct our own experiments and tests in the future.
Comfort through Superior Humidity Control
Merino wool, also known as "the natural air conditioner," controls the temperature and humidity in your clothes guaranteeing your comfort at all times.
The amount of moisture absorbed by the cortical part of the fiber, called the cortex, varies with the humidity of the outside air, and the higher the humidity, the more moisture it absorbs.
Trail Shirt
Woven fabric, which is often used as a material for shirts, is densely woven by warp and weft yarns. As a result, for the same weight and material, it is usually more windproof, dries faster, and is more durable than knitted fabrics, which are commonly used for base layers.
Furthermore, this item adopts the basic "shirt" design, allowing for good ventilation by opening the front buttons. The essence of the shirt, the wind-protective fabric, and the good ventilation is namely the key feature of our hiking trail shirts.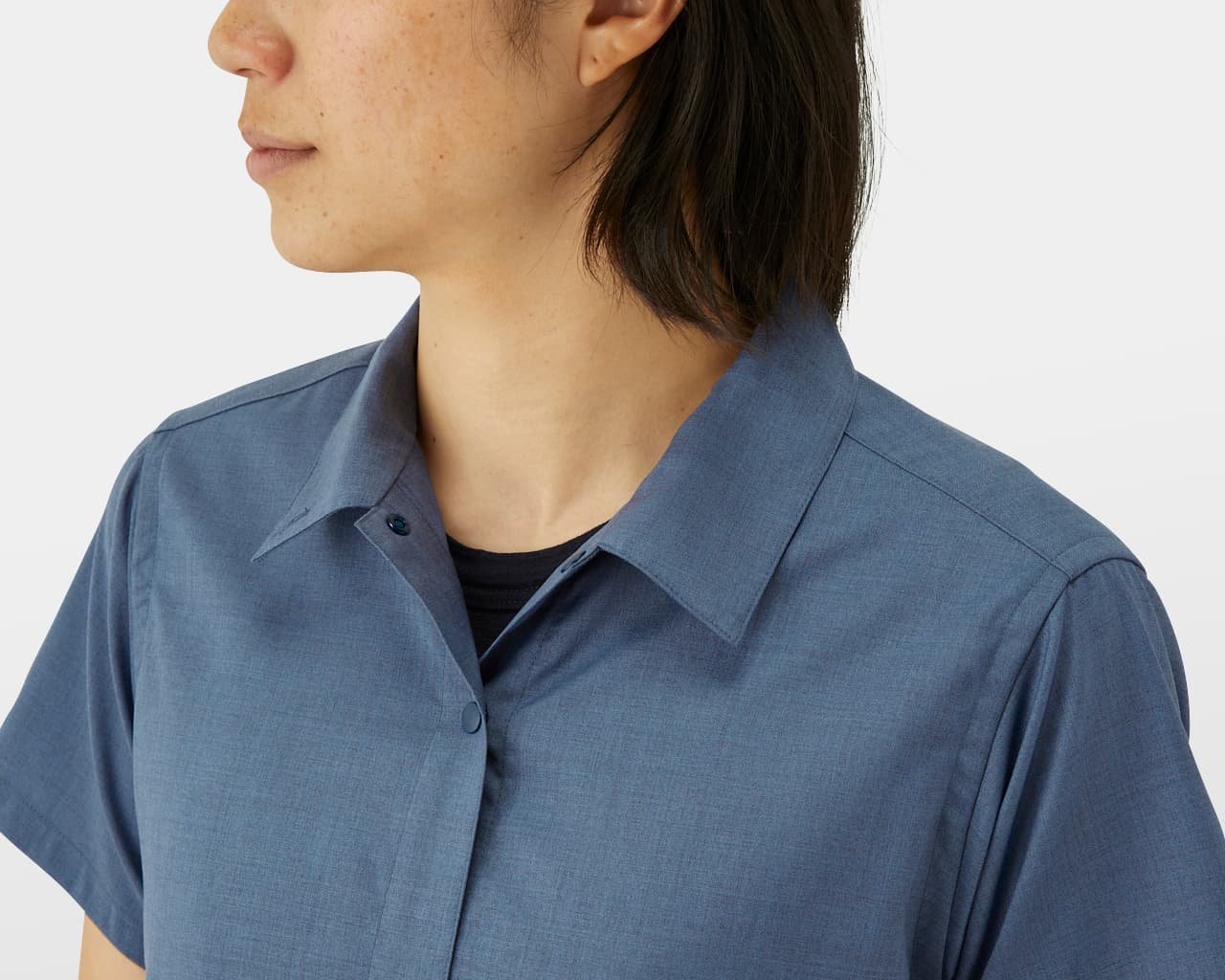 The open-collared shirt offers good ventilation, and can be worn like a T-shirt.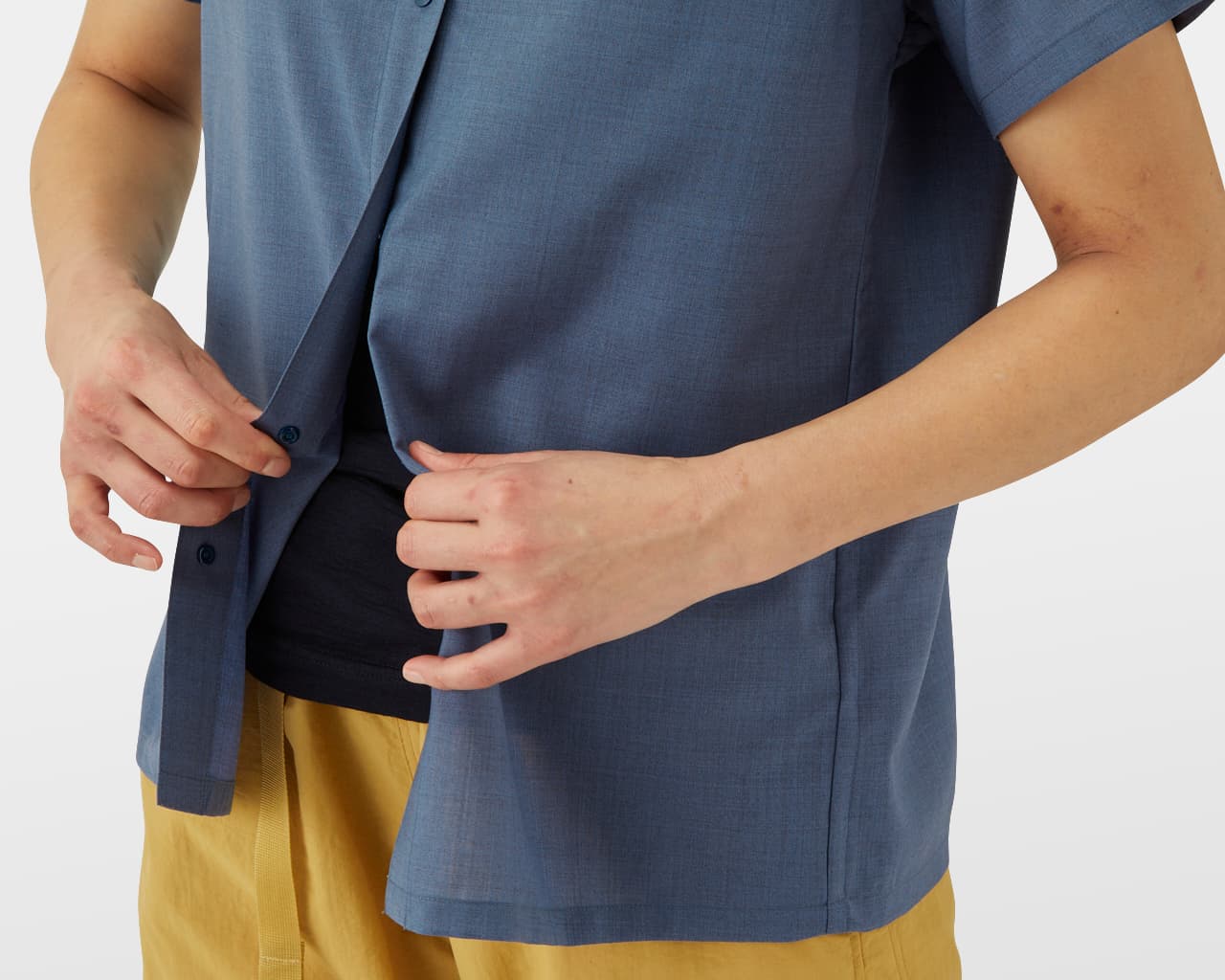 Snap buttons allow for speedy opening and closing while on the move.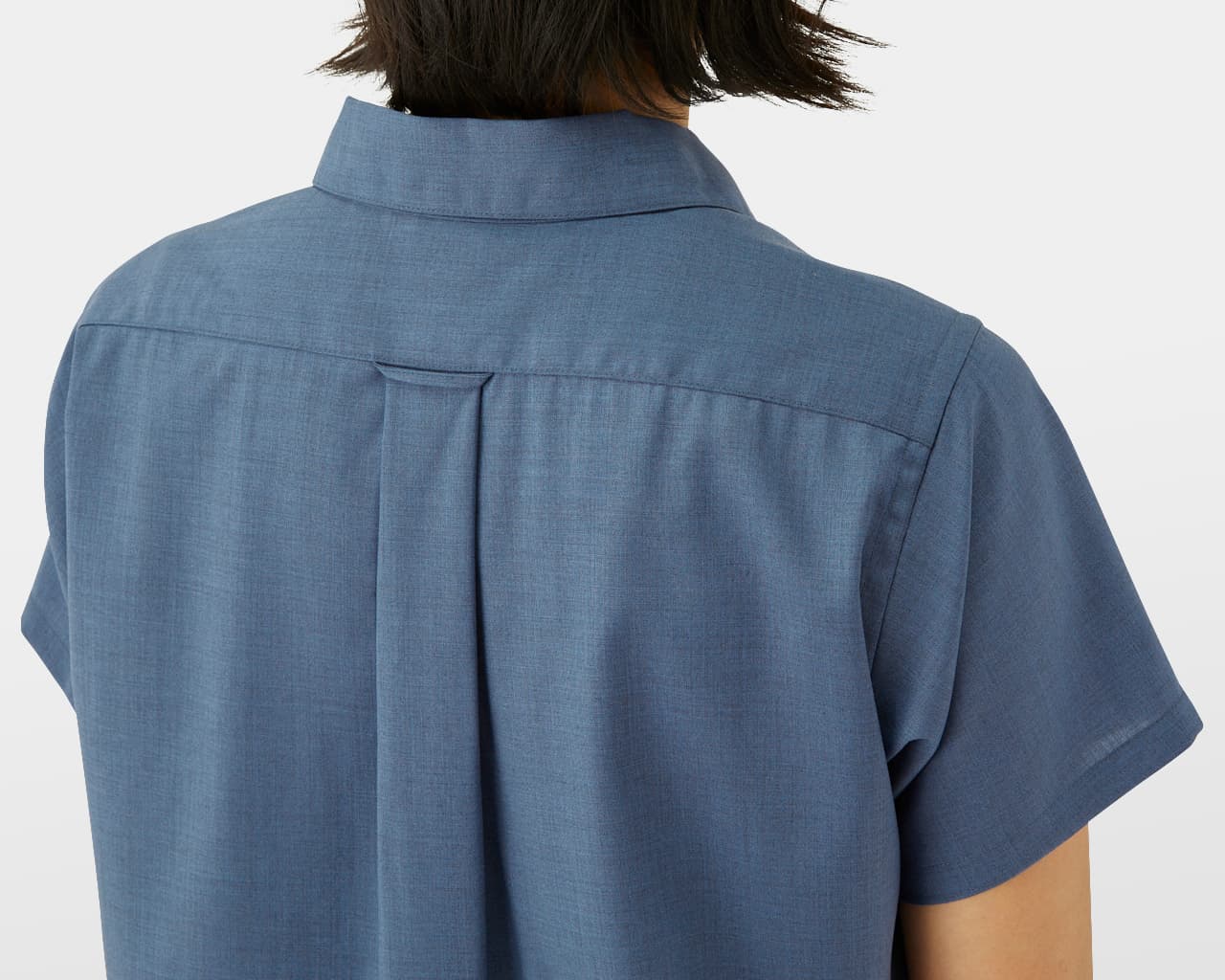 Side pleats at the back allow for easier arm movement, while a loop on the inside allows it to be hung for drying.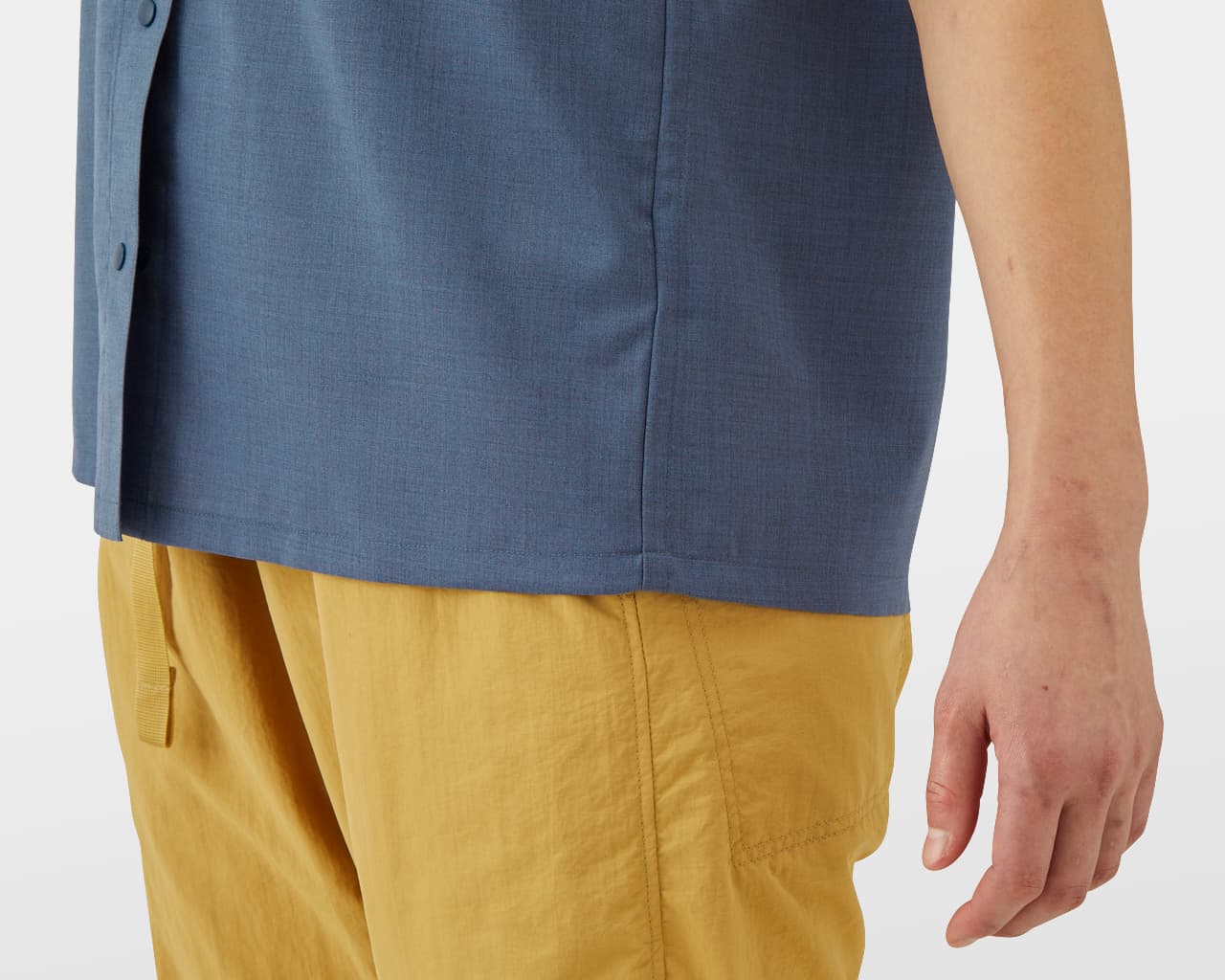 Women's version is the same length in the front and back and shorter in length than Men's.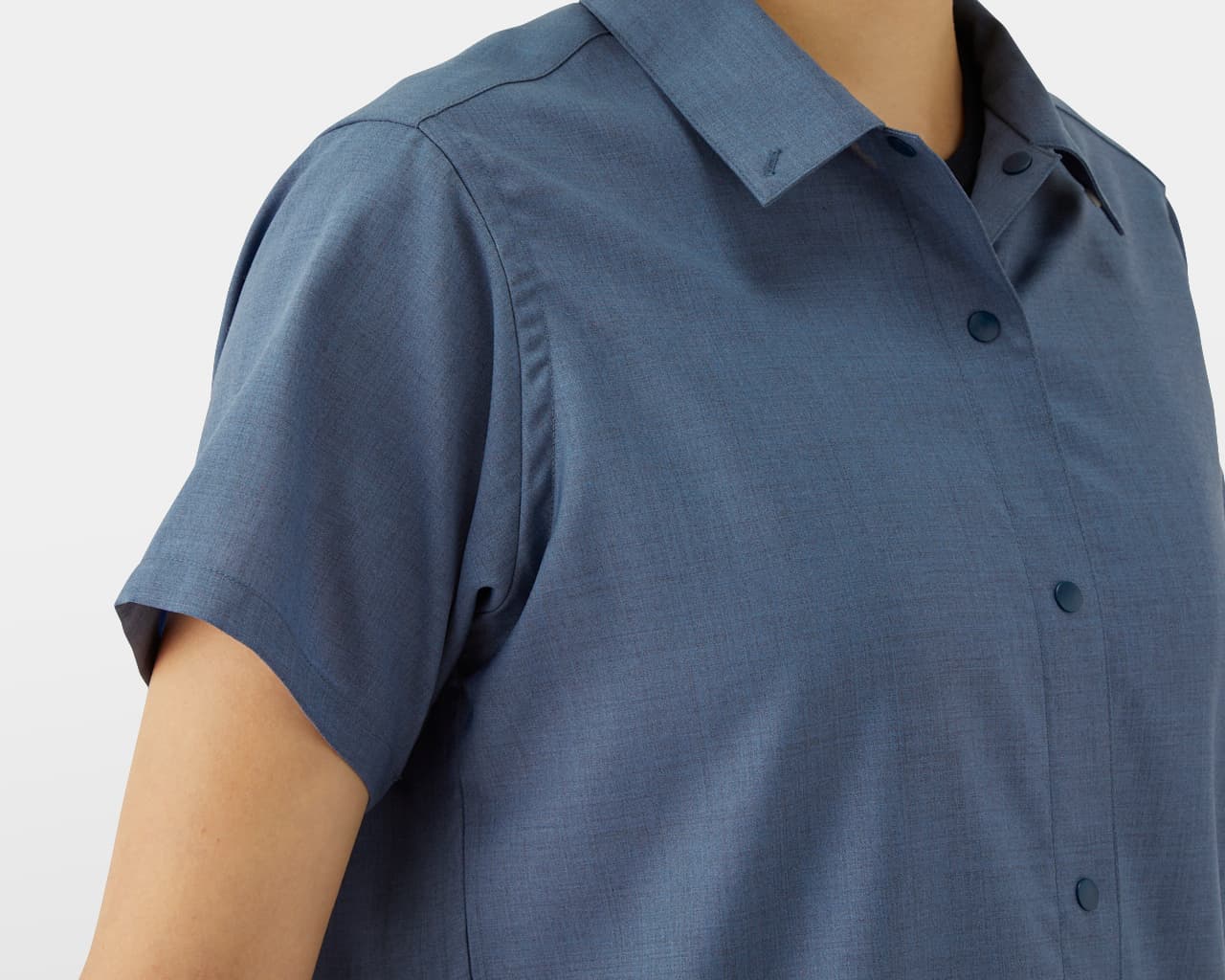 Women's version has shorter sleeves than Men's.
Raised Collar
On a chilly morning or late evening, turn up your collar and secure it with the added button to keep out the chill. A turned-up collar also helps to prevent your neck from getting sunburned when the sun is up.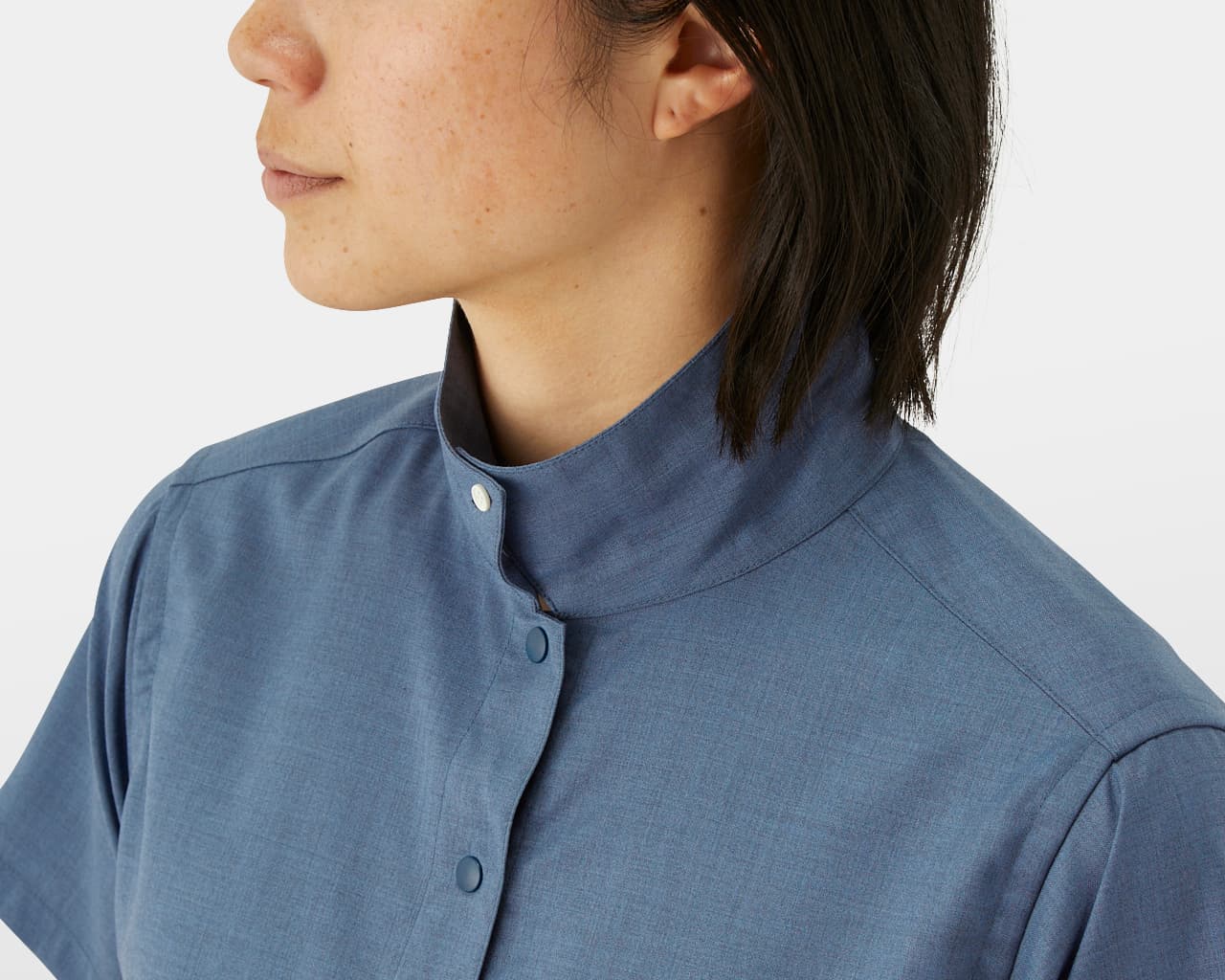 Trail Shirt Series Comparison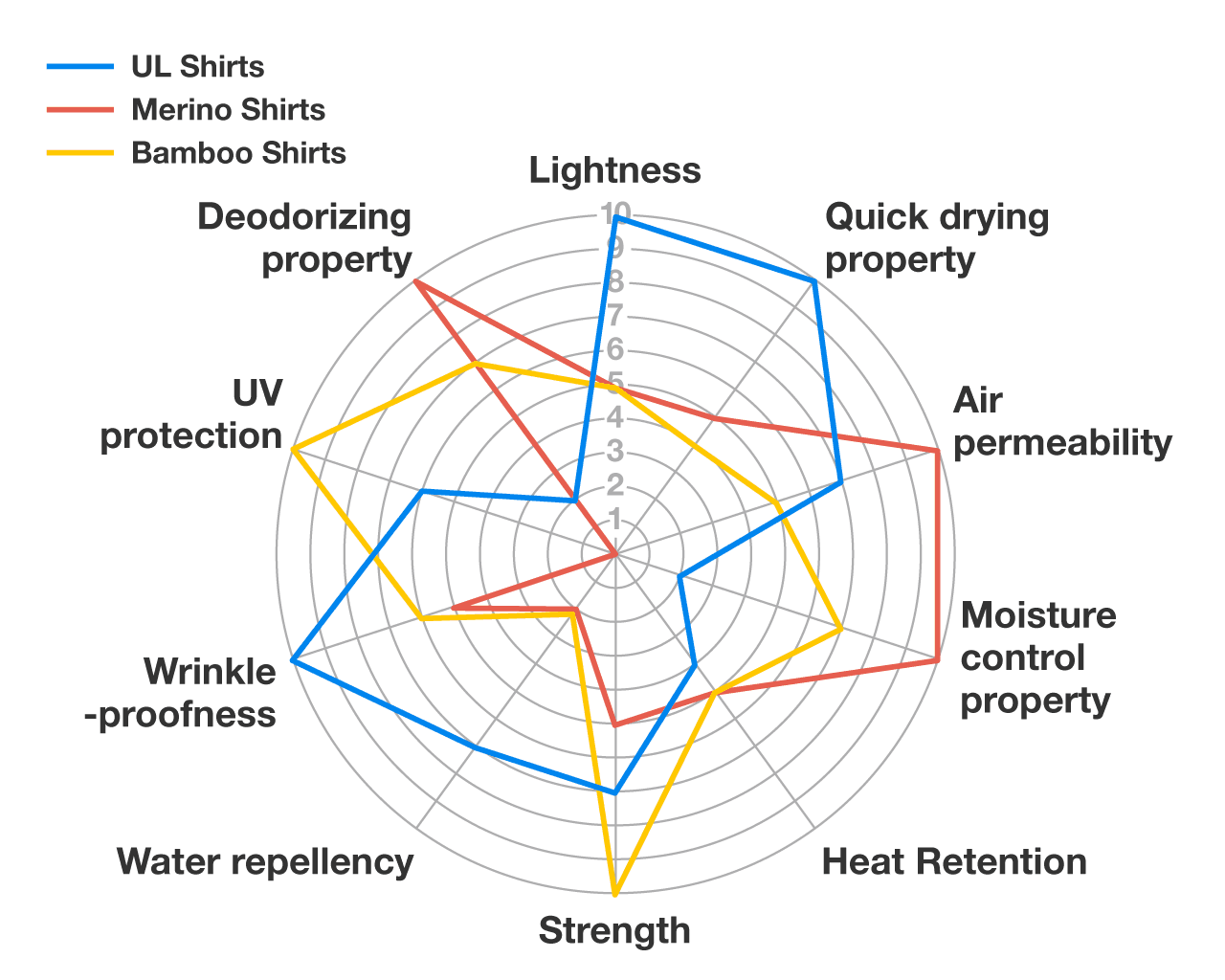 Moisture control: The property of keeping the humidity inside the garment at a constant level, dry when it's damp, while moist when it's too dry.

Breathability: Higher means better ventilation, while lower means it is more wind-protective.

UV protection: Ability to block the sunlight's ultraviolet rays.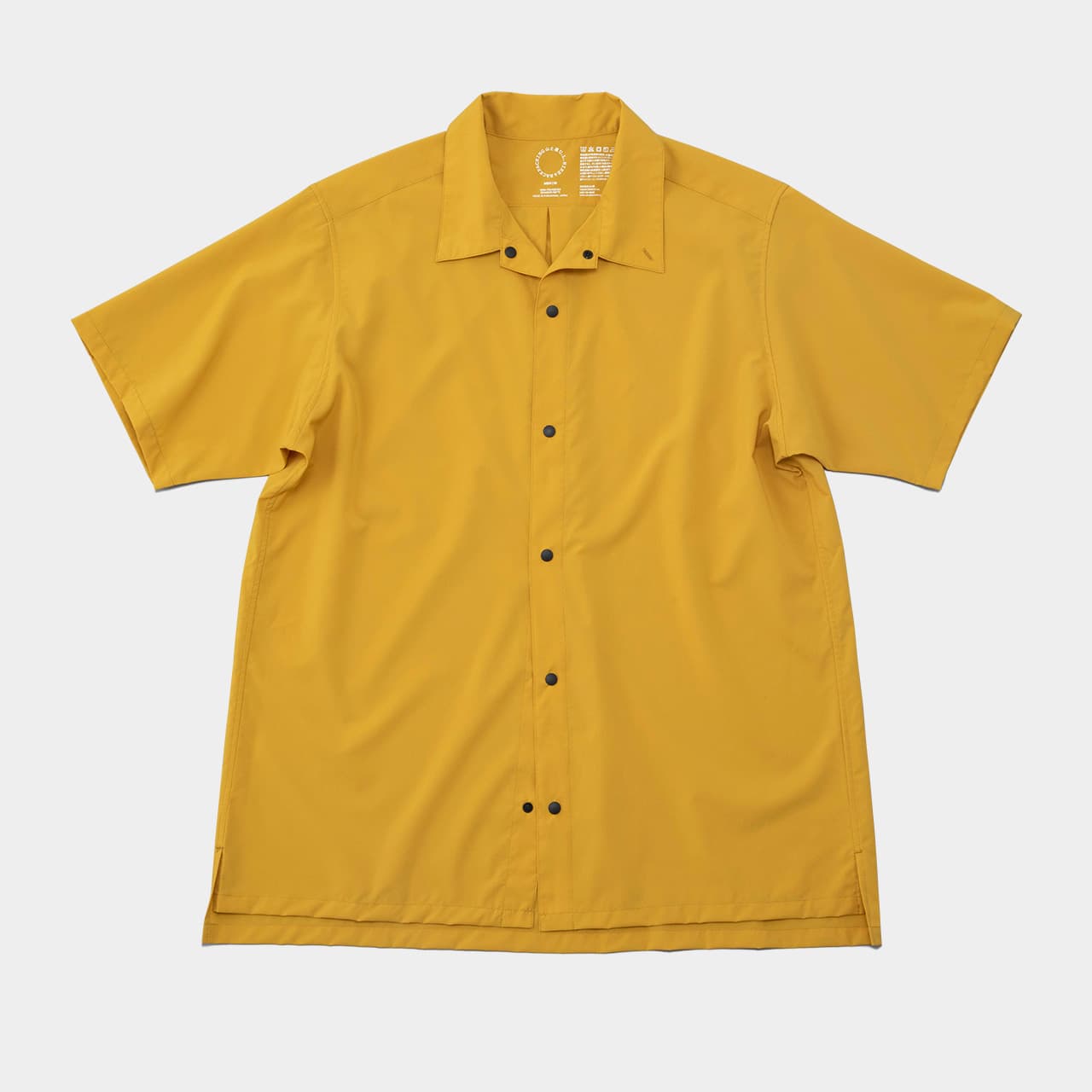 UL Short Sleeve Shirt
Shadow Rip(100% Polyester)
Ultralight, wrinkle-proof, and extremely portable. Highly versatile and easy to use, both as activewear and as a change of clothes. Soft to the touch.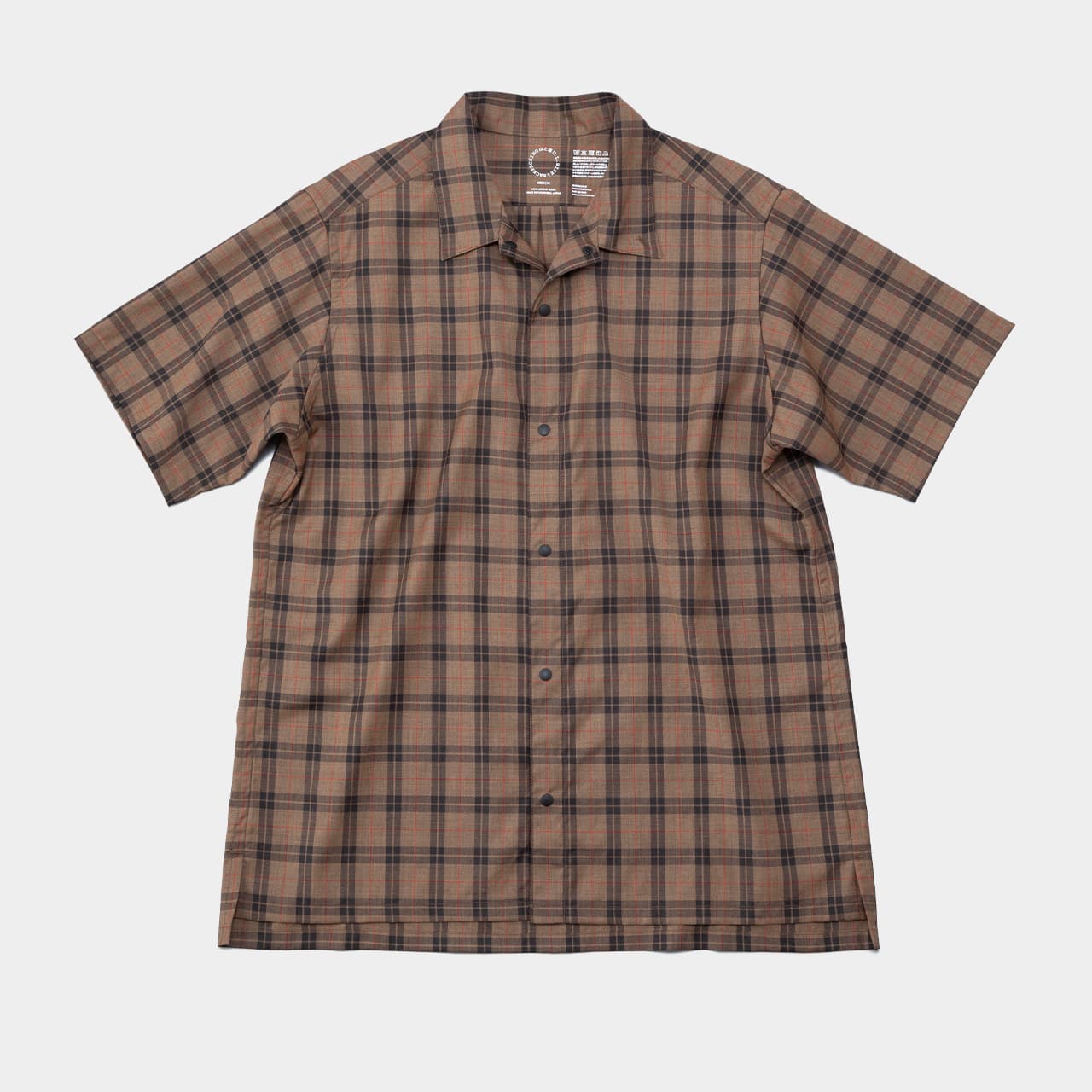 Merino Short Sleeve Shirt
100% Merino Wool
Keeps you comfortable with its high breathability and excellent temperature/humidity control. On the other hand, in midsummer, you may find wool a little too hot in the city or low mountains. Has a slightly firm texture similar to linen.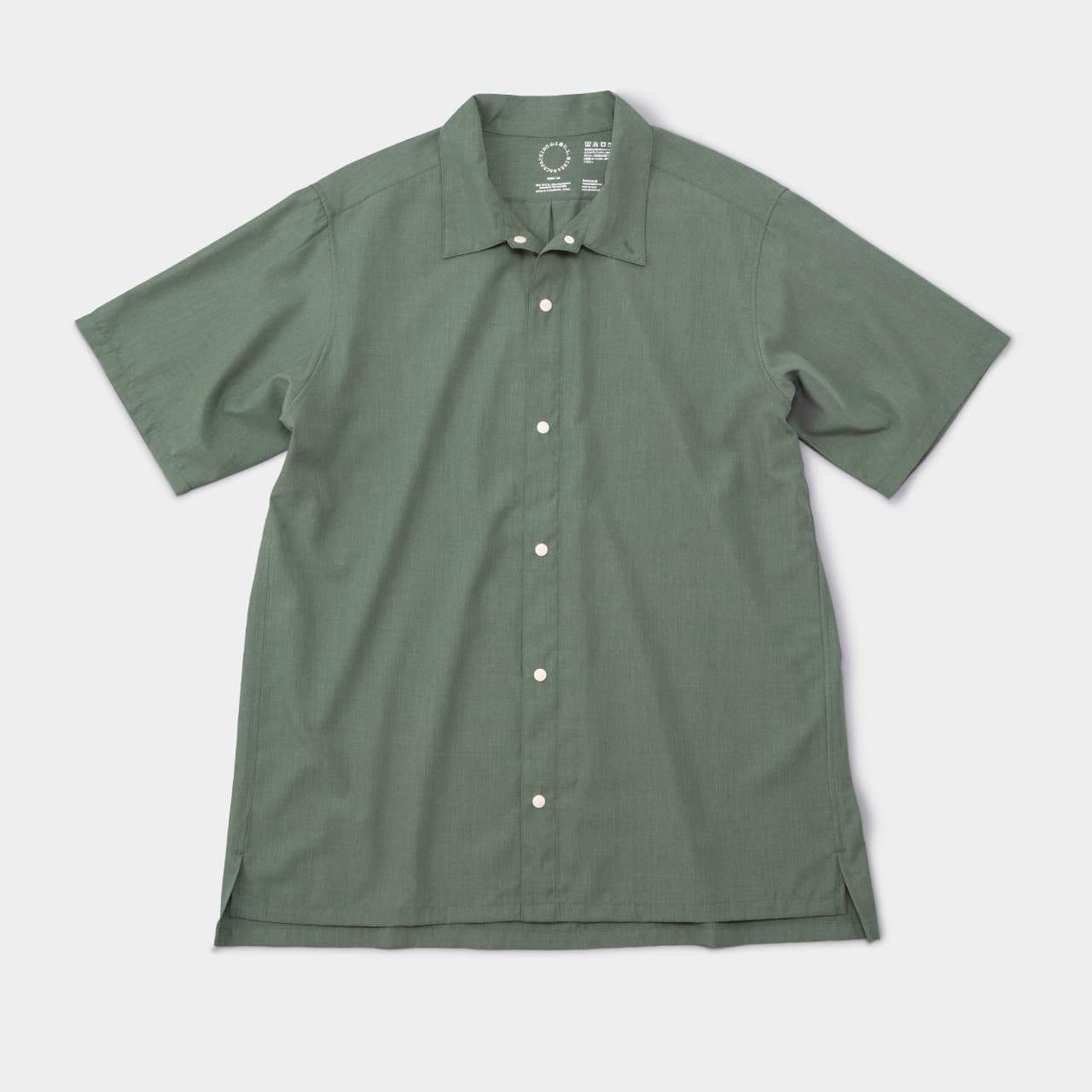 Bamboo Short Sleeve Shirt
Bamboo Polyester (50% Rayon, 50% Polyester)
Bamboo polyester material has deodorant and moisture control functions similar to wool and the functionality of synthetic fiber such as polyester. It has a moist texture and superior sweat absorbency compared to the other two products. It develops a unique texture over time.
Material
Why 100% Merino?
Our merino wool products are purely made of merino wool, with no synthetic fiber added. Why? Let me explain.
Merino wool has various unique features such as temperature/moisture control and odor-resistant performance and is perfect for hiking. However, it does have drawbacks that should not be underestimated: the tendency to deform and shrink, and poor durability.
To compensate for the drawbacks, many manufacturers add synthetic fibers to strengthen their merino fabrics. We, however, are certain that pure merino's advantages outweigh its weaknesses, so we want to stick with 100% merino to maximize the natural benefits of pure merino wool.
As shown below, our in-house tests show that as the percentage of the synthetic fiber increases, merino wool's natural advantages, such as temperature/moisture performance, inevitably decrease: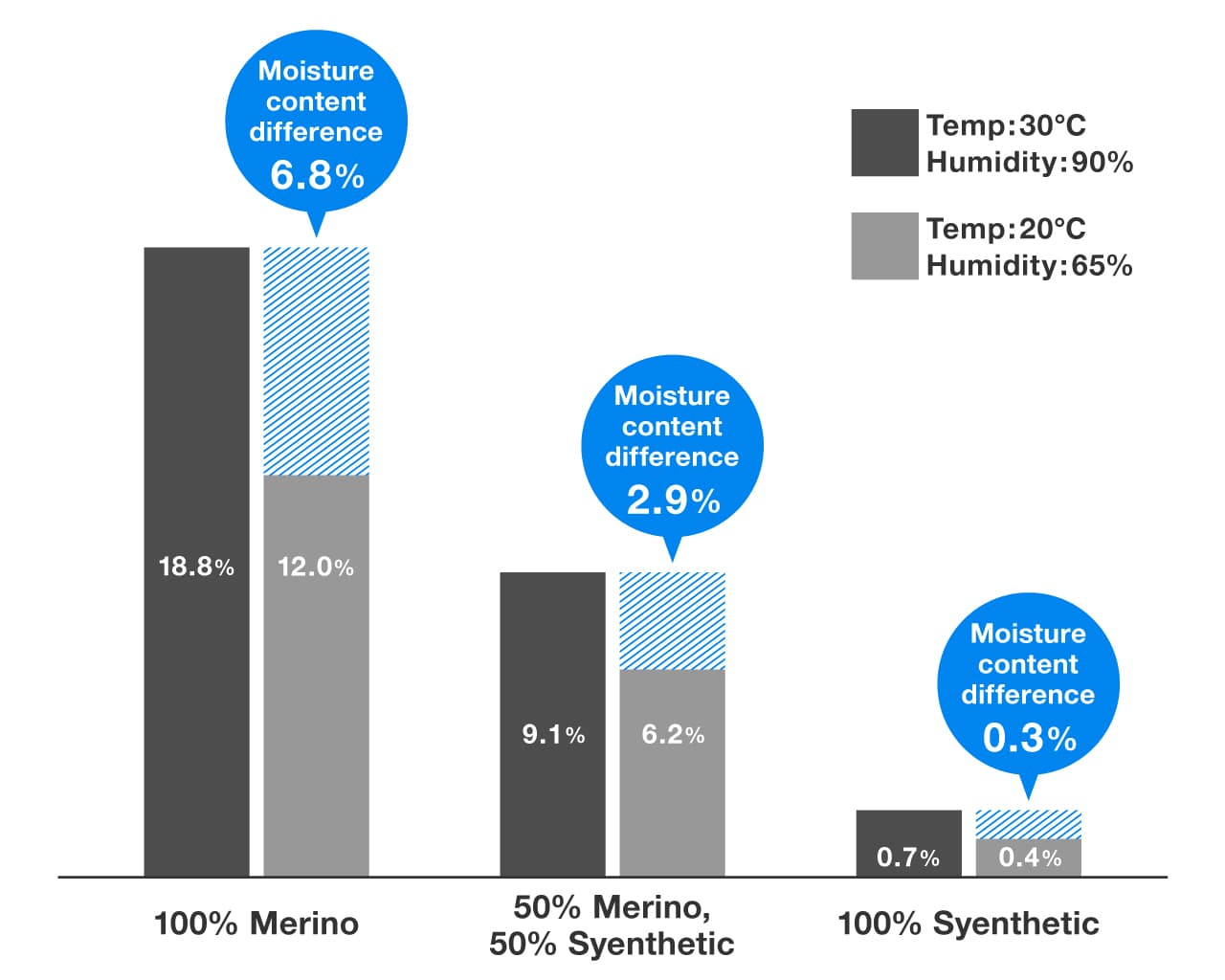 The above chart shows the comparison of moisture content ratio of three types of fabrics in a humid and hot environment (up, 30˚C with 90% humidity) and a more comfortable environment (down, 20˚C with 65% humidity).
In a humid and hot environment, the fiber with superior moisture absorption keeps you dry and comfortable. On the other hand, in dry conditions, it is more comfortable when the fiber provides a certain level of moisture without excessively absorbing available humidity. The difference of the moisture content ratio in the above chart indicates the moisture control performance: the greater the value is, the better the fabric's moisture control performance is, therefore the larger percentage means better comfort.
The 100% merino fabric, as shown above, has a 6.8% moisture ratio difference. This means that our merino material can effectively control the moisture compared to the other fabrics, keeping you dry when it's hot and humid while supplying a moderate amount of moisture when the humidity is low.
This is the reason why the merino wool is known as "a natural air conditioner".
Italian Merino
The Merino Short Sleeve Shirt uses 100% merino wool fabric, which is manufactured by a long-established Italian maker that operates everything from raising sheep on its own farm in New Zealand to spinning yarn and weaving fabric.
Compared to the warm and soft fabric used for flannel shirts, it has a light and bouncy linen-like texture, and although it is 100% wool, it does not get too hot and keeps you comfortable.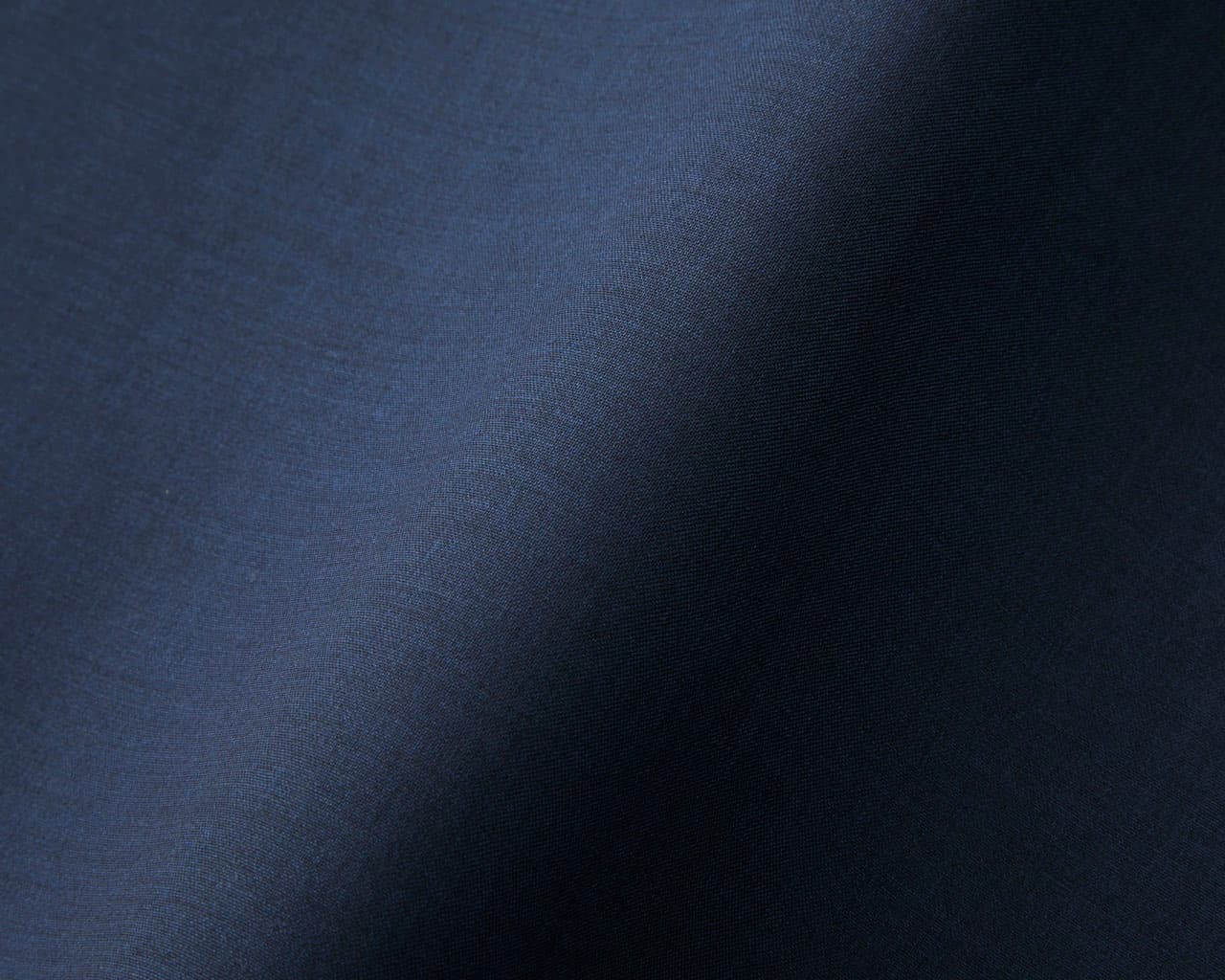 Material:
100% Merino Wool 130g/m²
Spec:
Tear strength tested by JIS L 1096 D (In-house test)
Vertical: 1.1kg, Horizontal: 0.8kg
Tensile strength tested by JIS L 1096 A (In-house test)
Vertical: 30.5kg, Horizontal: 19.4kg
Breathability tested by JIS 1096 A (In-house test)
62.6cc/(㎠・s)
Merino Wool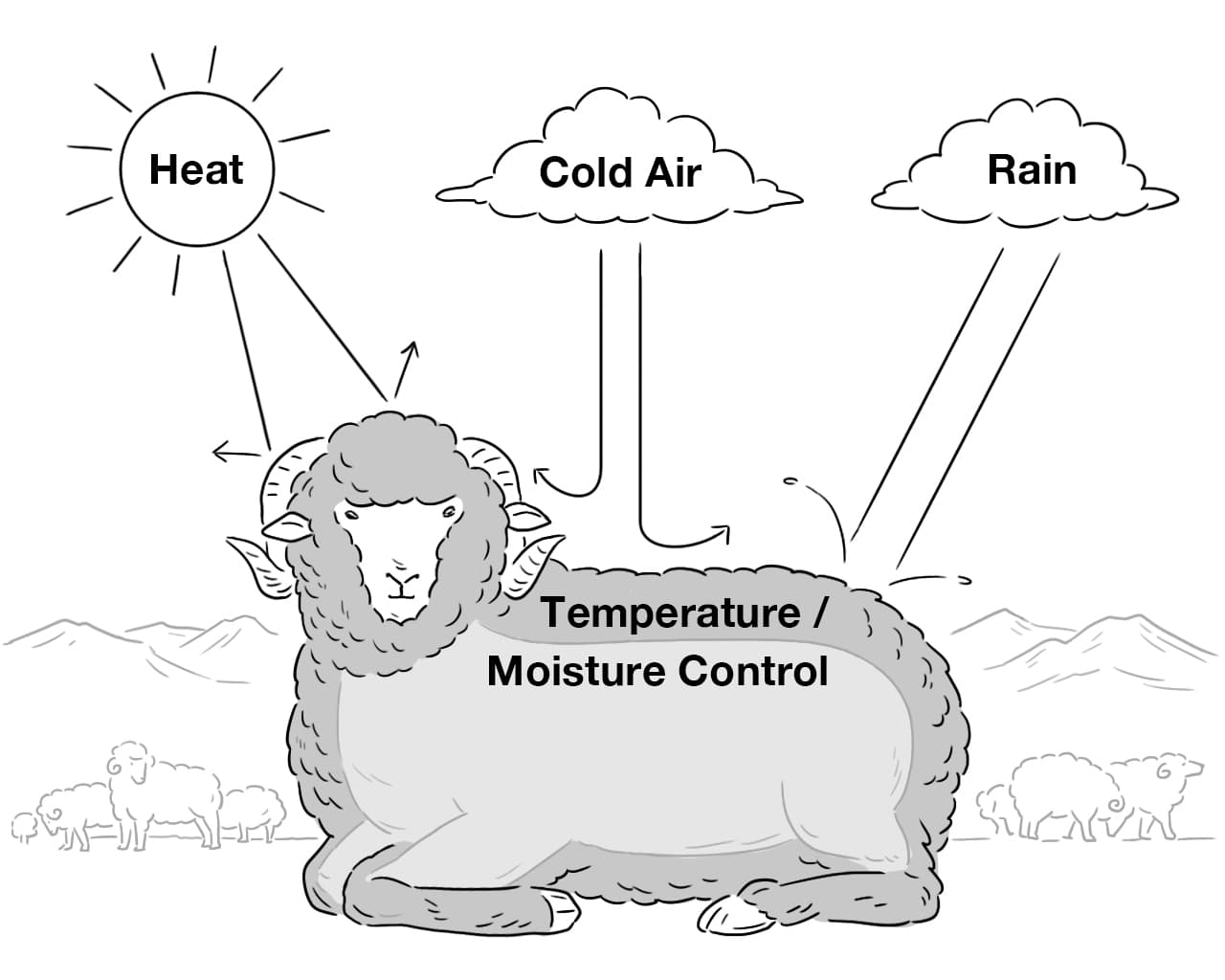 Wool is a natural material with various unique features such as temperature/moisture control, thermal insulation, and anti-odor performance; all of them developed by sheep to survive the harsh environment over time.
Merino wool comes from merino sheep and compared to other kinds of wool, merino's fiber is finer, softer, and less scratchy, and hence even suitable for making underwear.
All wools, including merino wool, are cool in summer and warm in winter. It is warm even when it's wet, and practically odor-free even after many hours of wear.
Wool's Structure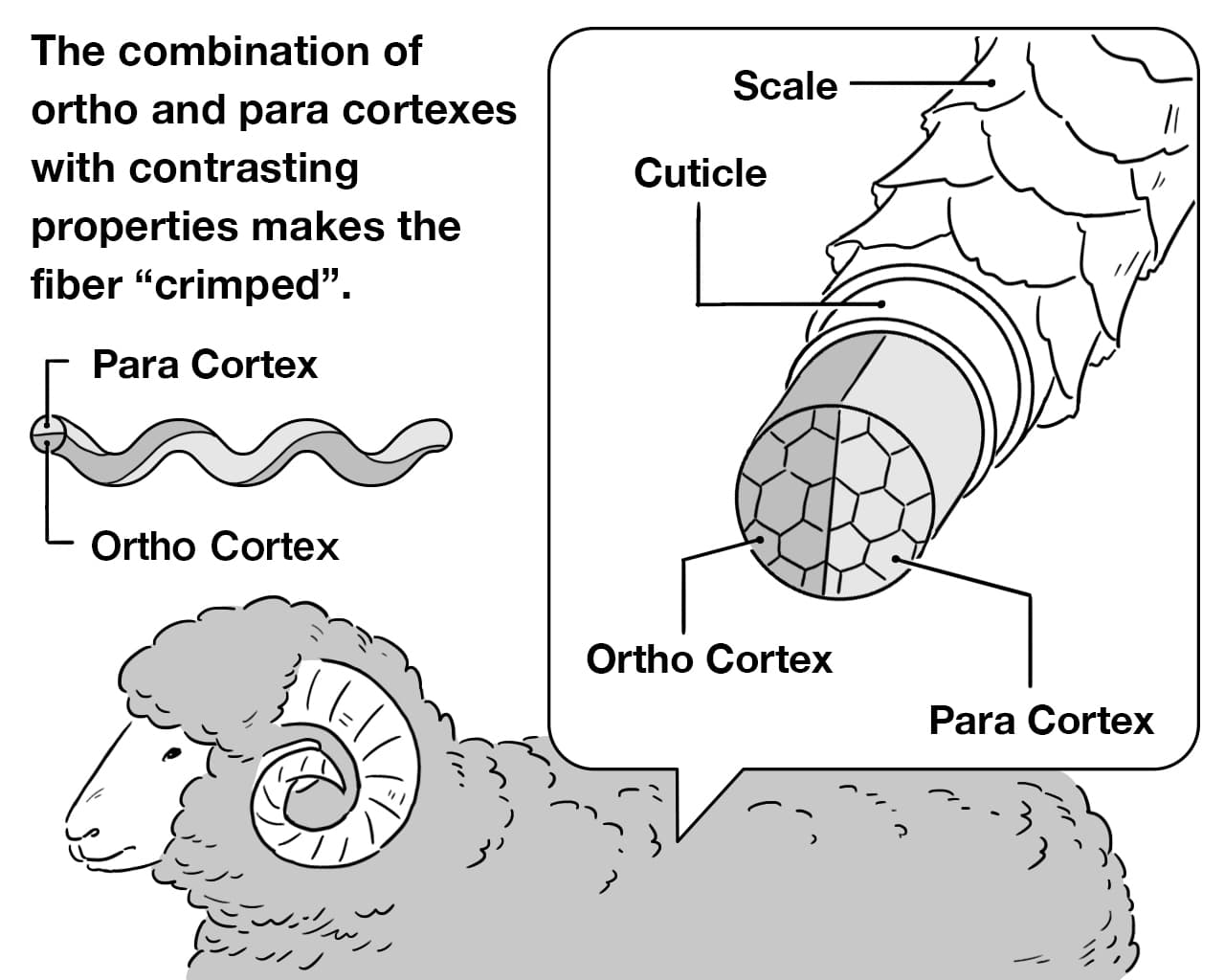 The wool's fiber is composed of amino acid-based protein, just like human hair and skin. The surface is called the "scale", which is similar to a fish scale, and the inner part is the "cortex".
The cortex is composed of the ortho-cortex and para-cortex, each with a different moisture absorption performance. Because each of them differs in property, the combination of ortho and para cortexes makes the fiber "crimped".
This crimped structure produces the wool's unique features such as moisture/temperature control property and thermal insulation performance, avoiding the coldness caused by sweat.
Disadvantages of Wool
Wool or merino wool has various features and functions, but it is not flawless.
Easily absorbs moisture and becomes heavy
Wool can get quite heavy as it is great at absorbing moisture. This also means that wool takes longer to dry than synthetic fibers, but compared to cotton, it actually dries faster.
Liked by insects
Soft, natural fibers such as wool, cashmere, and silk are prone to damage by insects.
Easily damaged
The relatively short fibers of wool mean that wool fabrics are easier damaged than synthetic and cotton fibers. However, small holes can easily be fixed with a bit of pure wool and a needle.
Size
Shiori 167cm-55kg
Size M (Indigo)
Shiori 167cm-55kg
Size M (Indigo)
Nana 151cm-47kg
Size S (Gray x Blue Stripe)

Eriko 158cm-47kg
Size M (Indigo)

Kanade 161cm-56kg
Size S (Brown Check)

Kanade 161cm-56kg
Size M (Charcoal x Black Stripe)

Hikaru 165cm-59kg
Size M (Gray Check)

Hikaru 165cm-59kg
Size L (Olive x Black Stripe)

Yumiko 170cm-59kg
Size L (Olive x Black Stripe)
Nana 151cm-47kg
Size S (Gray x Blue Stripe)

Eriko 158cm-47kg
Size M (Indigo)

Kanade 161cm-56kg
Size S (Brown Check)

Kanade 161cm-56kg
Size M (Charcoal x Black Stripe)

Hikaru 165cm-59kg
Size M (Gray Check)

Hikaru 165cm-59kg
Size L (Olive x Black Stripe)

Yumiko 170cm-59kg
Size L (Olive x Black Stripe)
推奨サイズ / Recommended Size
Size
S
M
L
体重 / Weight
kg
42~49
47~56
54~62
胸囲 / Chest
cm
78~84
82~90
86~94
製品サイズ / Product Size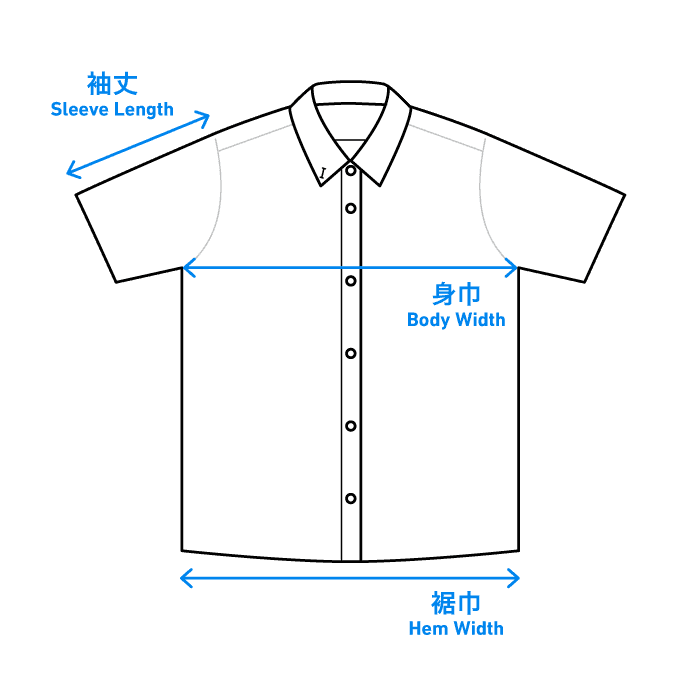 | Size | S | M | L |
| --- | --- | --- | --- |
| 着丈 / Length | 61 | 63 | 65 |
| 肩巾 / Shoulder Width | 38 | 39.5 | 41 |
| 身巾 / Body Width | 56.5 | 58.5 | 60.5 |
| 裾巾 / Hem Width | 54 | 56 | 58 |
| 袖丈 / Sleeve Length | 17 | 18 | 19 |
| 袖口巾 / Sleeve Opening | 17.5 | 18 | 18.5 |
The center, instead of the sides, of the back is pleated since the 2022 version.
Instructions
Care Instructions
Washing
It is machine-washable on the regular course. Please refrain from using the tumble dryer, as the texture of the fabric may be hardened. To reduce wrinkles after drying, smooth out wrinkles as much as possible before drying.
Wool fibers are slightly acidic, so avoid washing with alkaline detergent as it may damage the texture. Use a neutral detergent.
To avoid damage caused by contact with other laundry, or deformation caused by tangling, please wash it separately or use a laundry net.
Wrinkles tend to develop during spin-dry. To reduce wrinkles, shorten the spin-dry time.
Washing with lukewarm water (about 30℃) will help remove dirt.
Smooth out the wrinkles, adjust the shape, and line dry in the shade.
Do not tumble-dry, as the texture of the fabric may be hardened.
Make sure to smooth out the wrinkles and hang dry in the shade.
Do not use fabric softener as it may coat the fibers and hinder the natural properties of wool.
Do not bleach as it may cause color fading.
How to Remove Wrinkles
Compared to knitted fabrics, woven ones tend to wrinkle more easily, so please shorten the spin-dry time and smooth out the wrinkles as much as possible before drying. If wrinkles still remain, please iron them out.
Use a steam iron.
Always use the iron at a medium temperature (around 140°C to 160°C) setting or lower.
When ironing, apply a thin cloth while blowing the steam. If the iron is pressed excessively, the fabric may get unnaturally glossy. Iron gently.
After ironing, dry completely so that no moisture remains.
How to Avoid Insect Damage
Merino wool, an animal-derived fiber, has the disadvantage of being easily eaten by insects because of the protein contained in the fiber. However, the risk of insect damage can be reduced by proper care.
Dry well before storing. If there is any moisture left, it will be prone to insect damage.
Steam from an iron can effectively kill insects by heat. Use a medium temperature setting when ironing, and after steam, dry it completely before storing it.
Keep well-ventilated. Avoid humid environments.
Vacuum storage bags are also effective in preventing insect damage. Air left in the bag will allow insects to survive. Make sure to completely vacuum it and make it air-tight before storing. Please note that vacuum sealing may cause wrinkles.
if you use mothballs, please follow the labelled instructions.
Payment
We only accept payment by credit card. We currently do not accept payment via bank transfer from overseas accounts.
We accept the following Credit Cards: Visa, Master, American Express, and JCB.
To download your receipt, please click the link included in the Dispatch Notice, which we will send by email as soon as the items are dispatched.
Delivery
Order Confirmation will be sent after the order.
The items will be dispatched within 3 days after the payment is confirmed.
The dispatch notice will be sent by email as soon as the items are dispatched.
The delivery may be delayed by unforeseeable reasons such as natural disasters and other logistics issues. We appreciate your patience and understanding.
We cannot ship multiple orders in one package due to how our delivery system is currently set up.
We will ship by DHL for overseas customers (excluding China, Hong Kong, Taiwan, Korea and Russia). For customers in China, Hong Kong, Taiwan, Korea and Russia, we will ship by EMS only.
Shipping costs vary depending on your country and region.
Size Exchange
Overseas customers who need to change the size of their order, should note that the time needed for shipping will vary greatly depending on your country of residence.
We only accept exchanges when the item is unused (except for fitting).
If you wish to exchange the size of the item, please contact us within seven days of receiving your order.
Exchanges can only be made for the same color in a different size.
If the size you wish is out of stock, we will suggest a different color.
If the product is out of stock, we may simply have to ship the item back to you.
All shipping costs to be carried by the customer.
We will only send the exchanged item to you, upon receipt of return shipping cost via PayPal.
Please be aware that some countries charge customs duties depending on the price of the item.
We are unable to answer any questions on local customs. Please contact your local customs bureau.
Repair
We accept repairs for all of our Yamatomichi products. For inquiries on repair services including patching the holes, repairing with extra components, or fixing the items damaged over time, please feel free to contact us from the "Repair" section of the SUPPORT page.