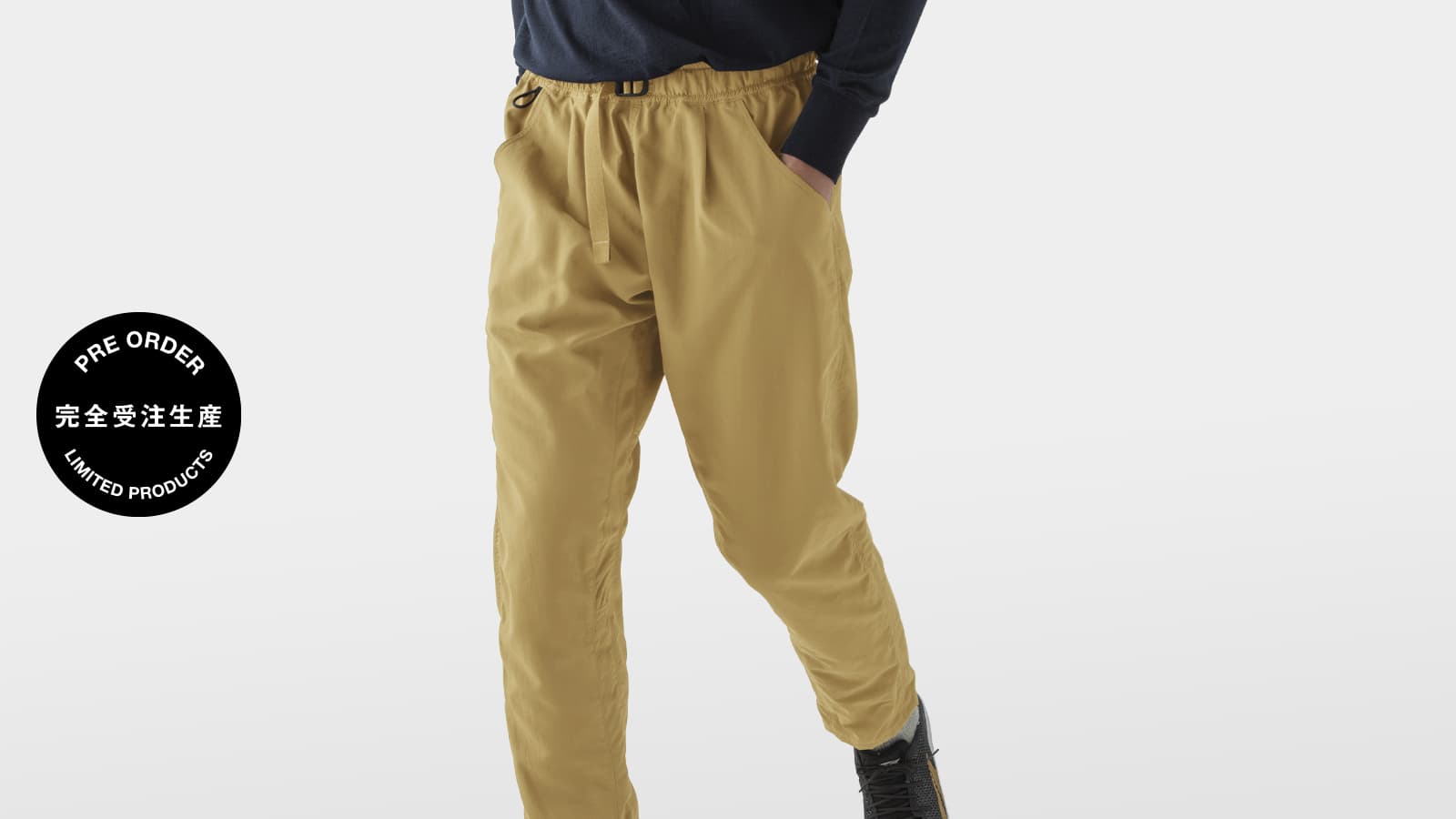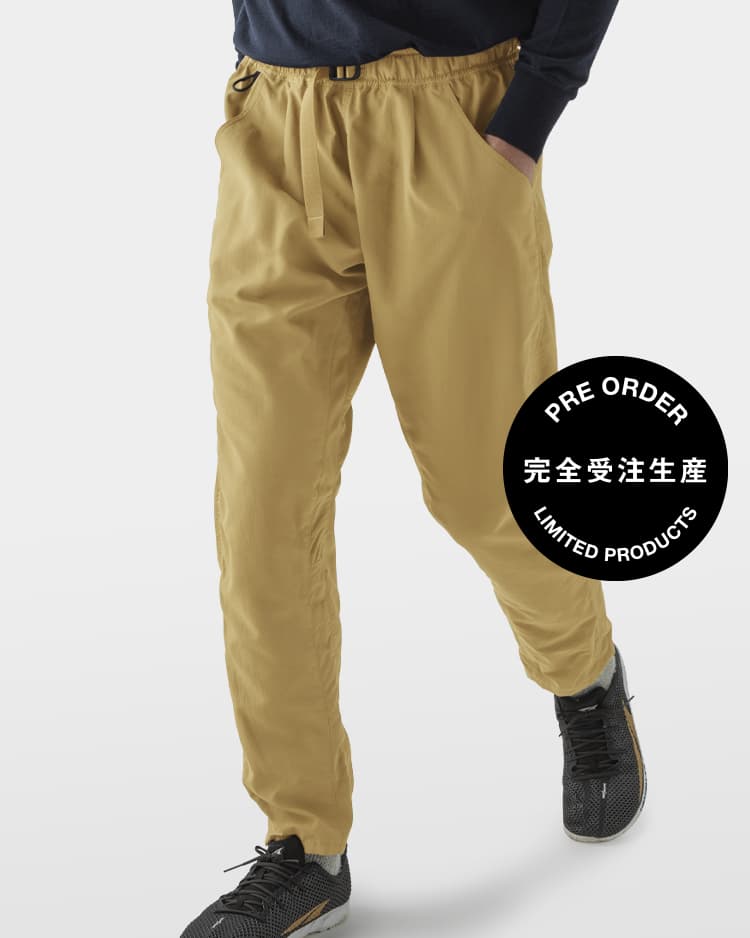 Introduction
PREORDER LIMITED
Even Comfier
Our first pants, the 5-Pocket Pants were made of durable, quick-dry, and wind-proof Taslan nylon. The fabric seemed perfect for its superior reliability, especially for long-distance hiking.
Only, the lack of elasticity was the drawback. The fabric does not stretch at all, so if it is made into pants in a normal dressmaking method and design, the legs were sometimes difficult to move. It took a while to solve this problem with our proprietary design and finally we were able to create our standard 5-Pocket Pants.
The Pants were comfortable in most cases for sure. But only when I was rock climbing where I had to lift up my leg higher, the lack of elasticity caused stiffness. The solution? The new and updated One Tuck 5-Pocket Pants; The pants are tucked (pleated) at the waist for ease of movement, creating an elegant, slightly tapered shape.
We were initially planning to release the One Tuck for regular sale, completely replacing the normal 5-Pocket Pants. As I mentioned above, however, our original 5-Pocket Pants had been loved by so many hikers that we did not want to confuse and disappoint the customers who loved the original version because of the specification changes.
After all, we decided to produce the One Tuck version by completely made-to-order, while continuing the original 5-Pocket Pants for regular sale.
The video shows a test by NATURAL ANCHORS, the outdoor store in Nagano.
Preorder Limited
Please note that this item has not yet been manufactured, and will only be sold at our online shop. We take preorders to avoid overproduction, so we are unable to accept any amendments to your order after the order period is over.
Order period: TBA
Delivery schedule: TBA

As they are completely made to order, please allow for ample production time.
Please note that we only accept a limited number of orders. We may close the reservation window if orders fill up quickly.
Shopping Cart Rules
Regular items, pre-order items, and custom orders cannot be purchased at the same time as they are shipped at different times. Also, please understand we are unable to ship items ordered separately in the same package.
Color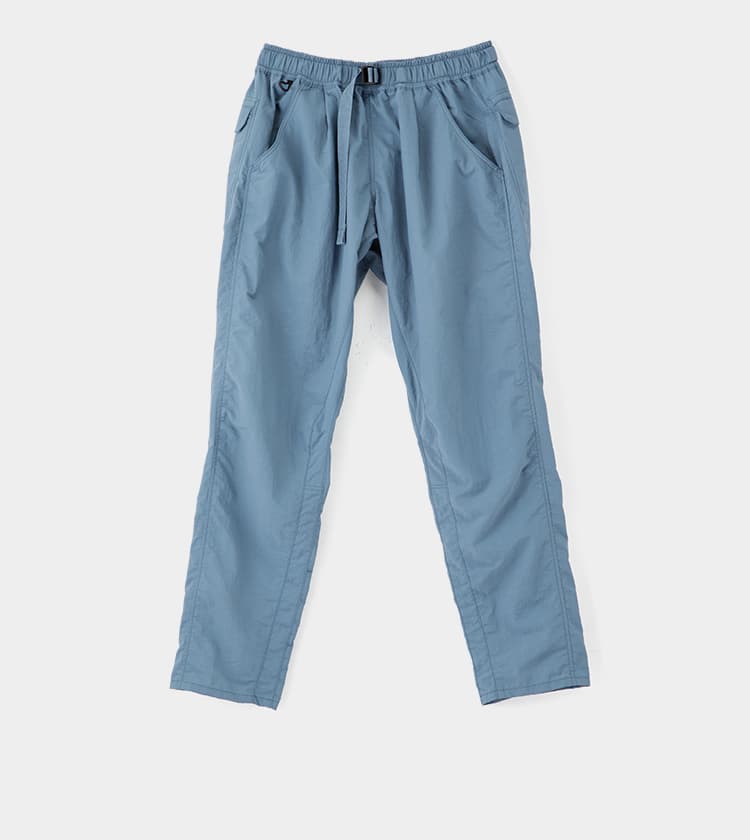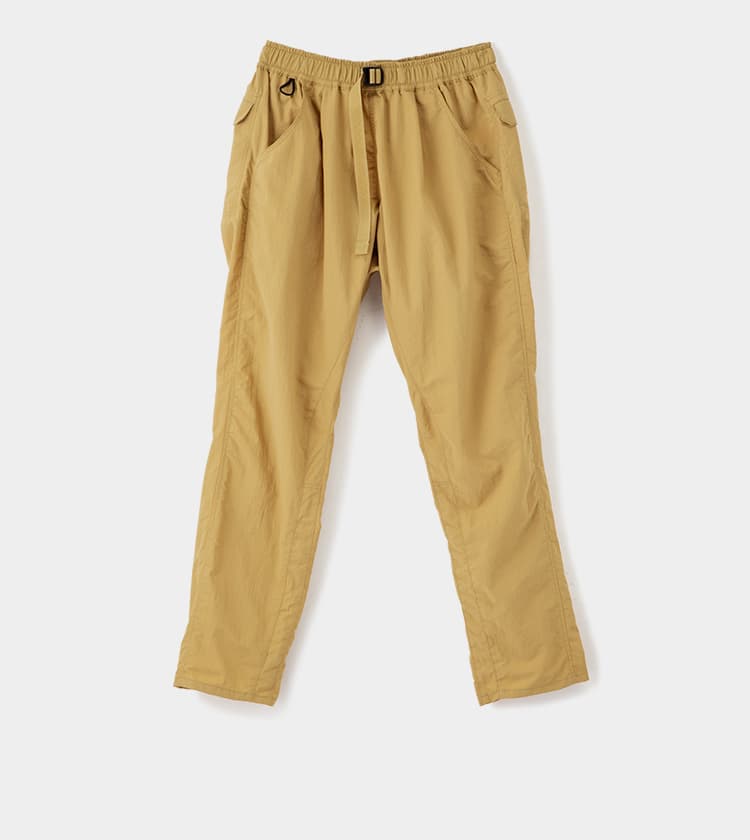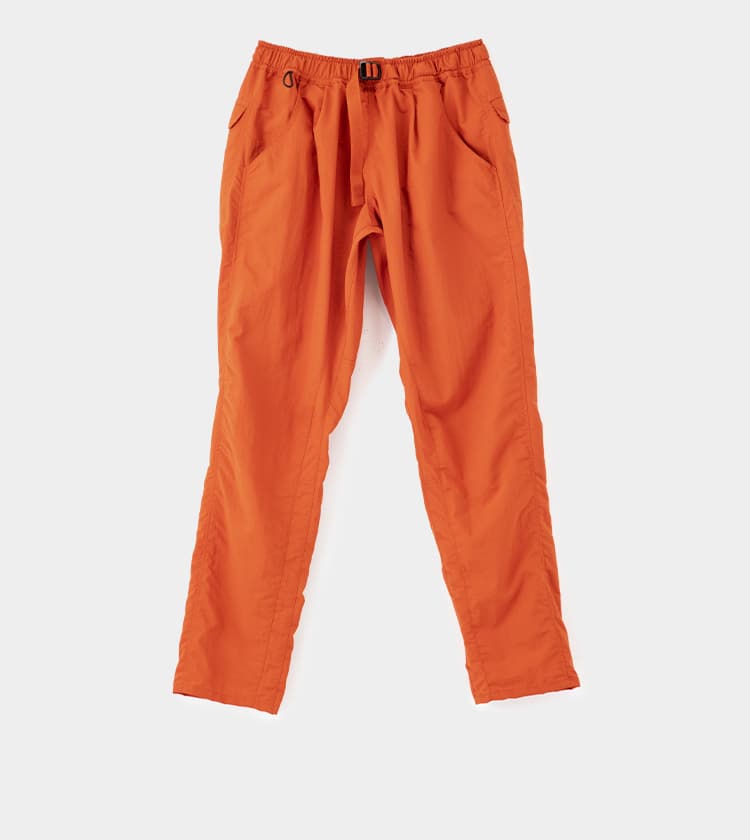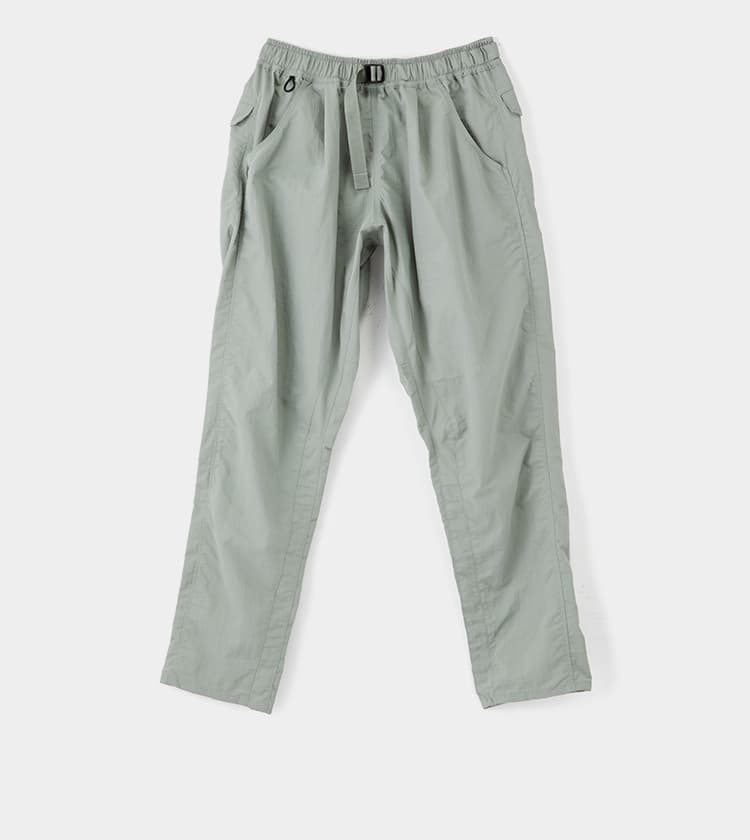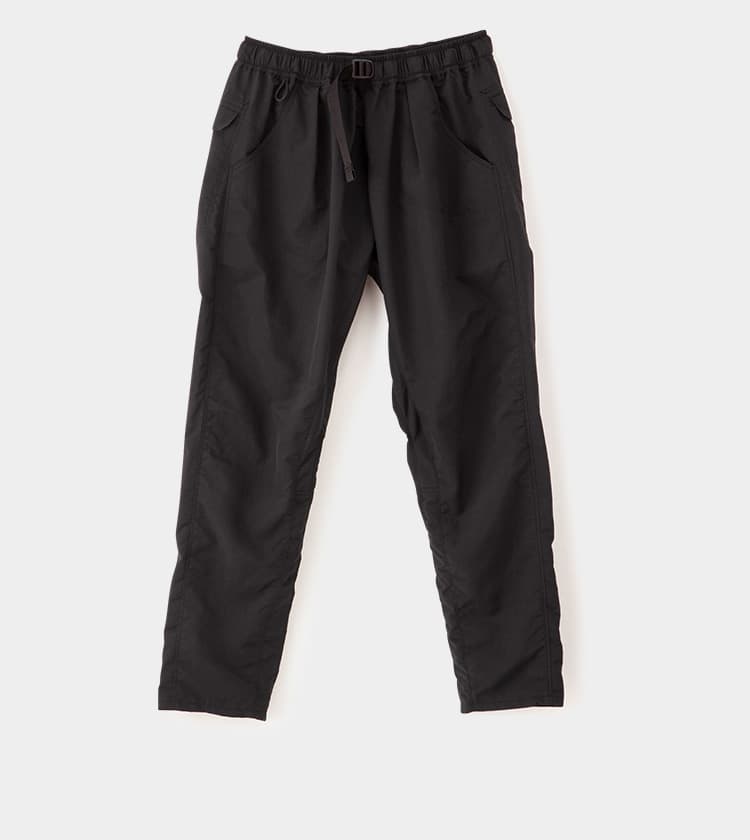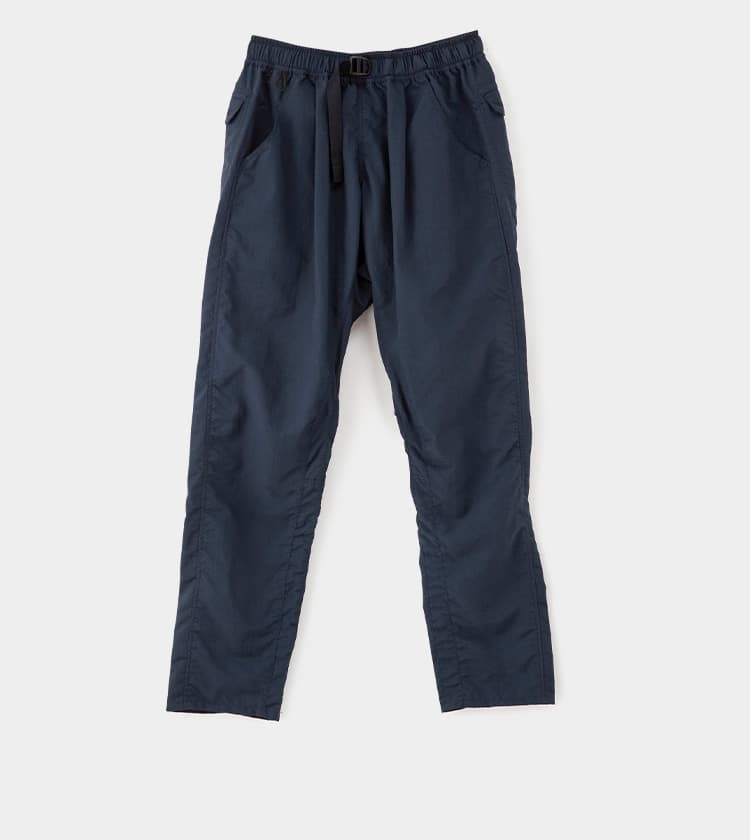 Specs
Made in Akita, Japan
Material:
Taslan Nylon (100% Nylon) 120g/㎡
C6 DWR (Durable Water Repellent)
Zipper:
YKK #3 Coil Zipper
Weight:
242g (Size S)
250g (Size S-Tall)
253g (Size M)
262g (Size M-Tall)
266g (Size L)
275g (Size L-Tall)
281g (Size XL)
292g (Size XL-Tall)
Size:
Men | S / S-Tall / M / M-Tall / L / L-Tall / XL / XL-Tall
Form and Function
Pleated for Comfort
The 5-Pocket Pants' outstanding ease of movement is achieved by our proprietary pattern and the three-dimensional sewing. The One Tuck version has a larger and pleated waist, allowing for an even more flexible leg movement.
Especially when you are rock climbing or bouldering, or when you are climbing over large rocks with your legs up high, you will feel the ease of movement of those pants.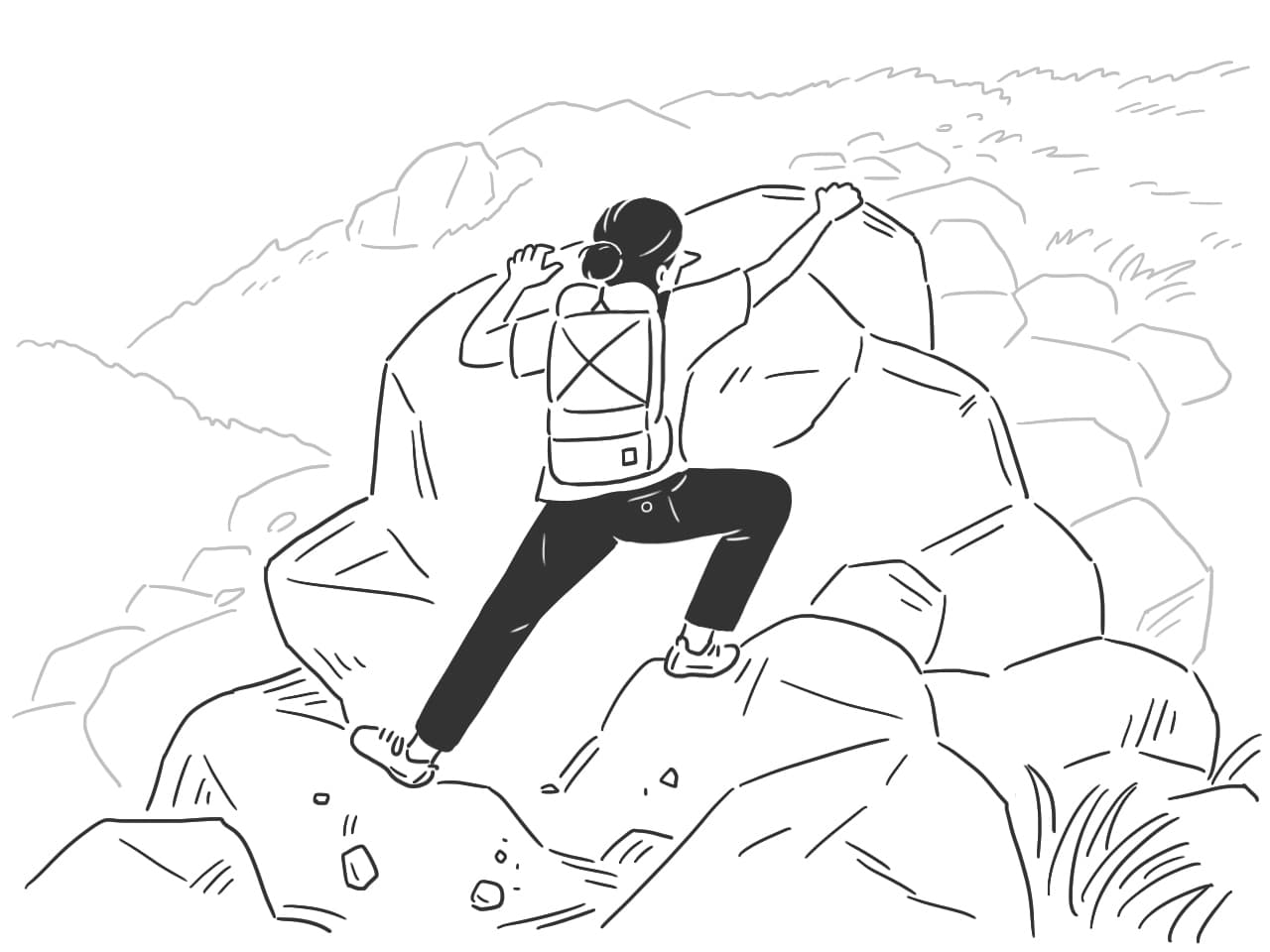 Tapered Design
The original 5-Pocket Pants were designed to be wide from the hip to the thigh area for easier movement, while the One Tuck version has a similar design, but thicker at the front of the thighs for a more elegant look around the hip, and thinner toward the hem; It is tapered more clearly than before.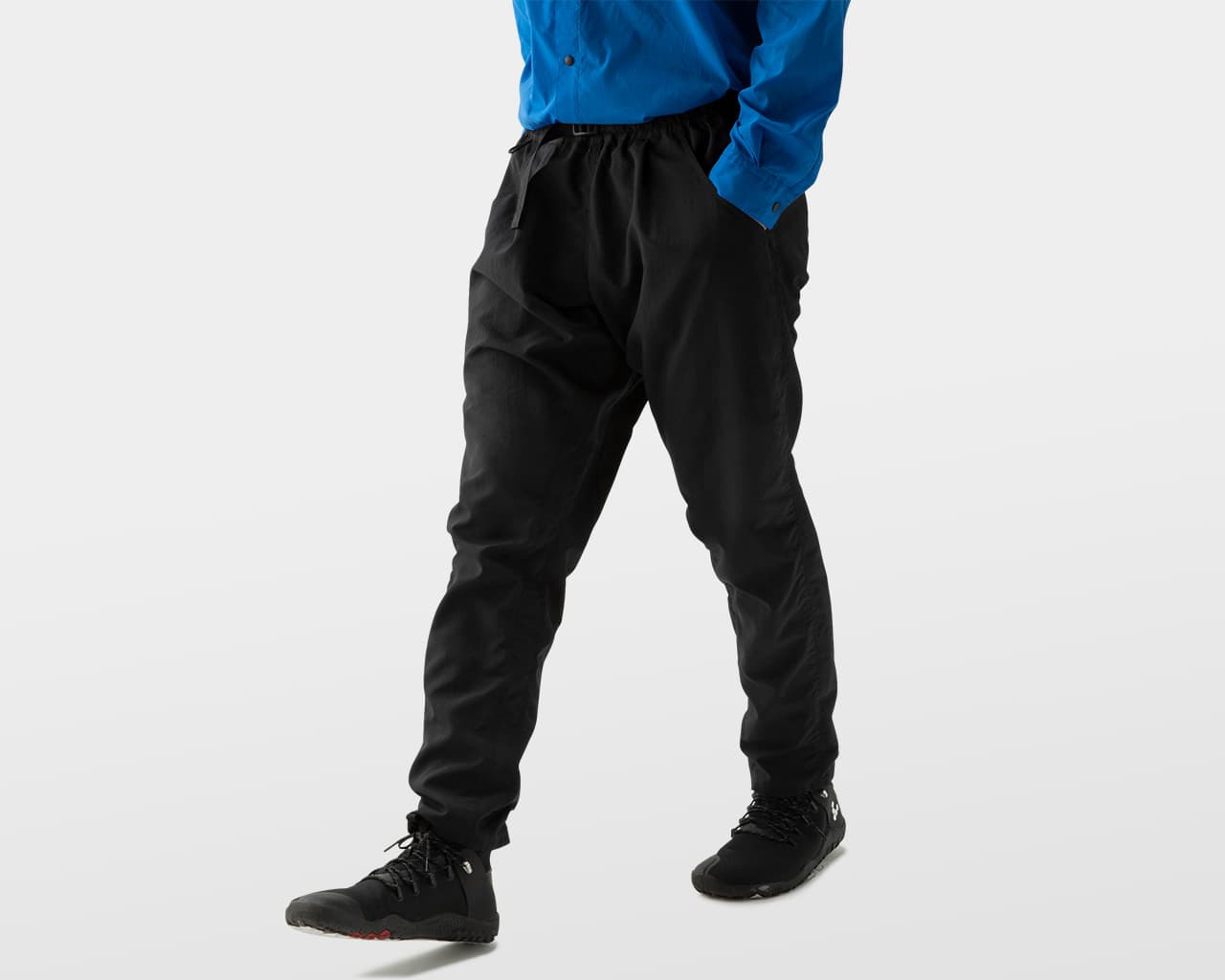 Pockets for Smartphone and Maps
Yamatomichi 5-Pocket design can neatly store your map, snack, wallet, and other items you need during hiking, without interfering with your leg movement.
Especially, our smartphone pocket at the side is so well-positioned that it fits your phone while keeping it securely in place without bouncing around when running. The map pocket is large enough to store the water bottle.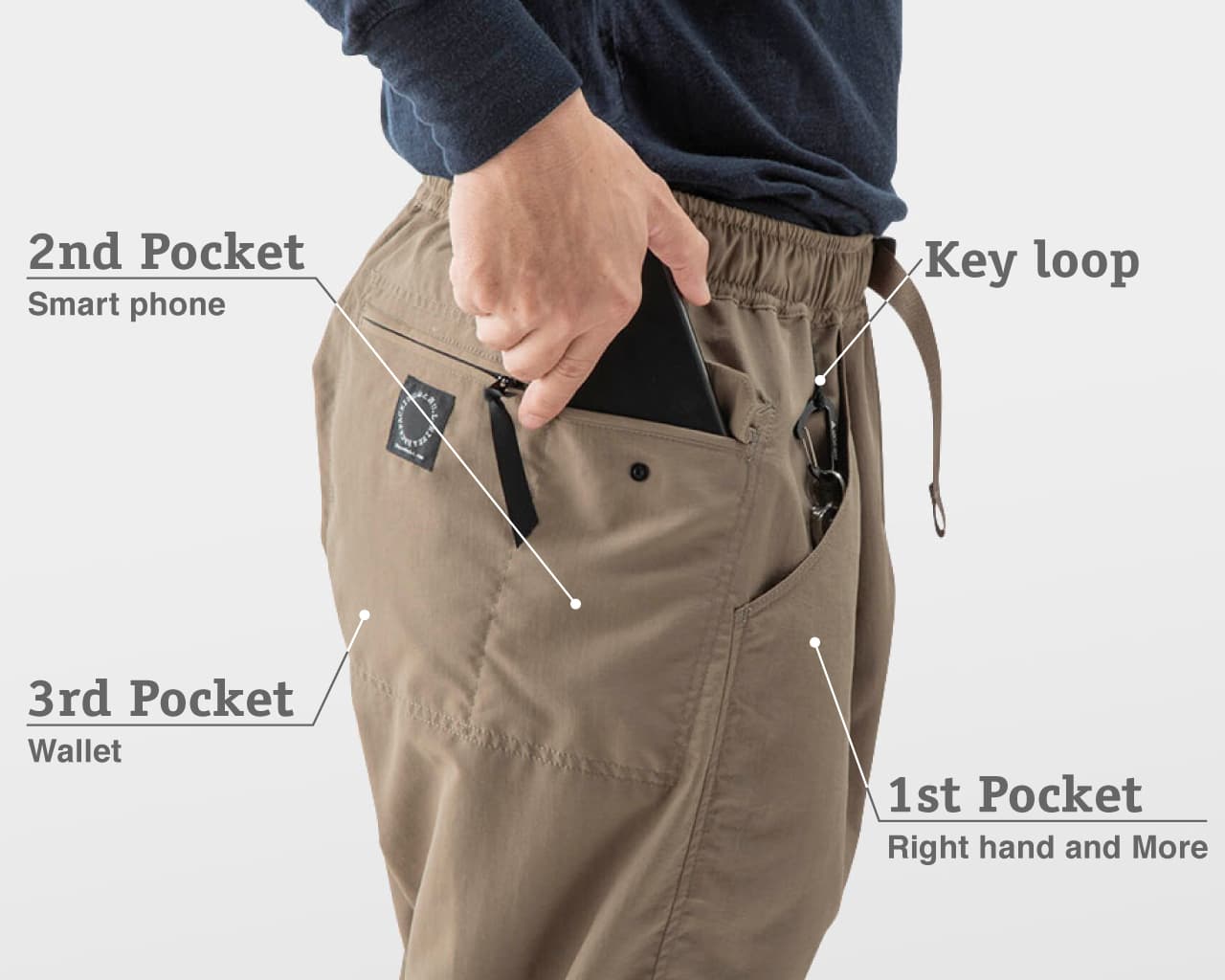 1st pocket

Large enough for comfortable keeping your hands in your pockets while hiking.
2nd pocket
The 2nd pocket is perfect for your smartphone. The perfectly-allocated pocket just behind the hipbone secures a smooth leg lift, preventing your phone from bouncing around and keeps your phone safe and intact when sitting.
3rd pocket
The 3rd pocket is positioned high for wallets, etc. The long zipper tab allows for easy opening/closure of the pocket.
Key Loop
You can attach keys or a small carabiner to the long key loop. It's also handy when you hang the pants to dry.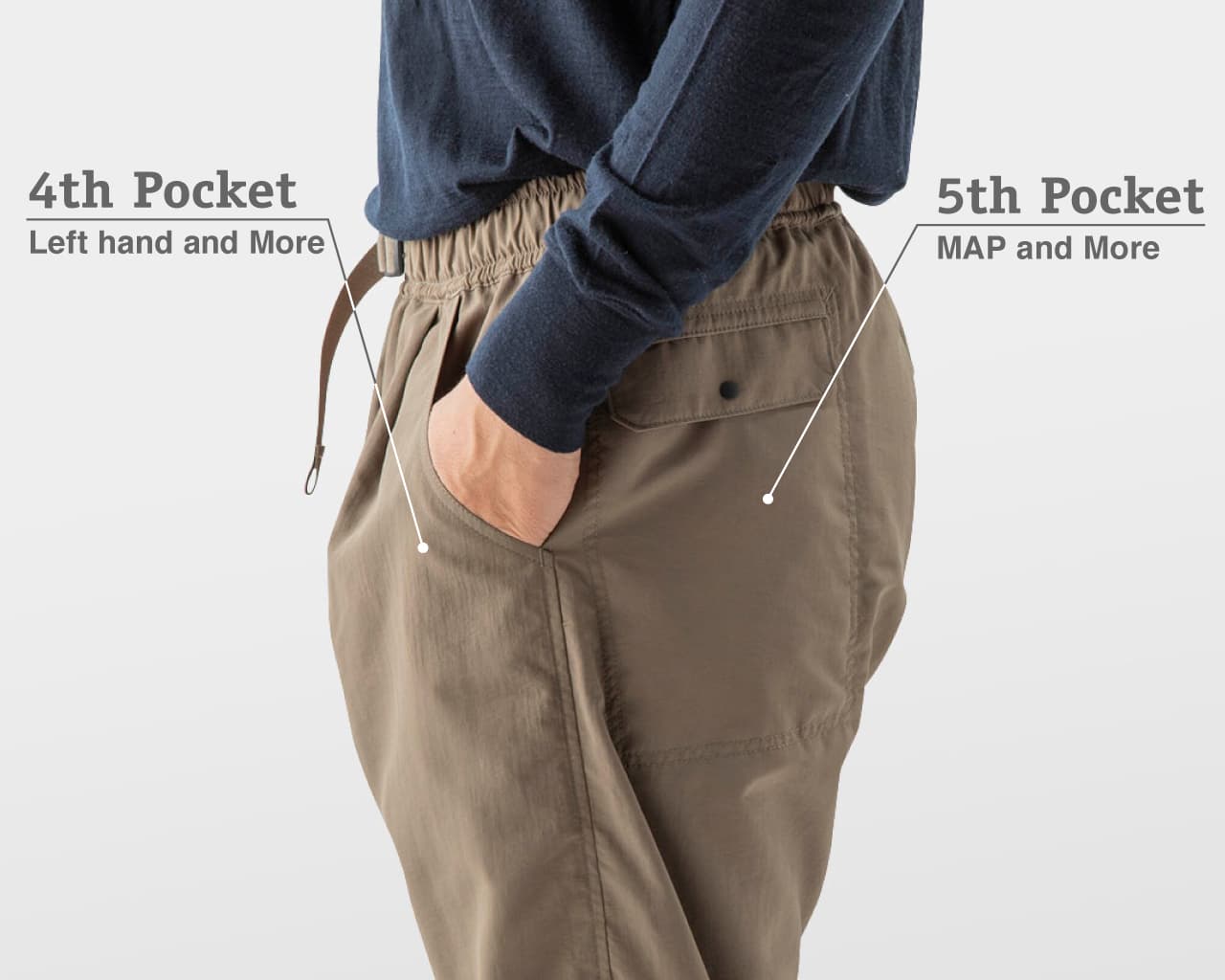 4th pocket
The lower part of the pocket liner is made of polyester mesh for drainage should the pants get wet.
5th pocket
The 5th pocket is made to fit the size for the normal hiking map. It is also convenient for putting trash during hiking or keeping snacks close at hand. The pocket can also hold a large screen smartphone.
Fast-drying and Durable
In the pouring rain, even water-repellent finished clothes will unavoidably get wet. Also, even the highest-spec rainwear gets soaked from the moisture caused by sweat during intense exercise. Hence, what we prioritize is how fast the fabric can dry after getting wet, rather than to make a lot of effort to keep them completely dry.
Generally, the thinner the fabric, the faster it dries. It is true that fast-drying property matters for hiking, but at the same time, a certain level of durability and strength are required.
The cotton-like Taslan with 120g/㎡, the material used for the One-Tuck, is lightweight, fast-dry, and durable.
Moisture Content after 15 mins of Spin Dry
As the fabric is very light it dries in no time! See below for details of just how fast these pants dry compared to other fabrics.
The below chart compares the moisture content in the fabric of the One Tuck 5-Pocket Pants with synthetic base layers and normal cotton after a 15 minutes spin cycle.
The lower the moisture content, the faster the fabric will dry. As can be seen on the above chart the One Tuck 5-Pocket Pants are almost completely dry with a moisture content of only 1% after a 15 minutes spin.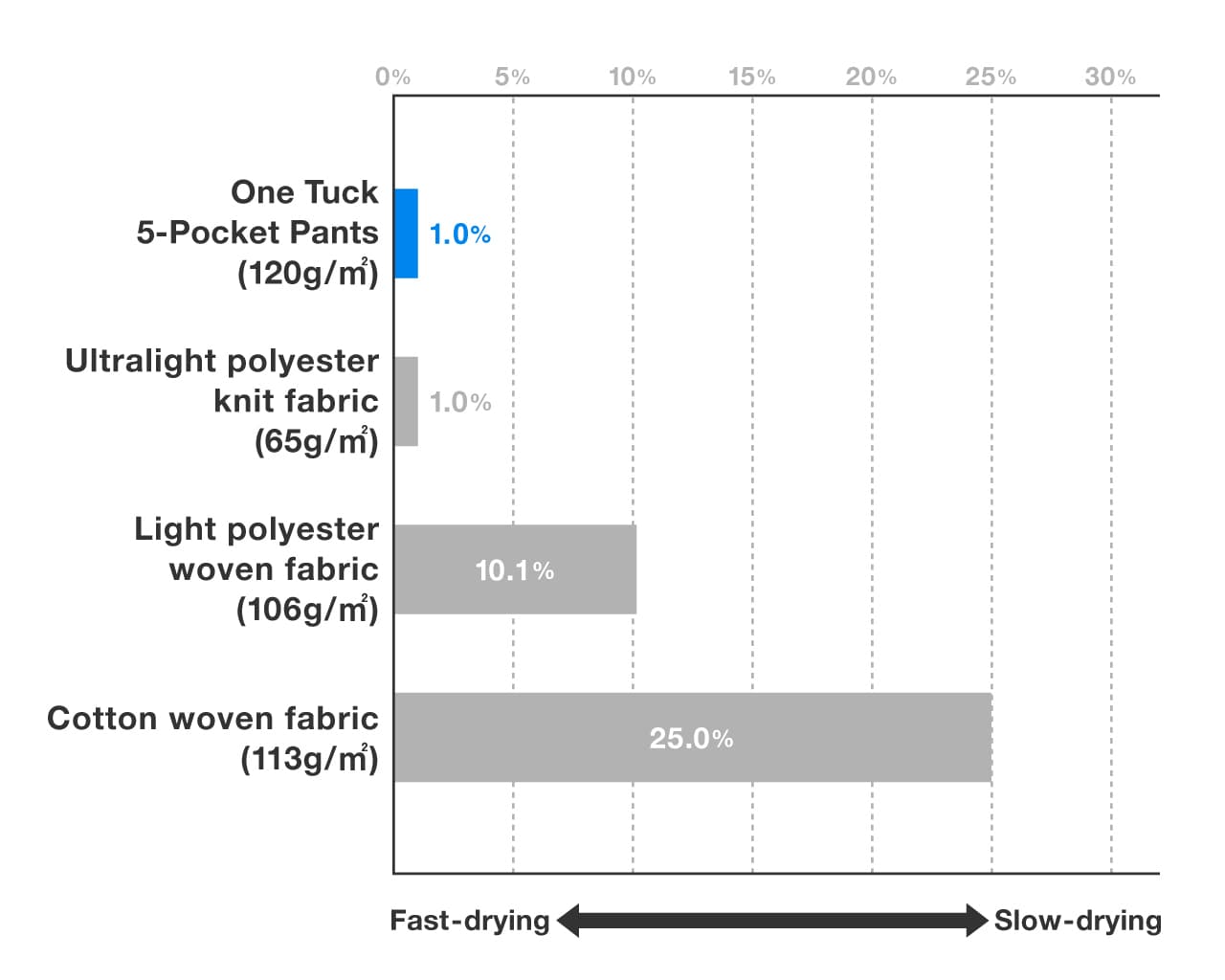 Material
Cotton-like Taslan Nylon
The Taslan nylon fabric is made of "air-textured yarns", the filament yarns using compressed air.
Unlike the general nylon fabrics, which are often shiny, the Taslan nylon has a matte and soft texture. It is a high-density material made of "air-textured yarns", achieving both durability and lightweight.
The nylon material is fast-dry and its unique uneven texture keeps you comfortable in various conditions without sticking to your wet skin.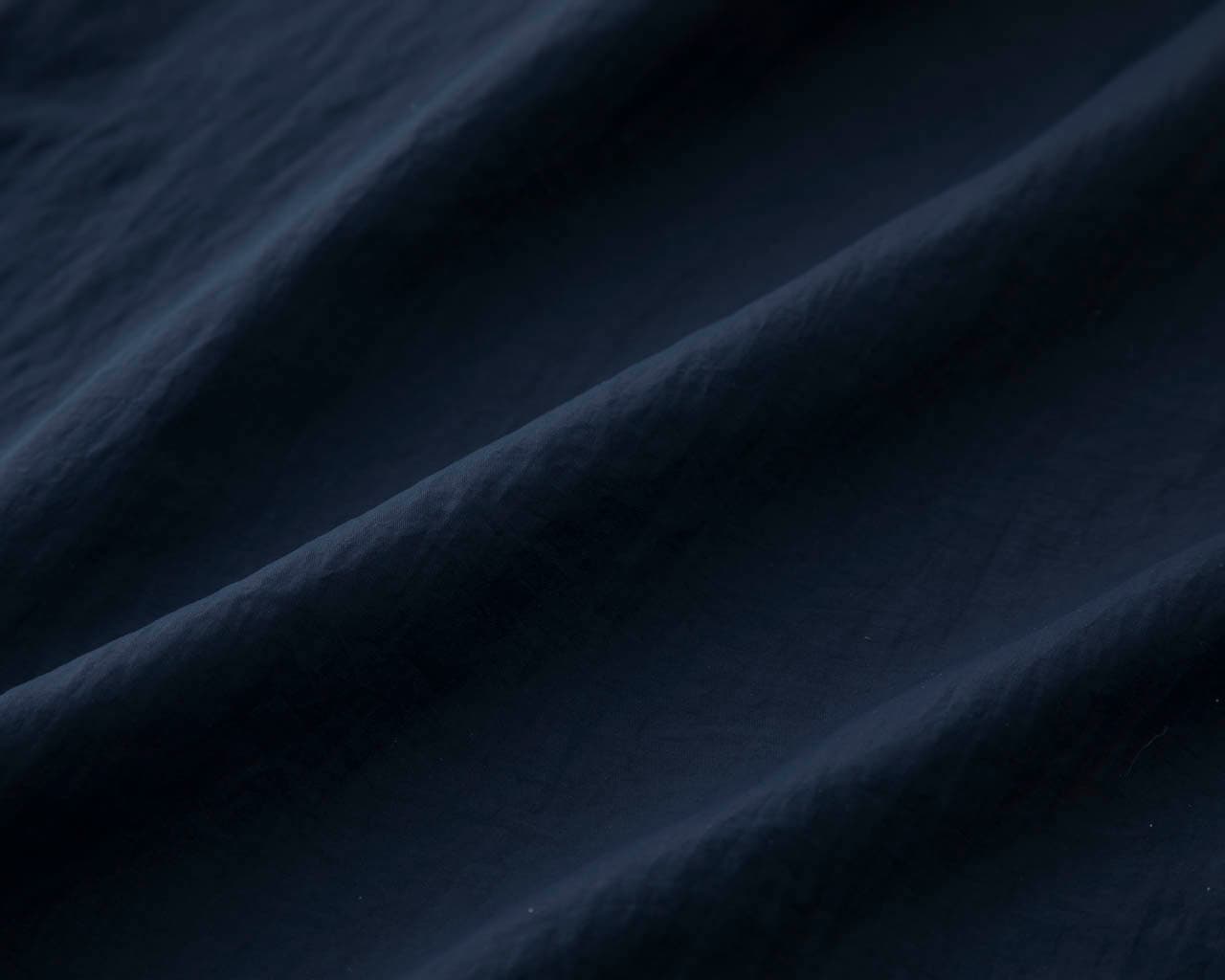 Material:
Taslan Nylon (100% Nylon)
Weight: 120g/㎡
70d/48f x 160d/144f
C6 DWR (Durable Water Repellent)
Specs:
Tear strength measured by JIS L 1096 D (In-house test)
Vertical:7.6kg, Horizontal:4.4kg
Tensile strength measured by JIS L 1096 A (In-house test)
Vertical: 102kg (or more), Vertical: 79kg
Breathability measured by JIS 1096 A (In-house test)
8.4cc/(c㎡·s)
Size
Kim 175cm-67kg
Size M (Dark Navy)
Kim 175cm-67kg
Size M (Dark Navy)
推奨サイズ / Recommended Size
Size
S
ST
M
MT
L
LT
XL
XLT
身長 / Height
(cm)
160~167
168~172
165~172
173~178
170~178
179~184
176~184
185~190
体重 / Weight
(kg)
52~61
52~61
59~69
59~69
67~78
67~78
76~85
76~85
ウエスト / Waist
(cm)
70~80
70~80
74~84
74~84
82~92
82~92
90~94
90~94
Choosing the right size
The pleats make the waistband larger than the 5-Pocket Pants. Even if you have worn our pants in the past, we recommend double checking the above size chart.

Please choose a size that is perfect for your height and weight.

Choosing the smaller size is recommended if your height or weight overlap either recommended size.
製品サイズ / Product Size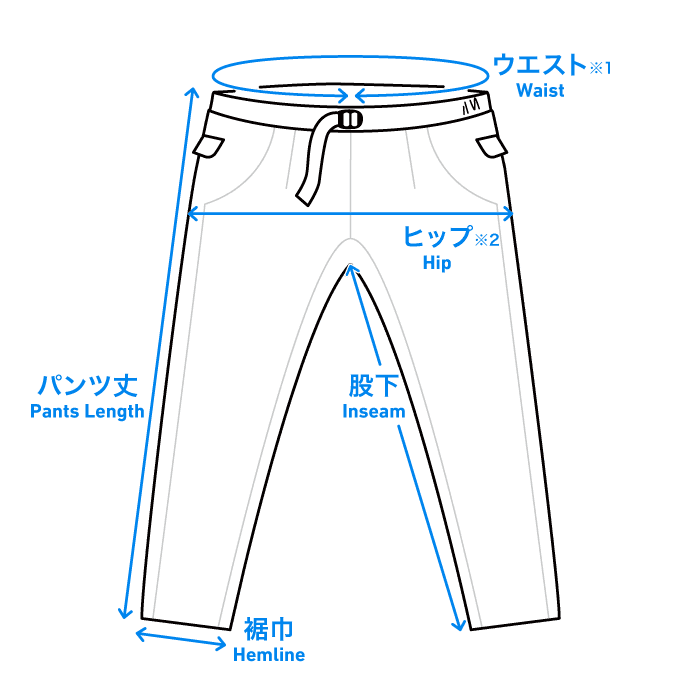 Slight size differences may occur due to fabric shrinkage and sewing variations.
*Waist is measured when the rubber is not stretched.
**The hip is the width measured at the largest part of the waist when placed flat.
| Size | S | ST | M | MT | L | LT | XL | XLT |
| --- | --- | --- | --- | --- | --- | --- | --- | --- |
| パンツ丈/Pants Length | 96.5 | 99.5 | 99 | 102 | 102.5 | 105.5 | 104.5 | 107.5 |
| 股下/Inseam | 73.5 | 76.5 | 75.5 | 78.5 | 78.5 | 81.5 | 80 | 83 |
| ウエスト/Waist | 66 | 66 | 71 | 71 | 74 | 74 | 79 | 79 |
| ヒップ/Hip | 57 | 57 | 62 | 62 | 64.5 | 64.5 | 67 | 67 |
| 裾巾/Hemline | 17.5 | 17.5 | 18 | 18 | 19 | 19 | 20 | 20 |
The above figures may slightly vary due to fabric shrinkage and sewing irregularity.
Instructions
Notes on Ordering
We take preorders to avoid overproduction, so we are unable to accept any amendments to your order after the order period is over.
As they are completely made to order, please allow for ample production time.
Feel free to contact us for details via the following link: CONTACT
Care Instructions
Machine wash below 40°C.
Use laundry net or wash separately.
Line dry in the shade.
Tumble dry below 60°C.
Do not bleach and do not use fabric softener.
Iron on low without steam.
Do not dry-clean.
High temperatures may cause shrinkage.
Payment
We only accept payment by credit card. We currently do not accept payment via bank transfer from overseas accounts.
We accept the following Credit Cards: Visa, Master, American Express, and JCB.
To download your receipt, please click the link included in the Dispatch Notice, which we will send by email as soon as the items are dispatched.
Delivery
We will ship by DHL for overseas customers (excluding China, Hong Kong, Taiwan, Korea and Russia). For customers in China, Hong Kong, Taiwan, Korea and Russia, we will ship by EMS only. Shipping costs vary depending on your country and region.
Repair
We accept repairs for all of our Yamatomichi products. For inquiries on repair services including patching the holes, repairing with extra components, or fixing the items damaged over time, please feel free to contact us from the "Repair" section of the SUPPORT page.