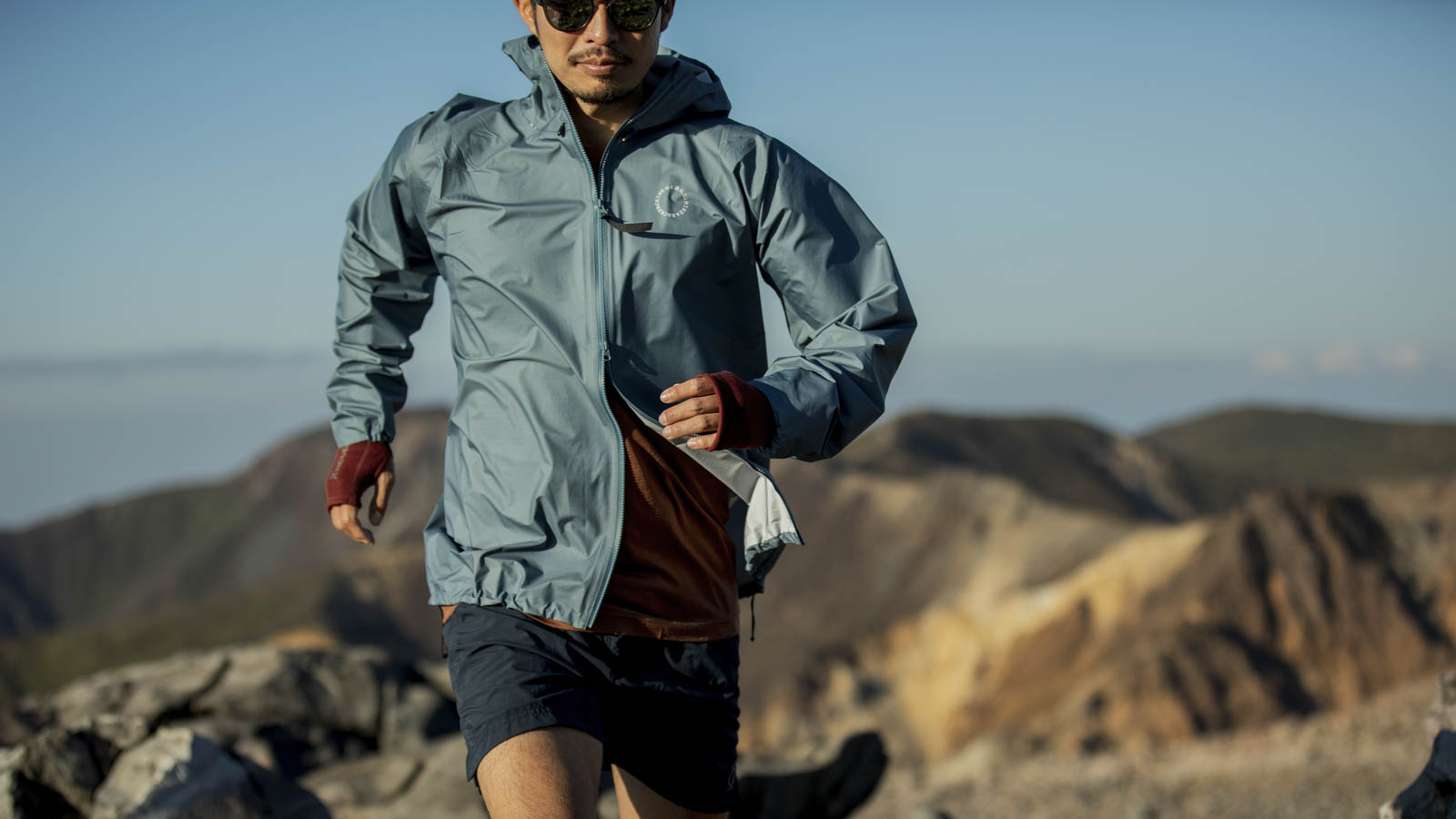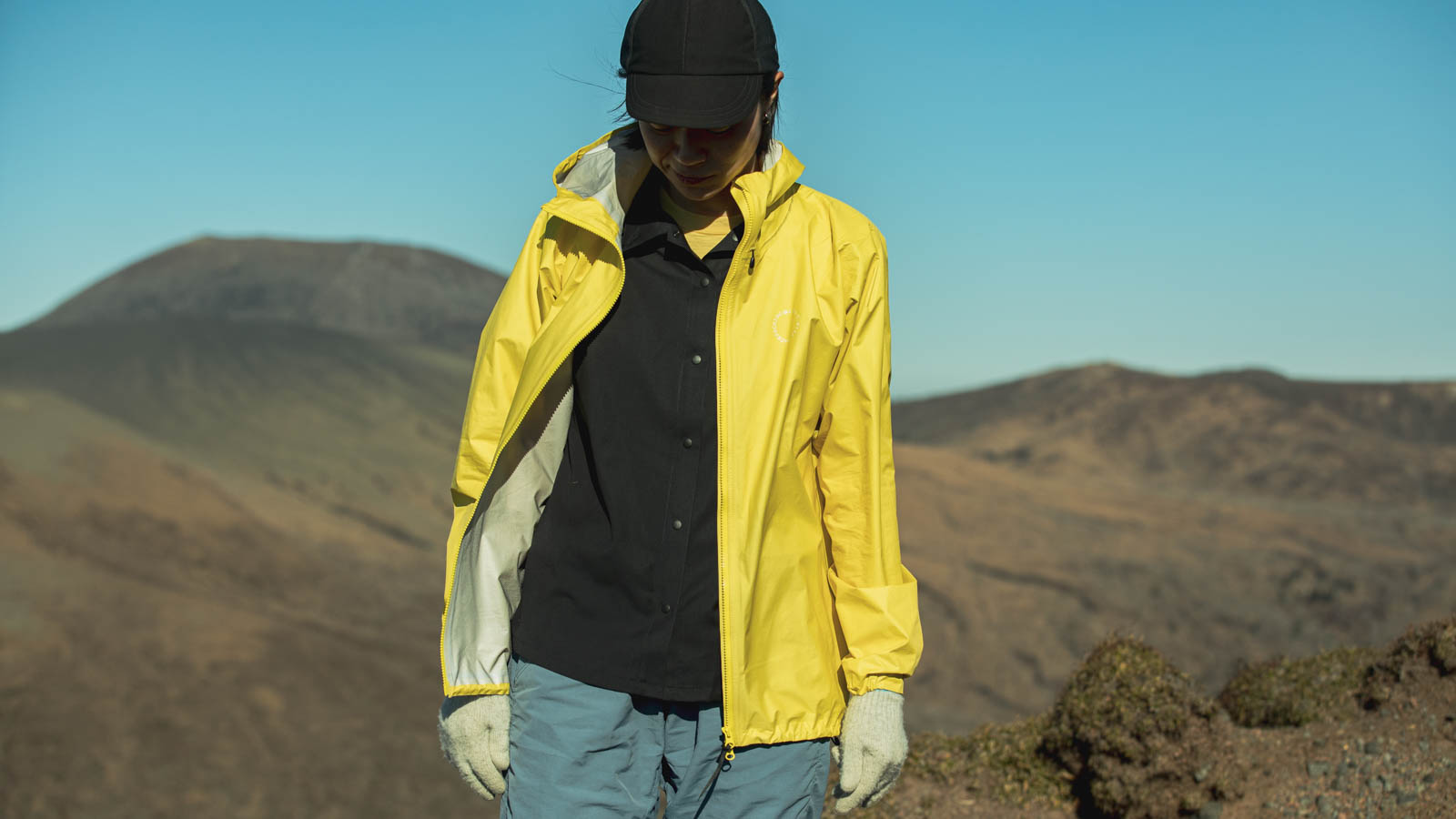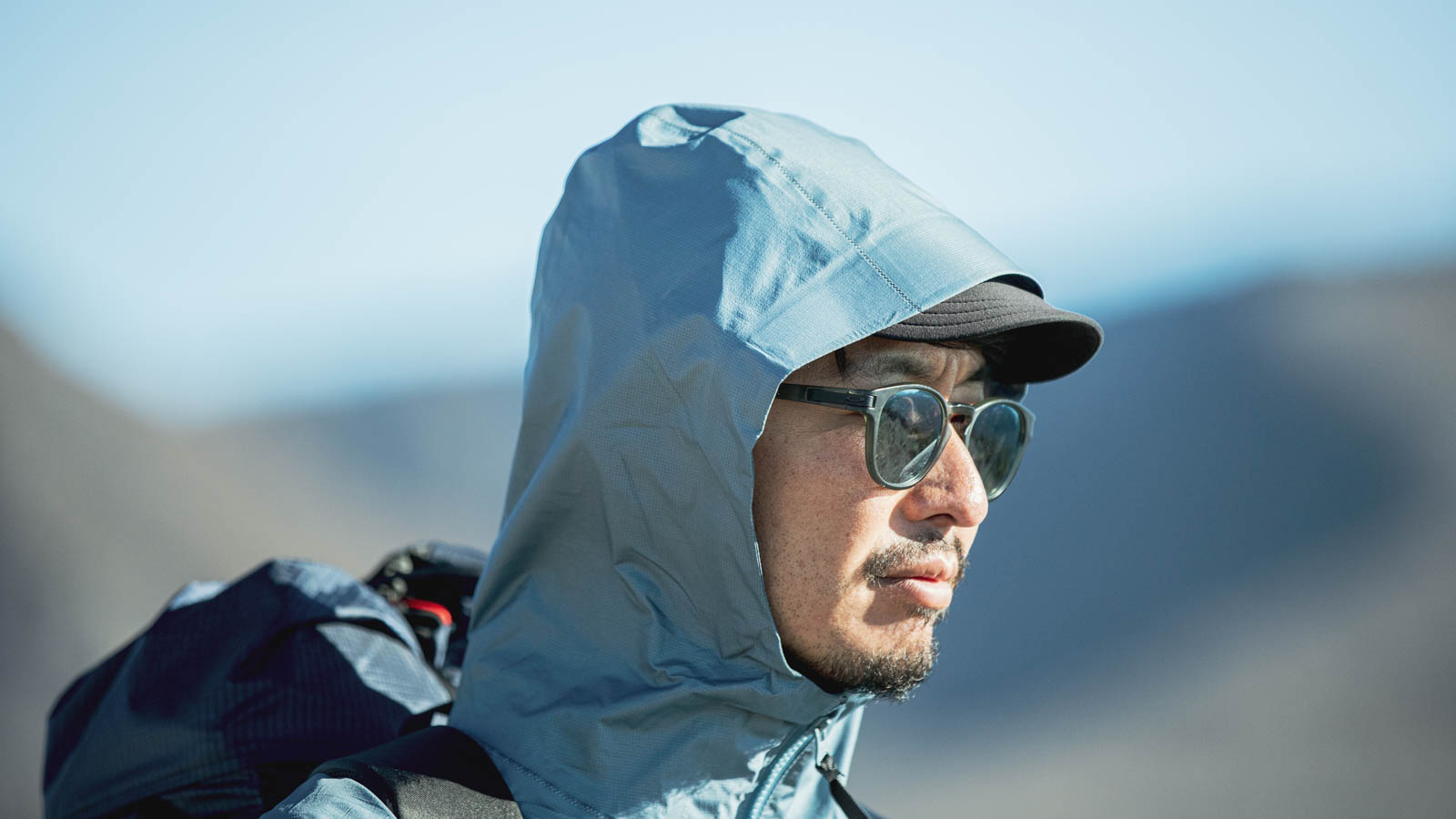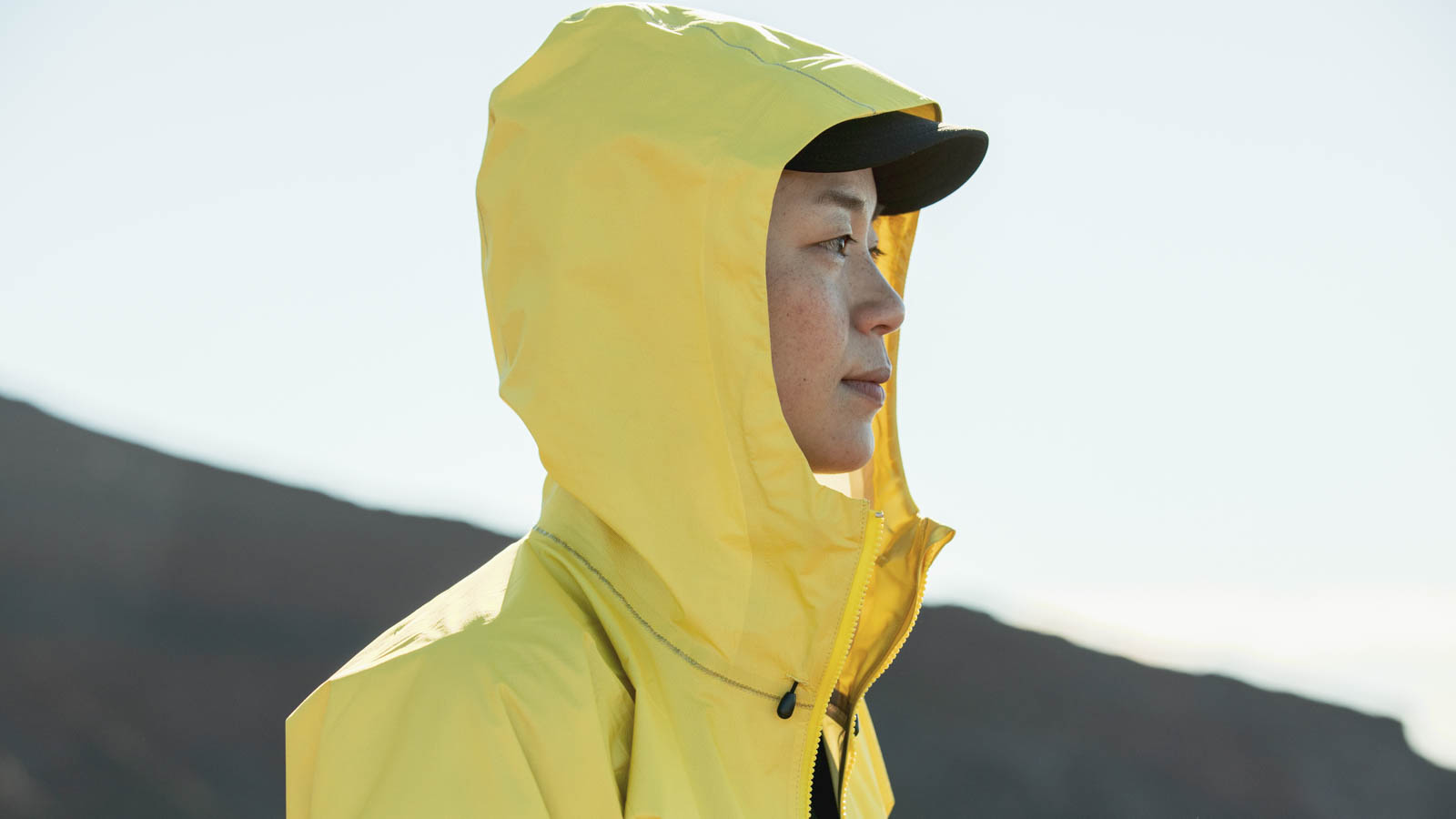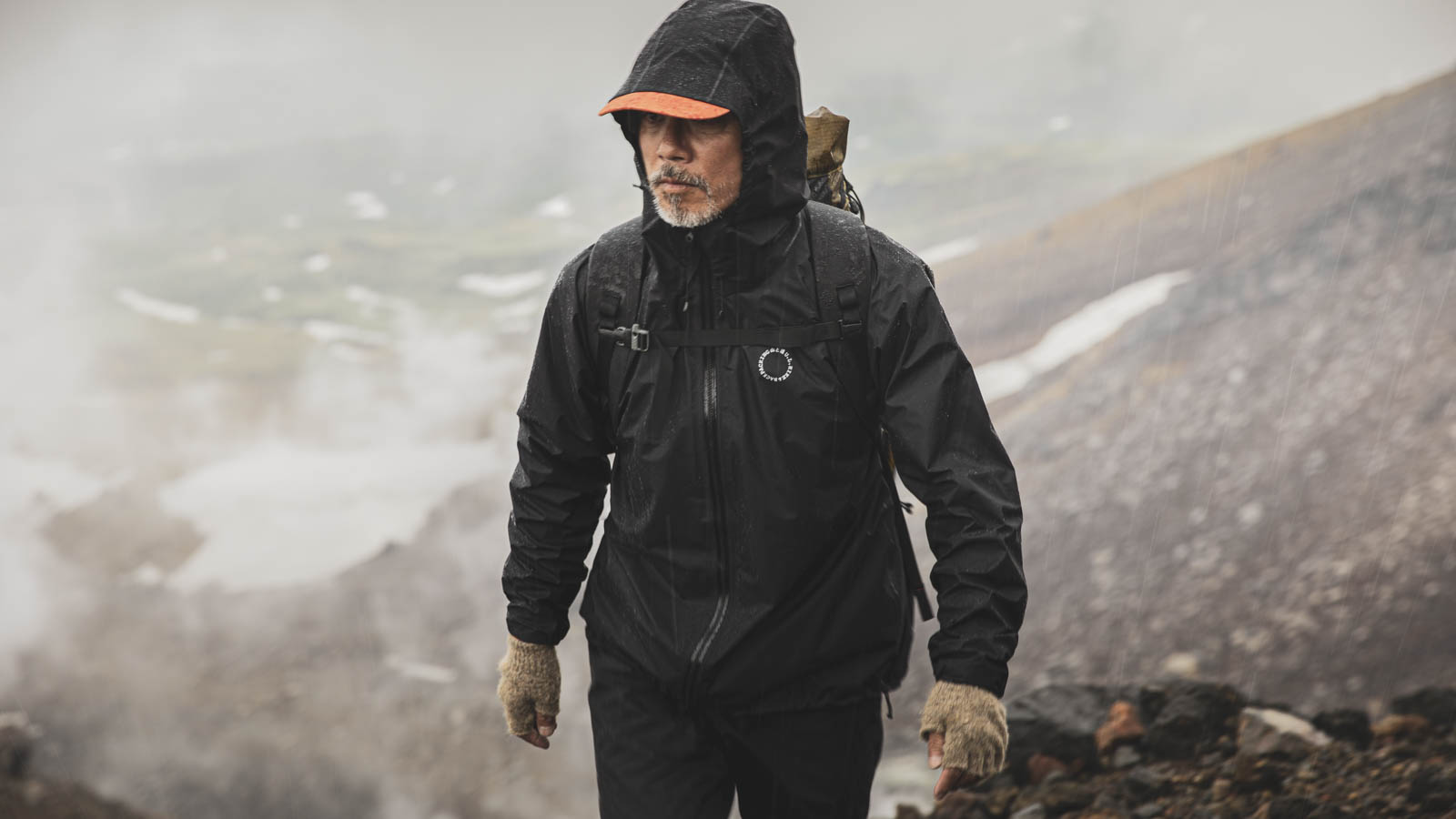 UL All-weather Jacket
127g
¥38,500 Tax included
All-weather Activewear
When hiking a steep incline, windy ridgeline, or in the pouring rain, this All-weather Activewear keeps you comfortable anytime, anywhere.
Our All-weather series, using the Pertex Shield Air, is significantly lighter than other conventional breathable moisture-permeable jackets. The fabric's superior breathability makes the jacket unbelievably comfortable, making it work as a windshell or as a rain jacket.
The UL All-weather Jacket features a double zipper design, achieving easy ventilation when you are pushing hard to climb a steep hill. Being lighter than a T-shirt, It is so soft and flexible that you almost forget that you are wearing it.
Comparison with the Existing UL Rain series
UL Rain PU Shinsui: Ultimate lightness
UL Rain PU Sosui: Well-balanced breathability, and lightness
UL All-weather: Lightweight and overwhelmingly breathable
Black

Blue Gray

Navy

Nomad

Pale Yellow

Orange
Made in Akita, Japan
Material:
Pertex Shield Air (100% Nylon) 58g/㎡
C6 DWR
Zipper:
YKK #3 VISLON®︎ AquaGuard®︎ / Two-Way Open
Weight:
127g (Size XS)
139g (Size S)
148g (Size M)
157g (Size L)
170g (Size XL)
Size:
UNISEX | XS / S / M / L / XL
Akira Natsume, Yamatomichi Founder
The UL All-weather series is quite different from your regular rainwear.
It's best to think of it as a new category of gear altogether. Some caution is needed when using, but if used right it will take you even further.
Hideki Toyoshima, wearing the Black color.
With proper use, it will bring you overwhelming comfort and joy on your next hike.
I first heard about Pertex Shield Air, the material adopted for the UL-All-weather series, about three years ago. At the time, we were conducting research on rainwear at the Yamatomichi Lab. Interested in our research results, Pertex contacted us and provided us with sample fabrics of the Pertex Shield Air before it was officially released.
Initially, I thought that with Pertex Shield Air I could make new rainwear that was simply lighter and more breathable than the NeoShell (an air/moisture-permeable waterproof fabric).
However, the potential for the fabric was far more profound than that. During a field test I conducted at Taisetsuzan Hokkaido at the end of August, I realized that there was a need to differentiate this amazing fabric from traditional rainwear.
There are no trees on the ridges of Taisetsuzan in Hokkaido, and no place to take refuge. In this environment, with strong winds and light rain, I wore a prototype jacket using Pertex Shield Air and was pleased with the comfort and dryness it provided in active situations. However, I noticed that my body heat was immediately ventilated outside during my breaks.
Rainwear is usually known to protect you from the wind and is able to somewhat retain body heat. The All-weather series is different. It is as if the jacket is telling you "Don't stop moving!" We can't deny the benefits it brings in terms of dryness, and breathability, but we also cannot deny the lack of heat retention when resting. In other words, it is difficult to keep warm with this garment alone, especially in bad weather.
To be honest, I was a bit worried. I thought that if the wearer used this fabric without knowing its flaws, it could be truly dangerous.
For ages, I have been wishing for rainwear that could be worn at all times, and rainwear that had a little bit more breathability. I went as far as thinking that fabrics that weren't breathable were no good. But that was not the case. Excellent breathability will vent the heat out but will lead to less heat retention in bad weather. On the contrary, rainwear with high thermal insulation tends to trap heat and become stuffy during activities.
While it excites me that the gear I wanted took shape, I also worried at times. I've come to realize that the Pertex Shield Pro, the fabric used for our UL Rain series, has a good balance of warmth and breathability.
But in the end, I decided to release this product because I was thrilled that the answer I had been seeking for many years had finally taken shape and because I truly felt from the bottom of my heart that this fabric would make very interesting gear.
Choosing the right gear may differ depending on its purpose. There is no doubt that this is a garment that active hikers and trail runners have been on the lookout for many years, but it may not be the best fit for those who are not looking to stay highly active while hiking.
To conclude, I could have used a lighter material, but since I decided to use the name "All-weather," I wanted to maintain a certain level of durability and strength, as well as a sense of elasticity, so I was particular about the combination of outer and inner fabrics for the garment. Ultrasonic welding has also evolved.
At first glance, you may think, "What's changed from the UL Rain series?"
But trust me, they are very different.
(June 2021)
All-weather Activewear: A Novel Product Category
The UL All-weather Hoody offers overwhelming breathability compared to conventional rainwear. It has evolved into a new product category we call "All-weather Activewear" equally suitable for sunny and rainy days.
Its excellent ventilation performance lets the heat out and keeps you dry when running or going uphill, even when normal rainwear is too humid and warm to wear. The 10,000mm water pressure resistance will protect you from getting wet in case of sudden rain.
Yamatomichi Journals featured our new product line, the All-weather Activewear in a series of three articles.
In the first part of a three-part series on rainwear, we will review the technological improvements of waterproof, moisture-permeable fabrics such as Pertex Shield Air, etc. In the second part, we will highlight each fabric through our in-house gear test. And finally, in the last part, we invite Mr. Tomoya Tsuchiya of Hikers Depot and Mr. Kei Kuwahara of "Run boys! Run girls!" to discuss the current situation of rainwear. Don't miss it!
Yamatomichi Lab Special Issue: All-weather Activewear #1-3
Overwhelming Ventilation
What's so special about the Pertex Shield Air? It's a novel nanofiber fabric that is permeable not only by moisture but also by air. This air/moisture-permeability creates a truly unique kind of breathability.
We tested the breathability of the Pertex Shield Air of the UL All-weather series and the existing UL Rain Hoody (PU Shinsui), the Pertex Shield fabric. The test method is as follows:
The test fabric is placed in the middle of the tester. The upper half of the tester has some water in it, while the lower half is empty (filled with air). When the lower half is pressurized by the pump, the fabric lets the air pass, and bubbles are created in the upper half. The more air that passes through, the more bubbles are created. The Pertex Shield with no air-permeability does not generate air bubbles. On the other hand, the Shield Air creates many air bubbles, indicating its high air-permeability.
Ultralight Nanofiber Jacket
Weighing only 139g in Size S, our UL All-weather Jacket is one of the lightest compared to other breathable rain jackets with nanofiber membranes such as Neoshell and Futurelight.
Double Zipper for Ventilation
The double zipper allows it to be opened and closed from either the top or bottom for quick ventilation. This ensures you will stay comfortable in the ever-changing mountain conditions, including climbing ridges in high winds after a hard hike up.
Advanced Ultrasonic Welding
Usually, the stitching of the rainwear is seam-taped from the back to prevent water penetration. However, seam tape lacks durability, and water may seep through seams due to deterioration over time.
The UL All-weather series adopts ultrasonic welding, the latest technology that melts and welds the fabrics together by the heat of ultrasonic vibration. This method creates no stitch holes with less damage to the fabric, minimizing the risk of water penetration from the seams due to deterioration with age.
Yamatomichi has teamed up with one of a few craftsmen and factories in Akita Prefecture that are capable of ultrasonic welding and is developing new technologies to make better products.
New technology allows the fabric to be layered and then welded together, making it even more durable, stronger, and waterproof than its predecessor, the UL Rain series.
Details
Seamless and elegant design with minimized stitches.
The neck is designed to allow you to move your neck without stress. The brim is filled with a thick core to drain rainwater.

The heat of the ultrasonic welding creates a unique trace.

The inside of the cuffs comes with a rubber seam.

You can adjust the fit of the hems with the cords on both sides.

YKK No.3 water-resistant Vislon double zipper has a matte texture and can be opened and closed from both above and below.
Adjusting the Hood
There is a cord lock on the inside of the hood fabric that adjusts the hood. Press the cord lock and pull the cord under the hood to adjust.
UL All-weather Series
Other than the double-zippered "Jacket", the UL All-weather series includes: The zipperless ultralight "Hoody", lengthened "Long Hoody", zippered, pocketed, and packable "Coat", and a pair of "Pants". The features of each product are as follows:
Water Repellency Won't Last Long
It is said that the thicker the fabric, the more water-repellent agent it contains, so thicker fabrics have a more enduring water-repellent performance. The UL All-weather series, however, uses a very thin, breathable fabric for the surface to maximize lightness and air-permeability. This means that it has enough water repellency when it's used for the first time, but this gets weakened quicker than other more heavy waterproof jackets.
The All-weather turns the water into droplets and repels them well, but as the water repellency weakens, the water remains on the surface like a water film, hindering the moisture-permeability. Consequently, the moisture builds up inside the jacket, resulting in wetting out.
Thus, the UL All-weather series requires regular maintenance to restore water repellency by washing after the hike to remove dirt and applying heat in a tumble dryer or hairdryer. Water repellency can be restored by the water repellent detergent, if necessary.
Layering Methods
Most rainwear provides a certain level of heat retention by allowing moisture to build up inside of the garment. However, the UL All-weather series has overwhelming breathability, and the heat generated by the body is always ventilated outside the garment. Keep in mind that you will need to be creative with your layering if you want to focus on keeping warm when resting.
So, we'd like to introduce the layering suggestions for the All-weather series by Tomoya Tsuchiya (Hikers Depot), Kei Kuwabara (Run boys! Run girls!), and Yamatomichi Lab (Akira Natsume and Takahiro Watanabe), who collaborated with us in "Yamatomichi Lab Special Issue: All-weather Activewear #3: Tomoya Tsuchiya x Kei Kuwahara x Yamatomichi Lab Trilogy"
Tomoya Tsuchiya's (Hiker's Depot) layering
+Sil-Poncho (Trail Bum Gnu Cape)

A UL hiker's classic, a sil-nylon poncho but not as rain gear, but as an extra layer to improve warmth. The combination of rain gear and rain gear may seem odd at first glance, but it is a rational layering that uses the lightweight poncho to compensate for the lack of warmth of the highly-breathable All-weather jacket.

+Synthetic Insulation (Trail Bum Boaster Jacket)

A synthetic fiber insulation, worn like a belay jacket. The synthetic fiber cotton will not lose its warmth even if it gets a little wet, and it is windproof with few cold spots.
Kei Kuwahara's (Run boys! Run girls!) layering
+First Layer (Onyone Breath Tech PP)

In running, the sweat you produce during exercise tends to lower your body temperature during when not moving. By wearing a hydrophobic first layer under your base layer, you can prevent sweat from adhering to the surface of your skin, which in turn prevents cold sweats.

+Lightweight insulation (The North Face VENTRIX Trail Jacket)

Kuwabara's idea for layering was based on what would fit in his trail running bag. He chose a 150g lightweight trail running insulation jacket, A windshell binded with thin insulation, to go with the All-weather to keep his body warm when not moving.
Akira Natsume's (Yamatomichi) layering
+Active Insulation (Yamatomichi Alpha Vest)

The founder and director Akira, layered a Polartec Alpha Vest from Yamatomichi, which will be released this upcoming fall. The highly breathable All-weather and the equally breathable active insulation are a perfect match.

+Emergency Blanket (SOL Survival Blanket)

An emergency blanket that doubles up as groundsheet and a blanket. The fundamentals in reducing weight is to have multi functional gear. UL hikers who want to do The emergency blankets are ultralight and surprisingly great at retaining heat.
Takahiro Watanabe's (Yamatomichi Lab) layering
+Sleeves (C3 Fit Inspiration Arm Sleeves)

Watanabe is a runner who likes high-intensity trail running. When layering over short sleeves, no matter how breathable the all-weather material is, the arms that are in direct contact with the bare skin can feel uncomfortable and cold due to sweat clinging to them, which can be eliminated by wearing arm covers.

+Merino & Haramaki (Yamatomichi Alpha Haramaki & 100% Merino Hoody)

The moisture-wicking Yamatomichi Merino Hoody as an inner layer, combined with the breathable Polartec Alpha Haramaki wrapped around the stomach, allows you to prevent overheating, while also preventing cold sweats, especially at night or in bad weather.
The UL All-weather prototypes were tested by HLC ambassadors all over Japan during the fall, winter, and spring. They all found the UL All-weather to be extremely breathable but also felt that they needed to be a little creative in the application.
Tetsu Kanno
Yamatomichi HLC Shikoku Ambassador & Outdoor Shop T-mountain Owner
It was zippered but lightweight and compact enough, and its high breathability made it comfortable in most situations. I felt a little too warm after a while with the jacket on, but I never felt unbearably warm.
Although I had some concerns in cold environments, I felt that there would be no problem if I could be creative by layering with warm middle layers and a merino wool shirt.
This is a product of a new era and one that is ahead of its time in the outdoor industry.
Hiroki Ueno
Yamatomichi HLC Tohoku Ambassador & Outdoor Shop Knotty Owner
I used the All-weather in late fall, winter and spring in the Tohoku area, such as on the Michinoku Sea Breeze Trail in November (max temp 11°C, min 0°C) and on a snow hike in January at Higashine Mountain (max 2°C, min 8°C).
I was so impressed with the breathability that I changed the base layer I was using with the Pertex Shield Pro (UL Rain Hoody PU Sosui). At first, I was unsure about how I should wear it, but once I got the feel of it, I was able to keep wearing it most of the time without taking it off compared with other rain jackets.
As with any mountain gear, there are risks associated with uniquenesses, so I think it is best to test the product on an easy day hike in the low mountains before using it onsite. The breathability of the All-weather was truly impressive.
Yoshitaka Toge
Yamatomichi HLC Hokkaido Ambassador & Owner of Coffee Shop, Sprout
I use it every time I hike up for backcountry skiing in the winter, when running, and for spring skiing.
The first time I wore it, I was very surprised by the lightness, flexibility, and ventilation. Compared with the UL Rain Jacket that I had been using, the ventilation greatly improved though I haven't been able to use it in the rain yet.
In sub-zero temperatures like in Hokkaido, you need to be careful about sweating. Because of its good breathability, it was comfortable when I was moving, but felt cold at the beginning of the movement, when I stopped, or when I was skiing down. However, it allows the heat to escape, so I could wear a down jacket or a hard shell over the UL All-weather and still felt warm.
It is just right to wear while on the move and can be layered on top of something when it gets cold. It's light and stress-free so you won't have to take it off during action. It is my favorite for active scenes in the middle of winter, or throughout the year in Hokkaido where it is often chilly in summer.
Tomoyuki Meguriya
Yamatomichi HLC Kanto Ambassador & Outdoor Shop Lunnetes Staff
Even in a slightly sweaty temperature, I was able to move around without feeling uncomfortable, and with a merino wool base layer, I was able to go with no problem at 2°C outside.
It may be difficult to use it in the snowy mountains during the severe winter season, but if you find the right layering and usage, it may be an item that can be used as all-season wear. I used it as ski wear this season, and I was able to enjoy skiing comfortably.
Yuji Nakagawa
Yamatomichi HLC Kanzai Ambassador & Owner of Taninokisha Mountain Gear
I'm sure there are other wind shells that are simply more breathable, but I've never found one that is waterproof, moisture-permeable, and lightweight like the All-weather. I don't think I need to carry an additional windshell anymore. The All-weather will also be useful when I can carry only the essential items for trail running races. However, even though it is waterproof, it can be cold in strong winds due to its thinness, so it should be used with caution under severe conditions.
Hideki Toyoshima
Yamatomichi HLC Project Director
From January to May, I've been skiing every day in Hokkaido. In April, when the weather calms down, I wear All-weather.
In a severe winter blizzard, the thin fabric can make you feel unsafe, but in spring skiing, I can wear it as an outer layer not only when going uphill but also when skiing down. Spring snow is sometimes hard, and I often fall down in telemark skiing, but the All-weather has not been torn.
When hiking up on a day when the outside temperature is over 10 degrees Celsius with no wind, I felt like I wanted to take it off. However, when there is a breeze, the air-permeability allows me to keep going even when the outside temperature is higher.
When I'm ascending, I often wear the Teton Bros. Wind River Hoody, which has the flexibility and elasticity not found in All-weather. But I'm reluctant to ski down the slope with Teton's because of its thin fabric. For spring skiing, the All-weather is my answer.
Pertex Shield Air
The Pertex Shield Air is a novel fabric developed by Pertex to further improve water pressure resistance, washing resistance, and overall quality from existing nanofiber membranes.
Nanofiber membranes are net-like structures made of extremely fine polyurethane (PU) fibers that are water repellent (hydrophobic). They have a sponge-like structure with many micropores, allowing the air and moisture to pass through. This air-permeability creates exceptional comfort within the clothes.
The Pertex Shield Air is much lighter than conventional nanofiber fabrics, with a weight of 50g/㎡ to 60g/㎡. For breathability and durability, our proprietary version of Shield Air has 15 denier nylon fabric (40 denier ripstop) as the outer layer and 7 denier nylon as the inner layer. This combination makes it much lighter and more breathable than other nanofiber-based, waterproof moisture-permeable fabrics.
Material:
Pertex Shield Air (100% Nylon) 58g/㎡
Facing: 15d/5f+40d/34f, ripstop
Lining: 7d tricot
C6 DWR (Durable Water Repellent)
Spec:
Tear strength measured by JIS L 1096 D (In-house test)
Vertical: 3.4kg, Horizontal: 3kg
Tensile strength measured by JIS L 1096 A (In-house test)
Vertical: 41.5kg, Horizontal: 30.2kg
Air-permeability measured by JIS 1096 A (Catalog spec)
0.4cc/(㎠・s)
Moisture-permeability measured by JIS L 1099 A-1 (Catalog spec)
10000g/㎡/day
Moisture-permeability measured by JIS L 1099 B-1 (Catalog spec)
40000g/㎡/day
Water pressure resistance measured by JIS L 1092 B (Catalog spec)
10000mm or more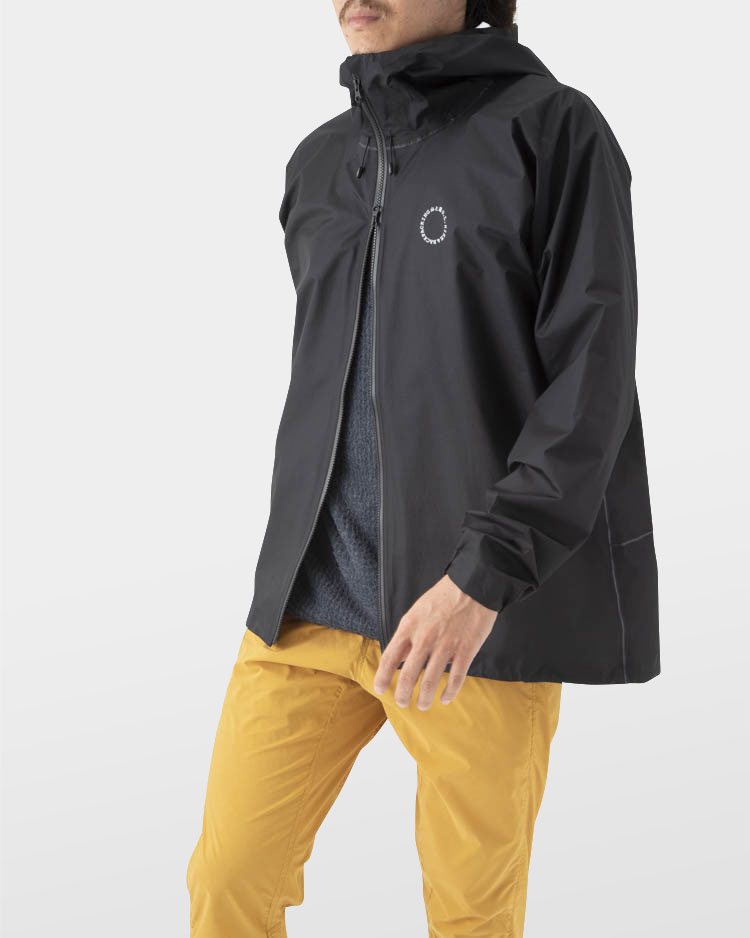 Kim 175cm-70kg
Size M (Black)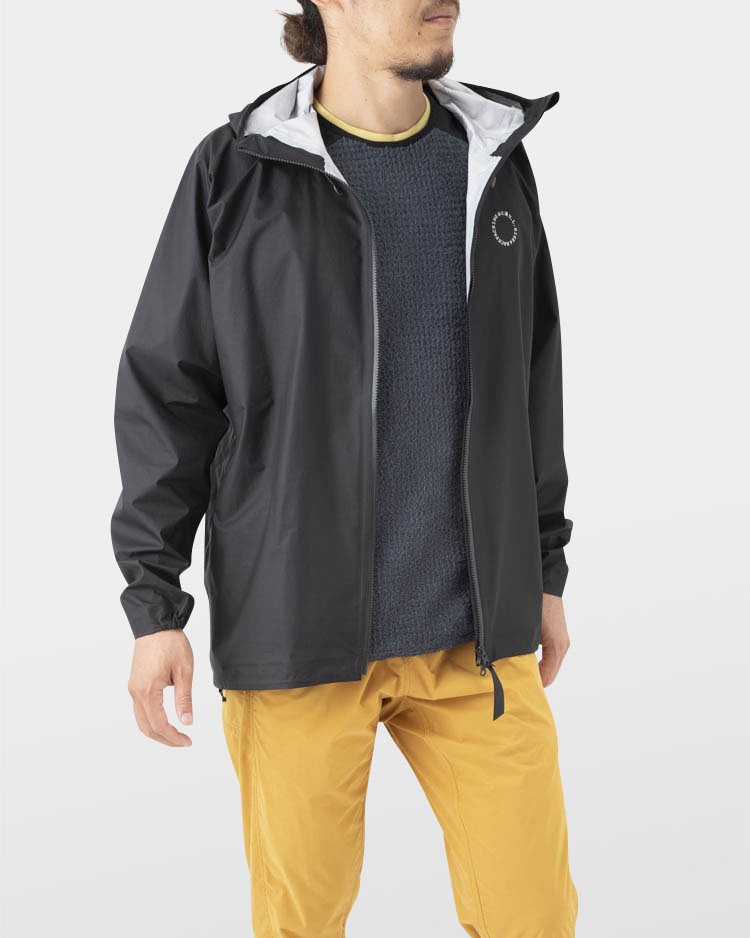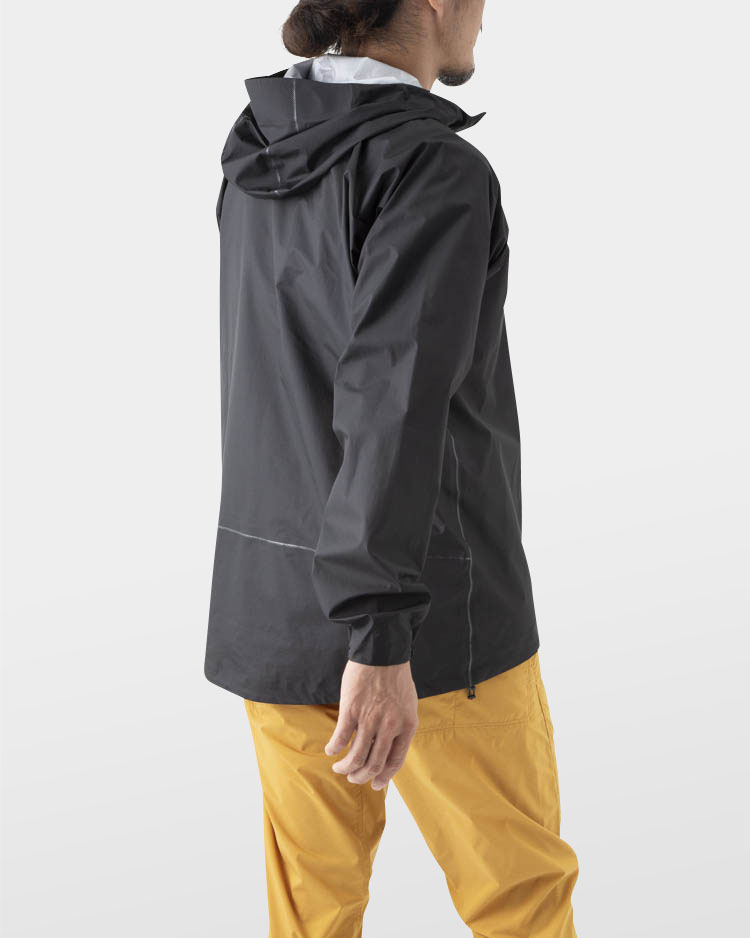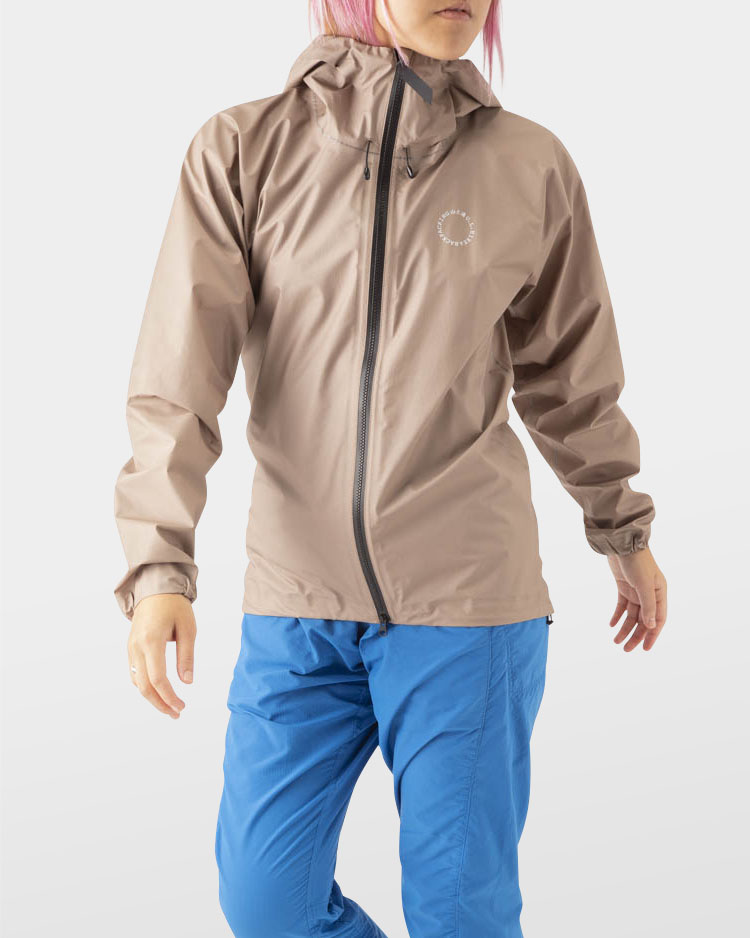 Kanade 161cm-51kg
Size XS (Nomad)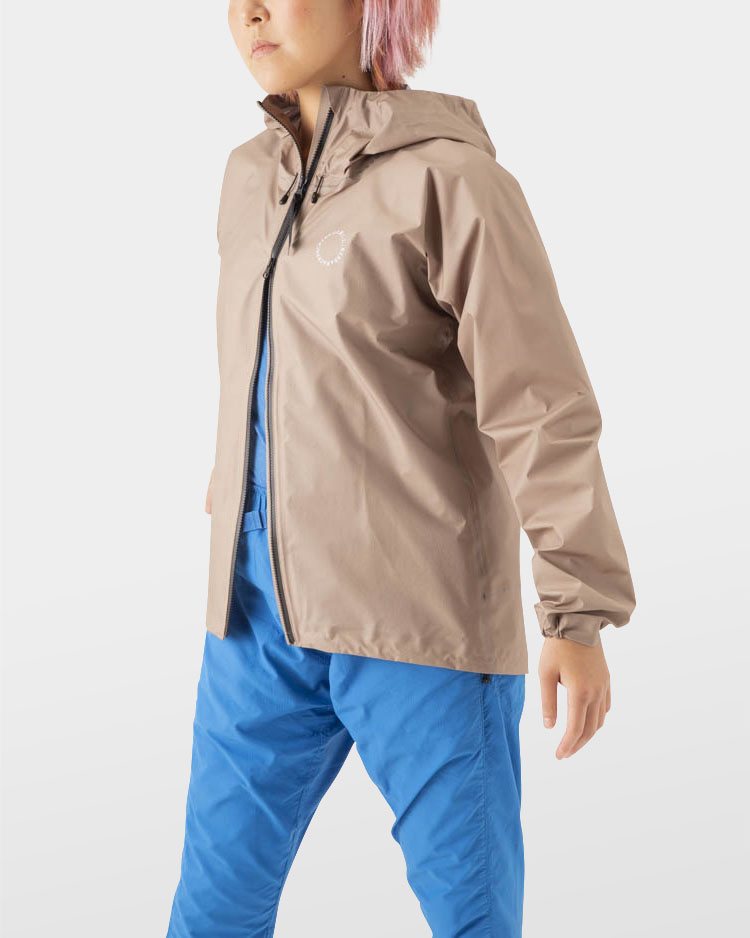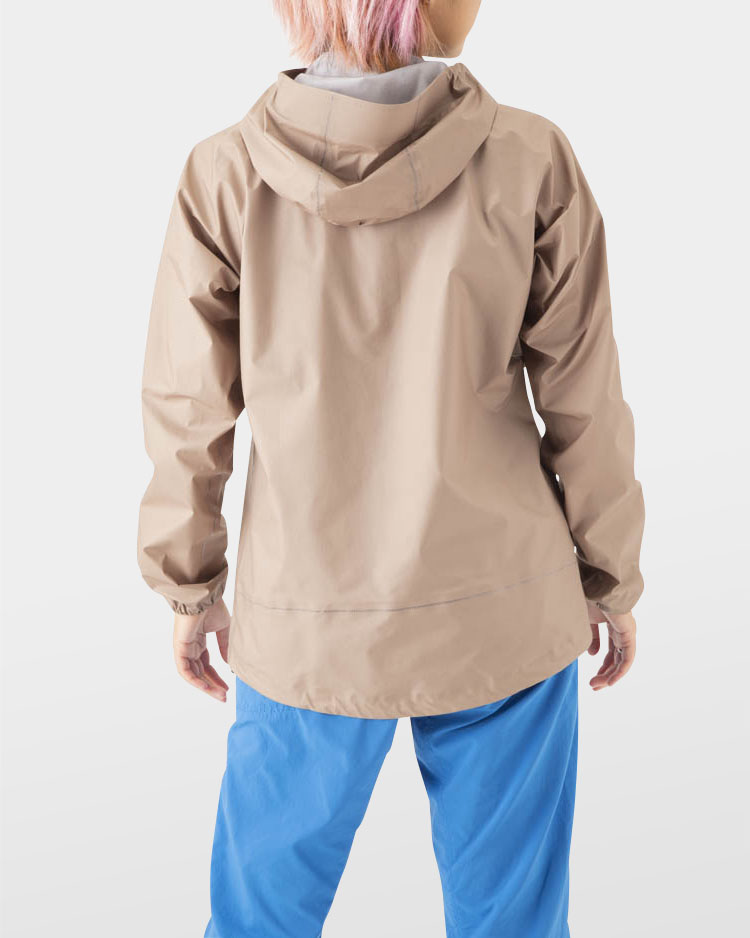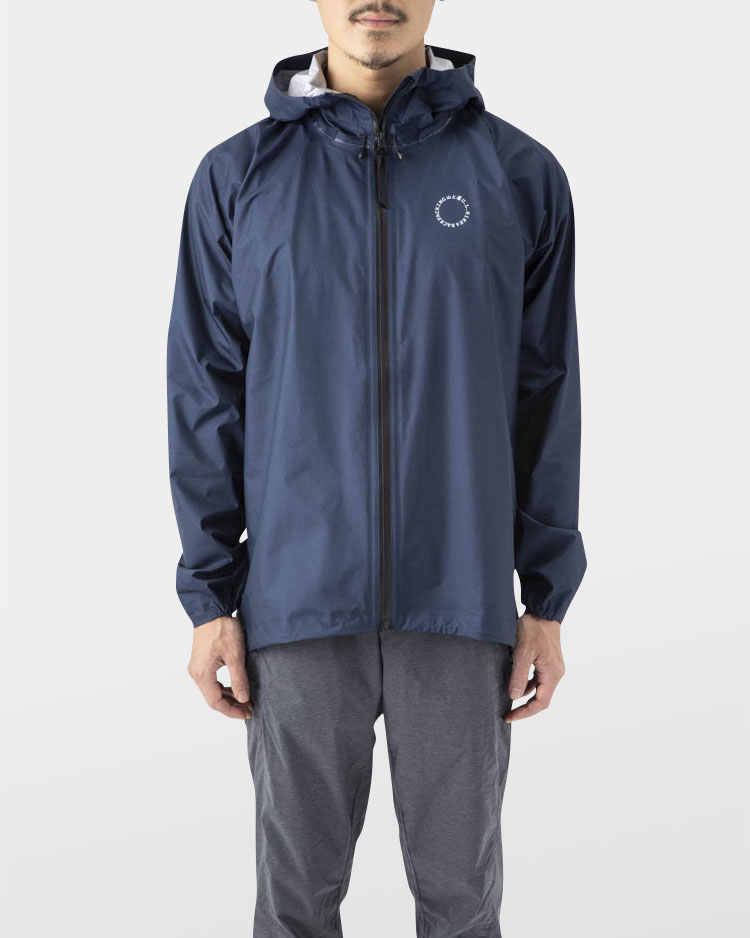 Ichiro 170cm-56kg
Size S (Navy)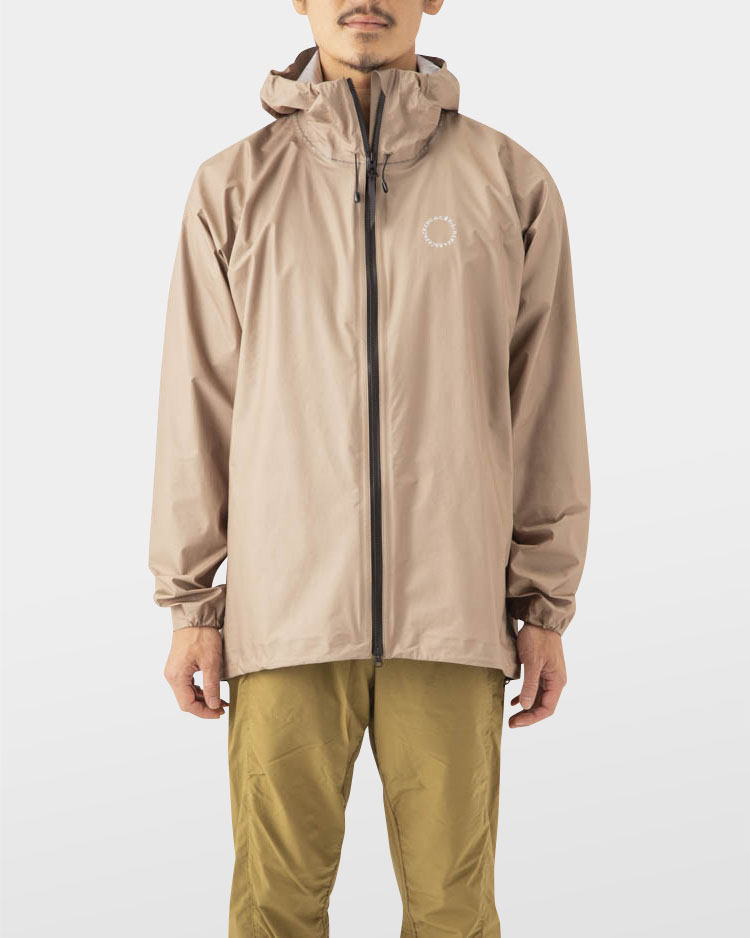 Ichiro 170cm-56kg
Size M (Nomad)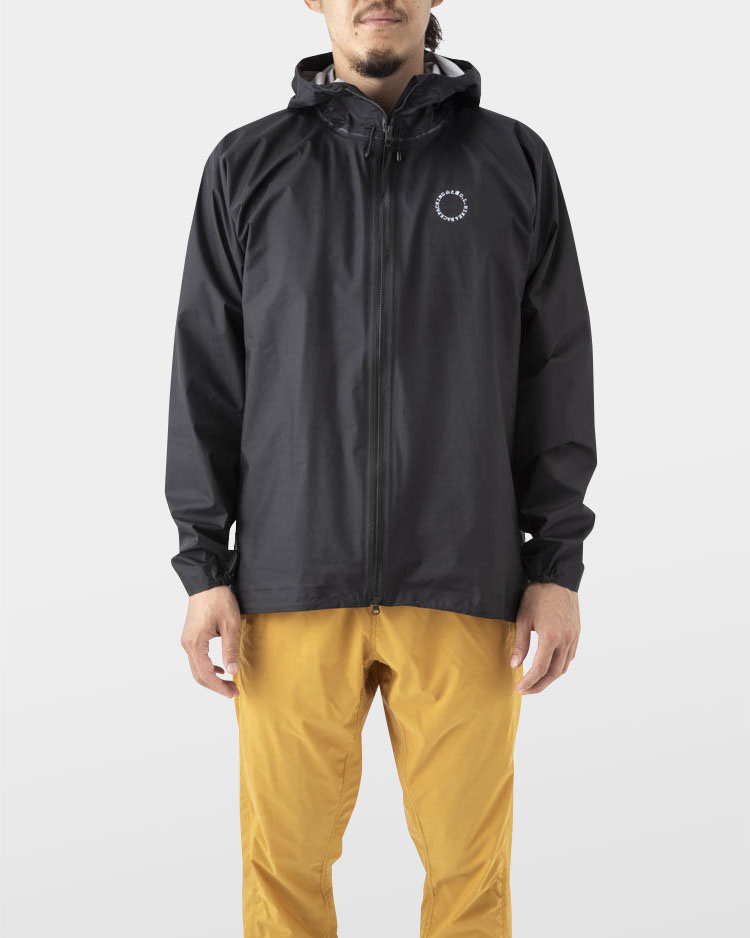 Kim 175cm-68kg
Size M (Black)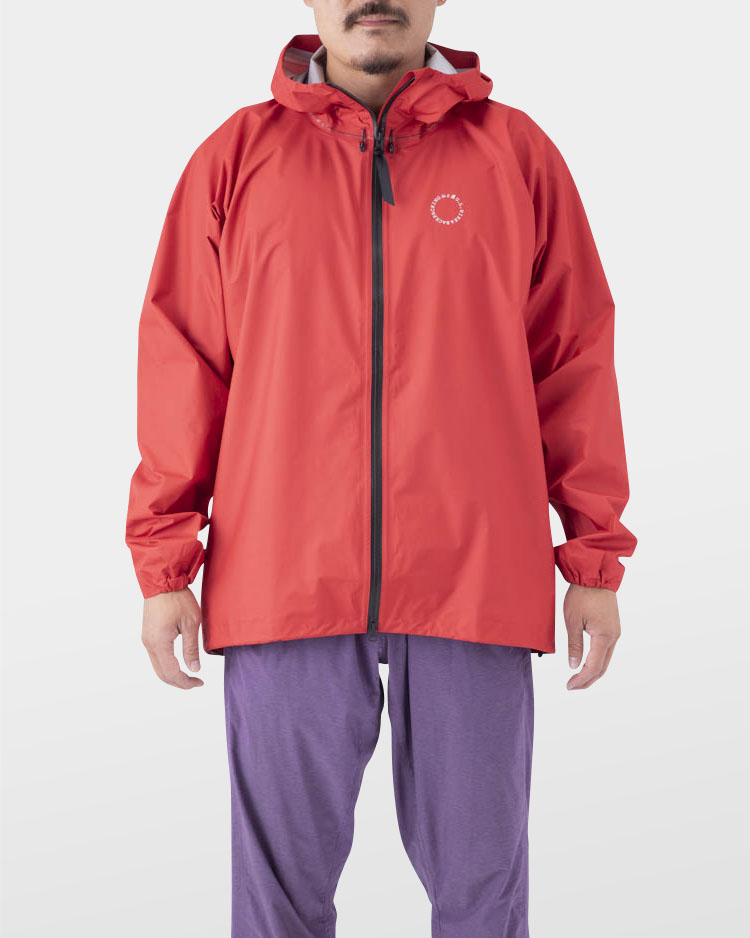 Nacho 175cm-68kg
Size L (Red 2021)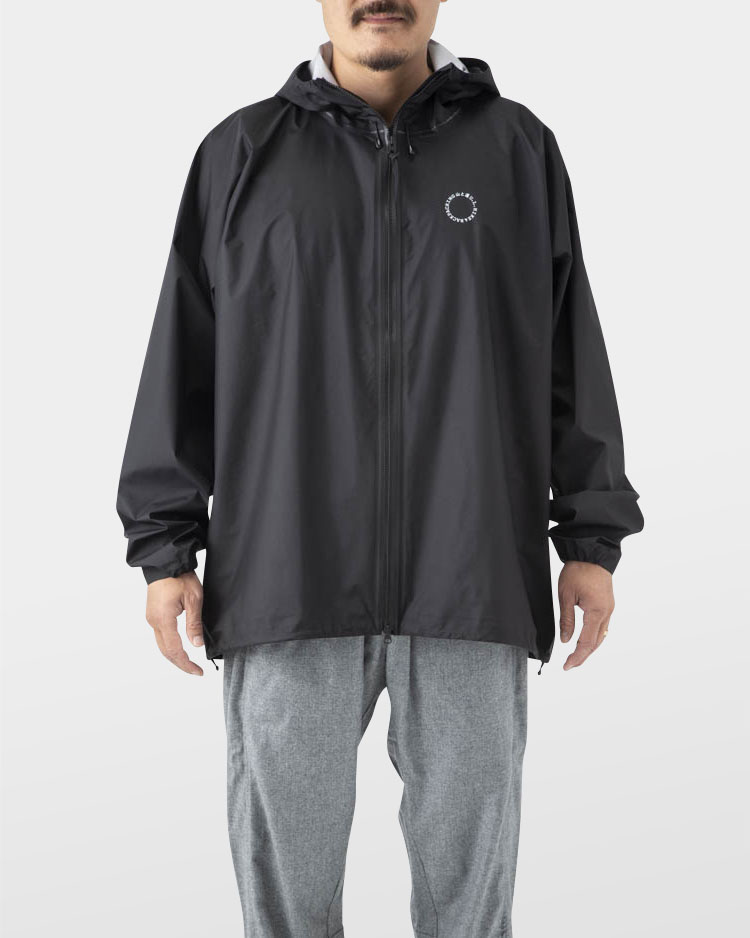 Nacho 175cm-68kg
Size XL (Black)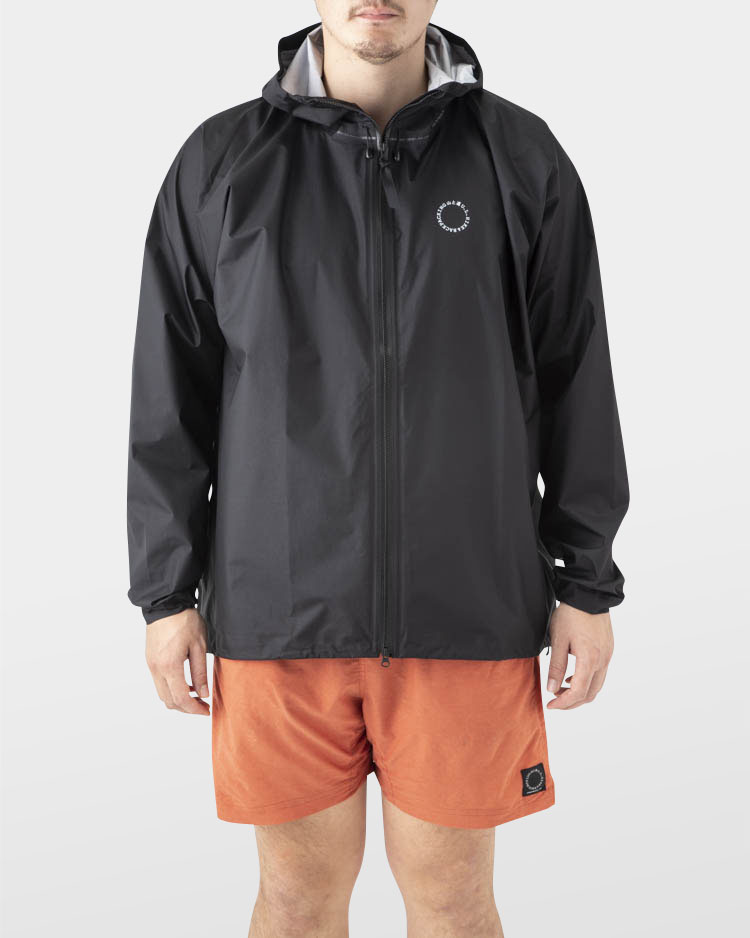 Moss 182cm-95kg
Size XL (Black)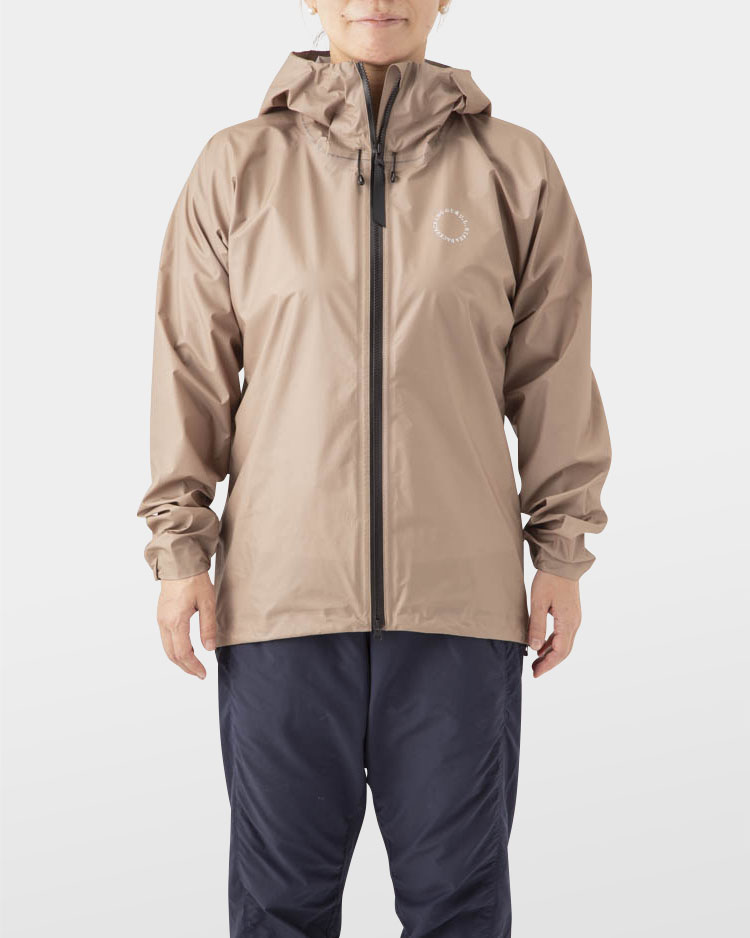 Yukari 153cm-47kg
Size XS (Nomad)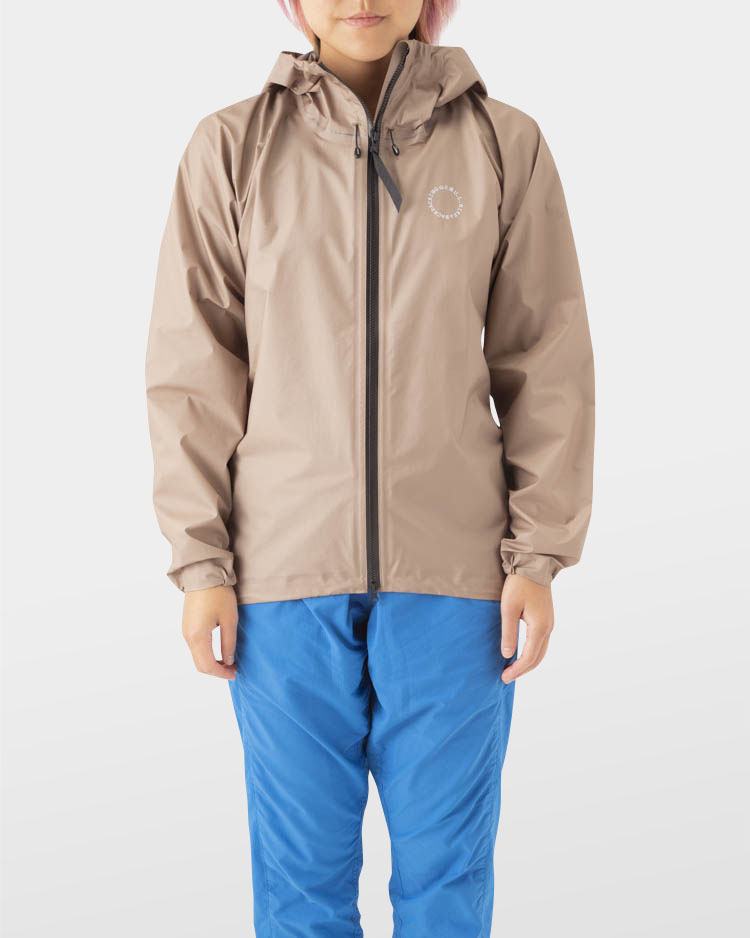 Kanade 161cm-51kg
Size XS (Nomad)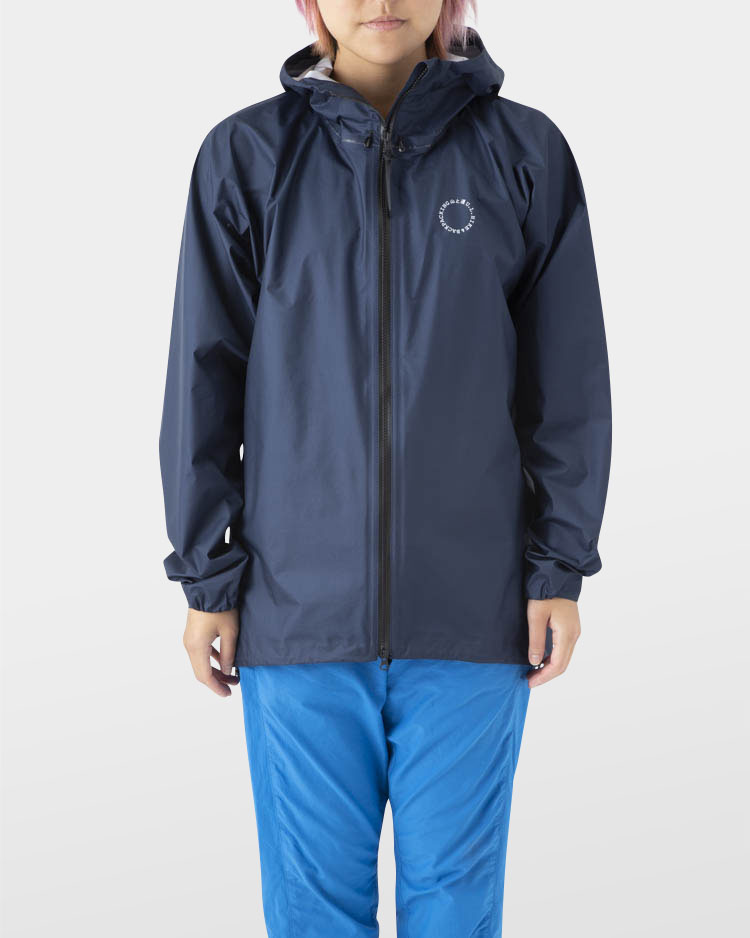 Kanade 161cm-51kg
Size S (Navy)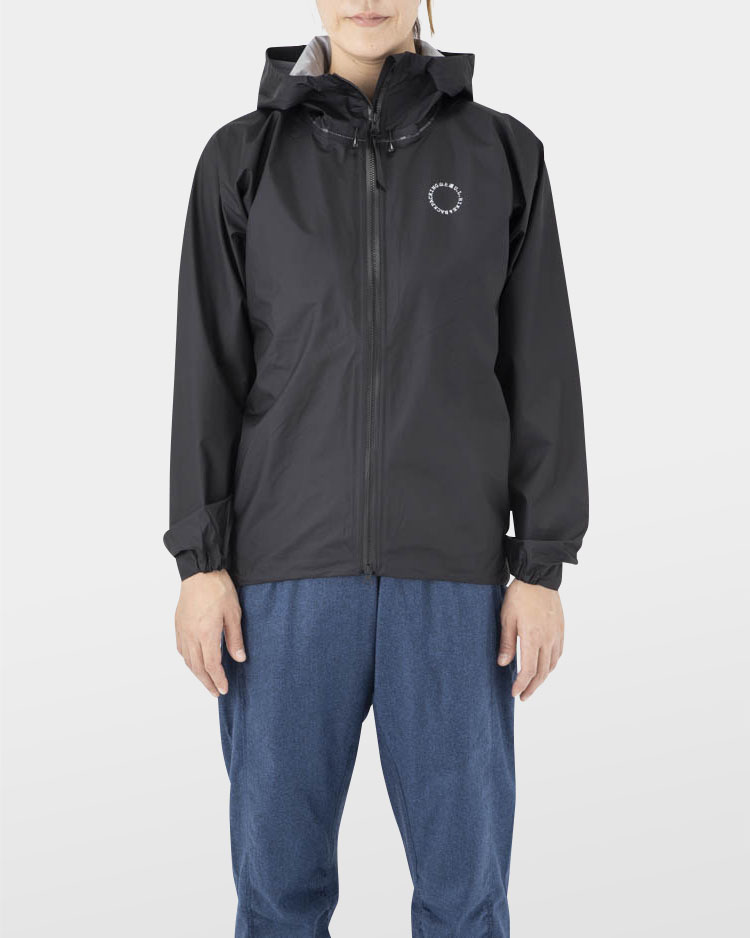 Tomoko 164cm-52kg
Size XS (Black)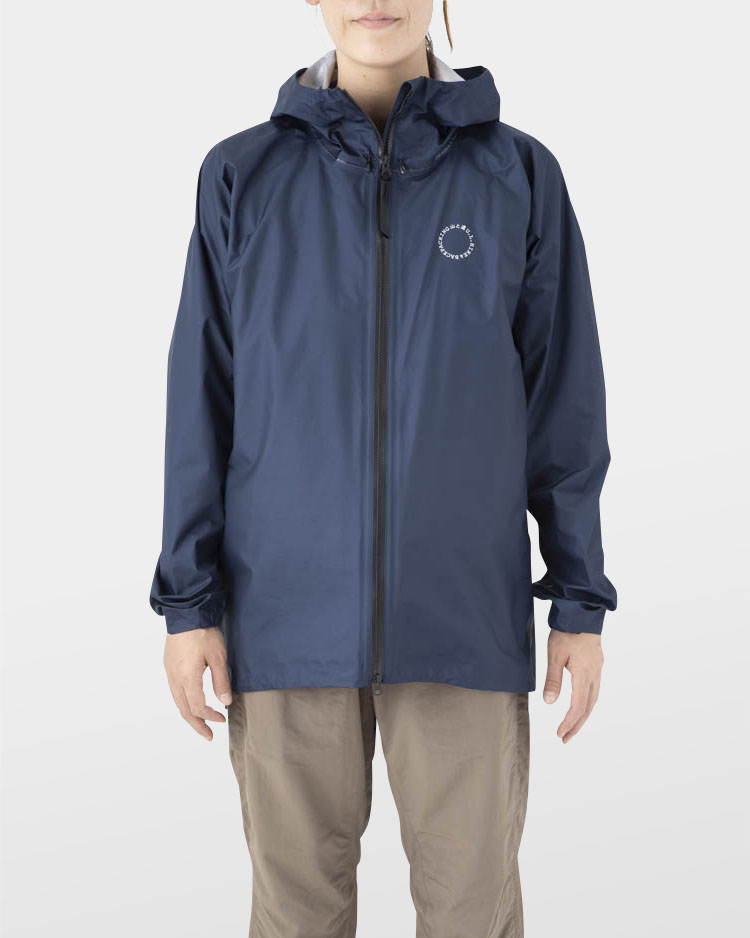 Tomoko 164cm-52kg
Size S (Navy)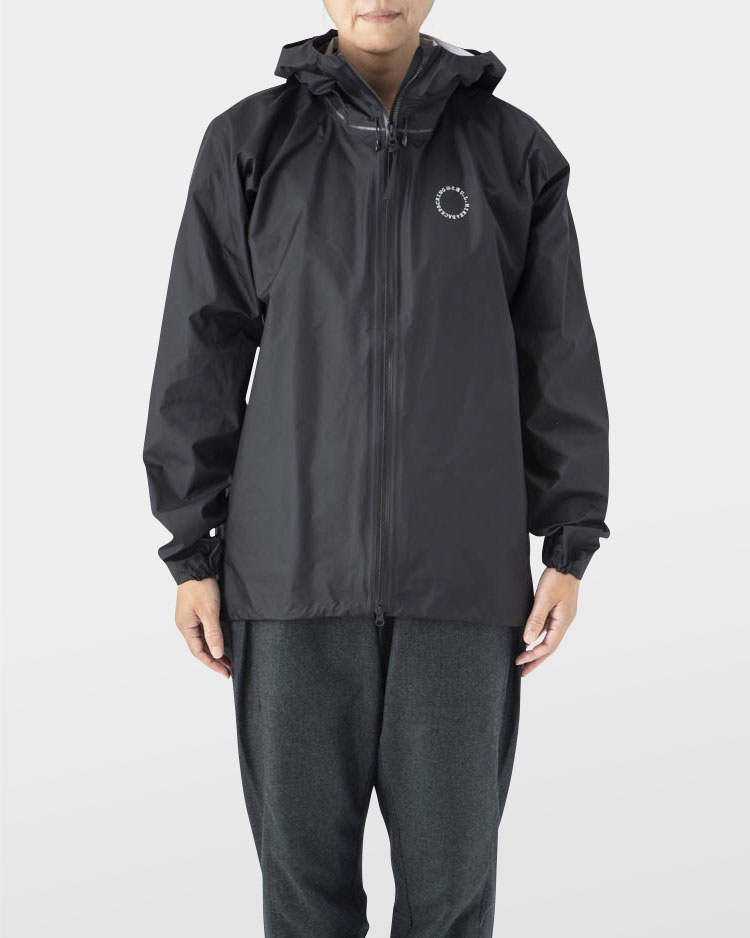 Yumiko 170cm-60kg
Size S (Black)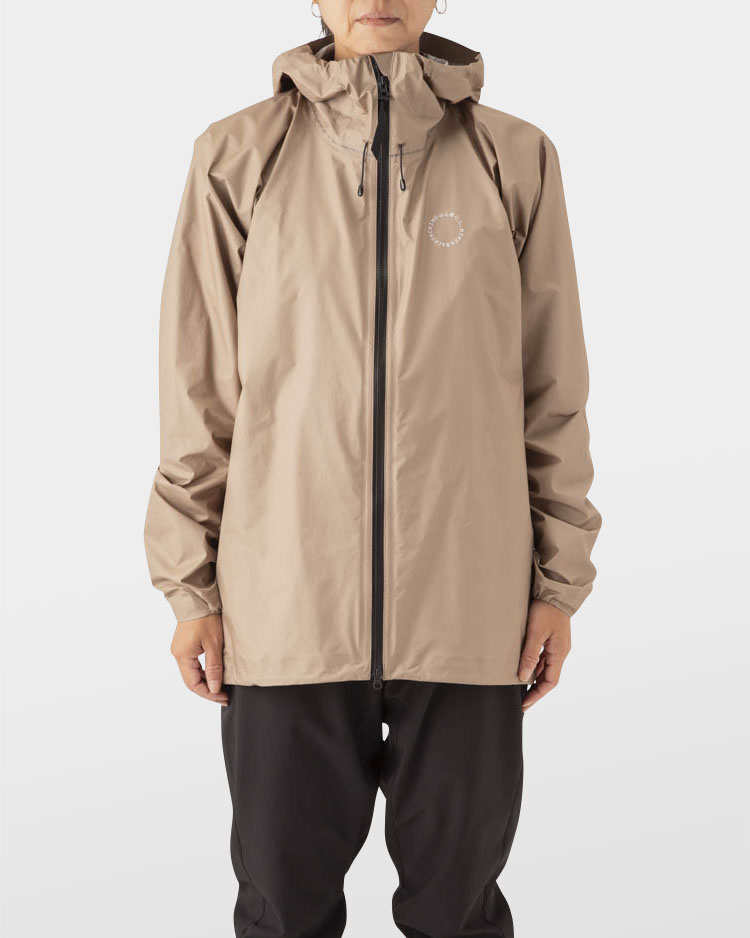 Yumiko 170cm-60kg
Size M (Nomad)
推奨サイズ / Recommended Size
Size
XS
S
M
L
XL
体重/Weight
kg
42~53
51~61
59~69
67~78
76~85
胸囲/Chest
cm
78~84
80~88
84~95
92~102
100~110
製品サイズ / Product Size
| Size | XS | S | M | L | XL |
| --- | --- | --- | --- | --- | --- |
| 着丈/Length | 69 | 74 | 76 | 78 | 80 |
| 身巾/Body Width | 49.5 | 56.5 | 60.5 | 65.5 | 71.5 |
| 裾巾/Hem Width | 49 | 56 | 60 | 65 | 71 |
| 裄丈/Neck to Sleeve | 81 | 84.5 | 86.5 | 90 | 93 |
| 袖口巾/Sleeve Opening | 9 | 9.5 | 10 | 10.5 | 11 |
Please Note
The UL All-weather product is our ultralight waterproof rainwear made of ultrathin, moisture-permeable fabric. Please handle it with care as it can be torn or ripped when rubbed against rocks or scratched by spiky branches.
The UL All-weather product is comfortable when you are on the move in a relatively warm environment. However, it is less warm than normal water-resistant jackets or winter hard shells so we strongly recommend you wear a merino wool base layer to keep you warm especially when severe weather is to be expected.
To maximize moisture-permeability, after-use care is necessary. The performances of the membrane, the performances of the facing and lining can be impaired by dirt, sweat, skin oil, or other substances. Please follow the washing instructions of each product to properly wash, dry, and keep it clean.
When the surface water-repellent coating is hindered, so is moisture-permeability. If you notice the water repellency has been weakened, tumble dry at low temperature or apply heat by the hairdryer to restore the water repellency. Please note that initial water repellency is meant to be weakened by repeated washing. Use water repellents for regular care.
The UL All-weather products use ultralight, thin microporous fabric. Vaseline, insect repellent, and ethanol-containing substances such as hair creams, cosmetics, and sunscreens may stain the fabric. They may also hinder the water-permeability of the fabric.
Care Instructions
Machine wash, gentle at 30°C.
Use rainwear-specific detergent or a neutral detergent that does not contain bleaching, softening, or brightening agents.
Wash separately or use a laundry net bag.
Close the zipper when washing.
Apply detergent diluted with water and wash with a soft sponge if badly stained. Do not scrub the surface joints or the seam tape on the back.
If necessary, tumble dry the garment at a upper limit of 60°C to restore water repellency.
Do not bleach and do not use fabric softener.
Iron on low. Do not steam.
Do not dry-clean.
Vaseline, insect repellent, and ethanol-containing substances such as hair creams, cosmetics and sunscreens may stain the fabric. They may also hinder the water-permeability of the fabric.
Payment
We only accept payment by credit card. We currently do not accept payment via bank transfer from overseas accounts.
We accept the following Credit Cards: Visa, Master, American Express, and JCB.
To download your receipt, please click the link included in the Dispatch Notice, which we will send by email as soon as the items are dispatched.
Delivery
We will ship by DHL for overseas customers (excluding China, Hong Kong, Taiwan, Korea and Russia). For customers in China, Hong Kong, Taiwan, Korea and Russia, we will ship by EMS only. Shipping costs vary depending on your country and region.
Size Exchange
Overseas customers who need to change the size of their order, should note that the time needed for shipping will vary greatly depending on your country of residence.
We only accept exchanges when the item is unused (except for fitting).
If you wish to exchange the size of the item, please contact us within seven days of receiving your order.
Exchanges can only be made for the same color in a different size.
If the size you wish is out of stock, we will suggest a different color.
If the product is out of stock, we may simply have to ship the item back to you.
All shipping costs to be carried by the customer.
We will only send the exchanged item to you, upon receipt of return shipping cost via PayPal.
Please be aware that some countries charge customs duties depending on the price of the item.
We are unable to answer any questions on local customs. Please contact your local customs bureau.
Repair
We accept repairs for all of our Yamatomichi products. For inquiries on repair services including patching the holes, repairing with extra components, or fixing the items damaged over time, please feel free to contact us from the "Repair" section of the SUPPORT page.
Restock Alert