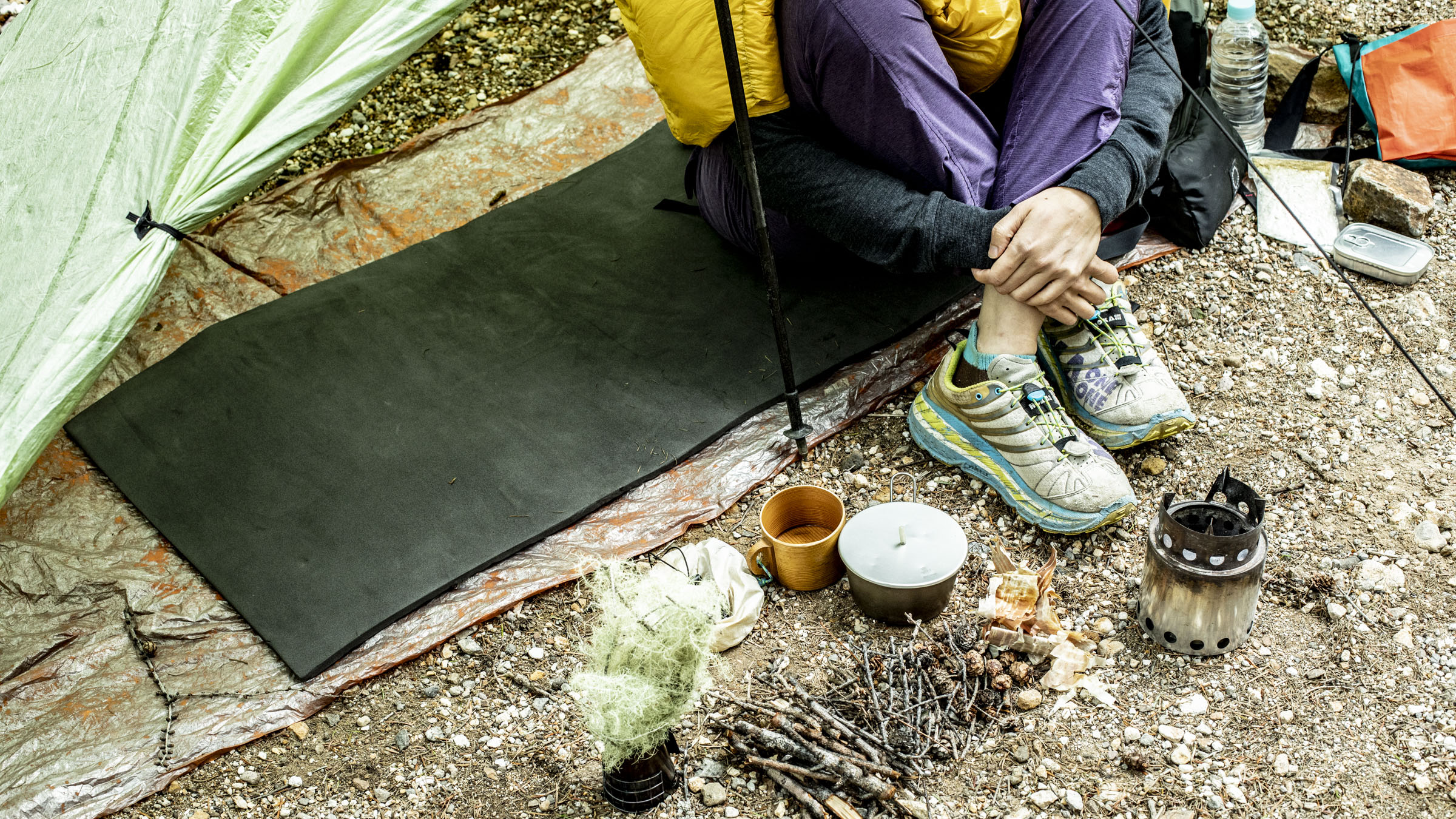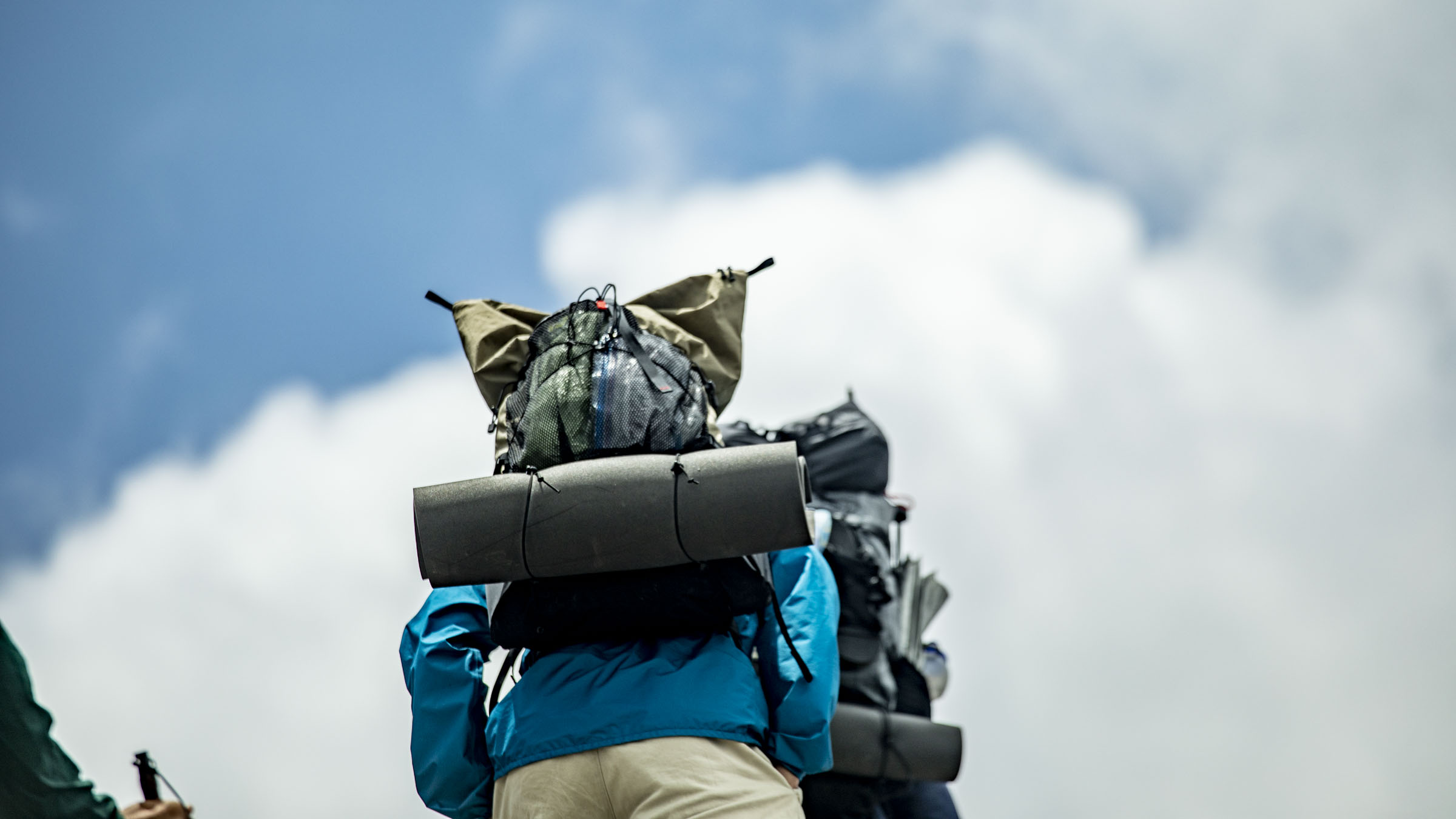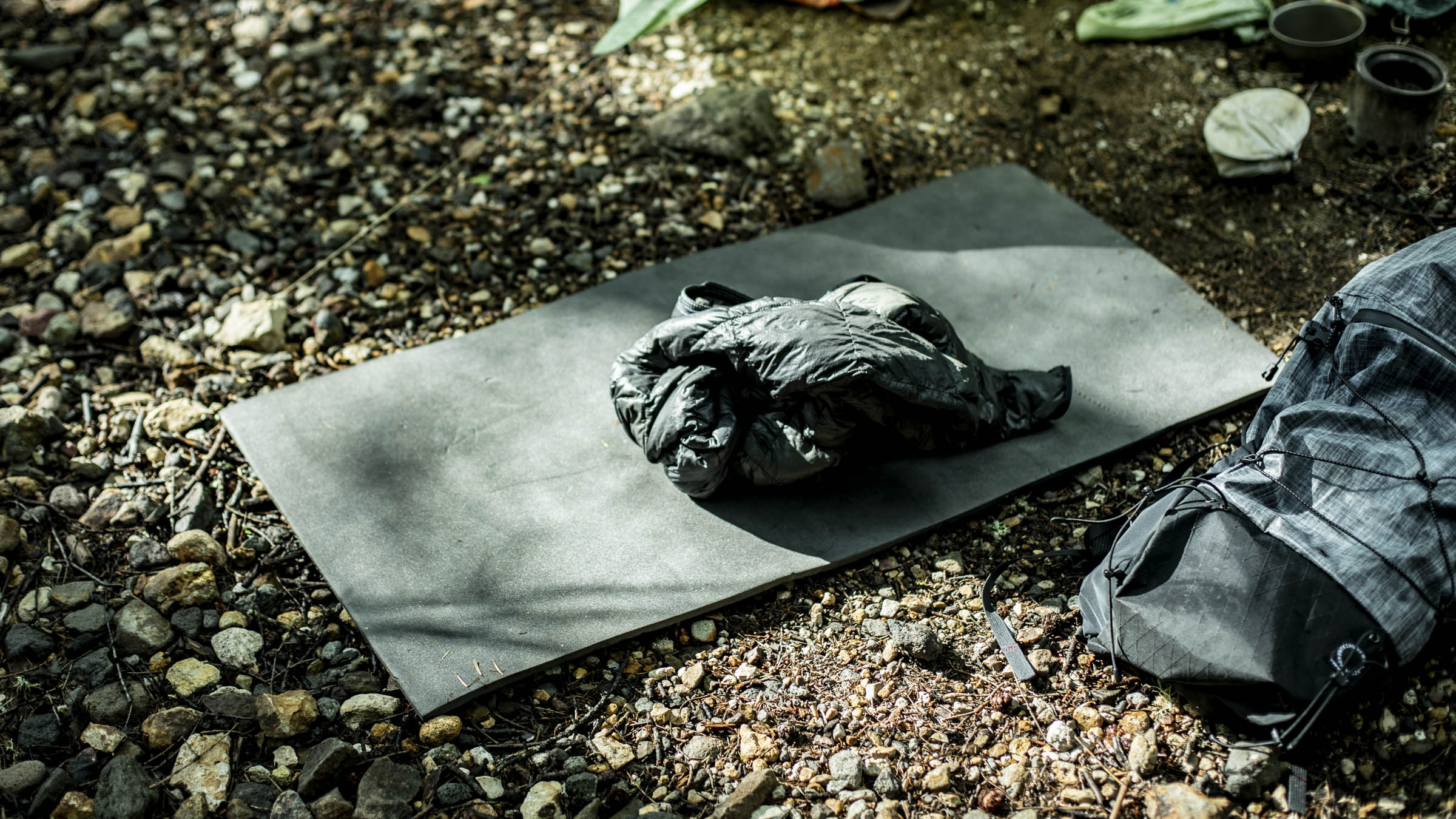 UL Pad 15
75g
¥3,520 (S) / ¥5,500 (L) / ¥6,160 (XL) Tax included
Ultra Light Sleeping Pad
Made of XLPE foam, which has very high insulation properties and is extremely light. This is an original of the UL Pad series, which requires some care when handling. But if used with care, it is perhaps the lightest pad you will ever find.
– It is less than 1/3 of the weight of a conventional lightweight sleeping pad
– Made of XLPE foam with high insulation properties
– Nonabsorbent material to keep water out
– Made without chemical foaming agents to reduce pollution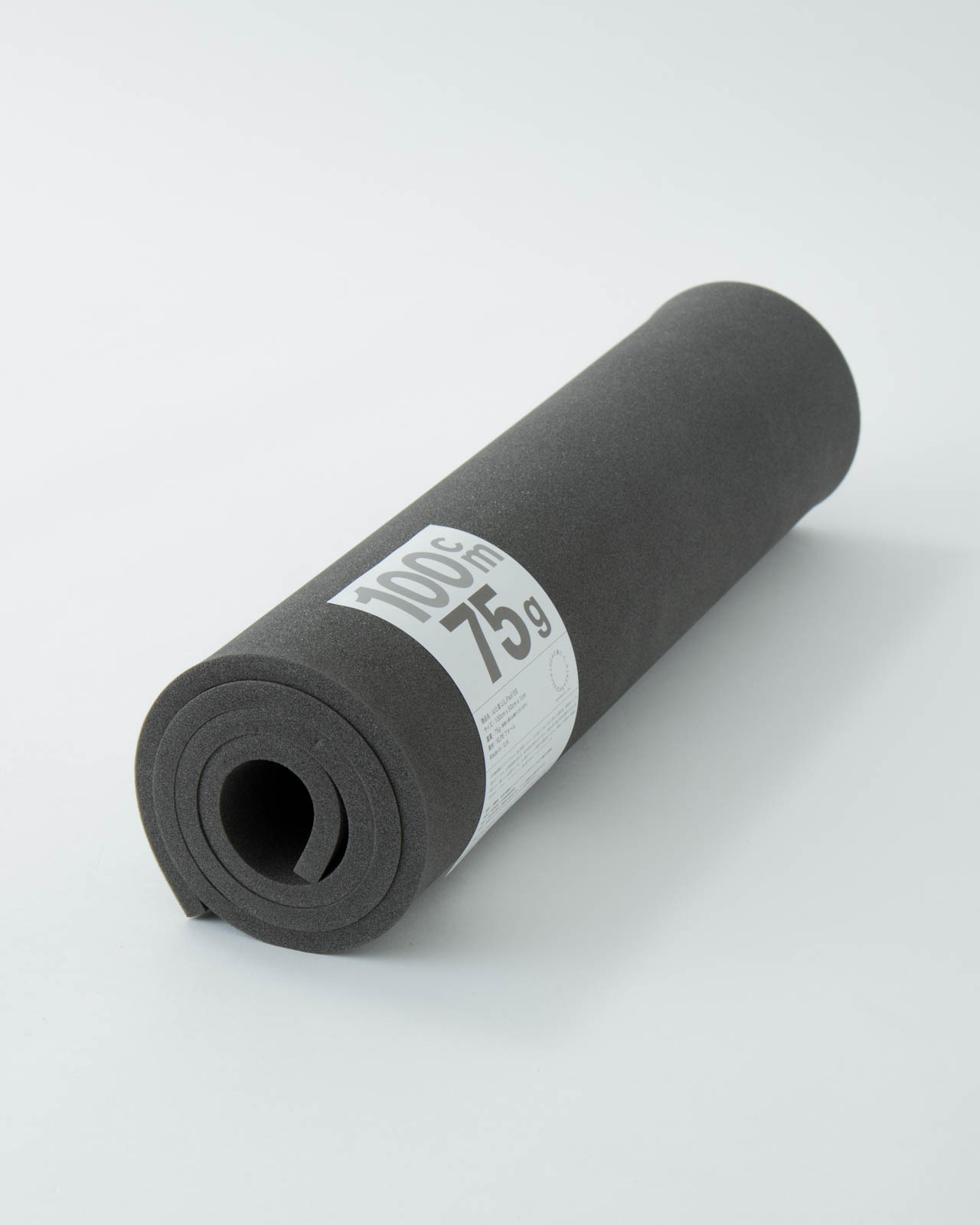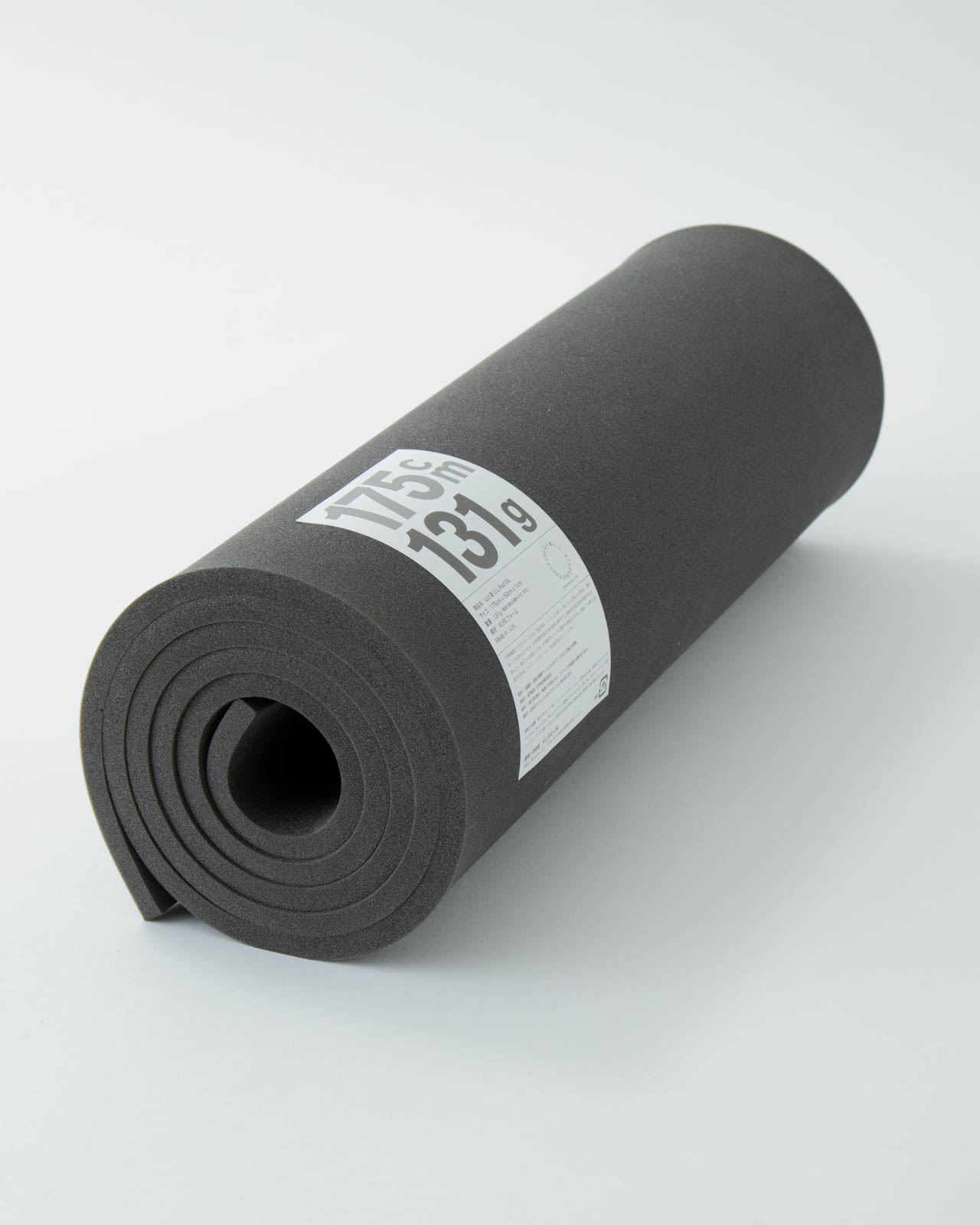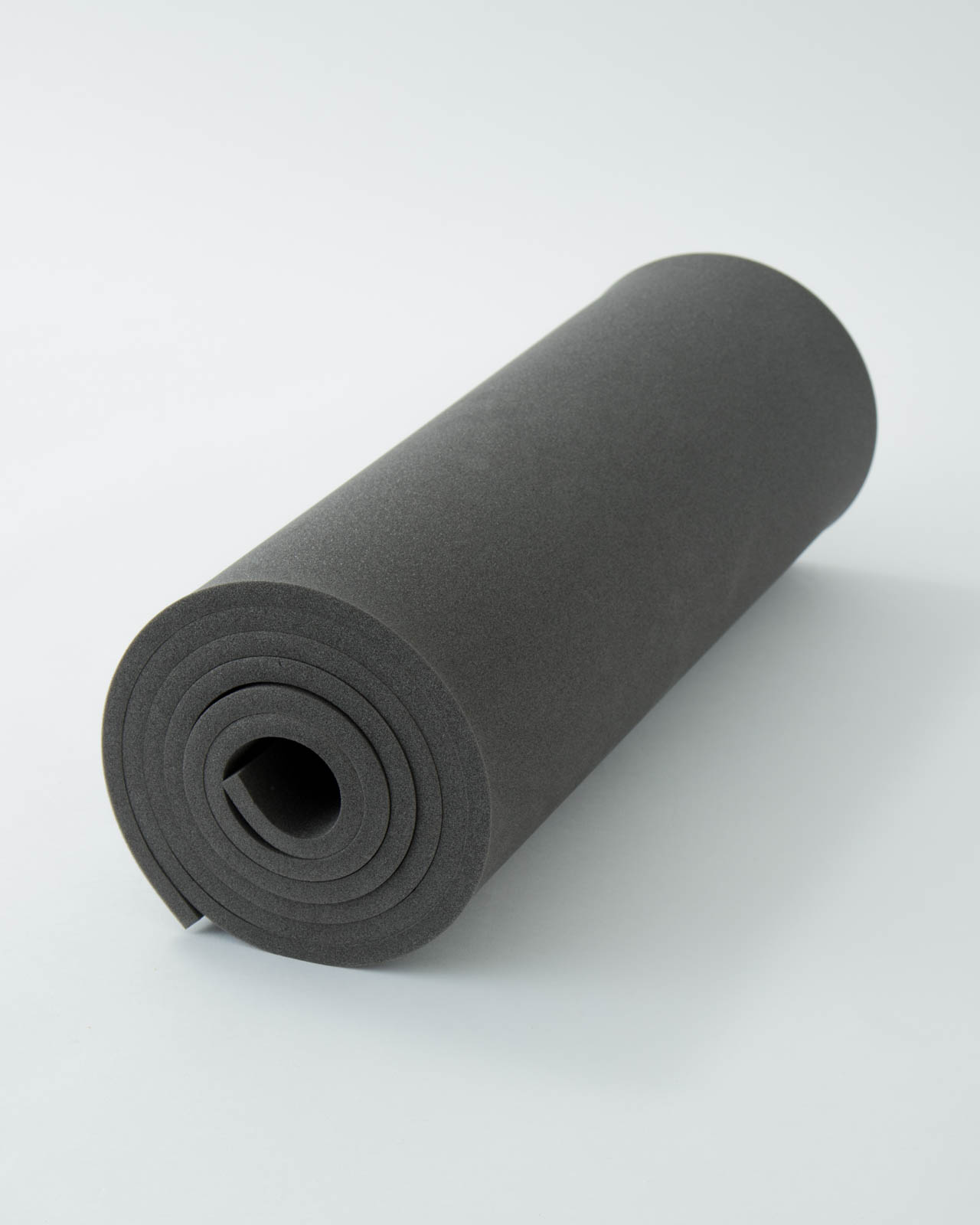 SPECIFICATIONS
Material:
XLPE Foam
Weight:
75g (S)
131g (L)
150g (XL)
Size:
100cm x 50cm x 1cm (S)
175cm x 50cm x 1cm (L)
200cm x 50cm x 1cm (XL)
Akira Natsume, Yamatomichi Founder
The UL Pad 15 was actually our very first product back in 2011.
When I and my wife, Yumiko were working on the prototype of a backpack before we officially launched the company, we were looking for a good quality core material that was as light as possible to use for the back padding and shoulder straps. However, few companies were willing to listen to us because nobody knew us.
That's when we found a material which we thought was perfect. When we contacted the company selling it, the person in charge was a thru-hiker of the John Muir Trail, which we had also walked, and he was the only one who listened to us. Thanks to him we were able to test a variety of materials, one of which was XLPE foam, the material used in the UL Pad.
Experienced once in a decade heavy snowfall in Yakushima.
In the winter of that year, I went to Yakushima with a friend to test a prototype backpack. That day, it was snowing hard for the first time in 10 years on the island, so the hike didn't go as initially planned and we had to bivouac in the snow.
It was so cold that I couldn't believe we were in Yakushima. I was searching through my bag for something to keep me warm, and I noticed the XLPE foam that I had inserted in my backpack as a back pad. I put it on my back and it was unexpectedly warm, allowing me to sleep without worrying about the cold.
XLPE foam is extremely light and warm. Inflatable air pads and down pads for use in the snow are expensive and hard to come by, but this material is reasonably priced, and if it's cold, it's not too heavy to take two of them with you. In the old days you could cut off the ends of a closed cell pad and be happy that it was a bit lighter. With this material, the weight could be reduced to about 1/3 of the weight of sleeping pads that were previously considered lightweight. I knew I had to commercialize it as a sleeping pad right away.
As it turned out, XLPE foam was not a good core material for a backpack, but if I hadn't been cold in the snow that day, I wouldn't have decided to use it as a sleeping pad.
Even though it is not very durable because it's so light, I've been using the same UL Pad 15 for over 5 years now. The edges are tattered and the torn parts are repaired with tape, but that I like it this way.
The UL Pad 15 is made of highly insulating XLPE foam, which is also often used as a thermal insulator.
XLPE foam is a non-absorbent closed-cell foam that does not let water penetrate when placed on snow or wet ground (water can however seep onto the surface of the material). It is also an environmentally friendly material because it does not contain chemical foaming agents.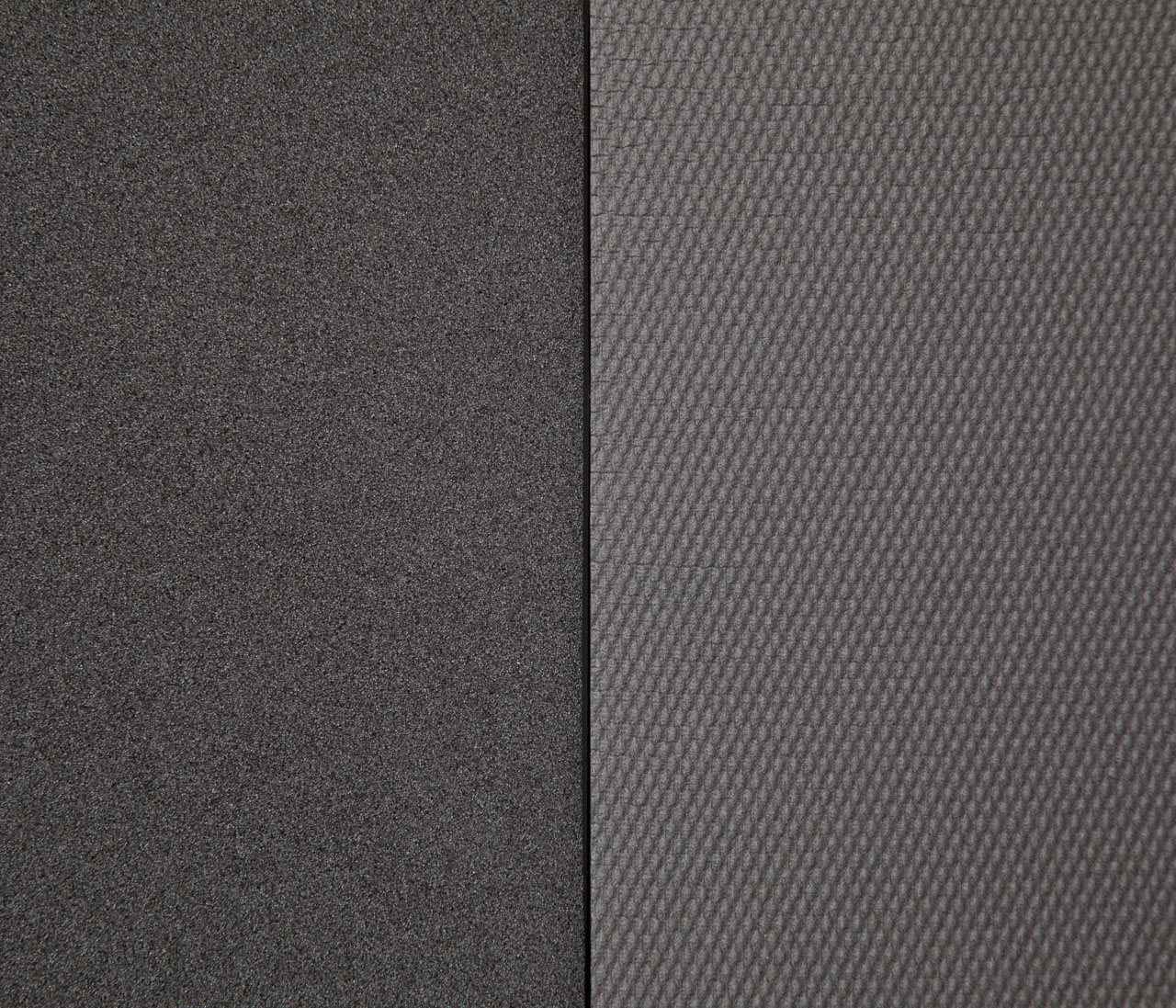 The picture on the left shows the surface of the UL Pad 15 and on the right the surface of the UL Pad 15+. The material is the same, but the texture is different due to the surface finish.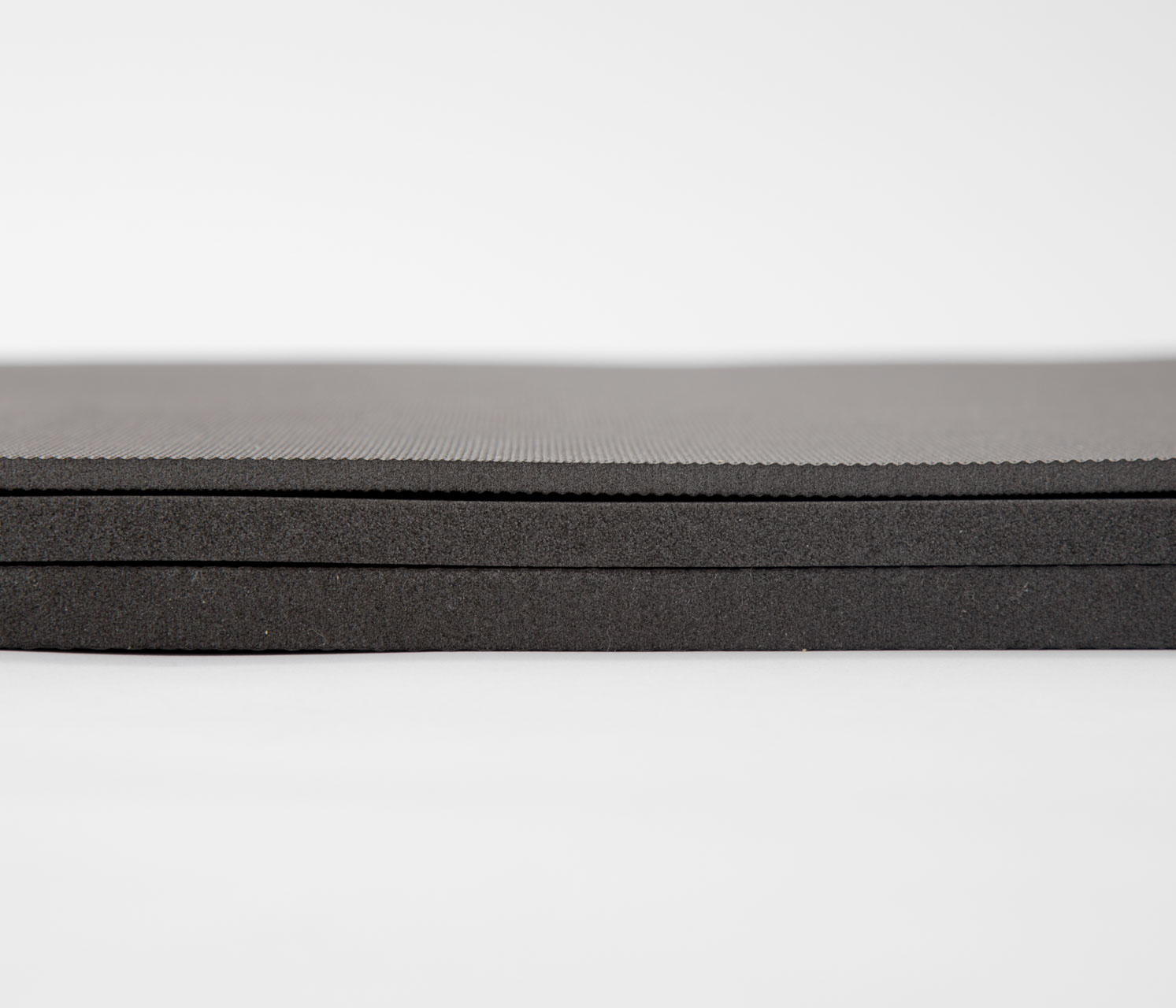 Comparison of the thickness of the UL Pad series. From the top, Minimalist Pad (5mm), UL Pad 15 (10mm) and UL Pad 15+ (13mm).
The UL Pad 15 is available in three sizes: 100cm, 175cm and 200cm.
The widths are all set at 50 cm, but you can cut them down if needed.
For example, if the 200cm is too long for you, you can cut off 30cm and use the cutoff as a back pad for your backpack, as a cushion for resting, or as an extra pad to wrap around your waist when you get cold.
*The UL Pad can be easily cut with an ordinary box cutter. When cutting, please press down firmly with a ruler and cut through in one go.
Due to its ultra-light weight, please be careful that the pad is not blown away.
– The UL Pad 15 prioritizes lightness over cushioning and durability.
– Since there is no surface treatment the surface is easily scratched and the pad may be damaged if excessive force is applied.
– To avoid unnecessary damage, please handle with care and choose a flat surface when sleeping. Avoid rocks and sharp surfaces when possible.
– For those who value cushioning and durability, please consider the UL Pad 15+, which is embossed.
– The material is anti-slippery, so it is easy to apply excessive force when using it as a frame for a backpack. Handle with care.
– If you pull or push it too hard, it is likely to get damaged.
– Scratches and signs of use will remain on the surface of the material.
– Please consider using this pad in combination with other pads (layering) in snowy mountains.
– Lay it inside your sleeping bag for extra warmth.
Payment
We only accept payment by credit card. We currently do not accept payment via bank transfer from overseas accounts.
We accept the following Credit Cards: Visa, Master, American Express, and JCB.
To download your receipt, please click the link included in the Dispatch Notice, which we will send by email as soon as the items are dispatched.
Delivery
We will ship by DHL for overseas customers (excluding China, Hong Kong, Taiwan, Korea and Russia). For customers in China, Hong Kong, Taiwan, Korea and Russia, we will ship by EMS only. Shipping costs vary depending on your country and region.
BUY